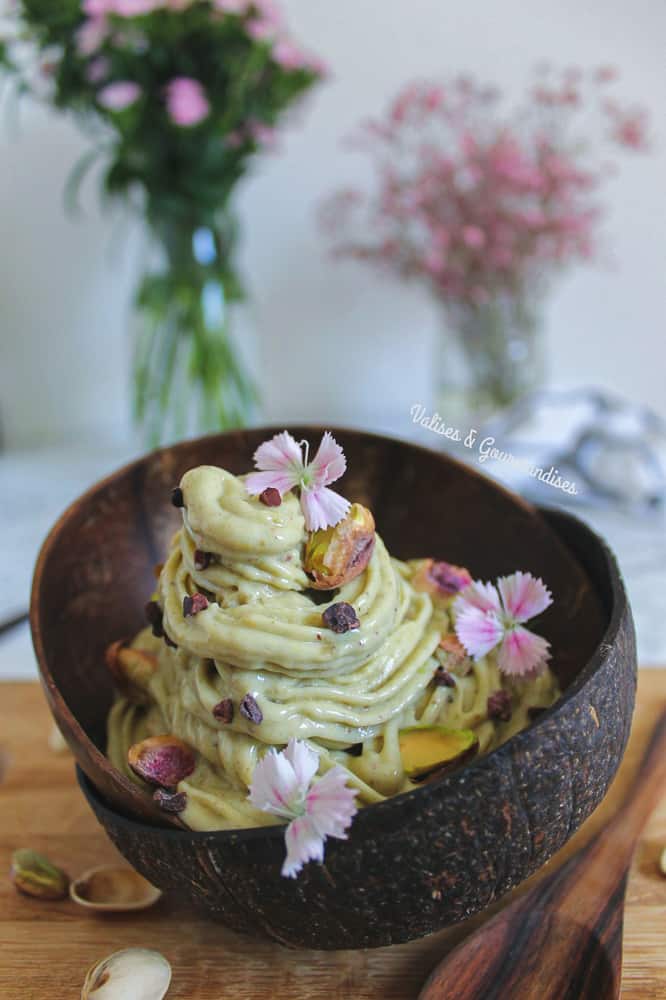 If there's one gelato flavour I can't resist, it's pistachio. Offer me a cone with two scoops, one pistachio and one dark chocolate, and you'll be my friend forever.
Ice cream parlours rarely carry vegan pistachio ice cream though. I was able to satisfy my sweet tooth at Amorino in Paris and Barcelona, but they don't have a location in Hanover. Well, instead of moping around, waiting for them to come to me, I thought it would be much simpler (and healthier, you know me) to just whip up my own pistachio nice cream.
I do already have blog post explaining how to make plain nice cream as well as a chocolate nice cream recipe which you can find here.
By the way, before I go on, don't forget to subscribe to the newsletter to receive my brand new eBook for free! You will find 9 easy recipes that all have under 10 ingredients. They also happen to be gluten & refined-sugar free.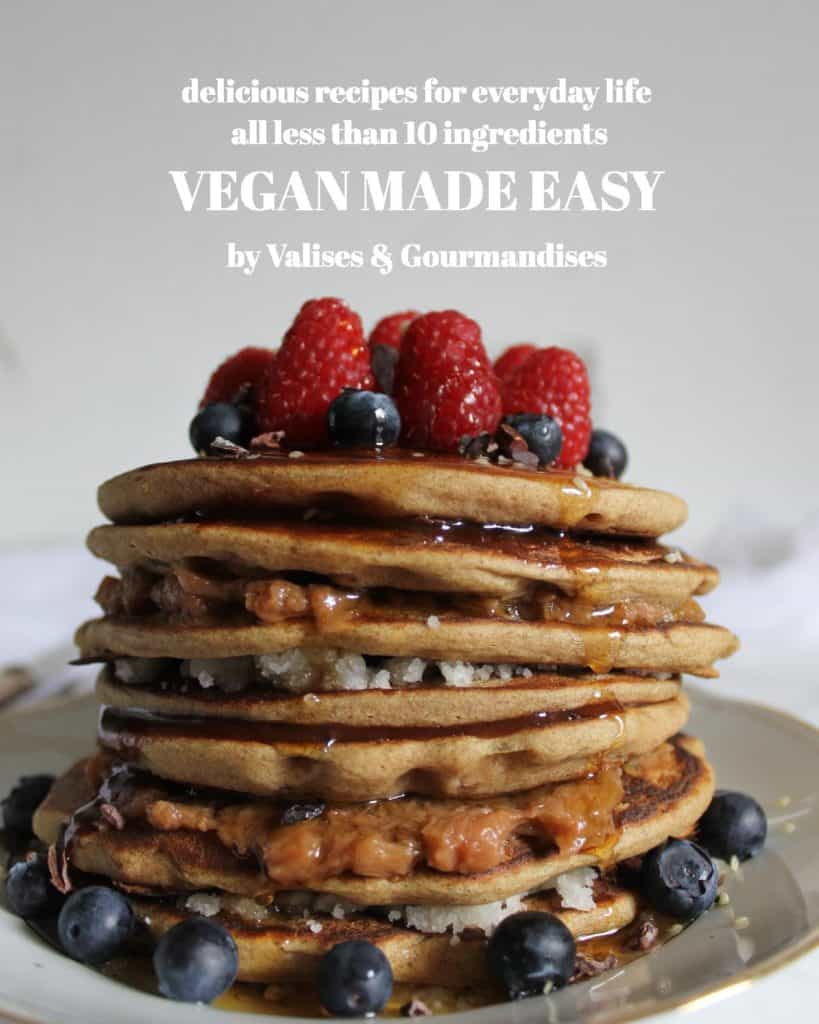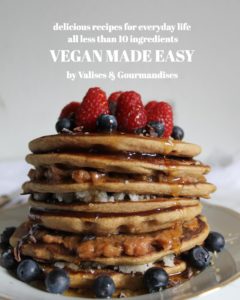 I wasn't expecting such a strong response when I posted my picture of this ice cream on the blog's Facebook page! But I listened and, as promised, here's the recipe. And after the success of my first eBook, I am thinking that a "vegan ice cream eBook" would be pretty cool. What do you think, should I make one!?
Now you could go all fancy and make this one with coconut cream & soaked cashews as a thick creamy base, but I don't have either an ice cream maker nor the patience to wait around for that ice cream to set.
What I do have though is an impressive amount of frozen bananas (I save the old organic bananas that no one wants at the store and give them a nice home :) just waiting to be turned into the most creamiest breakfast/dessert/snack.
I've also been partnering up with gebana lately, a Swiss company that strives to make trade as fair as possible, and they were kind enough to send me a huge box of organic bananas from the Dominican Republic. 18 kilos that I shared with a friend :) *this post isn't sponsored, but I received the bananas as a pr sample and I'm happy to help them promote more ethical options*
The bananas are delivered green and can be used as plantains. I made the best chips by simply slicing them thinly and frying them in a little bit of oil. Or you can let them ripen by placing them in your fruit bowl together with apples and then use them to make sweet creations, such as this vegan pistachio nice cream.
I have recently started making nice cream in the food processor, which also yields a perfect creamy consistency and is much easier to clean, but for this one, since I needed the pistachio to blend in as much as possible, I went back to my beloved Omniblend, a high-power blender much more affordable than a Vitamix. *Non-sponsored ads in the form of affiliate links; I will earn a small commission with each purchase, which helps me keep the blog alive and thriving :)
The result was a thick and luxurious ice cream that reminded me of my beloved gelato, without all the added sugar and fat. As usual, go ahead and play with the ingredients, adding more pistachio for a more intense taste.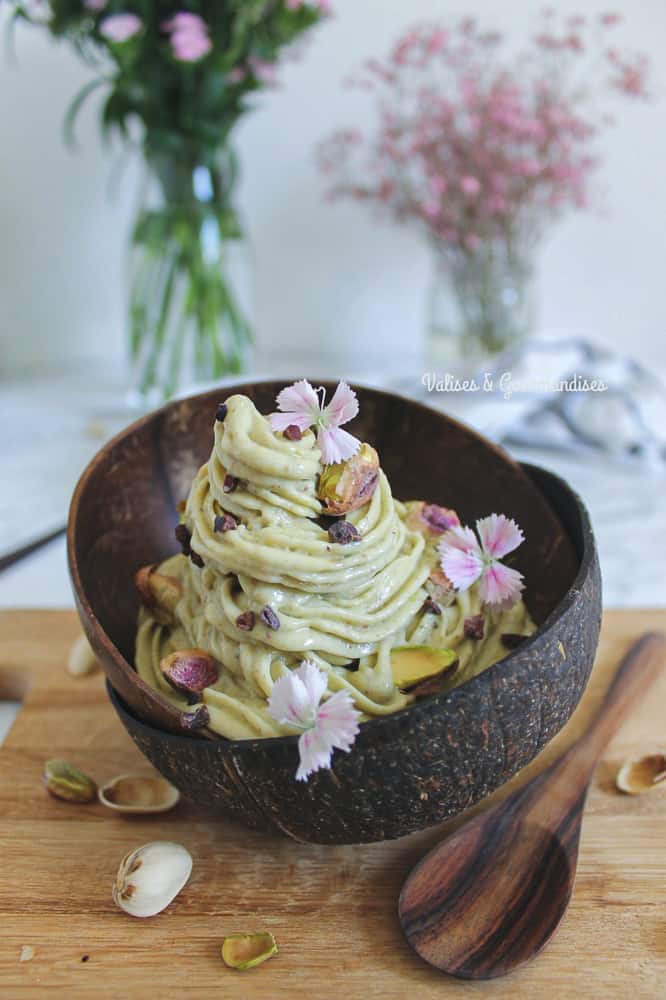 You can also omit the avocado, but I had one lying around in the fridge and I like the creaminess, healthy fat and nutrients it added to my breakfast. I also added half a teaspoon of wheatgrass powder for a greener hue and for its benefits on my hair and skin.
Finally, for a cute soft-serve, use a pastry piping bag to make swirls. But you can also just scoop it out of your blender and eat it in a bowl. Totally up to you!
If you try this recipe, make sure to snap a picture and share it on Instagram or Facebook tagging me & using the hashtag #valisesetgourmandises. I wanna see your creations! And don't forget to leave a comment below :)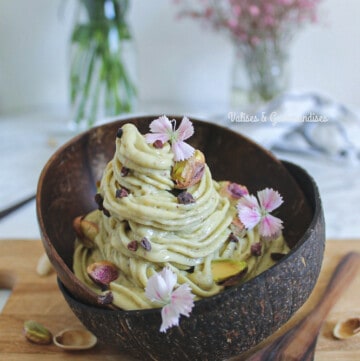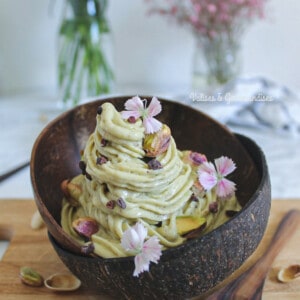 4-ingredient vegan pistachio ice cream
Finding vegan pistachio ice cream can be an ordeal, which is why I came up with this fool-proof recipe. Make ice cream at home like a pro!
Ingredients
1/4-1/3

cup

plant-based milk

I used organic soy vanilla

1/4-1/3

cup

raw unsalted pistachio

(soak first if your blender isn't powerful)

1/2

avocado

ripe

3

organic bananas

frozen
Optional Add-Ins
1/2

teaspoon

green powder

wheatgrass, matcha, hemp protein
Instructions
In your high-power blender, blend the milk and the pistachio for 30 seconds. Add the avocado and bananas and mix well, on your lowest setting, until you get a creamy consistency. Scrape the sides as necessary and use the tamper to help things move along.

Divide into two bowls and serve immediately.
Notes
You can freeze it for a few hours. Let thaw a few minutes before eating, as it is likely to set and become a bit hard.
Nutrition
Calories:
338
kcal
Carbohydrates:
50
g
Protein:
8
g
Fat:
15
g
Saturated Fat:
2
g
Sodium:
17
mg
Potassium:
1069
mg
Fiber:
10
g
Sugar:
23
g
Vitamin A:
339
IU
Vitamin C:
21
mg
Calcium:
69
mg
Iron:
2
mg
**This article may contain non-sponsored ads in the form of affiliate links, which means that I will receive a small commission if you purchase a product through them. The price remains the same for you, but this way you are helping me maintaining the blog and providing you more interesting content! :)