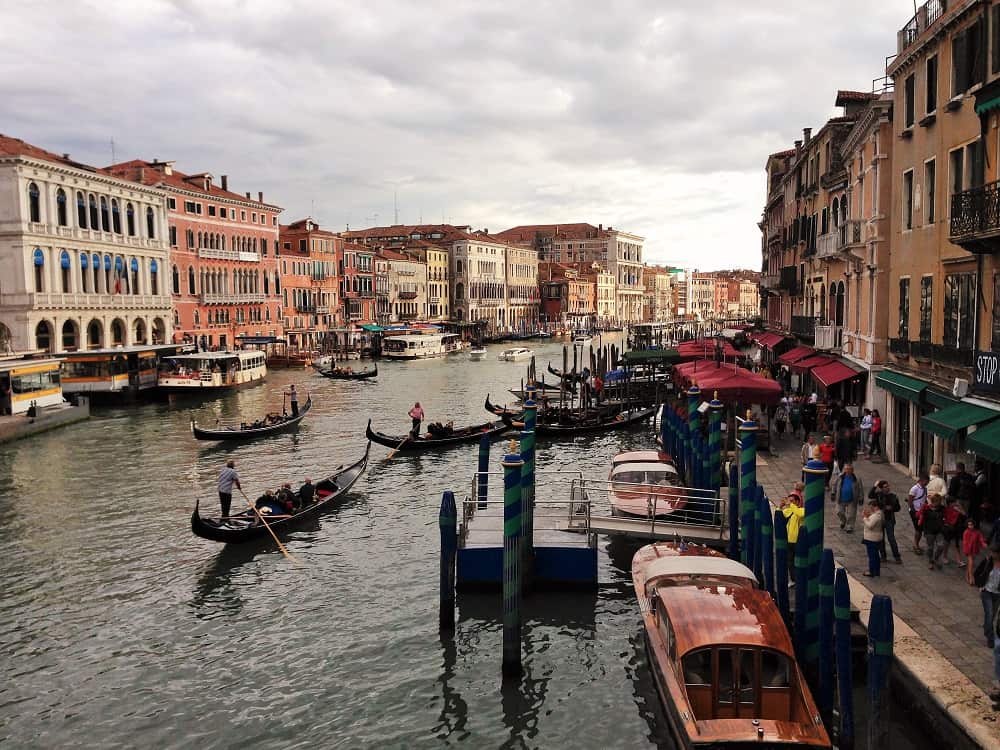 I wasn't overly excited for Venice; Martin's the one who insisted we go. Not that I put up much of a fight, but I reeeeally wanted to see the Cinque Terre instead. However, our next destination was Slovenia, and he pointed out that Venice was the logical choice, geographically speaking. Damn it. He was right. Who ever said women don't compromise?
The minute we set foot in rainy Venice though, I couldn't help but smile and giggle. Even hauling my hefty luggage abags over the countless bridges and stairs didn't deter my amazement.
Even though it's renowned to be overcrowded with cruise ship tourists, I never really felt it, even during a late August weekend. What did turn out to be true through is the sky-high prices for accommodations and restaurants. We managed to find a (relatively) cheap apartment with Airbnb directly on the island, but it was still twice as much as what we paid in Rome and Florence.
It's strange because even though I would go back to Venice in a heartbeat, I've been having all the trouble in the world writing this post. I've been systematically procrastinating and posting food posts to avoid dealing with this blank page syndrome. But this is it, today I'm getting through with it.
I'll keep it simple. Here's why I think Venice should be on your list.
Venice is unique
There's something so special about Venice; where else can you find an entire city on the water, where the cars and busses are replaced by boats?

A total of 117 canals and 455 bridges connect 118 small islands. And 123 churches. Italians love their churches. I don't even wanna know how many gondolas are registered. You can witness traffic jams in the major areas. It's quite a sight.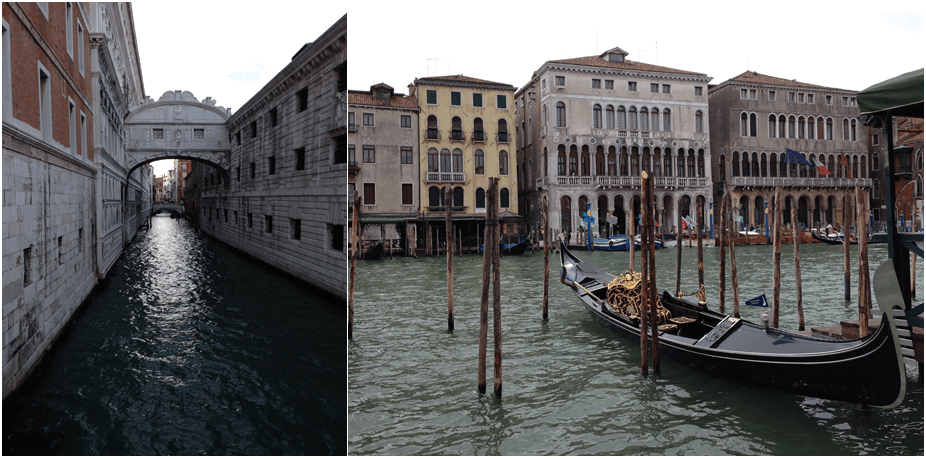 It's a real maze
Even though it may seem small (I mean, how big can an artificial city be, right?), Venice is a fairly impressive labyrinth of alleys. We found ourselves getting lost more often than not. On the bright side, you can't get lost very far on an island.
Plus, you can drink in the streets! So put that map back into your bag and just enjoy the view.
Piazza San Marco
With Amélie and Geneviève, two girls we know from Québec who happened to be there on our first night, we bought a couple bottles of wine and walked around the city. They took us to Piazza San Marco, famous for a reason. I felt a huge wave of emotion as we finally came up to this grandiose square. I recommend sticking around until the evening when it all lights up.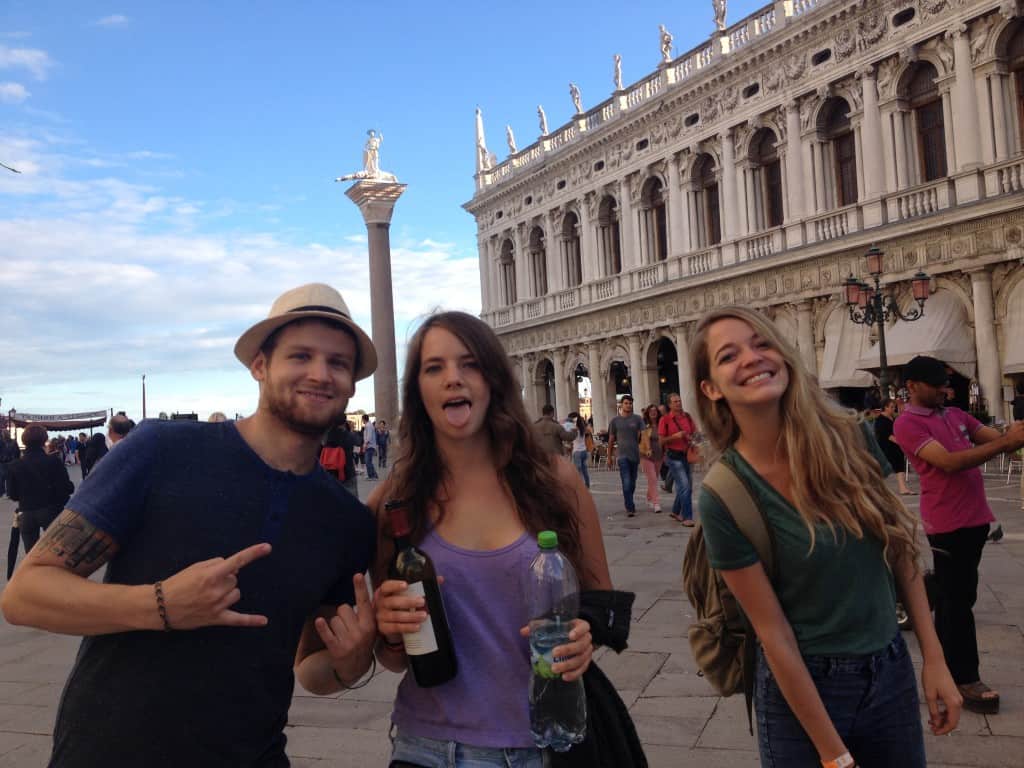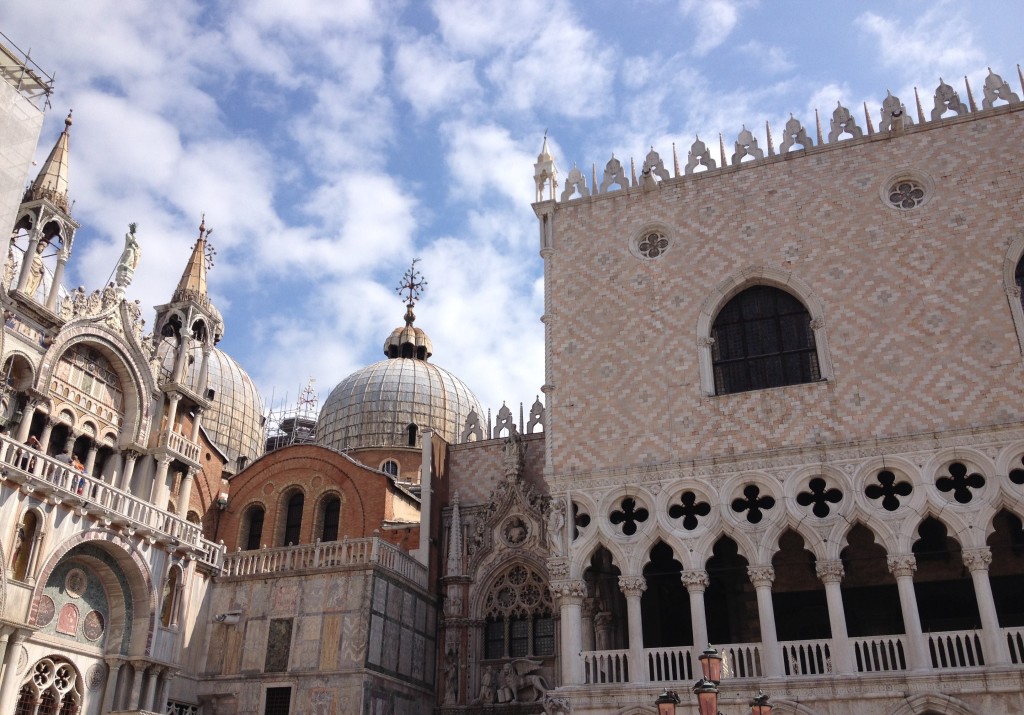 I enjoyed watching families feeding the countless pigeons. Some of the more energetic kids chased the birds relentlessly. My favorite part was listening to the bands playing tango. It's a shame that you can't sit anywhere though. It's either sit at a table and pay €9 for a cappuccino, or stand up in the square. You can try sitting down in the stairs around the piazza, but it won't be long until the "no sitting police" wooshes you away.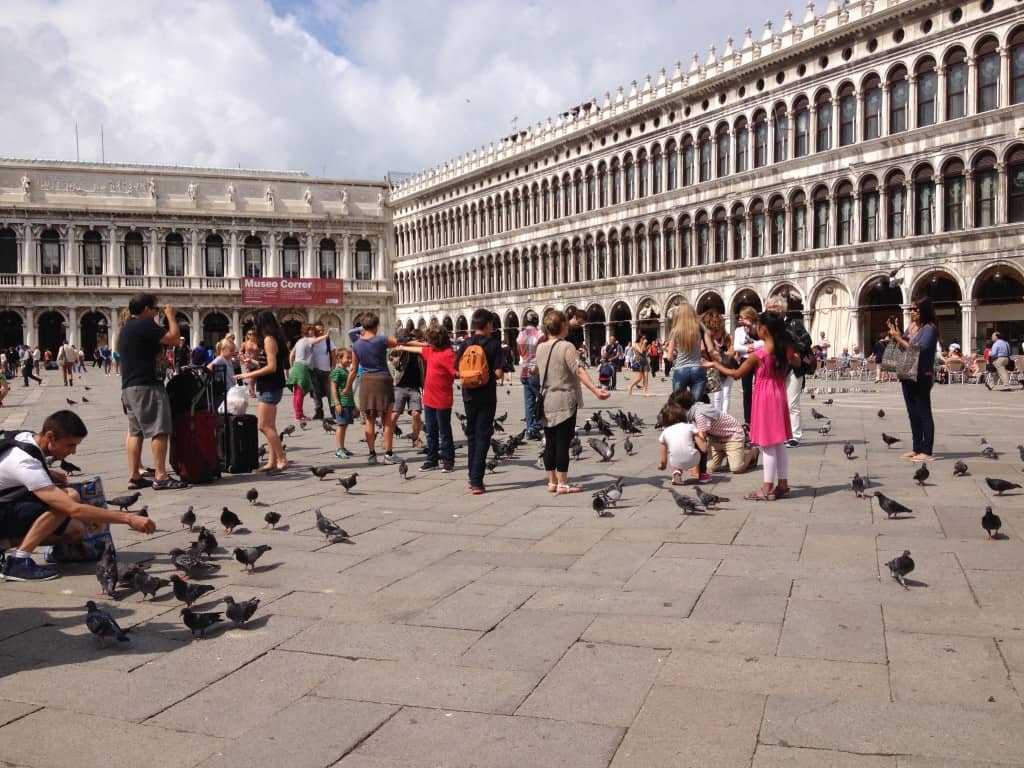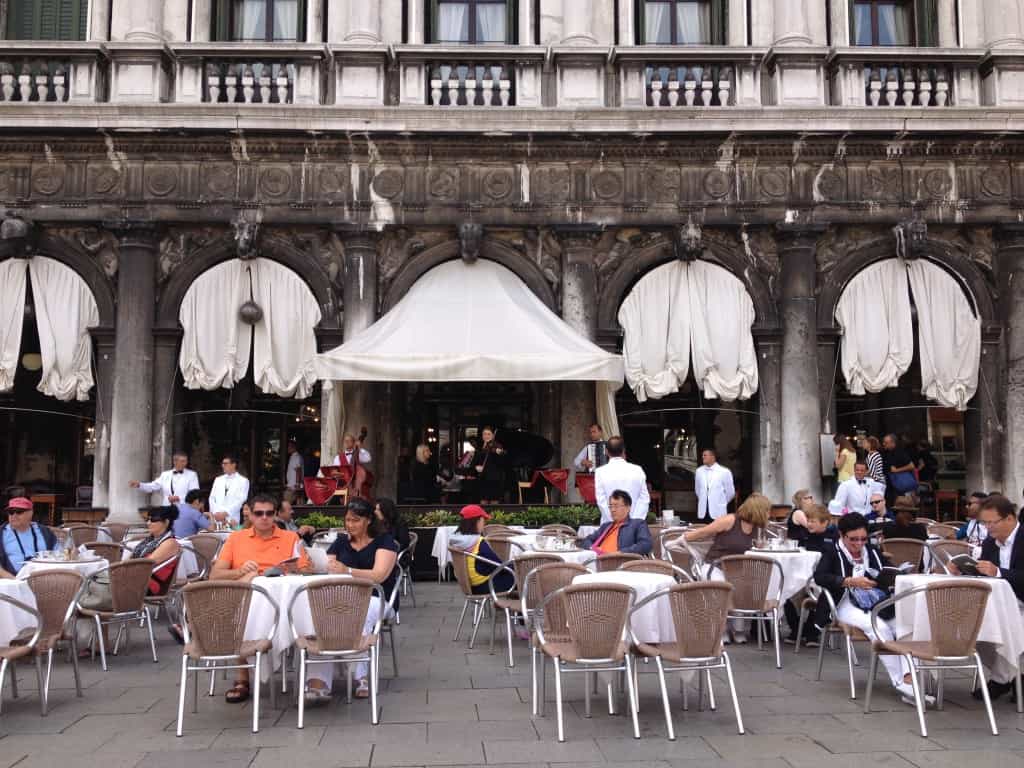 More Italy Articles
It's even more beautiful from above
As always, we climbed up the bell tower to get a picture of Venice and its surroundings. Actually, we didn't climb; there was an elevator. We would've gladly taken the stairs but no such option was available.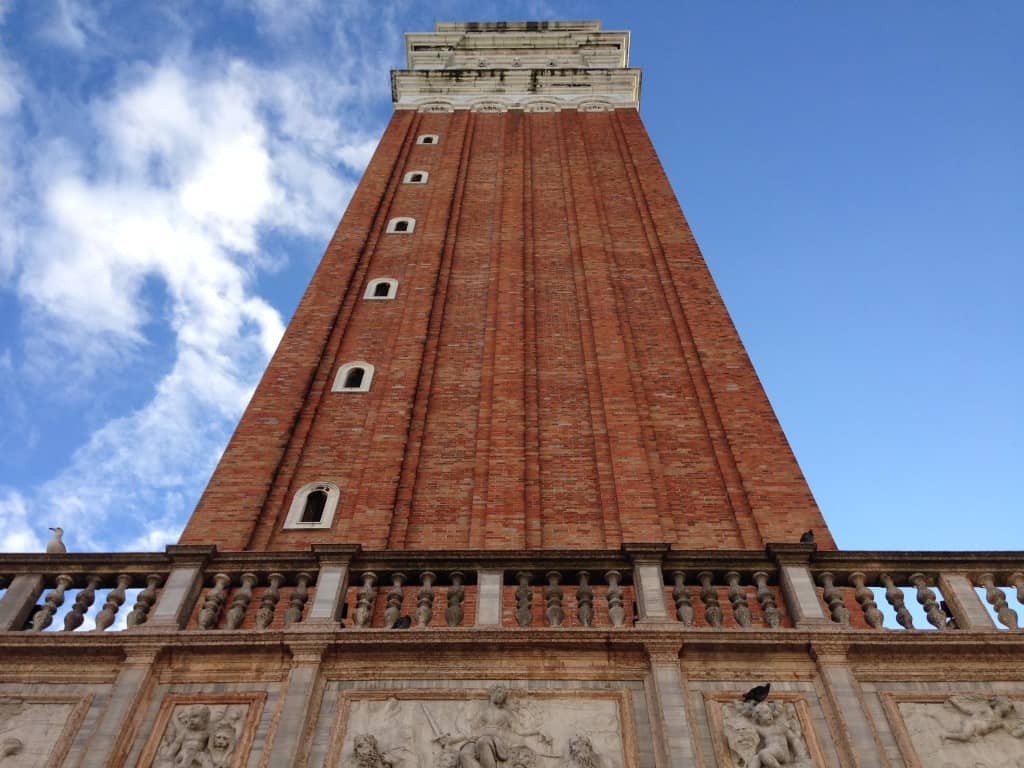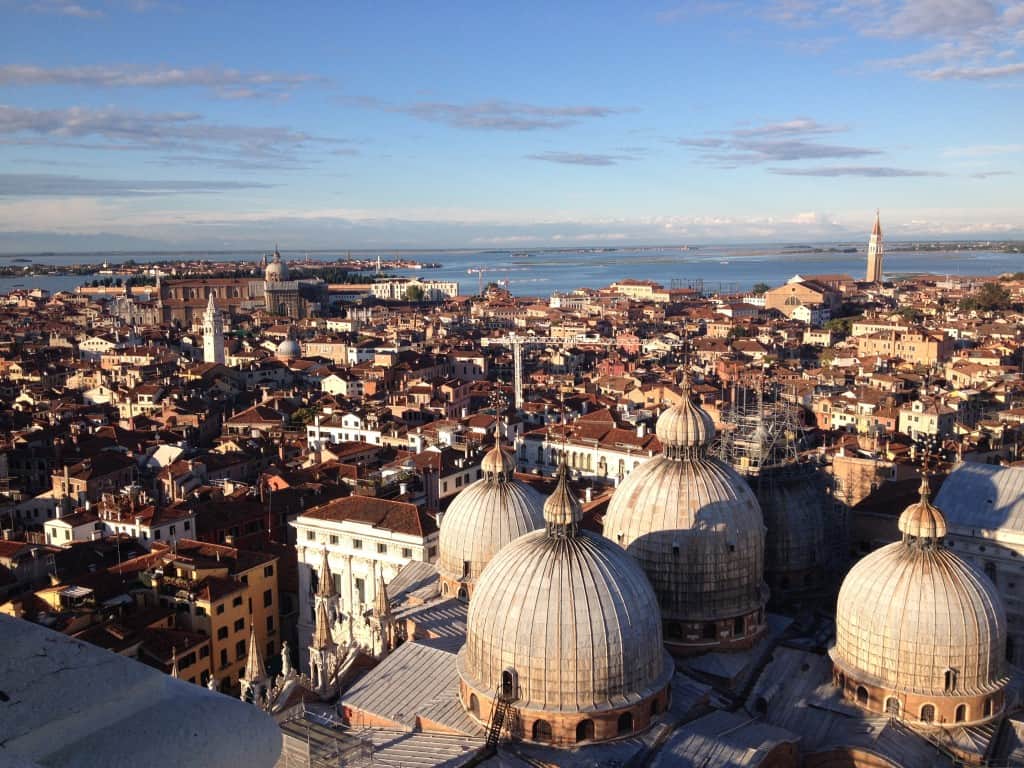 You can make your own terrace pretty much anywhere
We quickly made a habit of improvising picnics next to canals. The view is nice pretty much everywhere after all.
You don't need to pay a fortune in fancy touristic restaurant by the Grand Canal to enjoy a night in Venice. We did eat out one evening and left somewhat disappointed. We'd been spoiled for the last two weeks and the meals just didn't cut it for us. Instead, we should have just stuck to our winning formula: grab a few beers, stop by a small pizzeria and find our own terrace.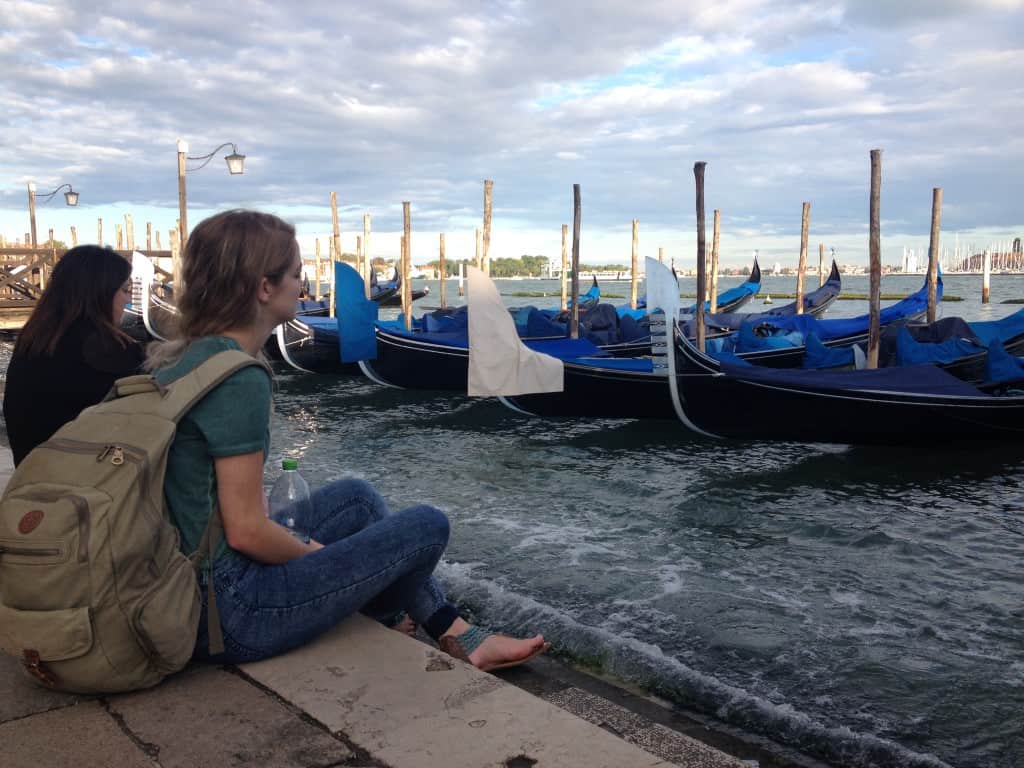 Gosh! It feels so good to finally be done! I hope I was able to inspire you to visit this magical one-of-a-kind city.
And on our ever growing "things we'll do when we come back here" list, we'll definitely take a day or two to discover the colourful Murano and Burano islands!
Related articles