I just finished eating this pizza and I was just too impatient to share it with you. Share it virtually to be precise, because when he saw its size, Martin suggested we share it with the neighbours… and I refused. I'm usually more than happy to share my creations, but not this time. My mouth was watering just thinking of how tasty this beautiful pizza was going to be.
One bite and I knew I'd made a wise choice by keeping it all for ourselves. It was so good that we didn't even take the time to sit down at the table to eat it. We took the pictures and just gathered around the pizza to devour a few slices. High-fives were in order. The beet brings a nice sweetness balanced by the salty feta, and the kale leaves add a nice crunchy touch.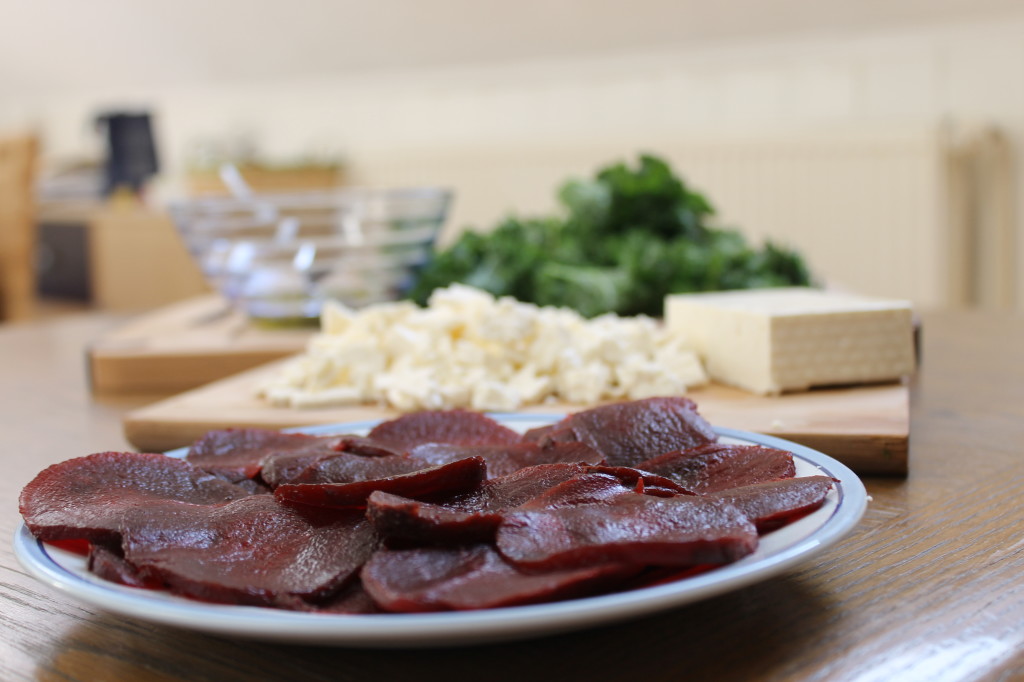 I bought a kilo of kale and a few beets this week for my winter Buddha bowl and I was looking for ideas up on Pinterest to use this ridiculously big quantity of cabbage. I landed on this recipe for a beet pesto, kale and goat cheese pizza. We often say that we eat with our eyes, well this just might be one of the prettiest pizzas I've ever seen!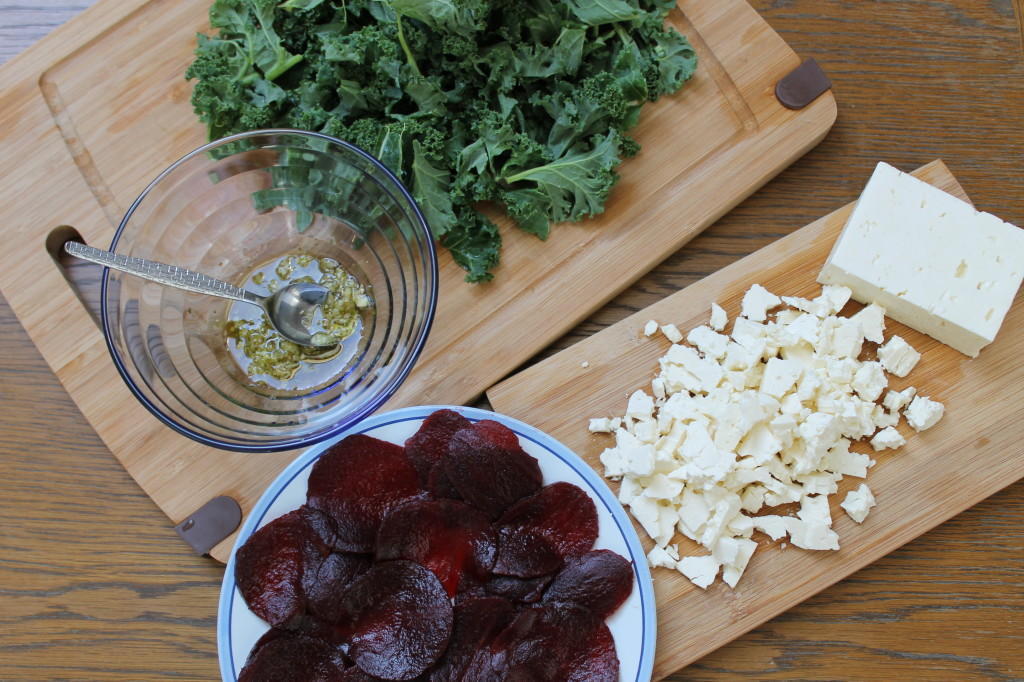 The beet pesto truly looks delicious, and I'll make sure to try it shortly, but I preferred to simplify the recipe a bit. My plan was to use raw beets finely sliced with a mandolin, but for the last few weeks in Germany I've only been seeing cooked beets. I suggest you use whatever you have on hand.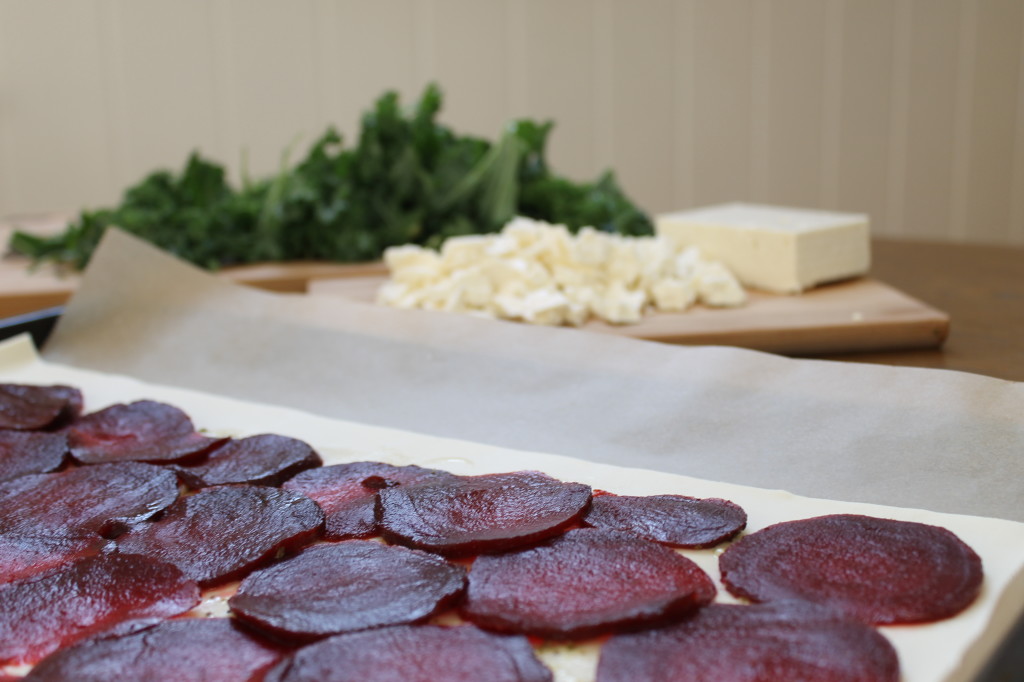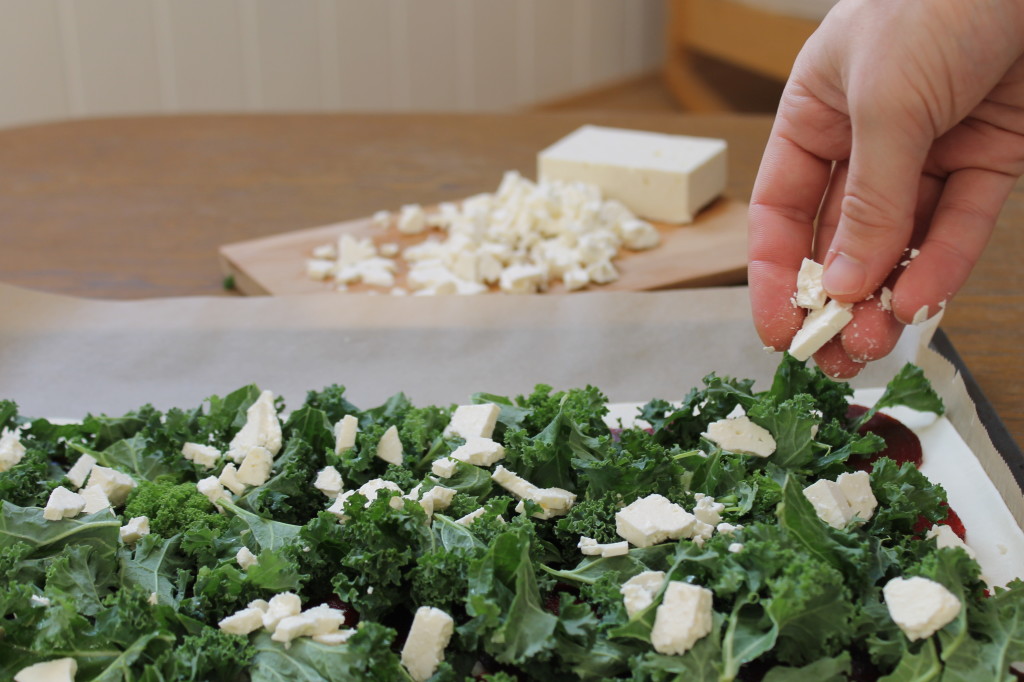 I also found that puff pastry would add a fancy touch. Without any effort whatsoever. You can buy the dough pre-rolled, you don't even have to take out the flour! It's not cheating if it stays between us ;)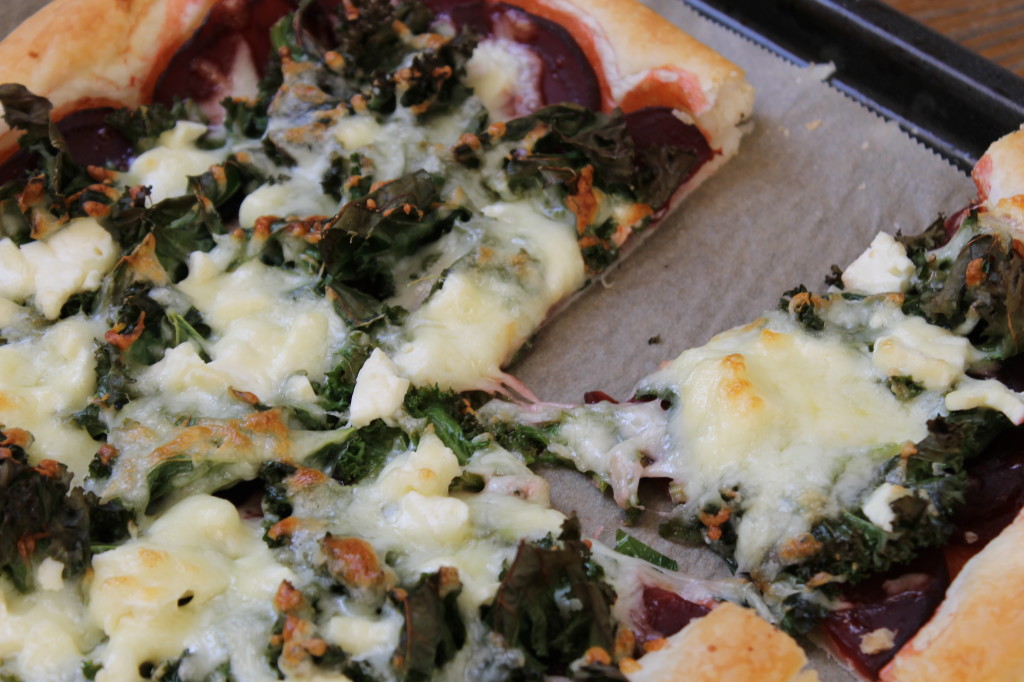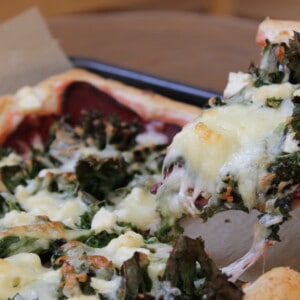 Beet, Kale & Goat Feta Pizza
A colourful, mouth-watering, healthy and tasty pizza that I would proudly serve on special occasions, but that's easy enough to eat on a Tuesday night.
Ingredients
1

puff pastry

thawed

2

garlic cloves

2-3

teaspoons

olive oil

½

teaspoon

dried oregano

Salt & pepper

2

beets

2

handfuls kale

washed and patted dry

100

g

goat feta cheese

about 1 cup

1.5 to 2

cups

of grated mozzarella cheese
Instructions
In a small bowl, press the garlic and mix with the oregano, the salt and pepper and the olive oil. Set aside.

Cut the beet in thin slices. Coarsely chop the kale. Crumble the feta. Set aside.

Preheat the oven to 400°F (200°C). On a cooking sheet covered with parchment paper, lay the puff pastry. With a brush or a spoon, lay the oil mix on the pastry, leaving about ¼ inch around the edges.

Spread the beet slices, then the kale evenly. Add the feta followed by the mozzarella.

Bake during approximately 15 minutes, until the cheese is golden brown.