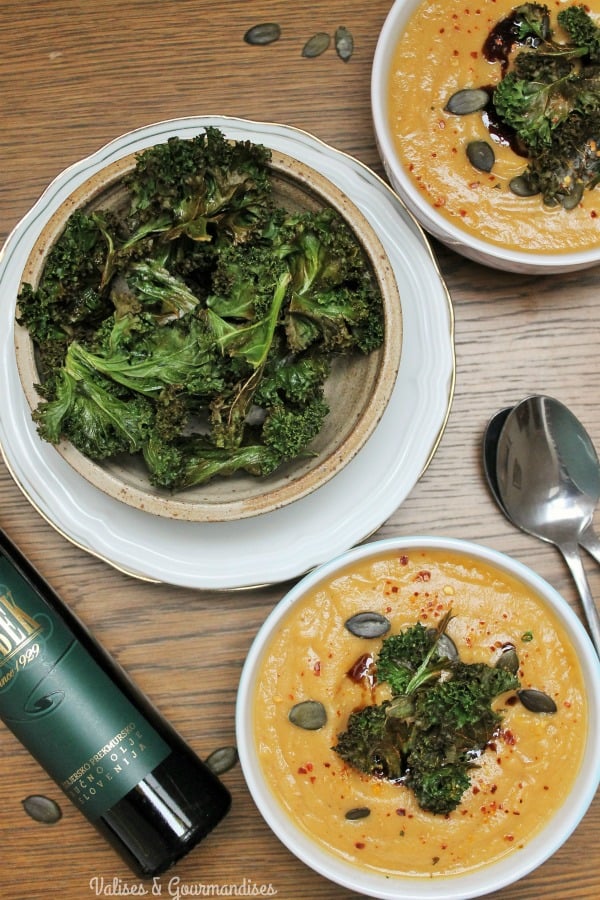 It's been so cold in Hanover lately that Martin and I make at least 2 or 3 batches of soup each week. We don't even make supper, just a good filling soup and a piece of sourdough bread. Easy peasy.
The recipe I'm sharing today comes back on the menu quite regularly. Not because we don't know what else to make, but because it's particularly satisfying. It's creamy, delicious, pretty filling. And it comes together very quickly, which is obviously a big advantage.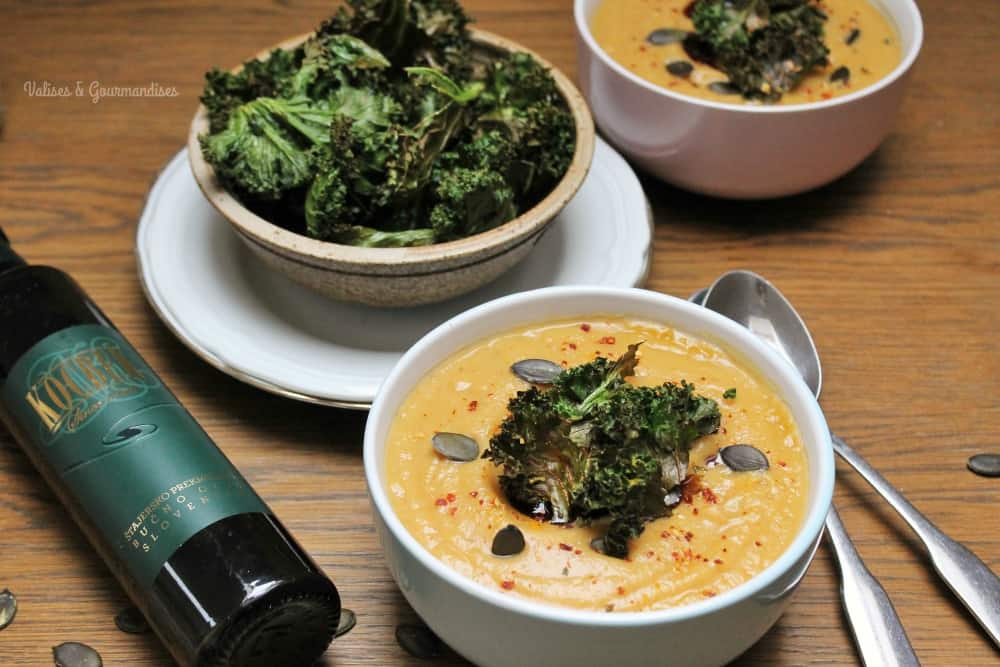 We like to top ours simply, with roasted pumpkin seed oil, a Slovenian specialty and pumpkin seeds that we quickly roast in a pan. But on nights where we feel especially fancy, we might even add kale chips for some crisp!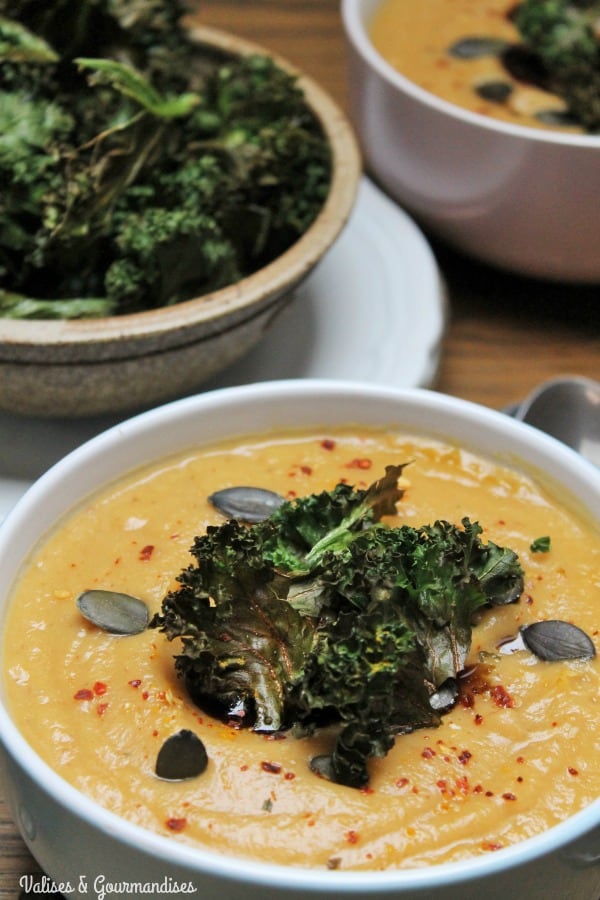 If you try this recipe, make sure to snap a picture and share it on Instagram or Facebook using the hashtag #valisesetgourmandises. I wanna see your creations! :)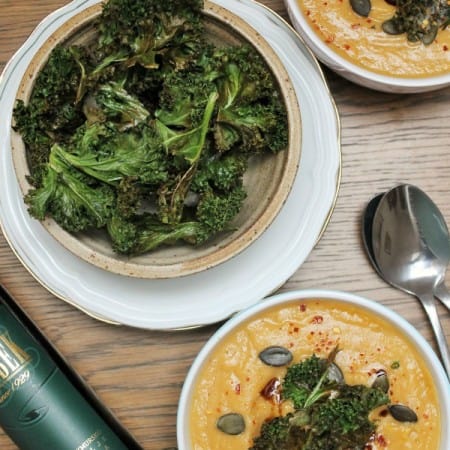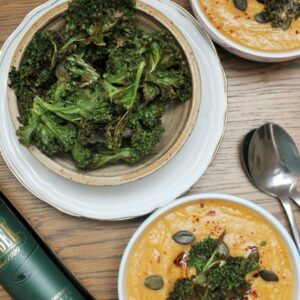 Cauliflower and sweet potato soup
Two of my favourite vegetables team up to create this creamy and satisfying cauliflower and sweet potato soup. Vegan, easy and nutritious!
Ingredients
½

head cauliflower

cut in florets (or a whole head, if it's small)

1

medium organic sweet potato

diced (with the skin)

2

garlic cloves

whole

1

small onion

cut in four

1/4

teaspoon

turmeric

2

cups

vegetable broth

use more for a runnier soup

Salt and pepper

¼

cup

raw cashew nuts

optional, adds creaminess and nutrients

1

tablespoon

nutritional yeast

optional, adds fiber and B vitamins

Toppings: roasted pumpkin seeds

roasted pumpkin seed oil
Instructions
Put all the vegetables in a large pot. Sauté in a little bit of water for a few minutes. Add the broth and bring to a boil. Once boiling, cover and let simmer until the vegetables are tender, about 15 minutes. Remove from the heat.

While the veggies are simmering, roast the pumpkin seeds in a pan on high heat, without oil. Stir often to make sure they don't burn.

If using the cashews, add them to the container of your blender,

preferably high-speed

so they blend smoothly. Add the vegetables and some of the broth and purée. Gradually add broth until you reach the desired consistency.
Kale Chips
Preheat the oven to 300F (150C).

Rinse the kale and make sure there is no dirt left. Pat dry with a clean tea towel. Remove the tough stems and tear the leaves to create bite-sized pieces.

Transfer the kale to a mixing bowl, add about one tablespoon oil and massage each leaf with your hands.

Lay the oiled kale on a baking tray in a single layer. Sprinkle with salt.

Bake in the oven for about 10 minutes, checking often to keep from burning. The chips are ready when the leaves are crunchy and no longer wet.
Notes
The soup is tasty as is, but depending on how flavoursome your broth is, you may want to add a few herbs/spices.
You can also place all the cut veggies, the garlic and the onion in the oven and roast for half an hour before blending everything up with some broth.
Similar recipes
**This article may contain affiliate links, which means that I will receive a small commission if you purchase a product through them. The price remains the same for you, but this way you are helping me maintaining the blog and providing you more interesting content! :)