Hey guys! I am so excited to finally tell you all about our trip to Ireland, one of the most memorable countries I've ever visited. A couple weeks ago I covered Galway, a small and colourful city located on the West coast. While it's fairly lively and fun to explore, there isn't much to do besides enjoying an evening in one of its pubs drinking Murphy's beer or attending a festival in the summer.
Why did we spend more than three days there then? Well, the surrounding region is, simply put, stunning and should in no case be overlooked! It is a land of breathtaking scenery, sheep and magic. Oh, and did I mention the sheep? You'd think that one would tire of seeing them, but no. I pointed each and every one of them out to Martin, excited as a child.
I loved every single moment spent in Ireland, but those two days exploring Galway county are some of the best travel memories I ever made. I think you'll quickly understand why.
Since we didn't particularly feel like driving on the wrong side of the road, we opted for two excursions with Galway Tour Company. They cost 25 euros individually, but you receive a 10% discount when you combine them like we did.
We made multiple stops along the way and had a friendly driver share his extensive knowledge about the different regions, which is a big plus considering how rich Ireland's history is. The only downside to organized tours is that we would have loved to stop more often and stay longer in certain places.
We chose the Connemara & Cong tour for the first day and the Burren & Cliffs of Moher for the next one. If I had to choose only one tour, I would have to go with the Connemara one, which is the focus of today. But that's mainly because I'd already seen my share of gorgeous cliffs in Portugal a few months before.
Day one – Connemara & Cong
We met our driver Mike and our travel companions at Galway's bus station for our 10 am departure, eager to discover those landscapes we'd long dreamed of.
Along the way, we picked up a couple of travelers that had spent the night at the Sleepzone Hostel, just 15 minutes outside Connemara National Park. Had we known it was possible beforehand, we would have seized the opportunity and spent more time in the area.
We immediately made our way to the Lough Nafooey and the Inagh Valleys, where I was overwhelmed by the unspoiled and somewhat magical views. One of our first stops was at an authentic fairy tree! Let's say you're pregnant and you would like to have a boy, well you can go to the tree and ask the fairies to grant you your wish by tying a ribbon to a branch. Easy peasy.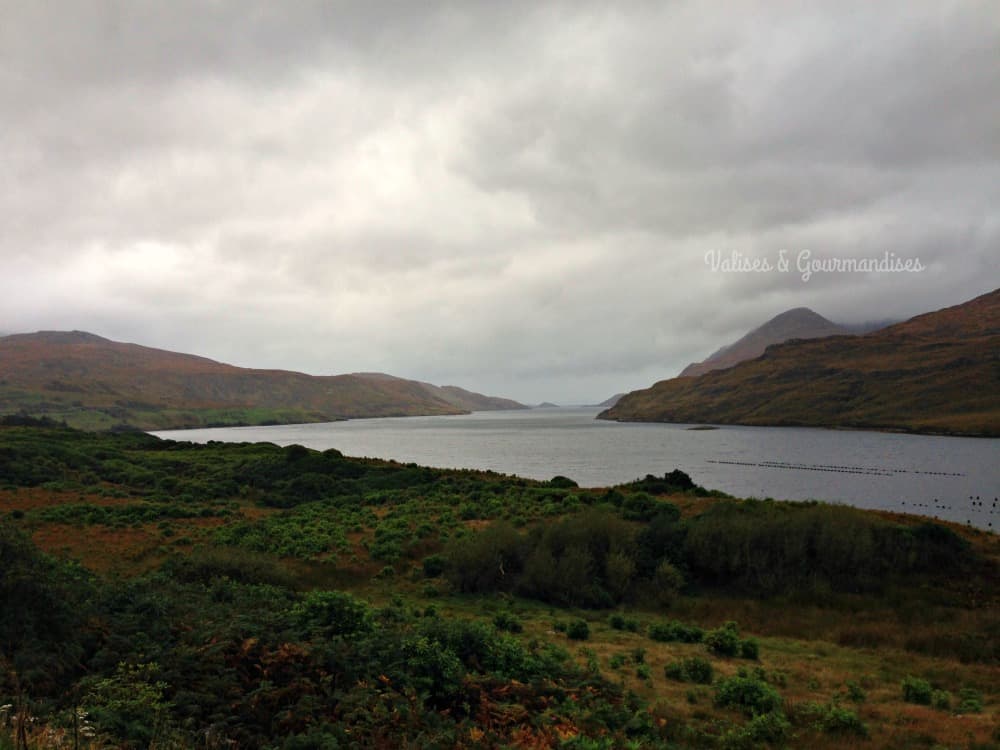 But the region's history wasn't always rainbows and fairies. In the 19th century, the people suffered greatly when the staple food of their diet, potatoes, started to rot from the inside after being infected by blight. They were growing other crops but were forced by England, who couldn't have cared less about those peasant's well-being, to export their entire harvests and a great number died due to malnutrition while others fled to America. For many of the latter, this port was their last contact with Ireland.
Luckily, those tragic days are over and Connemara is the perfect place to go recharge your batteries. I just want to move into that house for a week with nothing but books and sit by the fire with Martin all day, drinking hot tea and keeping warm with thick knitwear. And strolling through the peaceful mountains and lake.
Kylemore Abbey
We stopped at the beautiful Kylemore Abbey for lunch. This beautiful castle was built in 1867 as a love token from Mitchell Henry to his wife Margaret. It is still inhabited today by Benedictine nuns who ran a boarding school from 1923 to 2010. You can purchase tickets to visit it as well as the Victorian walled gardens, but we didn't really feel like forking out 13 euros each to visit yet another old building, so we simply passed time at the restaurant, where there are no vegan options btw, so packing a lunch is recommended!
Ross Errilly Friary
Mike took us next to this medieval monastery, walking us through the daily life of the Franciscan monks, who led a frugal existence and often faced eviction from a protestant English crown. With my rather vivid imagination, I was able to picture them going about the kitchen in their long brown tunics, cooking and singing joyfully.
Cong Village
Our final stop was in Cong, a famous little village where the movie The Quiet Man was filmed in 1951 starring John Wayne. We haven't seen it, and everything except one or two cafés was closed, so our excitement didn't reach record levels, but we still had fun walking around under some light rain.
Is Connemara the kind of destination you would like to visit? Let me know!
Practical info
Languages spoken: English and Irish.
Currency: Euro
To find vegan & veg-friendly restaurants in the area: How to find vegetarian restaurants abroad with Happy Cow
National bus company: Bus Eireann
Tour company we booked this trip with: Galway Tour Company
**This article may contain a few affiliate links, which means that I will receive a small commission if you purchase a product through them. The price remains the same for you, but this way you are helping me maintaining the blog and providing you more interesting content! :)