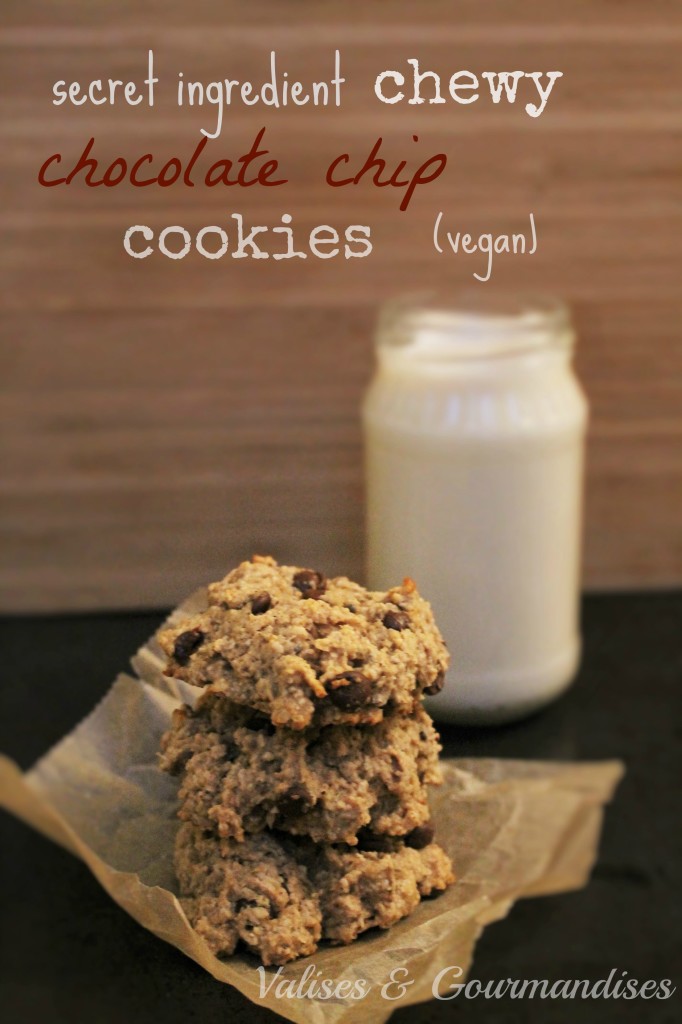 Let me introduce you to my favourite cookies. The cookies I make everytime I have the chance. Every excuse is valid. Munchies, people over, a party.
Actually I love eating dessert so much that I have to find healthy alternatives to keep satisfying my sweet tooth. I'm always on the look out for low fat and sugar recipes to keep feeding my addiction without falling into decadence.
This beautiful recipe by nutritionist Geneviève O'Gleman hit a home run. Before, I practically never ate chocolate chip cookies because of the high content of butter and sugar of all the recipes I could find, like  ½ pound of butter and a cup of sugar for 12 cookies. You kidding me? Thanks but no thanks.
The recipe I'm sharing with you today only has a quarter cup of fat and half a cup of brown sugar. Way better! And the taste doesn't suffer in the slightest. These cookies have a chewy muffin-like texture and are to die for right when they come out of the oven! I replaced the eggs by "flax eggs" and the butter by coconut oil for a vegan version, but the essence of the recipe is the same.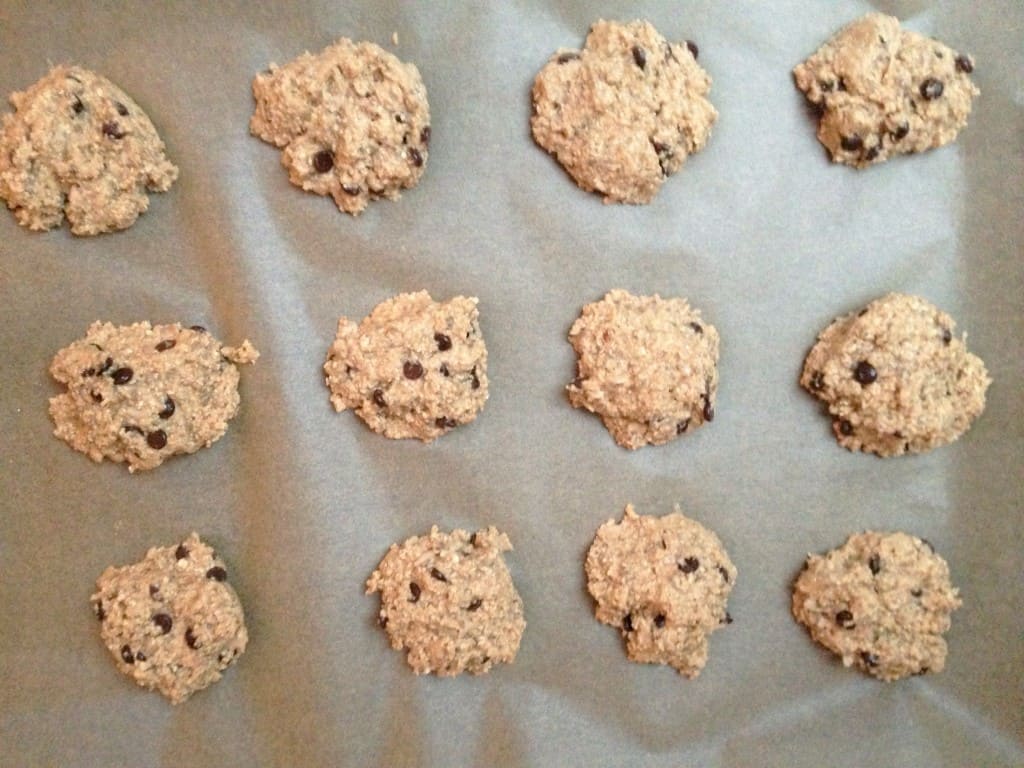 Each time I make them, they disappear fast. And none of my guinea-pigs has ever been able to find the secret ingredient that makes them so healthy. But they all asked me for the recipe :)
Finally, I've tried this recipe both with whole wheat flour and oat flour (I simply finely grinded oats in my food processor) and they work equally well. Good news for those of you with a wheat intolerance out there!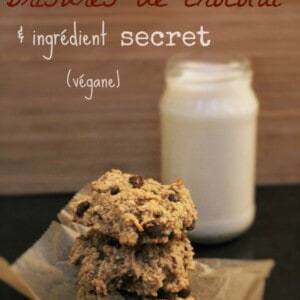 Chewy Chocolate Chip Cookies
These chocolate chip cookies are so chewy and tasty that no one will ever find their secret ingredient. They're the perfect way to feed legumes to your family without them knowing it! I suggest you go ahead and bake a a double batch right now ;)
Ingredients
1

cup

cooked white beans

rinced and drained

1

tablespoon

water

1

tablespoon

agave or maple syrup

1/2

cup

brown sugar

1/4

cup

coconut oil or vegan butter

soft but not melted

2

flax eggs

2 tablespoons flax seeds & 5 tablespoons warm water

1

teaspoon

pure vanilla extract

1

cup

wholewheat flour or oat flour

whole oats finely ground

1

teaspoon

baking soda

1

teaspoon

cinnamon

1/4

cup

vegan bittersweet chocolate chips
Instructions
In a food processor, pulse the white beans in a smooth puree along with the water and the agave syrup. Put aside.

In a small bowl, mix the flax seeds and the warm water. They will thicken and create an egg-like texture.

In another bowl, mix the flour, the baking soda and the cinnamon.

In a big bowl, beat the brown sugar with the coconut oil with a whisk. Add the flax eggs, the vanilla, the bean puree and mix well.

Mix in the dry ingredients until you have a nice homogeneous dough. Add the chocolate chips and mix.

Preheat the oven to 350F (180C) and oil a cookie sheet. Use a tablespoon to form 12 small cookies. Bake for approximately 12 minutes.

Let cool on a grid and enjoy warm with a good glass of almond milk.
Notes
Instead of using canned beans, soak and cook dry beans and then puree them for the next time you crave chocolate chip cookies. You can freeze them in one-cup portions to make things easier.