This vegan cream of mushroom soup is so comforting, it will keep you warm through the colder months to come! It comes together effortlessly and delivers a punch of flavour thanks to the dried mushrooms.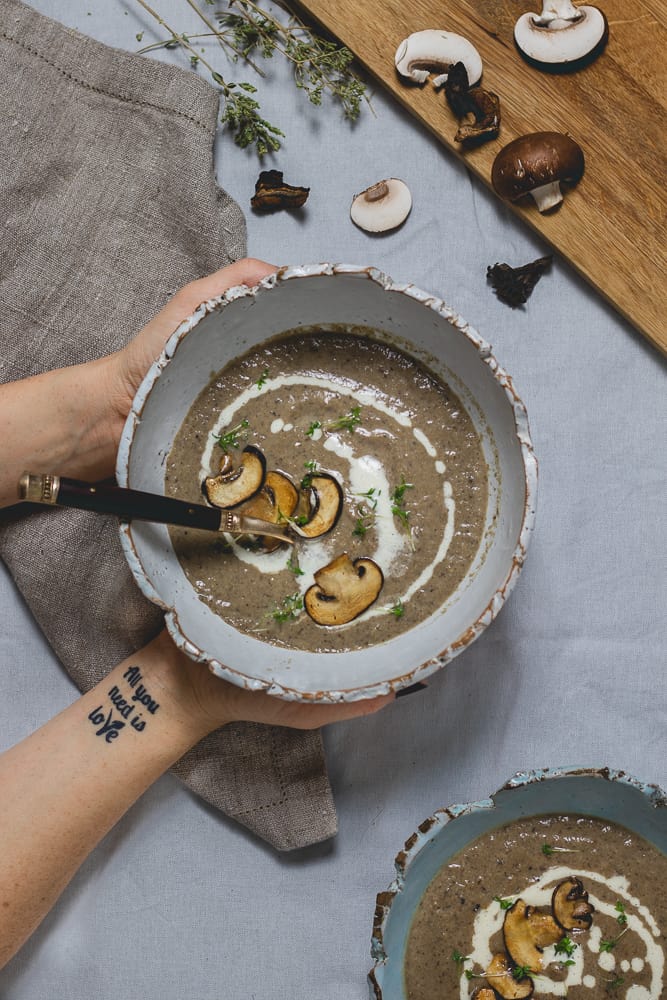 A few years ago, a can of Campbell's cream of mushroom was easily one my favorite thing to eat. Not too far behind Nutella and Kraft peanut butter on white toast. It's as if in those days, I could eat anything and everything without worrying about nutrition.
Gone are the simple years when we'd eat uncooked Ramens for lunch. I don't know about you but in my high school, we would smash the bag of noodles to break them up, pour in the whole seasoning packet and eat it raw as if they were potato chips.
With everything I know today, and especially everything I don't know, about processed foods, I eat them in moderation compared to having them as part of my daily diet. And I can't say I miss any of it. I've learned to enjoy food in its most natural state.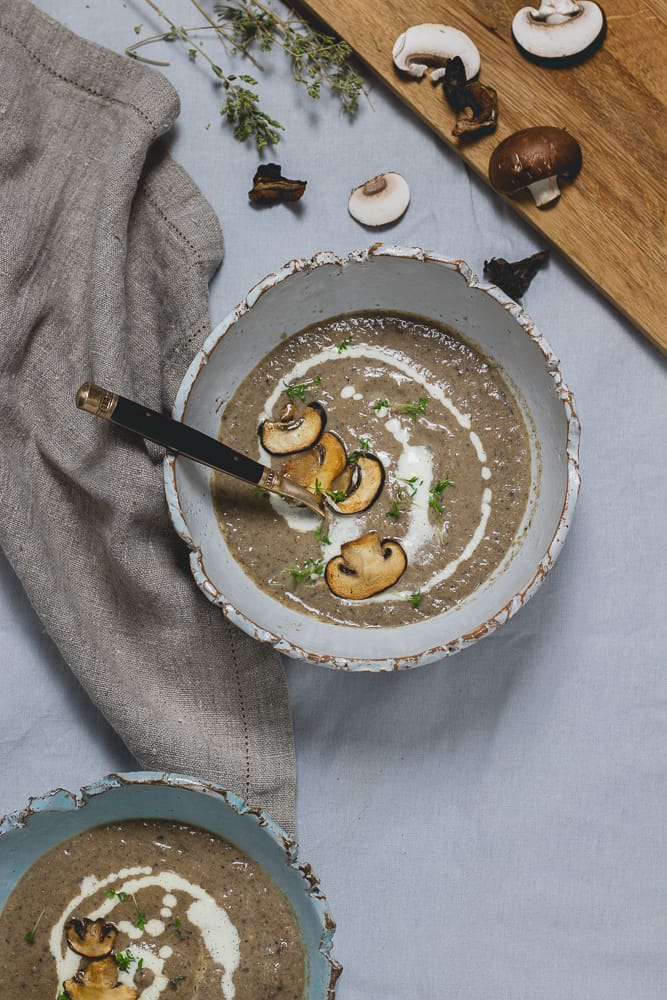 I've even come around to enjoy things I used to despise, like mushrooms (yeah I only liked them in Campbell's soup, which doesn't really count). In bygone times, I never would have come near even the smallest piece of mushroom, let alone eat it. I now love them and I try to sneak them onto the menu as often as possible.
Are mushrooms good for you?
Why yes they are! Mushrooms, which are not vegetables but fungi by the way, offer an interesting variety of benefits, including:
They're low in calories, sugar and fat;
They're rich in vitamin D, which is essential to the health of our bones;
They're high in B vitamins, which stimulate the metabolism;
They contain a high quantity of insoluble fiber that plays an important role in intestinal health;
They reinforce the immune system.
There are more than one million varieties of mushrooms, from which about a hundred are consumed by mankind. You don't have any reason not to start liking them and adding them to your meals.
What kinds of mushrooms should I use for my soup?
I tend to use button mushrooms, which are easy to find a delicious. But you can of course be creative and use portobellos, shiitake, king oysters… as always, I encourage you to use what you like and what you have on hand.
Recently, we even went on a mushroom-picking adventure with our friends and their horse Jiggy. We picked king oyster and boletes, which were surprisingly abundant and easy to find.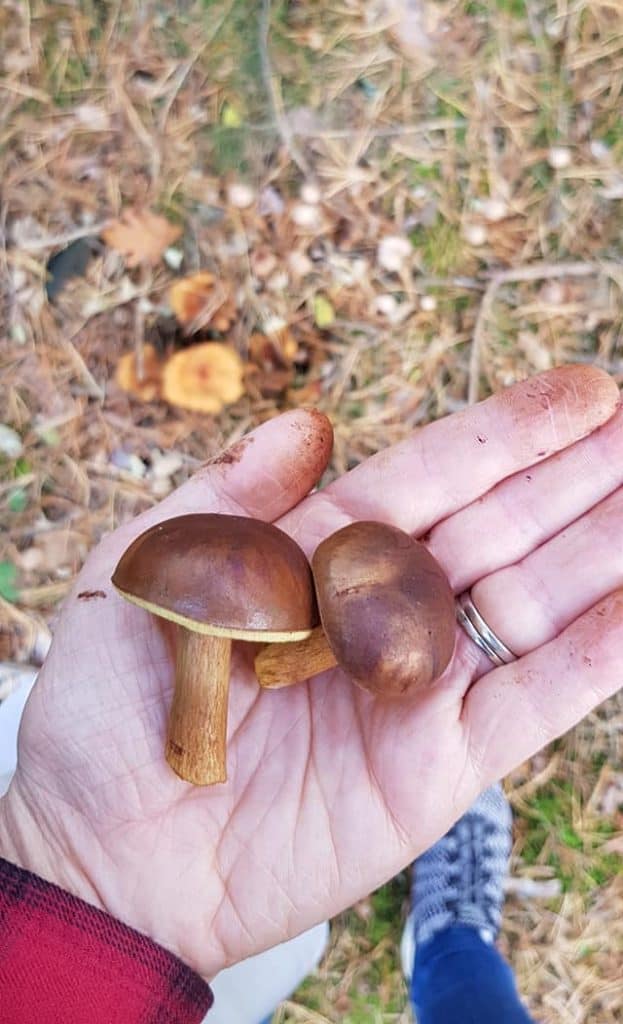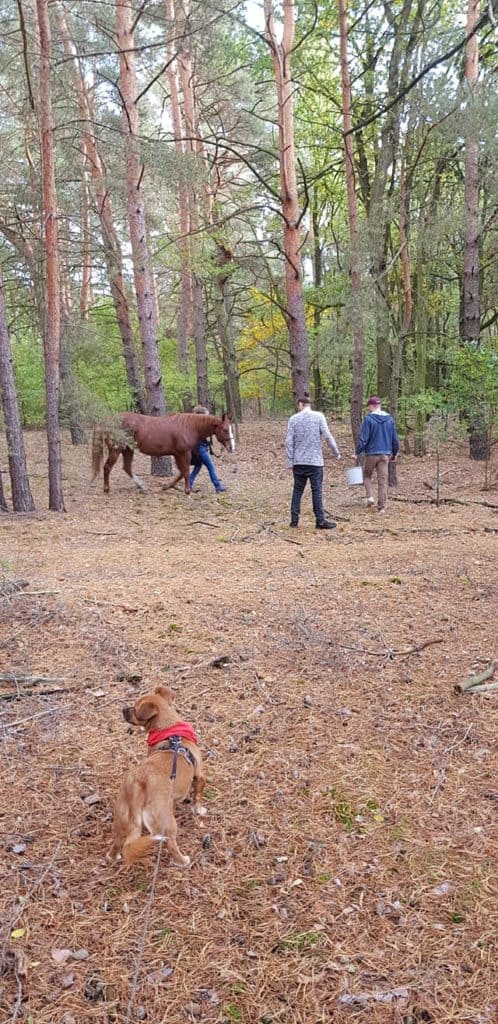 I used some to make vegan mushroom stroganoff and dried what was left at the lowest oven setting to use in other recipes such as this vegan cream of mushroom soup and my creamy mushroom risotto.
Using any kind of dried mushrooms and the water left from rehydrating them will add an impressive punch of flavour to this creamy mushroom soup. Which is why I would not recommend omitting them. Fresh mushrooms just can't compete!
You can usually find dried mushrooms in most grocery stores. People in Canada can even buy huge jars at Costco! Also note that any variety will work. I have different mixes and use them interchangeably.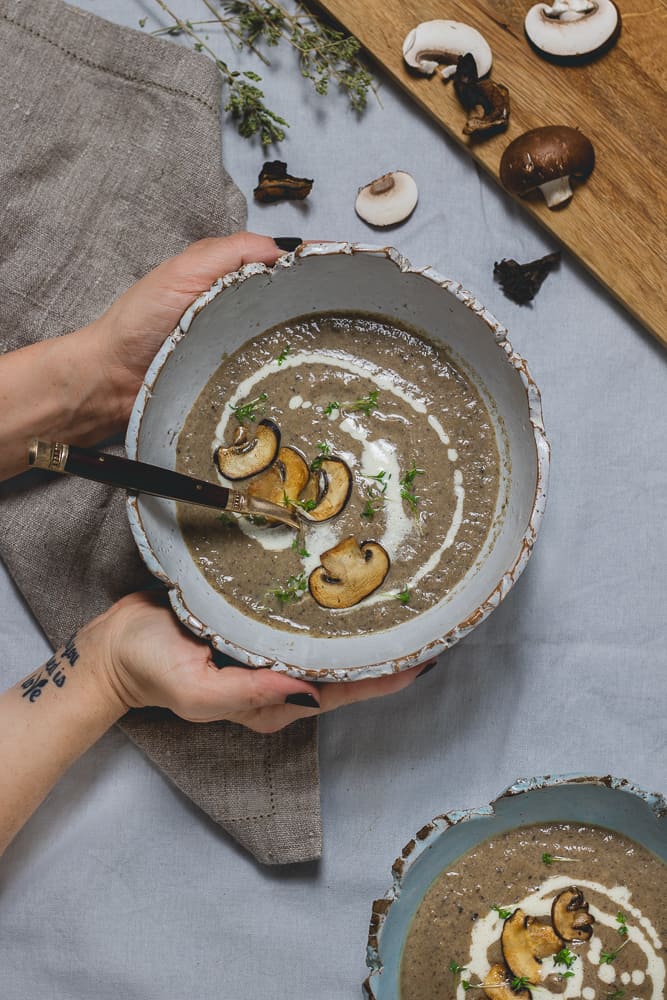 How to get the right soup consistency
Everyone has different ways of preparing their cream of mushroom soup. Some like it very runny, with lots of chunks, super thick and creamy. Therefore, it is a bit hard for me to come up with a "one size fits all" kind of recipe.
But this absolutely doesn't mean that you should avoid making this one! The good news is that you can easily adapt it to suit your preferred consistency. If you know that you like a runny soup, simply add more vegetable broth, either at the beginning or when you're blending it.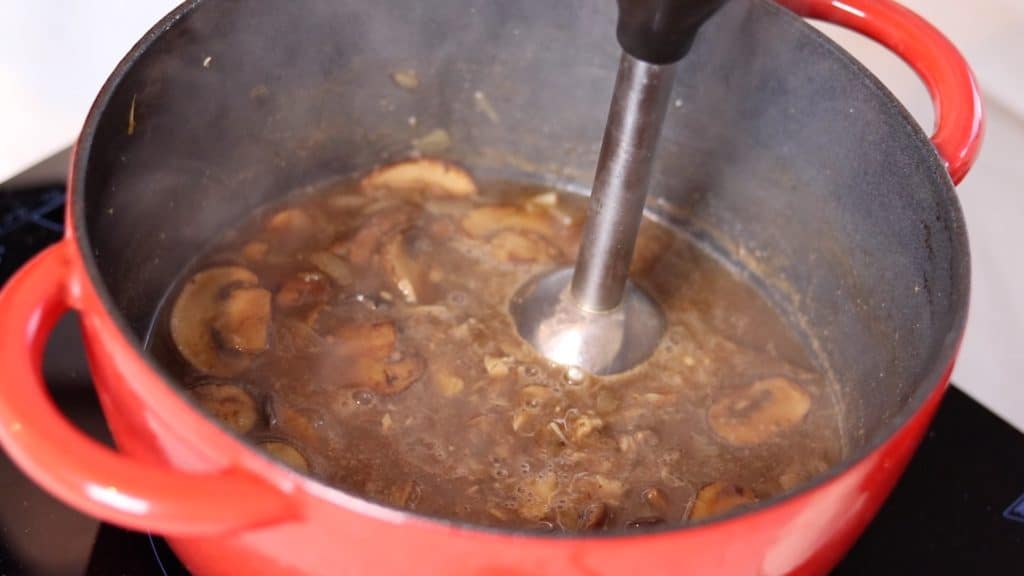 The last time I made it, I filmed the process to show you how easy it is. You can find the video on my YouTube channel or lower in this post, above the recipe card. A lot of liquid evaporated and I was left with quite a thick soup. I don't mind so I simply added some homemade vegan cream and I was good to go.
What kind of vegan cream can I use?
We have been blessed in the past few years with a lot of new options for everything dairy free! You can simply use any store-bought variety you like. I know that in Germany we know have every kind of vegan cream under the sun. Rice, Oat, Coconut, Soy, Spelt…
My favourite is oat but, my "even more favourite" is my homemade vegan cream version. It is made in under one minute with 4 simple ingredients.
Yummy toppings for your cream of mushroom
My number one favourite thing to add to all things mushrooms is truffle oil or truffle salt. Ever since our first trip to Italy back in 2014, I have been obsessed with truffles.
But simpler (and cheaper) toppings include: a nice drizzle of cream, sliced mushrooms fried in a bit of vegan butter with salt, fresh herbs, cress, croutons, crunchy chickpeas. The options are endless!
The way I see it, toppings are a fun and delicious way to turn a basic soup recipe into a dish that will impress your guests! Or simply make your Tuesday night dinner a little bit more interesting :)
Related Recipes
If you try this recipe, make sure to snap a picture and share it on Instagram or Facebook using the hashtag #valisesetgourmandises. I wanna see your creations! And don't forget to leave a comment below :)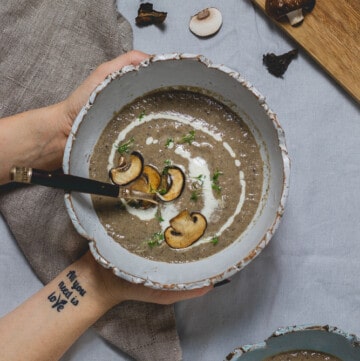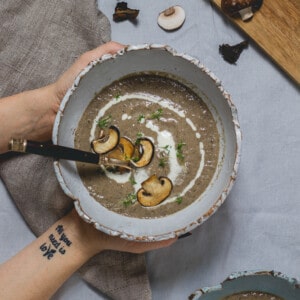 Vegan Cream of Mushroom Soup
This vegan cream of mushroom soup is so comforting, it will keep you warm through the colder months to come! It comes together effortlessly and delivers a punch of flavour thanks to the dried mushrooms.
Ingredients
1/3

cup

dried mushrooms

¾

cup

hot water

1

tablespoon

olive oil

250

g

button mushrooms

1

onion

finely chopped

1

tablespoon

whole wheat flour

chickpea flour for gf

3

cloves

garlic

½

teaspoon

oregano

dried

2

cups

vegetable broth

½

cup

mushroom soaking liquid

½

cup

vegan cream

Truffle oil

facultative but oh so tasty
Instructions
Soak dried mushrooms in a bowl with the hot water and set aside.

Clean the fresh mushrooms and cut them coarsely. In a large pot on medium heat, sauté the mushrooms in olive oil. Add a bit of salt. They will start by losing all their water but it will eventually evaporate.

Once the water has evaporated, add chopped onions and cook for 5 minutes, stirring often.Add the rehydrated mushrooms (don't discard the water!!) and one tablespoon of flour. Cook for one to two minutes, stirring often.

Add dried oregano, the whole garlic cloves, ½ cup of the mushroom soaking water and 2 cups of vegetable stock. Bring to a boil. Reduce heat to low and simmer for 20 to 30 minutes.

With an immersion blender, blend the soup in a more or less homogenous puree according to your preference. Personally, I like a soup with tiny bits of mushrooms in it. If too much liquid evaporated, add more warm broth.

Add cream, mix well and serve. If you have any, pour a bit of truffle oil on the soup before serving to give it a new dimension.
Notes
This recipe yield two large soups or four smaller ones. You can easily double the recipe if you want to have leftovers! 
You can use store-bought cream such as Belsoy or make your own easy 4-ingredient vegan cream. 
*Nutrition facts are calculated without the cream
Nutrition
Calories:
78
kcal
Carbohydrates:
10
g
Protein:
3
g
Fat:
4
g
Saturated Fat:
1
g
Sodium:
475
mg
Potassium:
284
mg
Fiber:
2
g
Sugar:
3
g
Vitamin A:
250
IU
Vitamin C:
4
mg
Calcium:
10
mg
Iron:
1
mg