Ho! Ho! Ho!
Merry Christmas everyone!
What are your plans for the upcoming week? Will your holidays fly by in a hectic blur of family gatherings, knee-deep in gift wrappers, or are you planning something more low-key? Since this time of year seems to be rather stressful for most people, I hope you find some time to unwind.
As it will be our third Christmas far away from home, we need comfort food as well as the movie Elf, our yearly tradition, to keep us from sulking all week long. I have a delicious millet "meat" pie in the oven and a nice jar of creamy eggnog in the fridge.

And there's some Radiohead playing on Martin's new vinyl player, which he eagerly unwrapped this morning. Of course, the first thing we listened to was Bing Crosby. Ain't no Christmas without Bing, although Radiohead does remind us of our Holidays in Oslo two years ago when he first introduced me to OK Computer.
The eggnog was also a request from the hubby. It's not really a traditional beverage in Québec, and from the Martha Stewart video I've seen on YouTube, many many moons ago, it seemed absolutely repulsive, with raw eggs, whole milk and heavy cream.
But he'd always buy the alcohol-free lait de poule from Québon come December and it didn't take long before I was hooked too! Which is why I gladly set out to create my own guilt-free version without any animal products or refined sugar. And, we're both pretty happy with how it turned out!
I've seen multiple recipes for vegan eggnog but none that really impressed me. Some of them used cashews and coconut milk, which are great but don't stay true to the original thing, in my humble opinion. It also makes for a fairly expensive drink that's pretty high in fat.
What you basically want is a sweet, thick, creamy drink with a nice touch of winter spices. Now, since I've been obsessed with silken tofu lately, it seemed like the logical choice for my dairy-free version. It adds a whole new level of creaminess to whatever you add it to without actually tasting like tofu. This is especially true in this case i.e. paired with vanilla-flavoured soy milk and holiday spices.

If you try this recipe, make sure to snap a picture and share it on Instagram or Facebook using the hashtag #valisesetgourmandises. I wanna see your creations! And don't forget to leave a comment below :)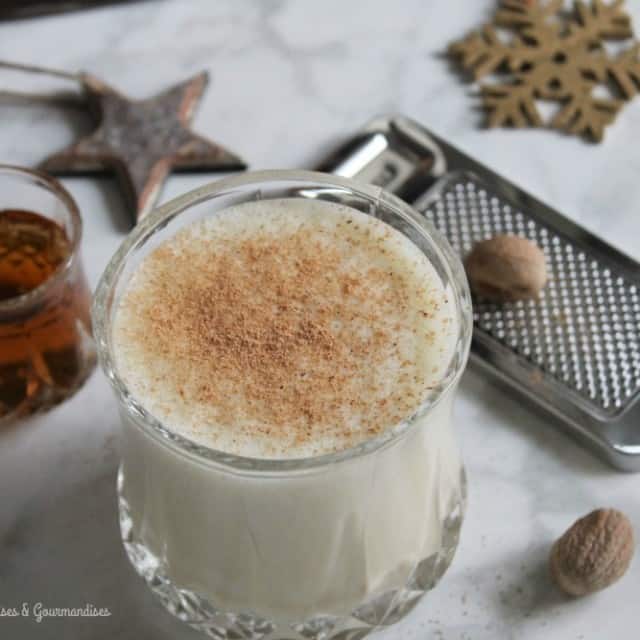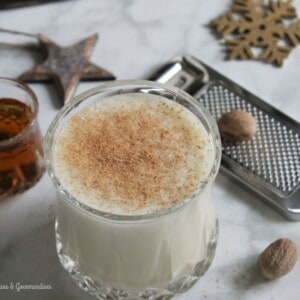 Super creamy vegan eggnog with optional maple whisky
Much lower in fat and sugar than most versions, this healthier vegan eggnog is the perfect Holiday drink. It's especially delicious with a shot of maple whisky!
Ingredients
300

g

10oz organic silken tofu

1

cup

250 ml sweetened vanilla soy milk

2

tablespoons

30 ml maple syrup from Québec

1

teaspoon

pure vanilla extract

½

teaspoon

organic Ceylon cinnamon

½

teaspoon

organic nutmeg

freshly grated

1

pinch

of organic cardamom

4

oz

maple whisky or rum

optional
Instructions
Place all the ingredients in the bowl

of your blender

. Blend for about 30 seconds until everything is smooth and creamy.

Taste and adjust to your taste. Divide into four glasses, adding 1 oz of alcohol if desired. We added Coureur des Bois maple whisky, which took it to the next level. Grate some nutmeg on top of each glass before serving.

Keep in the fridge for a few days. If the mix separates, simply blend again before serving.
More Christmas recipes
**This article may contain affiliate links, which means that I will receive a small commission if you purchase a product through them. The price remains the same for you, but this way you are helping me maintaining the blog and providing you more interesting content! :)