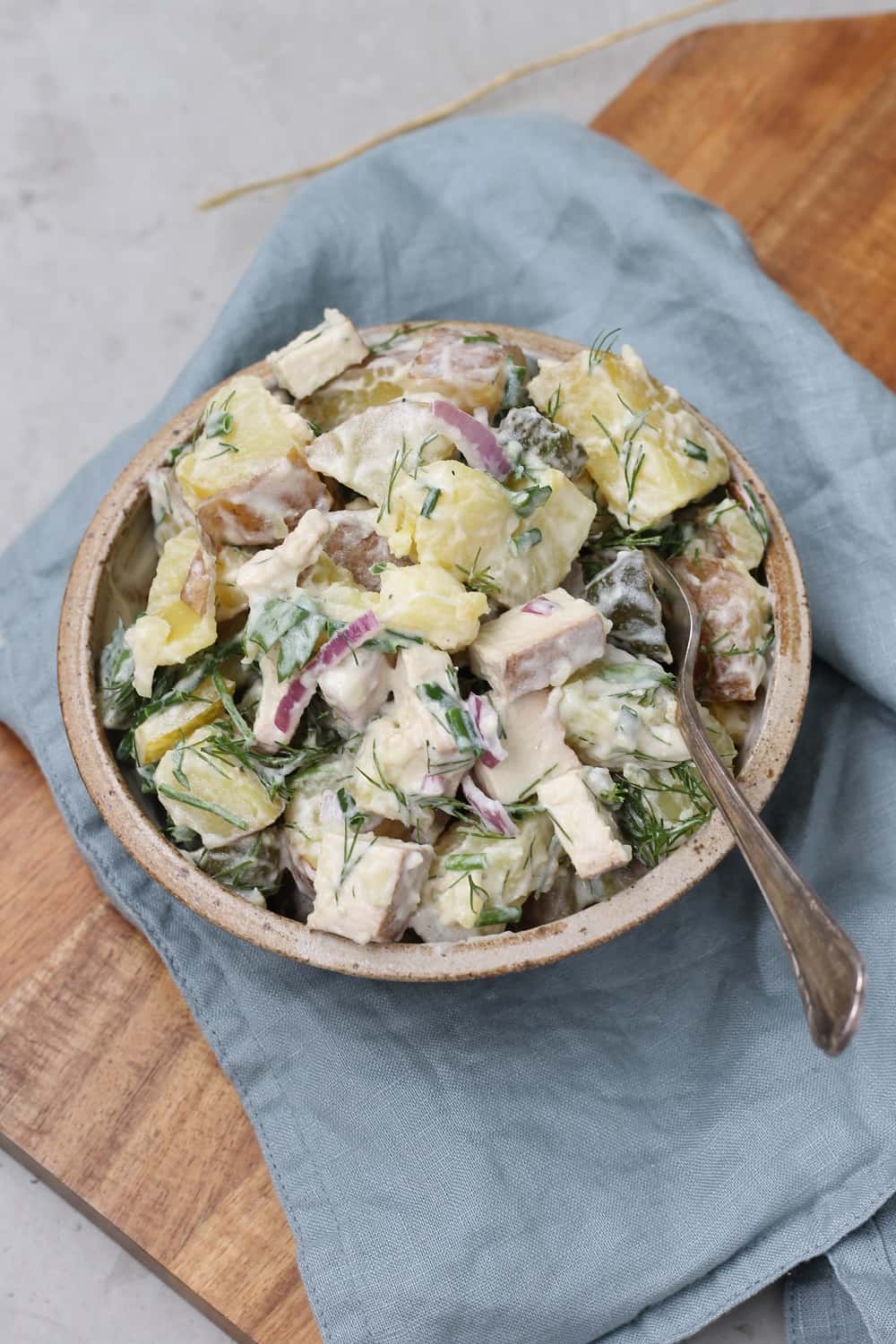 I've been making this vegan potato salad recipe for years. Martin and I love it so so much! But let's be honest here, potato salad is not sexy and does not photograph well… which is why it took that long to make it to the blog. But I decided to just take pictures and be done with it. Because it's too good not to share.
I wanted to publish it before our trip to Greece but I didn't manage to. So here it finally is, my favorite creamy potato salad loaded with smoked tofu, pickles and fresh herbs. Perfect for potlucks, brunch, school lunches, picnics, midnight cravings…
The taters
I love that it features simple local ingredients, especially since the farmers' market's stalls are currently filled with new potatoes! And talking about potatoes, how satisfying are they? I could eat them all day everyday, warm or cold. Any hard-cooking variety will do for this salad but I like red potatoes, which have red skin but a sweet and creamy yellow flesh.
And the good news is that potatoes are packed with fiber and diverse vitamins and minerals such as vitamin C and B6, iron, potassium… If you're buying them organic, which is best and usually super cheap when it comes to potatoes, you don't even have to peel them.
I also like to buy potatoes (and everything, really) unpackaged, I avoid those in plastic bags or nets, which are just so wasteful and end up in our oceans.
The smoked tofu
The smoked tofu adds protein and a very delicious smokey salty taste to the salad. If you usually put ham into your potato and noodle salads – because I do hope that not only vegans are trying my recipes, but also people interested in reducing their meat and dairy consumption – then please give smoked tofu a try for a healthier and cruelty-free version. It also works well in pretty much any dish that calls for ham or lardons.
The veggies
I wanted the potatoes to be the star of the show and went quite easy on the vegetables and only used bell pepper and red onion, but you could of course use any veggies you fancy and as much or as little as you like. What I wouldn't omit though is the pickles, which add some crunchy umami to our creamy potato salad. I've even added pickled baby corns and it was so good!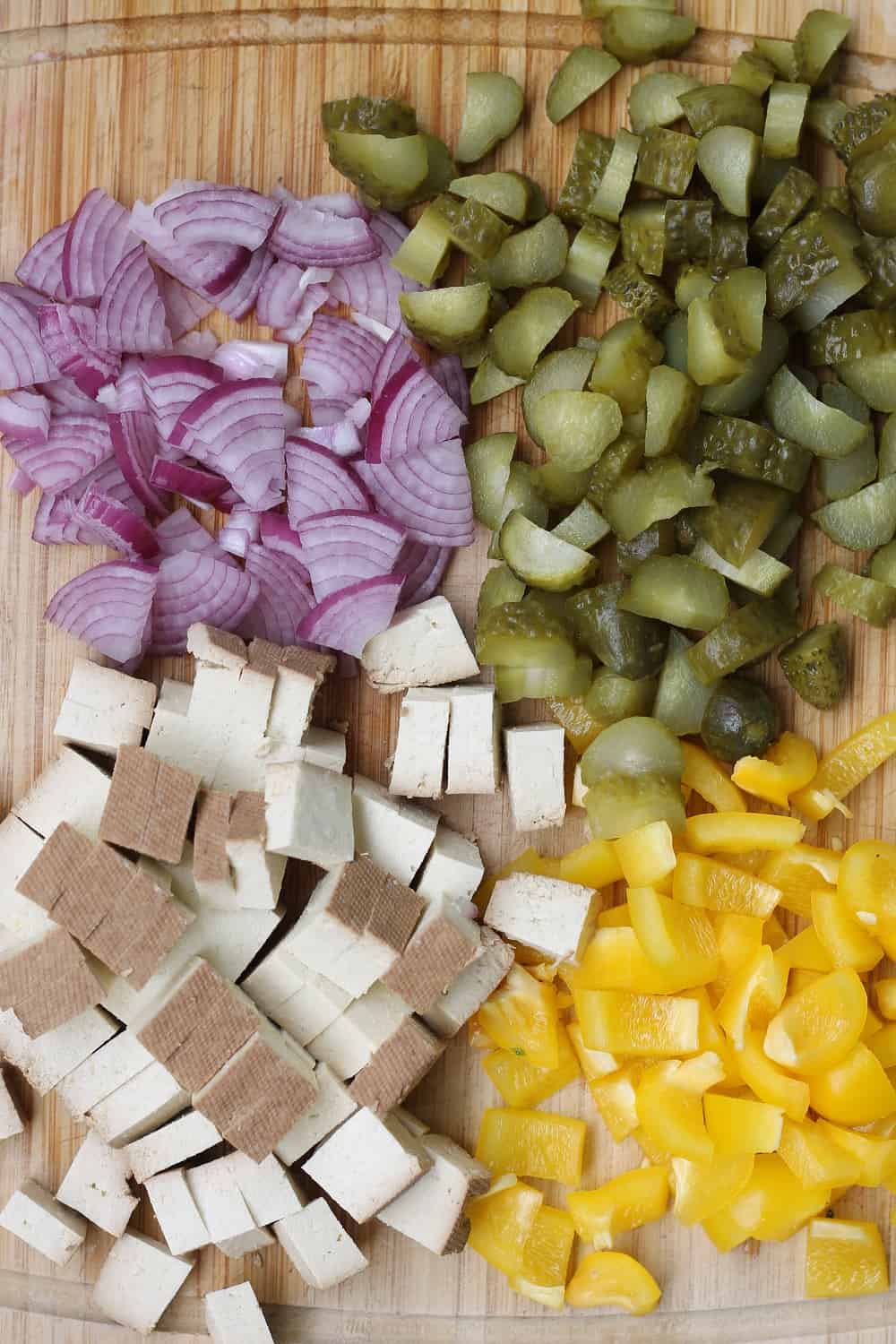 And don't forget the herbs! There is something about dill that brings this whole dish to a whole new level and I never make it without it. Parsley and chives are not as crucial but you should definitely add them if you have some in the fridge.
I like to buy big bunches of fresh herbs and use them in different recipes, such as my beetroot and lentil salad with tofu feta.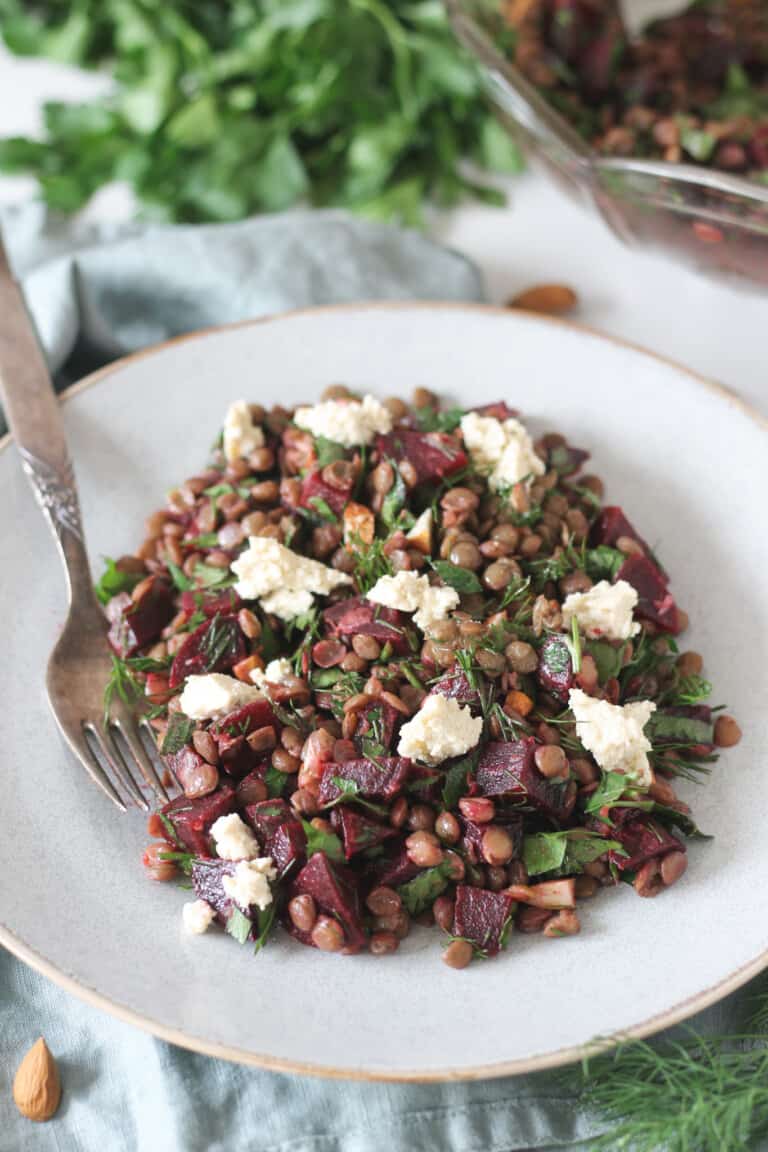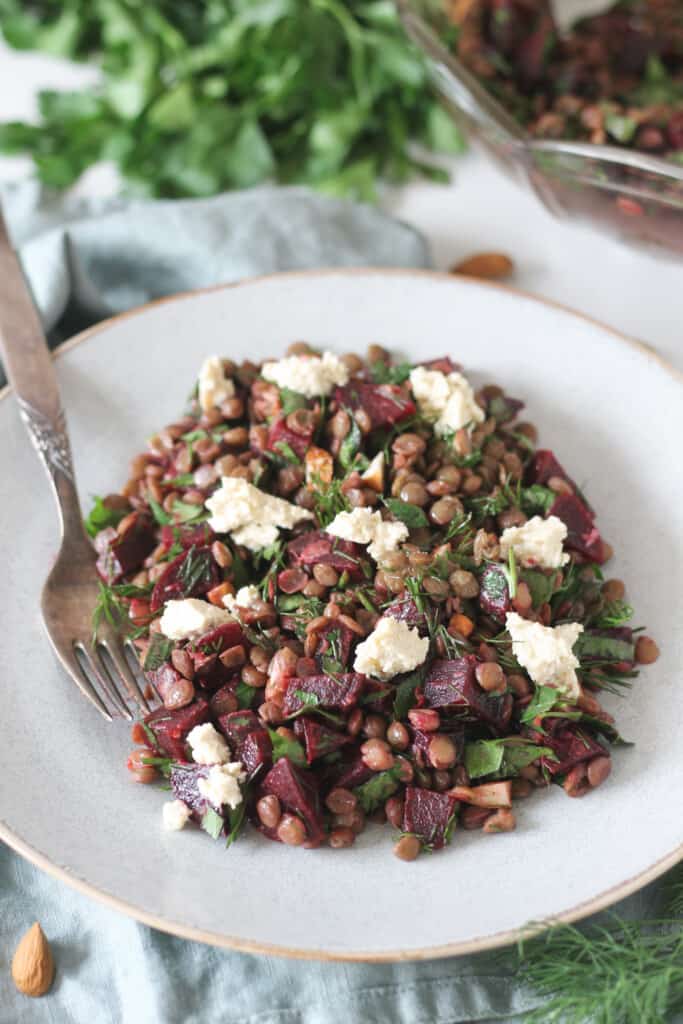 Lentil and beetroot salad with tofu feta and fresh herbs[/caption]
The sauce
As for the sauce, it couldn't be more simple. You can use homemade mayo if you have any or a store-bought version. I am personally a huge fan of the vegenaise from Earth Island. I know that Hellmann's came out with a plant-based version but this giga corporation (Uniliver) is simply surfing the vegan wave and actually sued Earth Island when it first came out. Remember that you vote with your dollar!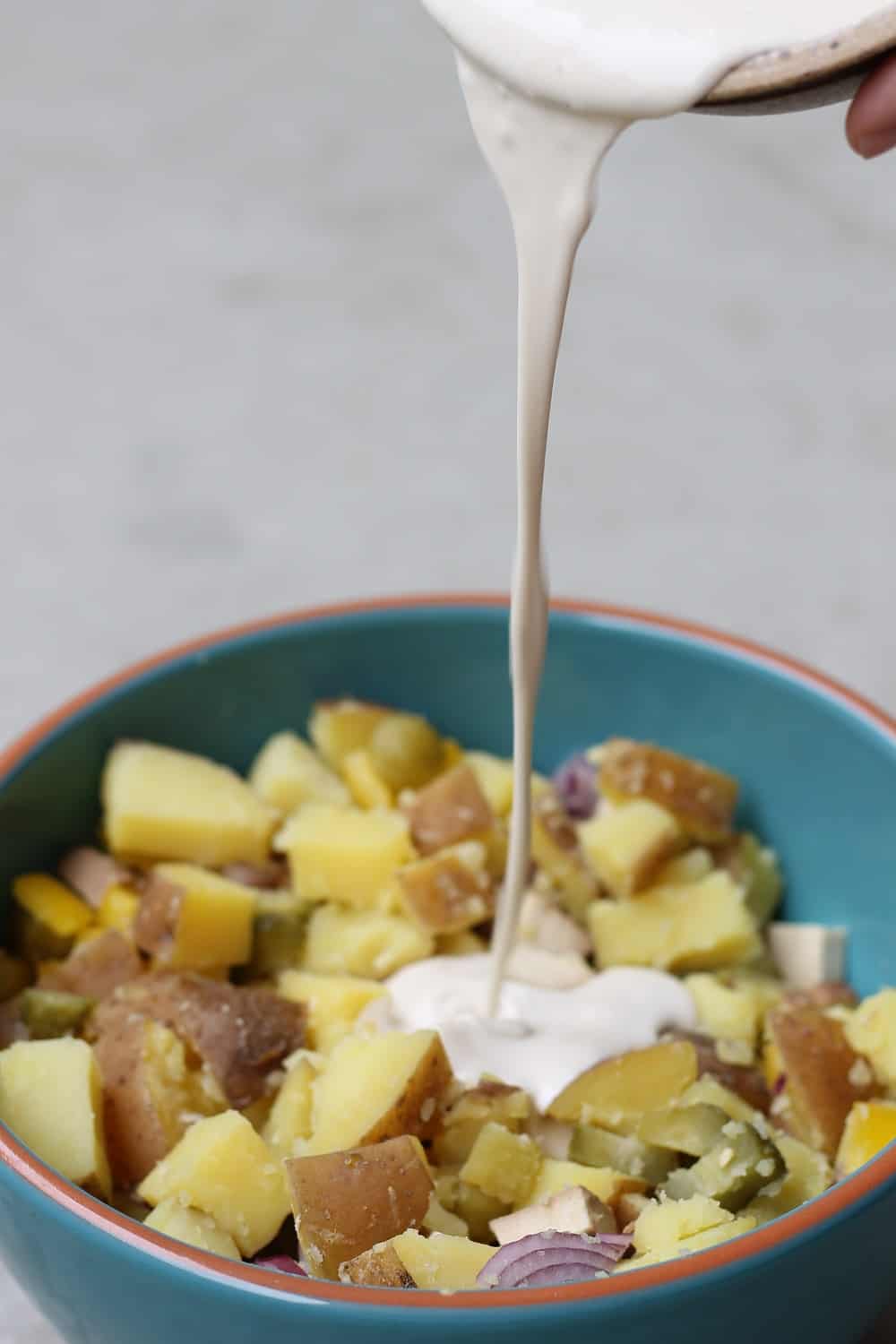 If you try this recipe, make sure to snap a picture and share it on Instagram or Facebook using the hashtag #valisesetgourmandises. I wanna see your creations! And don't forget to leave a comment below :)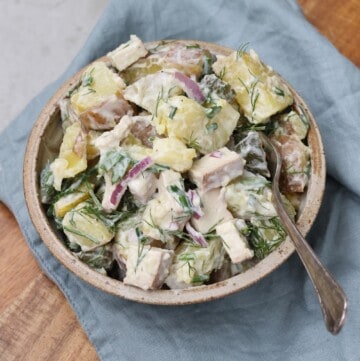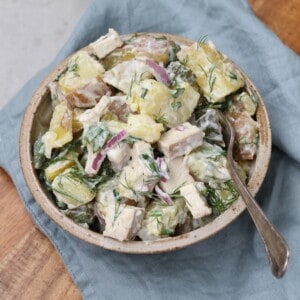 Creamy vegan potato salad with pickles and smoked tofu
This creamy vegan potato salad with pickles, smoked tofu and lots of fresh herbs is sure to impress!
Ingredients
1

kg

firm potatoes

cubed

200

g

smoked tofu

cubed

1

small bell pepper

diced

1

small red onion

diced

pickles to taste

chopped

a large handful fresh dill

chopped

fresh parsley & chives

to taste, chopped

Sauce

1/2

cup

125 ml vegenaise*

1/4

cup

60 ml unsweetened non-dairy yogurt (or more vegenaise)

2

tablespoons

30 ml pickle brine

1

teaspoon

5 ml Dijon mustard

1/2

teaspoon

garlic powder

salt & pepper
Instructions
First off, steam or boil the potatoes until tender. Let cool completely.

In a large mixing bowl, combine the sauce ingredients. Add all the salad ingredients and mix until well coated.

For the best flavor, refrigerate the potato salad for an hour or two before serving. We like to take the salad out at least 15 minutes in advance so it's not so cold.
Notes
I like to use a mix of vegenaise and unsweetened plain soy yogurt for the sauce. If you can't find yogurt or don't want to use it, simply replace it with more vegan mayo.
You could also use plain hummus thinned with a bit of water for a lighter protein-pack version.
3.4.3176