I'm very picky when it comes to bananas. They have to be perfectly ripe for me to enjoy. My boyfriend teases me relentlessly about this:
"There is, at most, a 15-minute window of opportunity in the banana's lifespan during which the fruit is worthy of Aryane's refined taste buds",  he recites mockingly.
Hilarious…
I have to admit, it's one of my many idiosyncrasies (Scrabble players, take note). As soon as those brown spots appear, it's too late. I simply can't stomach the fermented taste and pasty texture.
As a result, I often end up with a slew of brown bananas in my kitchen. These would be very likely to end up in the compost bin, but luckily I have the best banana-muffin recipe ever.
After trying so many disappointing recipes over the years, I finally came across one that offered the perfect soft and moist texture I had been longing for.
I preserved the essence of the original recipe, and even made it healthier without compromising one bit of yumminess. Yes, that's a word. With all the oil and sugar contained in most muffin recipes, I feel like they should more appropriately be called cupcakes.
Don't get me wrong though, I love cupcakes. A lot. Who doesn't? No one I've ever met.
Digressions aside, these muffins taste like heaven, but are also super healthy thanks to a bit of ingredient-swapping on my part. I usually have them for breakfast with a glass of almond milk. When gluttony gets the best of me, I top it off with some homemade chocolate spread. Healthy AND decadent!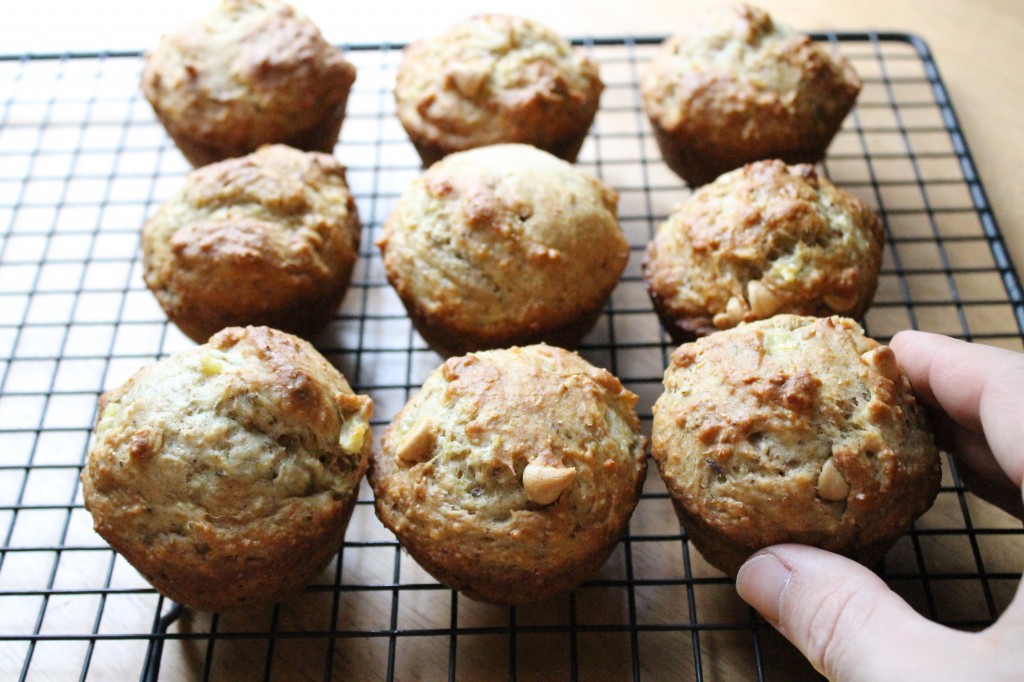 Finally, if you can't find vegan peanut butter chips or want something healthier, simply fill your muffin tins halfway, add a spoonful of natural peanut butter and top with the rest of the batter.
If you try this recipe, make sure to snap a picture and share it on Instagram or Facebook using the hashtag #valisesetgourmandises. I wanna see your creations! And don't forget to leave a comment below :)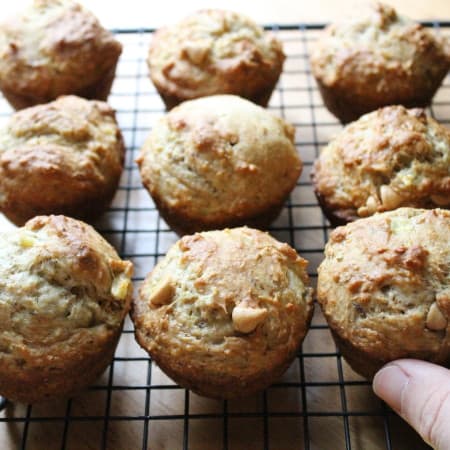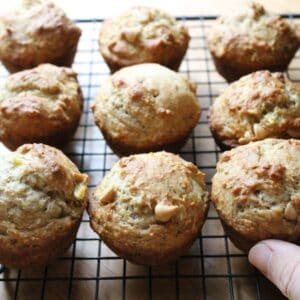 Eggless Banana PB Muffins
Perfectly moist and filling muffins to get your day started on the right foot.
Ingredients
1 ½

cup

whole wheat flour

1

teaspoon

baking powder

1/4

teaspoon

salt

3

big ripe organic bananas

mashed

1/2

cup

plain yogurt

vegan

1

teaspoon

baking soda

1

"flax egg"

1 tablespoon ground flaxseed + 2 tablespoon water

1/3

cup

raw sugar

1/4

cup

coconut oil

liquid (a little more than 2 tablespoon solid, melted)

1

teaspoon

vanilla

1/3

cup

vegan peanut butter chips
Instructions
In a small bowl, mix the ground flaxseed and water and let sit for a few minutes. In a medium bowl, mix the bananas, the yogurt and the baking soda. In a big bowl, mix the flour, the baking powder and the salt.

Incorporate the melted coconut oil, the sugar and the vanilla to the flax seed mixture and slightly whisk together. Pour this mixture on the banana preparation, which will have risen in the meantime. Mix well.

With a wooden spoon, incorporate the wet ingredients to the dry ingredients and mix until the dough is humid, do not overmix. Add peanut butter chips and mix.

Preheat the oven to 350°F (180°C). Oil a muffin pan and distribute the mixture by putting approximately one heaping tablespoon per tin.

Bake on the middle grid of the oven for approximately 20 minutes.
Notes
If you prefer, you can replace the chips with natural peanut butter: fill your mold halfway, put a small spoonful of peanut butter on top and cover up with some more batter.
After the first 10 minutes of baking, rotate the muffin pan for even cooking.
The muffins are ready when a toothpick inserted in the center comes out clean.
Take out the muffin pan and let sit until cool enough to handle.
Remove the muffins and let cool on a grid.
Can be prepared in advanced and frozen for up to 2 months.