Today was busy: I got up super late to recover from the weekend (it ain't easy getting old), looked at places to stay for our trip in Italy and washed two loads of laundry. I also made a scrumptious tapioca pudding with rum and coconut milk, topped with a tropical fruit salsa and I finally saved those old bananas from the compost bin and baked perfect eggless banana & peanut butter muffins.
I had promised my boyfriend that a nice supper would be waiting for him when he got back from work, but what he found instead was a big pile of dirty dishes along with some tasty dessert and breakfast. But no sign of dinner.
I had to think fast. I always keep a bag of frozen vegetables (the Asian-style mix) and a pack of rice noodles for this sort of occasion, or for whenever I don't want to spend an hour making supper.
I'm a big fan of all kinds of peanut sauces, but I rarely make it because I usually can't get the right texture. Until tonight.
I gave up on commercial PB and only purchase 100% real peanut butter at a local store. They have this machine that crushes the nuts, which results in deliciously thick and chunky PB. I love knowing where my food comes from! The downside is that I had a hard time making a smooth sauce with it. But I finally had an epiphany and mixed it with warm (almost hot) vegetable stock. Win!
I finally found the perfect technique, which was quite obvious I must admit. But hey, I can't be perfect aaall the time. :)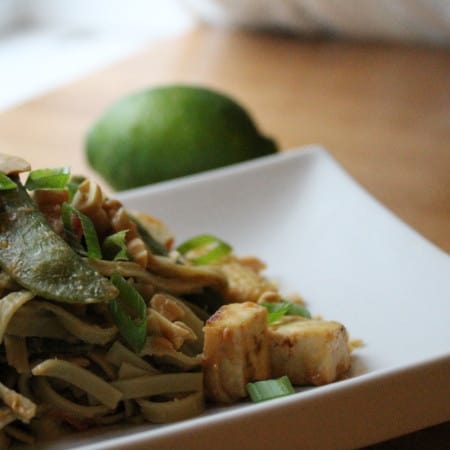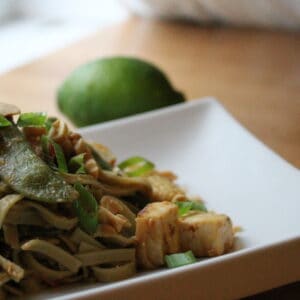 Express Peanut Sauté
This sauté is loaded with vegetables and tofu and the sauce is super healthy; the only fats are natural and come from the coconut oil used for sautéing and the PB. By using good oils and vinegars, you get the perfect recipe without having to add salt or any other not so healthy ingredient.
Ingredients
1

tbsp

coconut oil

1

onion

minced

1

big garlic clove

pressed

1

tsp

fresh ginger

grated

½

pack of good quality frozen Asian vegetable mix

½

block tofu

about 200g, diced

2

portions rice noodles

PEANUT SAUCE

3

teaspoons

natural peanut butter

1

tablespoon

agave nectar

or honey, but no longer vegan

1

tablespoon

soy sauce

1

tablespoon

lime juice

2

tablespoon

rice vinegar

1

teaspoon

Sriracha

or other hot pepper sauce

¾

cup

warm/hot vegetable broth
Instructions
In a large pan or wok, melt coconut oil on high heat. Add onion and garlic and sauté for 2 minutes.

Add frozen vegetables and ginger. When vegetables are thawed, add tofu and continue sautéing until everything is cooked.

Meanwhile, cook the noodles according to the package instructions.

Blend sauce ingredients well, except vegetable broth.

Add warm broth to the PB sauce mixture. Blend well and add to the pan.

*Serve with roasted peanuts and green onion