This fermented vegan cheesecake, with its pistachio and fig crust, is extremely easy to make. For a plant-based dessert that is sure to impress!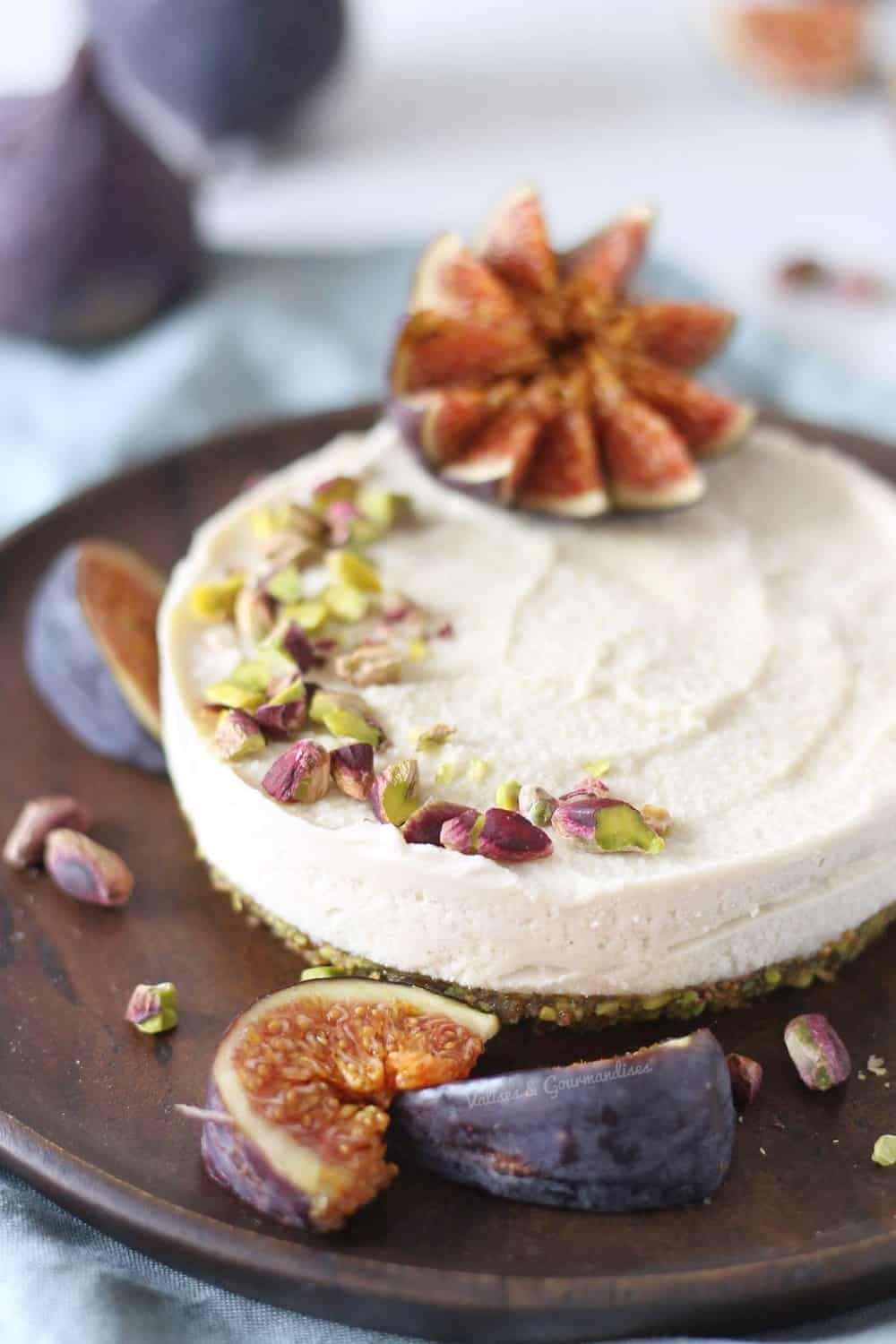 It's fig season! Probably one of the only things that makes the arrival of autumn acceptable for me. After finding a super cheap box of figs at the arabic market at Maybachufer, a must on Fridays, I figured that making a fermented vegan cheesecake would be the perfect way to use them up.
Over the last year, I've had lots of fun experimenting with nut cheeses. I even shared a few recipes in my Christmas eBook. I also published a recipe for cultured cream cheese made from cashew & macadamia nuts.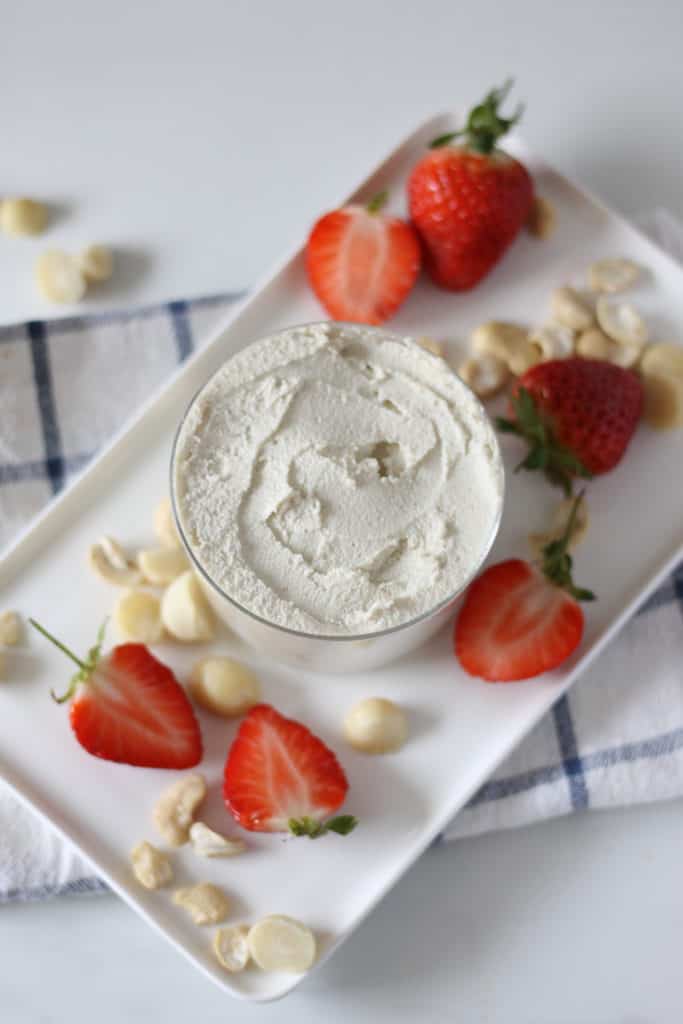 I also have a few recipes with agar agar up my sleeve but I just find it hard to make the time to photograph everthing, write the articles and share them on the blog. I am trying to be more disciplined though in order to always offer you more content, I promise :)
But for now, back to this fermented vegan cheesecake. The recipe yields a small 5 inch cake, which is perfect for 4 to 6 portions. For a "normal-size" cake of 8 or 9 inches, simply double all the ingredients. You could also divide everything into muffin molds to make cute mini cheesecakes.
How to Ferment Cashew Cheese
As for the fermentation, I chose to use a probiotic capsule. This way, you end up with a much more interesting and authentic cheesecake than when only using nuts, coconut oil and lemon juice. The bacteria, in addition to being good for your gut health, give it the slightly tart taste cheesecakes typically have.
I've been using the brand Probaclac for years, which is easy to find in Quebec's drug stores. The capsules aren't made of gelatin and the probiotics don't contain any lactose. I presume that most brands would work just fine.
What About Allergens?
The recipe is oil free, soy free, refined sugar free, gluten free and made without any coconut… Am I forgetting anything? Well, if you're allergic to nuts however, I think we can agree that this is not the recipe for you, I'm sorry about that!
It's also incredibly easy to make. First, we need to make the vegan cultured cheese with nuts (cashews or macadamia) soaked for at least 2 hours. Once all the ingredients are mixed into a nice thick cream, transfer it to a clean bowl and cover with a towel.
My favorite fermentation consists in leaving the covered bowl in the oven, turned off but with the light on. The light will provide the necessary heat to allow the bacteria to thrive and the nuts to ferment into cheese.
12 hours later, the cheese should be ready. We could very well season it and use it as cream cheese. But today, let's turn it into a luscious fermented cheesecake by adding only 2 ingredients: maple syrup and pure vanilla extract. We do need to make the crust first though.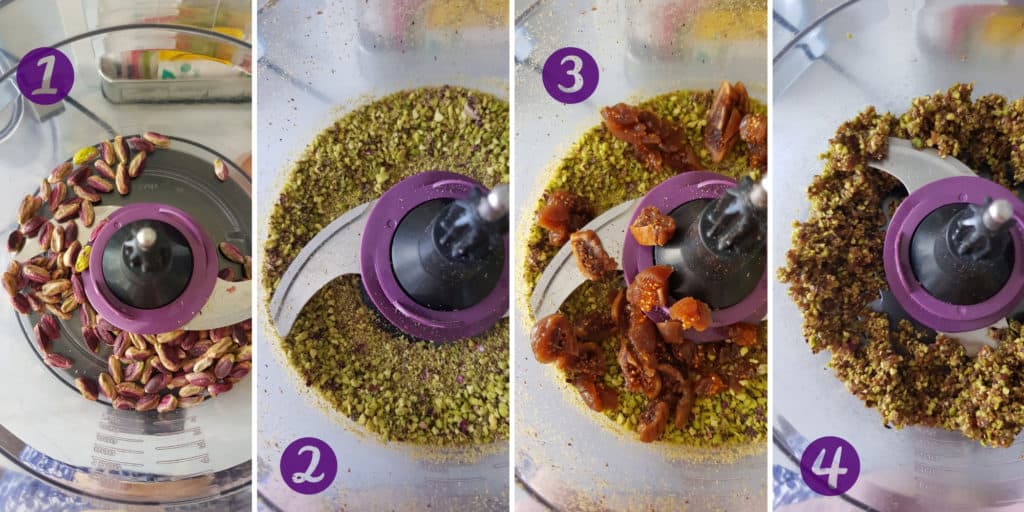 We could pick our brains and come up with a thousand different combinations for the crust, but I went for simple. Short and sweet. I used two ingredients that I absolutely L.O.V.E., fair trade and organic Italian pistachio and dried figs. Since the figs were already super soft and sticky, I simply chopped them up before adding them to the food processor. However, if they're dry, you'll want to soak them in hot water for about 15 minutes to make sure the crust will hold well.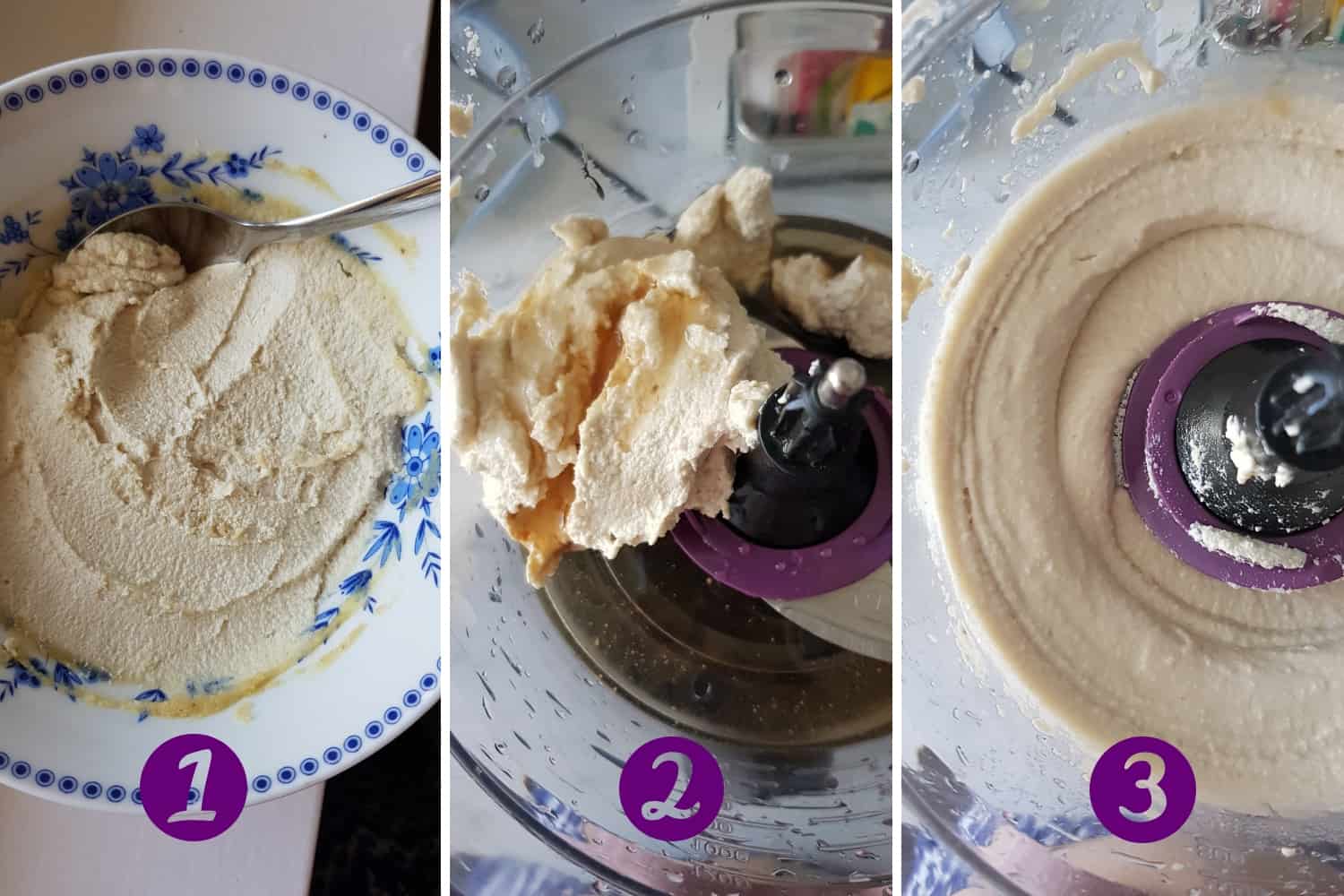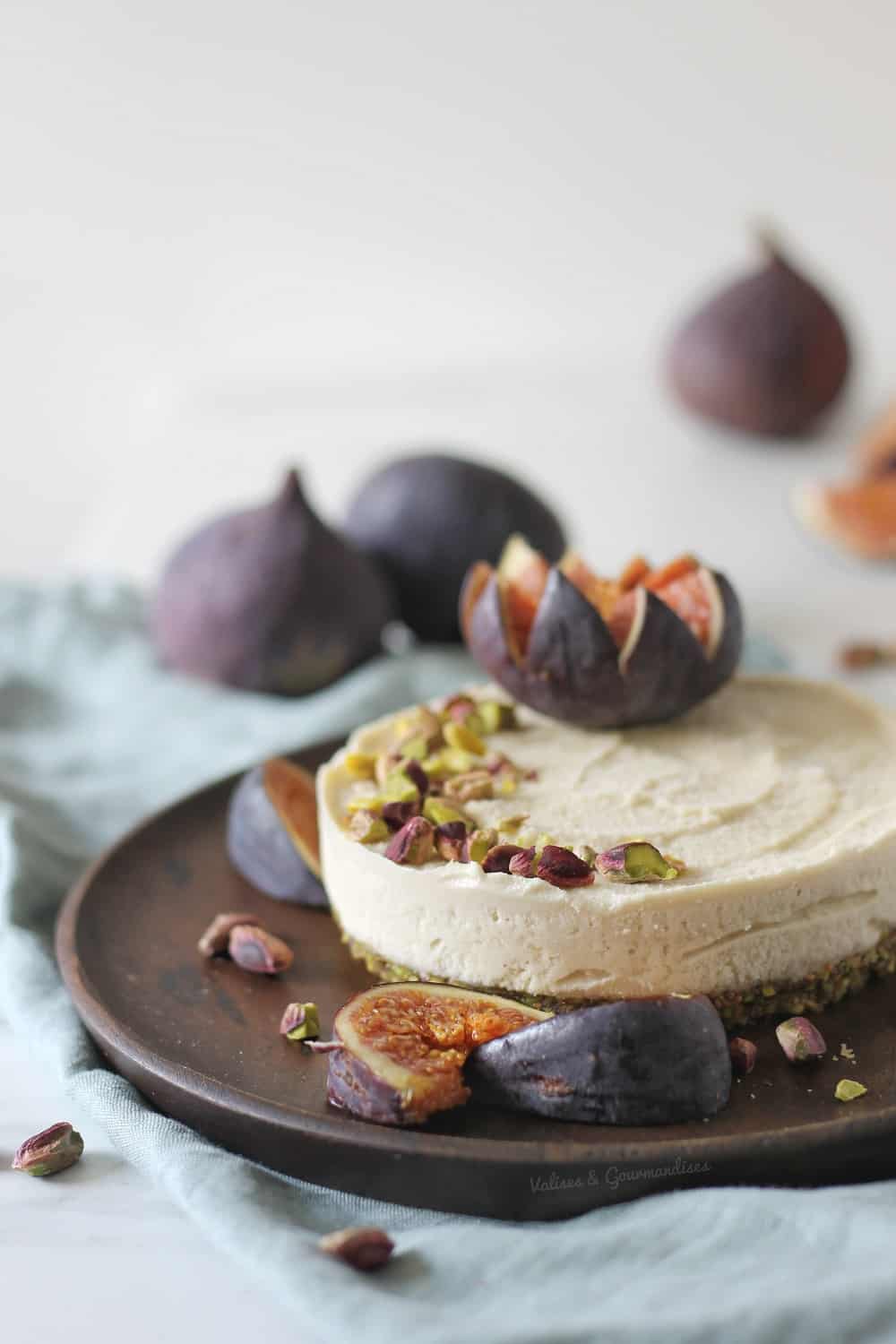 Similar Recipes
If you try this recipe, make sure to snap a picture and share it on Instagram or Facebook using the hashtag #valisesetgourmandises. I wanna see your creations! And don't forget to leave a comment below :)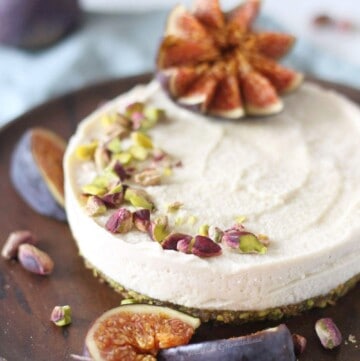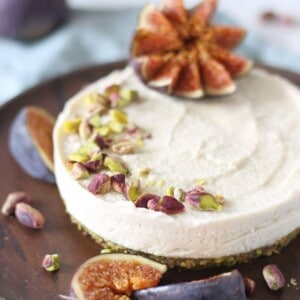 Fermented vegan cheesecake
This fermented vegan cheesecake, with its pistachio and fig crust, is extremely easy to make. For a plant-based dessert that is sure to impress!
Ingredients
Cashew Cheese
1

cup

organic cashew nuts

1/3

cup

water

1

probiotic capsule
Fig & Pistachio Crust
1/3

cup

organic pistachios

3

soft dried figs
Cheesecake Filling
1

cashew cheese

2

tablespoons

maple syrup

1

teaspoon

pure vanilla extract
Instructions
Cashew Cheese
Cover the nuts with water and let soak for a few hours. Discard the water and add the soften nuts to the bowl of your blender. Add the 1/3 cup of water and process until smooth. Use the tamper and stop a couple times to scrape the sides.

Add the content of a probiotic capsule, mix well and transfer to a clean bowl. Cover with a kitchen towel or a plate and leave to ferment for 12 hours. I put my bowl in the oven, turned off with the light on.
Fig & Pistachio Crust
The next day, using a food processor or blender, pulse the pistachios into a fine powder. Add the figs and process until you're able to make a small ball with your fingers.

Transfer to an oiled 5-inch springform cake pan. Set aside.
Cheesecake Filling
Add the fermented cheese, the maple syrup and the vanilla to the clean blender/food processor and process until very smooth. Pour on the crust, flatten and put in the freezer for at least 2 hours.

Remove from the freezer 10 minutes before serving.
Nutrition
Calories:
188
kcal
Carbohydrates:
16
g
Protein:
5
g
Fat:
13
g
Saturated Fat:
2
g
Sodium:
5
mg
Potassium:
253
mg
Fiber:
2
g
Sugar:
8
g
Vitamin A:
18
IU
Vitamin C:
1
mg
Calcium:
29
mg
Iron:
2
mg