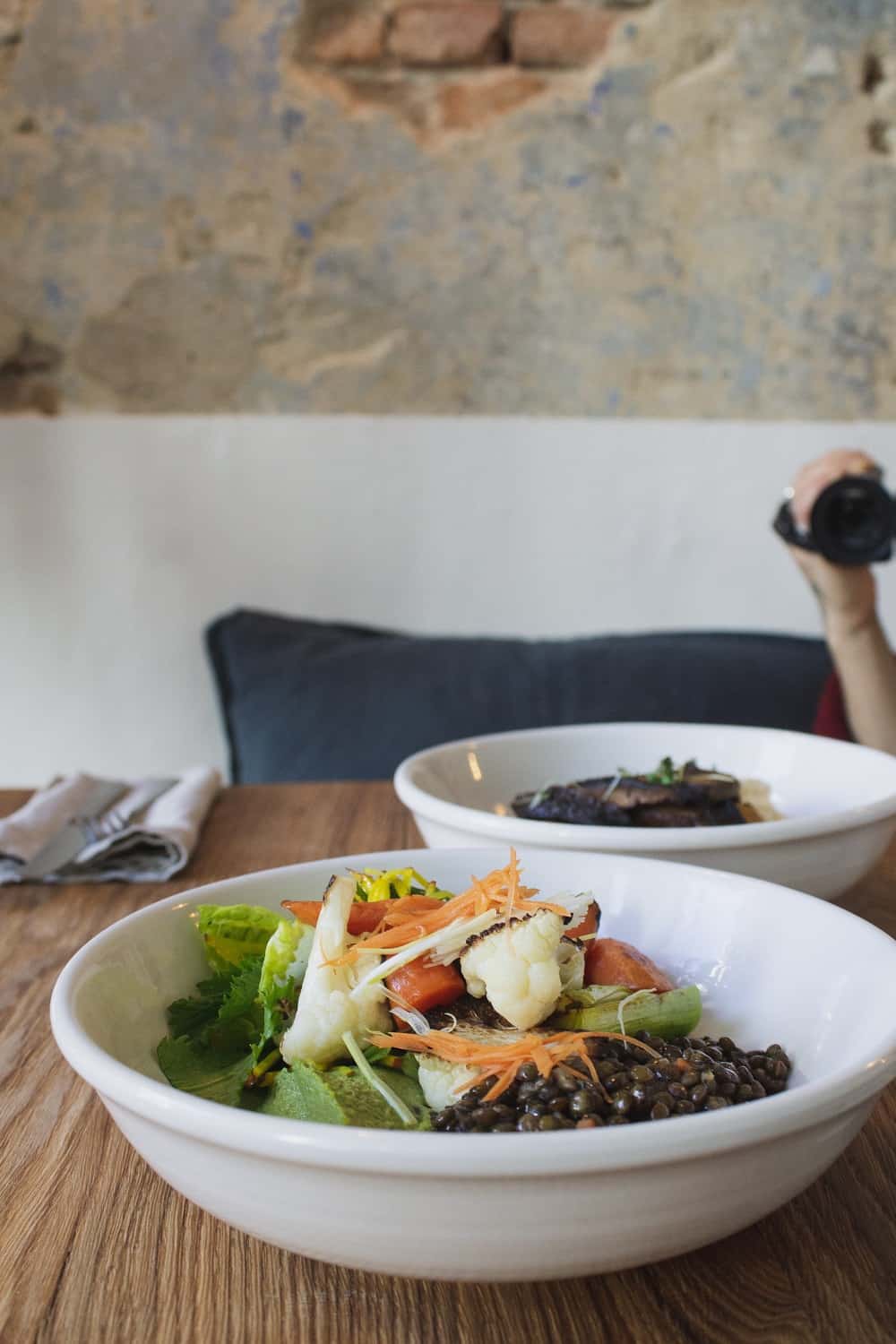 Last week I had a pleasure of trying a brand new restaurant in Berlin, one of a kind: Frea, the first vegan and zero waste restaurant of the country and maybe even the world.
I went there without any idea of what to expect with my friend Pauline who's behind the blog Lovely Veggie. We were more than happy to find ourselves in a warm and welcoming decor, minimalist and with a Scandinavian flavour. Lots of wood, plants and large windows.
The perfect place for bloggers, instagrammers, vloggers and other -ers that we are. But a beautiful decor isn't everything, isn't it. The food also has to be good, which with all due respect isn't always the case in Germany. And btw please note that this post isn't sponsored! We paid for our food.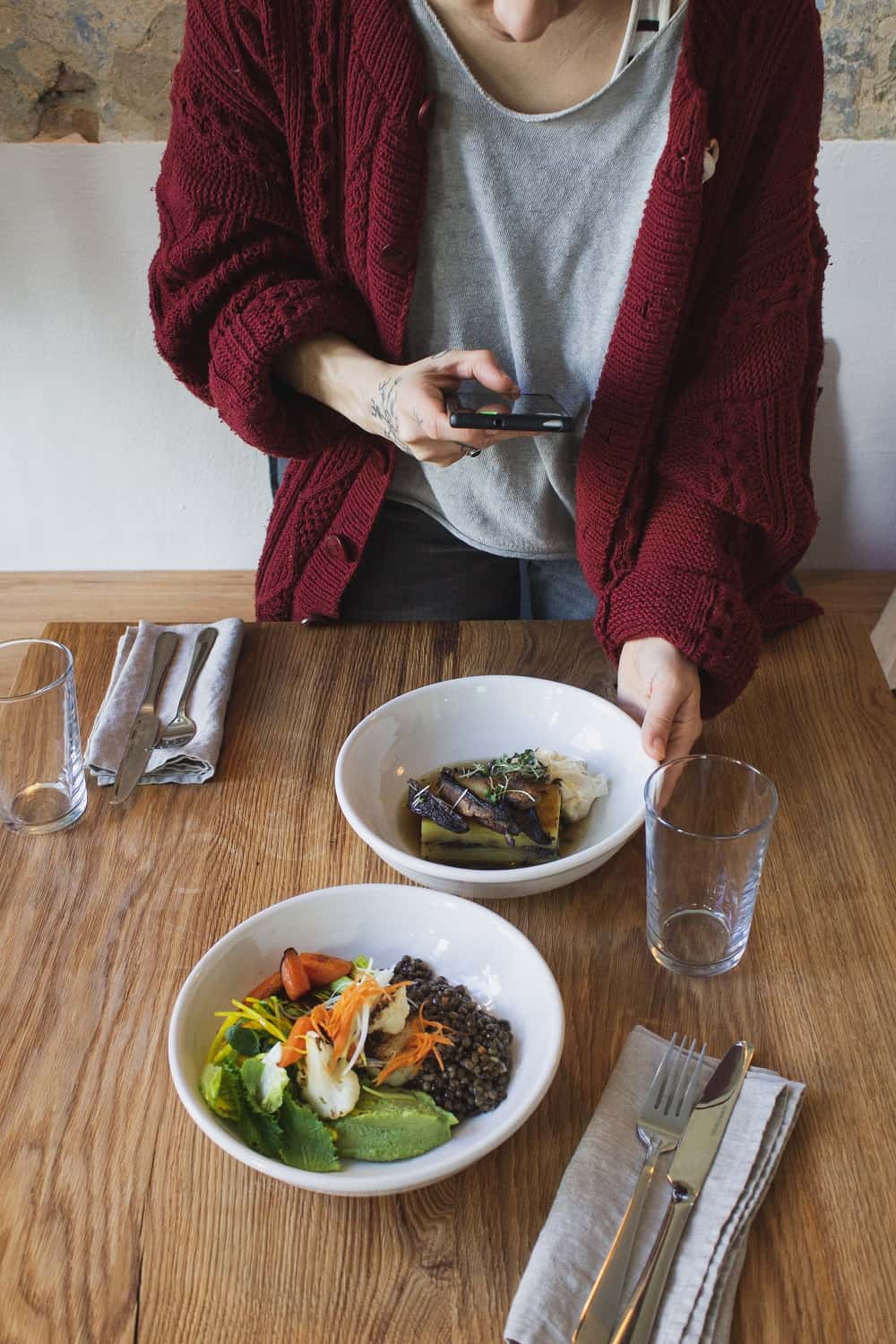 The answer is a resounding yes. While we were expecting superfood bowls or something similar, we were instead presented with a minimalist menu featuring seasonal ingredients. A delicious fresh market cuisine reminiscent of French bistros.
The concept
David the young owner proudly explained that absolutely everything is made in their open kitchen with ingredients as local as possible, for instance fresh pasta and sourdough bread made with flour from Bavaria. They also make their own kefir and kombucha, to the pleasure of our tastebuds and microbiomes.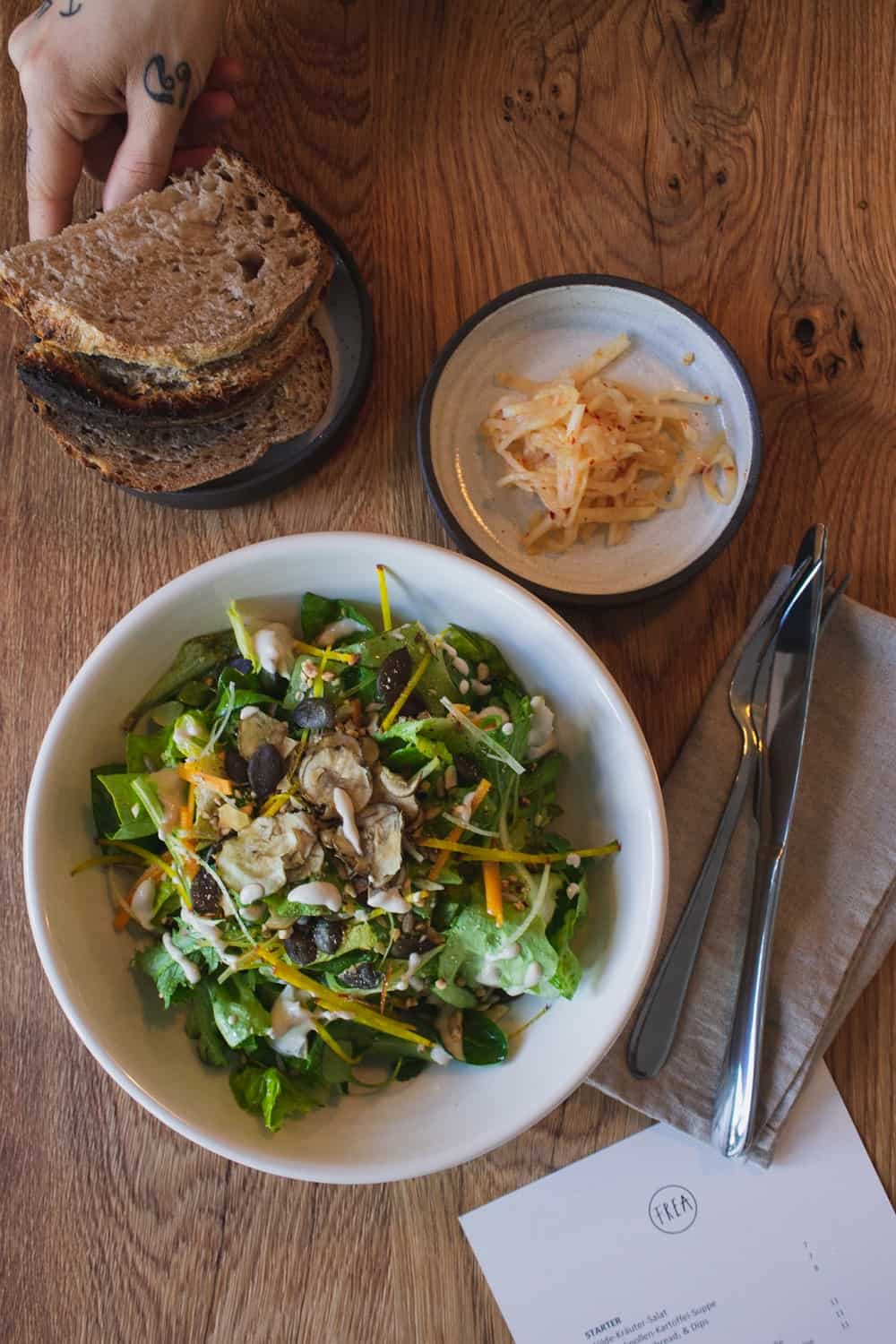 And everything is delivered to them without plastic, in compostable cardboard or paper packaging. They even have a fascinating machine that turns all leftovers, the packaging and other things into compost in only 24 hours!
They even make their own hazelnut milk that they serve in GORGEOUS ceramics. If I were dishonest I totally would have stashed the whole coffee set in my bag haha >.< To learn how to make your own hazelnut milk, it's over here: homemade hazelnut milk.
The food
And now to business, the food! We shared a salad with wild herbs accompanied by delicious sourdough and sauerkraut (which btw literally means sour cabbage :)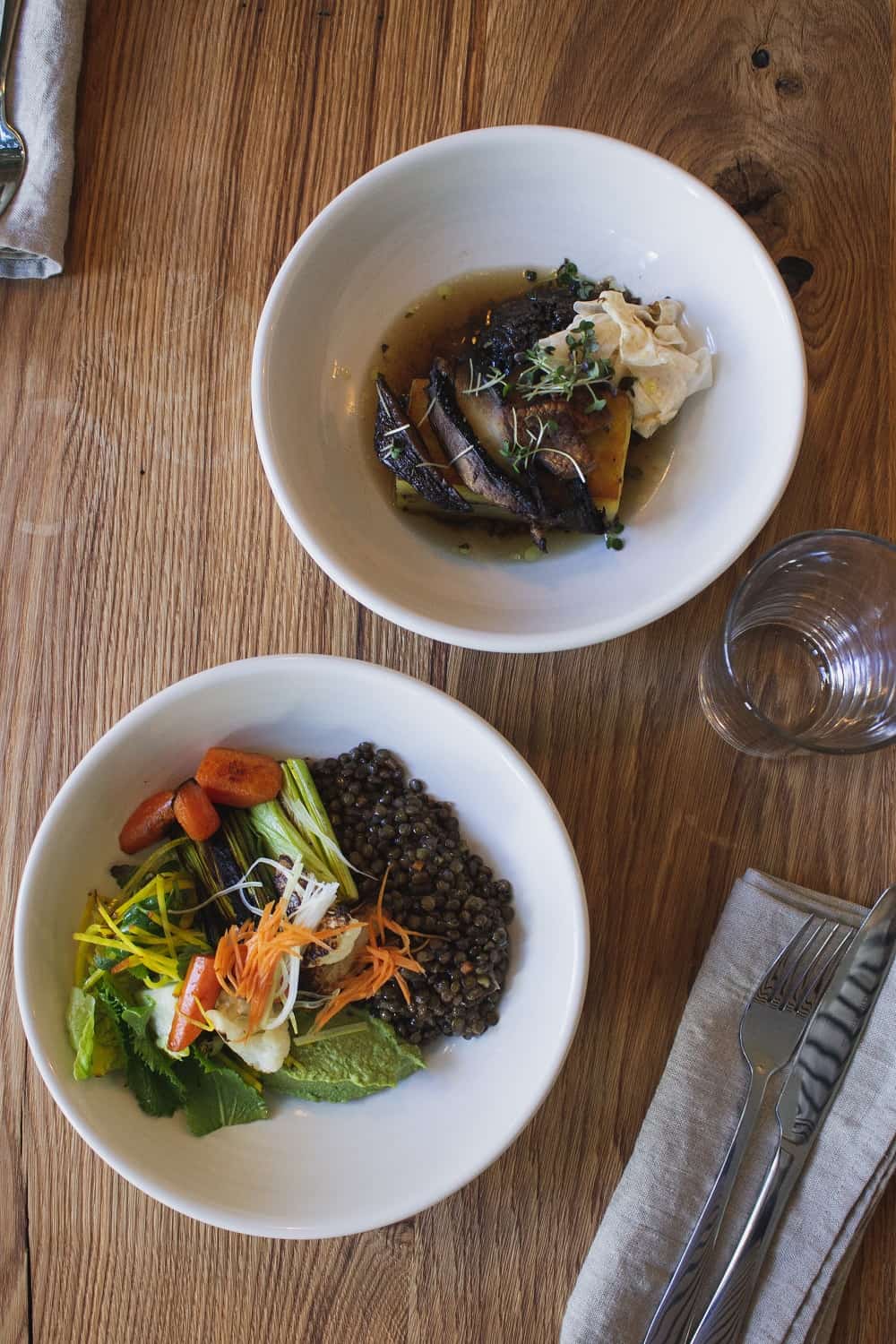 For the main, Pauline straight away chose the potato terrine served with mushrooms. I had a harder time choosing between the pumpkin pasta and the lentil stew. I finally settled on the latter and was more than happy with my dish; everything was perfectly seasoned and cooked.
The portions are pretty generous for a small appetite like mine and, after the salad and lentils, I was quite full. But David came and offered us dessert on the house. And who can resist dessert? I know I can't. After a photoshoot of our pretty table, which was great for stirring up our appetite, we enjoyed a carrot cake and an apple turnover, which surprisingly was made with a yeasted ciabatta-style dough instead of a puff pastry.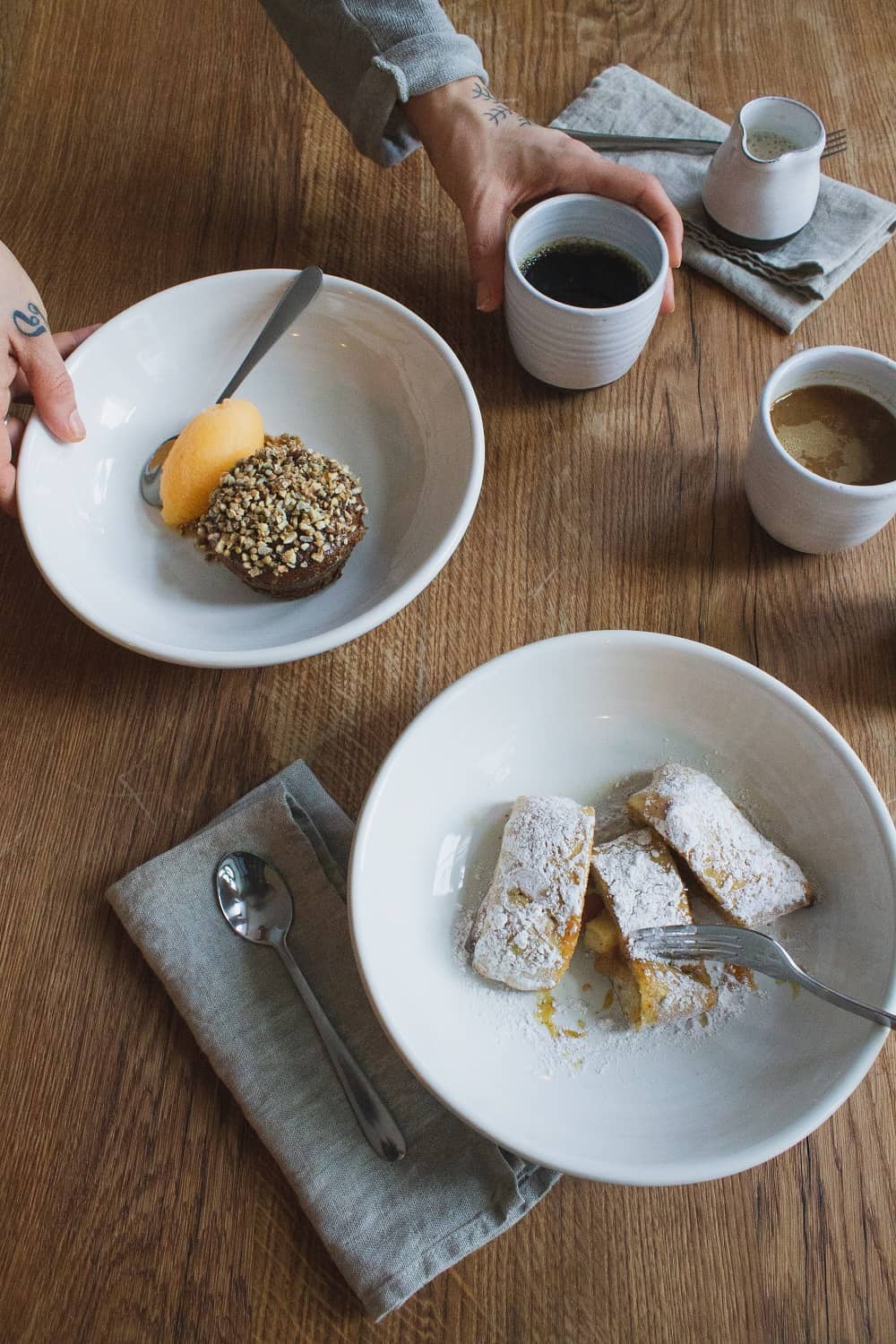 The verdict
Frea, a restaurant to try in 2019? Absolutely! When we know how polluting and wasteful the restaurant industry is, a vegan and zero waste concept is very meaningful. Especially when the food is on point and the prices are reasonable.
Do you know any similar concepts in your corner of the world? I'm curious!
Related articles