*Updated on Dec 13, 2016 to make it vegan.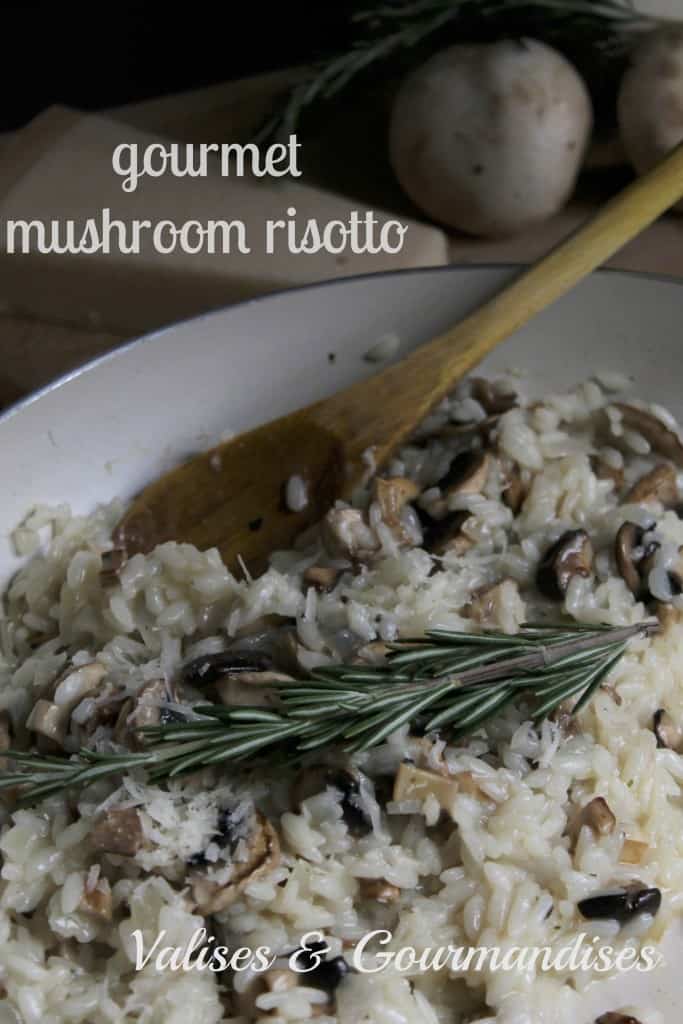 I made my first risotto ever about a month ago. I know, it was about time! Especially since it's the one meal I can't resist ordering in chic restaurants. But like too many people, I guess I felt intimidated. I must say that, after successfully making it four times in a row now, I don't quite understand why it's generally perceived as being complicated. Fancy and simple CAN go hand in hand.
I find it to be the perfect recipe for a romantic dinner: you open a bottle of wine, put on your favourite music and chat while taking turns stirring the rice. I assure you, anyone able to wield a wooden spoon in a continuous circular motion can make a gourmet risotto. It truly is that straight-forward, I promise!
For our tête à tête last Friday, we popped open a bottle of Italian Chardonnay and put aside a ¼ cup for cooking purposes, before generously filling our glasses. We stirred and stirred to the ecclectic tunes of Radiohead's Ok Computer. I strongly believe that cooking should never feel like a chore. For us, it's a moment to relax and talk. Discuss about our week, our plans for the weekend, etc.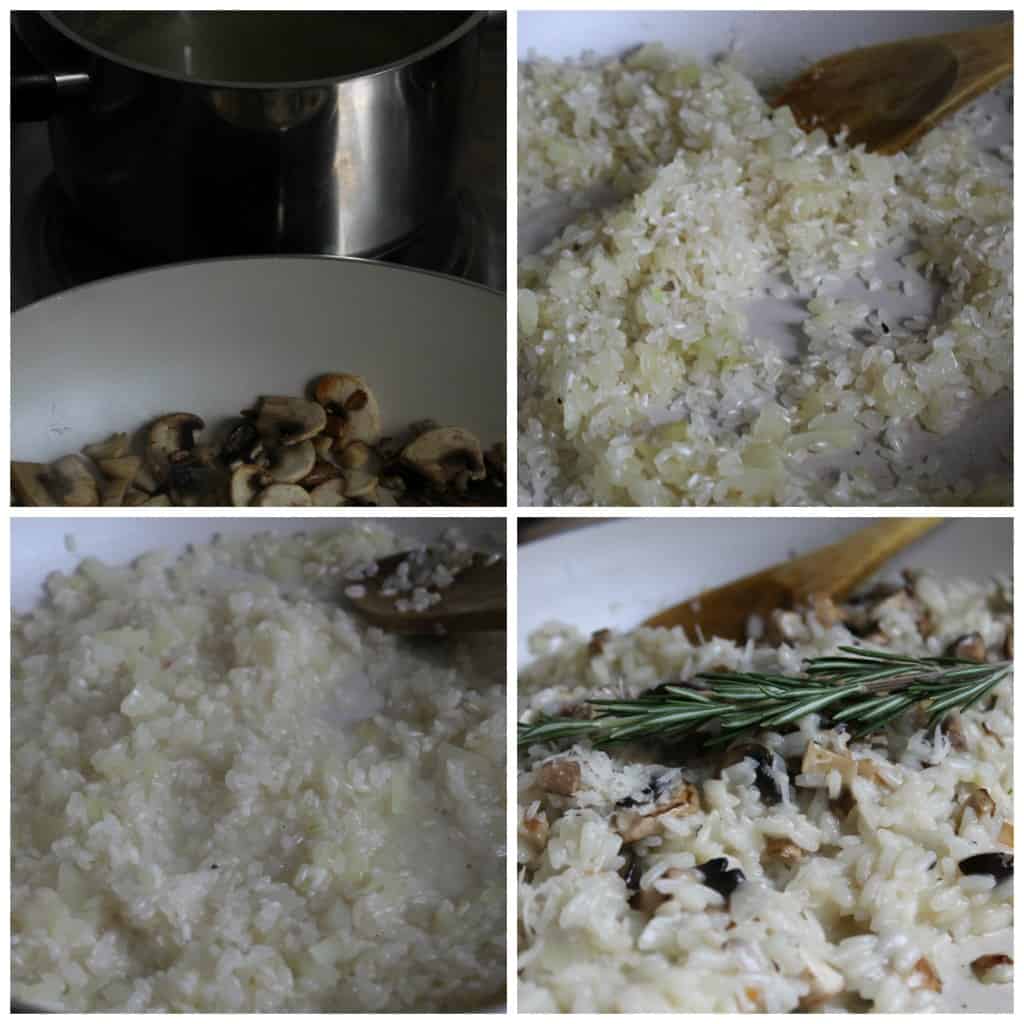 As for the actual recipe, I must confess that I pretty much never use wine and parmesan, because I never have any at home and I'm usually too lazy to go out and buy some. And because it's just as good without it. That being said, our romantic evening was the ideal opportunity to go all out and prepare a traditional by-the-book risotto.
We even drizzled on some truffle oil from the market in Florence for a mind-blowing gastronomic experience. If you've read my posts about Italy, you've probably noticed that I'm a truffle junkie. In short, if you have some at home, this is the right time to use it!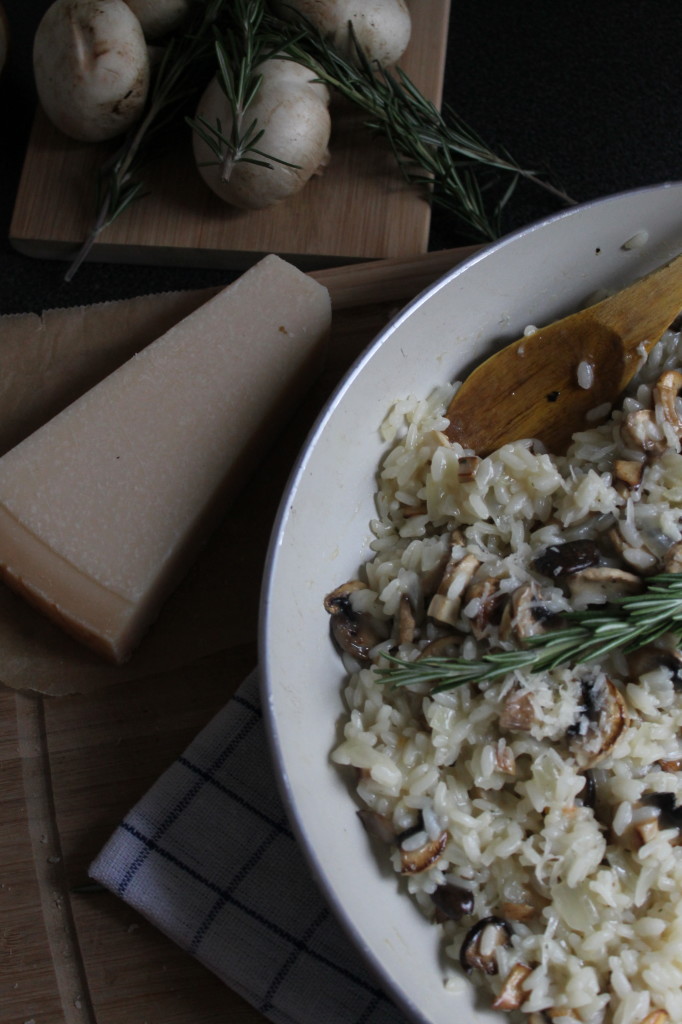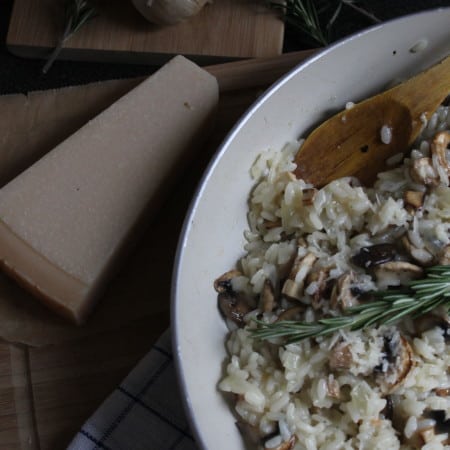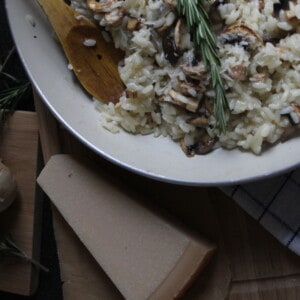 Gourmet Mushroom Risotto
Don't let risotto intimidate you. Follow these simple instructions for a perfect creamy dish everytime.
Ingredients
2 1/2

cups

vegetable broth

2

cups

fresh mushrooms of your choice

sliced

1

tablespoon

butter

use vegan butter or evoo for a vegan option

½

a yellow onion

minced

2

garlic cloves

minced

salt & pepper

3/4

cup

arborio rice

1/4

cup

dry white wine

you can also use vegetable broth

1/4

cup

freshly grated parmesan cheese

omit for a vegan option
Instructions
First step: open that bottle of white wine and pour yourself a glass.

In a small pot, bring vegetable broth to a boil. Reduce heat to low and cover. Meanwhile, in a large skillet, sauté the mushrooms on high heat until they're golden brown. Set aside.

Reduce heat to medium and in the pan used for the mushrooms, melt butter and add the onion. Cook until translucent, about 3 minutes. Add the garlic, salt and pepper and cook for another 30 seconds.

Add arborio rice and stir to coat in butter. Add wine and stir until most of it has been absorbed by the rice.

Add 1/2 cup of broth, stirring often until most of it is absorbed. Repeat, 1/2 cup of broth at a time, stirring often to ensure even cooking and to prevent from burning.

Add the last ½ cup of broth, let absorb a little and then add the mushrooms. Stir until all the liquid has been absorbed.

If using parmesan cheese, add it to the pan and stir to incorporate.

Divide into two plates preheated in the oven and serve with freshly minced rosemary and a drizzle of truffle oil (optional, but not in my book).