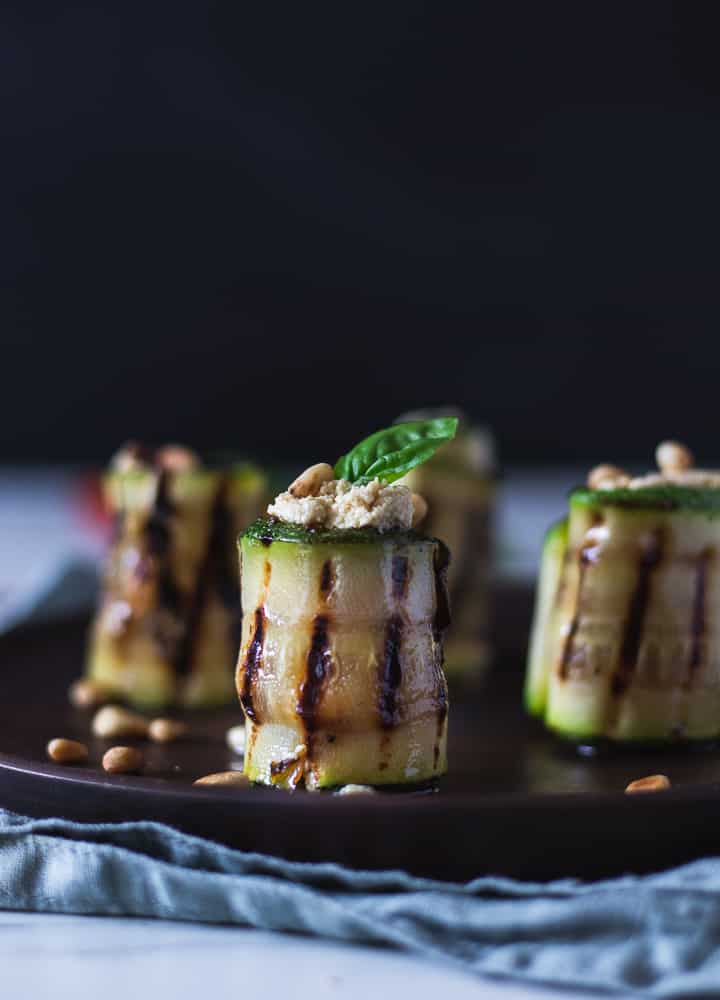 Have you seen the first recipe of my tofu series? I shared an easy peasy tofu ricotta, which you can use to create, amongst others, a beautiful grilled zucchini rolls appetizer.
Considering the abundance of zucchini in gardens and markets, this is the perfect recipe for your next evening with friends, bbq, brunch, etc. I actually planted an old zucchini variety at the beginning of the summer, which I'm eager to harvest! I did it a bit late, but the plant is looking good :)
You can take a peek at the garden on YouTube, where I published a garden vlog, in Engish an all. I try to have a good balance between English and French videos and to include captions. It's a lot of work, but I hope you'll like it!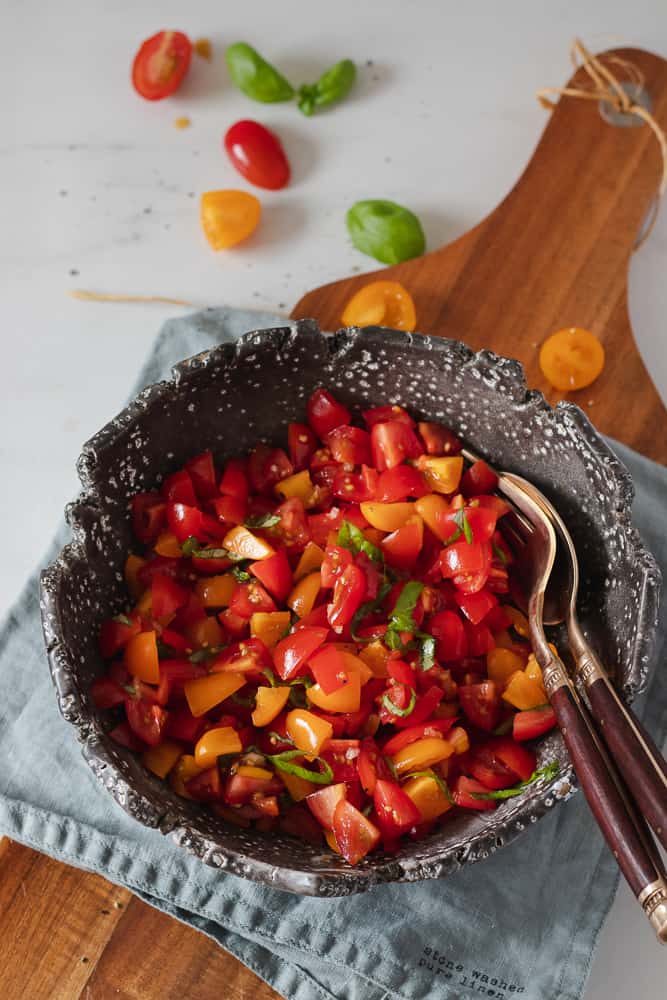 I served my grilled zucchini rolls on a cherry tomato salad, but they would also go great on a generous portion of Alfredo pasta, or on their own on a buffet table.
Since I don't own a bbq, I simply grilled my zucchini sliced in a griddle pan. If you don't have either one, you could also simply bake them in the oven until they're nice and golden.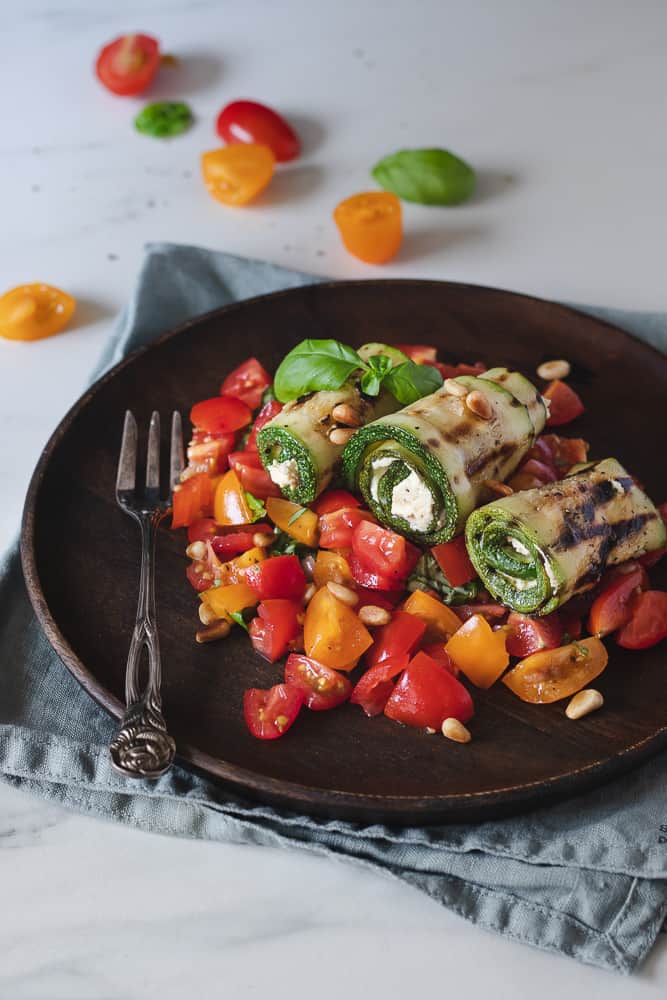 It's best to slice the zucchini with a mandoline, but since mine is pretty dull, I simply used a chef knife. My slices weren't perfect and even, but the thicker ones softened up once cooked and were pliable.
Finally, vous can serve these grilled zucchini rolls either cold or heat them up for a few minutes in the oven (with the ricotta in). Both ways are delicious!
Similar recipes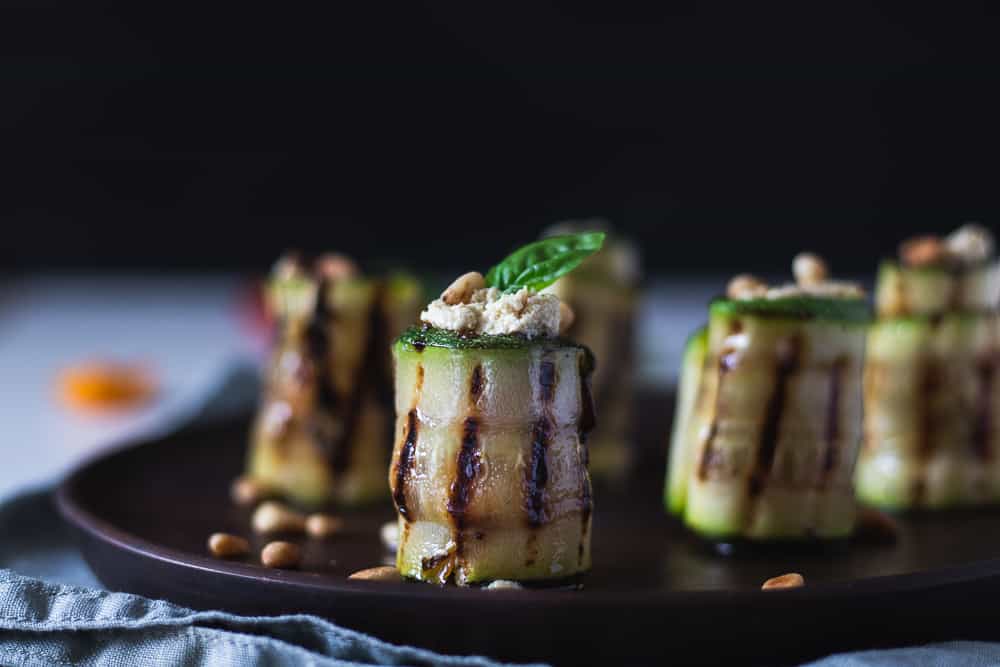 If you make this recipe, make sure to snap a picture and share it on Instagram or Facebook using the hashtag #valisesetgourmandises. I wanna see your creations! And don't forget to leave a comment below :)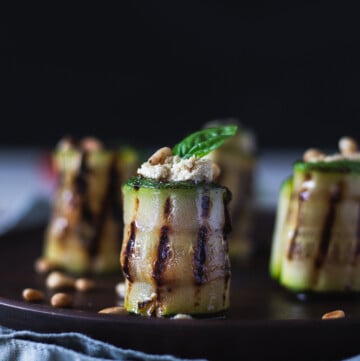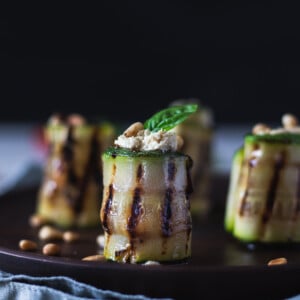 Grilled zucchini rolls stuffed with tofu ricotta
These grilled zucchini rolls are stuffed with tofu ricotta and are the perfect appetizer for your next evening with friends! 
Ingredients
2

zucchini

finely sliced lengthwise

1

tablespoon

olive oil

1

tablespoon

lemon juice

salt & pepper

Cherry tomato salad

400

g

cherry tomatoes

cut into 4

10

leaves

fresh basil

chopped

a drizzle of olive oil

salt & pepper
Instructions
Preheat a griddle pan to medium-high heat. Meanwhile, mix the olive oil and lemon juice and brush the zucchini slices on one side. 

Brush the pan with a little bit of oil and place the zucchini, oiled side down. Cook for 3-4 minutes, until nice and golden.

Brush the surface with the oil-lemon mixture and flip the slices with tongues. Season with salt and pepper to taste. Cook another 3-4 minutes. If your pan is too small to fit everything, proceed in batches and keep the cooked one in the oven at the lowest temperature if you plan on serving them warm. 

Once all the slices are grilled on both sides, spread a thin layer of ricotta on about half the length and roll them up. 

For the tomato salad, mix all ingredients together in a large bowl. 

Divide the salad onto 4 plates, top with grilled zucchini rolls and, if you want, fresh basil and toasted pine nuts. Enjoy!
Notes
These rolls are good either served cold or warm.