Fall back in love with oatmeal by topping it with your favourite fruits and nuts.This easy oatmeal recipe will brighten your mornings!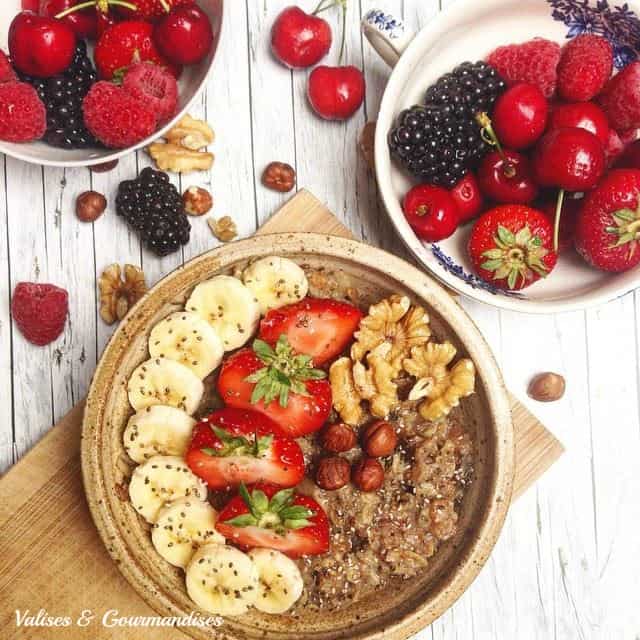 Most of us associate oatmeal with an unappealing brown purée dusted with brown sugar. But rest assured, you don't need a Ph. D. in culinary sciences to turn this seemingly worn out classic into a breakfast chockfull of flavours and energy.
I never thought I'd say this, but I've become a real oatmeal fanatic. After ditching the Quaker packets a long time ago, the turning point was when I started using real oats. Boy are these babies versatile! Milk, cookies, pancakes, face masks. You name it. You can even add some to your bath water for some seriously smooth skin.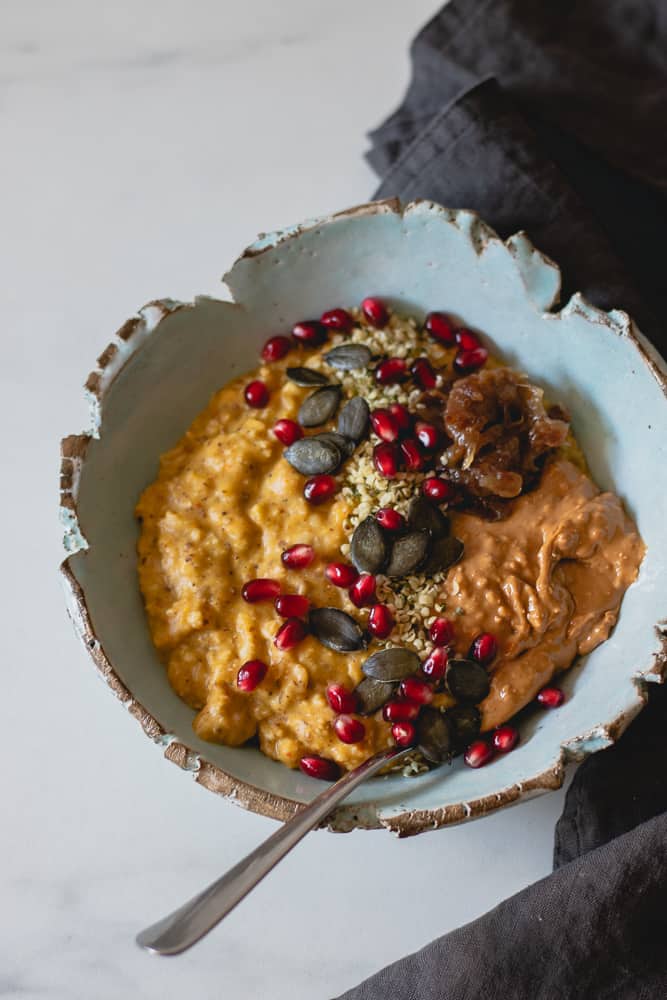 Why we love it so much
For a while now, oatmeal has become a regular morning meal in my household and I doubt that'll change anytime soon. Here's why:
It costs practically nothing.
It's super quick to prepare.
It's very healthy.
It's sustaining.
The flavour combinations are infinite.
It reminds me of my childhood.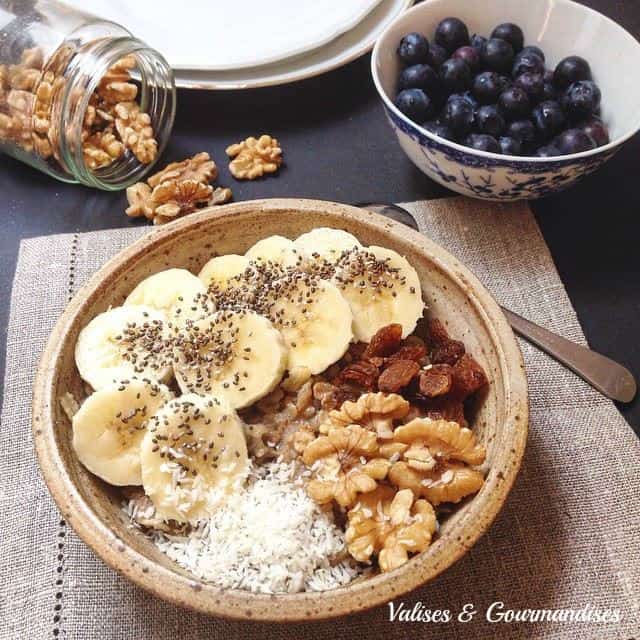 I prefer making oatmeal on the spot when I feel like having some, since it's so quick, but you should know that you can double or triple the basic recipe, keep it in the fridge and reheat the desired quantity with a bit of milk when ready to eat.
Topping ideas
Then you only have to add your favourite toppings, which is the fun part. Here are some ideas to get you started.
Seasonal fruits for a good dose of antioxydants and vitamins. Banana, which is rich in iron, potassium, fibres and vitamin B, pretty much always earns a spot in my bowl.
Chia seeds, another regular in my oatmeal because of its high quantity in fibres, omega-3, calcium, manganese, proteins, etc. etc. etc.
Chopped nuts for, among others, their content in omega-3 and antioxydants. Natural nut butters are also a super option.
Dried fruits for their oligo-elements, nutrients and fibres. To consume with moderation because of their high content in sugar and calories.
Replace dried cranberries with Goji berries, these little Chinese wonders are full of vitamines and minerals, antioxydant and proteins. Rehydrate them in a small bowl of water while the oatmeal is cooking.
Think about freshly ground flax seeds, high in omega-3, fibres, vitamine B and minerals, and hemps seeds, which offer proteins, iron and omega-3 and 6.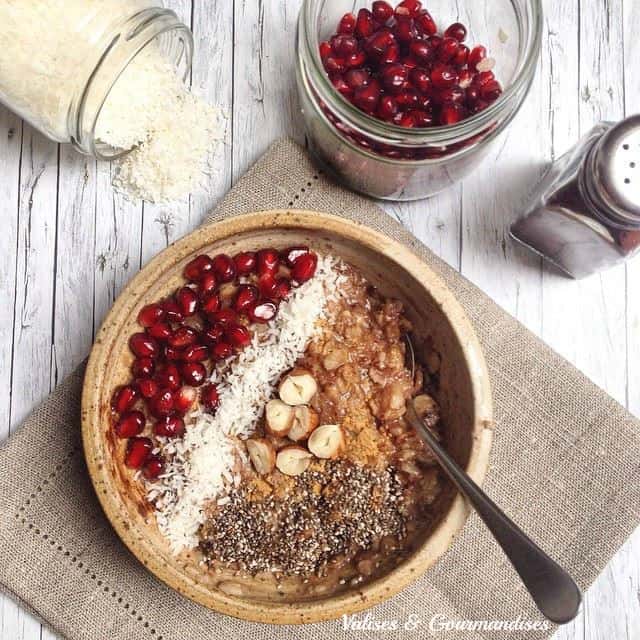 The basic recipe is pretty simple. Slowly bring the non-dairy milk and the pinch of salt to a boil. Add oatmeal, cinnamon and sweetener, for example chopped dates, blackstrap molasses, brown sugar, coconut sugar, maple syrup, etc.
If you want to add fresh fruits to cook, add them at this step. In the recipe above, I added three quarter of a diced apple and used the rest as a topping.
Mix well and let simmer for abour 10 minutes, until the oats are tender and the texture is creamy. Then you only have to add the toppings you have on hand and enjoy!
Similar Recipes
If you try this recipe, make sure to snap a picture and share it on Instagram or Facebook using the hashtag #valisesetgourmandises. I wanna see your creations! And don't forget to leave a comment below :)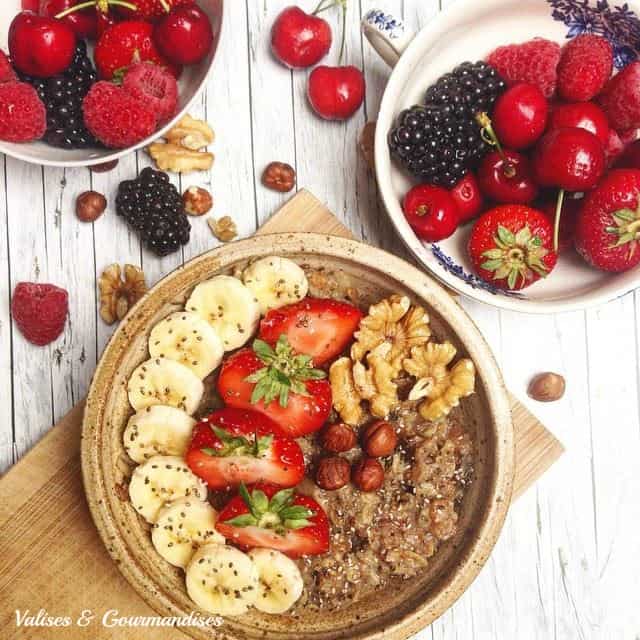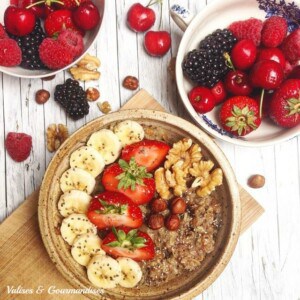 Healthy morning oatmeal
Fall back in love with oatmeal by topping it with your favourite seasonal fruits and nuts.
Ingredients
2

cups

plant milk

or half water half milk

pinch salt

1

cup

old-fashioned oats

1

teaspoon

cinnamon

2

tablespoons

maple syrup

or 2 diced dates
Suggested Topping
chia, flax, hemp seeds

chopped nuts

fruits

fresh or dried

dried coconut

nut butters
Instructions
Pour the milk in a small pan, add the pinch of salt and heat on medium-high heat until it starts simmering.

Add the oats, the sweetener and the cinnamon, mixing well. If you want cooked fruits in your oatmeal, add them now.

Bring to a boil while stirring. Lower the heat and let simmer until the oats are tender and it reaches the desired texture (about 10 minutes).

Remove from the heat and serve with your favorite toppings.
Notes
*See video for my updated method
My favorite mixes are: peanut butter and banana, strawberry and coconut, warm apples, raisins and almonds.
If you eat a lot of porridge, it is recommended to soak the oats in water overnight before cooking them.
Nutrition
Calories:
290
kcal
Carbohydrates:
46
g
Protein:
12
g
Fat:
7
g
Saturated Fat:
1
g
Sodium:
94
mg
Potassium:
483
mg
Fiber:
6
g
Sugar:
13
g
Vitamin A:
503
IU
Calcium:
354
mg
Iron:
3
mg