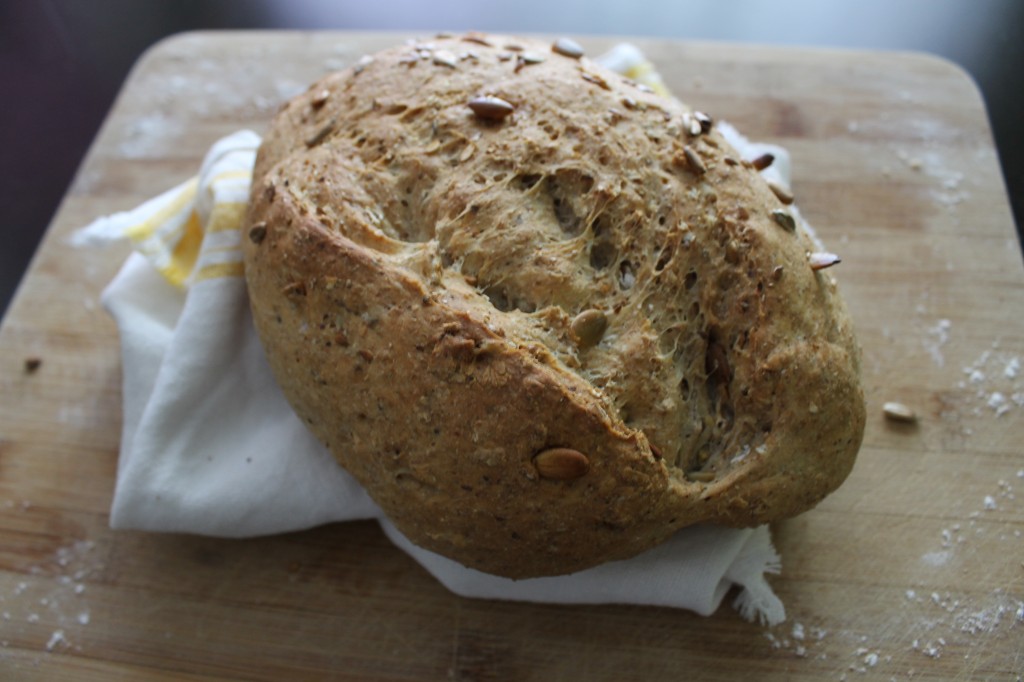 One thing I love about Europe is the bread. Why buy commercial sliced bread filled with sugar and other additives, when everywhere you look there are small bakeries offering an array of different breads and pastries. And because everyone buys it fresh, the prices stay low.
Is there anything more heavenly than the smell of fresh bread? I'm also a firm believer that everything tastes better with the added satisfaction of having made it yourself. By the way, you don't need a bread maker. I actually don't care for the dense texture it yields.
After a long day, some people like to unwind in front of the TV. Me? I like to put on some good music and cook. I especially love baking: rolls, muffins, pretzels, brownies, loaves. I must have been a baker in a past life. Believe it or not, kneading bread dough is one of my favorite ways to relax and clear my head. I call it culinary therapy.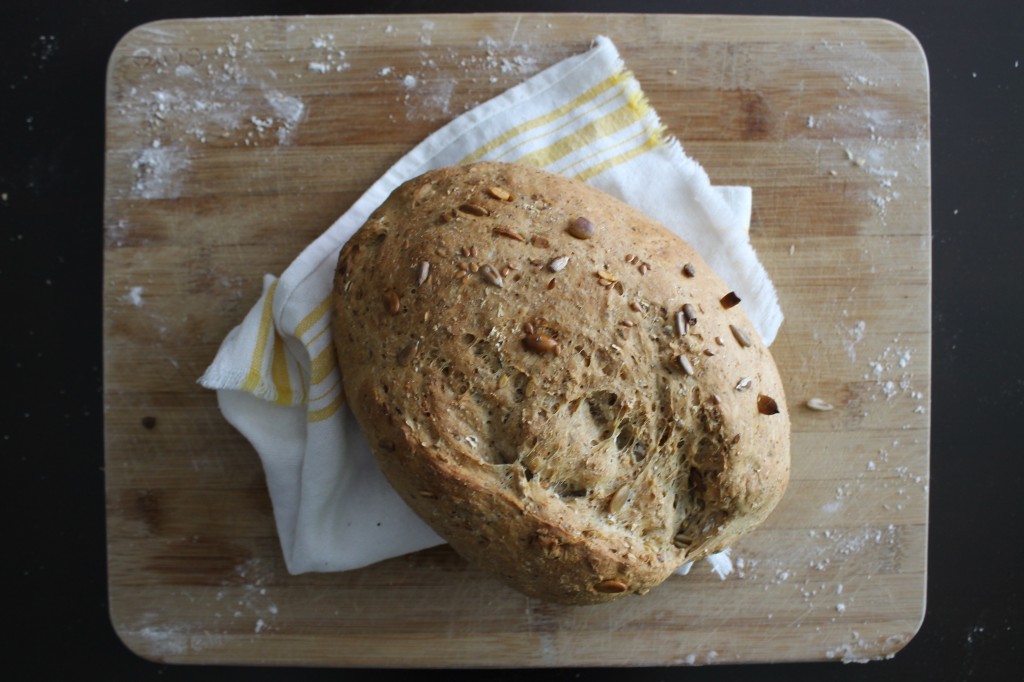 You could bake this multigrain loaf in a bread mold and slice it up to make fancy homemade sandwiches. That's actually a good recipe idea for the blog… Noted!
Usually though, I divide one recipe into two loaves and bake them directly on a cookie sheet. I freeze one in aluminum foil and the other one gets devoured within two days.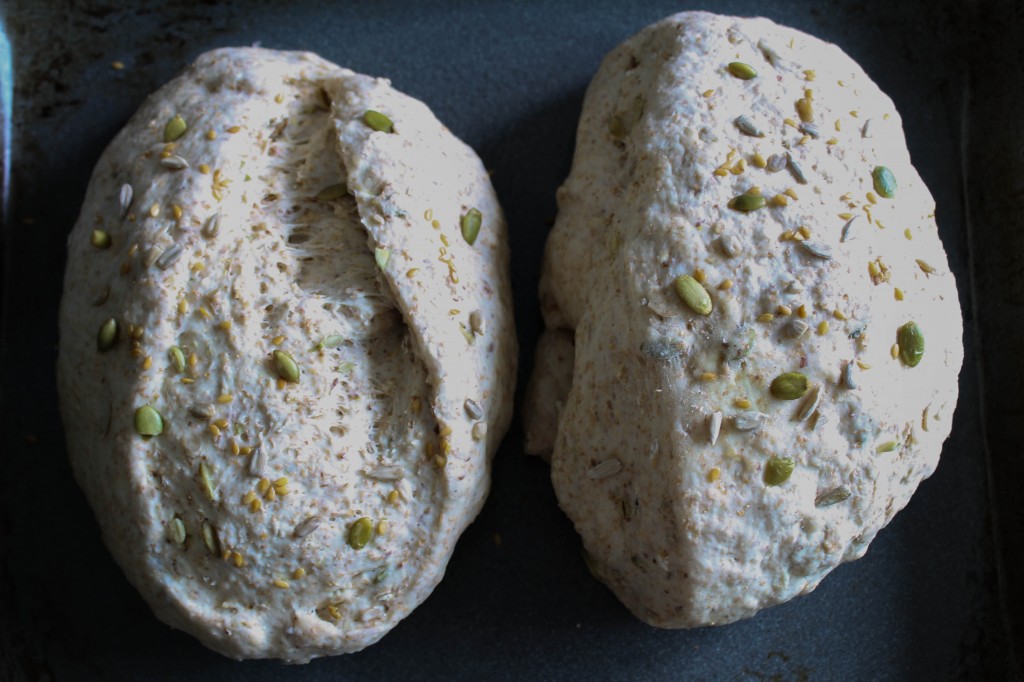 It's a delicious side for a warm comforting soup, or a great healthy breakfast with natural peanut butter, a banana and a hot cup of coffee.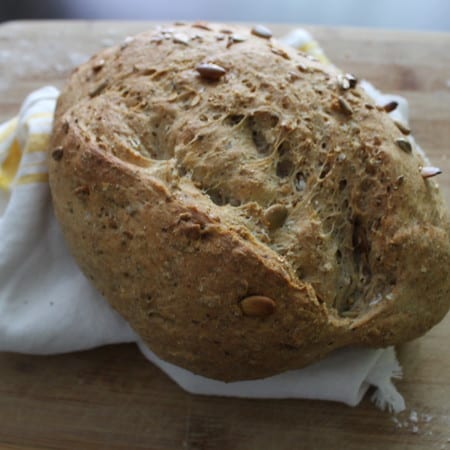 Homemade Multigrain Bread
Forget about store-bought bread with this easy-to-make chunky multigrain loaf.
Ingredients
2

cups

bread flour

1 ½

cups

whole wheat flour

1

cup

old fashioned oats

1/3

cup

pumpkin seeds

1/3

cup

sunflower seeds

1

tablespoons

ground flax seeds

1 ½

teaspoon

active dry yeast

1

teaspoon

salt

1 ½

cup

warm water

A mix of sunflower seeds

pumpkin seeds, flax seeds and oats for garnish
Instructions
In a big bowl, combine the flours, the oats, the seeds, the yeast and the salt.

Add water gradually and mix until the dough holds together. Add some water if it is too dry and won't come together, or flour if it is too sticky.

Knead on a lightly floured surface until the dough forms a soft and elastic ball. Approximately 10 minutes.

Turn on the oven for a minute and then turn it off. Place a bowl of hot water in the oven. Place the dough in a lightly oiled bowl, cover with a clean towel and let rise in the oven until it has doubled in size, approximately 2 hours.

Once doubled, punch down the dough ball and let sit for 10 minutes. If making two loaves, cut the dough in two equal parts with a sharp knife. Give them a cylinder shape.

Place the loaves on an oiled cookie sheet. Humidify the top of the dough and press the garnishes to help them stick.

Cover with the towel and let rise in the oven for one last hour or until the loaves have doubled in size.

Remove from the oven and preheat to 375°F.

Bake for approximately 40 minutes, or until the top is golden and the bread sounds hollow when knocking on it.

Remove from the oven and let cool on a grid.
Recipe slightly adapted from Les gourmandises d'Isa.