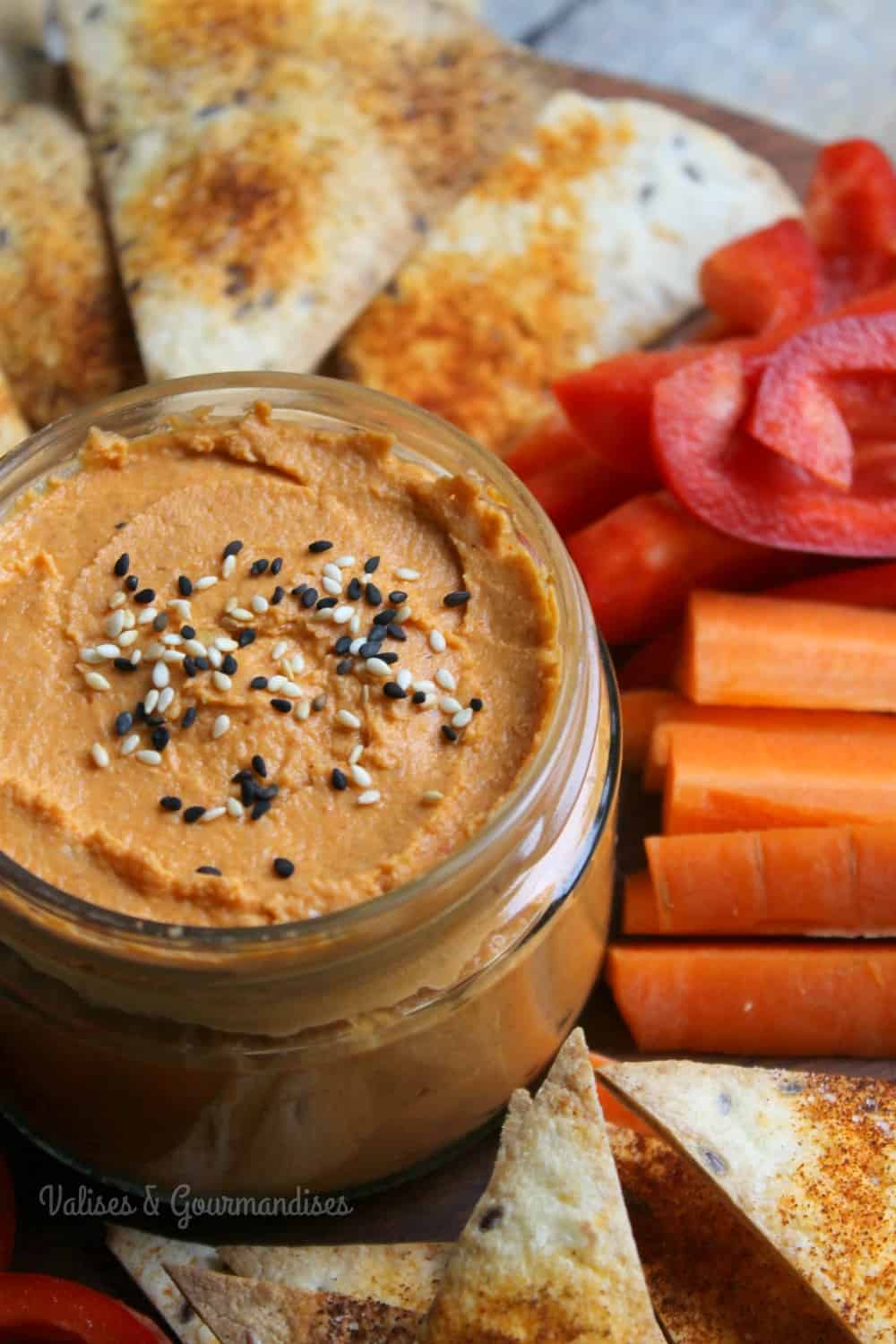 Hummus is one of those things that once you discover you can't get enough of. At least that's how it is for me. I love it so much that I've found many ways to enjoy it other than with a platter of veggies. For example I often thin it down with water, garlic and a few spices and use it as a great mayo replacer (in sandwiches but also to dip my fries), as a salad dressing, etc.
I must admit though that most of the time I'm super lazy and buy it from the store, but it's so easy to make that there's really no reason not to. Unless you're in Québec and have access to Fontaine Santé hummus, the best brand out there! Everytime I come home, I'm surprised and delighted by their new flavour combos, including ginger & sesame, kale & chia, Moroccan… Because really, hummus combinations are endless and the company understands most people's passion for the stuff.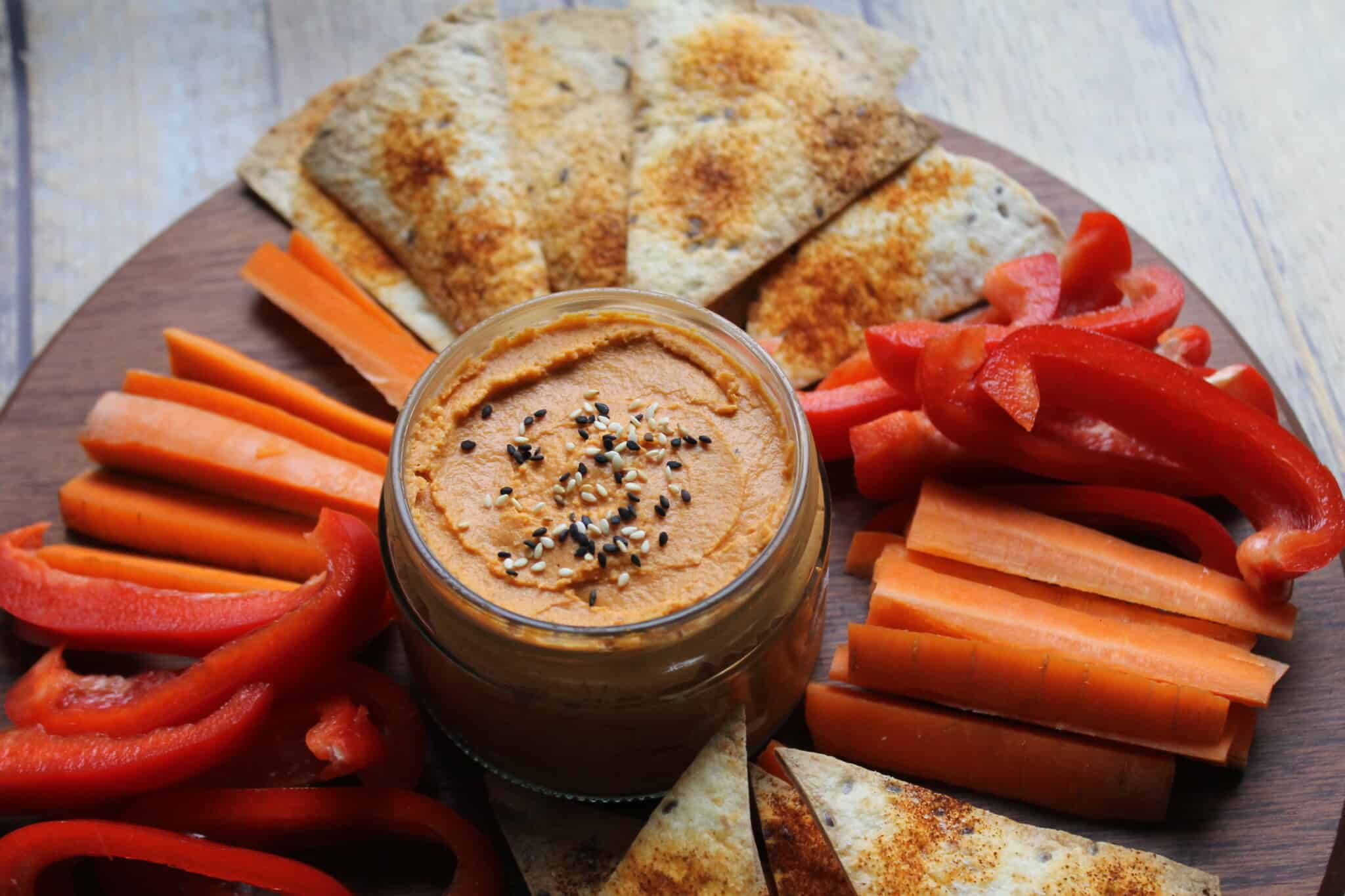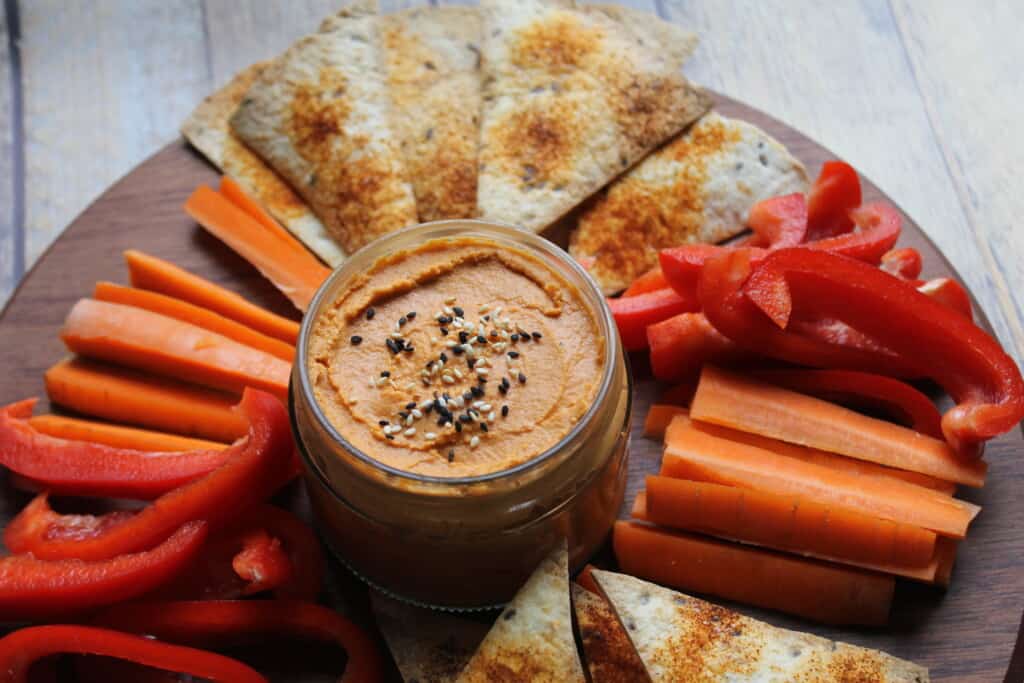 When you make it yourself, you can switch out flavours but also the kind of beans you use. The traditional recipe calls for chickpeas, but that doesn't mean you can't use white beans or red lentils, for example.
If you're as passionate about hummus as I am and want to try something new, you should whip up a batch my white bean, beet & roasted garlic hummus recipe. It's always a big hit and it's super pretty too!
But today we're recreating my favourite Fontaine Santé combo: chickpea & roasted red pepper hummus.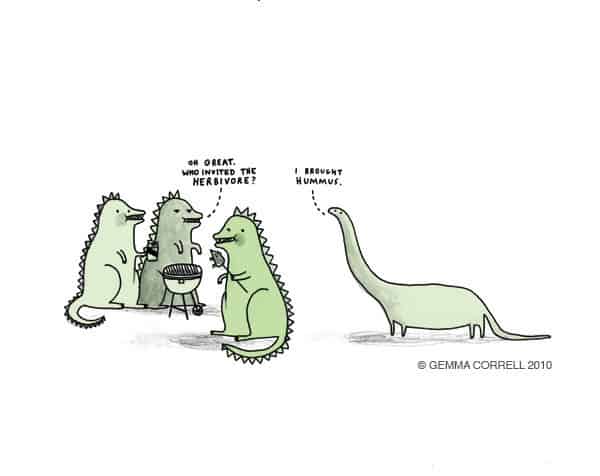 Making it is as simple as opening and rinsing a can of chickpeas, popping open a jar of roasted red bell peppers, and throwing everything in a food processor
along with creamy tahini, garlic and a few spices. Easy peasy. 5 minutes and you're done.
If you have more time on your hand though, I encourage you to cook your own chickpeas, which you can buy in bulk to save money and packaging, roast your own peppers and even make your own tahini! You can also make a bigger batch and freeze it in small air-tight containers.
As for the chips, they're also a breeze to make and will turn stale tortillas or pitas into a delicious and healthy snack. You can bake them while you prepare the hummus and chop up the veggies and the entire process shouldn't take you more than 15 minutes!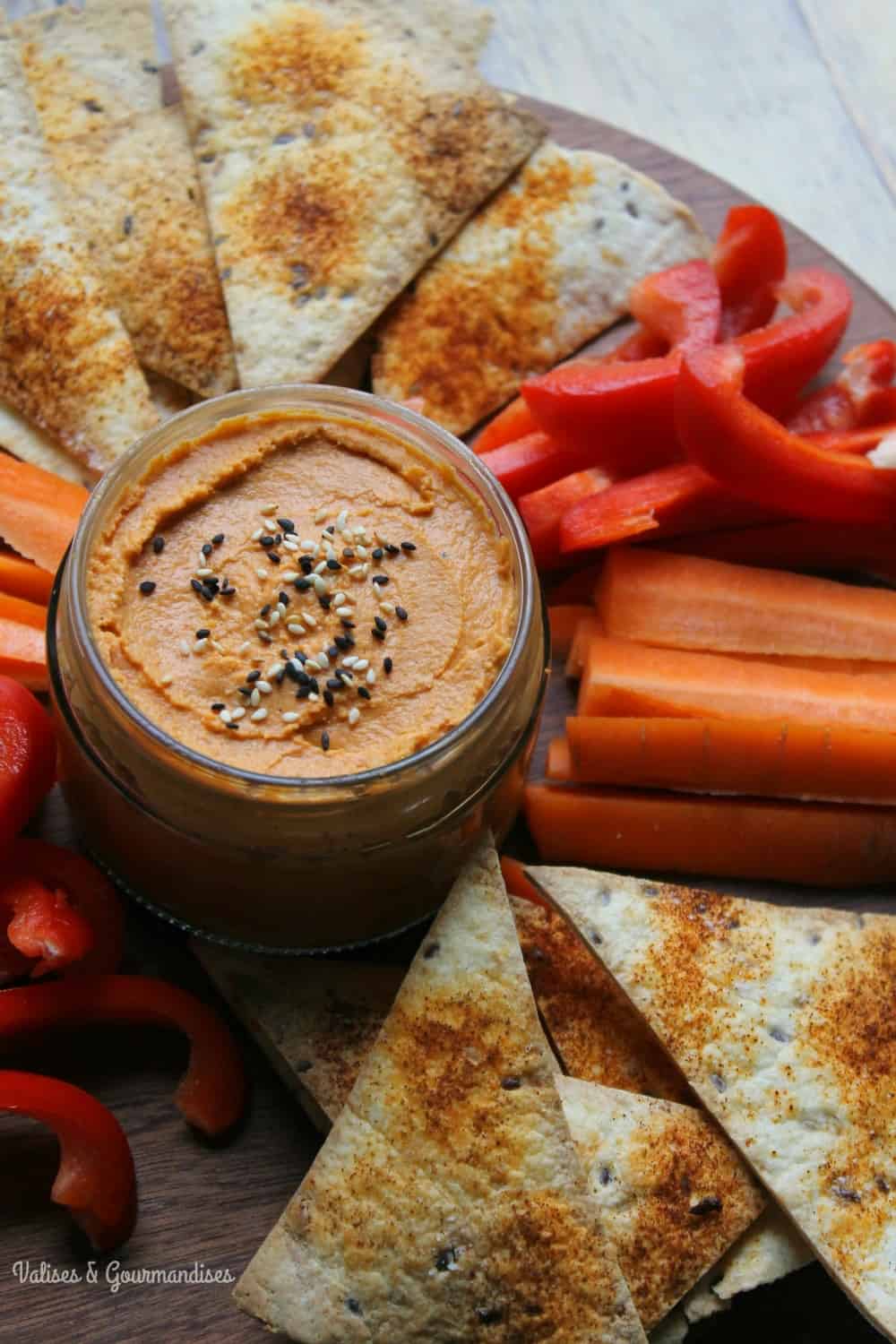 Do you make your own hummus or do you prefer store-bought versions? Do you have a favourite flavour combination?
If you try this recipe, make sure to snap a picture and share it on Instagram or Facebook using the hashtag #valisesetgourmandises. I wanna see your creations! And don't forget to leave a comment below :)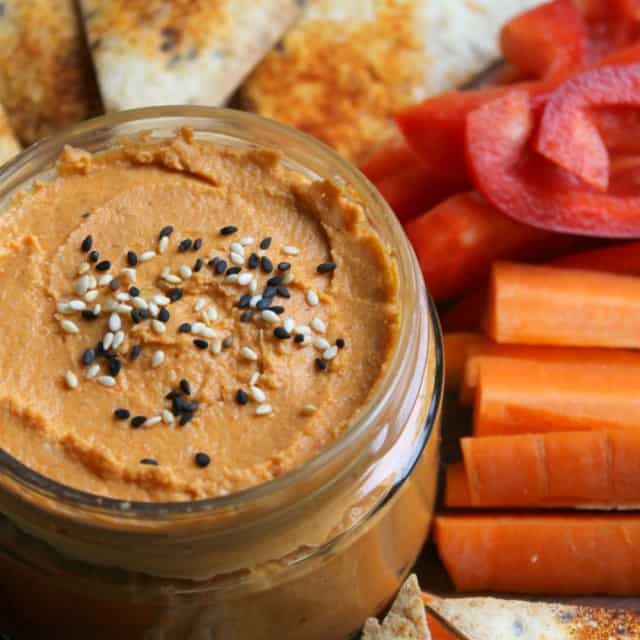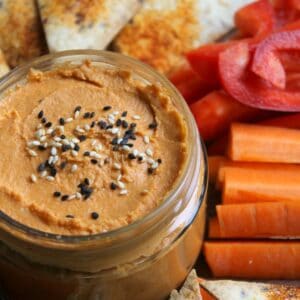 Homemade roasted pepper hummus
This roasted red pepper hummus is a fun and delicious twist on the traditional Middle Eastern dip we all know and love! Served with homemade tortilla chips and veggies, it makes for the perfect snack.
Ingredients
1.5

cup

chickpeas

cooked

3-4

roasted red bell peppers

1/4

cup

tahini

1

tablespoon

lemon juice

2

garlic cloves

crushed

1/2

teaspoon

cumin powder

1/2

teaspoon

coriander powder

1/2

teaspoon

smoked paprika

1/4

teaspoon

Cayenne pepper

Pinch

of salt & pepper

*A few tablespoons of water or of the roasted pepper's oil if you want if thinner
Instructions
Place all the ingredients in the bowl of your

food processor

and blend until you reach your preferred consistency. I like mine smooth, so I blend it for a few minutes and add a few tablespoons of either water of oil from the roasted pepper jar to thin it out to my taste. Youcan also use the juice from the chickpea can.

Taste and adjust spices to your liking. Serve with homemade tortilla chips and veggies.

Keep in an airtight container in the fridge.
Notes
Store in the fridge in an airtight container.
Apparently, hummus freezes well but I have never tried.
Nutrition
Calories:
134
kcal
Carbohydrates:
15
g
Protein:
6
g
Fat:
7
g
Saturated Fat:
1
g
Sodium:
260
mg
Potassium:
192
mg
Fiber:
4
g
Sugar:
2
g
Vitamin A:
224
IU
Vitamin C:
11
mg
Calcium:
44
mg
Iron:
2
mg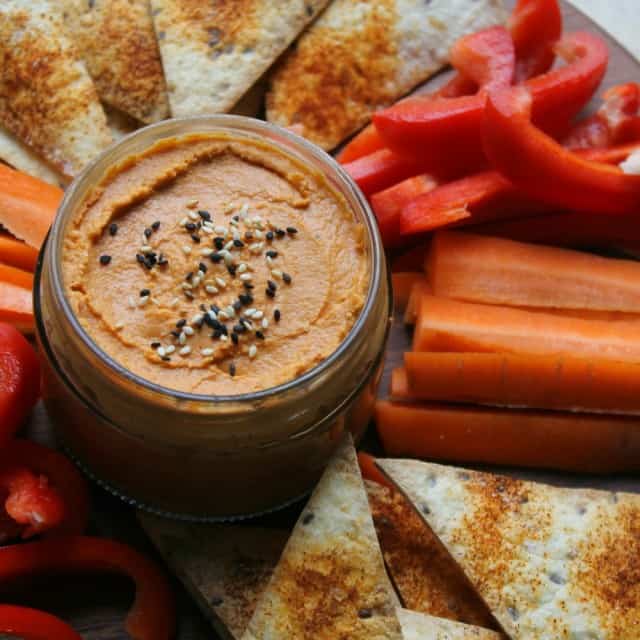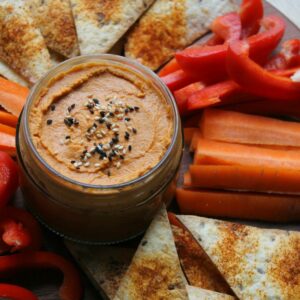 Homemade tortilla chips
Making your own tortilla chips couldn't be easier, there's no reason not to make it yourself! It also works great with pita bread.
Ingredients
Whole wheat tortillas

or flat bread

Olive oil

Sea salt

Fresh black pepper

Smoked paprika
Instructions
Preheat the oven to 180C(350F).

Brush the tortillas with a little bit of olive oil. Sprinkle with salt, pepper and paprika (I use a small mesh sieve for the paprika).

Cut the tortillas in triangle using a knife or cisors.

Lay on a baking sheet in a single layer and bake in the oven for about 10 minutes, checking often to prevent from burning. You can flip them mid-cooking to make sure they crisp evenly.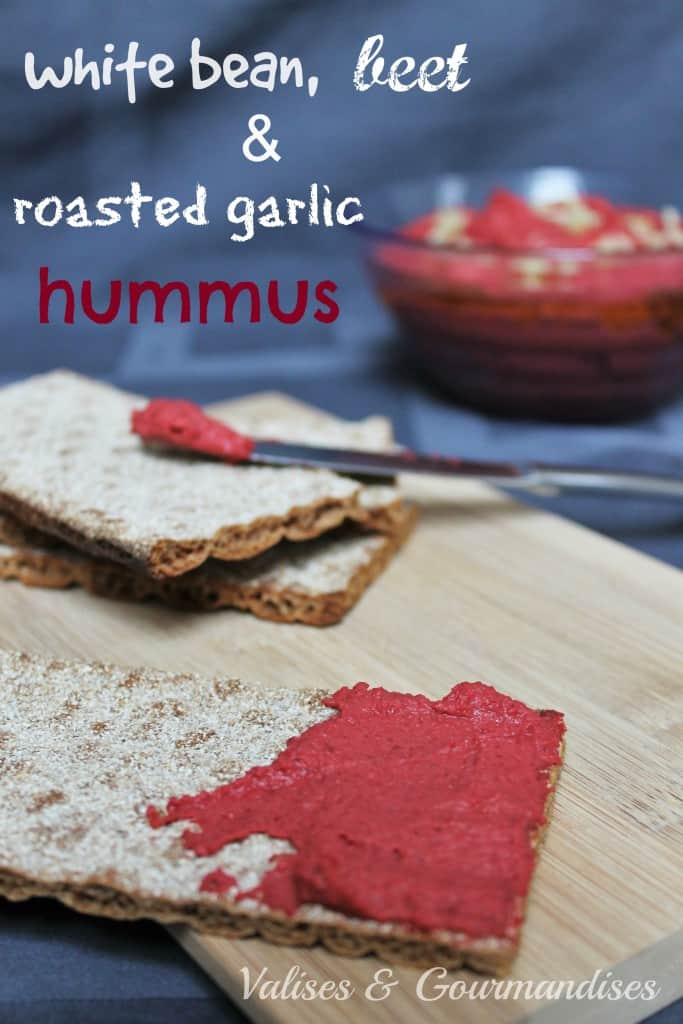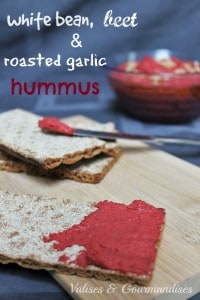 Related articles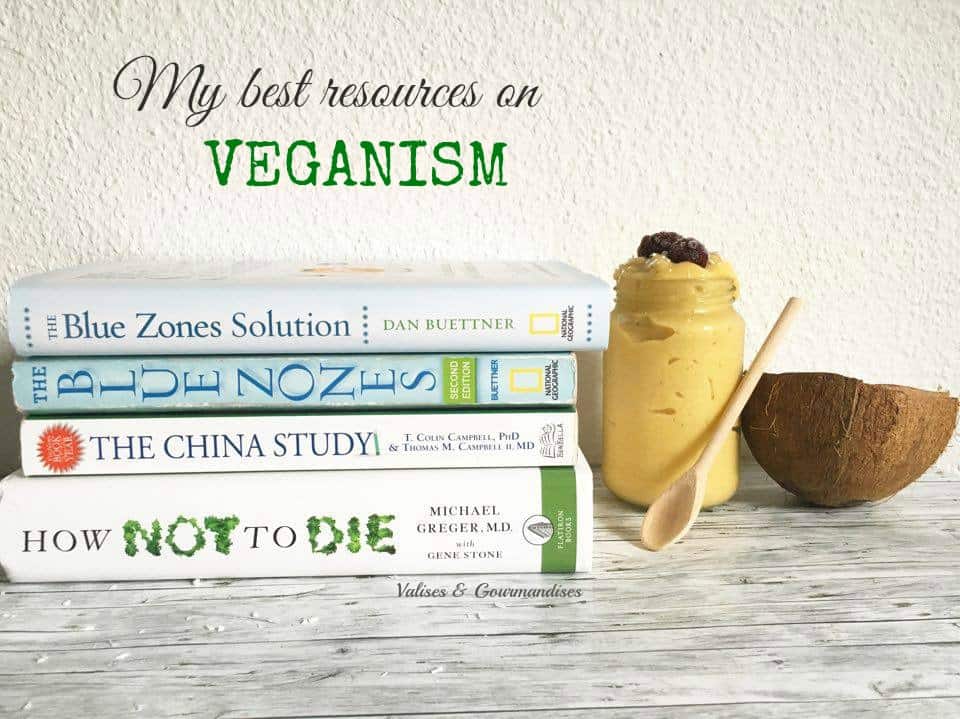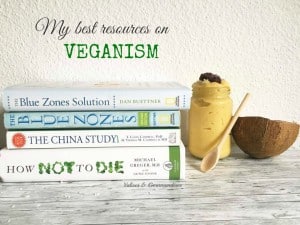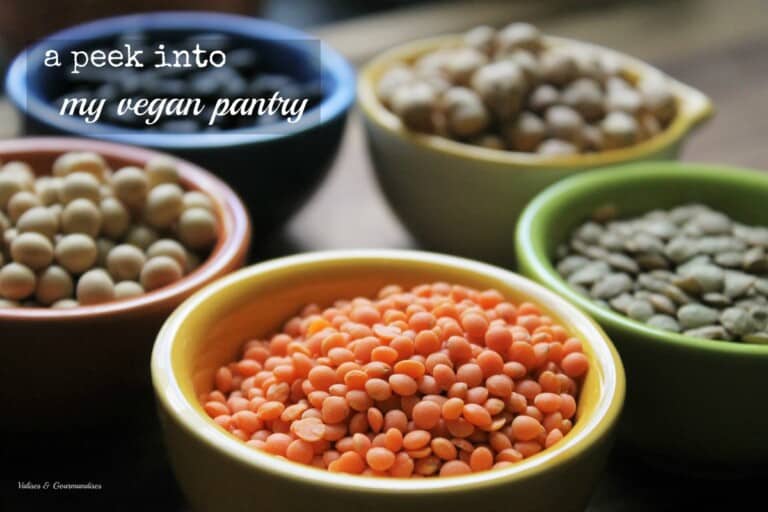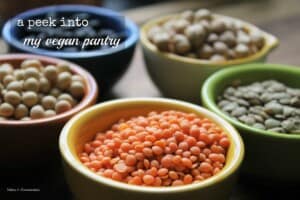 **This article may contain affiliate links, which means that I will receive a small commission if you purchase a product through them. The price remains the same for you, but this way you are helping me maintaining the blog and providing you more interesting content! :)