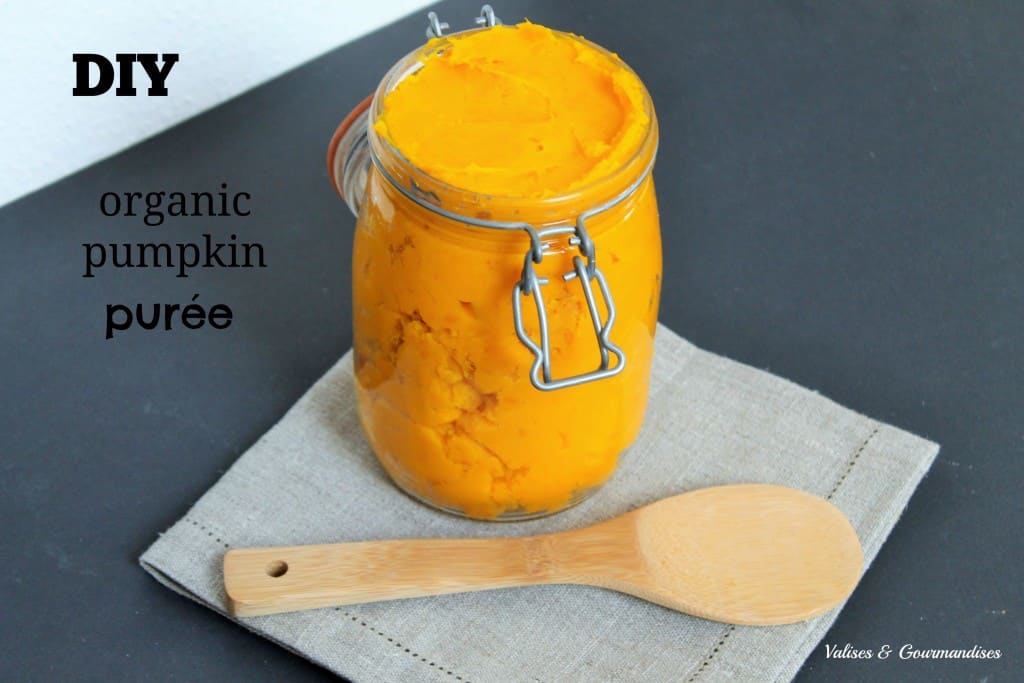 From the moment I saw the first pumpkin at the market, I just couldn't wait to come back home to whip up an array of fall recipes, even though it was technically still summer. It's not that "out of the box", I know, considering that every year most blogs I follow come up with an impressive number of recipes featuring this fruit (yup, it's a fruit!).
But I mean, can you really blame us? This season comes and goes so fast that we need to make the most of it! And I have a few ideas that I think you'll like :)
First of all, most pumpkin recipes are made with pumpkin purée. You can always chose to go the easy way and buy in it a good ol' can, but make sure you get a brand with only one ingredient: pumpkin.
Instead, I suggest you do it the old-fashion way and prepare your own purée in the comfort of your kitchen, a good cup of chai tea in hand. Here's what you'll need: a very good knife, one or several pumpkins, a stable cutting board and a baking sheet.
I chose two pumpkins of similar size at the market this morning and I cut them lengthwise, okay to be honest I asked Martin to cut them for me. I then proceeded to scrape the inside to remove the seeds (that I set aside for roasting, big fiasco… don't ask) and the stringy flesh before placing the halves on a baking sheet lined with a silicon mat and putting it in the oven, preheated at 400F (200C). It took me less than 10 minutes.
After about 30 minutes, my pumpkins were already cooked and I was able to pierce through them easily. But I advise you wait until the skin peels off, it'll save you lots of time and effort!
So, once cooked, you have two options: scrape them with a spoon to obtain the purée, or peel them and purée them in a food processor or using an immersion blender.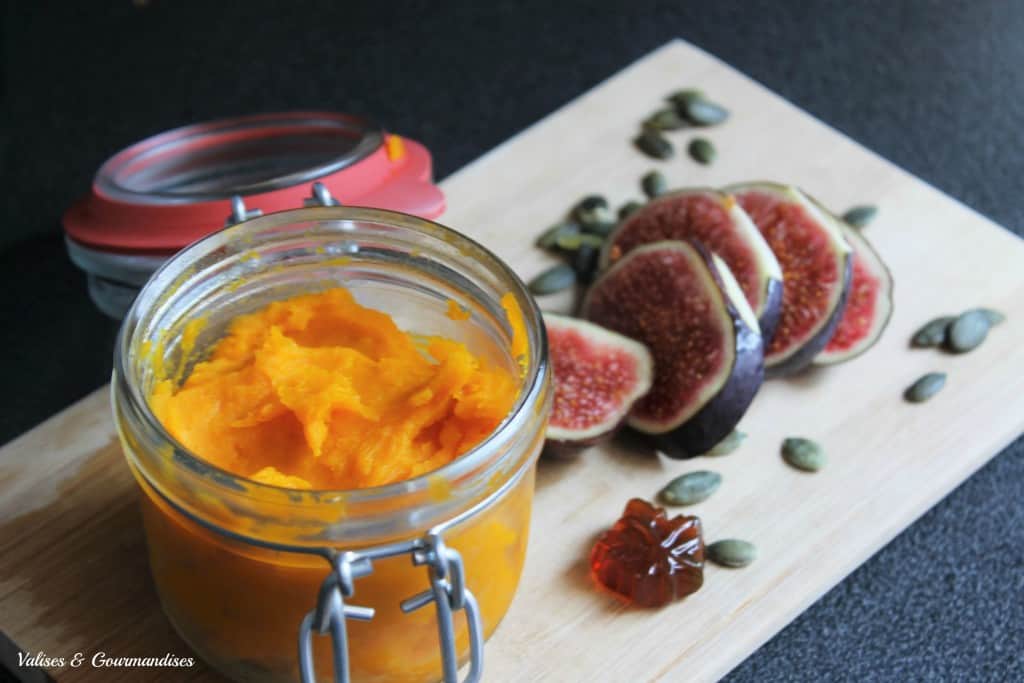 Good news for those of you who would like to make autumn last, pumpkin purée freezes very well! Since most recipes only require half a cup to one cup of purée, freeze it in small measured portions in freezer-safe containers. This way, all you have to do is take out the required amount when the sudden urge to bake scrumptious vegan pumpkin cookies gets you!
Pumpkin Recipes
If you try this recipe, make sure to snap a picture and share it on Instagram or Facebook using the hashtag #valisesetgourmandises. I wanna see your creations! And don't forget to leave a comment below :)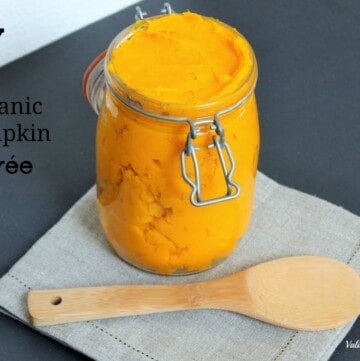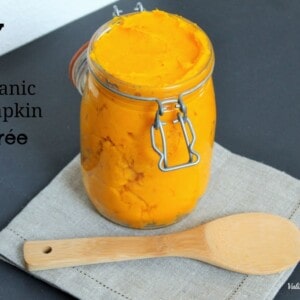 How to make pumpkin purée
Learn how to make pumpkin purée at home! Add it to your pancakes, waffles, oatmeal, cakes, savoury sauces… the options are endless.
Instructions
Preheat the oven to 400F (200C).

Rinse the pumpkins and scrub them to remove dirt. Using a sharp knife, cut in two vertically on a stable surface. Remove the seeds using a spoon and set aside if you plan on roasting them. Scrape the inside of the pumpkin until most of the stringy flesh has been removed.

Set the halves on a baking sheet covered with a silicon mat, flat side down. Place in the oven until the skin starts to detach itself. Remove from the oven, delicately turn the halves and let cool.

Once cool enough to handle, peel the skin, cut the flesh in pieces and place in a food processor. Pulse until you are left with a nice purée.

Divide into air-tight containers and place in the fridge.
Notes
If you don't have a food processor, you can put the pumpkin cubes in a large bowl and purée them using an immersion blender.
To stock up for the months to come, freeze the purée in one cup or half a cup portions in freezer-friendly containers.
Nutrition
Calories:
154
kcal
Carbohydrates:
39
g
Protein:
4
g
Fat:
1
g
Saturated Fat:
1
g
Sodium:
18
mg
Potassium:
1587
mg
Fiber:
7
g
Sugar:
10
g
Vitamin A:
6197
IU
Vitamin C:
56
mg
Calcium:
127
mg
Iron:
3
mg