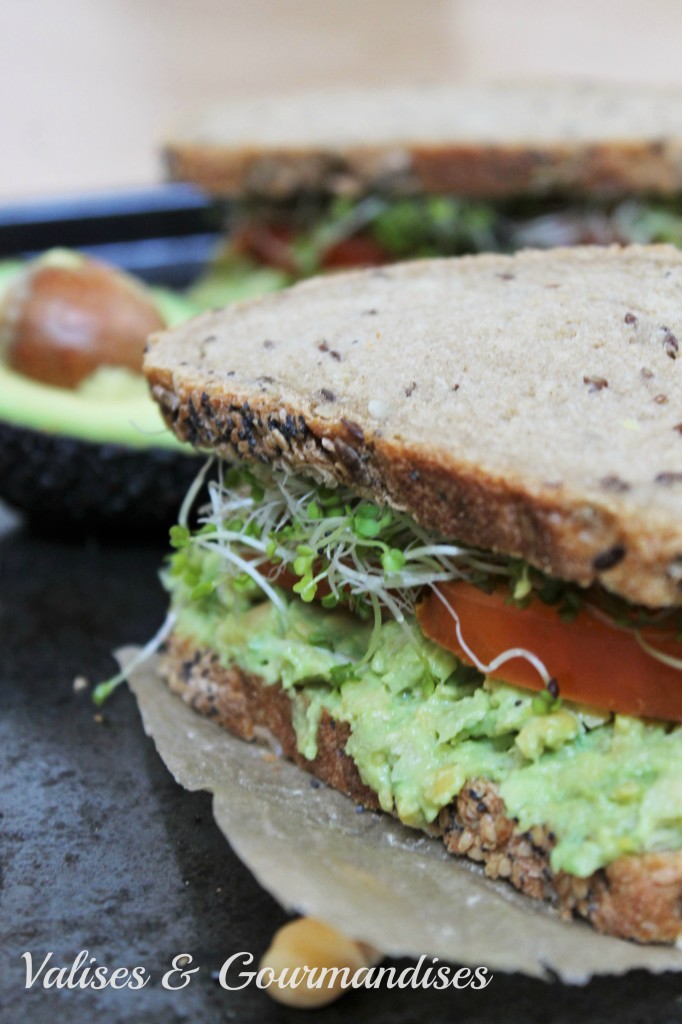 I've missed the sun. I must say that fall and winter in northern Germany can be gloomy and depressing. The sun stayed tucked away under gray skies for three entire months. Ok, it poked its nose once or twice just to tease us. I was almost ready to pack my bags and move back to Québec, to play in the snow instead of endure the freezing rain.
Until some meteorological miracle took place and brought the sunlight back over our heads. It's been shining every day for a few weeks now, so much that tiny white and purple flowers are covering the ground and trees are decorated with buds.
And when we saw the forecast for last Sunday, 18 degrees and a shining sun, the stage was set for us to kick-off picnic season!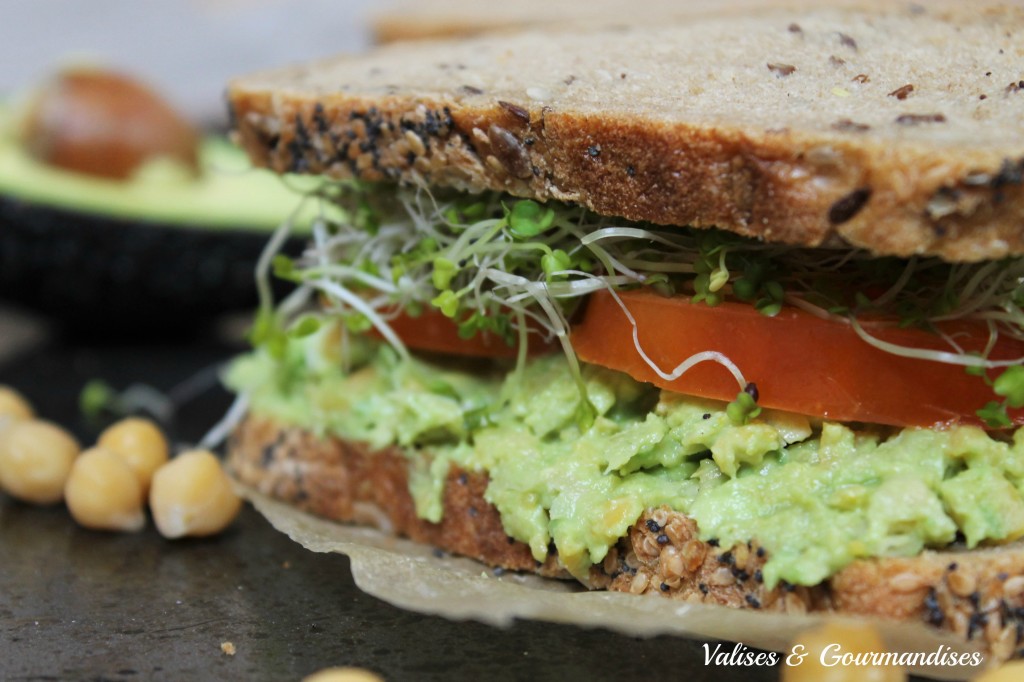 On the menu: lemon iced-tea, maple bocconcini & Spanish strawberries salad, and chickpea & avocado mash sandwiches. I was eagerly awaiting to lay out my special blanky, which I brought from Québec so we'd able to improvise picnics over the course of our travels.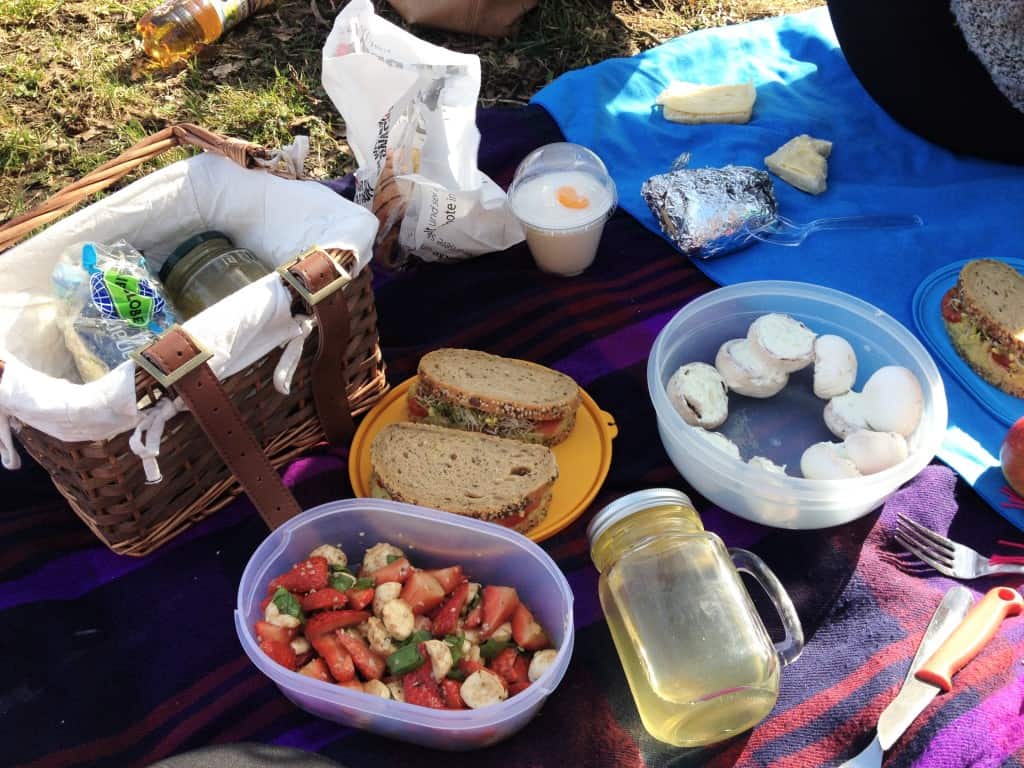 The word got around fast, we weren't the only ones brought back to life by the warm sunrays. The park behind Hannover's university was lively, many families were walking with their toddlers and dogs, and students had brought boom boxes that made for an atmosphere reminiscent of Montreal's Piknic Eletronik.
My friends and I agreed we'd repeat the experience every weekend that we're all in town, and that we'd go somewhere new each time to discover the city.
To be continued! :)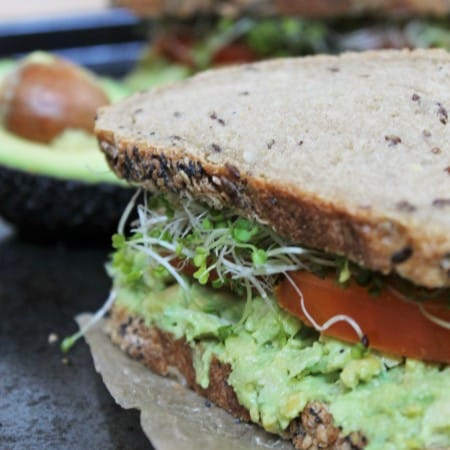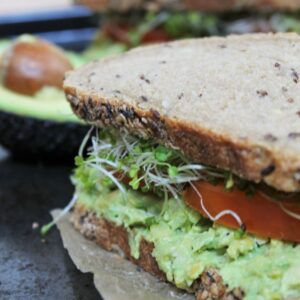 Mashed Chickpea & Avocado Sandwich
A hearty sandwich full of nutrients and proteins. The perfect solution to those chicken salad sandwiches cravings!
Ingredients
4

multigrain bread slices

1

small ripe tomato

sliced

½

cup

sprouts

½

cup

cooked chickpeas

½

organic avocado

ripe

1

teaspoon

vegan mayonnaise

optional

¼

teaspoon

turmeric

¼

teaspoon

garlic powder

A pinch of salt & black pepper

A pinch of Cayenne pepper
Instructions
In a bowl, mash the chickpeas with a fork.

Add the avocado and mash together with the chickpeas.

Add mayo and seasonings (quantities are only suggestions, adjust to your preferred taste).

Assemble sandwiches.
Notes
If you don't plan on eating the sandwiches right away, pack the tomato and the sprouts separately to avoid ending up with soggy bread.
Similar recipes