It's with our heads in the clouds that we left Rome to discover a more rustic side of Italy. The bus ride gave us a glimpse of the picturesque beauty of Tuscany, a very authentic region that modern times have not managed to alter.
At first, we wanted to tour the famous Tuscan vineyards, but the lack of transport services meant renting a car. We figured that car rental and wine tasting wouldn't mix so well, so we opted to visit the medieval towns in the area. We weren't disappointed, and we still got to drink plenty of wine!
Tuscany began to develop at the beginning of the last millennium thanks to its strategic geographic location on the commercial road linking Rome to the rest of Europe. It's easy to understand why so many pilgrims chose to settle down there and call it home.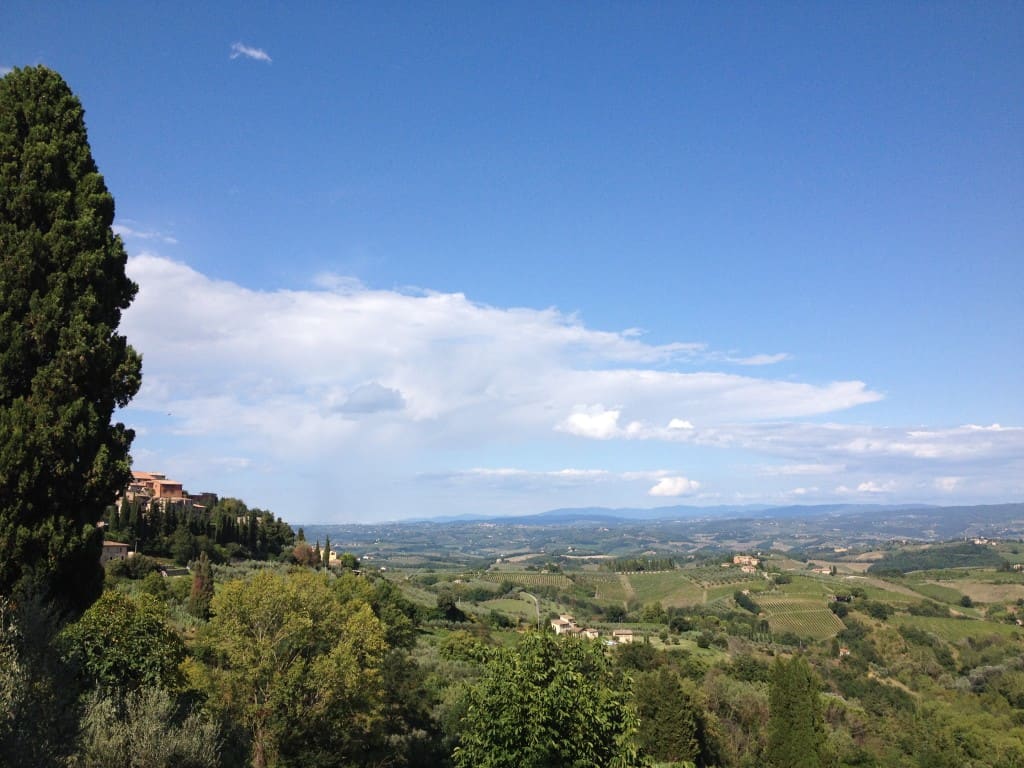 It's always sunny, the landscapes look like they were taken straight out of a fairy tale, and the soil is extremely fertile. I could see myself spending my retirement here on a little Tuscan hill… But that's a problem for future me.
Colle di Val d'Elsa, city of cristal
This pretty little village served as our HQ for the week. Of the three we visited, it was the less touristic and seemed like a calm quiet place to live for a couple days.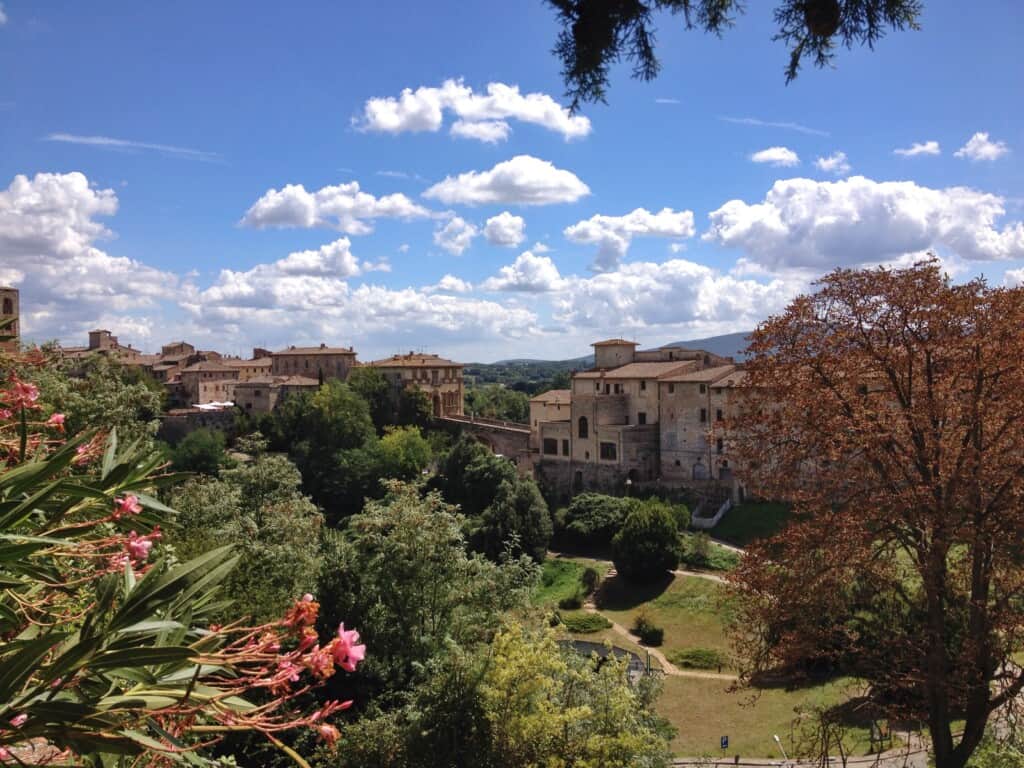 Colle di Val d'Elsa was built on two levels, Colle Alta and Colle Bassa, with a free public elevator to get from one to the other. Without a doubt, the most interesting part was the fortified city on the second level. As soon as you walk out the elevator, you're granted a stunning view of the surroundings.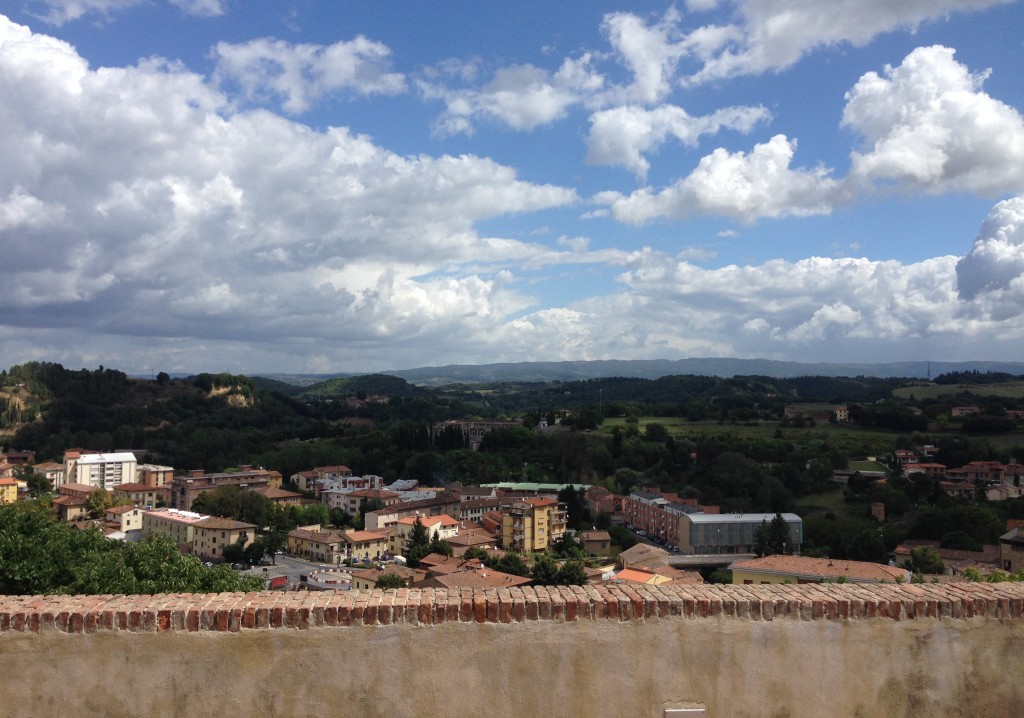 Colle di Val d'Elsa has a well-deserved reputation as a maker of crystal; 90% of Italian crystal and 10% of the worldwide production. Not bad for a tiny town of 20 000 people. You can even find a crystal museum in Colle Bassa.
We stopped by a cute little shop where the craftsman explained to us how he shapes the crystal himself and how to distinguish it from glass. We vowed to return one day to get our hands on the champagne glasses and a scotch decanter that dangerously caught our eye.
I should've taken pictures but I was too shy. Still getting used to the blogging job.
We checked out a few small churches before grabbing a coffee and enjoying it on the terrace. We took our sweet time under the sun while admiring the view.
By the way, I suggest to always inquire about the servizio price and to check your bill before paying. Also, in some places, a coffee will cost you double if you sit down to drink it (al banco price). Good to know.
We made it a habit of getting fresh ingredients at the market to make a good home-cooked meal for dinner at the apartment, always with a bottle of Chianti in the equation, my favorite red wine. During the day, we mostly made quick pit stops for pizza and gelato to refuel.
We still treated ourselves to a night out at the restaurant. Martin chose a quatro formaggi pizza without knowing it had blue cheese on it. Though skeptical at first, he discovered he likes it. As for me, I don't think I ever will! Fortunately, we had also ordered a Tuscan specialty called la chiccha (pronounced keeka), similar to Spanish tapas.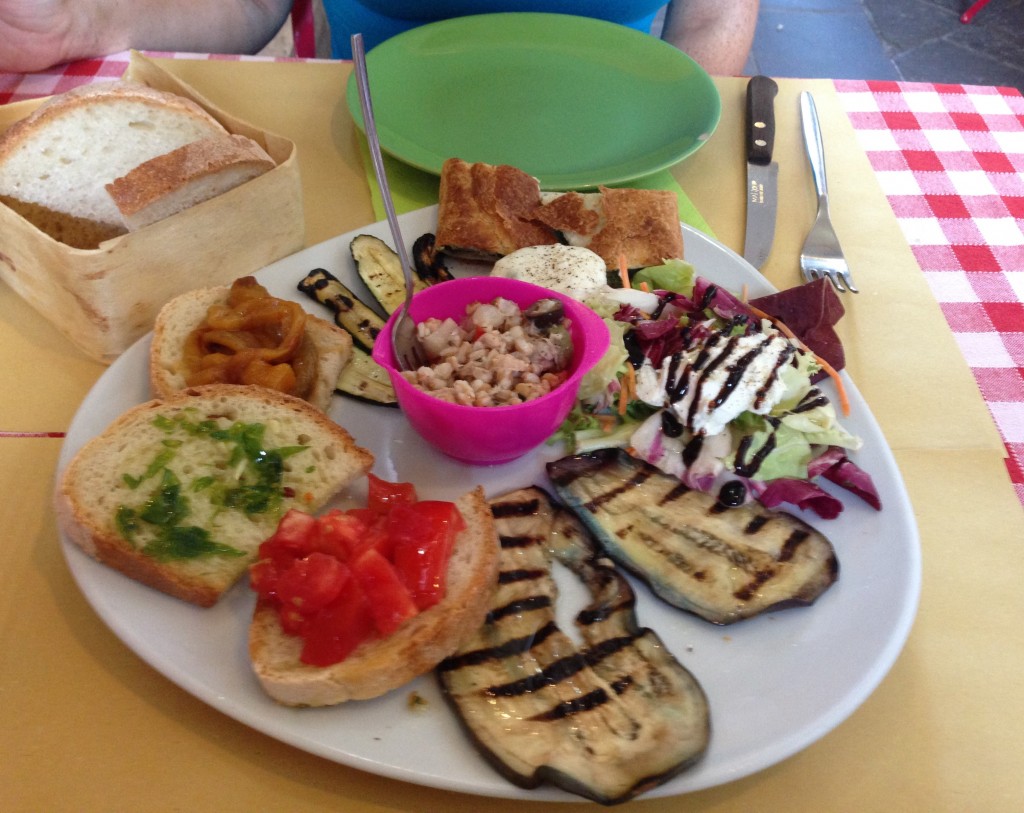 Grilled eggplant, bruschetta, crouton and garlic flower, pepper confit, grilled zucchini, spinach-filled puff pastry, fresh ricotta and balsamic glaze salad (and this wasn't your typical store-bought ricotta) and finally barley salad. Not only did it taste phenomenal, it's also easy to reproduce at home to impress your guests or simply to spoil yourself.
All in all, Colle di Val d'Elsa made us feel at home. It's a perfect place to spend a nice day without too many tourists, especially compared to Siena and San Gimignano.
San Gimignano, the city of towers
I said earlier that the weather is always beautiful in Tuscany. Well, I spoke too soon. The second we set foot out of the bus that brought us to San Gimignano, it started raining cats and dogs, and elephants. It just kept pouring for over an hour. Sheltered in a café, we were on the verge of giving up all hope when the sun finally made its fashionably late entrance.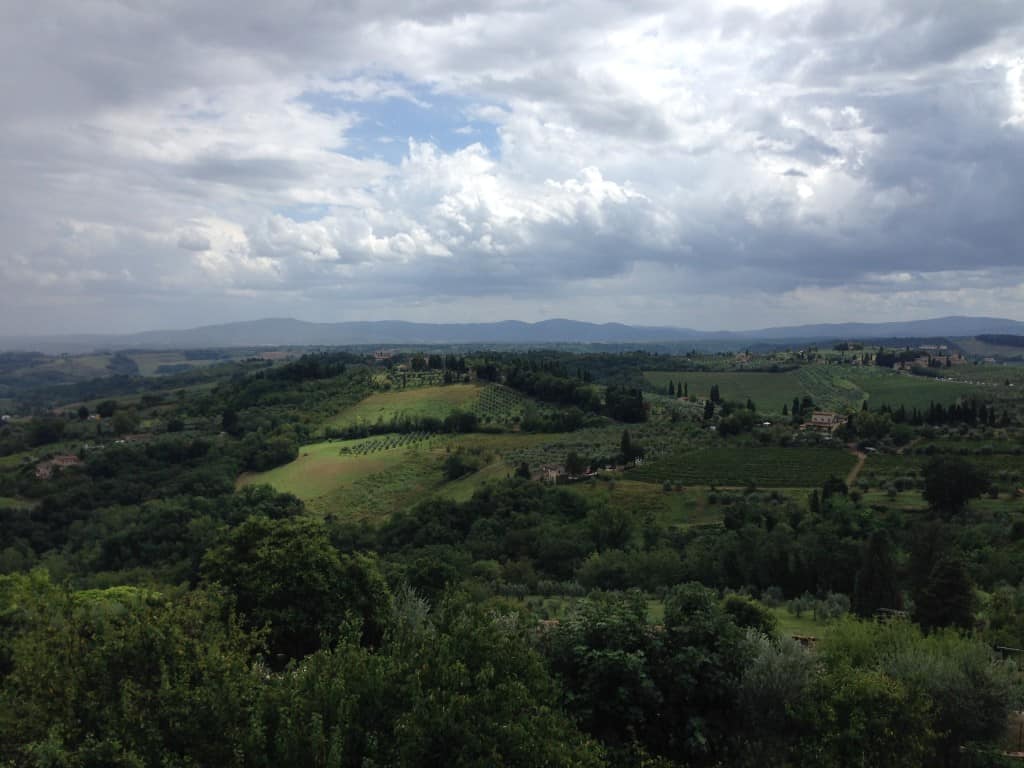 People come from everywhere to visit this beautiful UNESCO protected town. From Florence, many tourist agencies offer day-trips, which usually include a pit stop at a vineyard. Because everybody loves wine.
San Gimignano has preserved all of its old-fashioned charm, now lined with chic restaurants and craft shops selling local goods. Of the 75 towers originally built by the noble families that reigned over it, there are only 14 left today.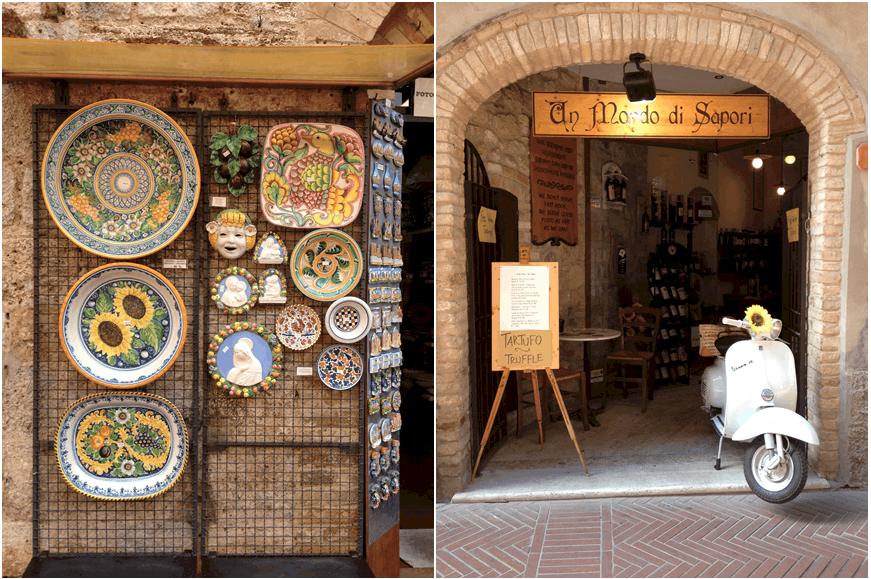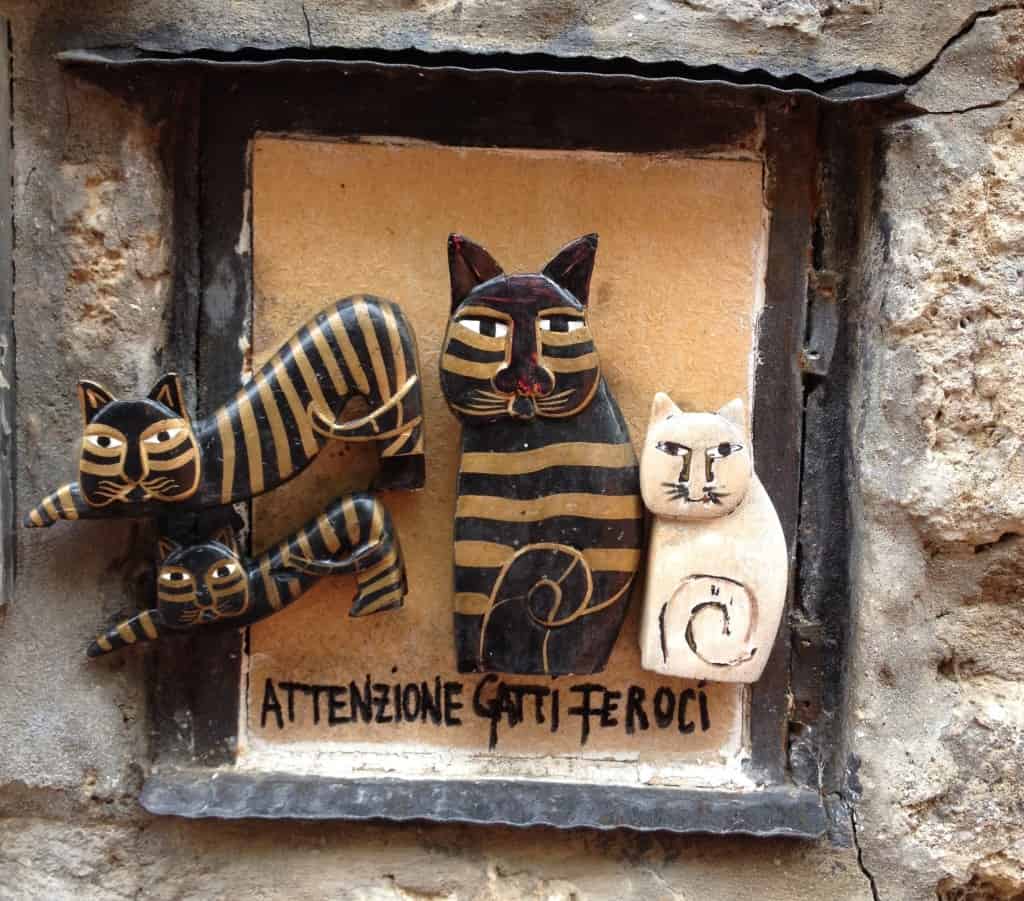 For rainy days, or if you simply want to visit something other than churches for a change, San Gimignano proposes a medieval museum of torture. It was a bid too morbid for my taste, knowing that real prisoners suffered there, but I can imagine that some people have a curiosity for such things.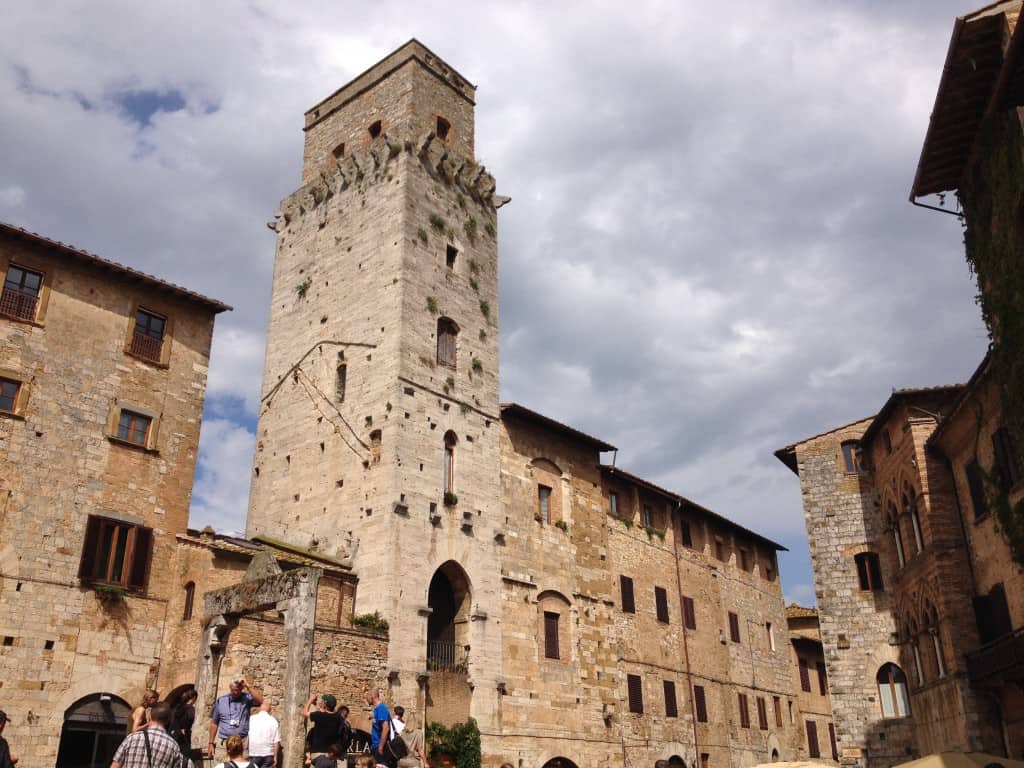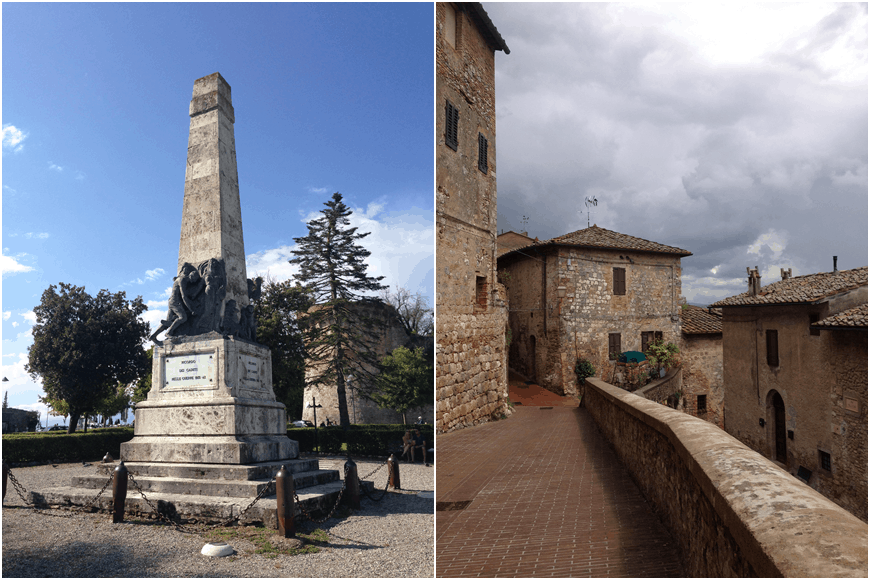 Among the three destinations on our medieval itinerary, the city of towers took top spot. No wonder tourists from all four corners of the world come to see it. We also learned a valuable lesson there: always bring the umbrella!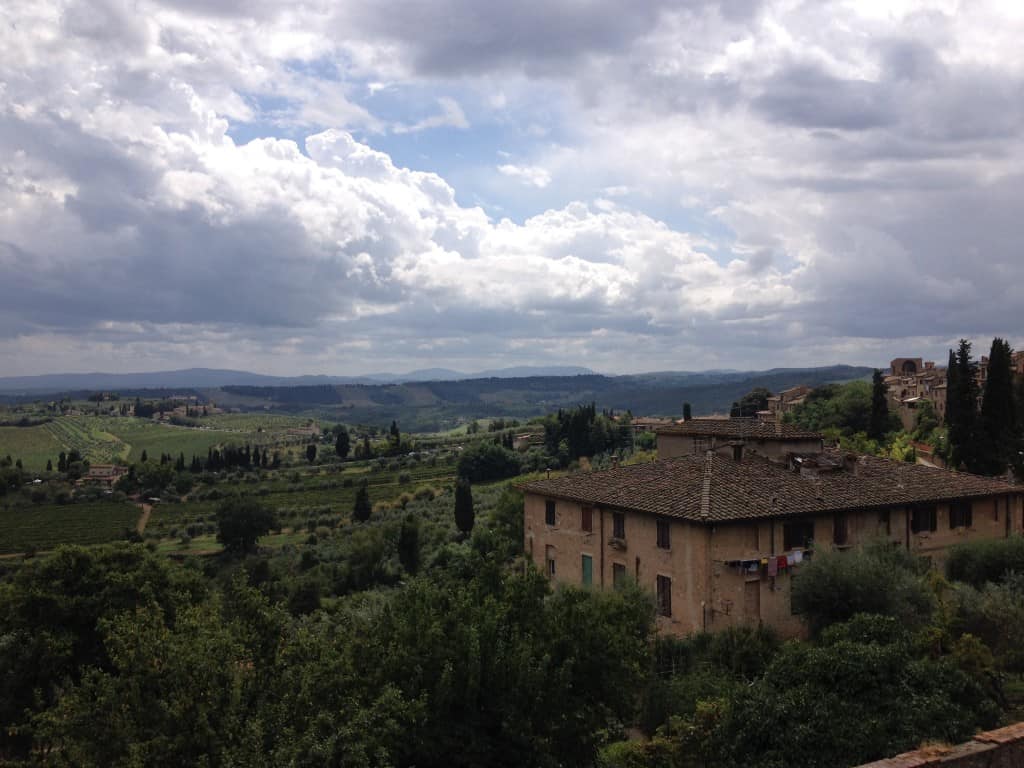 Siena, city of the Palio
We arrived in Siena the day after the Palio, a famous horse race that takes place in the middle of the city in the main square, Piazza del Campo, which was covered in sand for the occasion. I must say, the smell reminded me of my childhood on the farm.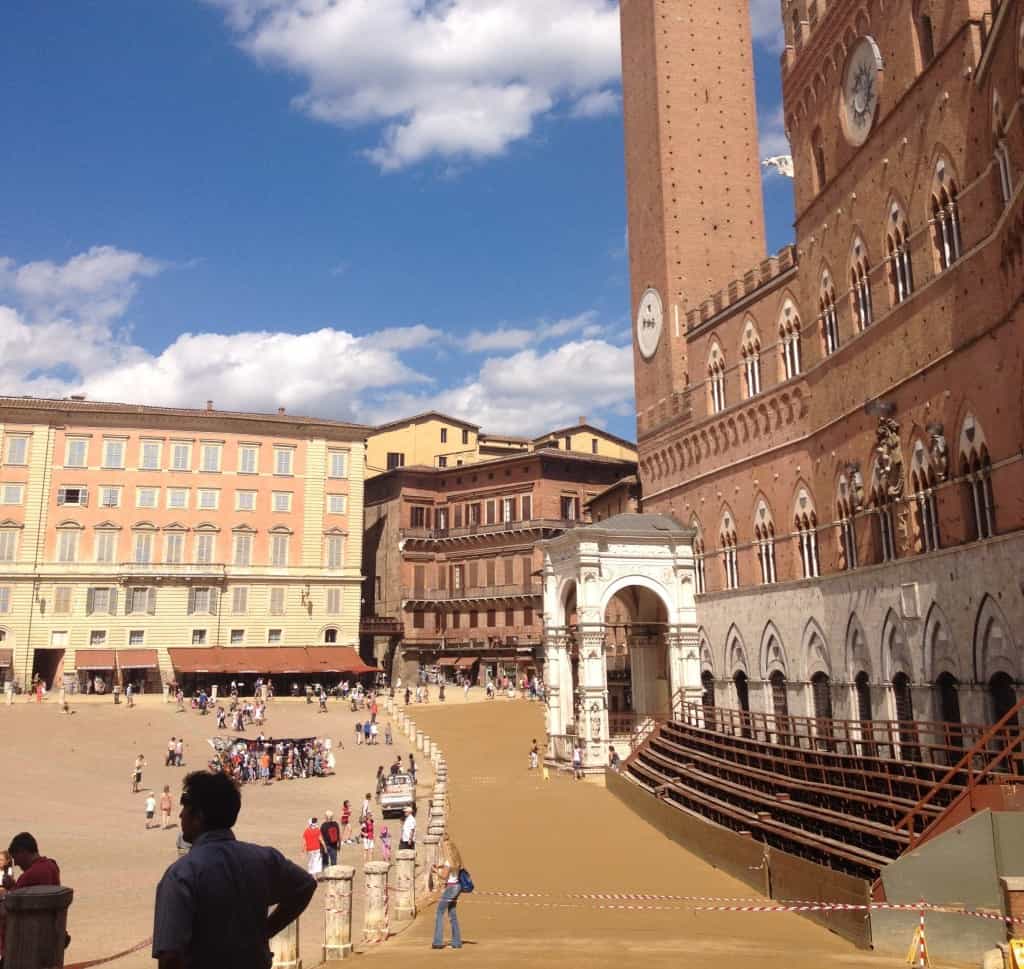 Seeing the Palio could have been exciting, but we missed it by a day. Maybe it's better that way… To give you an idea, twice a year 40,000 people huddle together in the middle of the main square to witness the race going on around them. 40,000 hostages until the action ends. At 5'3", I probably wouldn't have seen much of it anyway.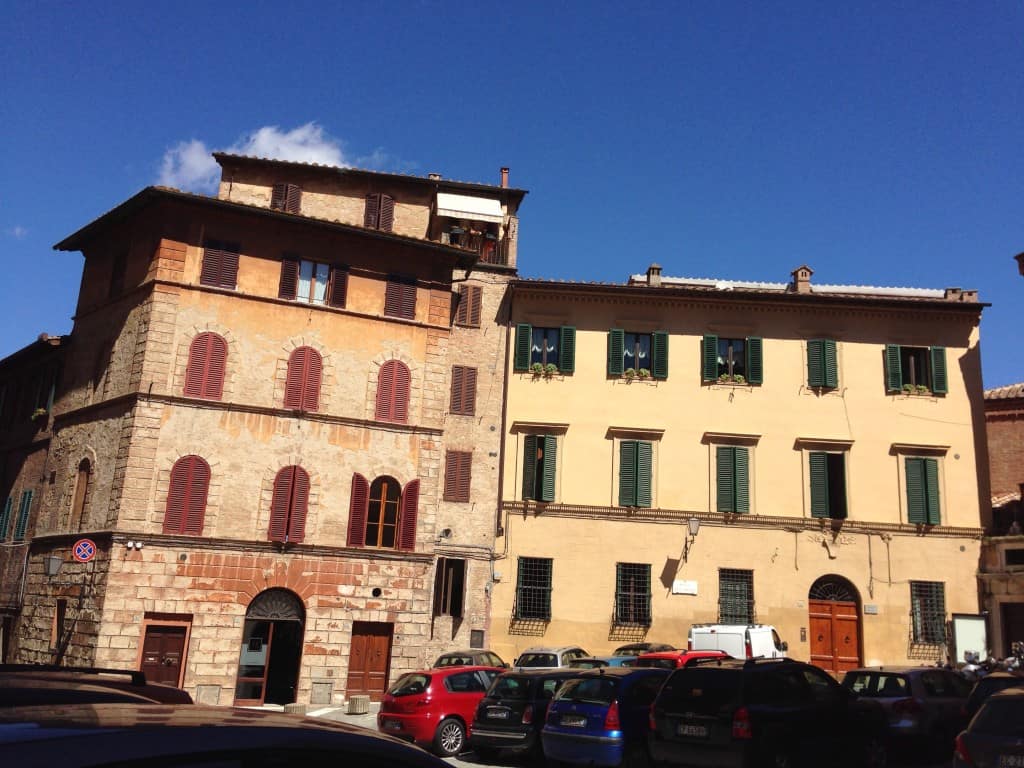 After hearing so many praises about Siena, I had high expectations. Maybe too high. I even wore my favorite dress for the occasion. Compared to Colle di Val d'Elsa and San Gimignano, so typical and charming, I didn't particularly enjoy the jam-packed commercial streets flooded with tourists, cars and scooters. Rather disappointing.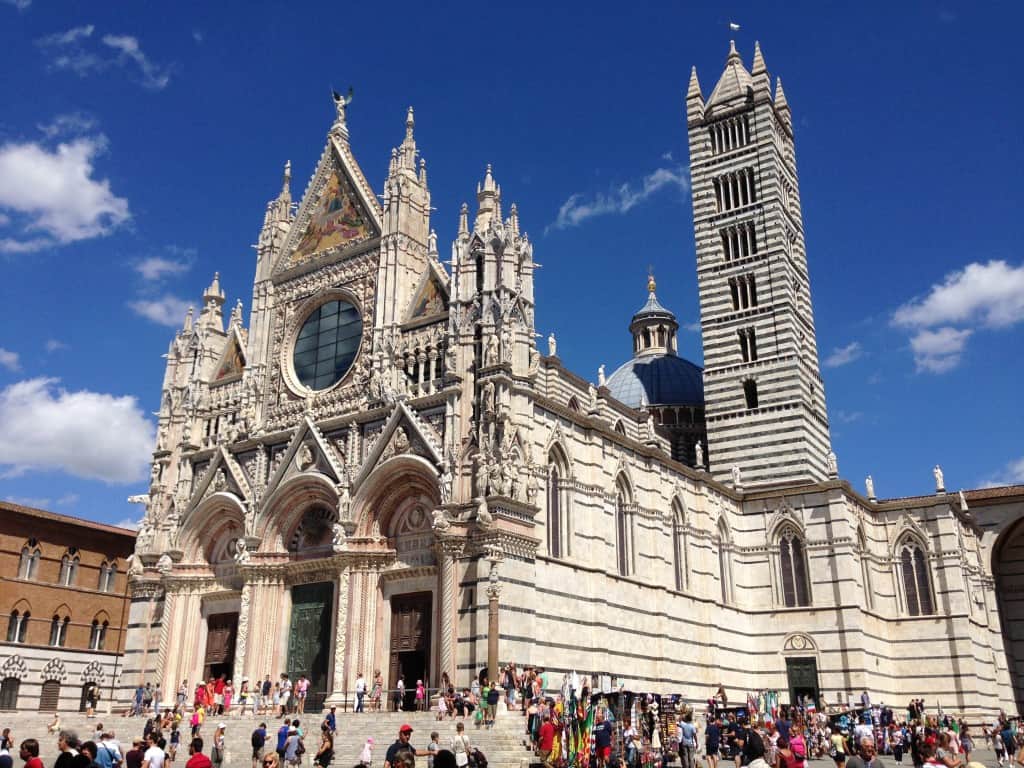 It's still a very beautiful and historic city. You can purchase an OPA pass which gives access to the cathedral (il duomo) and the adjacent monuments, including the baptistery and the crypt.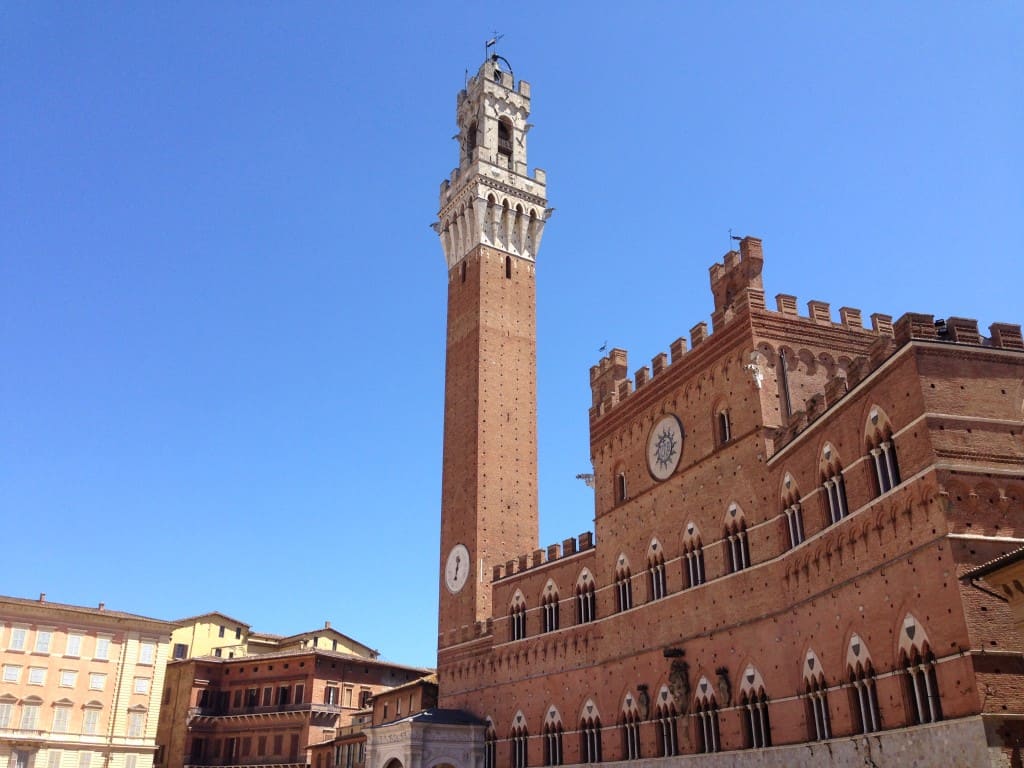 We preferred visiting the Palazzo Pubblico and its tower, the Torre del Mangia, which offered us a marvellous 360°view of the city and its surroundings. A good thing, because after climbing 400 steps, we weren't about to leave empty-handed.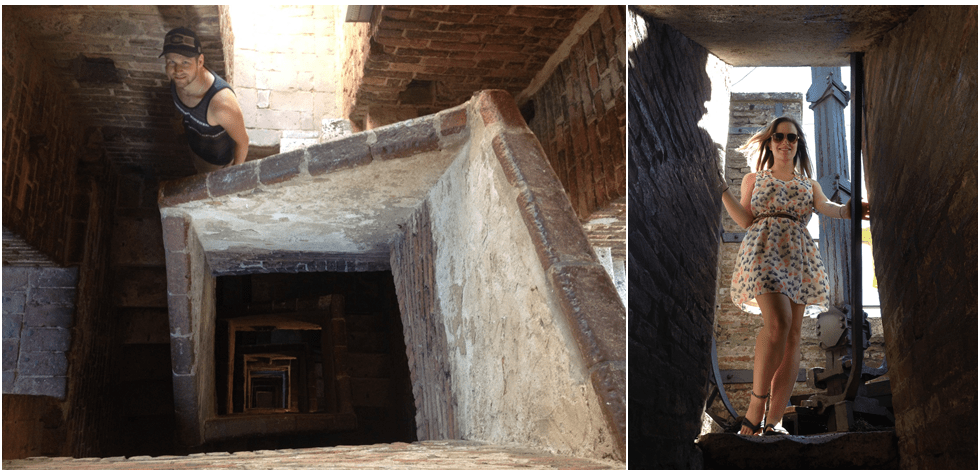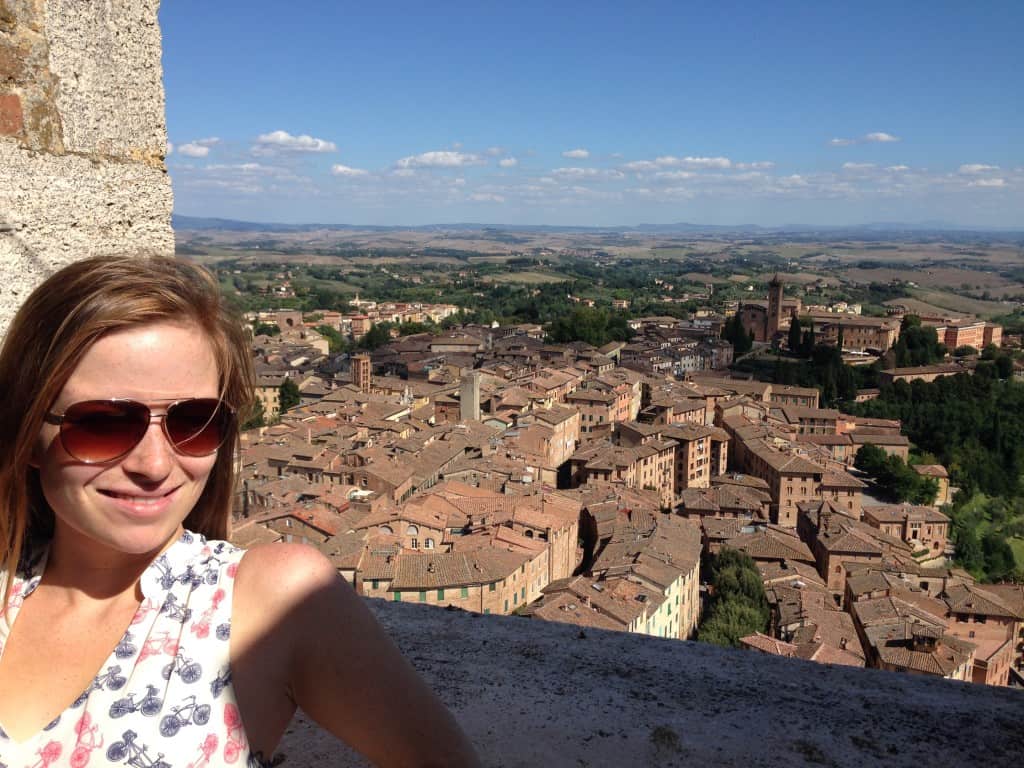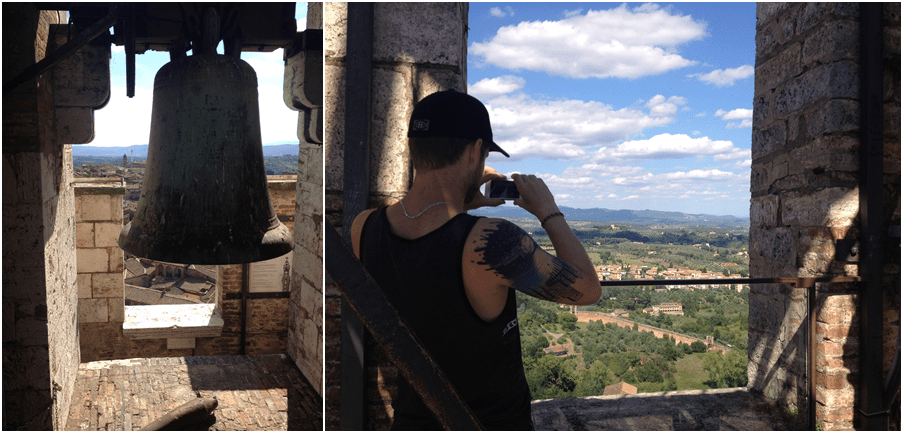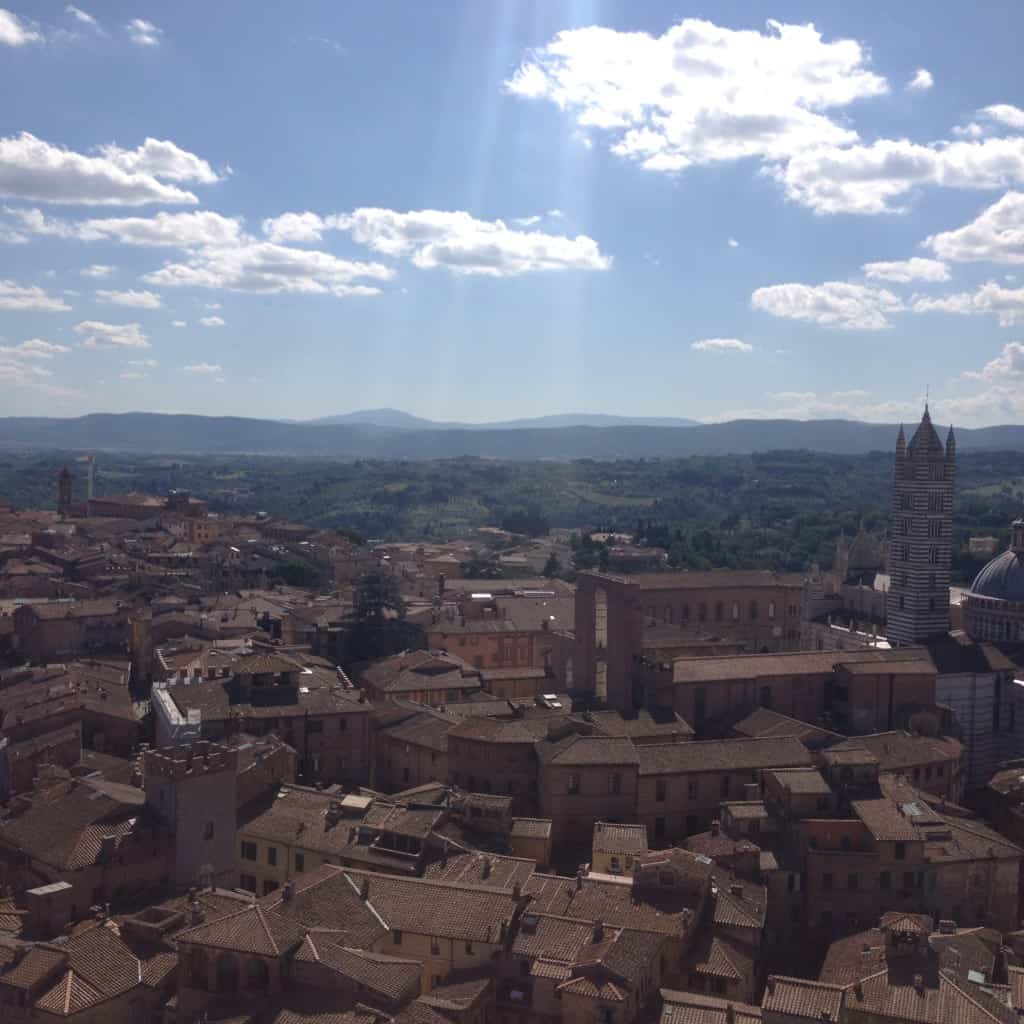 Completed in 1348, the 102 meter-high bell tower was erected to surpass Florence's, great rival of Siena. At the time, it actually held the title of highest structure of the country. In the end though, Florence still had the upper hand and Siena had to submit to its control in 1555.
The Palazzo Pubblico next to the tower was built between the 13th and the 14th century in the Sienese gothic style to host the provincial government. For once, a museum was the highlight of our day. We really enjoyed discovering the series of rooms decorated with frescoes recounting Sienese history.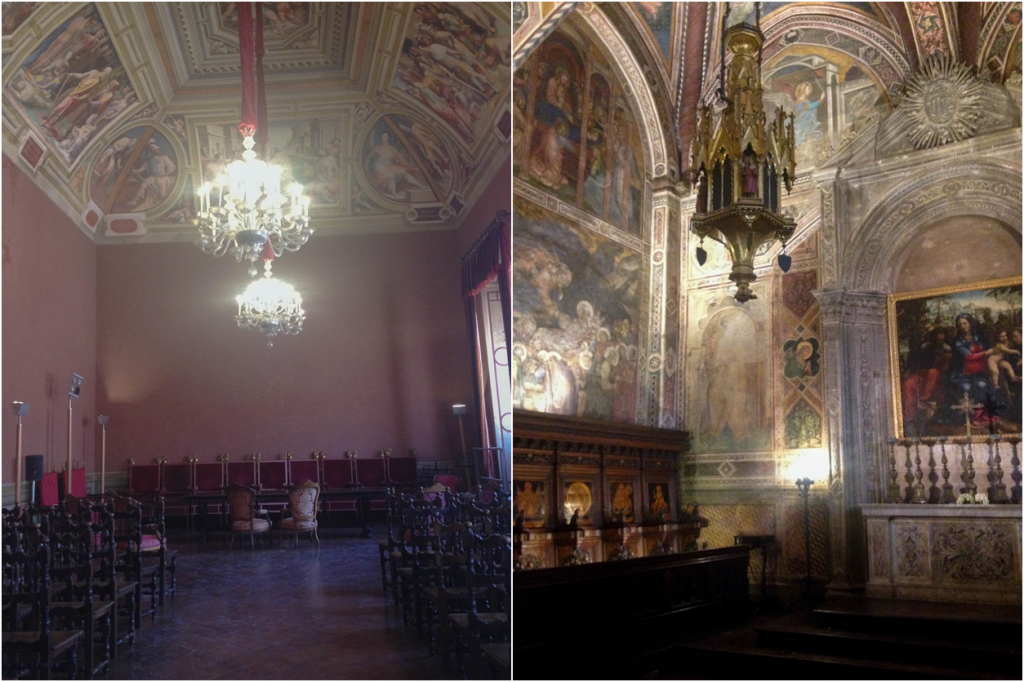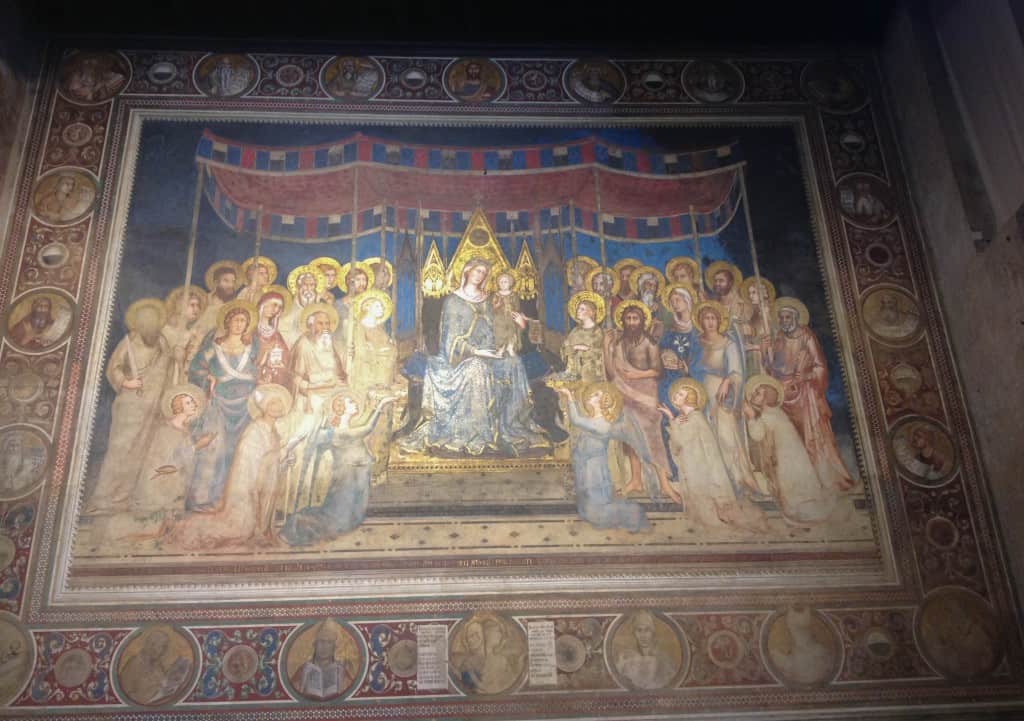 We saw so many great things in Tuscany, and yet there's still so much left to see! We can't leave a place without making plans for our next visit. We'd like to return and try agrotourism or WWOOFING to get a taste of authentic life in the Tuscan countryside. The sooner the better.
For now, the capital of Tuscany awaits us. Florence here we come!
Related articles