Thinking of going vegetarian or vegan but wondering what to eat? Here's a guide to help you get started and stock your vegetarian pantry with all the basics.
It's been a while since I promised you my list of items that are essential for a vegan or vegetarian pantry, so here it is, finally! I got the idea for this after seeing so many question on veg Facebook groups, by people who recently chose a vegetarian diet (yay!!) who are wondering "so, what do I eat now"?
Of course it's directed to vegetarians and vegans, but in my opinion, it can be useful to anyone who would like to eat a more diverse and healthier diet. I think we could all use a bit more variety :)
I sometimes buy products that you could call exotic, such as acai powder, raw cacao nibs and miso, but I kept this list simple and only included items that I consider basic and essential. You can use it and adapt it to your needs and preferences.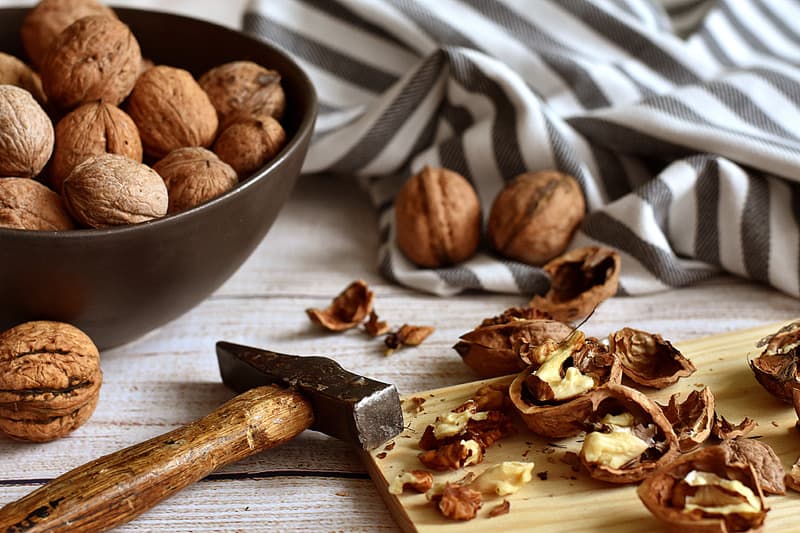 Of course, it goes without saying that it's best to purchase products that are local, organic and fair trade and from a known source. Bulk stores are your best friends here! And luckily, they're popping up in many cities around the globe.
However, if you're struggling to make ends meet or don't live anywhere near an organic bulk store, please don't feel bad. It's still 100% okay to buy these products in regular supermarkets.
You'll also notice that I haven't included any mock meat or vegan cheese. The reason is simple: while delicious alternatives to animal-based products, they're not a necessity and should be consumed in moderation for optimal health.
I also published another post where I go in detail about how to stock your vegan pantry and go more in depth about some ingredients' health benefits and how I use them.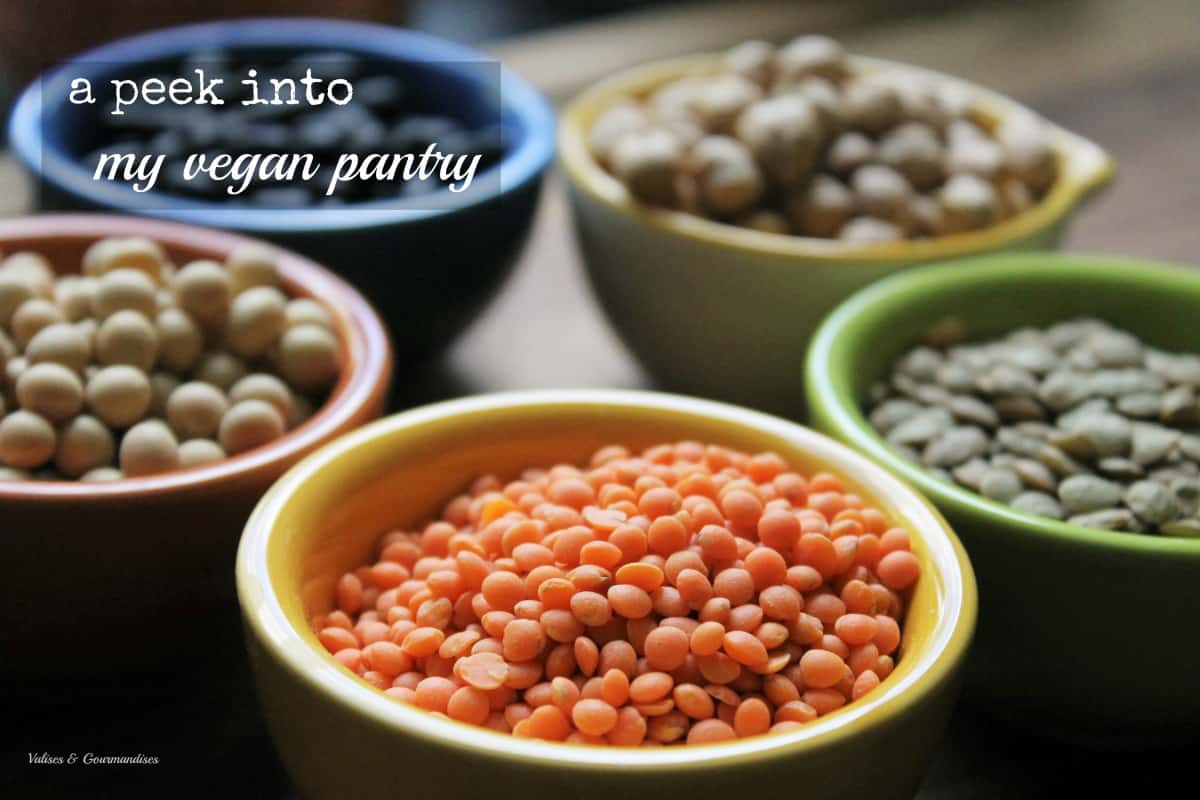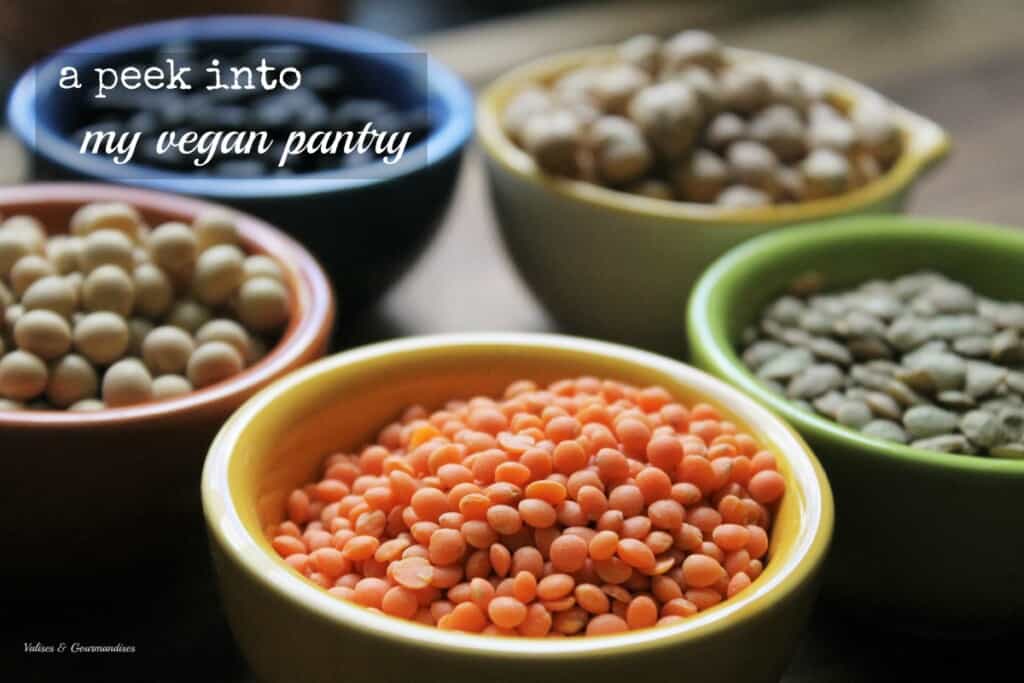 One last thing, take the habit of checking the ingredients for any hidden animal products. You'll sometimes be surprised to find things that don't belong, like the time there was milk in my store-bought hummus…
That being said though, we all make mistakes. If you realize that something isn't vegan or vegetarian after you bought and ate it, be kind to yourself.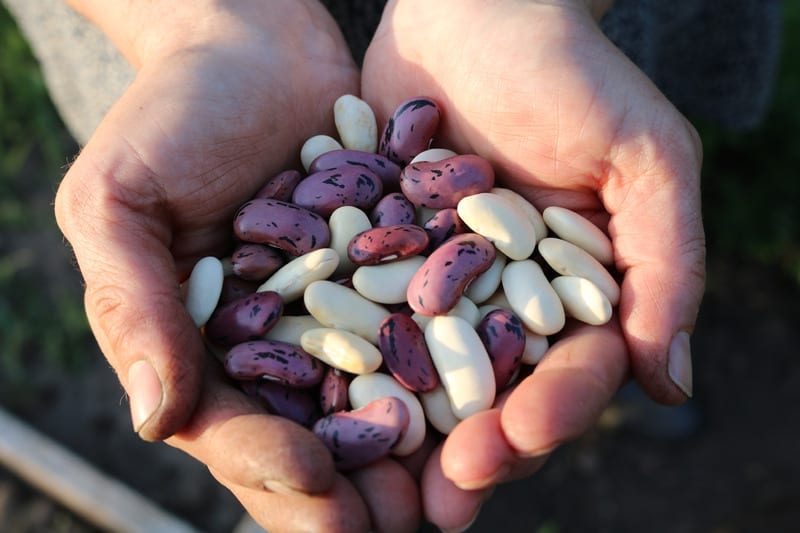 Pantry
Whole flaxseeds (grind before using and keep in the fridge)
Chia seeds (actually optional but versatile and nutritious)
Nutritional yeast (do not mistake for bread yeast)
Dried  beans (white beans, kidney beans, black beans, chickpeas, green lentils, red lentils, etc.)
Canned goods (beans, crushed tomatoes, coconut milk)
Whole grains and cereals (brown rice, oats, barley, couscous, fair-trade quinoa, millet, bulgur, buckwheat, etc.)
Whole grain pasta
Asian-style noodles like soba (buckwheat), rice, udon, etc.
Plain plant-based milk cartons (organic soy, oat, rice, almond, hemp, etc.)
Veggie broth (homemade, boxed or in powder)
Nuts and oleaginous (almonds, Brazil nuts, cashews, sunflower seeds, pumpkin seeds, sesame seeds)
Dried fruits (especially dates)
Nut & seed butters (100% peanut butter, almond, tahini, etc.)
Whole grain and unbleached flours (wheat, spelt, buckwheat, chickpea, etc.)
Raw cane sugar (in some countries, white sugar is refined with bone char)
Brown, coconut or date sugar
Liquid sweeteners: molasses, maple syrup, agave nectar, date nectar
Organic unsweetened apple sauce (good in pastries)
Virgin coconut oil (good replacement for butter in pastries)
Cold-pressed olive oil & canola oil
Dried herbs and spices (my must-haves are cinnamon, cumin, curry powder, garlic powder…)
Dried seaweed, such as nori sheets (perfect for sushi or to add nutrients and iodine to meals)
Organic & fair-trade bananas
Seasonal fruits and vegetables
For baking : baking soda, baking powder, fair-trade cacao powder, powdered sugar
Fridge
Hummus and other vegan dips (baba ganoush, salsa, etc.)
Organic tofu (firm or silken depending on use)

Tempeh (for the adventurers)
Plant-based butter, non-hydrogenated and palm-oil free (such as Earth Balance)
Vegan mayo, such as Earth Island's Vegenaise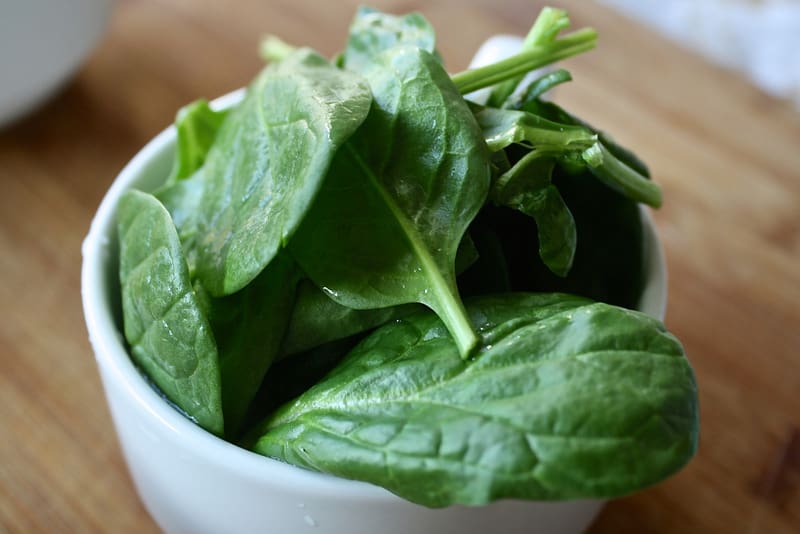 Freezer
Spinach
Berries
Edamame (fresh soy beans)
Frozen veggies (corn, Asian mix, broccoli, peas, etc.)
Did I forget anything? Do you have suggestions of things to add to this vegetarian pantry list? If so, don't be shy to share them in the comments!
Related articles
**This article contains a few affiliate links, which means that I will receive a small commission if you purchase a product through them. The price remains the same for you, but this way you are helping me maintaining the blog and providing you more interesting content! :)