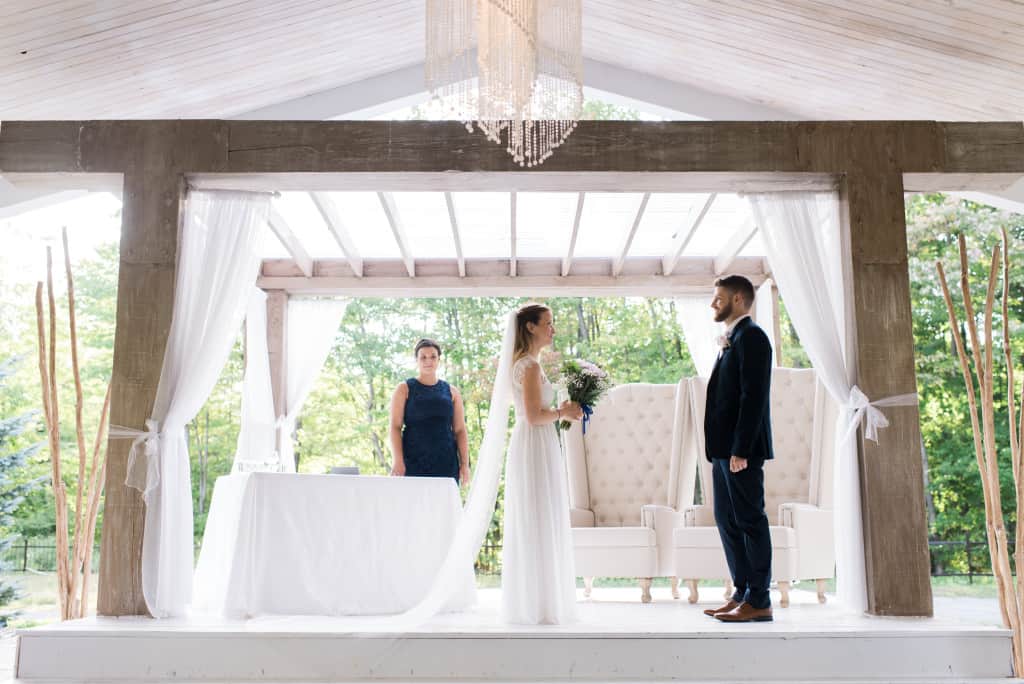 When Martin popped the ultimate question and we started devising plans for the big day, it quickly became clear that we wanted a wedding that would be 100% vegan.
It did somewhat complicate choosing a location, especially since we were orchestrating everything from across the ocean in Germany, but it was just that important to us. And it ended up being pretty awesome, if I may say so myself. I loved planning this most special day with the man of my life.
I took the time to savour every moment with Martin, and we had lots of fun organizing everything together, as a team.
Let's not fool ourselves, planning a vegan wedding can add to the stress of the bride and groom, who may feel like they're imposing their moral values onto their friends and family. For us though, or at least for me, it was non negotiable.
We all need to remember that this short day is meant to celebrate the love between two people, and that if they want a cruelty-free menu, the guests should be able to understand and accept it. Everyone can go without animal products for one meal.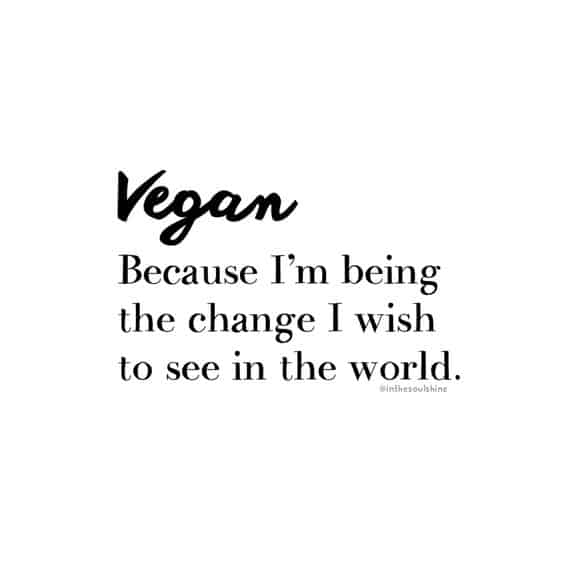 Instead of making a big deal out of it, we simply preferred not to say anything. Most people were kind of expecting it. No one was shocked to find no meat on their plate. We even had lots of great comments throughout the evening.
And those who may have been unsatisfied had the decency to keep it to themselves. Because the important things was that we were all together. We were all too busy dancing, drinking, chatting and partying.
In fact, as long as the menu isn't too "out there", vegan food is simply delicious food that happens to not contain animal products. Everyone can eat and enjoy it!
In short, everything went smoothly and I was able to enjoy my wedding day knowing I didn't cause any unnecessary harm. And you should totally do the same if that's what you really want to do.
So today I'll tell you about our own experience, which will hopefully help other happily engaged couples. And since the menu isn't the only thing that counts, I've also included my best addresses as well as a few tips.
And don't hesitate to comment and tell me about your own wedding!
CEREMONY & RECEPTION
Our first idea was to rent a reception hall and hire an independent caterer. But after some issues with the very awful Jude-Pomme orchard (they were so disrespectful, it's ridiculous), we changed our plans.
Most wedding spots we contacted had no problem accommodating us with a vegan menu, so if you have a place in mind, don't hesitate to reach out to them and ask.
We were lucky enough to book a date only 10 months in advance at Chalet des Érables, not too far from Montreal. That was it, on September 4, 2016, we were finally going to become husband and wife.
We were seduced by the open gazebo and the opportunity to have our photo session is the woods. Plus their rooms are sober yet elegant, so only little customization was needed.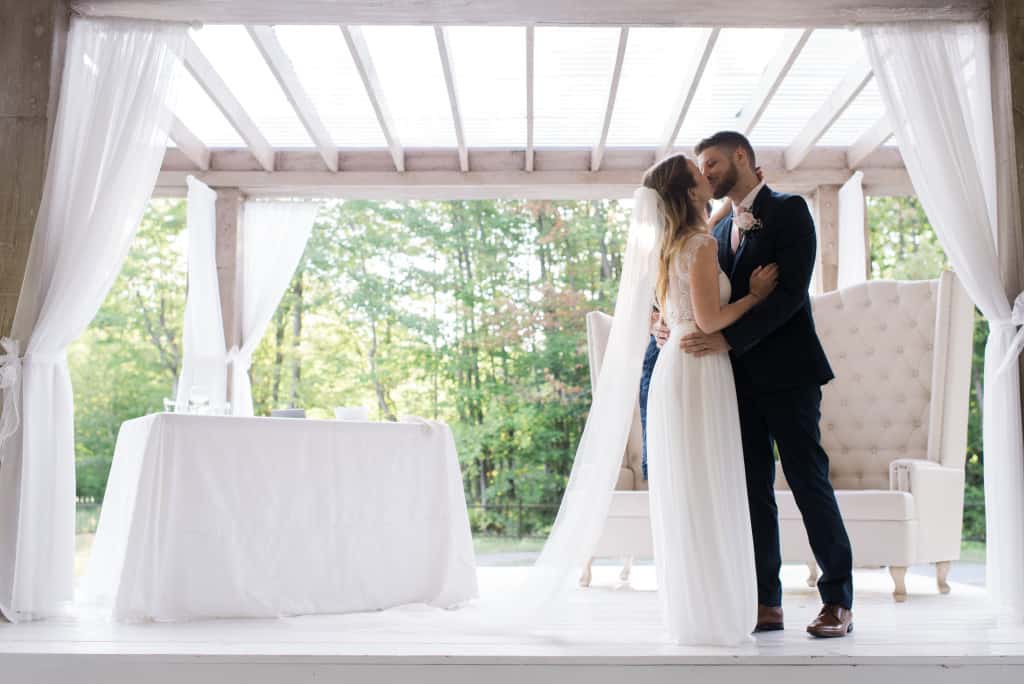 PLANT-BASED MENU
Ginette, our friendly consultant, quickly assured us that the chef could make us a custom menu. We agreed on a turnip and maple soup for the first course, a rolled salad for the second and a wild mushroom & herbs of Provence risotto served on pumpkin purée for the main.
Unfortunately, the week before the wedding, we found out that they had to change the menu. Our main course was going to be pasta shells stuffed with tofu ricotta and pesto with sautéed veggies and arugula. Although it wasn't as exciting as our initial plan, in life you need to pick your battles, and our motto was to stay zen. We still enjoyed the food and washed it down with lots of wine!
We also had them replace milk for the coffee with soy milk and the butter on the table with plates of olive oil and balsamic vinegar.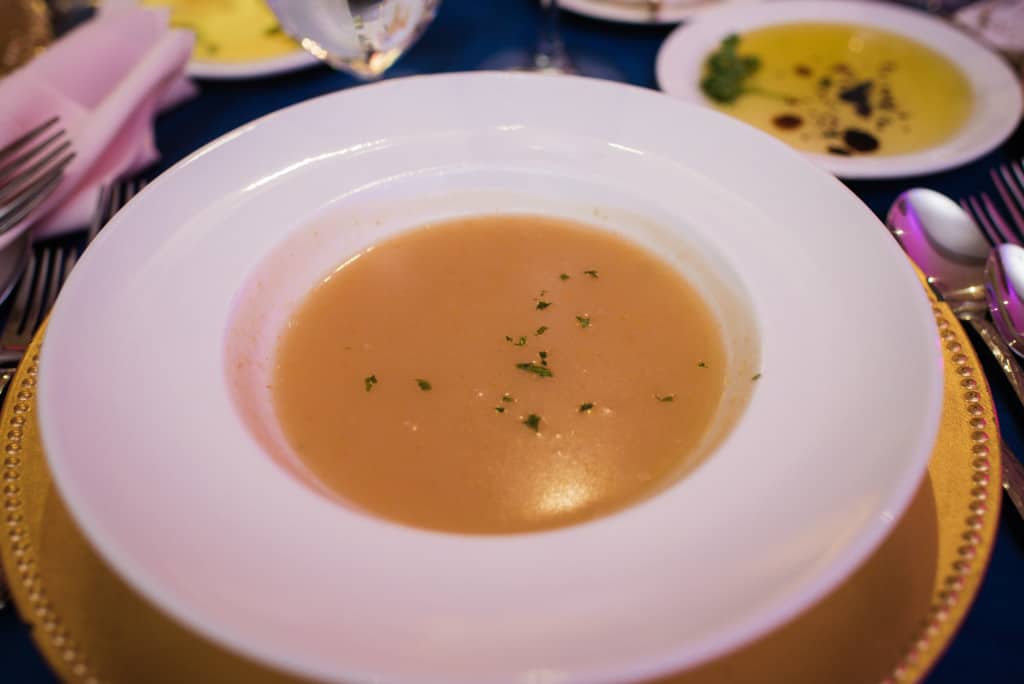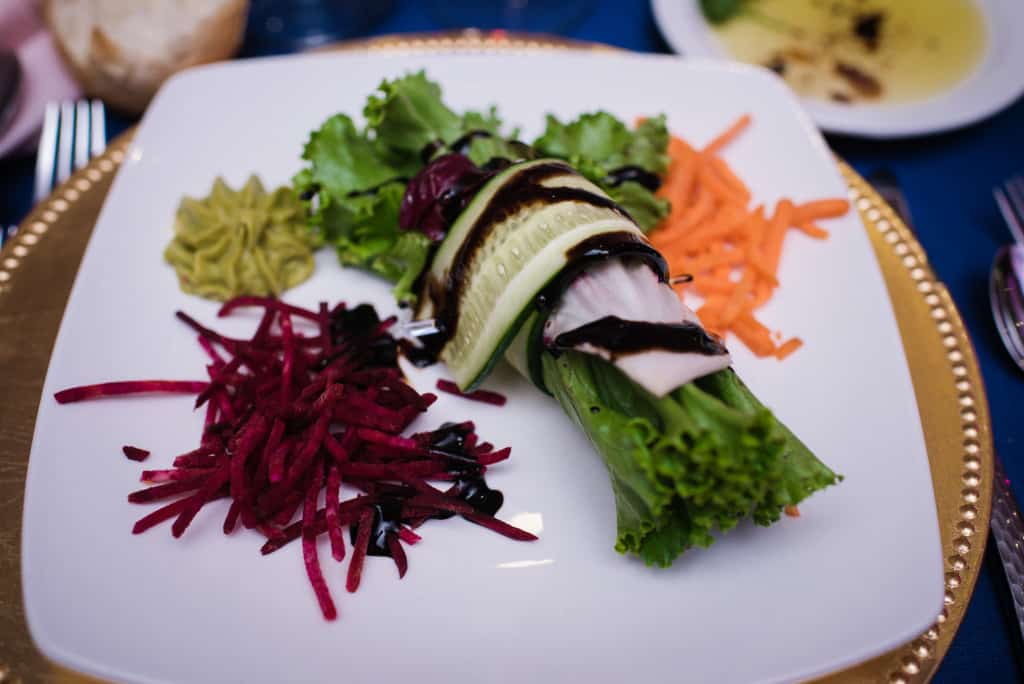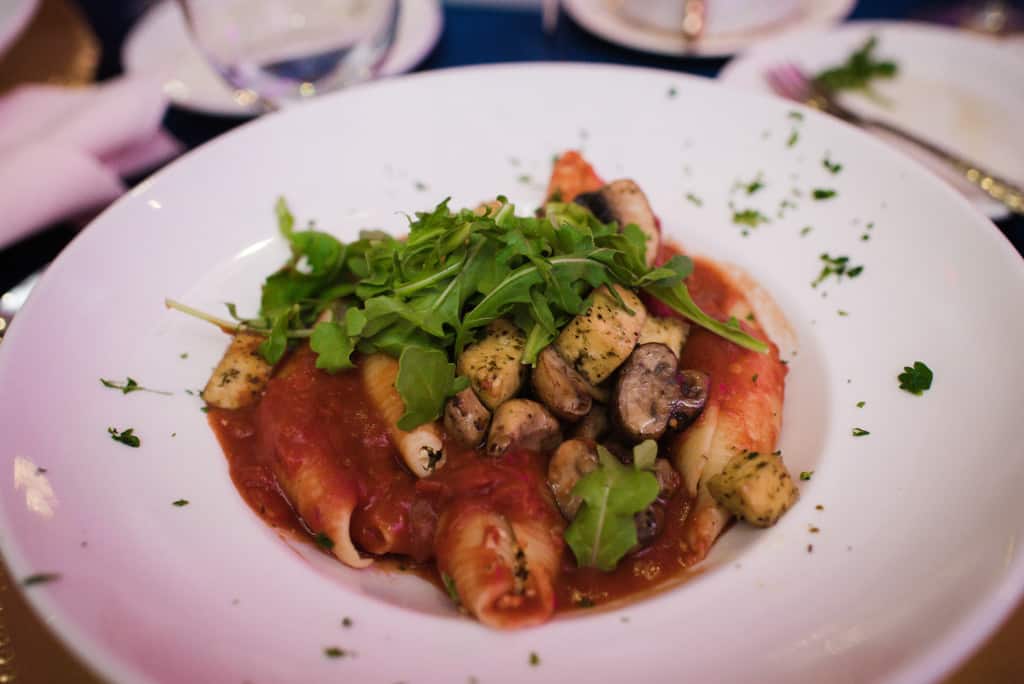 A DROOL-INDUCING DESSERT TABLE 
Now to the important stuff: the cake. Or in this case, the cakes. That's right, we had two!
Since wedding cakes are just crazy expensive (vegan or not) and I love baking, I got the audacious idea of  making them myself with more than a little help from my friend Anne-Marie, a seasoned baker.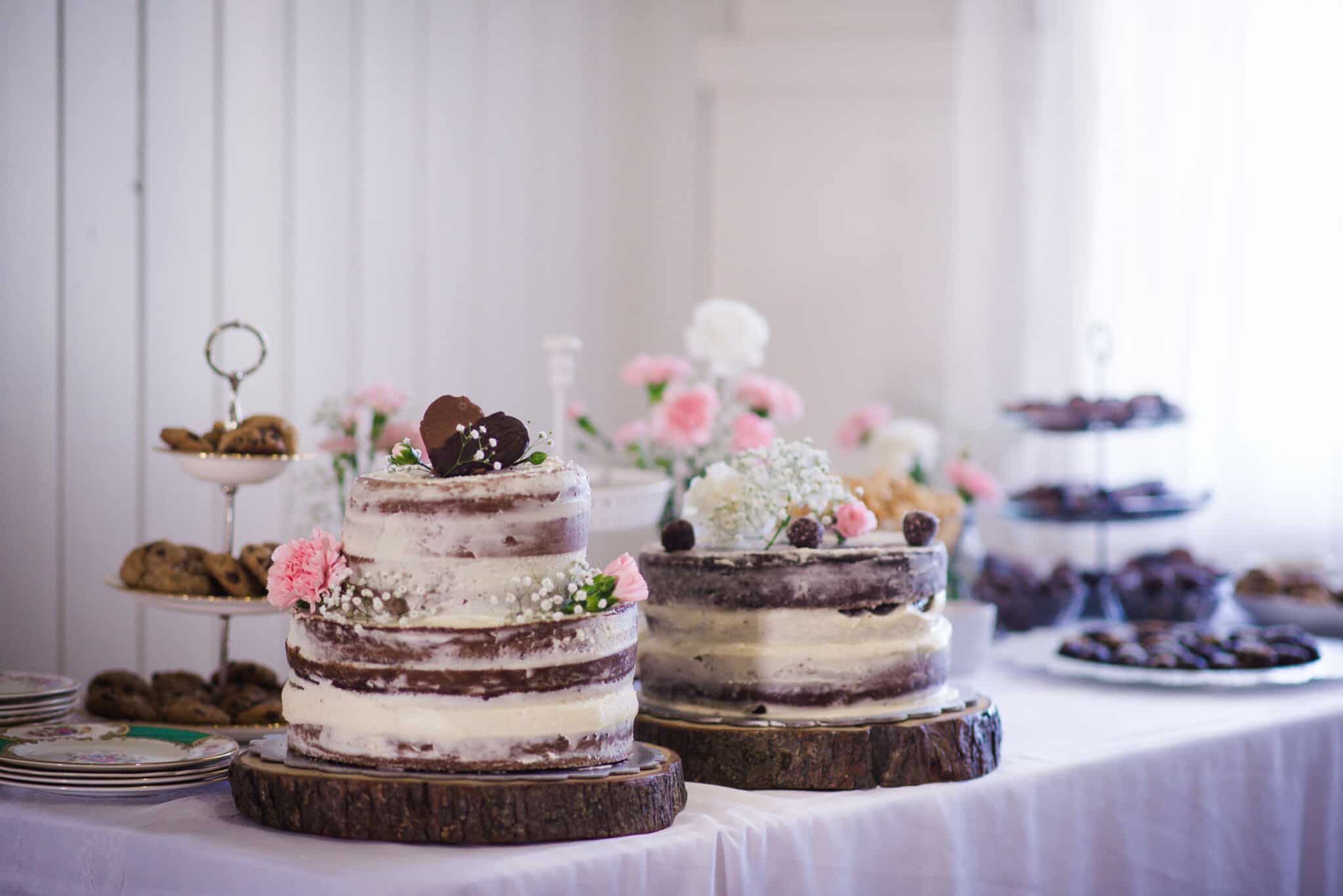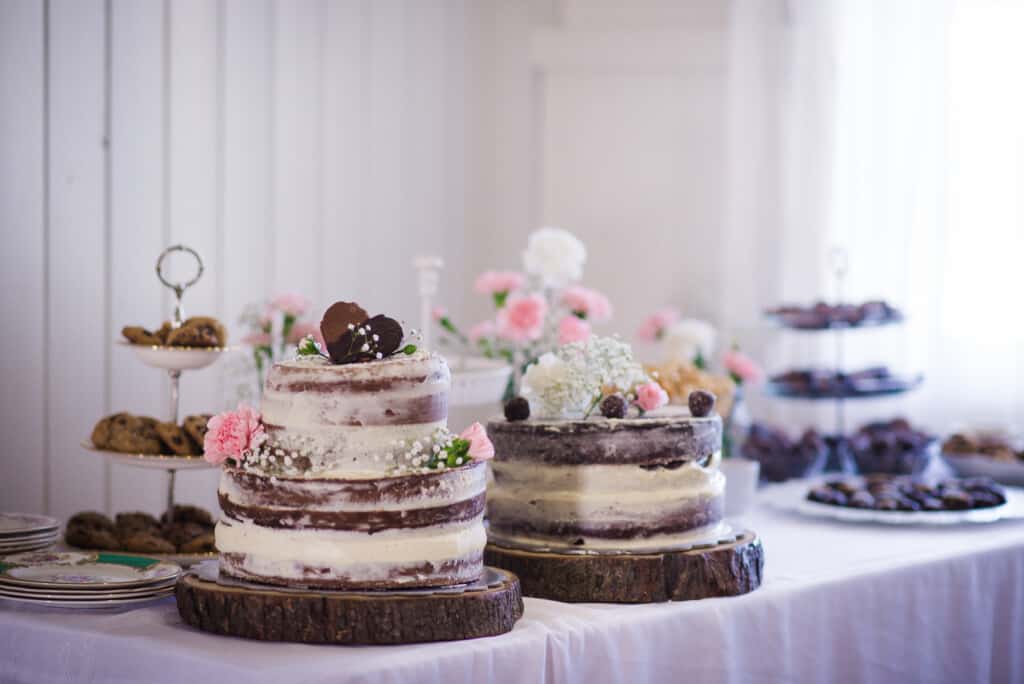 To feed around 80 people, we thought it would be more interesting to make two different flavours: a chocolate cake with a vanilla buttercream (using Earth Balance) and a two-story vanilla-spice cake with a rose water buttercream.
I saved money by using my friend's cake molds and her stand mixer (I really need one of those…). I ended up paying around $100 for the ingredients, and that includes the other baked goods at the dessert table.
That being said, I did spend an entire day preparing the cakes and then another evening making the sweets. I may write a more detailed post about that, but until then, don't hesitate to write me up if you have questions.
On my dessert table: chocolate chip cookies, dates stuffed with tahini and dipped in dark chocolate, caramel popcorn, chocolate bliss balls and heart-shaped chocolate cookies (the last two made by my mom).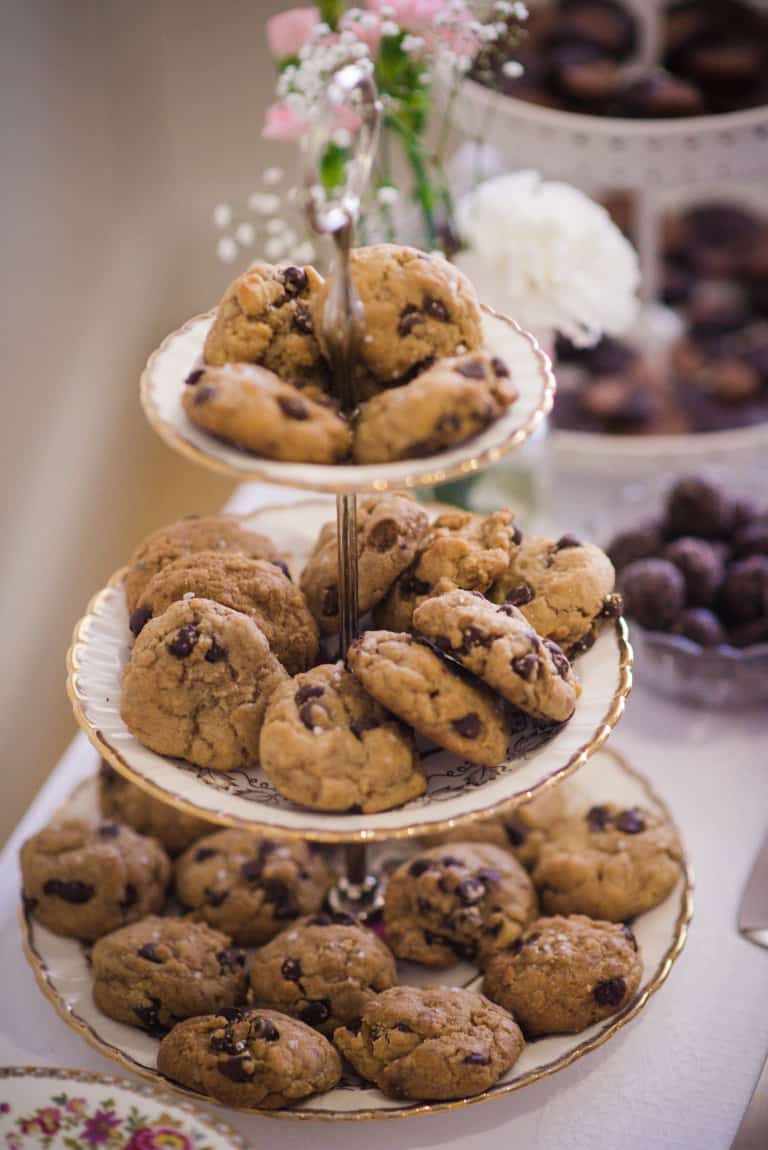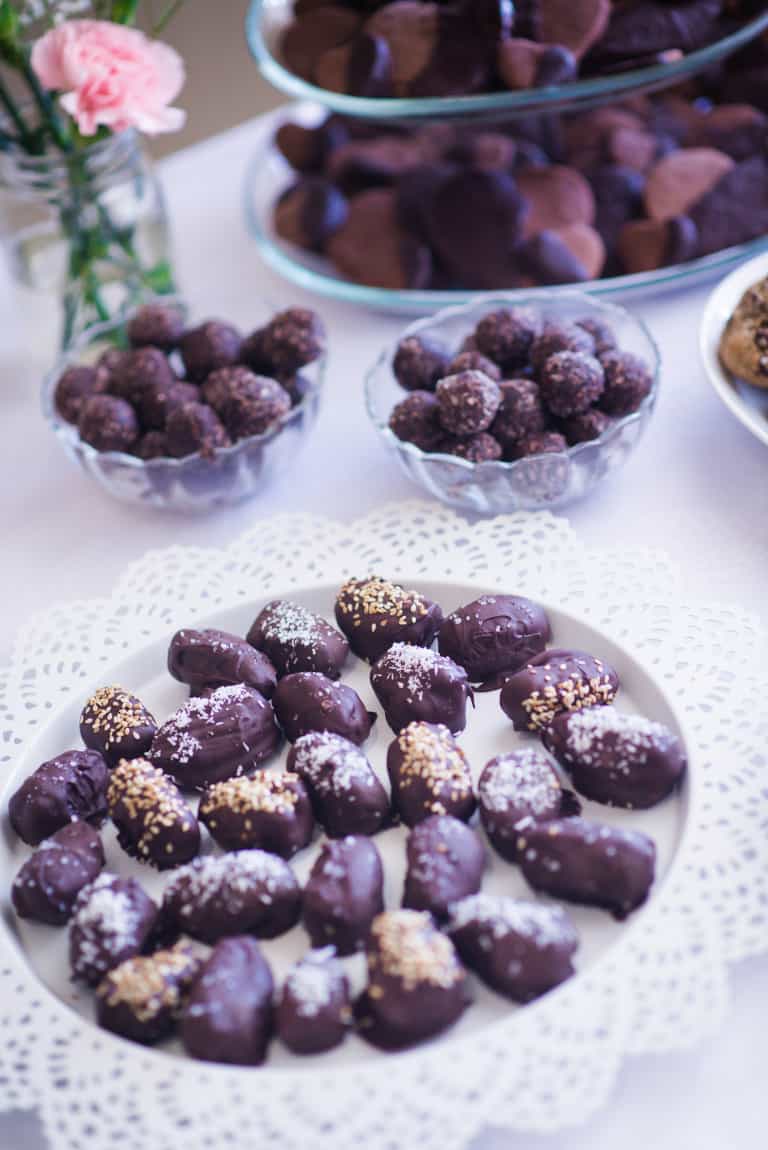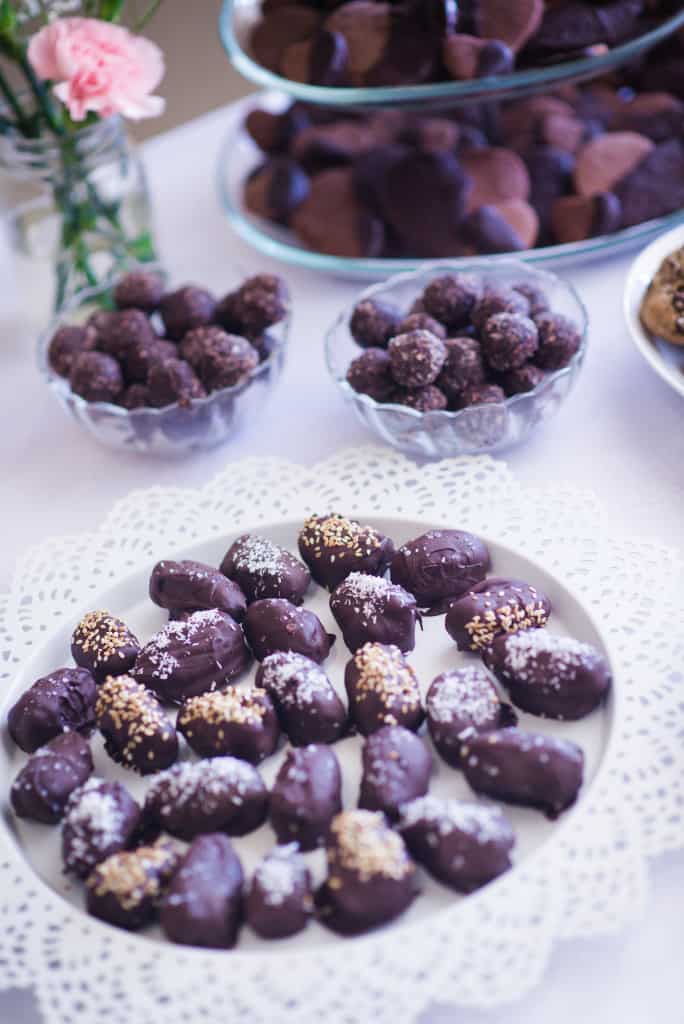 The recipe for my chocolate cake is over here: Vegan one-bowl chocolate cake
Price for the dessert table: around $100
To order a vegan cake in Québec
Cloclo Choco (Granby)
Apparently some IGA and Métro, on order
SAY YES TO THE DRESS
Finding the perfect dress is probably the main concern of most future brides. It is often one of the biggest expenses too.
I had fun trying gorgeous 1000 EUR dresses (I know, I also almost choked when I saw the pricetag, and those are the cheaper ones!). They were covered with pearls and layers of crinoline. I enjoyed seeing myself look like a princess, and yet I knew that didn't represent who I am.
I wanted something light, timeless and romantic that would allow me to dance all night. And go to the bathroom without needing help from two bridesmaids!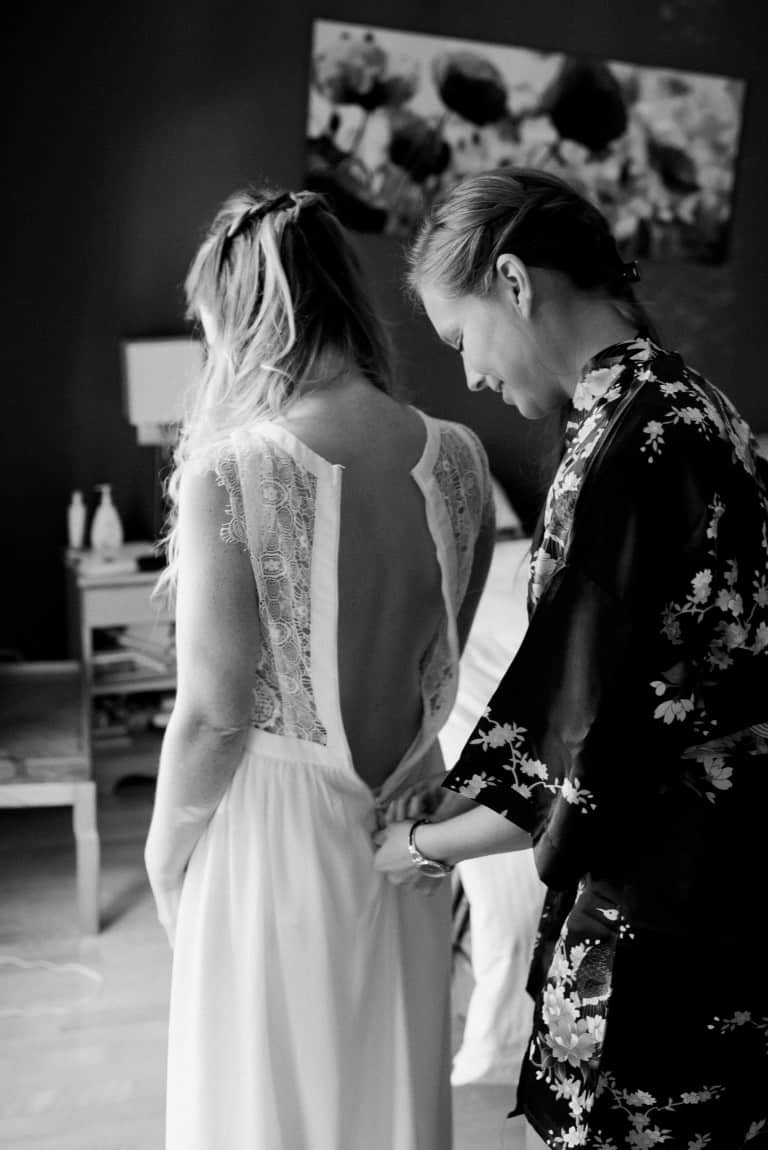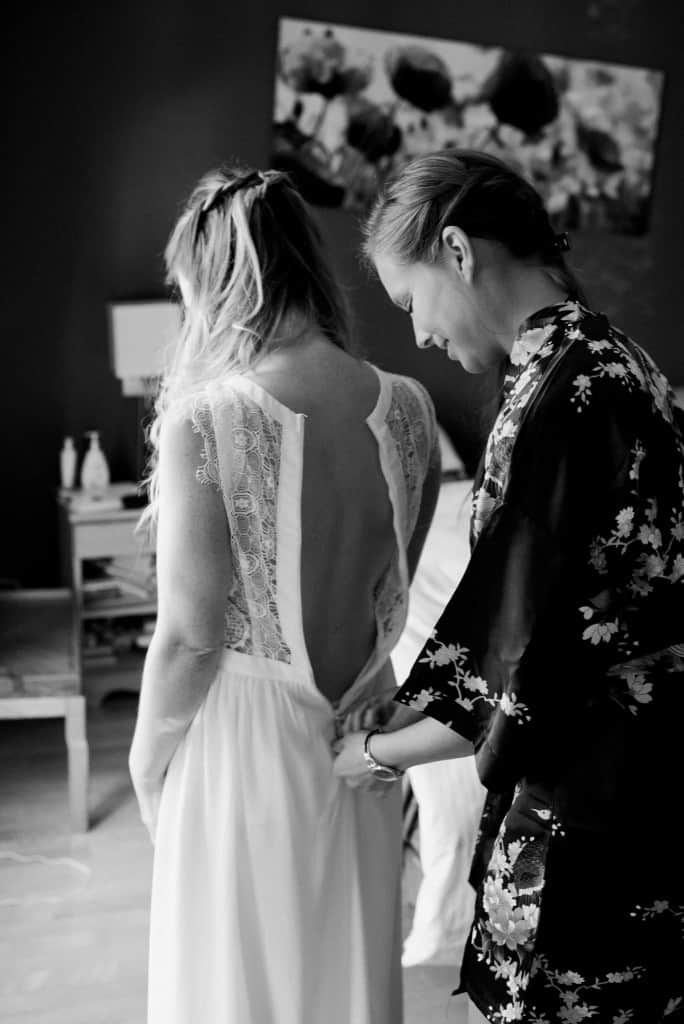 I found the perfect match during my visit to Boudoir 1861, which offers dresses for all styles and budgets on boulevard Saint-Laurent in Montréal, often with a vintage look.
As soon as I put it on and stepped on the podium to look at myself in the mirror, I knew. The tears it brought to my eyes, and Laurence's as well, pretty much sealed the deal.
I wasn't sure I wanted a veil, but when my cousin offered to lend me hers, which she'd made the year before for her own wedding, I simply couldn't refuse. And wow, I love how it tied everything together so nicely!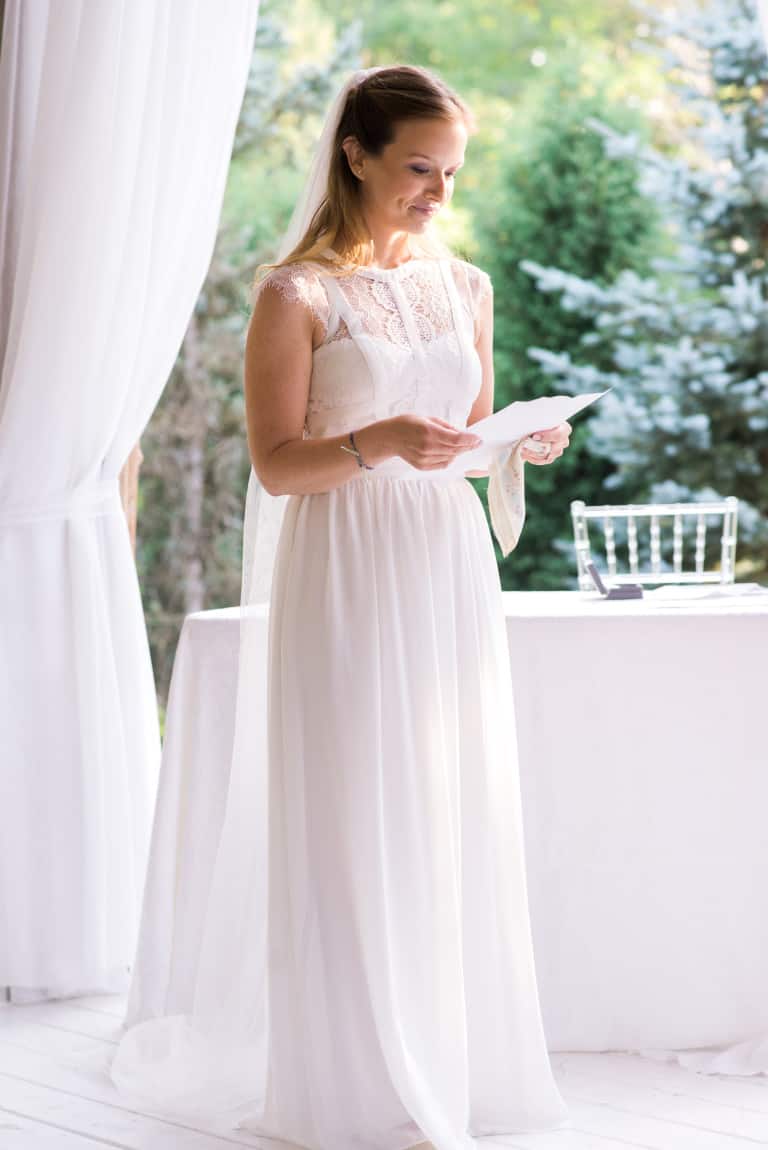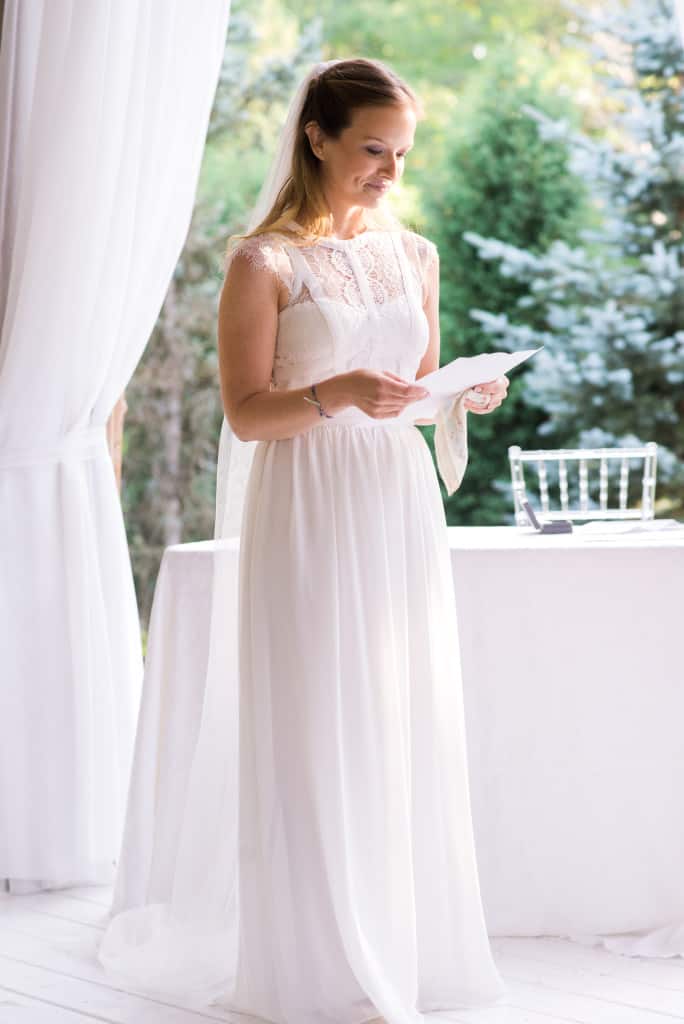 Dress: Boudoir 1861, 135$ + taxes
Veil: Free, merci Yéyé!
Alterations (shorten length): 40$ at Sears
As for the bridesmaids, they had my trust. I sent them a few pictures of the style and colour I had in mind, and let them buy their own dresses, which ended up costing between 25 and 80$ each… not bad!
As for the boys, they bought everything at Le Château, with a vest and tie for Martin and bow ties for the boys bought online on The Tie Bar. And little advice, if you do opt for bow ties, buy them already tied! The guys told me later that evening that, despite YouTube videos, they were utterly unable to tie them themselves and were forced to make a trip to the mall in search of someone who could do it for them. *Also make sure they don't contain silk, a mistake we made and realized only months after the fact!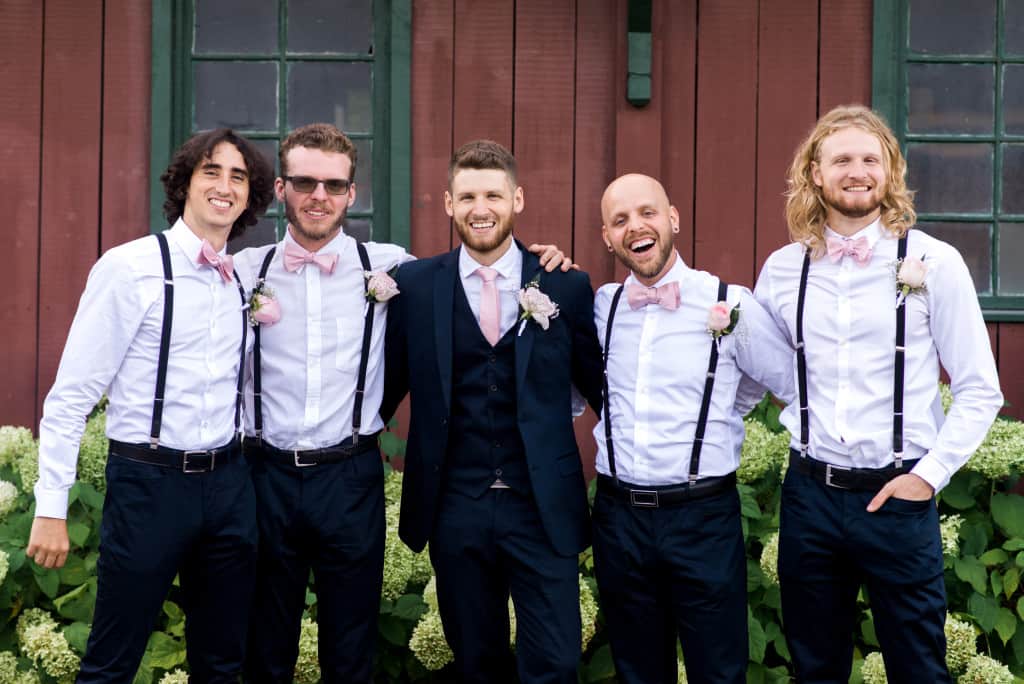 ETHICAL RINGS
Did you know that most diamonds sold come from unstable African countries and are extracted by slaves (the same goes for the minerals found in our eletronics like laptops and cellphones)?
Considering all this, it was crucial for me and Martin to buy an ethical ring that had not caused suffering. I didn't necessarily want a diamond, there are beautiful man-made alternatives such as moissanite, but Martin surprised me with the most beautiful sparkling ring made in Canada with Canadian gold and diamonds.
To learn more about conflict-free recycled wedding rings: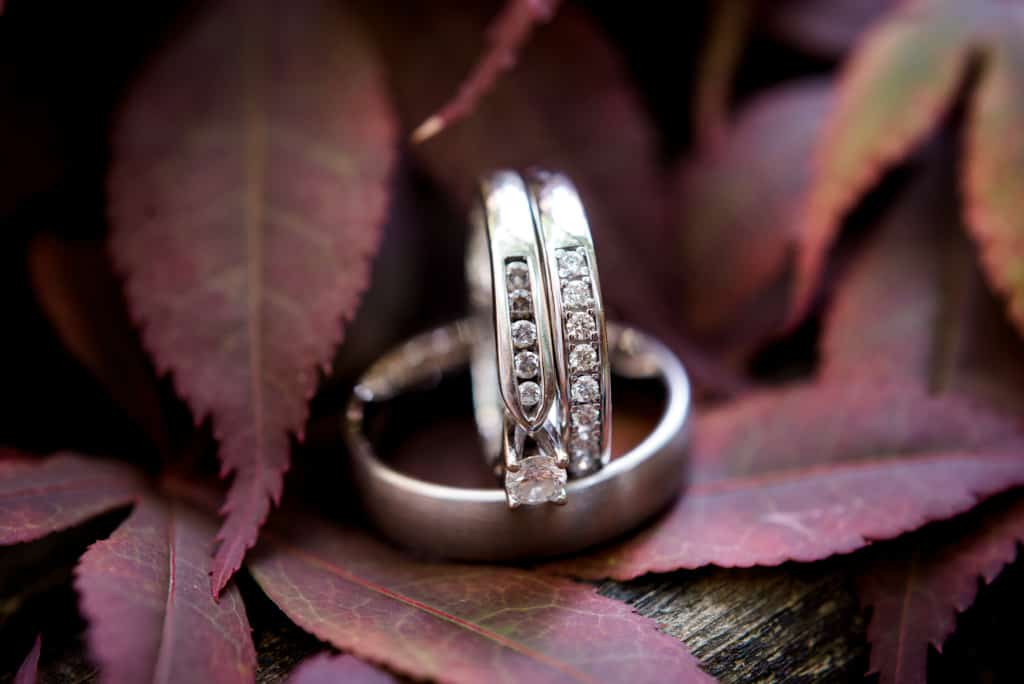 PHOTOGRAPHER
I'm in love with the work of our photographer, Linda Roméo, alias Lovely Peonies. Her soft romantic style was exactly what I was looking for. After a first meeting in a café on the Plateau, our choice was confirmed.
We even brunched together in Paris a few weeks before the big day, to talk about the wedding but also to simply get to know one another a little better.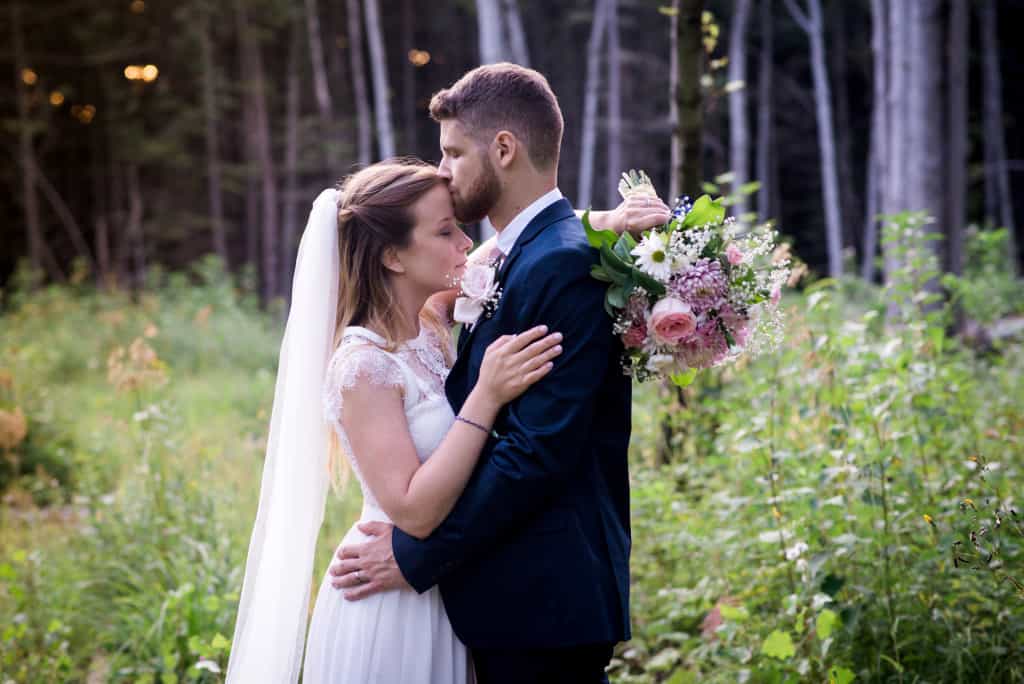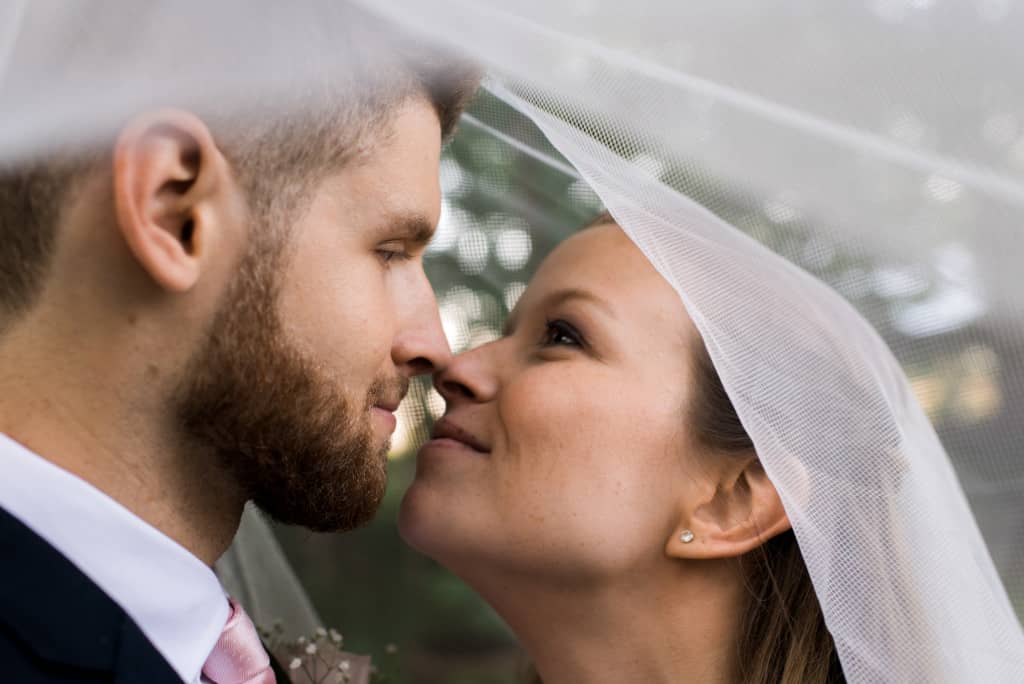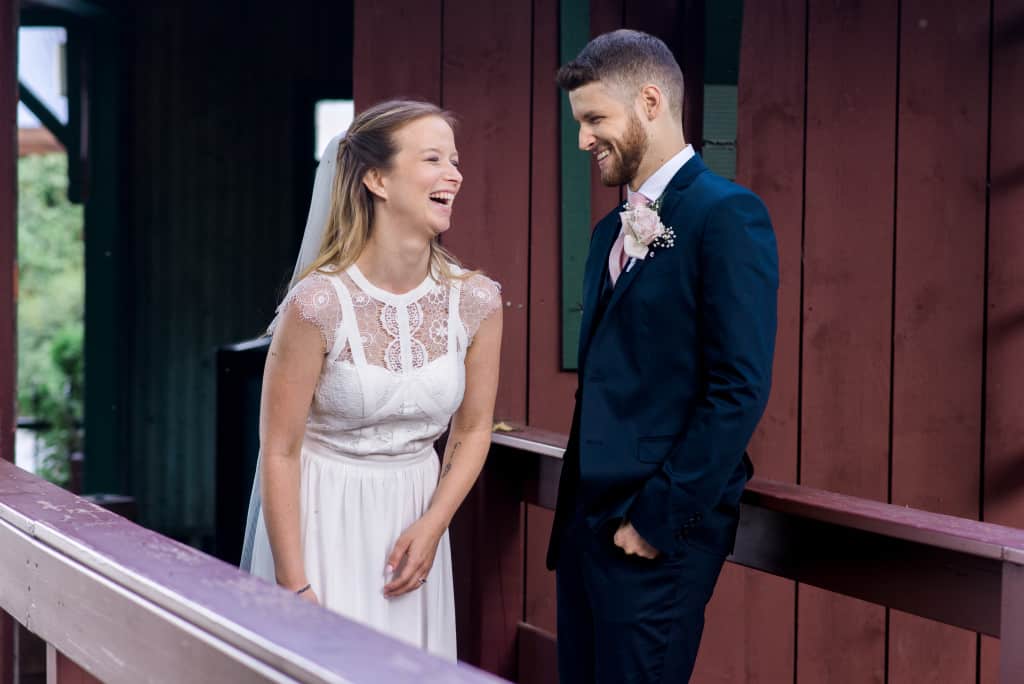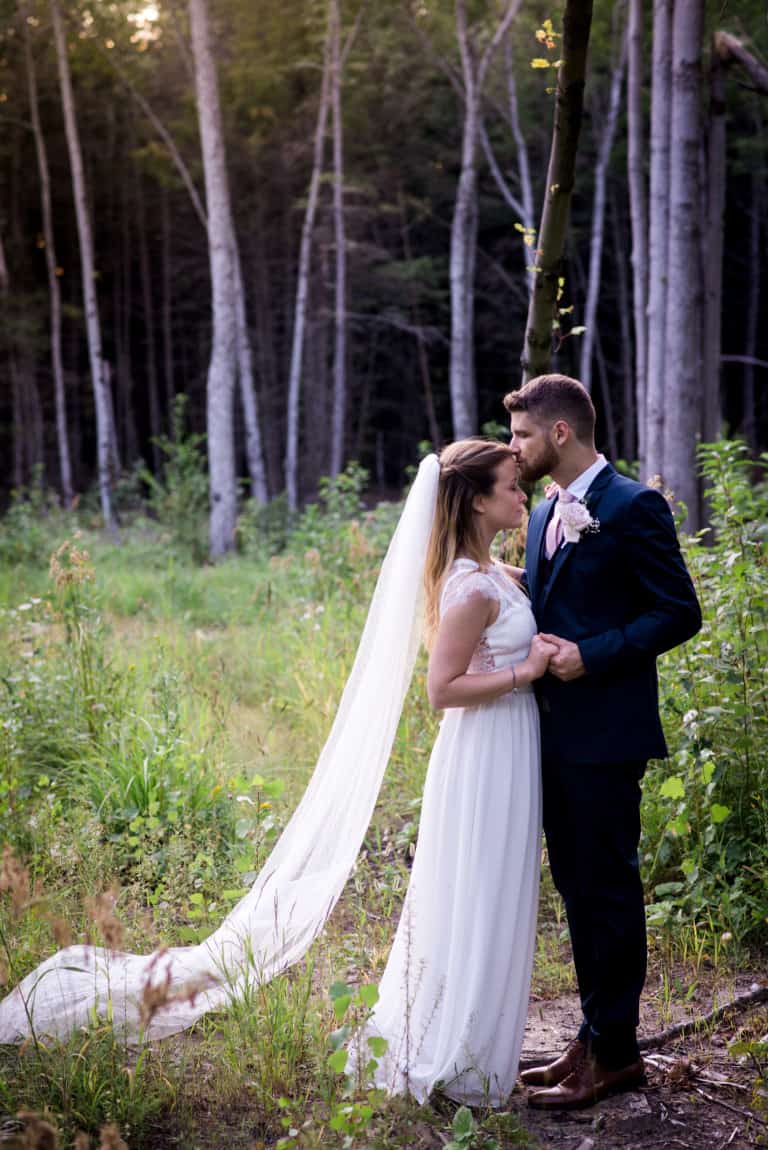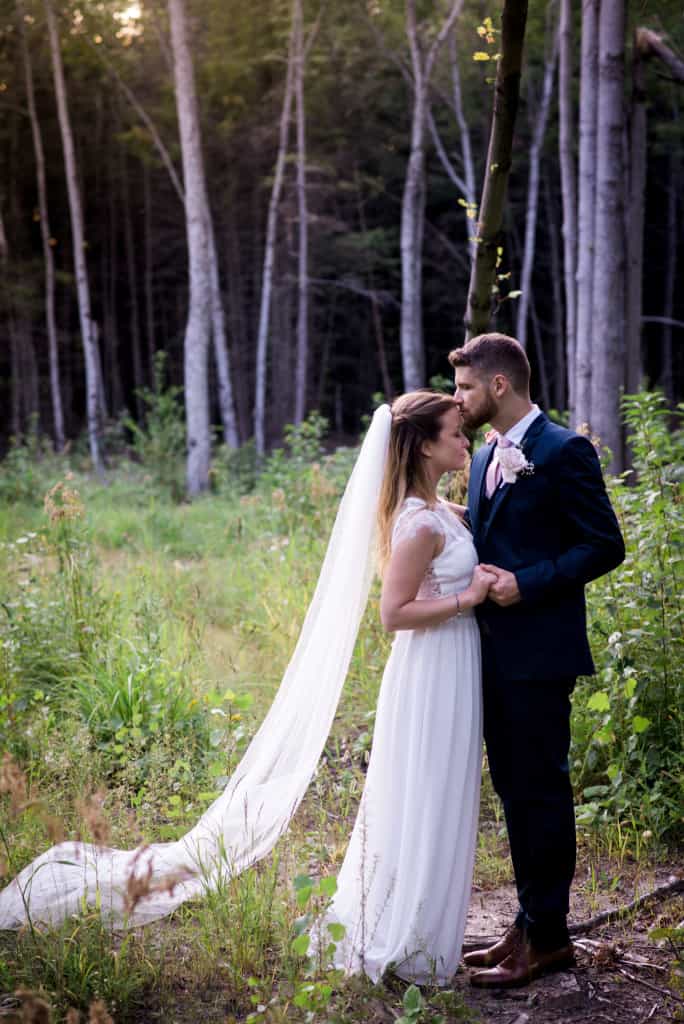 CRUELTY-FREE NAILS & MAKE UP
I hesitated for a long time before booking a make-up artist, but I'm so happy I did! Rafaëlle effortlessly gave new life to my pale skin and I truly felt beautiful on my big day.
Vegan herself, she exclusively uses cruelty-free products, which means they haven't been tested on animals and they're also non-irritant for a very sensitive skin like mine.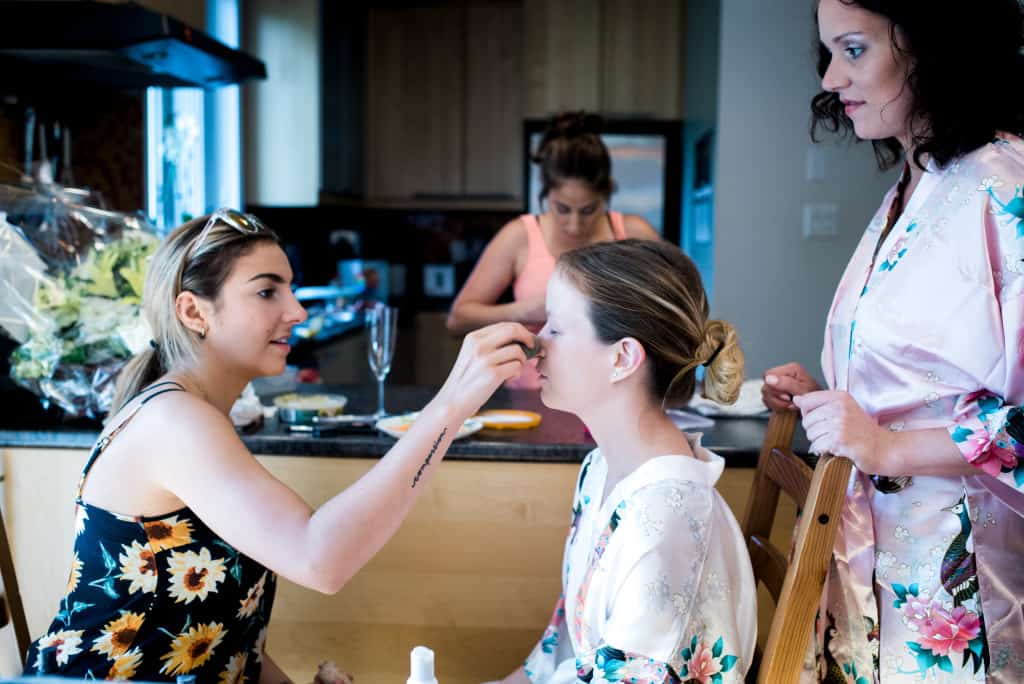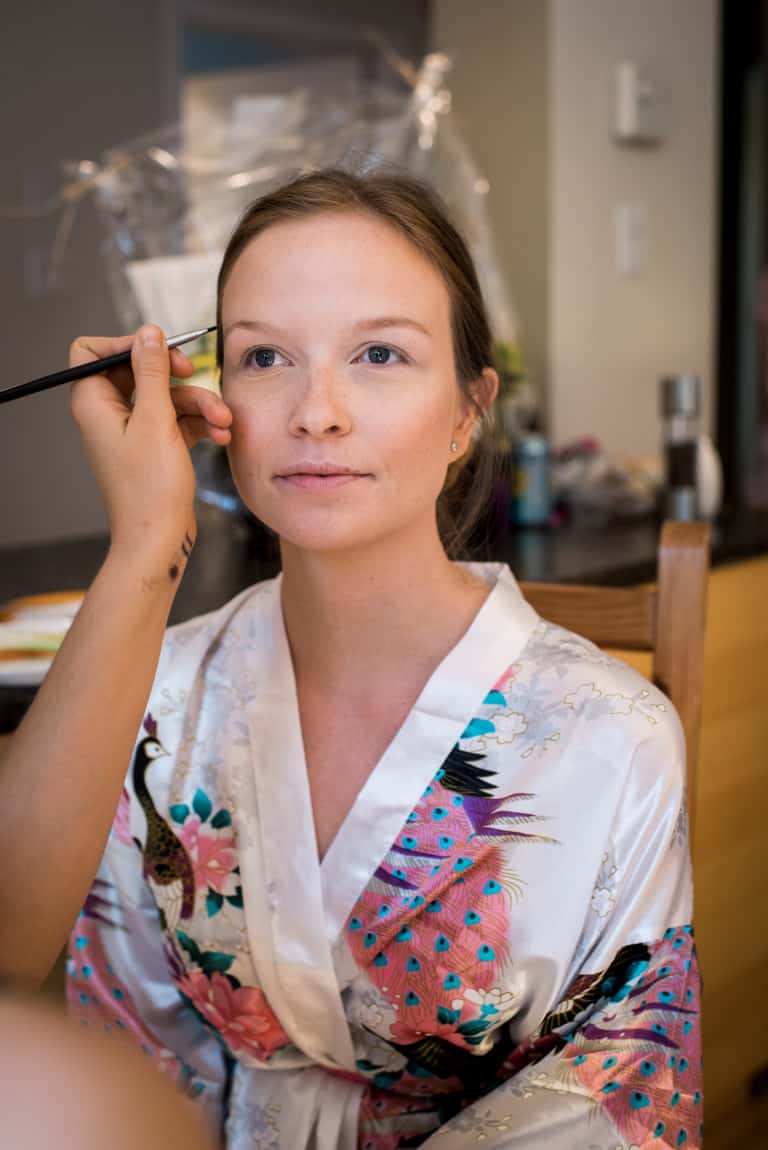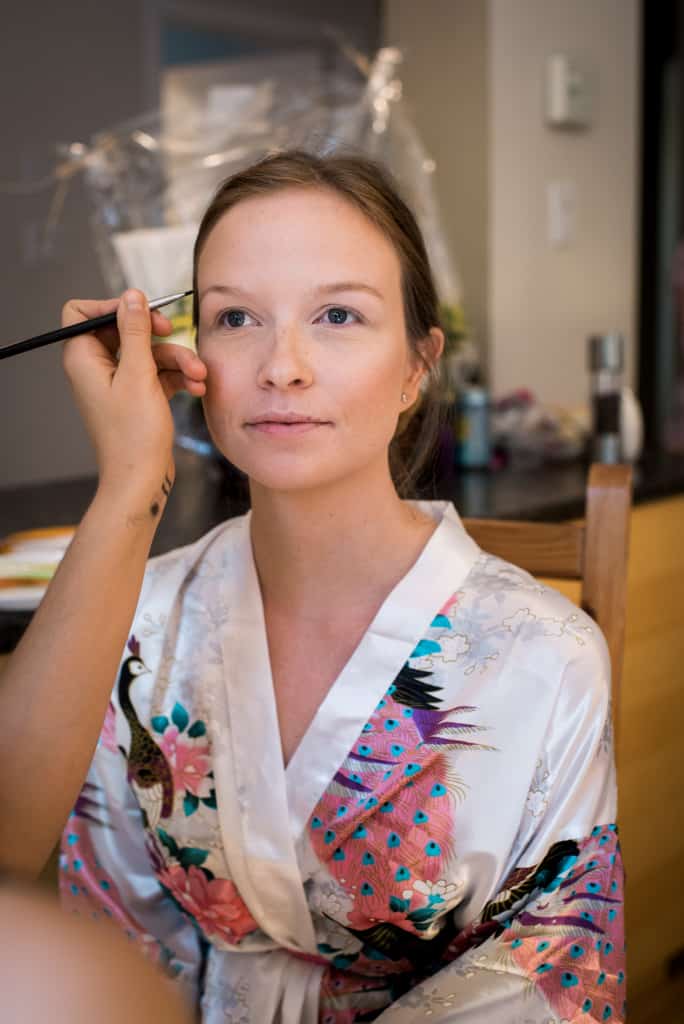 She's also an amazing human-being and I loved her instantly. After a short afternoon getting to know her, chatting while she pampered us, I spontaneously invited her to come celebrate with us after a last-minute cancellation.
I think it's also worth mentioning that, on top of her charisma, Rafaëlle is multi-talented. She sings, dances, paints, etc. Check her out on her professional Facebook page.
As for our nails, we went to Vong, a vegan salon that you may remember from my post Vegan Travels in Montreal. I could easily get used to pedicures and those comfortable massage chairs.
FLOWERS & DECORATION
Picking a style is no easy task. There's so much to choose from and it can quickly add up $$. Martin and I quickly agreed on a colour scheme that would set the tone for the rest of the decorations: gold, navy blue and blush pink. We were aiming for a chic, rustic and vintage look.
Because we all feel that our wedding needs to live up to Pinterest, it's easy to feel overwhelmed and try to do too much. And yet the truth is that most people won't notice half of the details you put so much effort into. Since we were organizing everything ourselves, we decorated everything in simple and efficient fashion.
We would constantly ask ourselves: "Do we really need this?". Most of the time, the answer is no, you don't really need that. We didn't need a special $250 love seat for Martin and me. Nor would the evening be any less special without that beautiful and expensive barn wood table. We settled on a regular table with a sober lace tablecloth (rented for $20 from Chalet des Érables), a few unique decorative items and romantic fairy lights in the curtains behind us.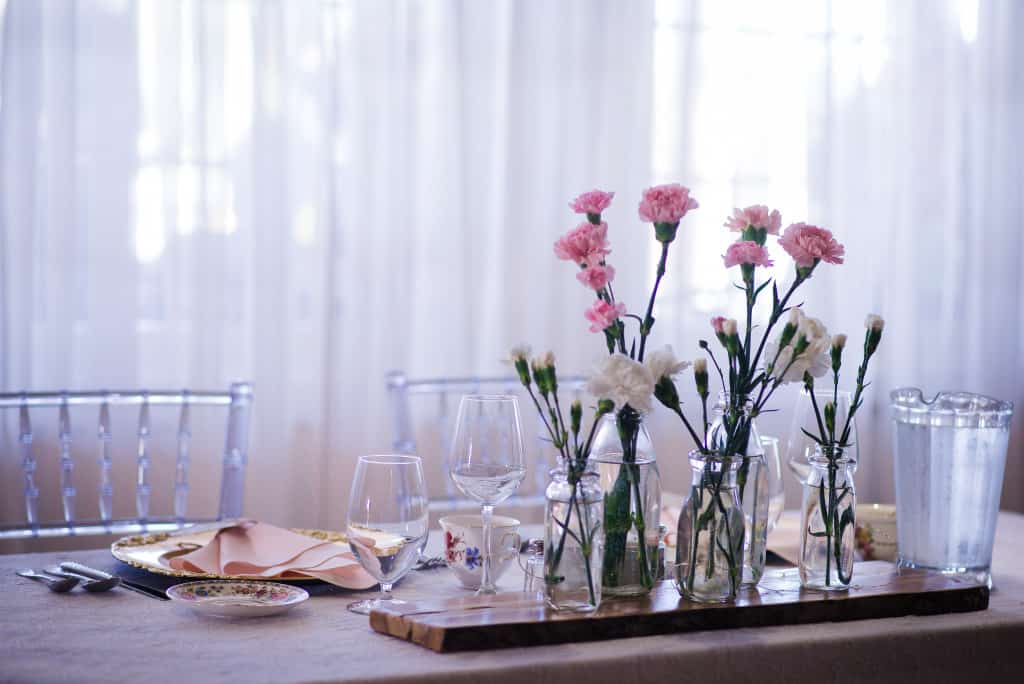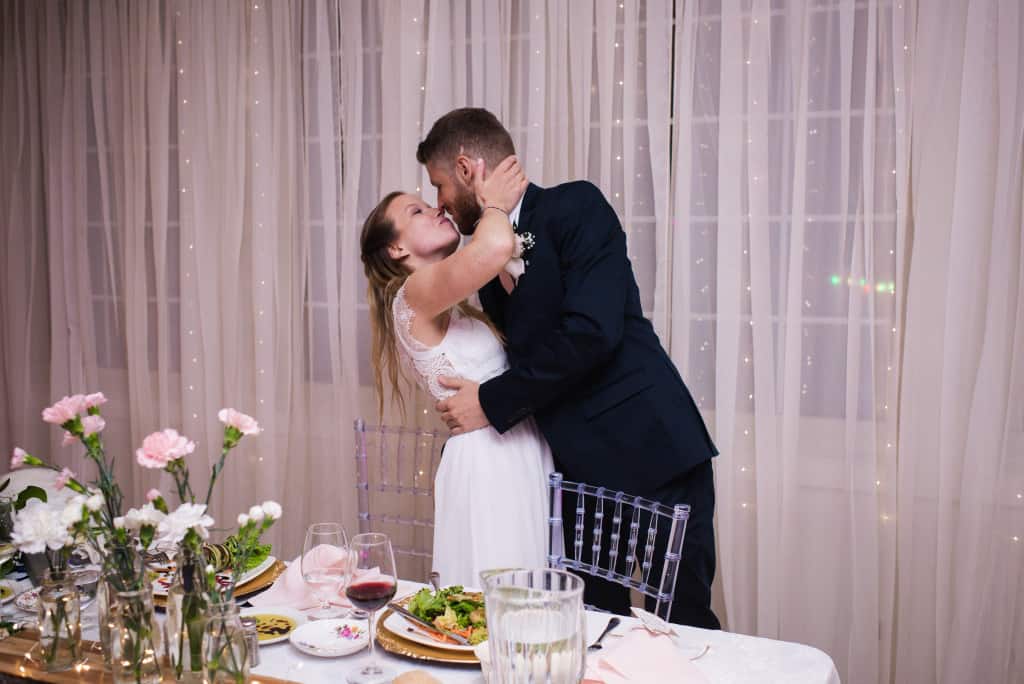 And no need for a dessert table perched on $200 wooden barrels. A $5 lace table runner (purchased from the discount bin of a fabric store) on a white tablecloth with yummy desserts displayed in pretty plates did the job for a fraction of the cost!
We also have the immense luck of having talented and generous people around us who helped with the deco.
My mom decorated the suitcase rented from Mademoiselle Vintage to collect the cards. She painted cardboard letters from Omer de Serre with pastel paint, hung them with mini wooden pins and added a few antic handkerchiefs from my late great-aunt Rita.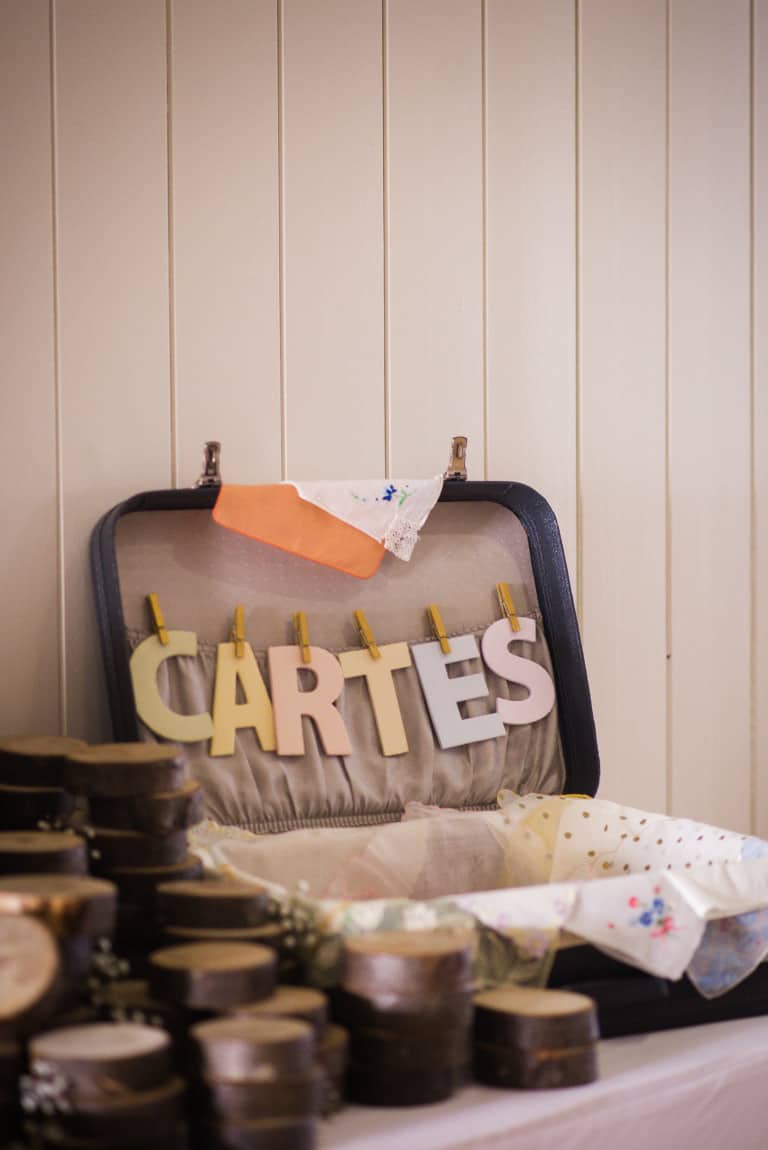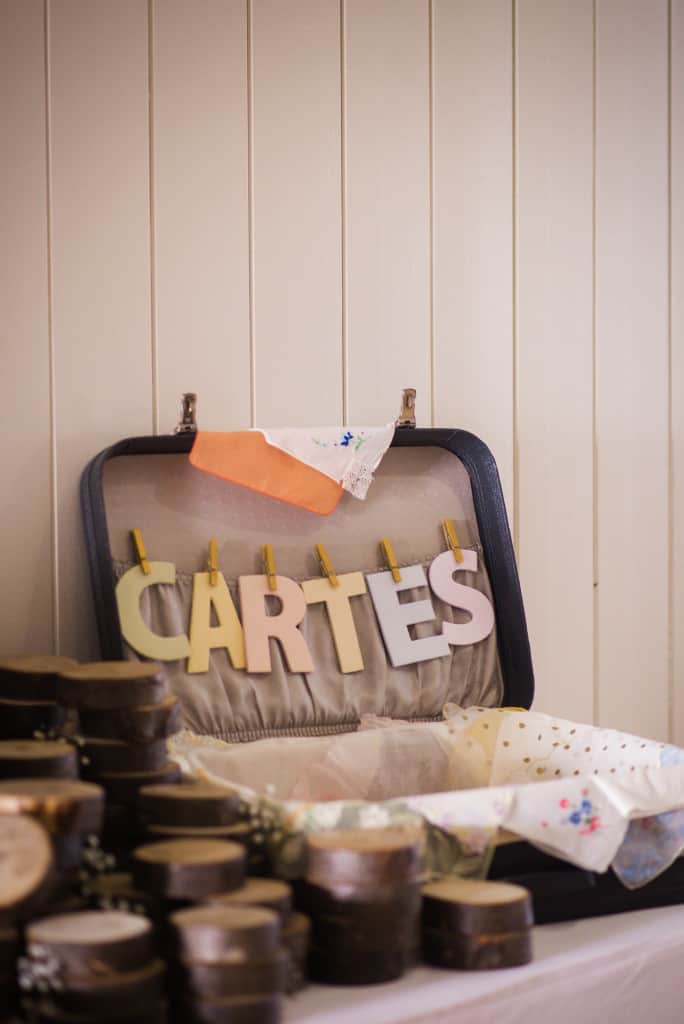 My sister painted the beautiful black board in the entrance. It's actually a kid easel made of wood from IKEA. She painted it white before applying her artistic prowess to create the message.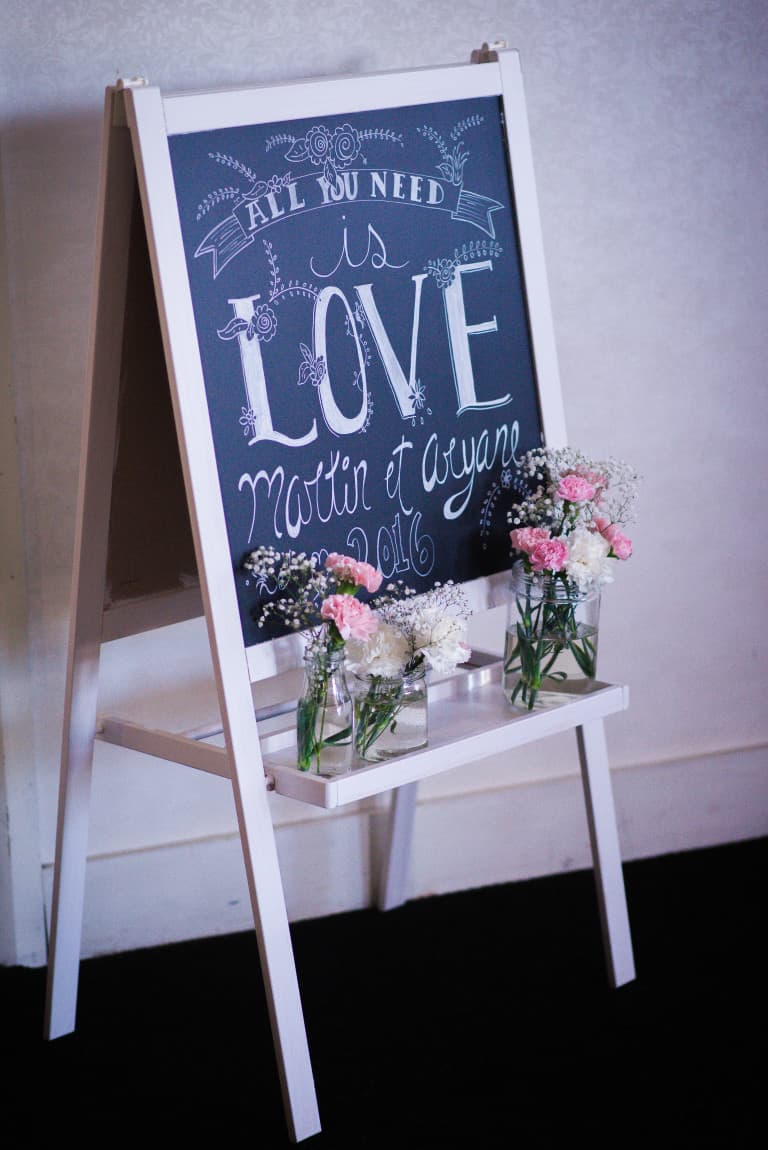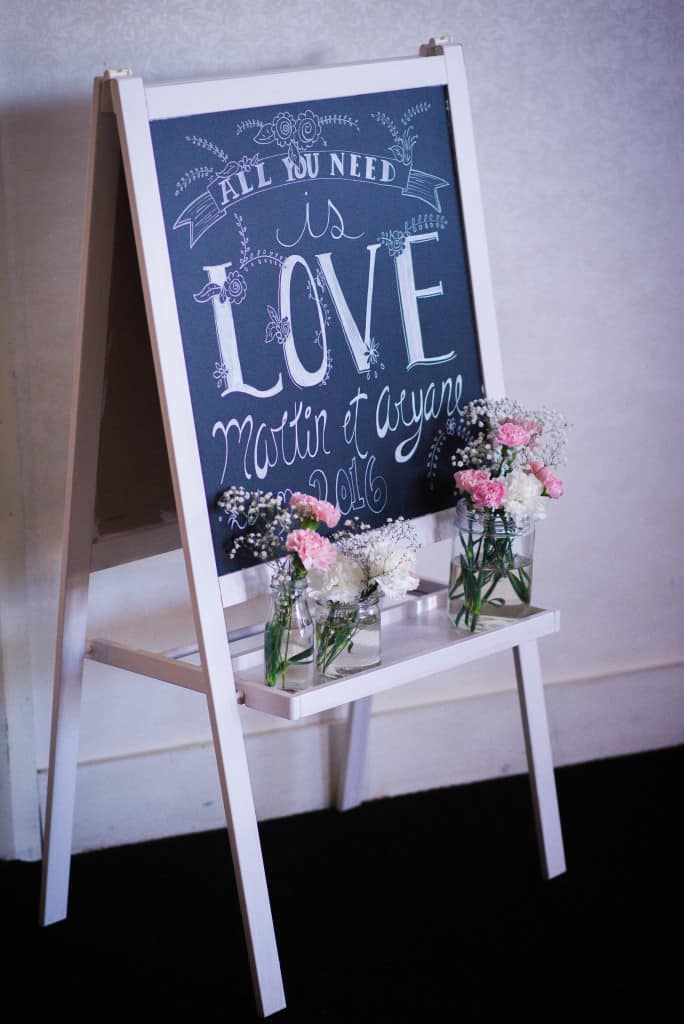 My dad and my oncle made wooden centerpieces and coasters (as guest favours) from old logs lying around in the backyard. The perks of living on the countryside!
We used one on each table as a base for Mason jars and empty bottles of Kombucha Rise, filled with fresh flowers and fairy lights. I also displayed my two cakes on the same log centerpieces to add some charm to my dessert table.
My aunt made all the bouquets and boutonnieres while her boyfriend made us a unique wooden box for our wedding rings.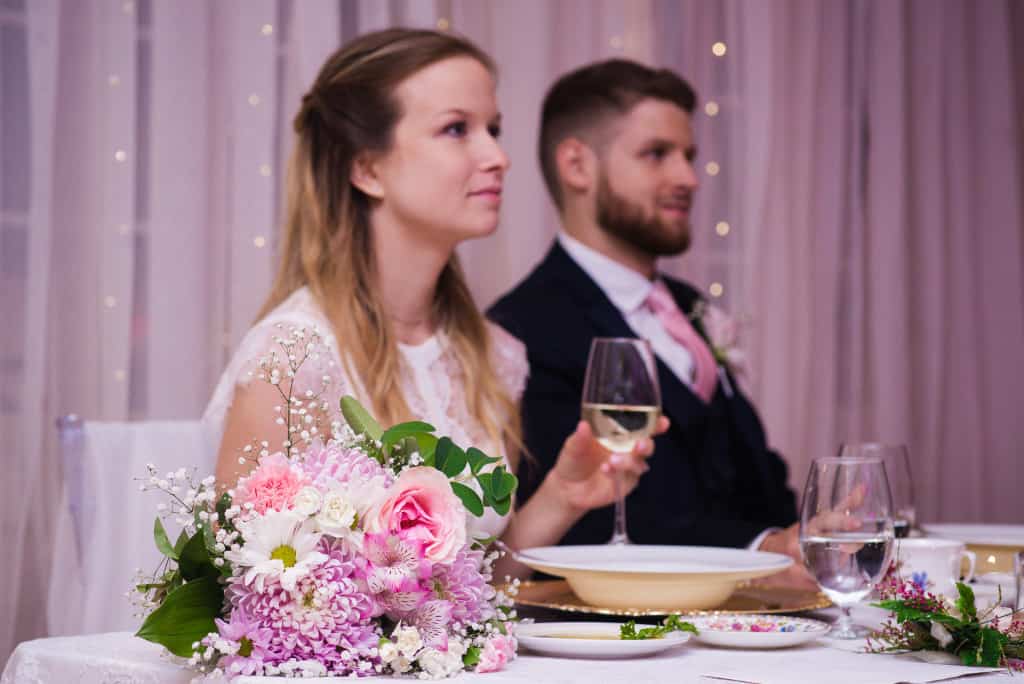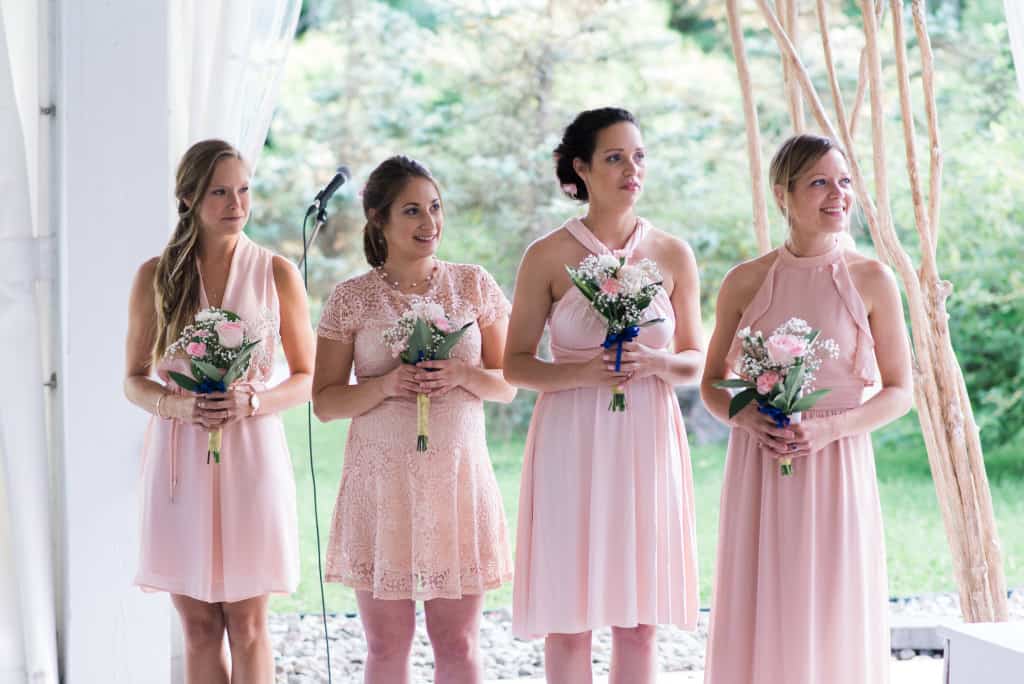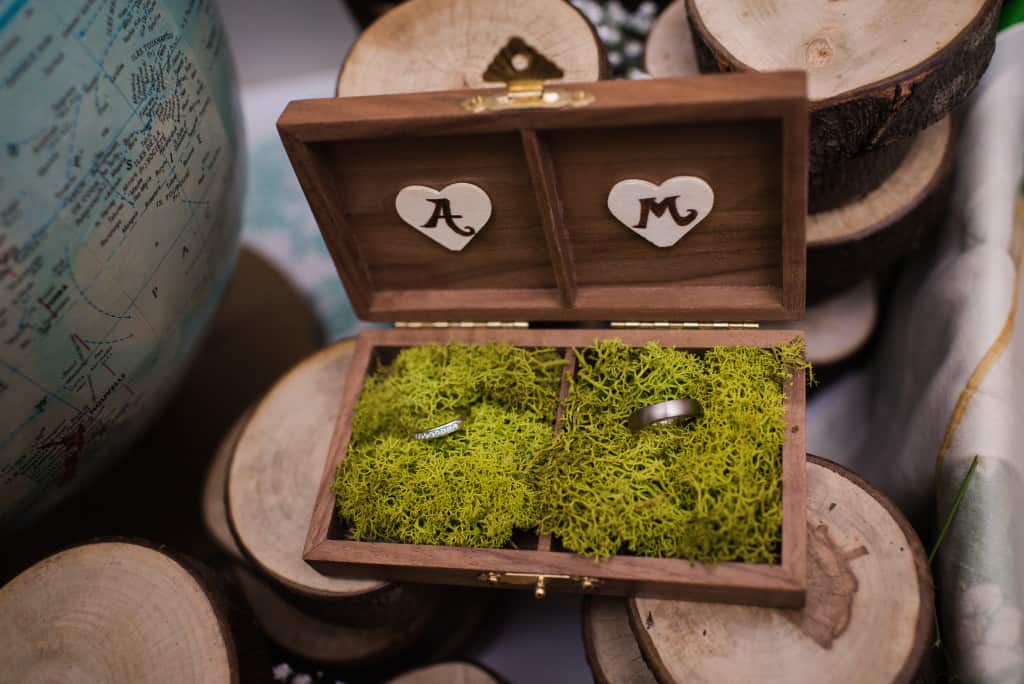 As for the flowers, I once again kept it simple and decided to use carnations, which are beautiful, affordable and only rarely used for weddings. I ordered a few packs of mini & regular size carnations in pink and white online, as well as baby's breath.
When I picked up my order at the florist, I added a dozen of light pink roses (one for each boutonniere, one for each bridesmaid's bouquet and the other 4 for own bouquet), a few chrysanthemums and other pretty flowers of which I don't know the name. My bouquet ended up costing around $30, with the greens my aunt generously picked from her garden.
The only "superfluous" expenses I made – we do only get married once after all! – is the antic tea service and the suitcase that I rented from Mademoiselle Vintage, a small company from Trois-Rivières. I also sort of splurged in buying the fairy lights for the centerpieces and behind our table.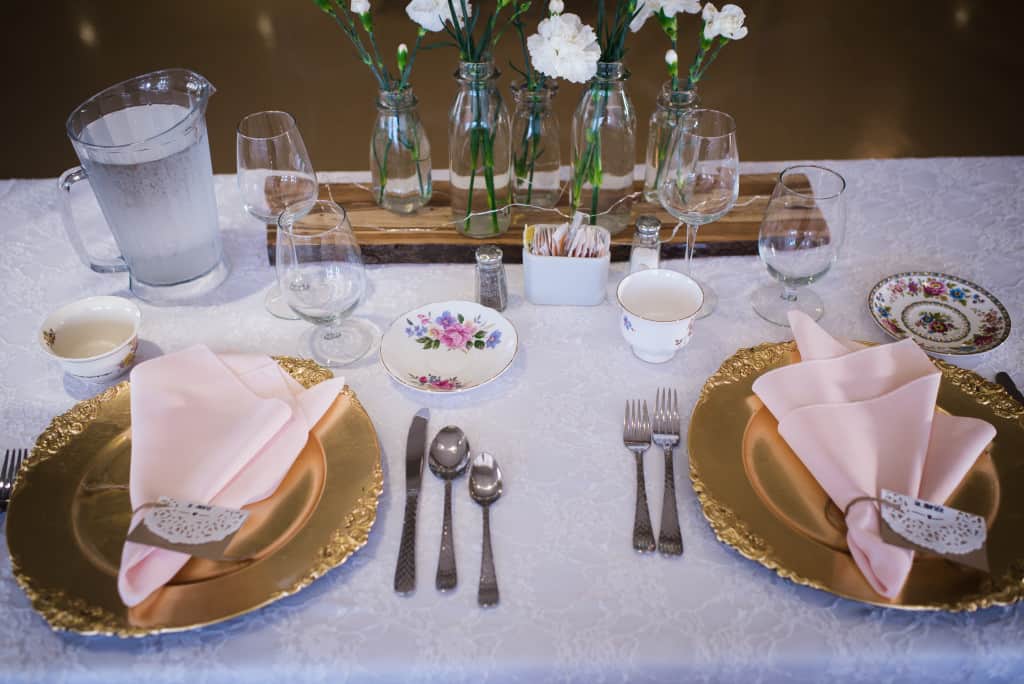 Price for the flowers: $150, including my bouquet, four bridesmaid bouquets, boutonnieres, centerpieces and other decorations
Price for the antique suitcase and tea service: approx. $300, Mademoiselle Vintage
Price for the fairy lights: approx. $160 for 20, on Etsy
WEDDING FAVOURS & SIGNATURE BOOK
As I mentioned previously, my uncle sliced up some wooden coasters that we could offer to our guests. We didn't want a useless nick nack that was just gonna end up lying around the house.
These coasters, which we all signed, were a thoughtful gesture that people seemed to appreciate. To this day, they can be found on many of our friends' home dining tables.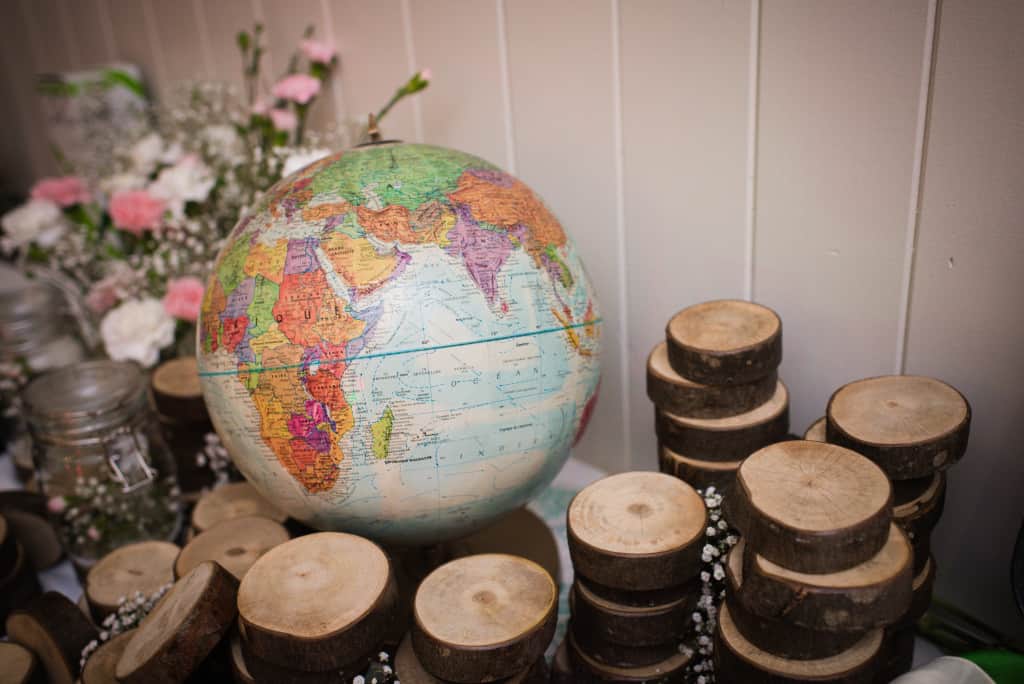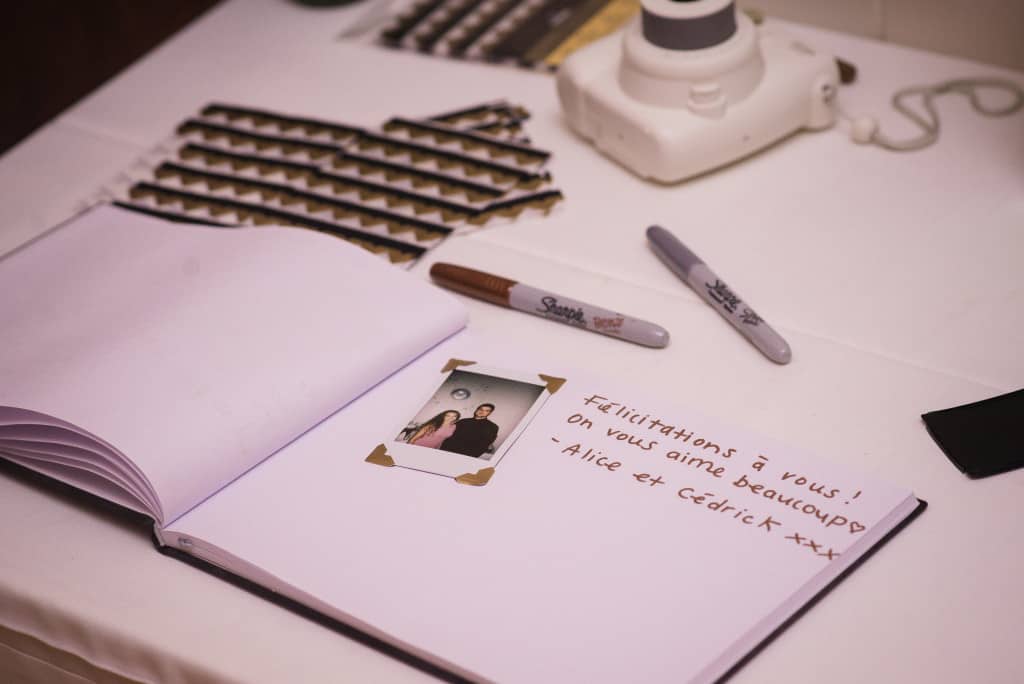 We coudn't be happier with the concept we chose for our signature book. Next to the card suitcase, we put an album with white pages, metallic Sharpies, an instant photo Polaroid and little adhesive corners to stick the pictures.
Our loved ones had all the space necessary to leave us touching (and/or hilarious) messages. The camera was also passed around during the evening and gave us some priceless memories!
MUSIC
Entrance of the bridal party: Interlude, Coeur de Pirate
Entrance of the bride: Better Man, Paolo Nutini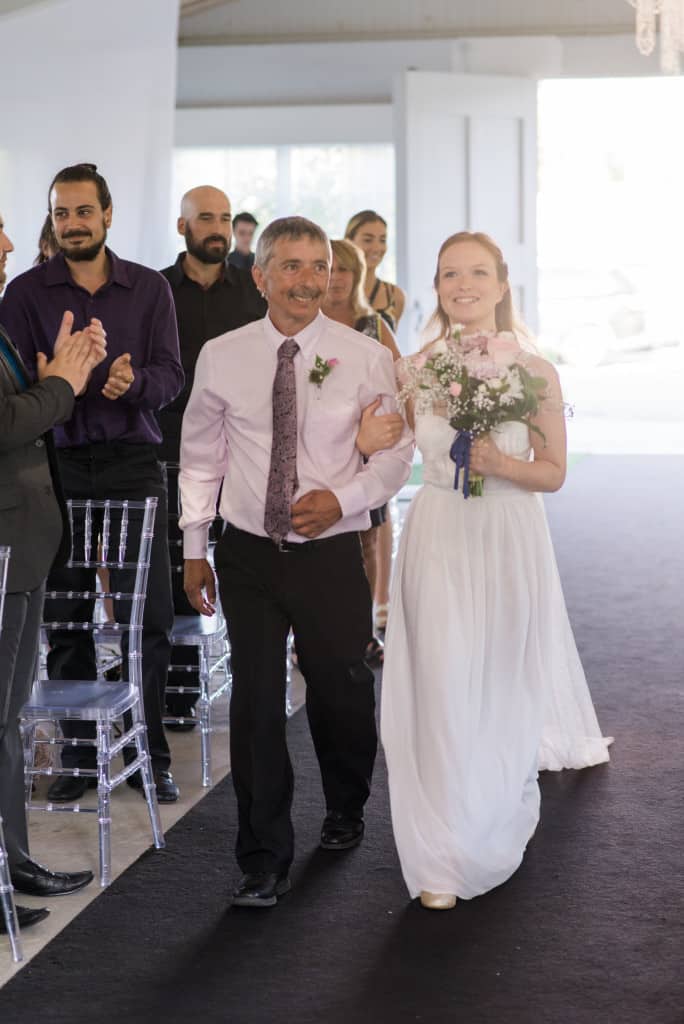 Performance by Martin's brother during the ceremony:
Somewhere Over the Rainbow, Israel "IZ" Kamakawiwoʻole at the yukulele
Black Bird, The Beatles
Deux printemps, Daniel Bélanger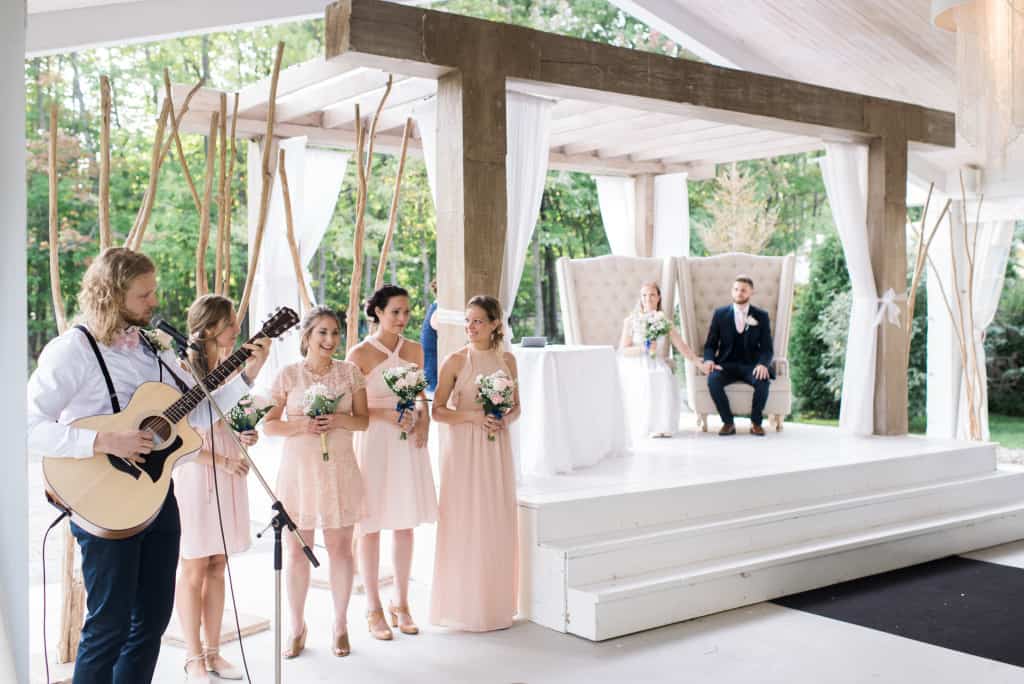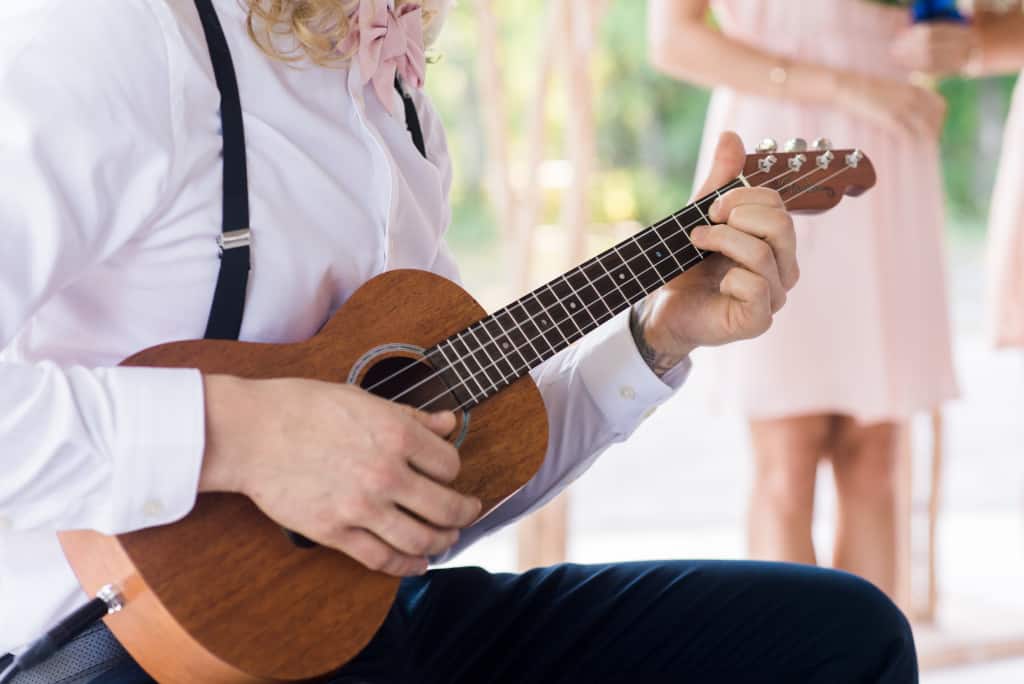 First dance: I Wanna Be Yours, Arctic Monkey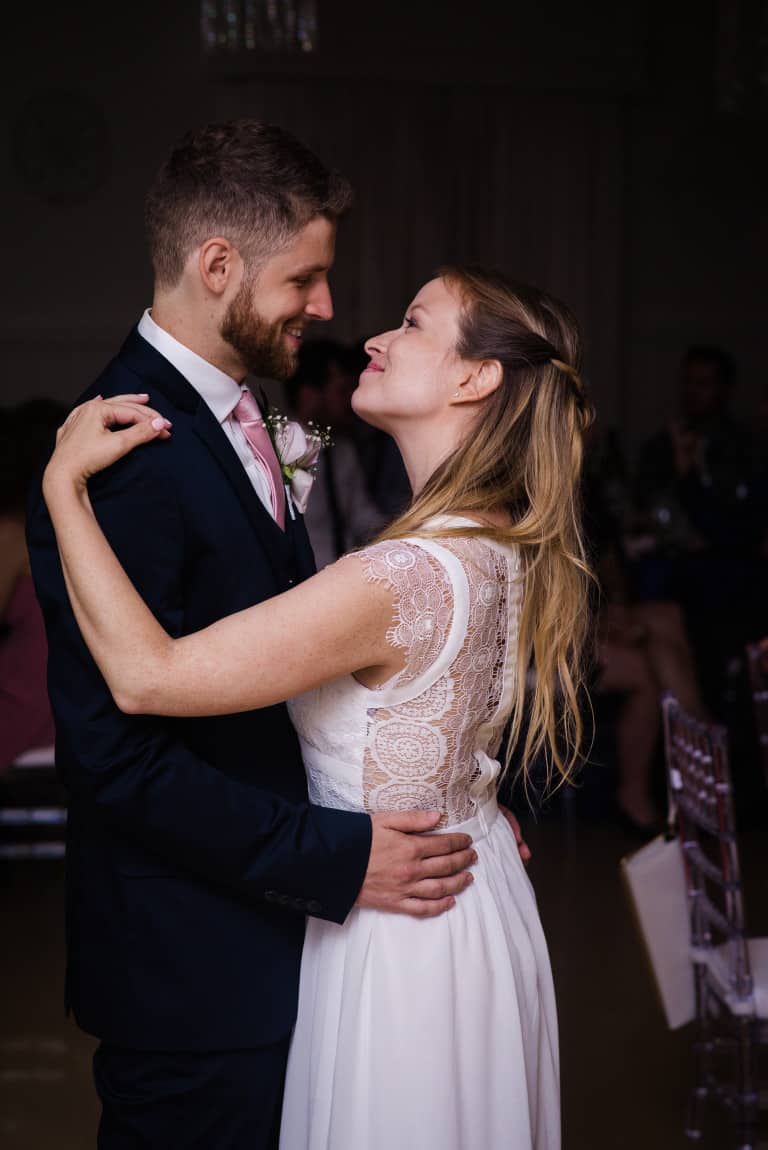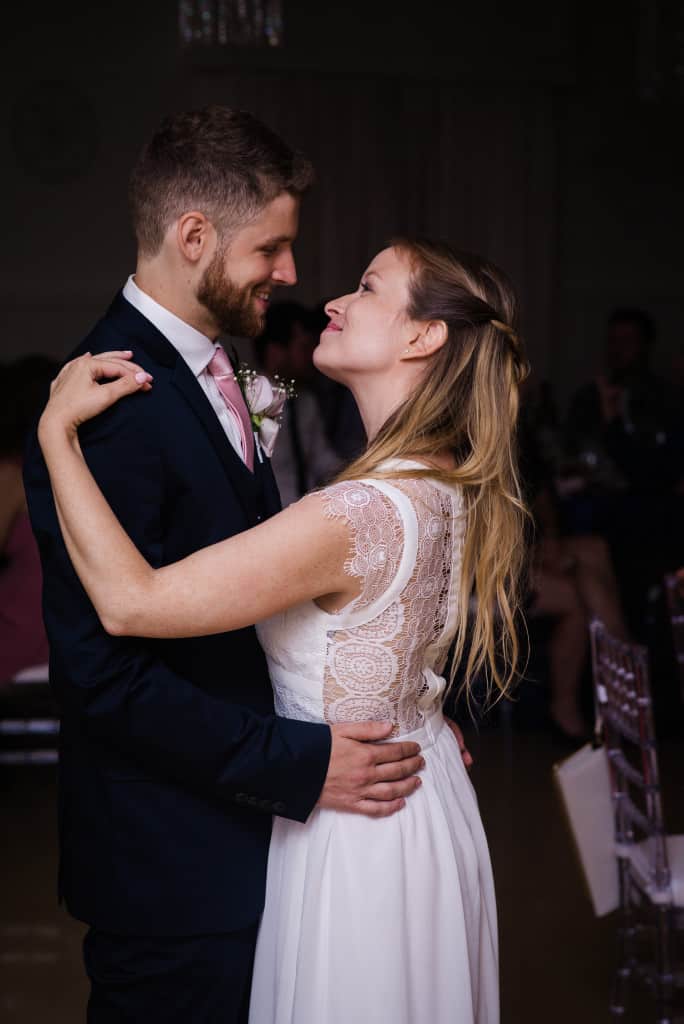 And they lived happily ever after ♡
ADDRESS BOOK
Ceremony, party and meal: Chalet des Érables, 384 Montée Gagnon, Sainte-Anne-des-Plaines
Photographer: Lovely Peonies by Linda Roméo
Make up: Rafaëlle Roy
Dress: Boudoir 1861
Mani-pedi: Salon Vong, 4541 boul. St-Laurent, Montréal
Accessories rental: Mademoiselle Vintage, 1543 rdc rue Notre-Dame Centre, Trois-Rivières
Pin for later: