These vegan white chocolate and macadamia cookies are high in protein thanks to chickpeas and oats. Gluten-free, oil-free and refined sugar free.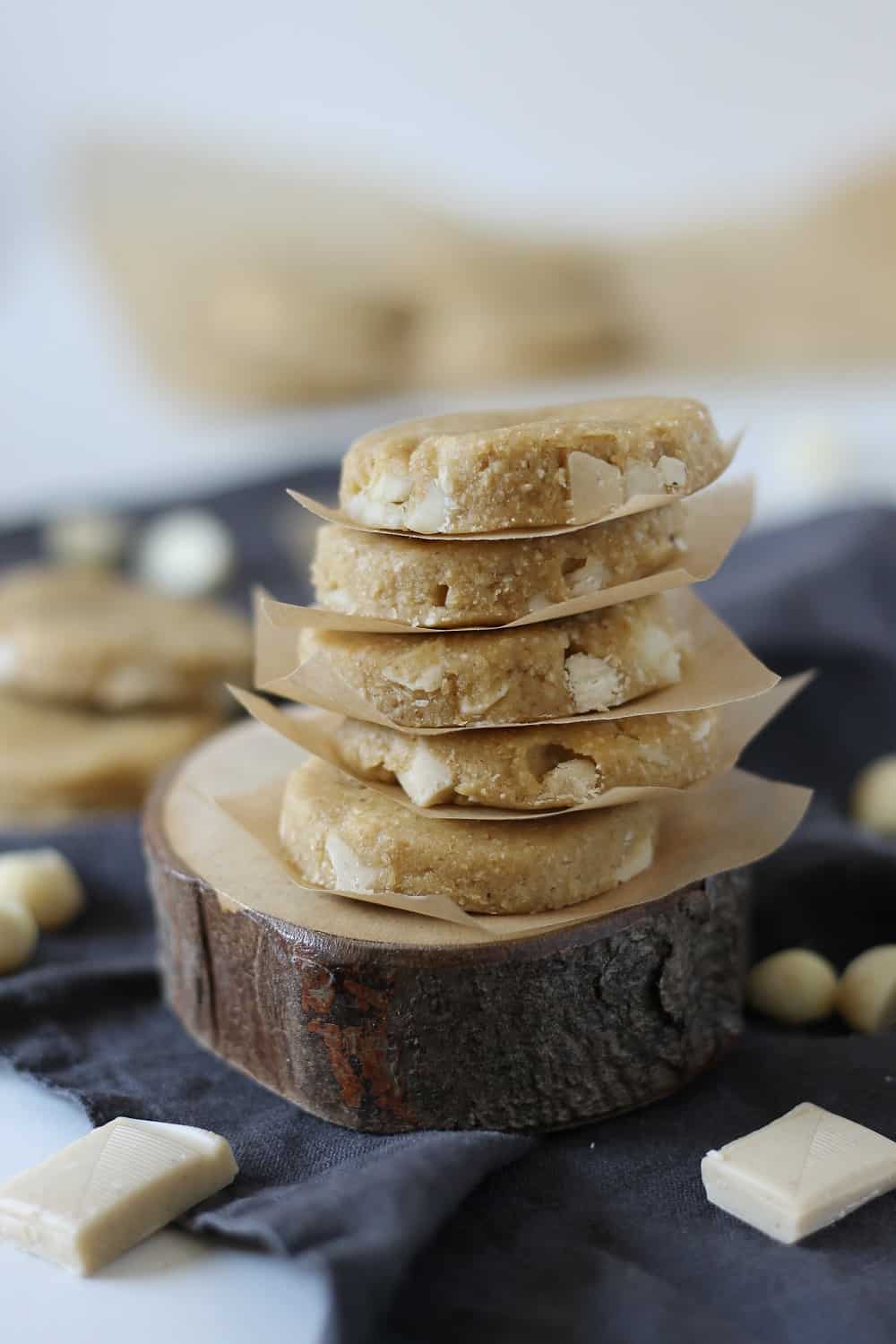 I have been baking with beans for years. Ever since I went vegetarian actually. Apparently it's one of the weird things that happen to you when you stop eating animals. Everyone is so worried about your protein intake that you start sneaking pulses everywhere, even in your sweets.
Before I go further though, there's no need to worry about us. We get all the protein that we need from plants! Feel free to check out this detailed article to know what's up: The ONE argument to dispel the protein concern about vegetarian diets
Some of my most popular recipes on the blogs are in fact the result of this weird obsession, including my chewy white bean chocolate chip cookies and my chickpea flour chocolate chip cookies. I guess I'm not the only one who likes to get in some nutrients while indulging in a decadent treat.
Today's cookies were born out of a crazy idea I had for vegan white chocolate & macadamia cookies. I was never even a fan of those, which my friends always got at Subway, because they were so unbearably sweet and fatty. Even back then they were too much for my sweet tooth.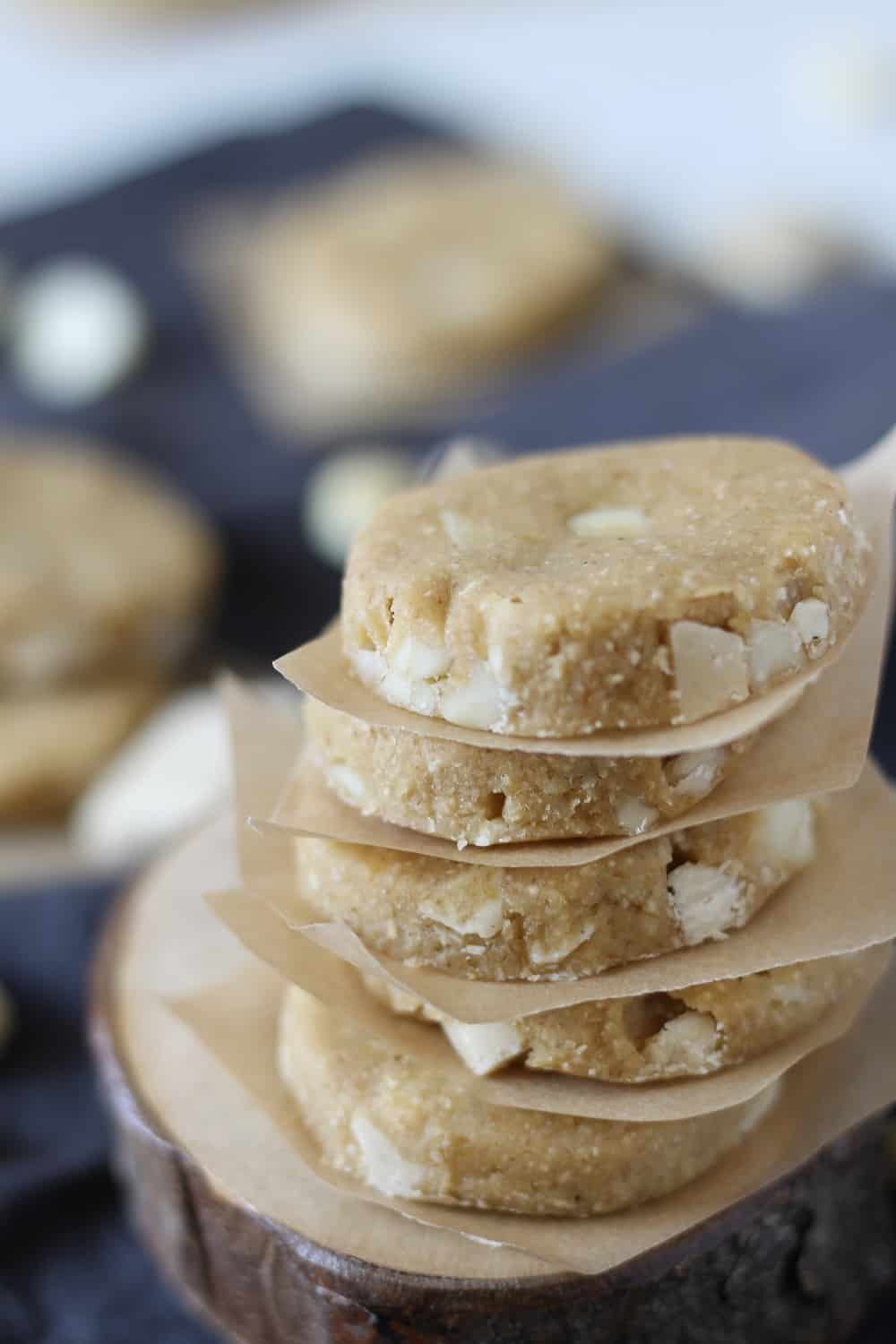 All it took was a little bit of magic to turn them into a cruelty-free treat that's just sweet enough to satisfy those cravings but also packs a punch of nutrients. The chickpeas and oats add some good-quality protein and fiber and make it healthy enough to eat for breakfast.
Do they taste like chickpeas though? Probably a tiny little bit, since it is one of the main ingredients. But the almond butter, maple syrup and vanilla make sure that we barely notice it. They totally fooled my colleagues, who even asked for more!
Of course, you can use this recipe as a base and add any flavoring you like. Use peanut butter instead of almond and switch the white chocolate for dark chocolate chips for a more traditional cookie. Or roll them into cookie dough balls for a yummy on-the-go snack.
Oh and I forgot to mention that they make the best ice cream sandwiches! They don't become too hard, or too soft and their subtle flavor yields itself perfectly to any ice cream. You can of course just buy vegan ice cream, put it between two cookies and call it a day.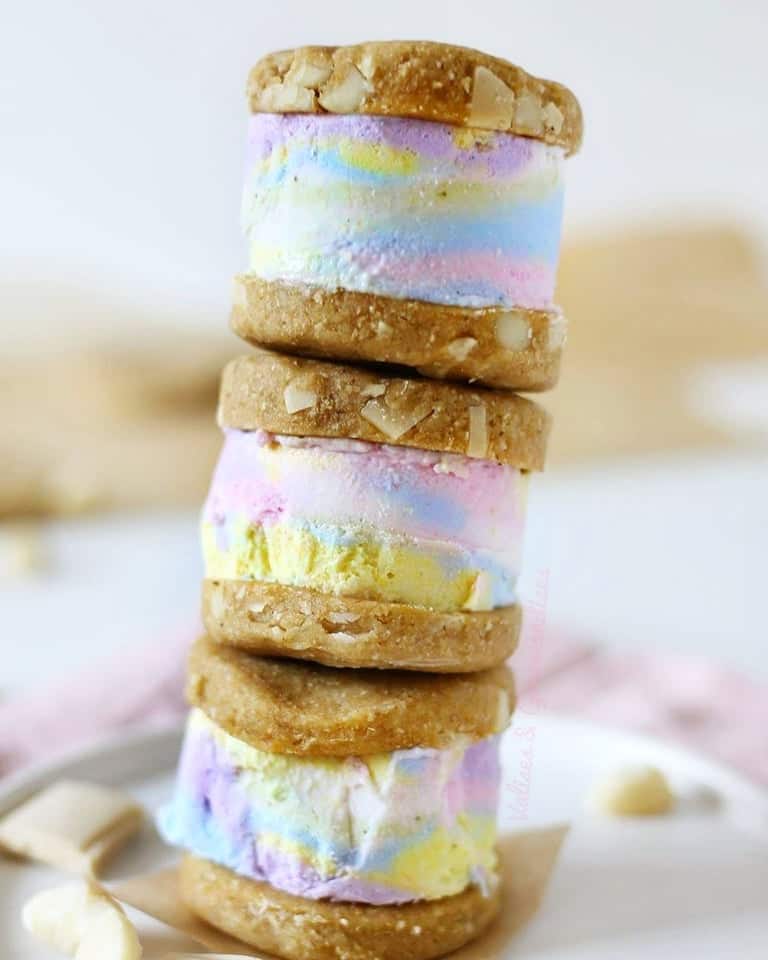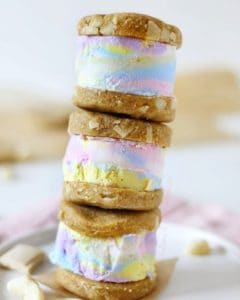 If you're anything like me, however, and like making your own, then you'll be happy to know that I'm working on a new smoothie & ice cream eBook! I'm hoping to publish it in early June but, with my upcoming trip to Québec, we'll see how it goes :) I will definitely keep you posted. *Update, due to an injury, the book is delayed until next summer, sniff*
Related recipes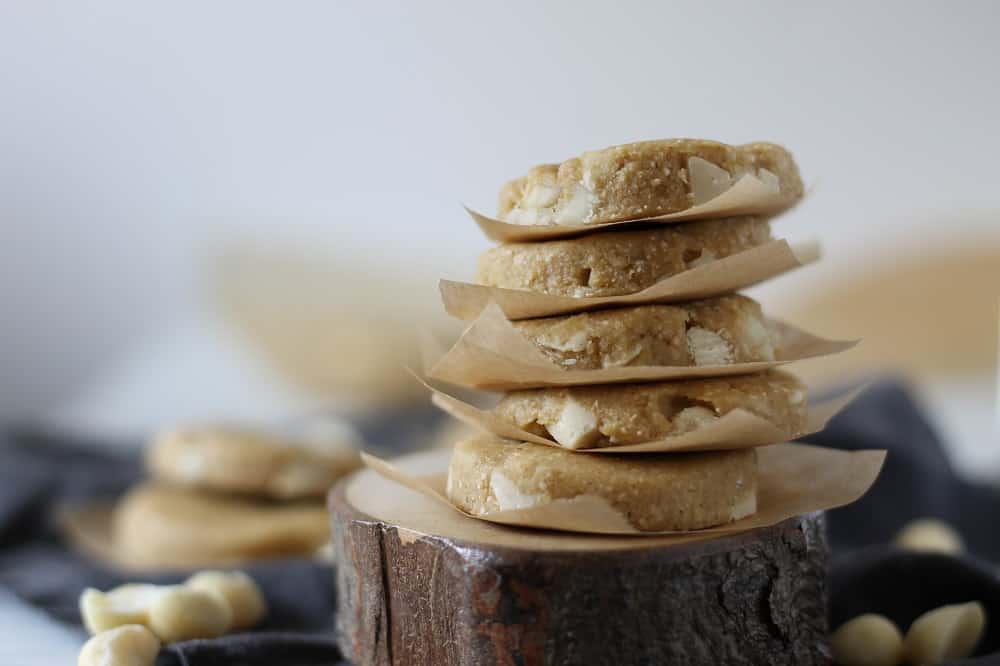 If you try this recipe, make sure to snap a picture and share it on Instagram or Facebook using the hashtag #valisesetgourmandises. I wanna see your creations! And don't forget to leave a comment below :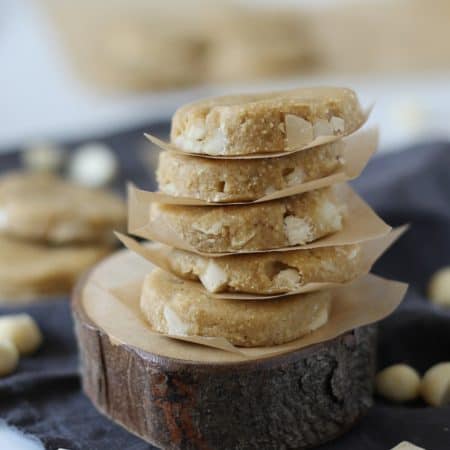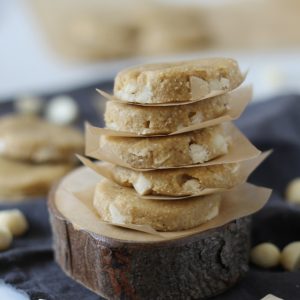 No-bake vegan white chocolate and macadamia cookies
These vegan white chocolate and macadamia cookies are high in protein thanks to chickpeas and oats. They're also gluten-free, oil-free and refined sugar free.
Ingredients
1

cup

oats

1/2

cup

cooked chickpeas

skin peeled

3

tablespoons

white almond butter

3

tablespoons

45 ml pure maple syrup

1/2

teaspoon

pure vanilla extract

2

tablespoons

oat milk

(or as needed)

1/4

cup

vegan white chocolate

chopped

1/4

cup

macadamia nuts

chopped
Instructions
First, add the oats to

your bender

and process into a fine flour. Add the peeled chickpeas to the blender along with the almond butter and maple syrup and process until smooth.

Add some milk as needed. The dough should be workable but not too wet. If you like your cookies very sweet, you can substitute more maple syrup for some of the milk.

Transfer to a bowl or a clean plate, add the white chocolate and nuts and fold a few times to incorporate. From there, you can either roll out to about 1 cm thick and cut cookies with a knife or cookie cutter or form balls and flatten them with the bottom of a glass.

Store in the fridge in an air-tight container, separated with parchment paper so they don't stick.
Notes
They will keep for about a week in the fridge.
They can also be frozen.
**This article may contain non-sponsored ads in the form of affiliate links, which means that I will receive a small commission if you purchase a product through them. The price remains the same for you, but this way you are helping me maintaining the blog and providing you more interesting content! :)