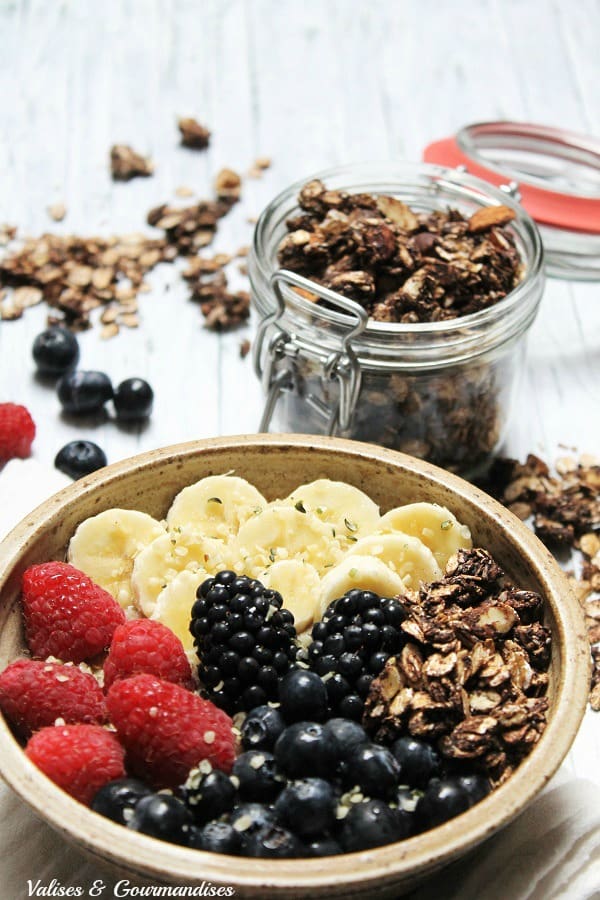 For years I kind of forgot about granola. All those wasted years…
They came back into my life after I saw gorgeous bags of overpriced granola in the organic section of my supermarket. I really wanted to buy them all and drown them in homemade nut milk, but the price tag and the never-ending list of ingredients put me off: palm oil, sugar, aromas, etc. Thanks, but no thanks.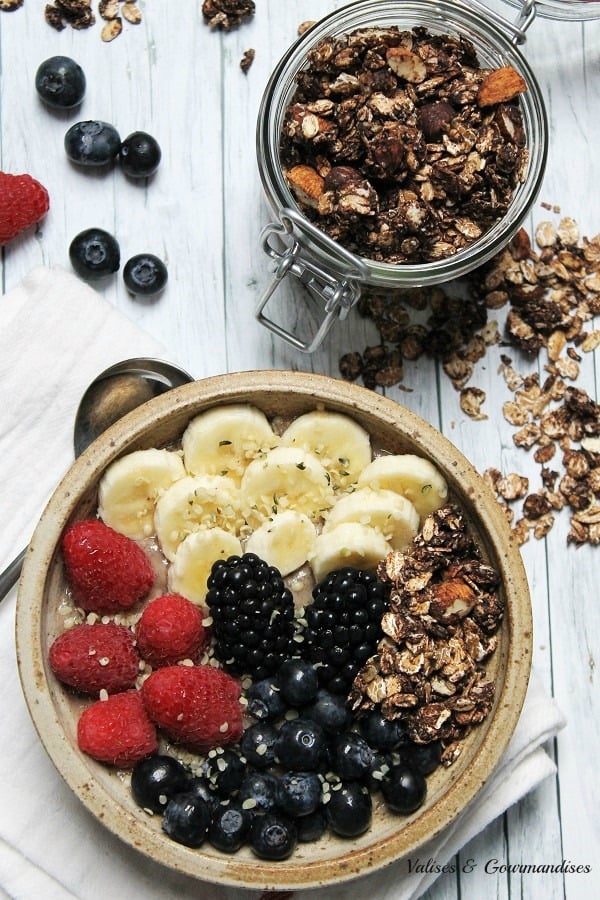 Luckily, making it at home is SO easy!! BTW, did you know that granola doesn't actually have to be overly sweet or fat? I had to come up with a healthy recipe because I couldn't find any that didn't belong in the dessert section.
In fact, your taste buds change once you start eating healthier. Food I used to love is now often too sweet or too salty. If you still like it on the sweeter side though, feel free to add a tablespoon or two of coconut sugar to the mixture. And then next time you make them, decrease the amount until you no longer need the added sweetness.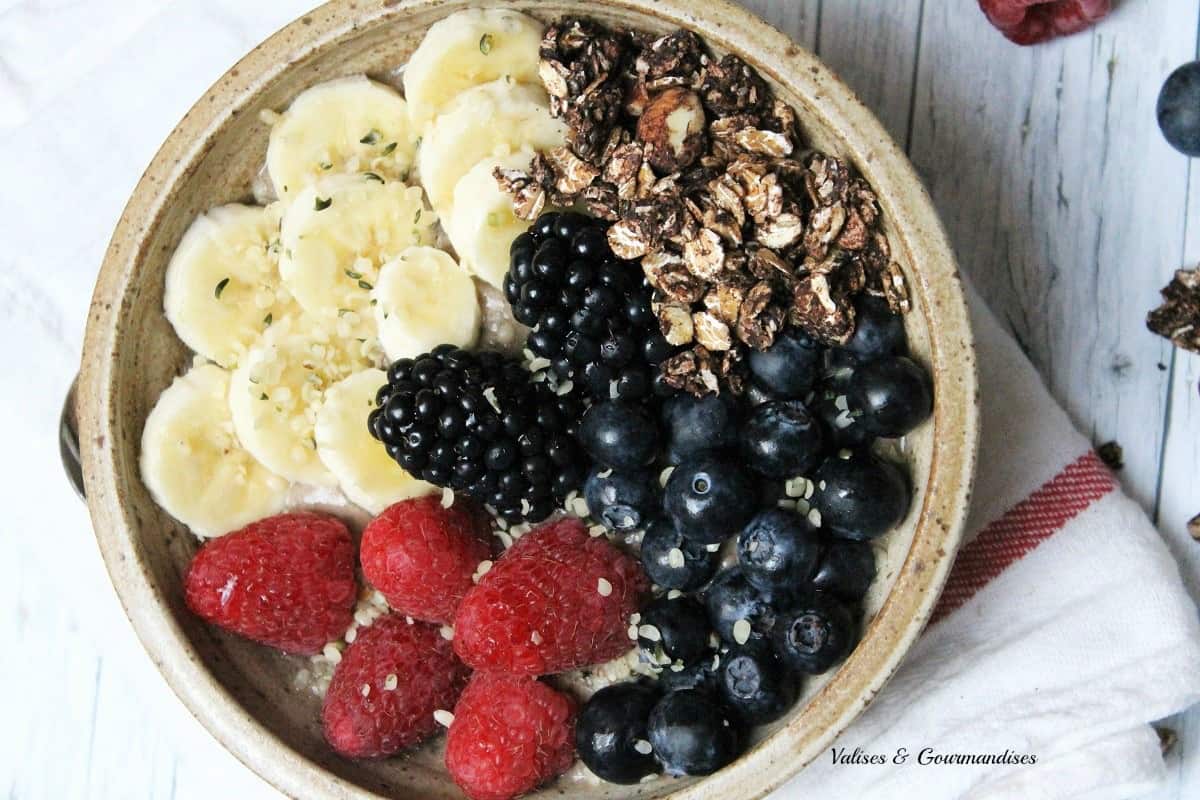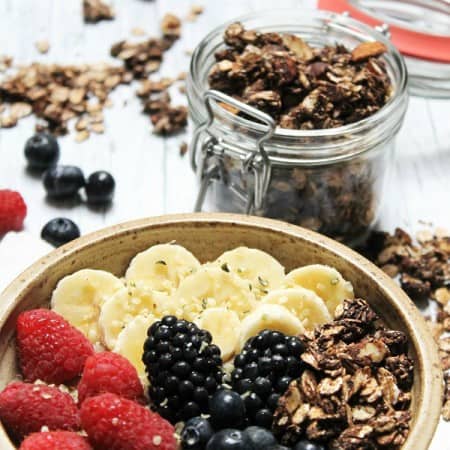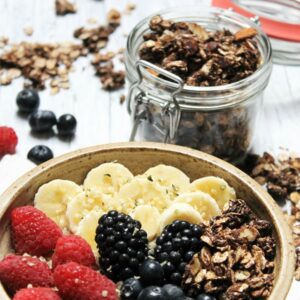 Oil-free chocolate granola
Brighten up your breakfast with this healthy oil-free chocolate granola. It comes together in under 30 minutes and also makes a great hostess gift!
Ingredients
2

cups

rolled oats

½

cup

unsweetened shredded coconut

¼

cup

raw hazelnuts

cut in pieces

¼

cup

raw almonds

cut in pieces

2

tablespoons

chia seeds

2

tablespoons

ground flax seeds

A pinch of salt

¼

cup

cacao powder

½

teaspoon

Ceylon cinnamon

3

tablespoons

water

3

tablespoons

maple syrup

1

teaspoon

pure vanilla extract

2

tablespoons

raw cacao nibs

optional
Instructions
Preheat oven to 325F (160C).

In a large mixing bowl, stir together the oats, the nuts, the coconut flakes, the seeds and the salt.

In a medium bowl, whisk together the cacao, the cinnamon, the water, the maple syrup and the vanilla extract until you reach a thick chocolate sauce consistency. Pour it over the oat mixture and stir well until well coated.

Line a baking sheet with

a silicone baking mat

. Spread granola on the baking sheet and bake for 10 minutes. Stir and bake for approximately 10 more minutes.

Let cool completely. Stir in cacao nibs if using and stir. Store in an airtight container.
Notes
You can use traditional oat flakes or, as I did, a mix of several flakes. I used a store-bought mix of organic oats, wheat, rye…
These granola are only slightly sweet, which is what I love about them. If you would like them sweeter, as dessert for example, add one or two tablespoons coconut sugar to the oat mixture before stirring in the chocolate sauce.
Similar recipes
**This article may contain affiliate links, which means that I will receive a small commission if you purchase a product through them. The price remains the same for you, but this way you are helping me maintaining the blog and providing you more interesting content! :)