Once you try this creamy vegan Alfredo sauce, you will never want to go back to the old version! It's highly nutritious, scrumptious and ready in under 30 minutes!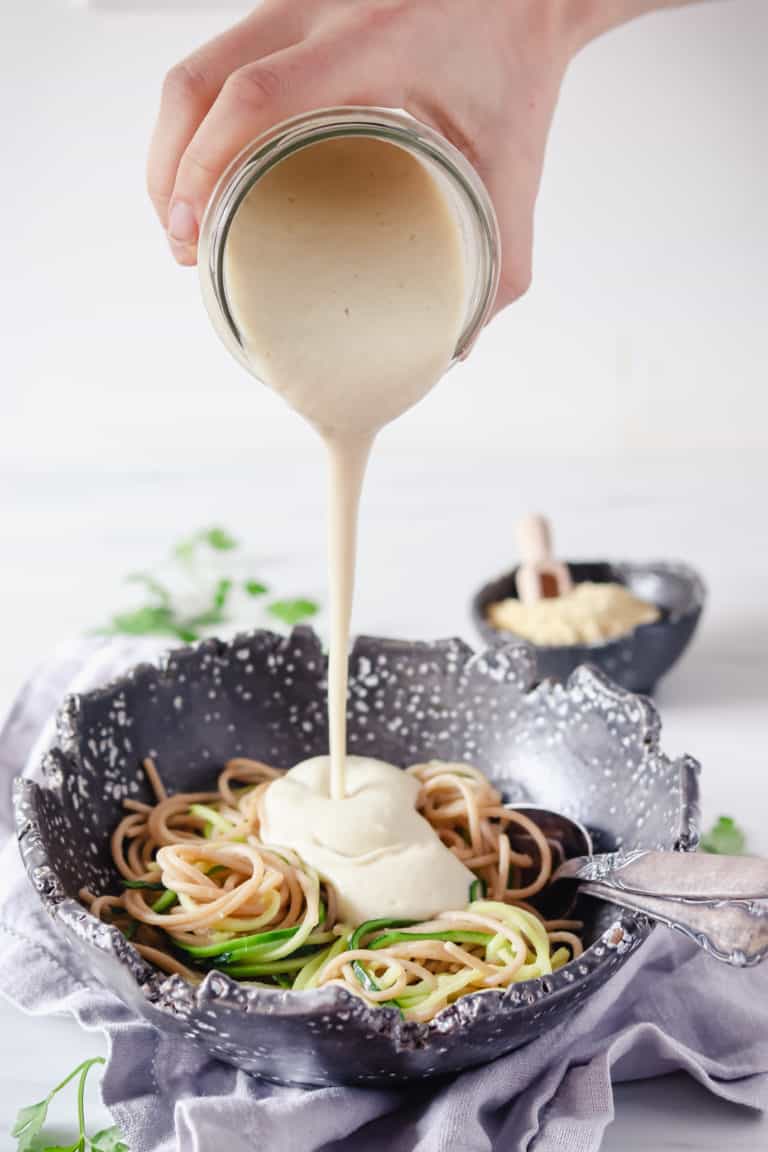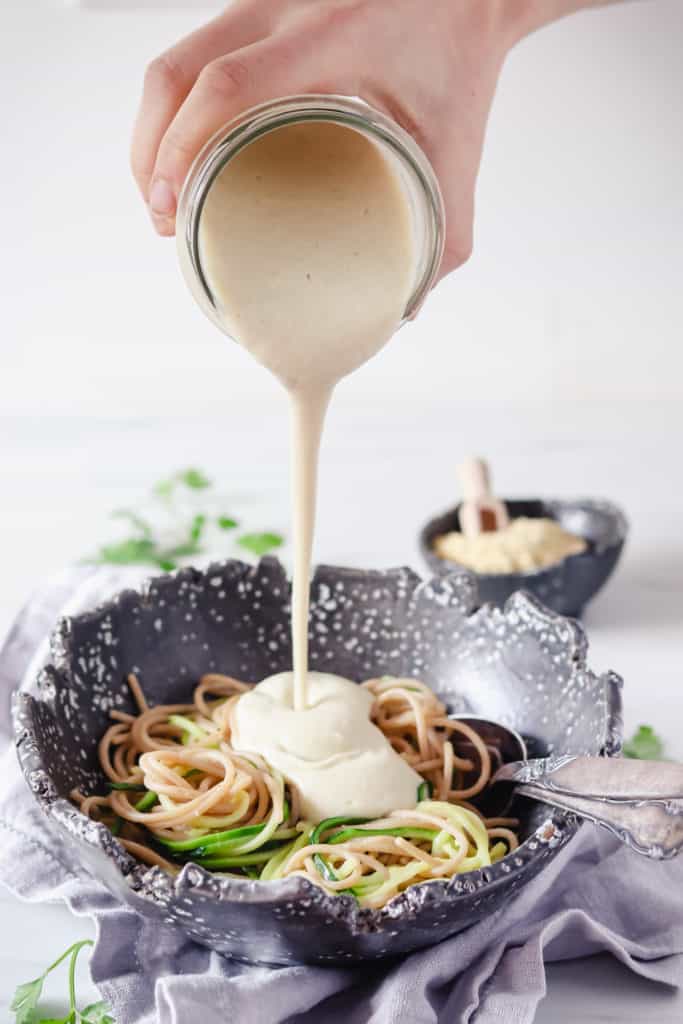 Do you struggle to stop eating dairy? I can relate. Before becoming vegan, I wouldn't have imagined that a vegan Alfredo sauce could be satisfying. *But please keep on reading because I swear that this one is per-fect :)*
Alfredo sauce is actually one of the very first vegan recipes I tried about 5 years ago and… it was an utter disaster. Oopsie! I didn't have much cooking experience and it took me about 1 hour to make, for a veeeery disappointing result.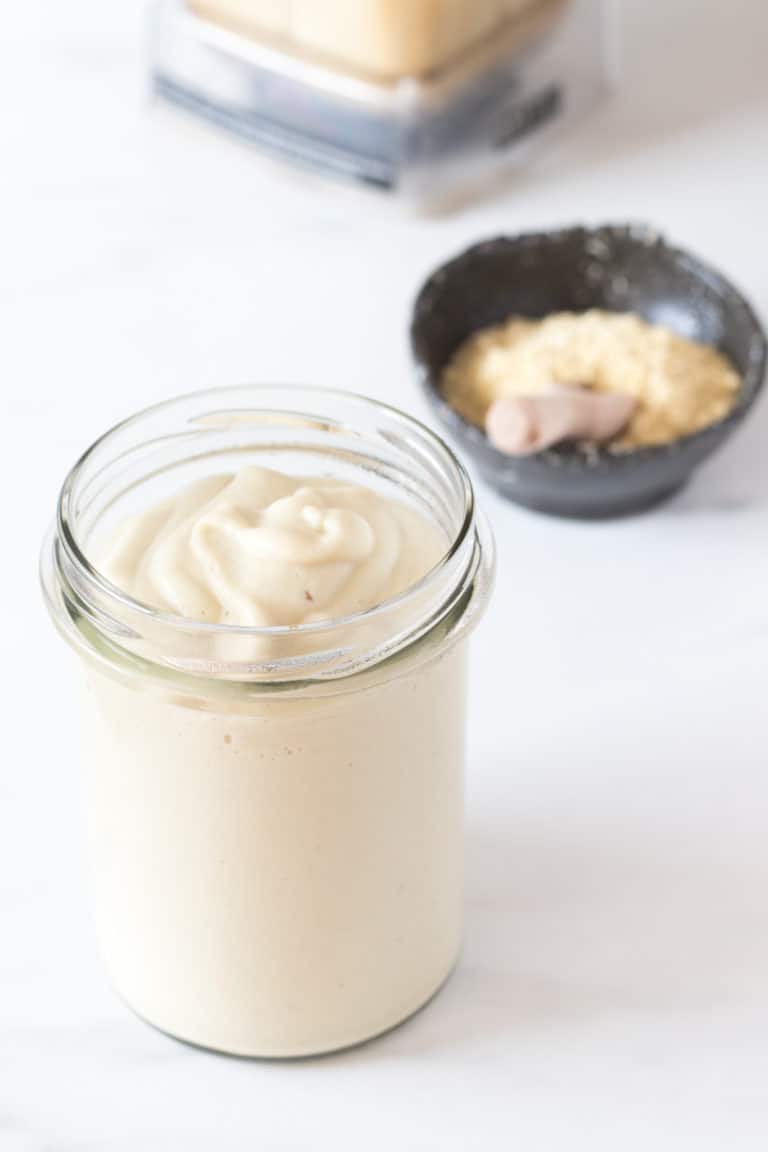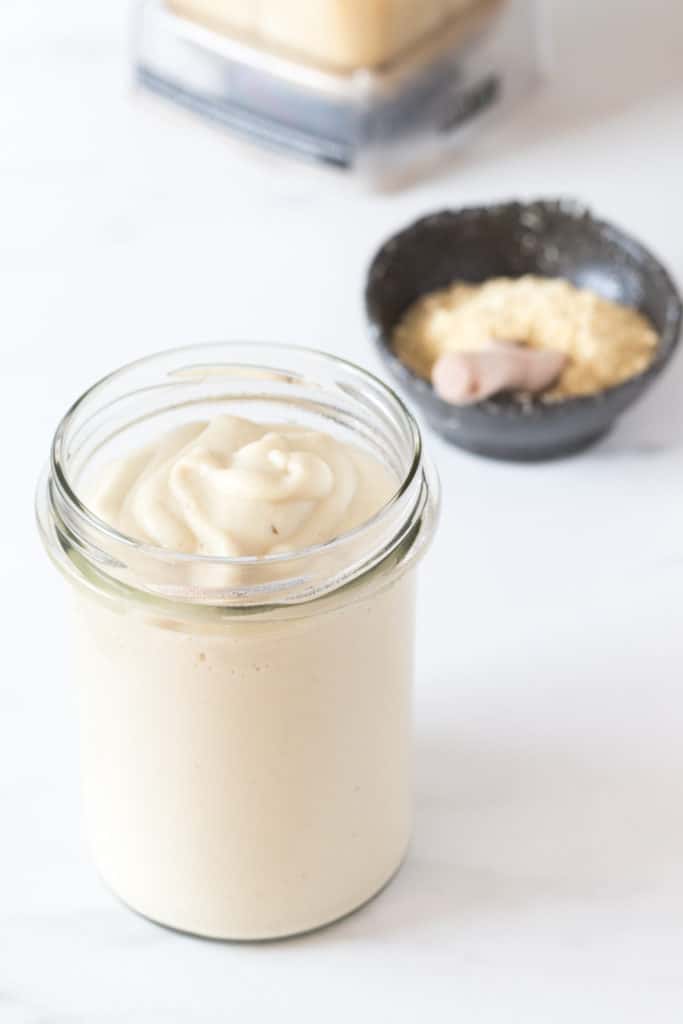 I have to say that it was my first time cooking with nutritional yeast and that I really didn't like the taste at the point. But in its defense, the quality and taste vary greatly from one brand to another and I think that I simply didn't like that particular one. So I proceeded to wait a few years before trying it again and now I laugh about it because it couldn't be easier, seriously!
For today's recipe, we simply boil cauliflower -1/3 of a head or 275g but we can easily play with the quantities- with a small onion and two garlic cloves and, once tender, we process them in a good blender together with half a cup of soaked cashew nuts and a few seasonings. *Non-sponsored ad in the form of affiliate link; I will earn a small commission with each purchase, which helps me keep the blog alive and thriving :)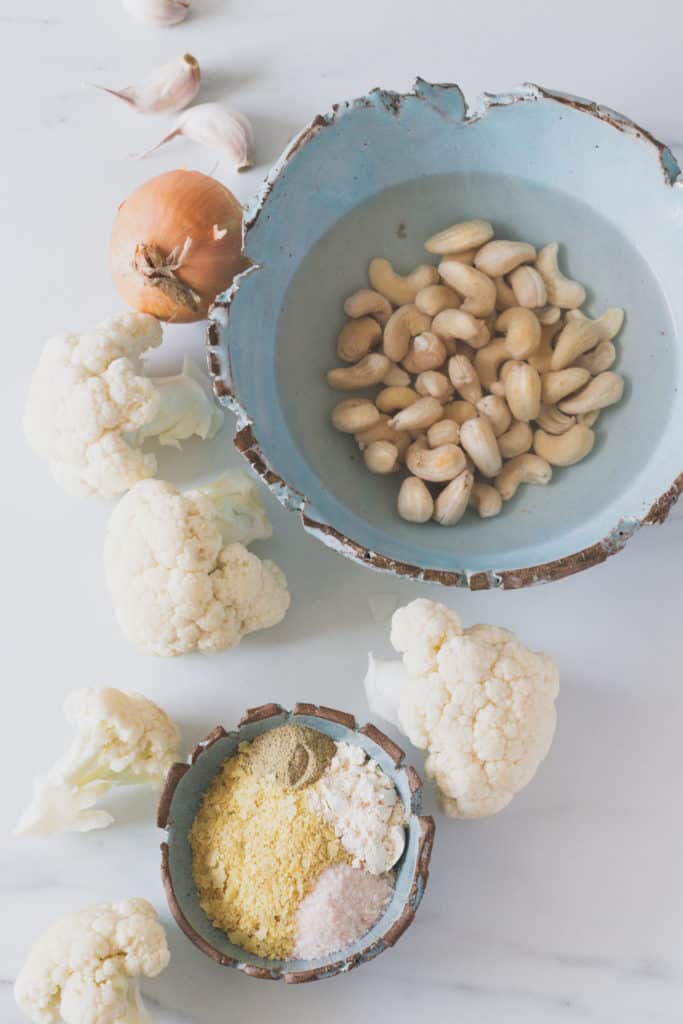 We could replace the cashews (or even the cauliflower) with white beans or silken tofu, for an interesting result that will however not be as satisfying in my opinion. Once again, I'm here to inspire you, not to limit you :)
To boost the nutritional profile of my pasta dish even more, I replaced 1/3 of my whole-wheat spaghetti with zoodles, which are very easy to make with a spiralizer. We've taken the habit of always adding a generous portion of zoodles to our spaghetti, 2 or 3 minutes before they're done cooking in water, to make our dish a bit lighter and to maximize our vegetable intake!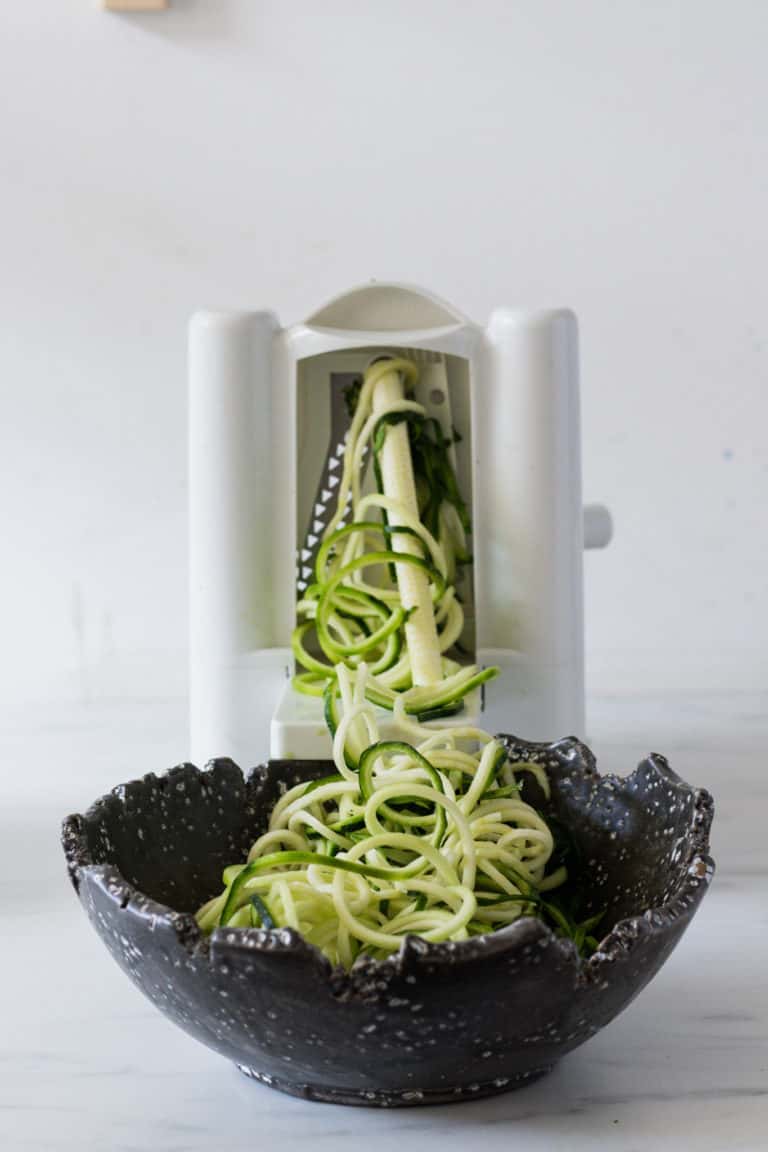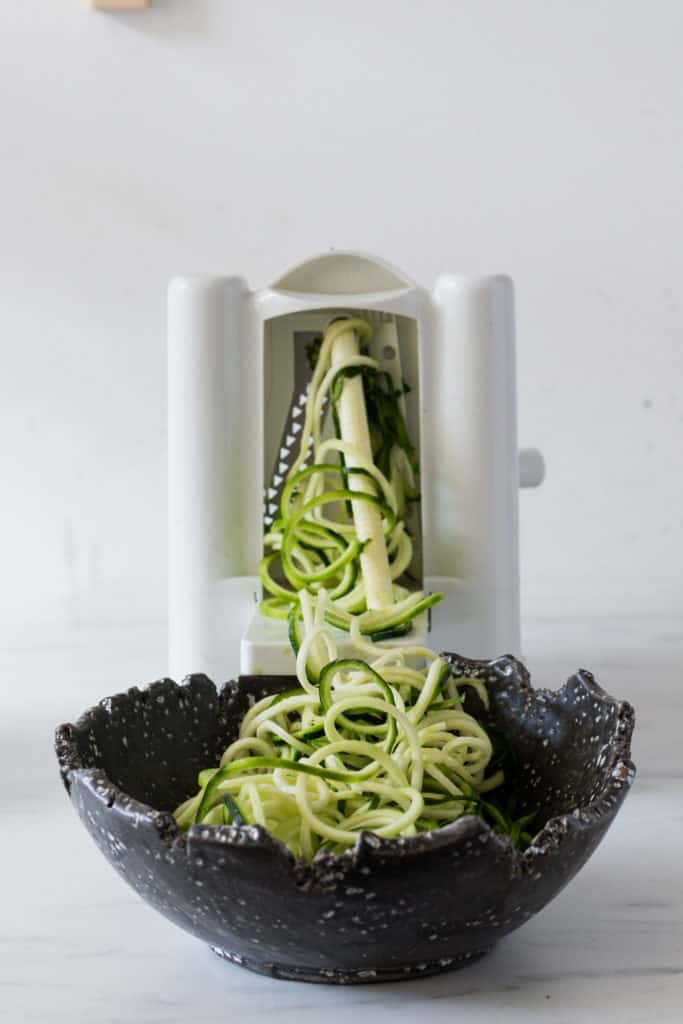 With a nice salad as a starter, our portion was perfectly satisfying and sustained us all evening. But if like me you have a sweet tooth, subscribe to my newsletter to receive my panna cotta recipe, which is topped with a nice blueberry jam, directly in your inbox!
The recipe won't be on the blog for a while. I already sent a newsletter today and will send another this Friday April 19th for new subscribers who missed it.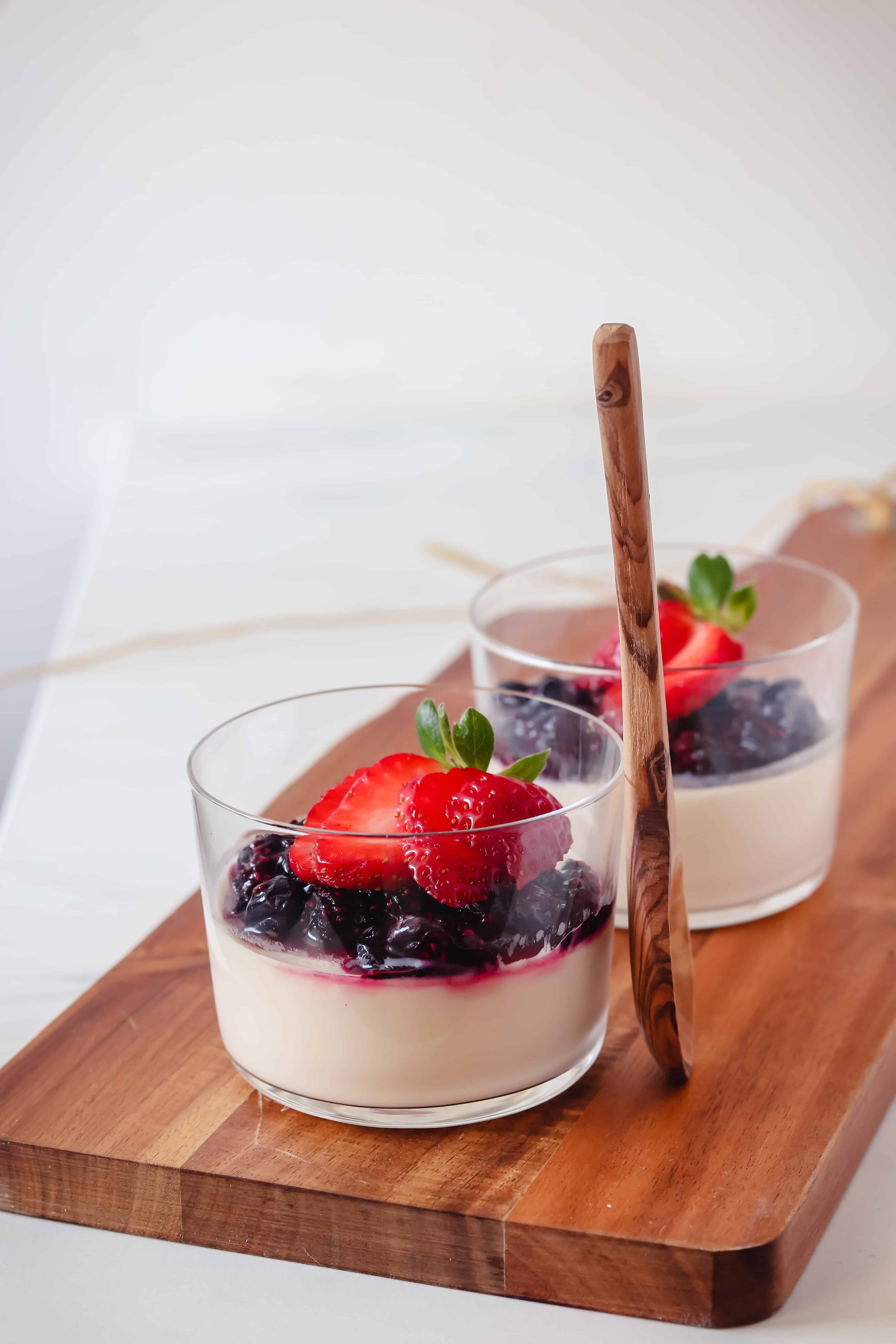 And finally, the icing on the cake, don't forget to top your pasta with lots of homemade nut parmesan! I always have a big jar on hand and I would lie if I said that I don't sometimes eat it by the spoon >.<
Similar Recipes
If you make this velvety vegan Alfredo sauce, make sure to snap a picture and share it on Instagram or Facebook using the hashtag #valisesetgourmandises. I wanna see your creations! And don't forget to leave a comment below :)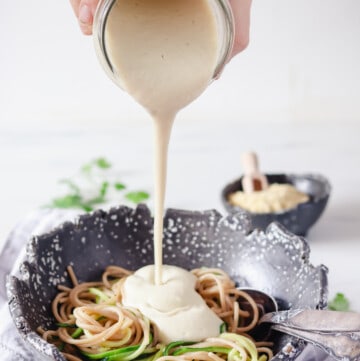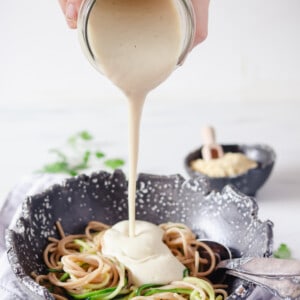 Oil-Free Vegan Alfredo Sauce
Once you try this creamy vegan Alfredo sauce, you will never want to go back to the old version! It's highly nutritious, scrumptious and ready in under 30 minutes!
Ingredients
1/3

cauliflower head

cut in florets

1

small onion

quartered

2

garlic cloves

crushed with the side of the knife

3/4 to 1

cup

cooking water

1/2

cup

cashew nuts

soaked at least 2 hours*

1/4

cup

nutritional yeast

1/2

tsp

onion powder

1/2

tsp

garlic powder

salt & pepper to taste
Instructions
Place the cauliflower, onion and garlic (smashed but not chopped) in a small pot, cover with water and bring to a boil. Cook until the cauliflower is tender.

Transfer the veggies

in the blender together

with the drained cashews, the seasonings and 3/4 cup of the cooking water. Process until nice and smooth.

Taste and adjust the seasonings and liquids if necessary. Serve on warm pasta and top with

nut parmesan

.
Notes
You can either cook your pasta -in separate pot- at the same time as the veggies or use the leftover cooking water (+ extra as needed) to cook them while you process the sauce. Add your zoodles to the pot 2-3 min. before the spaghetti is done.

Yields around 4 portions. You can keep leftover sauce in the fridge. It goes great on pizza!

If you don't have time to soak the cashews, cover them with boiling water and let sit for 10-20 min.
Nutrition
Calories:
115
kcal
Carbohydrates:
10
g
Protein:
5
g
Fat:
7
g
Saturated Fat:
1
g
Sodium:
4
mg
Potassium:
202
mg
Fiber:
2
g
Sugar:
2
g
Vitamin C:
3
mg
Calcium:
15
mg
Iron:
1
mg
**This article may contain affiliate links, which means that I will receive a small commission if you purchase a product through them. The price remains the same for you, but this way you are helping me maintaining the blog and providing you more interesting content! :)