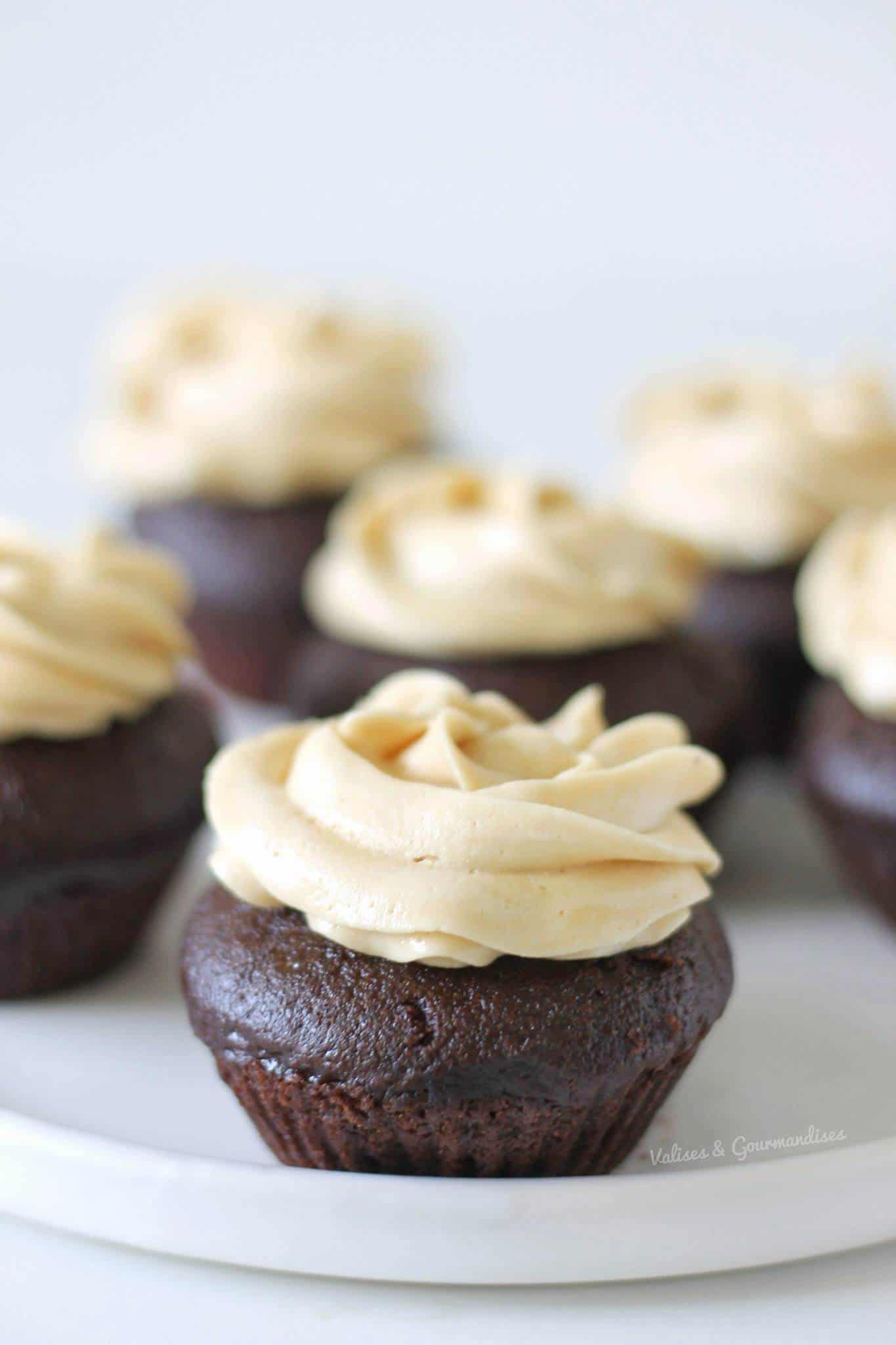 There is so much you can do with a good basic cake recipe!
For instance, I use my one-bowl vegan chocolate cake recipe, the one I shared for my 30th birthday to make baked donuts and cupcakes. I even baked a giant cake with it for my vegan wedding, remember?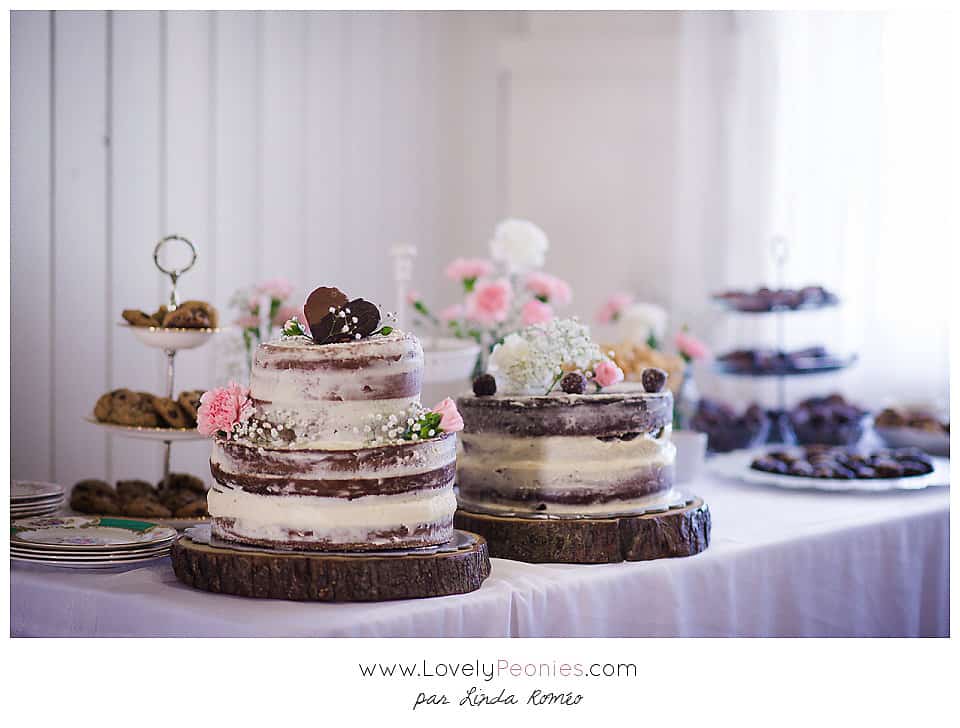 Martin and I also used this recipe to whip up a ton of cupcakes for our best friends' wedding, because we love them so much! Our friends, not the cupcakes. Though… hihi!  They did not have a fully vegan wedding and nobody noticed that there was something "missing" from their dessert. I mean why use eggs and butter and milk if you don't even need them? These cupcakes are better for the animals AND for your wallet.
Given my love of baking, I have also somehow become the cake lady at work, which means that I'm now "in charge" of making cakes for people's birthdays. And today's cupcakes are the result of that new title.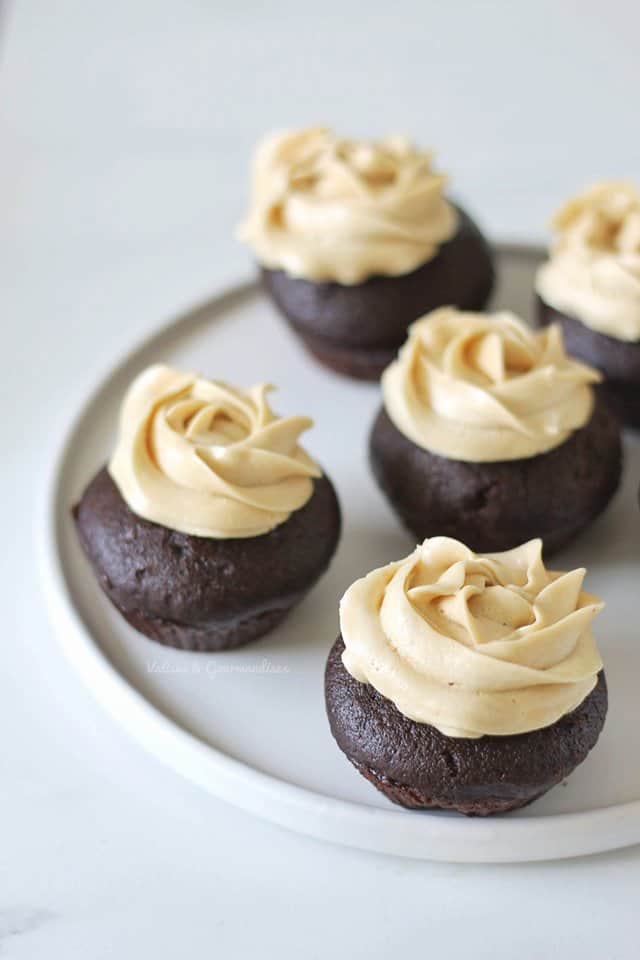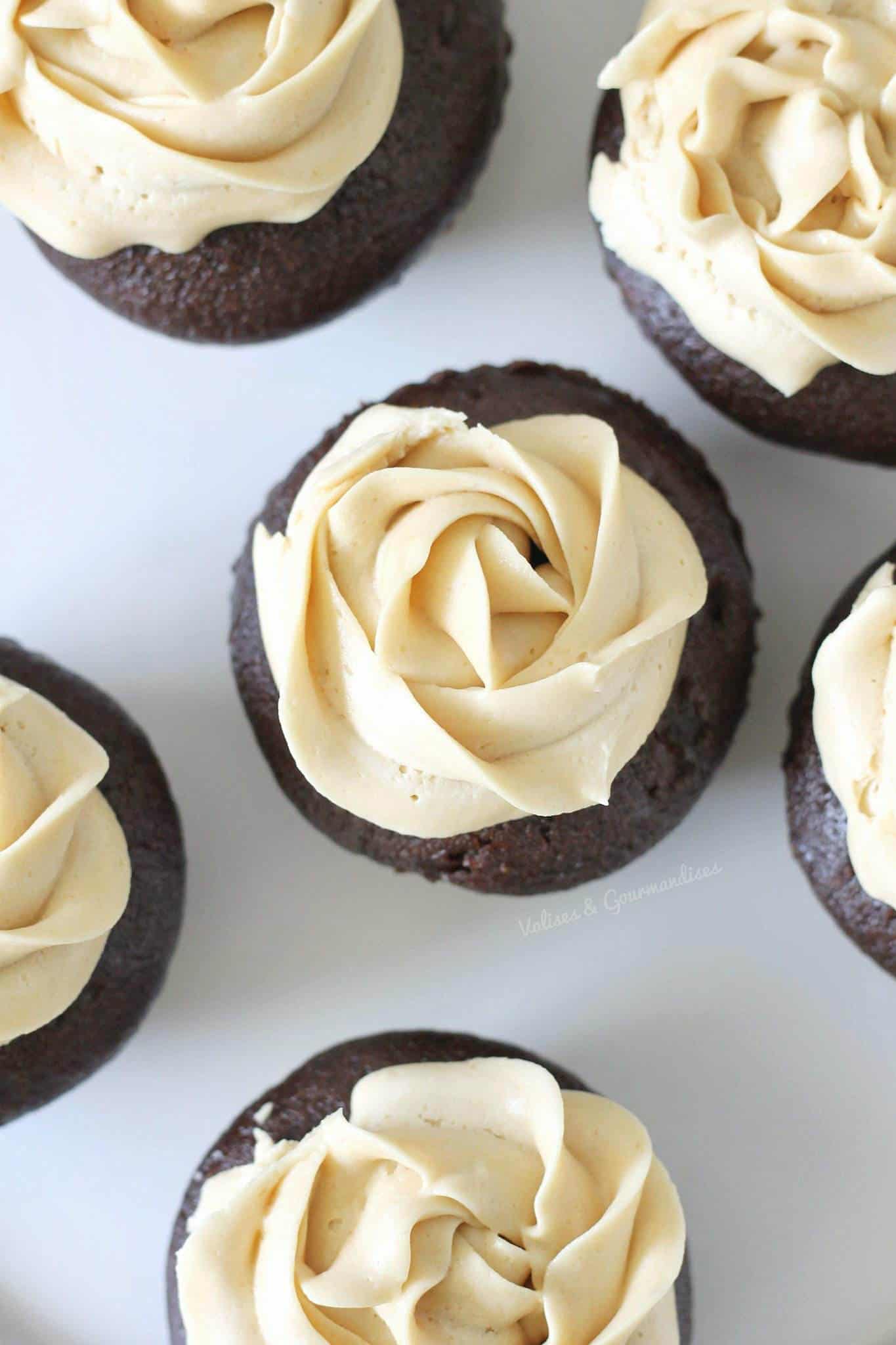 They're super easy to make (I feel like I say that in every post, but I do genuinely only share easy recipes!). You just need to make the cupcakes first and let them cool completely before frosting. And since I'm a huge fan of everything peanut butter & chocolate, it felt like the natural choice. I thought of adding crushed peanuts on top, but I didn't have any on hand. But feel free to add some or even a nice caramel drizzle? #hellosnickerscupcakes
Piping the frosting can be intimidating, but luckily YouTube's there to show you how to do it like a pro! I used a reusable piping bag with the 2D tip from Wilton to make those beautiful rosettes. I try to avoid single-use objects as much as possible and disposable bags are just too wasteful when you think about it. Plus, the reusable ones are a breeze to wash. You'll notice that I also ditched the paper liners. I very rarely use them, only whenever I find a particularly cute pattern. Otherwise, I use my silicon cupcake liners. *Non-sponsored ads in the form of affiliate links; I will earn a small commission with each purchase, which helps me keep the blog alive and thriving :)
Related recipes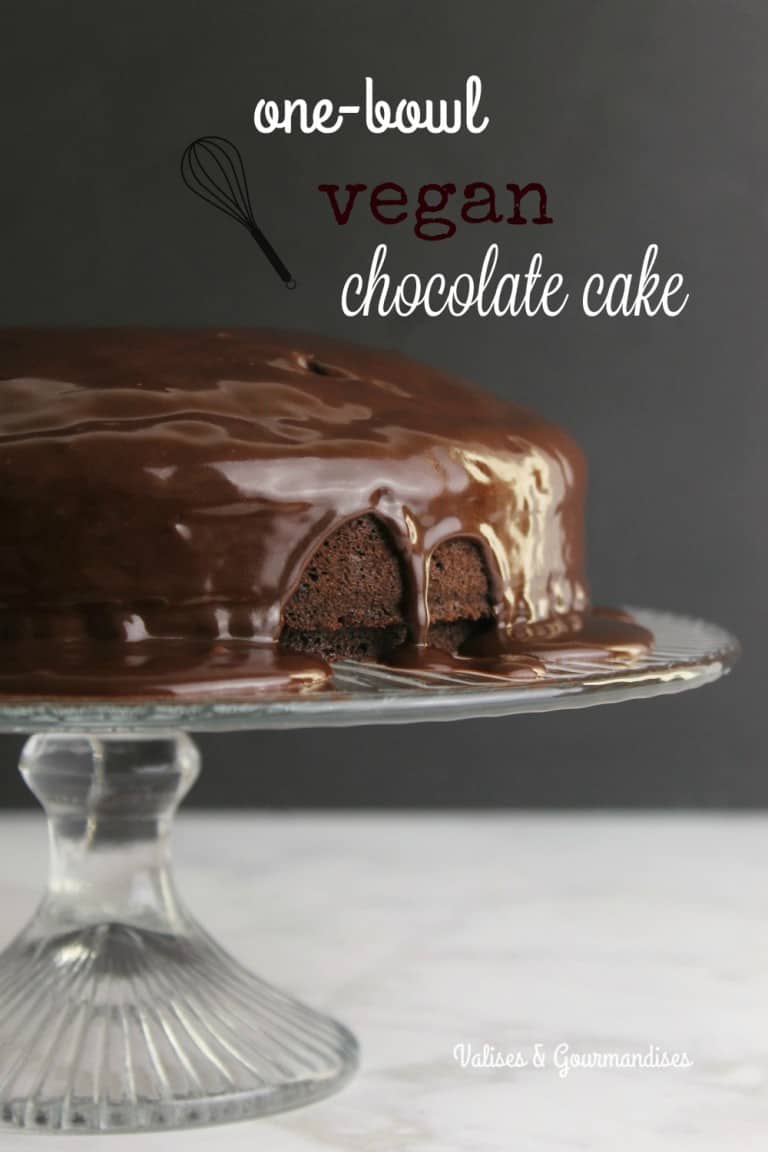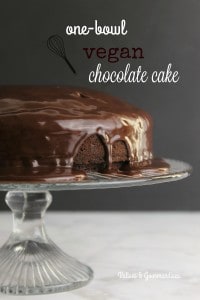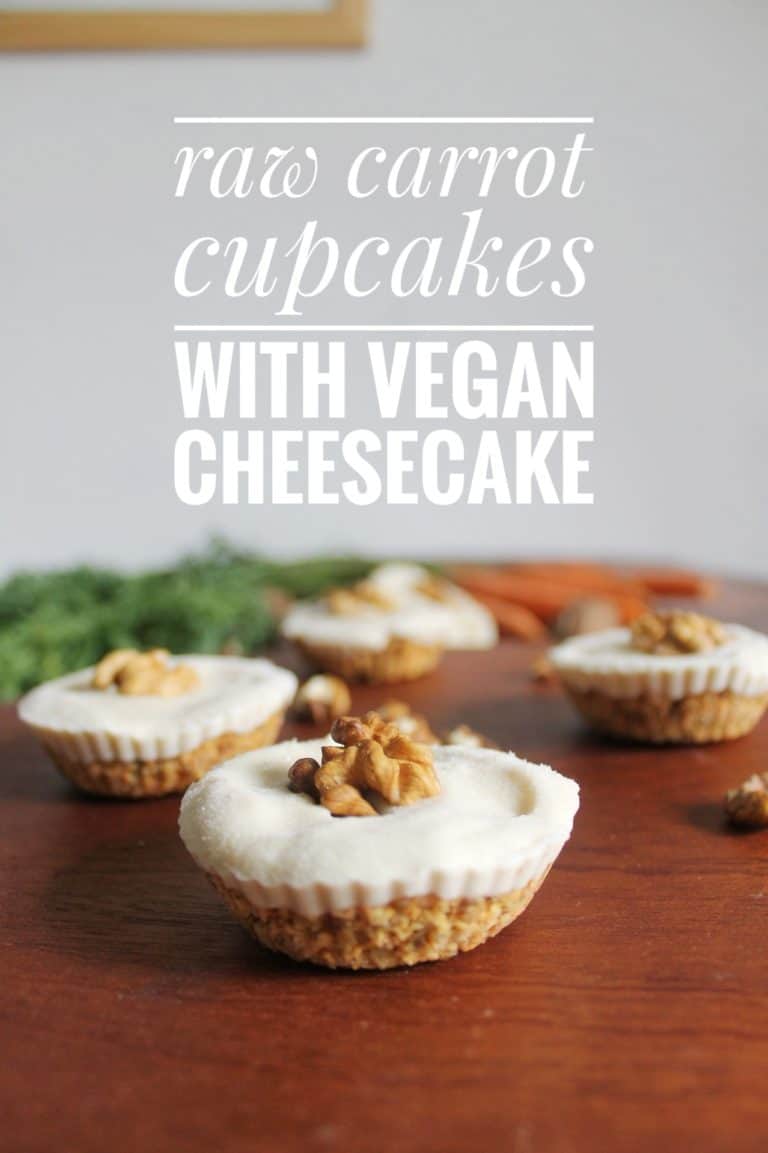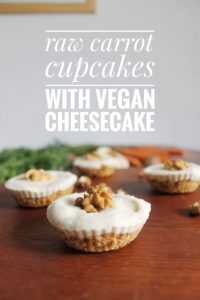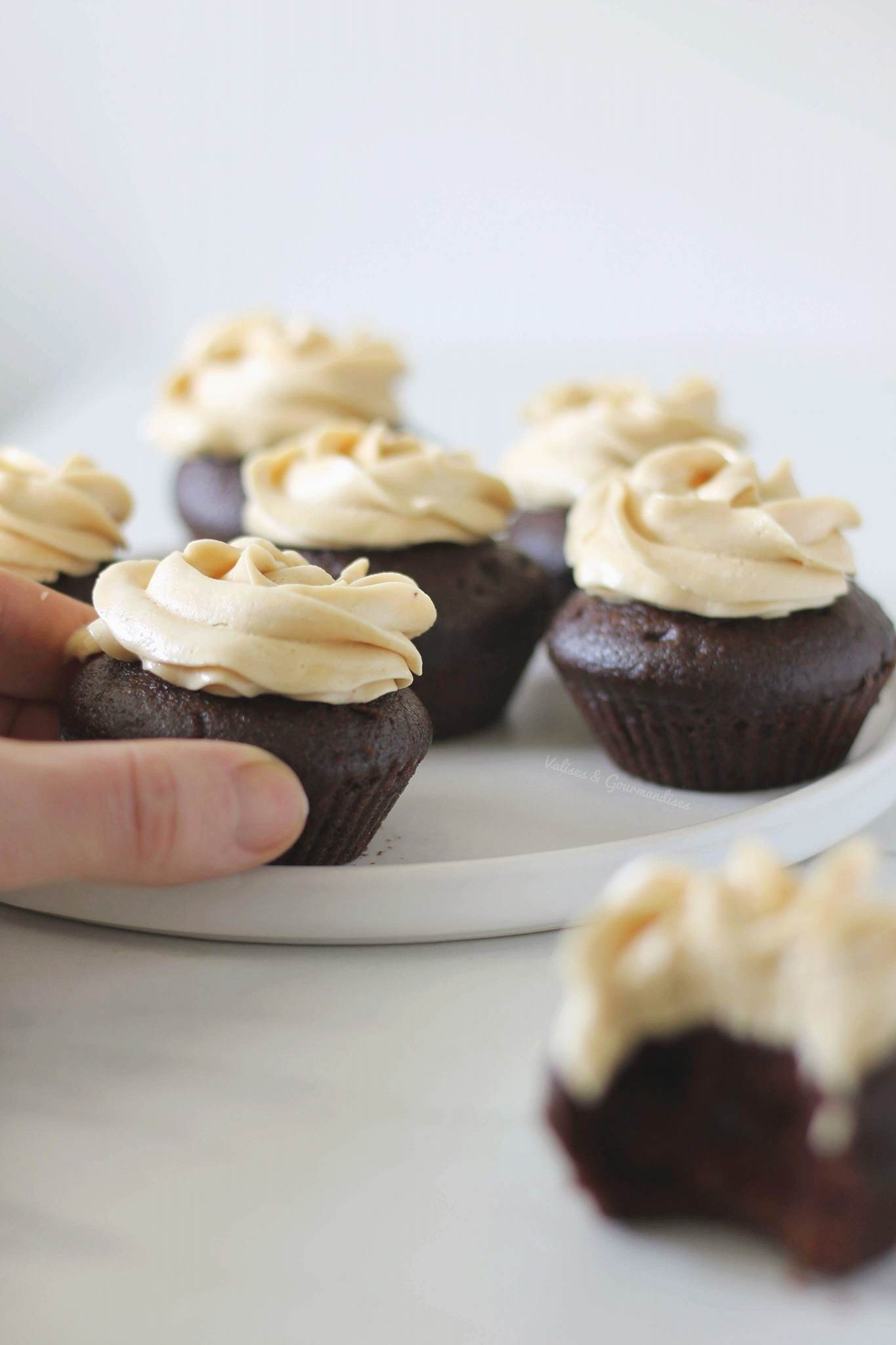 If you try this recipe, make sure to snap a picture and share it on Instagram or Facebook using the hashtag #valisesetgourmandises. I wanna see your creations! And don't forget to leave a comment below :)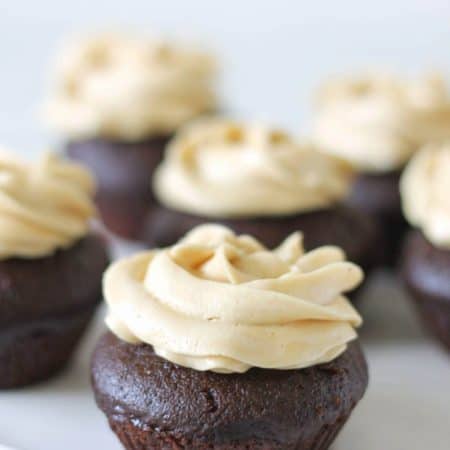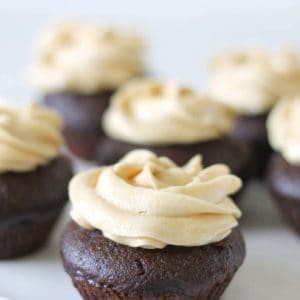 One-bowl vegan chocolate cupcakes with a peanut butter frosting
These one-bowl vegan chocolate cupcakes are ready in no time and are scrumptious frosted with vegan peanut butter buttercream!
Ingredients
1

cup

organic unbleached all-purpose flour

½

cup

organic whole wheat flour

¾ to 1

cup

organic raw sugar

¼

cup

organic cacao powder

1

teaspoon

baking soda

¼

teaspoon

sea salt

1

cup

warm coffee

or water, or room temperature plant-based milk

⅓

cup

organic canola oil

or other vegetable oil of your choice, or even applesauce!

1

teaspoon

vinegar

white or apple cider

1

teaspoon

pure vanilla extract
Instructions
Preheat the oven to 350F(180C). Line a muffin tin with 12 silicone molds.

Sift all your dry ingredients together into a large mixing bowl. Add your wet ingredients, mix well to combine. The batter will be fairly runny but shouldn't be too liquid.

Pour the batter into the muffin molds. Bake in the oven for about 20 minutes. The cupcakes are ready when a toothpick inserted in the middle comes out clean.

Remove from the oven and let cool a little before removing from the pan. Let cool completely on a rack before removing from the silicone molds and frosting.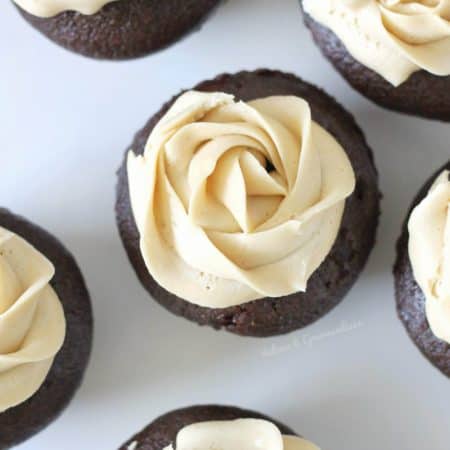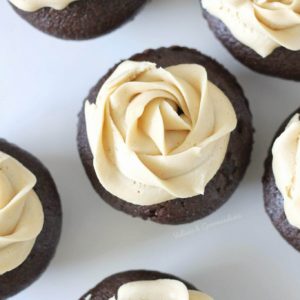 Vegan peanut butter frosting
This vegan peanut butter buttercream is delicious on chocolate cupcakes, or even in homemade oreos!
Ingredients
1

cup

organic vegan butter

room temperature

1/2

organic peanut butter *see notes

2

cups

organic icing sugar
Instructions
In a large bowl, using a hand mixer, whisk the soft butter with the peanut for a couple of minute until well combined and the colour goes slightly lighter.

Add the powder sugar 1/2 cup at a time and incorporate well.

Transfer to a reusable piping bag equipped with a piping tip. Pipe onto the cool cupcakes in a circular motion, starting in the middle.
Notes
*The natural peanut butter I get in Germany is very runny. You want to achieve a thick but smooth melt-in-your-mouth texture. If your PB is very thick, you could also add a bit of plant milk. Keep in mind that it will harden in the fridge.
*This icing will melt if left at room temperature. You could add more sugar to make it stiffer. I don't like it too sweet, so I make sure not to wait to long before I eat it.
*YouTube videos are great to learn how to pipe frosting like a pro!
*You will most likely have leftover buttercream. Use it to make homemade oreos!
**This article may contain non-sponsored ads in the form of affiliate links, which means that I will receive a small commission if you purchase a product through them. The price remains the same for you, but this way you are helping me maintaining the blog and providing you more interesting content! :)