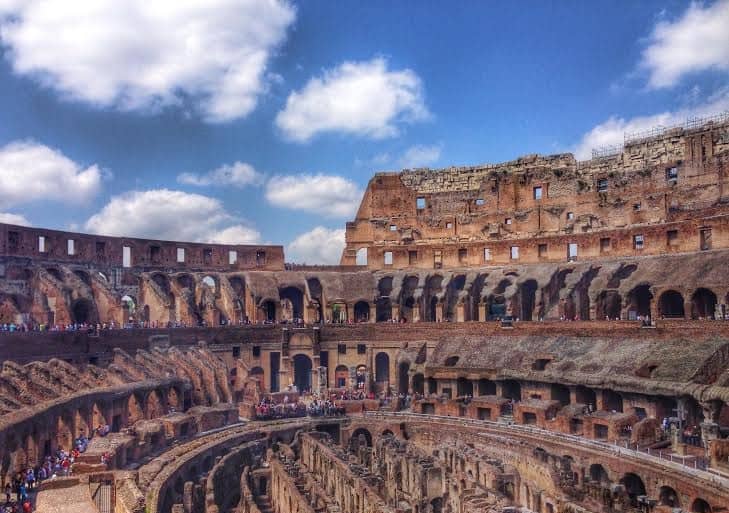 Italy has always been on the top of my to-see list. The sights, the people and the food seem to win over everyone that steps foot in the country. Especially the food. When we decided to travel before moving to Germany, my dream country seemed like the appropriate kick-off to our journey.
It didn't take very long for me to fall head over heels for Rome. Walking in its colourful streets in a tropical heat with the warm yet refreshing sea breeze, attempting to speak Italian with a few locals, and savouring a gelato was pretty much all it took.

We spent a total of two weeks in Italy. Travelling only by bus and train, we planned our itinerary accordingly: 3 days in Rome, 5 days in Tuscany, 4 days in Florence and 2 days in Venice.
There are so many things to see in the capital, even more than you can imagine. To get started, we purchased a Roma Pass for 95 euros. It gives 3-day access to all the major attractions, such as the Coliseum and the Vatican City, and best of all, the pass lets you skip the waiting lines. That's a relief because I lack the patience to stand in line for two hours under the burning sun.
The scorching heat of Italy is no fairy tale. Luckily plenty of fountains are scattered throughout the city, so you can keep your water bottles and refill them as you go. I don't think we could have survived without them…
Where was I? Oh yeah, the metro and bus transportation are also included in the Roma pass, plus unlimited access to the double-deck touring busses. Trust me, it's worth every penny.
But don't just stick to what's included in the pass, as you would be missing out on a lot of other great spots. Here are my highlights of our stay in Rome.
Piazza Navona
My favorite piazza in the city. It's so lively, with its beautiful restaurant terraces and many public entertainers. On our first day, we spent a long time there, just sitting by the fountain and watching people come and go, pinching ourselves to make sure that this wasn't a dream and that we were really in Rome.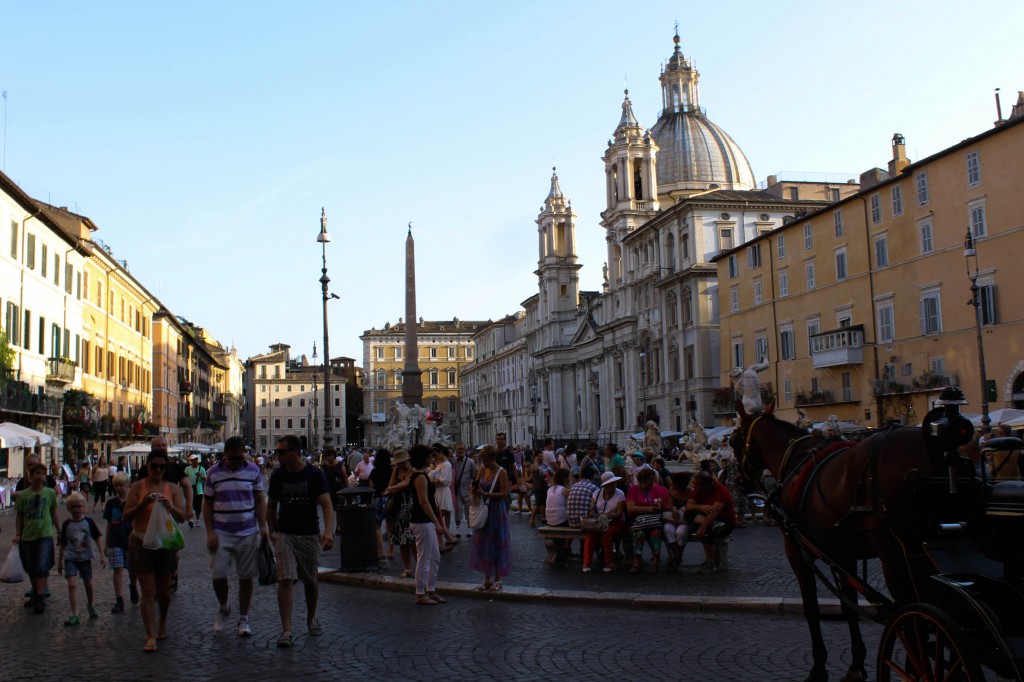 Pantheon
This 2000 year-old religious monument, restored a thousand years ago, is located in another pretty square called Piazza della Rotonda. To get there from Piazza Navona, we walked through (and got a bit lost) some very nice neighbourhoods lined up with restaurants and gelato stands and buzzing with tourists. Unfortunately, we arrived after the Pantheon's closing time, but from the pictures I've seen of the inside, it's worth a visit.
Vatican City – St-Peter's Basilica and Vatican museums
If you're short on time and need to choose between visiting the museums or the basilica, I personally recommend the latter.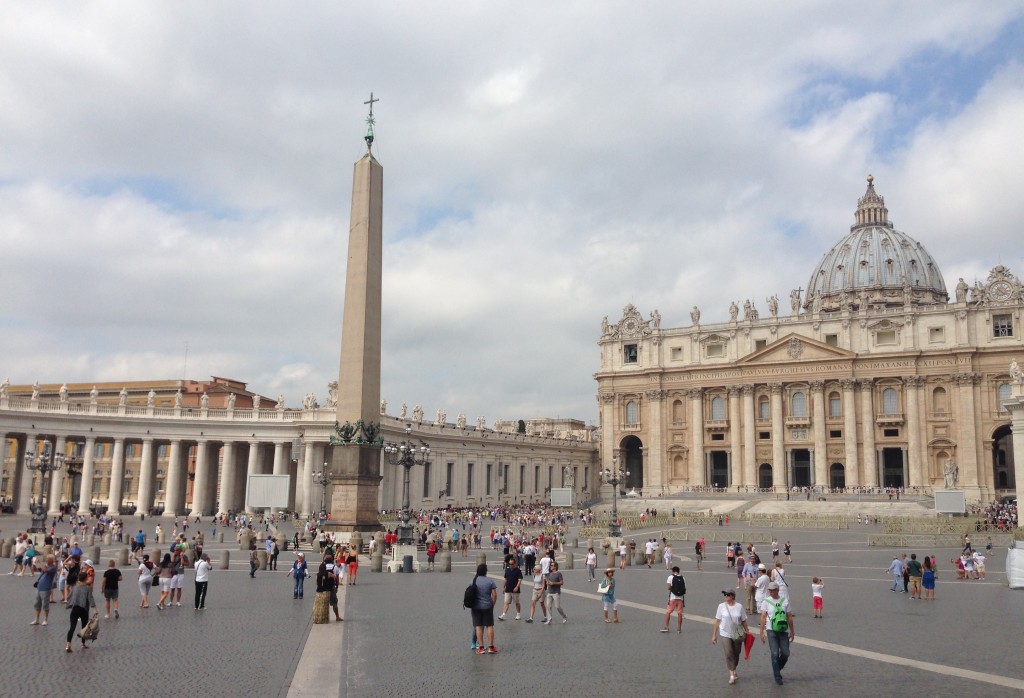 We spent about an hour marvelling at the interior of the Basilica San Pietro. And we thought the outside was impressive…
I'll just let the pictures do the talking.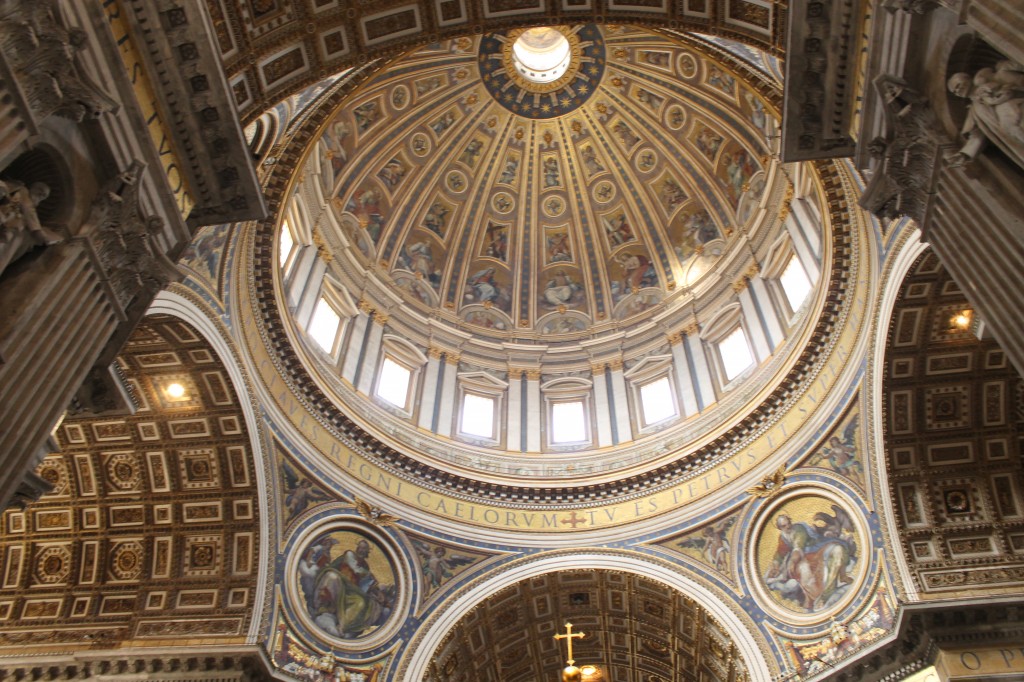 The Vatican museums, on the other hand, took about 3 hours (and remember, we skipped the line) because of the sizeable crowd. They looked more like a castle than religious museums, what with the extreme opulence and all, reminiscent of Versailles actually. If you're really into castles and museums, don't miss it. I particularly enjoyed the cartography room, where old maps and cartographic paintings are on display.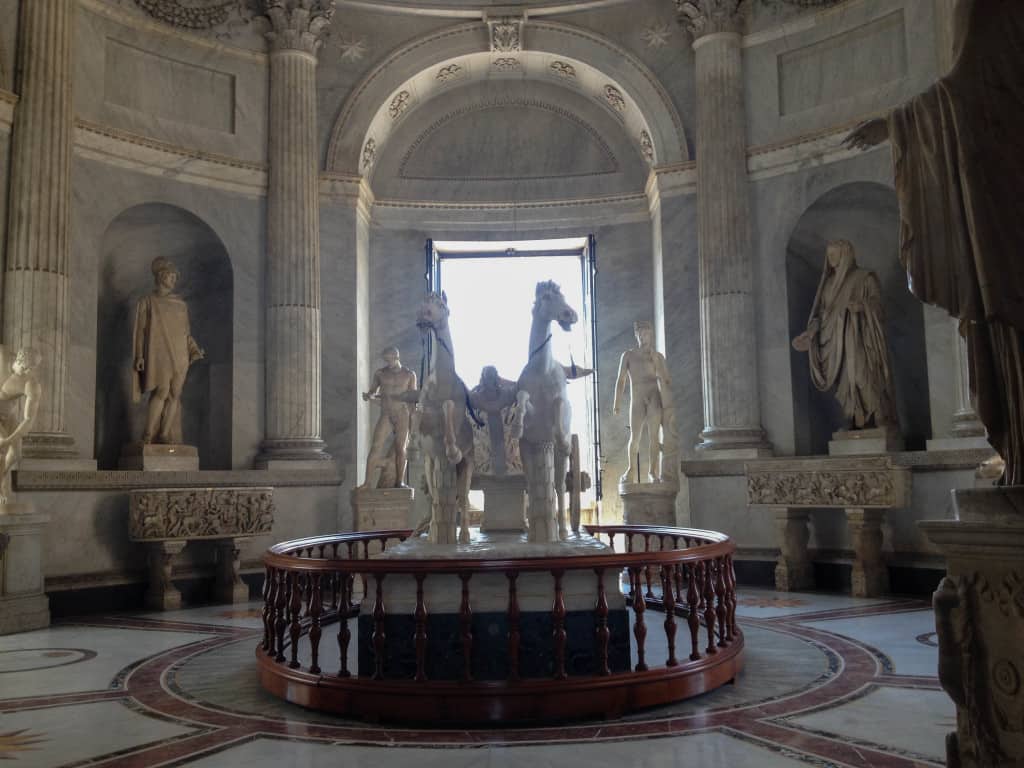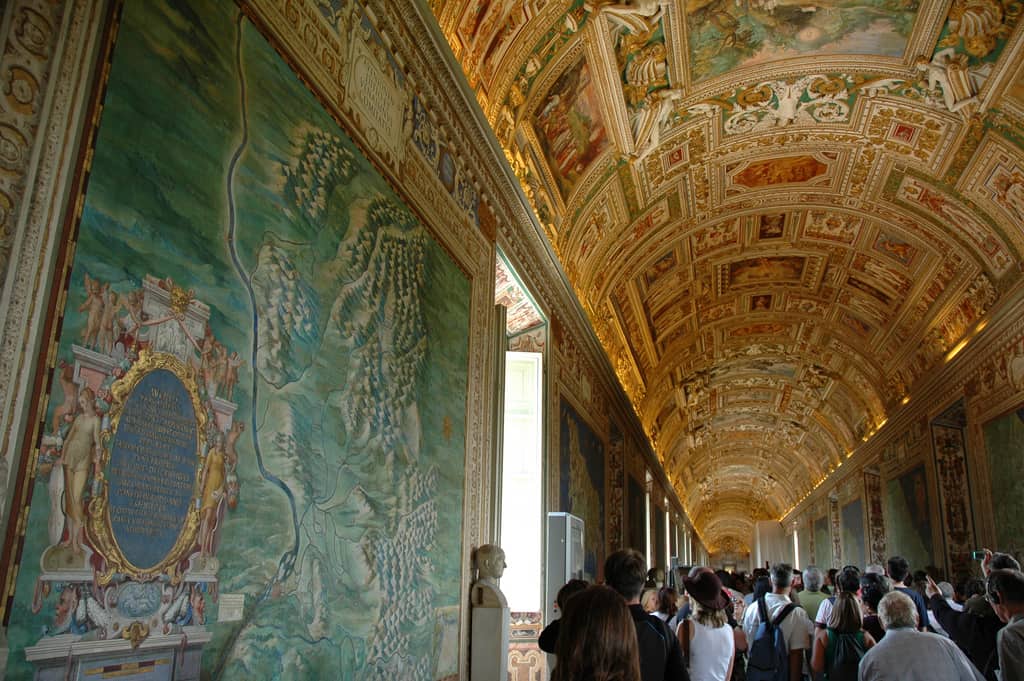 I was excited to see the Sistine Chapel, which ended up being one big room filled with too many people and rude security guards pushing everyone towards the exit. Nice.
Colosseum
You can't go to Rome and not visit the Colosseum. It's like making a grilled-cheese sandwich and forgetting to put the cheese. We even watched The Gladiator a week before we left, to put ourselves in the mood, and because I had never seen it before.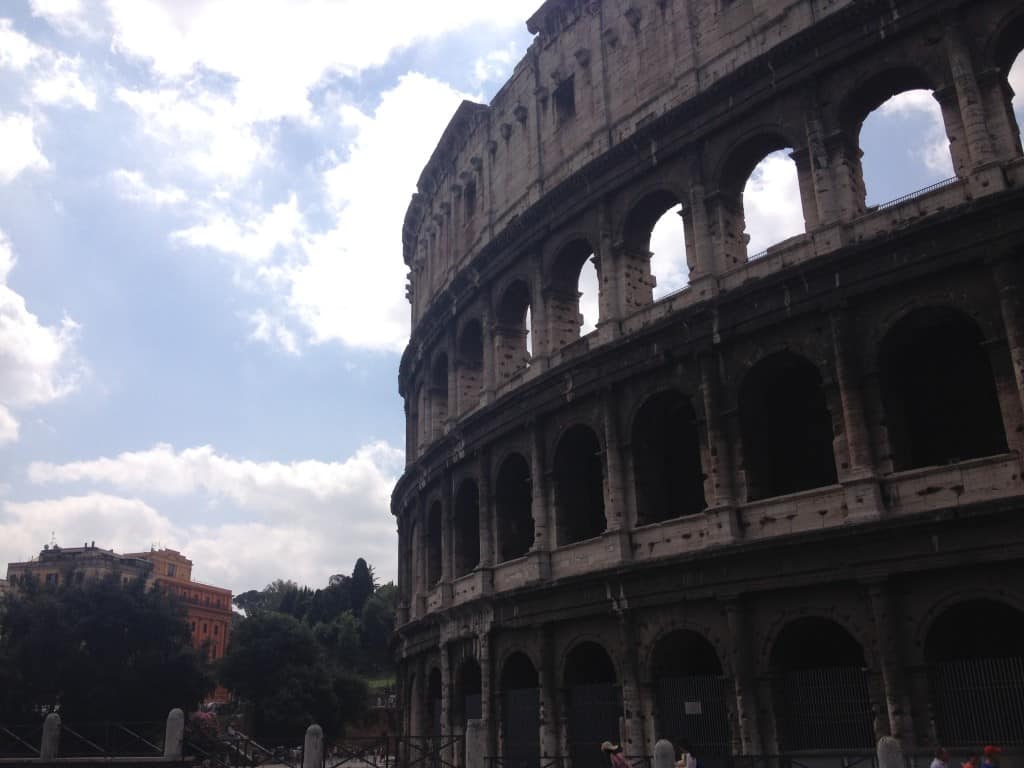 Once again, I was extremely grateful to whip out my Roma Pass and skip the line, VIP style.
It's an eerily special feeling, setting foot inside such an ancient and history-filled monument, knowing that countless souls perished here for mere entertainment.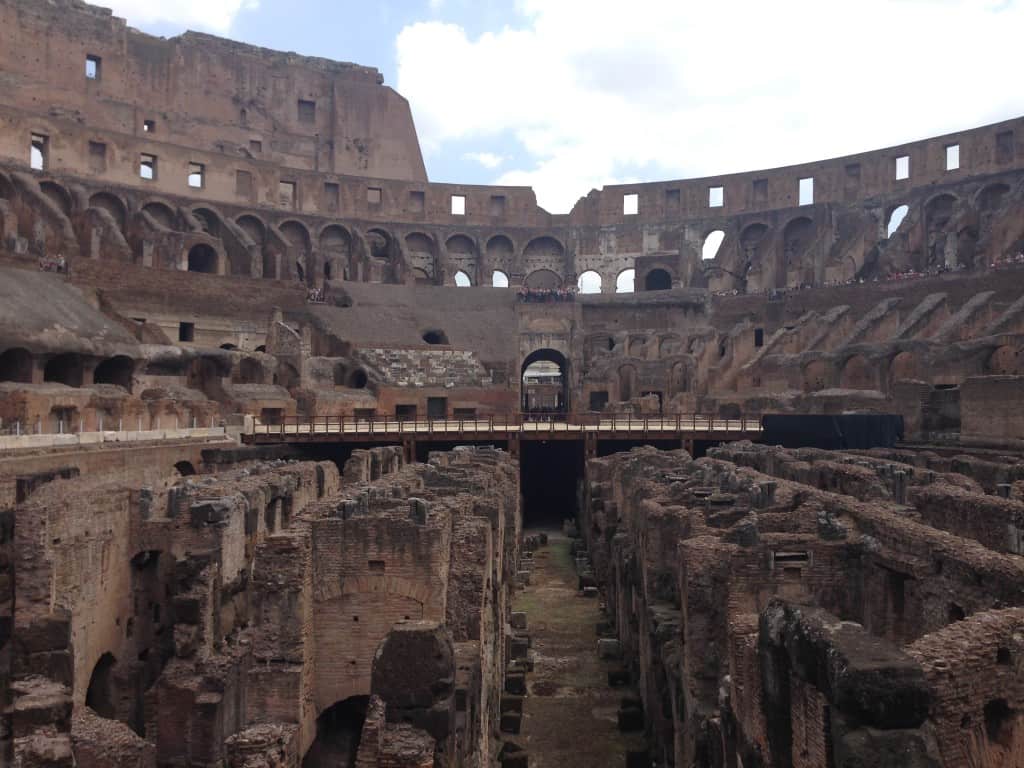 The Colosseo was built about 2000 years ago and was used during five centuries as a theater for gladiator fights, hunting and re-enactment of naval battles. It also hosted all sorts of exotic creatures, like crocodiles and lions.
Since the glory days, it's been partly demolished. Apparently, some pieces were stolen and used as construction material, and the huge earthquake didn't help either. Bad karma I guess.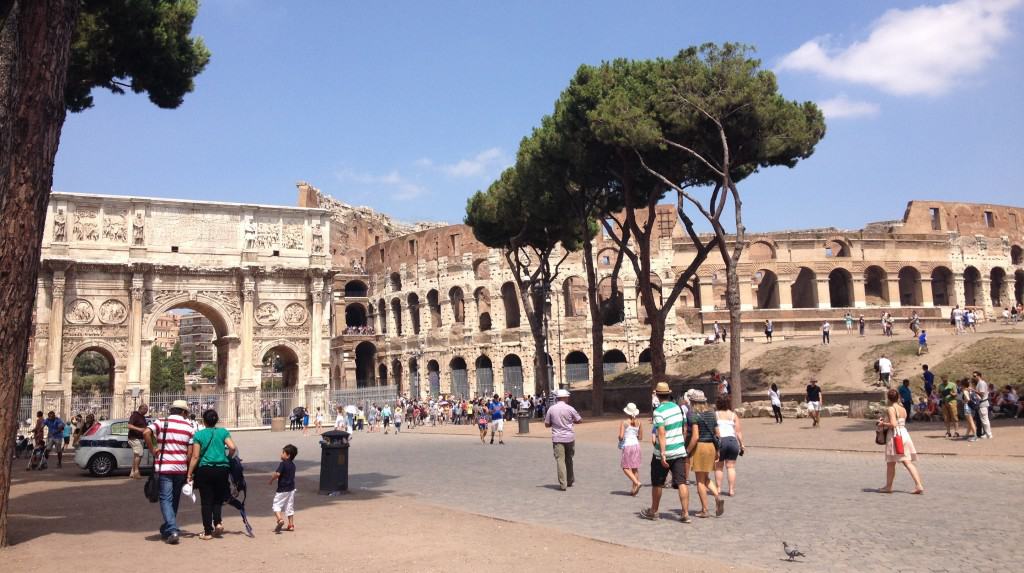 Rome's ruins
I'd seen Facebook pictures of friends visiting ruins while in Rome. I actually thought they were on daytrips or something, and never imagined those ruins were right inside the city.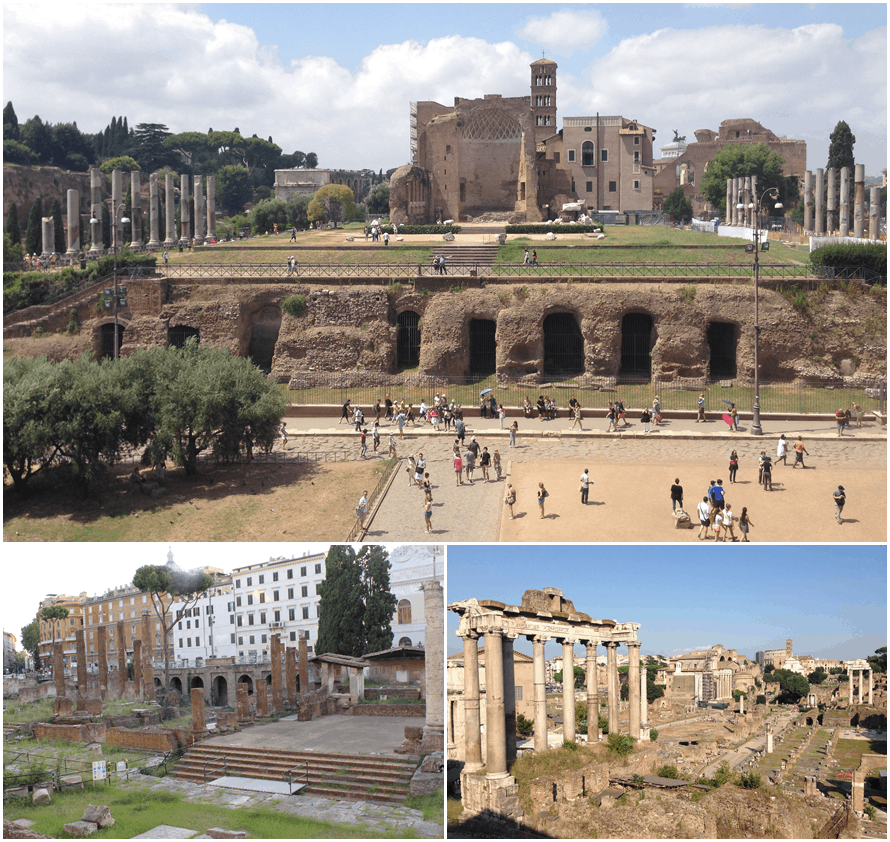 Martin found them rather boring, but I was fascinated by the fact that these ruins date back to a few centuries BC.
National Monument to Victor Emmanuel II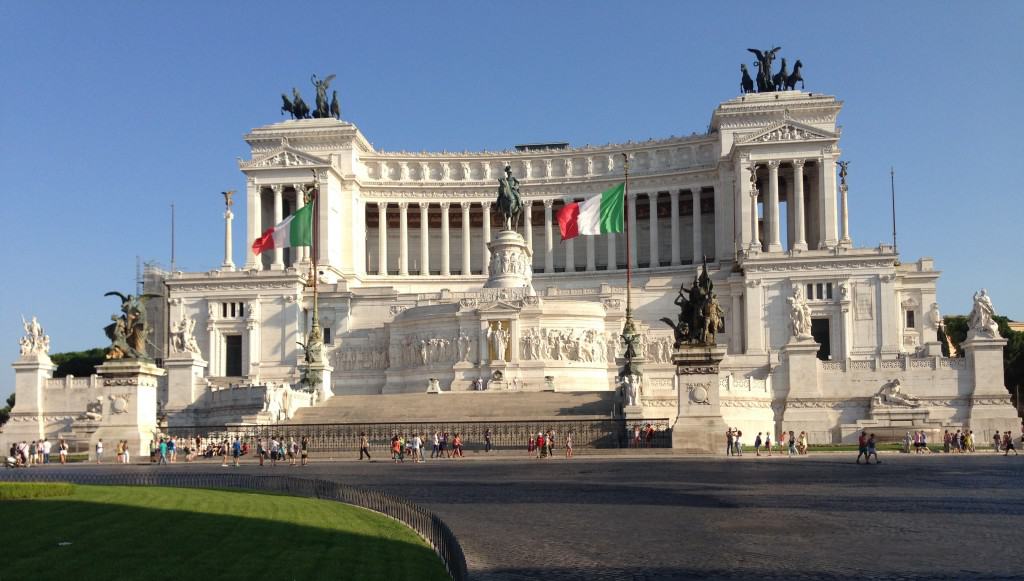 Overlooking Piazza Venezia, this marble monument was designed in the late 19th century to commemorate the first king of a united Italy. The country as we know it today is quite young and Rome only became its official capital in 1871.
Trastavere neighbourhood
Don't miss out on Trastavere, a vibrant neighbourhood of Rome. No big tourist attractions here, just pretty streets with cute artisanal shops and terraces and a great vibe.

In a small place called Pizzarius, near Piazza S. Maria, I tasted a mind-blowing pizza, with fresh mozzarella di buffala, fresh cherry tomatoes, fresh basil and tons of pesto. The guy made it right before our eyes. Good thing there was a window pane to keep his work safe from our excessive drooling.
And Martin got a small pizza and a beer for only €6. Italians sure know his sweet spots!

One afternoon in Trastevere wasn't enough, so we took our Airbnb flatmates from Barcelona there the next day and spent the afternoon walking around, drinking Italian beer, eating pizza, comparing our cultures and getting to know each other. Oh and eating gelato, because no day in Rome, or anywhere in Italy for that matter, is complete without gelato!

Speaking of which, I may have eaten the best gelato of all time in this award-winning gelateria! It took forever to choose my flavours, but I finally settled on pistachio, my eternal favorite, and Nutella. Can't go wrong with Nutella. Edit: I no longer support Nutella since discovering they contribute to deforestation in Indonesia by buying massive amounts of paml oil!
The Trevi Foutain and Spanish Steps…
Is all of Europe under construction right now? Because we've been really unlucky, especially with fountains. The great fountain of the Château de Versailles was out of order when we were there last year. This time, I looked forward to seeing the famous Fontana di Trevi, only to find it under extensive renovation. I'll have to come back someday to make my wish!

In a rich and fancy part of town, full of expensive shops like Gucci, Prada and Chanel, another disappointment soon followed: the Spanish Steps were also under repair. I would have loved to see the real thing.
Hurry up people and visit Europe before it falls to pieces!
Il Pincio, or the best panorama in town
After our unsuccessful encounter with the Spanish Steps, we headed to the Pincio, said to offer a stunning panoramic view of the city . I have a soft spot for sunsets and this location was particularly romantic. We were a bit early though, so meanwhile we just wandered in the endless gardens.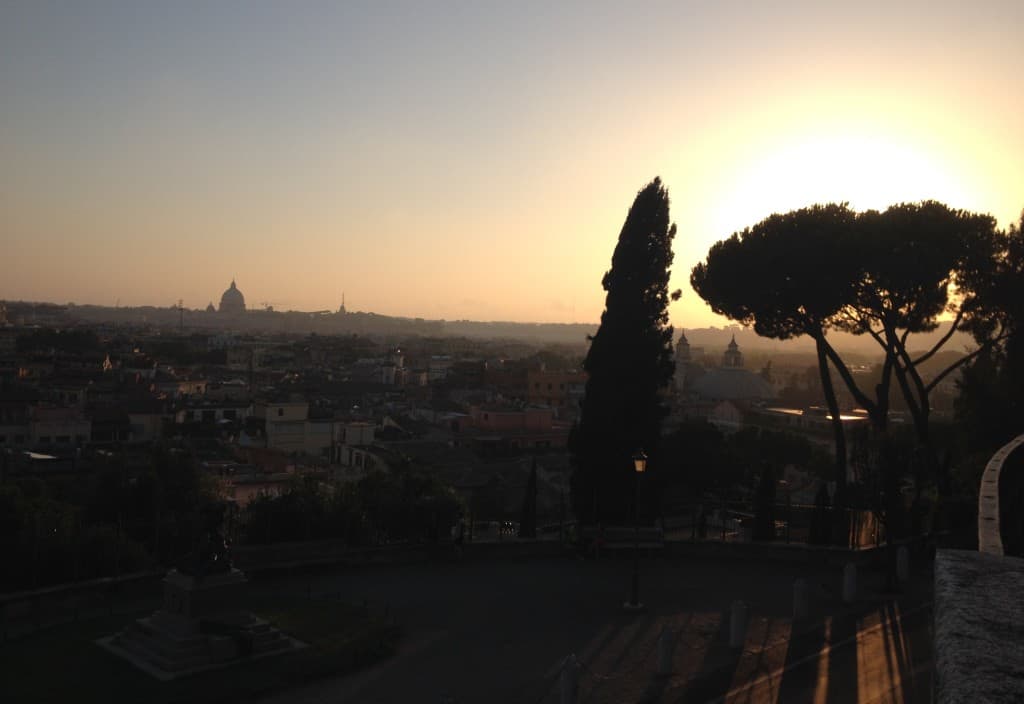 When in Rome, eat as the Romans do
I've saved the best for last: food!
I already mentioned the pizza and the gelato, but treating yourself to a meal of fresh pasta with wine is also mandatory when in Rome.
If you look around a bit, you can find delicious meals without breaking the bank.
Looks tasty, doesn't it? That, my friends, is fresh ricotta and spinach ravioli with a creamy tomato sauce, topped with fresh basil and mozzarella di buffala and a glass of Chianti wine.
Here's another one for you: fresh ricotta ravioli with a rich creamy truffle sauce and, for good measure, a black truffle grated at the table.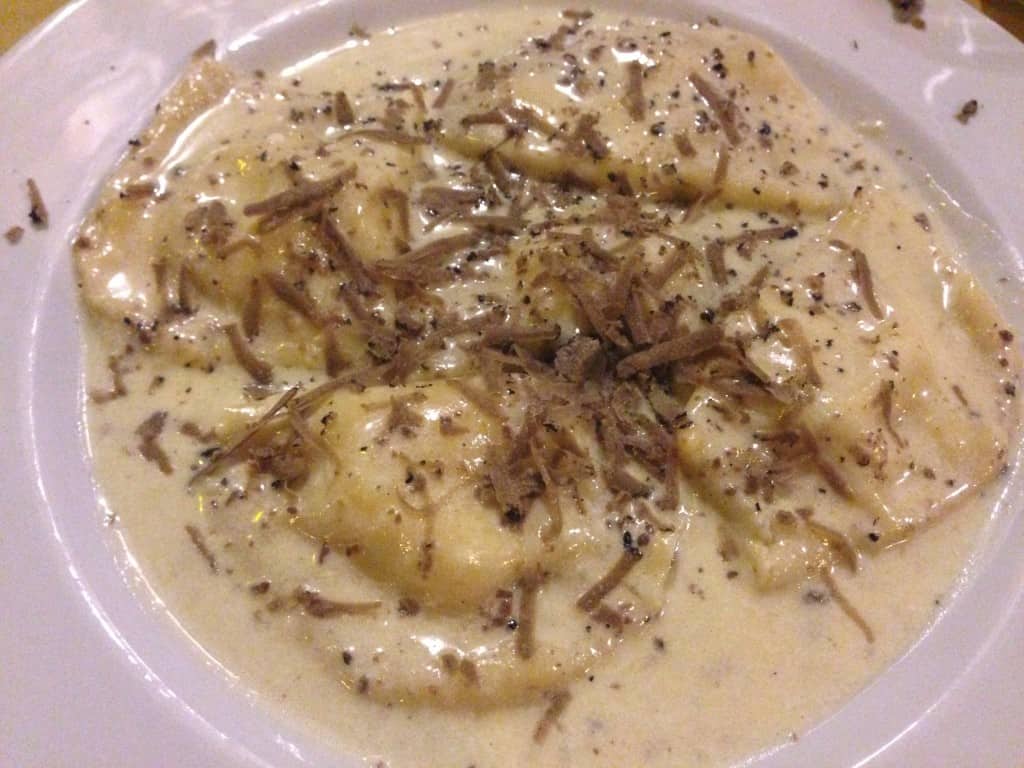 Jealous yet? It took every fiber of willpower that I have to refrain from licking the sauce off the plate.
I must say, it feels like I've overused the word "fresh" during this post, but I can't say it enough: the freshness and the quality of the ingredients are what make Italian cuisine so mind-bogglingly tasty.
Arrivederci Roma!
Needless to say, our three days in Rome just flew by, but we were comforted that more great food and sight-seeing awaited us in Tuscany, Florence and Venice.
What's YOUR favorite spot in Rome?