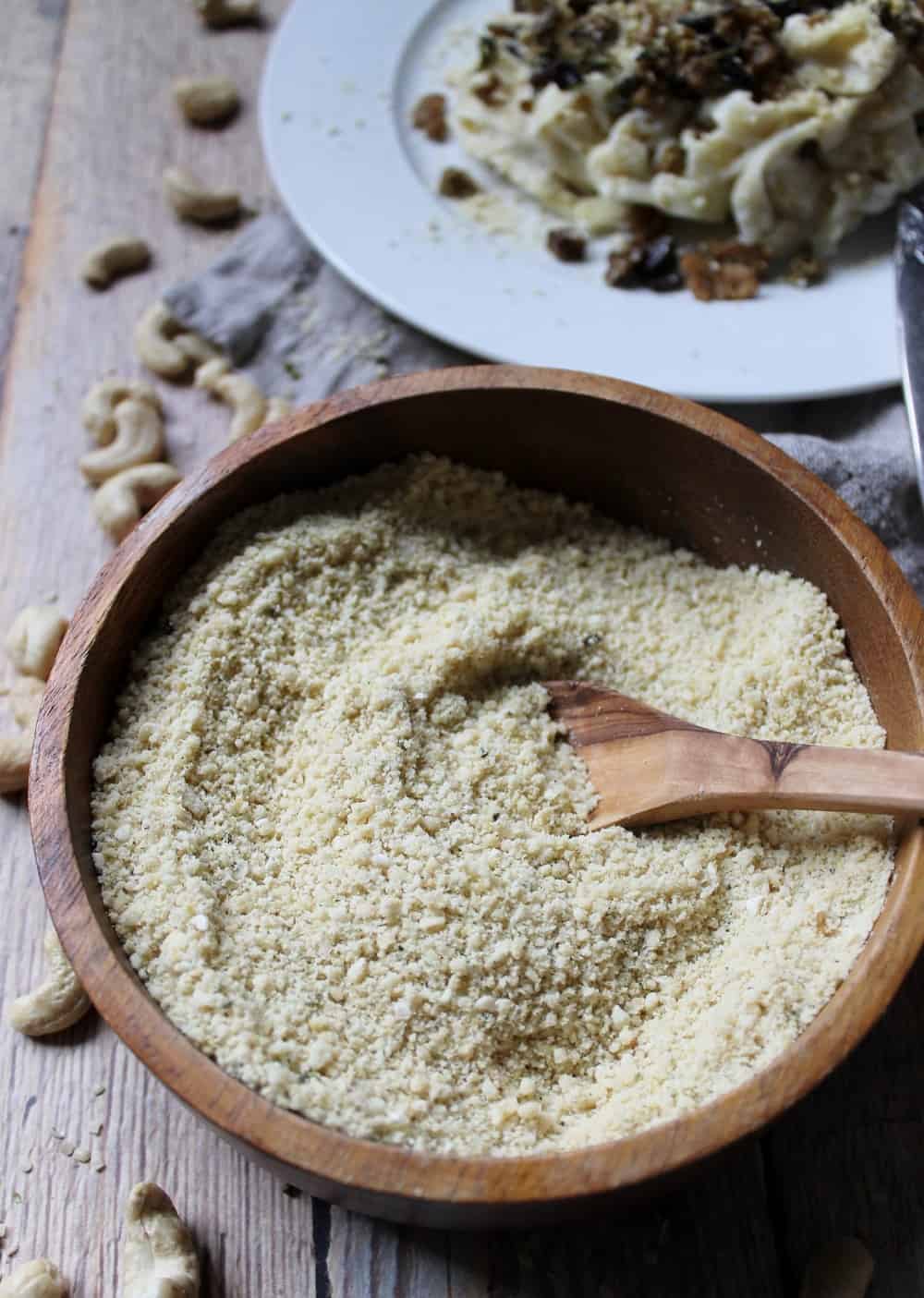 How many people go vegan because they actually don't like meat and cheese? Not that many, trust me. They're both delicious, let's face it. I ate my share in the past and truly enjoyed it, but it's time to move on and find healthier and more compassionate alternatives.
A key aspect when transitioning towards a wholefoods plant-based diet is to accept that you'll probably never find something that tastes exactly like that cheese you love, but to try and find substitutes that will both satisfy nostalgia and tickle your taste buds in a whole new way. I'm not a big fan of processed vegan junk food, which is why I prefer making my own with fresh organic ingredients.
Let's compare dairy parmesan with my nut version, using 28g servings, which is about 2 tablespoons.
DAIRY PARMESAN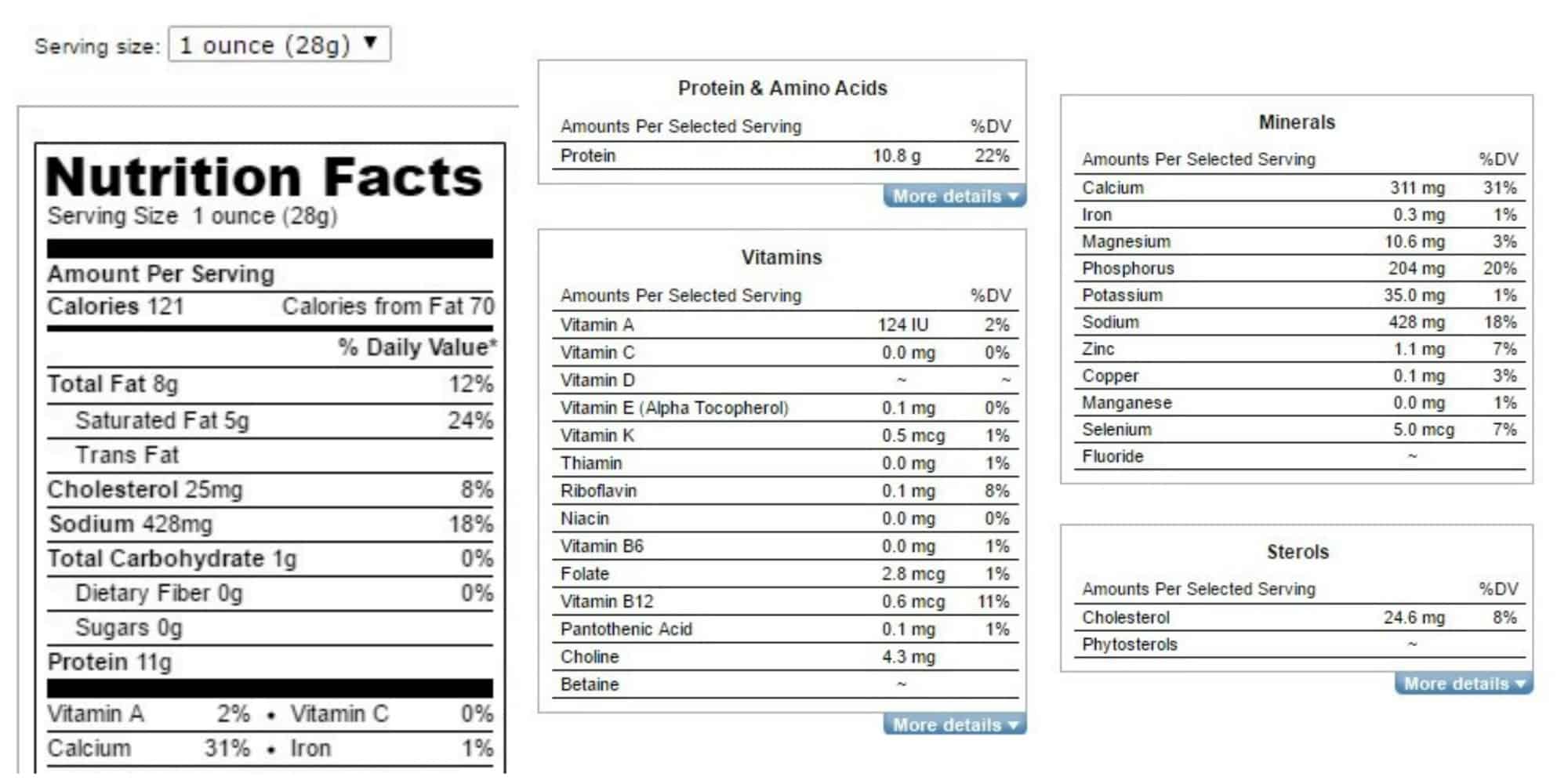 RAW CASHEWS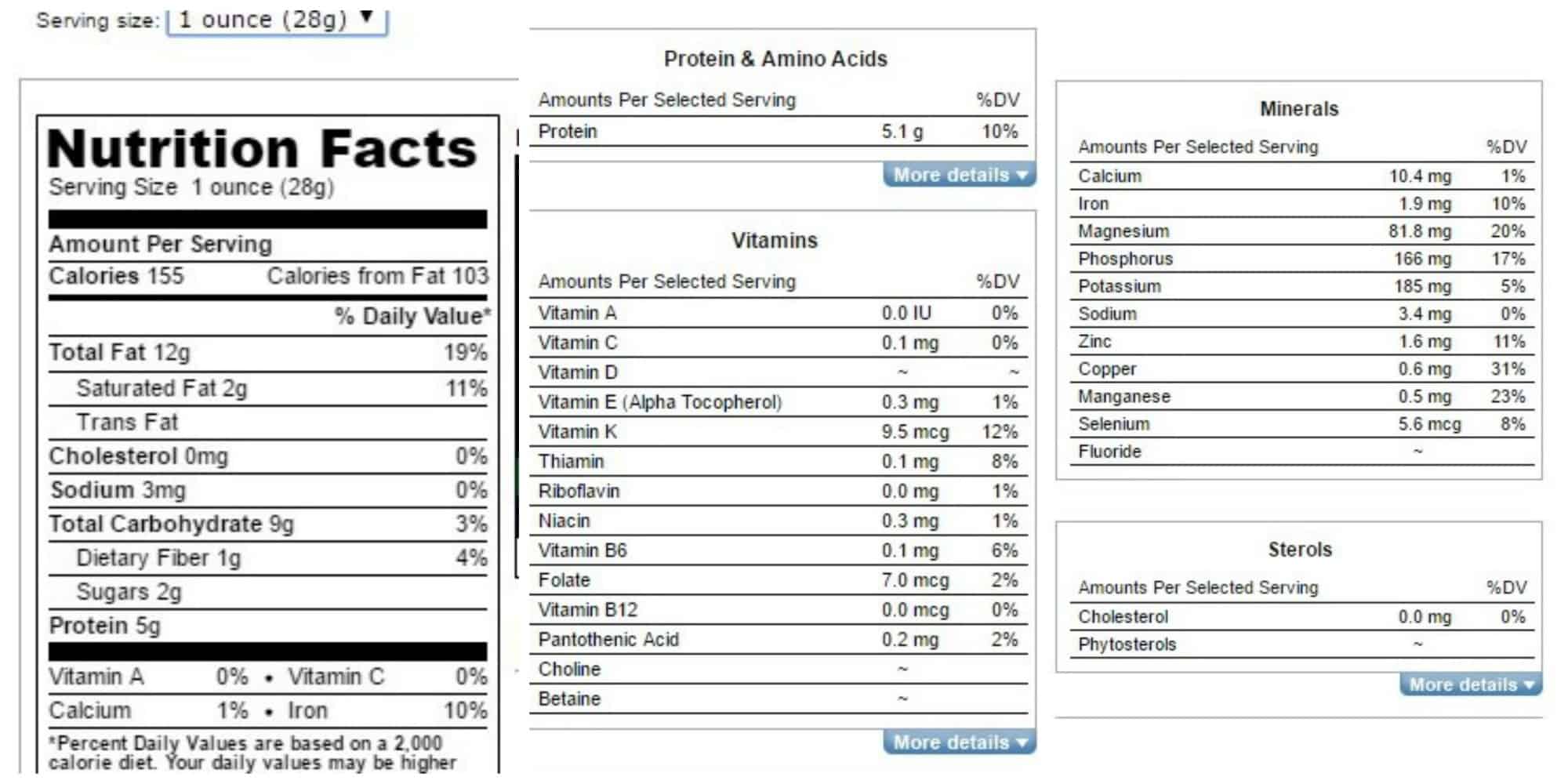 Surprisingly, the cashew parmesan contains a little bit more calories than its dairy counterpart BUT, it contains zero cholesterol, half the saturated fat and actual nutrients such as vitamin K, iron, magnesium, phosphorus, zinc, copper, manganese… By adding one single tablespoon of nutritional yeast to the recipe, you're also adding 5g of fiber, 8g of good-quality protein and lots and lots of B vitamins (here shown as thiamin, riboflavin, niacin, folate, b6 and b12). That's for an entire jar though, so it ends up being divided into about 10 portions. Feel free to add as much nutritional yeast as your heart desires, it will only contribute to the cheesy taste!
By making your own parmesan you also have control over your sodium intake. With 4 grams of sodium a serving, dairy parmesan is easy to beat. The one and only downside I see with my version is that it's not local (because of the cashew nuts), but no animals were harmed in the process and I doubt you'll go through an entire jar every week anyway!
Sprinkle it on pasta, on salads, in risottos or in any recipe out there calling for regular parmesan!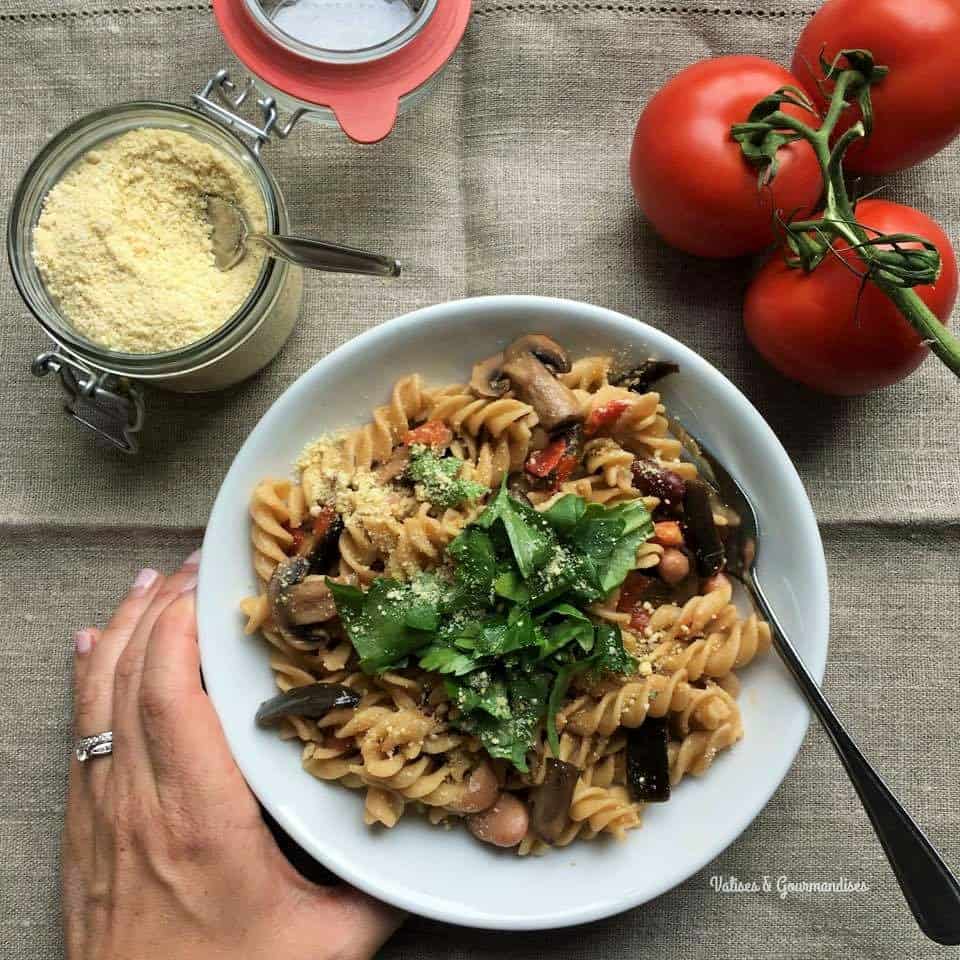 If you try this recipe, make sure to snap a picture and share it on Instagram or Facebook using the hashtag #valisesetgourmandises. I wanna see your creations! :)
This recipe is also available in my brand new free eBook, Vegan Easy, which is available for my newsletter's subscribers! Click here to sign up and receive your copy.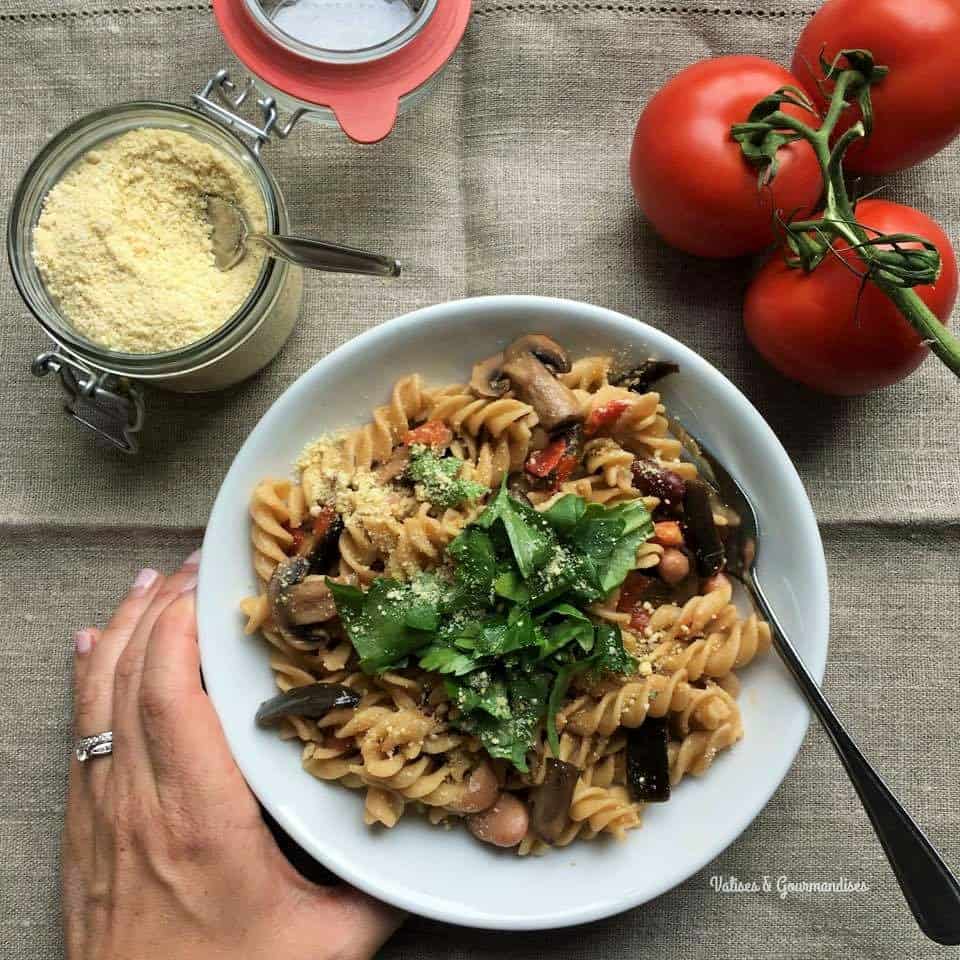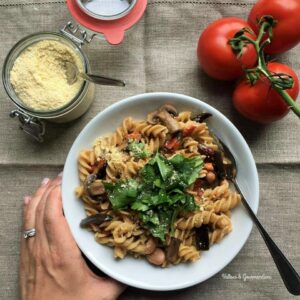 Raw cashew parmesan – High in b12!
This vegan parmesan is a delicious and b12-rich alternative to dairy! Sprinkle it on pasta, salads, in risottos or any recipe calling for regular parmesan!
Instructions
Throw all the ingredients into a

blender

or food processor and pulse a few times to obtain a coarse meal resembling parmesan.

Store in the fridge in an air-tight container.
Notes
For a nut-free version, substitute roasted sesame seeds for the cashews.
**This article may contain affiliate links, which means that I will receive a small commission if you purchase a product through them. The price remains the same for you, but this way you are helping me maintaining the blog and providing you more interesting content! :)