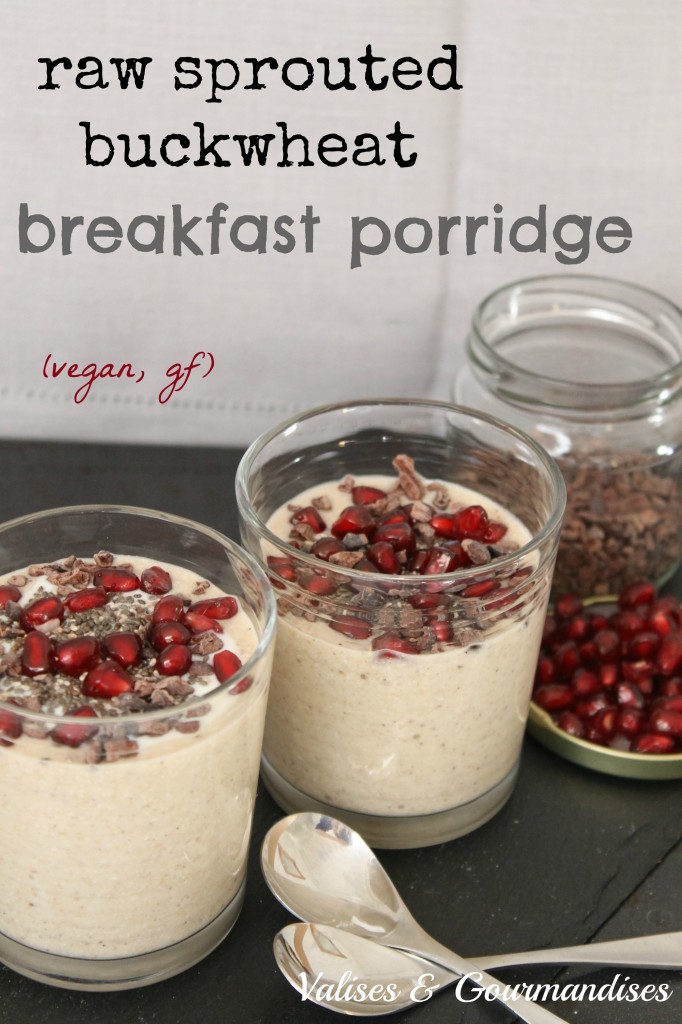 If you're new to the world of sprouting, or buckwheat for that matter, you're probably wondering "what the heck is this recipe about?" Well, despite the fancy name it's actually one of the simplest breakfast recipes there is.
Don't be fooled by how easy it is, it packs an impressive array of nutrients to kick start your day and keep you full until lunch. Aaaand it's delicious.
So what makes a simple porridge such a nutrition champion? Here's what:
Buckwheat: This ancient crop, domesticated in Asia some 3000 years ago, has nothing to do with wheat confusingly enough. Although it's used as such, it's neither a grain nor a cereal, but actually a seed, which makes it ideal for those on a grain or gluten-free diet.
It's a complete protein, it's low in fat, high in calcium as well as both soluble and insoluble dietary fiber, and an excellent source of antioxidants, which means it helps digestion, regulates blood-sugar and is beneficial for your heart and brain's health.
It can be used raw, soaked, sprouted, cooked, grinded as a flour, and so on. You can find it in bulk stores or the health section of your grocery store and you should definitely add it to your next shopping list! I'll be posting more recipes involving it soon :)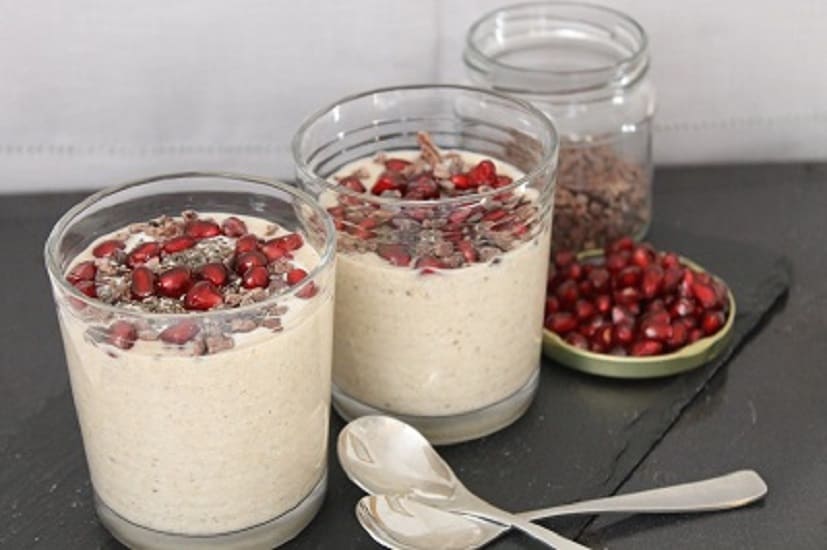 Why sprouted buckwheat: If you've never sprouted anything, buckwheat is the perfect way to get started, as it's very simple and doesn't require any special equipment. It becomes packed with live enzymes and vital nutrients when sprouted, only good stuff. Sprouting also boosts the antioxidant content of food, making it a super food promoting global health and even preventing wrinkles! So, whatcha waiting for? Get sprouting!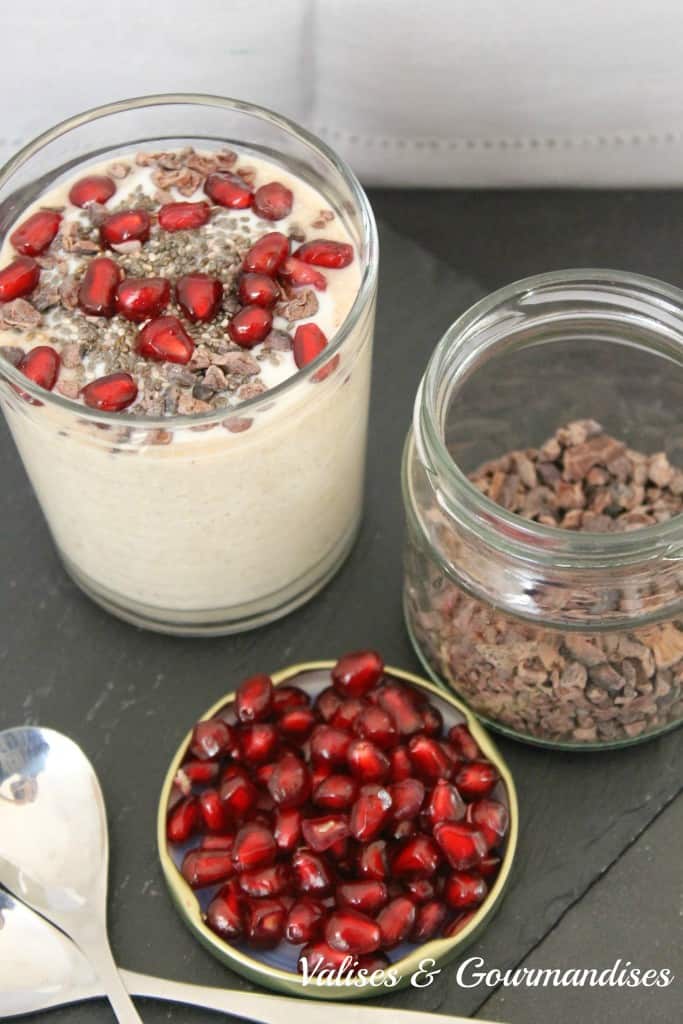 Raw cacao nibs: Not to be confused with chocolate chips, cacao nibs are roasted beans made into raw chocolate. They contain a healthy dose of dietary fiber for improved digestion, polyphenols serving as antioxidants protecting the heart and brain arteries, as well as iron, magnesium and a plethora of other nutritional compounds. Don't know where to find it? Try your local health food stores or order it online. You could also put a teaspoon or two of pure cacao powder to the blender, but you won't get the crunchy quality of the nibs.
Pomegranate: One of the most antioxidant-rich food you could put your hand (or tooth) on. The health benefit list of this superstar fruit is so long that I almost didn't make it to the bottom. In short: they're good for your heart, they lower your cholesterol, improve your digestion, they may even help prevent cancer and boost your libido! Ladies, get your man some pomegranate.
They're worth every minute you spend trying to get those little red seeds out of the thick white skin. Tip #1: soaking the fruit into water may help loosen them up. Tip #2: do not wear a white shirt. I repeat, do not wear a white shirt.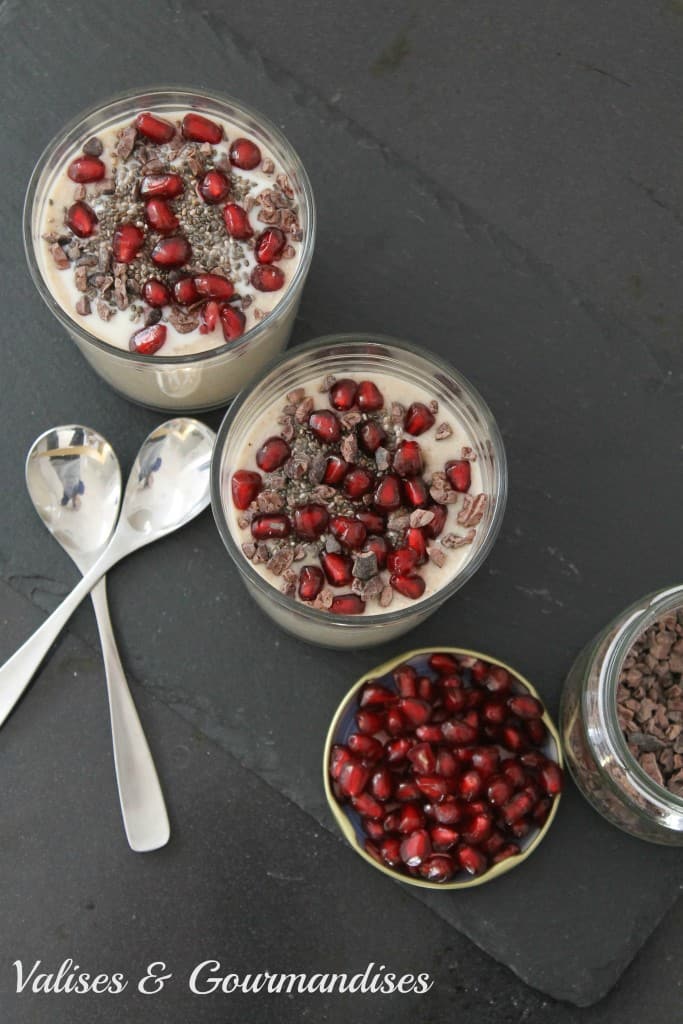 If you're interested in transitioning towards a plant-based diet, be it for the tremendous positive impact on your health, for the substantial environmental benefits or for animal-rights (I choose all of the above), starting with breakfast can be a good way to get you on track to optimal health.
There are countless recipes that can be prepared in only a few minutes before bedtime, stored in a jar and left in your fridge overnight and eaten on the go the next day. This porridge takes as long as making toasts, no kidding! Just try it and let me know what you think!
If you try this recipe, make sure to snap a picture and share it on Instagram or Facebook using the hashtag #valisesetgourmandises. I wanna see your creations! And don't forget to leave a comment below :)
Pin for later: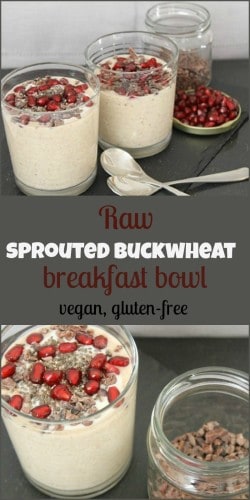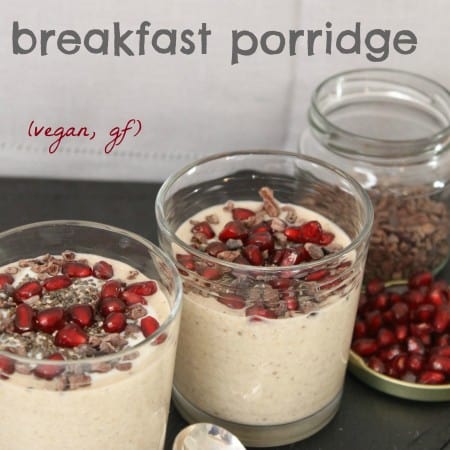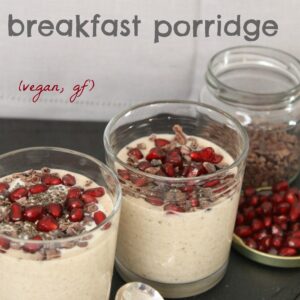 Raw Sprouted Buckwheat Breakfast Porridge with Pomegranate and Cacao Nibs
Boost your morning with this power bowl chockful of protein, fiber and antioxidants. Simply put some buckwheat to sprout before going to bed for a healthy breakfast ready in only a few minutes.
Ingredients
1

cup

sprouted organic buckwheat groats

2

small ripe organic bananas

½

cup

plant-based milk

I used plain organic oat milk

½

teaspoon

organic allspice

Favorite toppings

Plant-based yogurt

Seeds of half a grenade
Instructions
Start with one cup of dry buckwheat groats (you'll end up with at least enough sprouted groats for two days worth of breakfast or for four portions (then double the rest of the ingredients)). Soak in two cups of cold water for 15 minutes to an hour.

Drain in a fine mesh sieve and rinse well, the texture will be slimy but that's totally normal. Sit the sieve on a big bowl, cover with a clean towel and set aside.

The next morning, rinse them thoroughly. You should now have around two cups of sprouted groats (notice the little white tails poking out). If serving only two people (quantities of this recipe), scoop out one cup and put

in your blender

or food processor. Keep the rest for next morning: leave it aside, covered with the towel and rinse well before going to bed. Rinse again in the morning and follow the next steps.

Add bananas, oat milk and spices to the food processor and blend well. I like mine smooth, as buckwheat can have a grainy texture if not blended enough. Taste and adjust seasoning, I sometimes add vanilla and cinnamon.

Divide into two bowls and top with a spoonful of plant-based yogurt, chia seeds, pomegranate seeds and cacao nibs. If not sweet enough, you could top it with a little bit of maple syrup or, for an even healthier version add a softened pitted date to the blending step, but I never add any despite my sweet tooth.
 Similar recipes
**This article may contain a few affiliate links, which means that I will receive a small commission if you purchase a product through them. The price remains the same for you, but this way you are helping me maintaining the blog and providing you more interesting content! :)