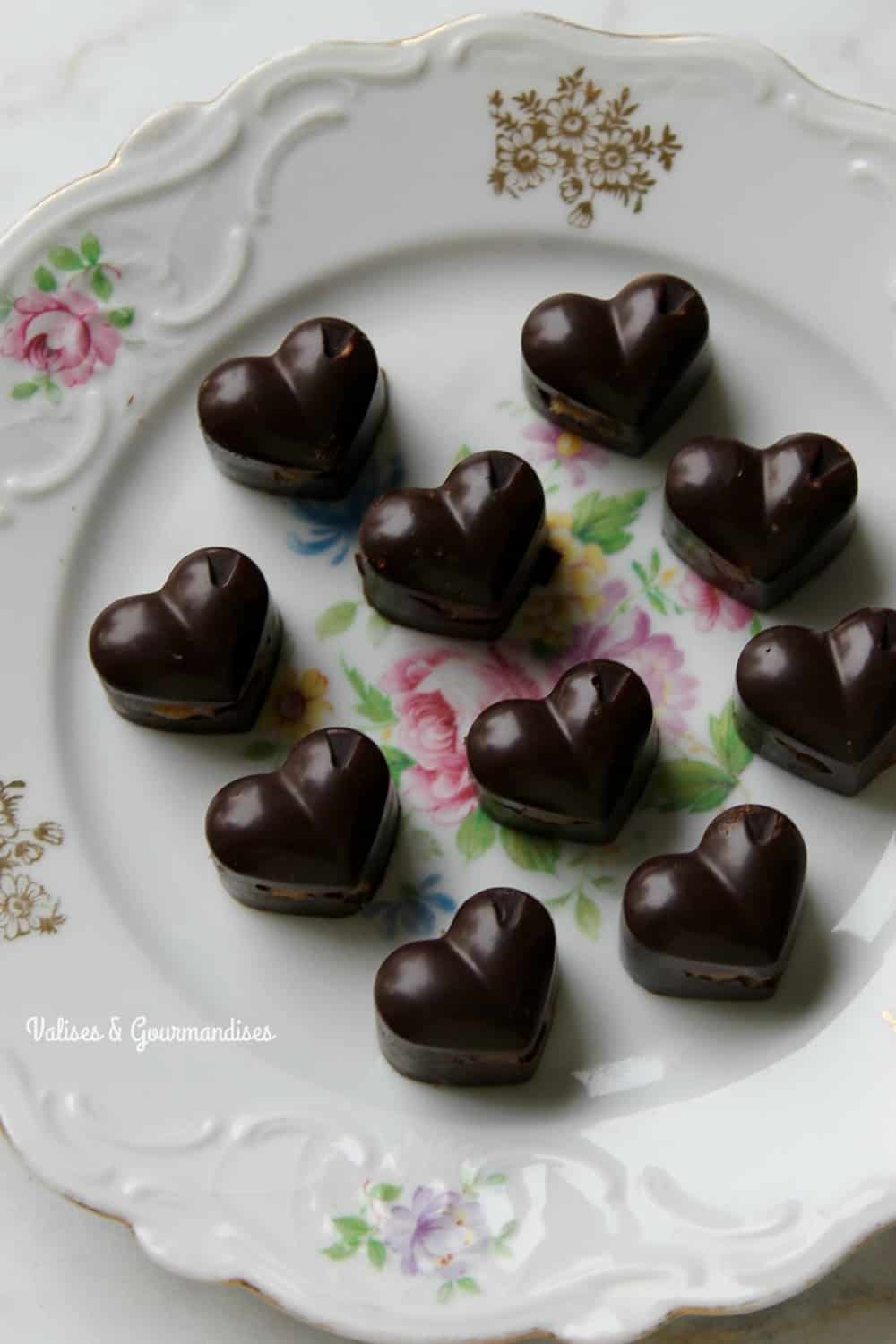 Valentine's Day is around the corner! But since we demonstrate our love for one another daily, Martin and I mostly seize the day to stuff our face with chocolate. Okay not Martin and I, just I… #chocolateaholic
This year will be our first VD as newlyweds! But we wont even be celebrating together because Martin has to go back to Sweden for work… again. But this time I get to go meet him there! I'll be in the Swedish capital from Wednesday to Sunday and I'm super excited about it!
By the way if you live in the province of Québec, don't forget to enter my giveaway for a $50 gift card at Café Frida, the first vegan restaurant in my hometown Trois-Rivières! The winner will be announced on the 14th :)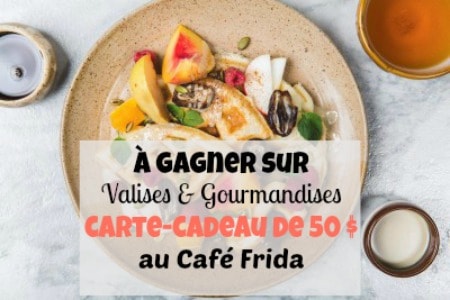 I made these chocolate pralines in advance so that we can enjoy them together over the weekend. And hey, they're no ordinary pralines. Of course they're not. They're vegan, of course, which isn't the easiest thing to find in the store. They are also stuffed with lucious salted tahini date caramel. This may sound complicated at first, but it's super easy to make and is well worth the time spent in the kitchen! I you want, you can even make your own tahini for this. You'll find the details in this very old DIY tahini post.

For the pralines, first you'll start by making the 3-ingredient caramel in the food processor. You can even make it ahead of time, but it only takes about 5 minutes. You'll then place about half in a piping bag and pop it in the fridge to harden a bit while you make the chocolate. You can use the other half on toast, pancakes, oatmeal… It tastes great!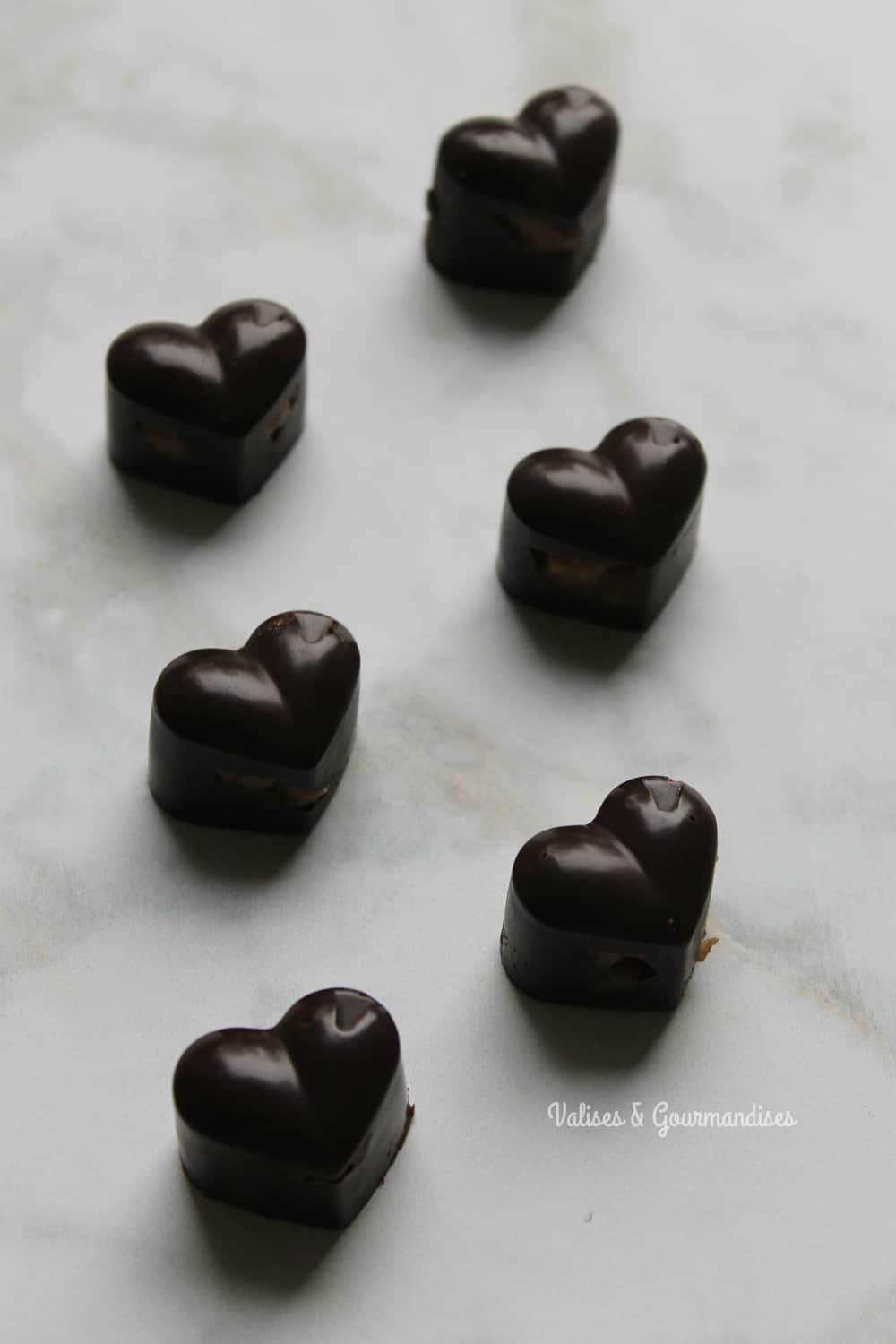 Making the chocolate is also super easy! You could simply use dairy-free dark chocolate if you don't feel like working with raw ingredients, which can be a bit more costly, but you shouldn't be intimidated by it. It was my first time making my own chocolate and it turned out great! You'll notice on the pictures that mine aren't sealed properly though and that the caramel is oozing through, but if you're a bit more careful than I was and pipe the caramel in the middle of the molds instead of a bit everywhere, yours should look better! Anyhow, no matter how they look, they'll taste awesome.
As for the molds, I used a silicon one I found in a store for only a few euros. It makes 15 little hearts and this recipe easily yields 30 hearts. Since you need to refrigerate the pralines for a few hours inside the molds, you should plan at least two sets of molds. I only had one and was making the chocolates just for ourselves, so I only made 15 hearts and then made 6 little Reese-shaped chocolates using silicon muffin cups.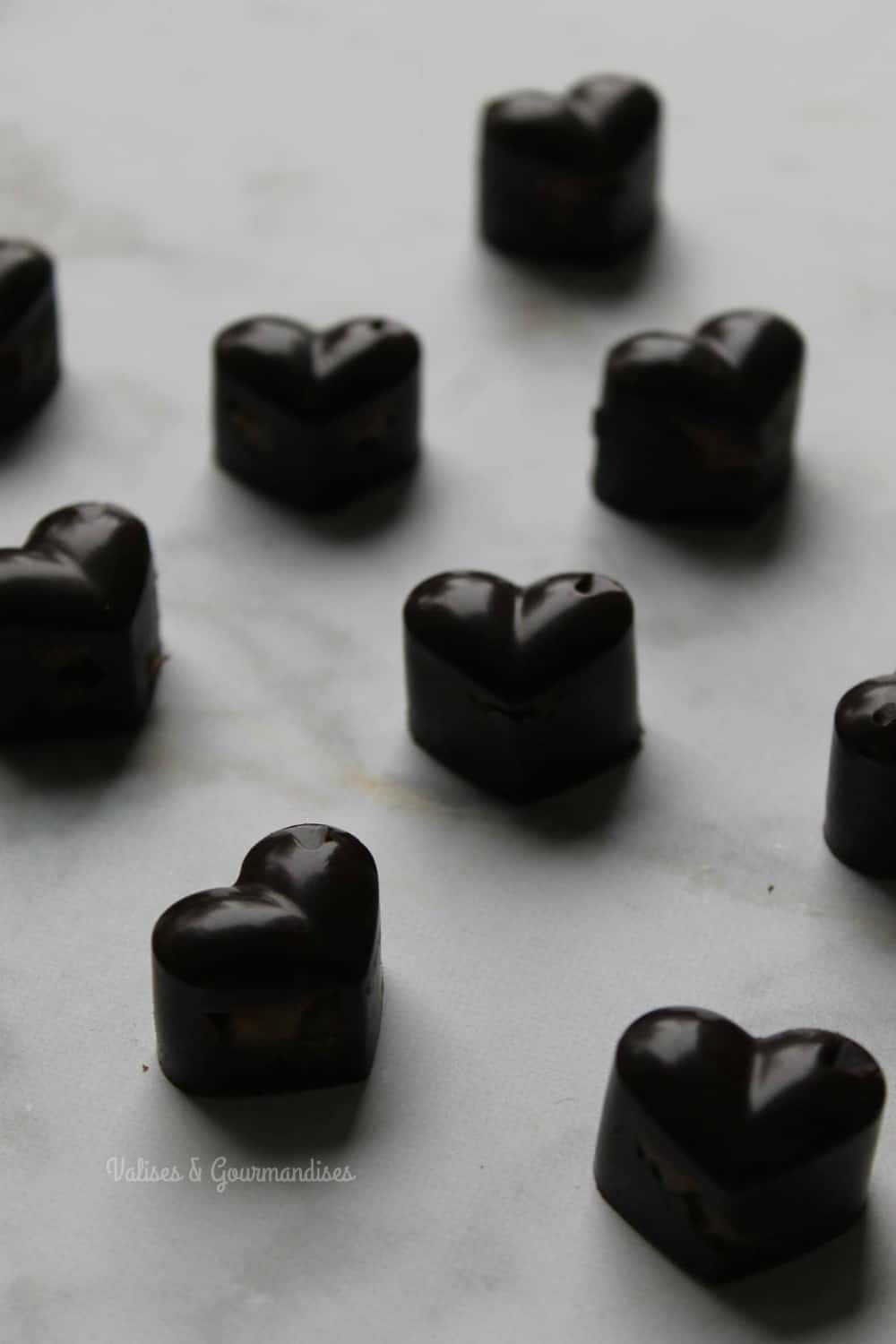 Are you ready to do this?
If you try this recipe, make sure to snap a picture and share it on Instagram or Facebook using the hashtag #valisesetgourmandises. I wanna see your creations! And don't forget to leave a comment below :)
Pin for later: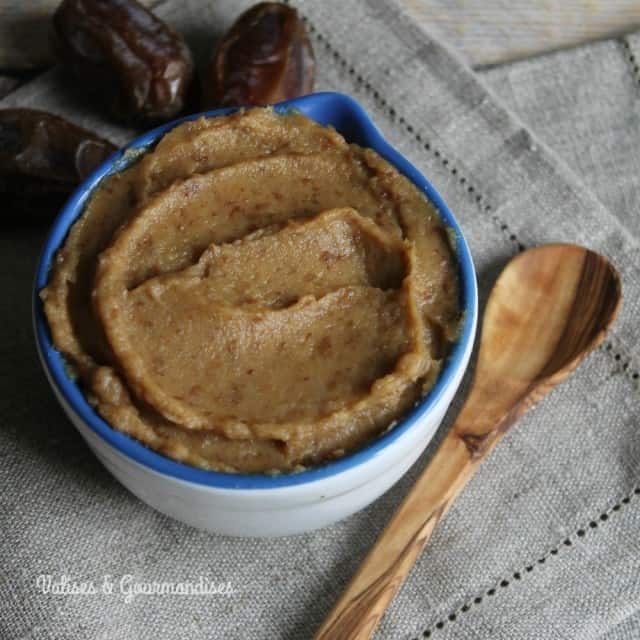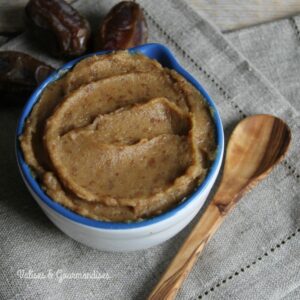 Salted tahini date caramel
Ingredients
200

g

dates

for me that was 10 Medjool dates or one packed cup

1

tablespoon

tahini

1

pinch

of sea salt
Instructions
Place the dates in a bowl, cover with hot water and let soak for at least one hour.

Drain the dates (you can use the water to sweeten tea, smoothies, etc.) and place them in the food processor.

Blend until you get a smooth paste. Add the tahini and the salt and blend again until homogeneous. Set aside.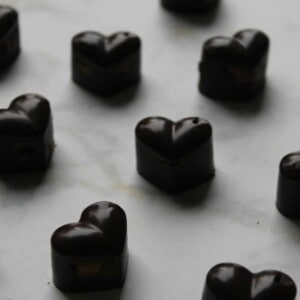 Raw vegan pralines with salted date caramel
Surprise your better half with these decadent vegan pralines filled with gooey tahini date caramel. They're ready in under one hour!
Ingredients
100

g

organic fair-trade cacao butter

3

tablespoons

Canadian maple syrup

1

tablespoon

maca powder

5

tablespoons

raw fair-trade cacao powder
Instructions
First prepare your work area. Place about half the caramel in a piping bag and put besides the molds to make assembling easier.

Put a few centimeters of water in a pot and heat the water until it starts simmering. Put chopped cacao butter in a glass bowl and sit atop the pot. Lower the heat to keep the water from boiling too hard and burn the butter. *if you want them to be truly raw, you need to make sure the temperature does not rise above 140F

Once the cacao butter is melted, turn off the heat and whisk in all the other ingredients until you reach a smooth consistency.

Cover the bottom of each little mold with chocolate. Place in the freezer for 5 minutes to harden. Take out, put a nice dollop of caramel into each mold and put back in the freezer for another 5 minutes. Take out again, add chocolate to each mold until it's filled and put back in the freezer for a few hours until the pralines have hardened up.
Notes
Keep the pralines in the fridge in an air-tight container.
Maca yields a slightly grainy texture to the chocolate, but I do like its taste as well as the nutrients it offers. You can omit it and replace it by the same quantity of cacao powder.
If you can't find raw cacao butter & powder, you can simply melt about 150 grams of dark chocolate in a double boiler to replace the homemade version.
If you're not into caramel, try filling your pralines with raw raspberry jam instead!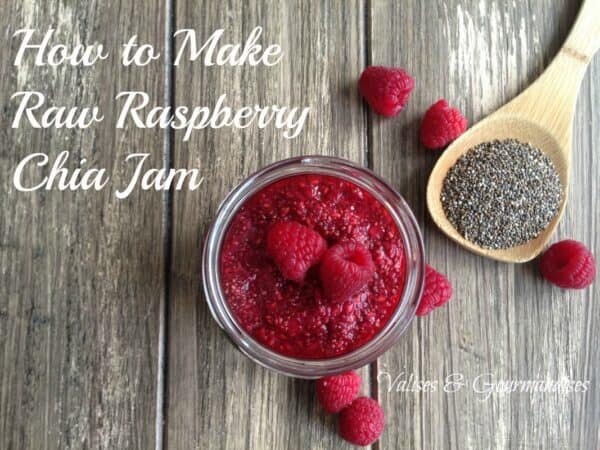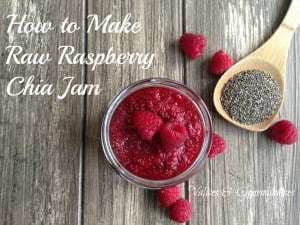 You may also want to try these easy two-ingredient truffles!