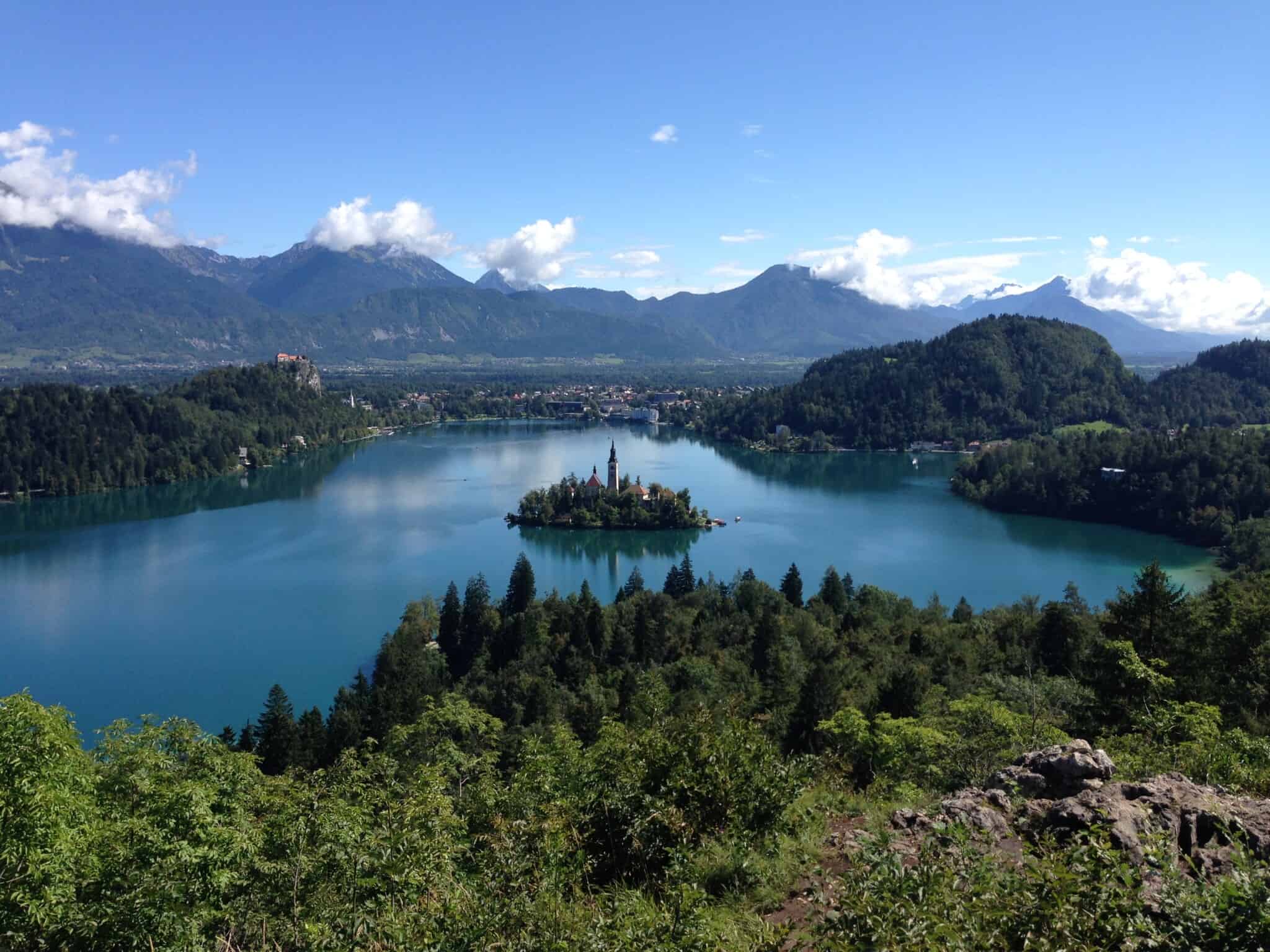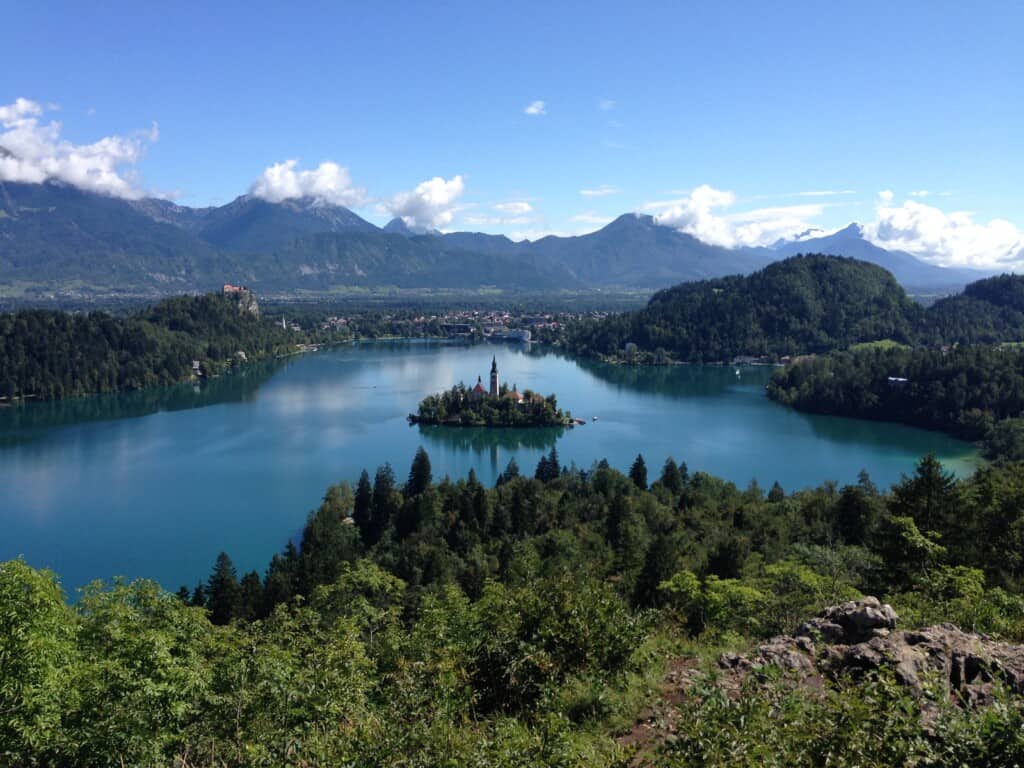 Brace yourself for the sudden urge to pack your bags and fly off to the country that you're about to discover via this virtual roadtrip. Given its tiny size, one might think that a week would be enough to see all of it, but let's not underestimate Slovenia.
Two days in the capital and three days of roaming the countryside's most appealing attractions simply further fueled our fascination and our desire to return. Hard pressed for time, we were forced to make some heart-wrenching decisions and spend a little less time at every location than we would have liked. But that's good for you because I have more to share. The things I do for you, dear readers.
Our first day was dedicated to discovering Lakes Bled and Bohinj as well as the gorgeous Gorges (see what I did there) of Vintgar. We spent the following day pretending we were hikers as we wandered around the Julian Alps. The original plan was to head out to the emerald waters of Soča Valley on day 3, but our aching legs, were punishing us for our mountain goat-like behaviour, which resulted in us returning to Bled to test out the spa resort and explore the area a little more (the lake is crazy beautiful).
We rented a car for this roadtrip, but be advised that the roads are extremely narrow and full of curves both side-to-side and up-and-down. What do you expect, it's the Alps. The good news is that most of these locations are accessible by charter bus for those unwilling or unable to take on the challenge. Or if you're just lazy and want to let someone else do the driving for you.
Lake Bled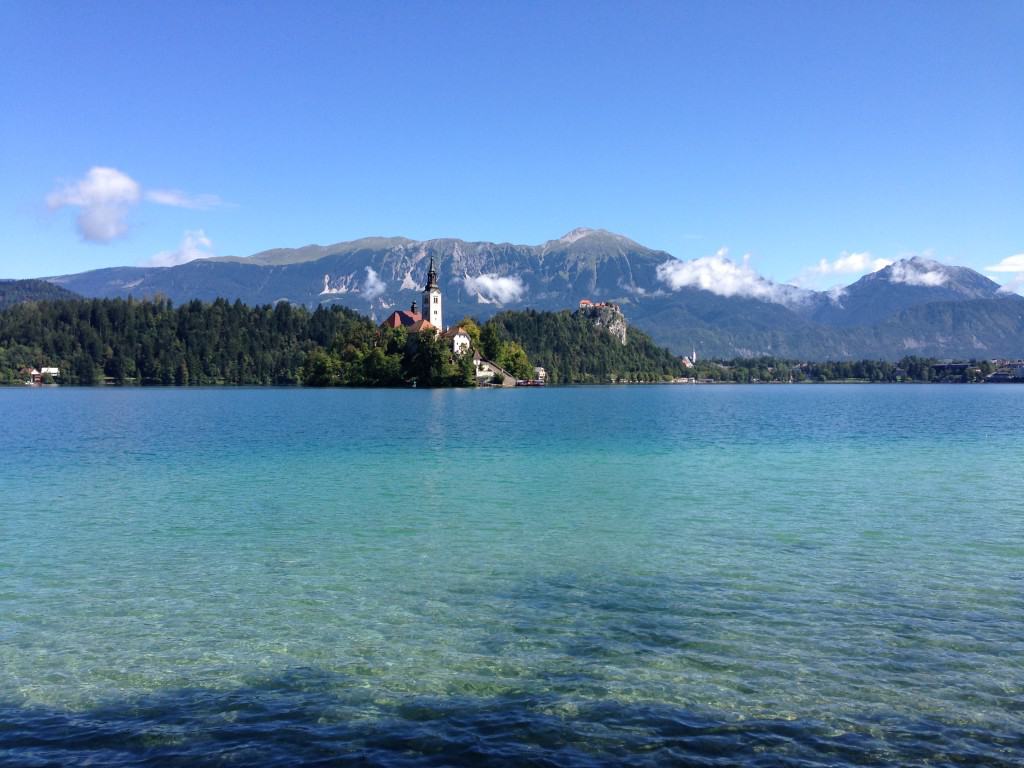 Located just south of the Austrian border, Lake Bled owes its reputation to the island in its center and the famous church that stands there, and to its Creme Cake.
Not bad right? Several surrounding hiking paths abound with opportunities for amateur photographers to bring some memorable souvenirs back home. The picture above required less than an hour of footwork. It's worth inquiring into what trails to take before wandering off. I say this because we crossed paths with a lot of stray hikers hopelessly searching for a view point.
To make it there without incident and snap those breathtaking shots, head down the left side of the lake from the main village until you reach the other side. You'll see signs indicating trail 6. Go in that direction and turn right when you see a sign for 6 Ojstrica, and a few minutes later you'll end up at the top of a rocky hill overlooking the lake.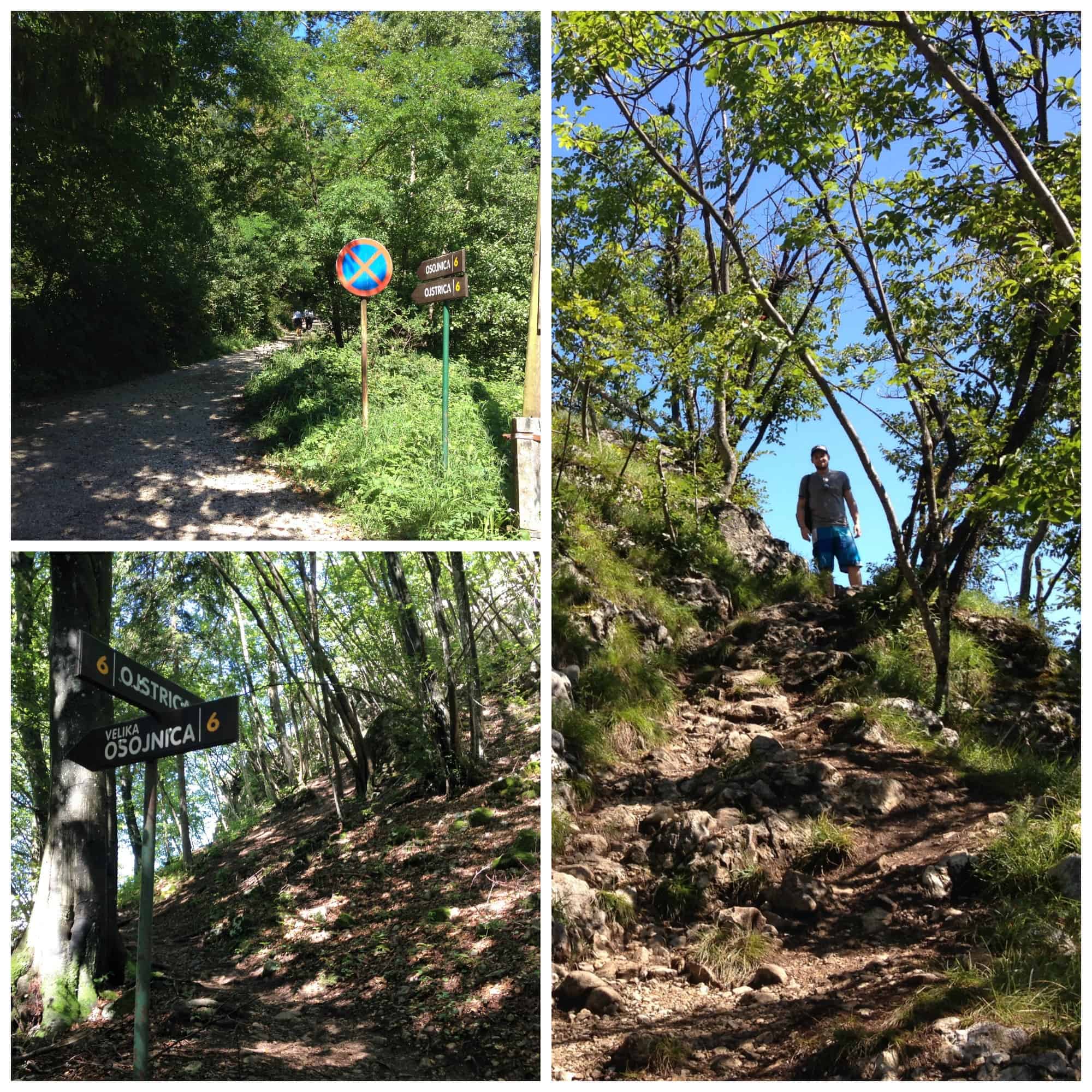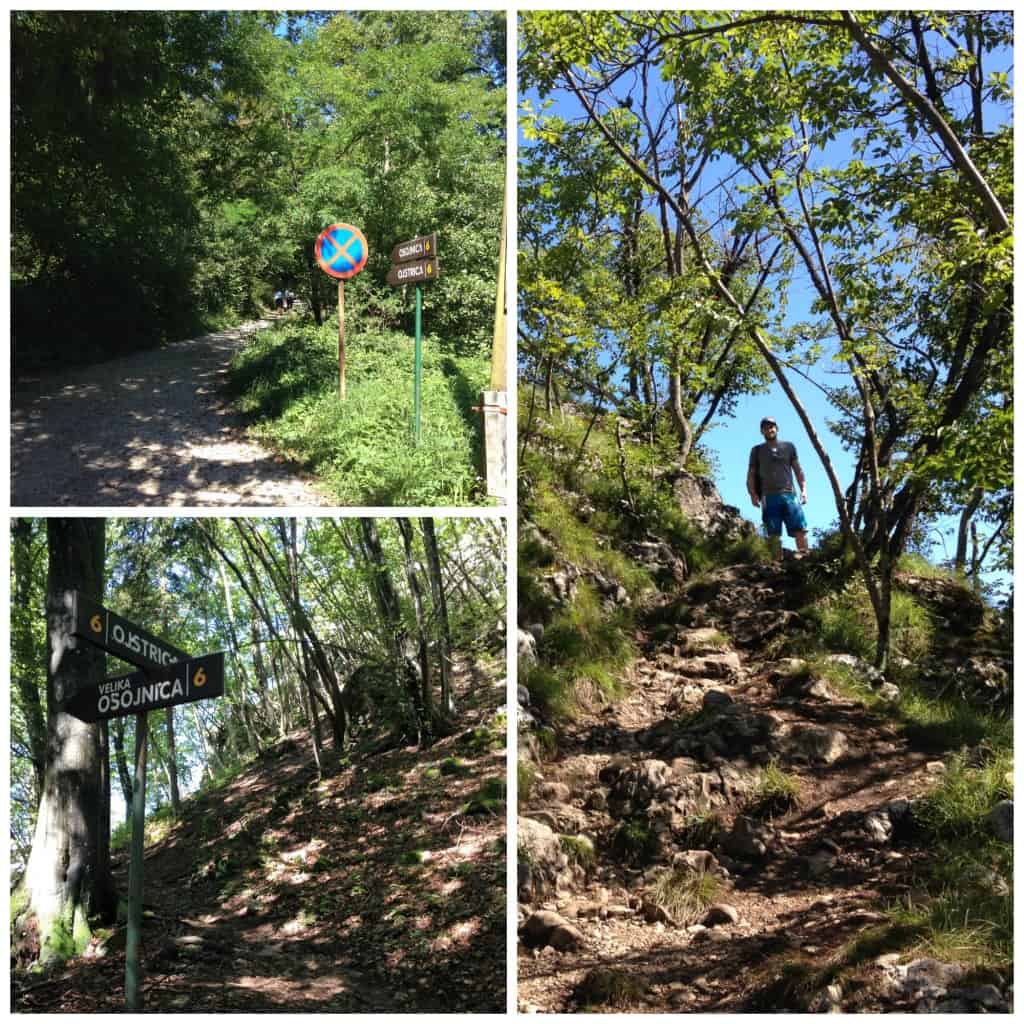 We took it upon ourselves to go up the other #6 trail, the velika osojnica. Bad idea. After an hour of meandering and encountering some other lost souls, we tossed in the towel and moved on to the next adventure.
Despite it being mid-August, we made the mistake of leaving of bathing suits in the car. The crystal-clear water looked oh so inviting after all the walking and sweating. We made up for it two days later upon our return by having a cute little picnic near the water.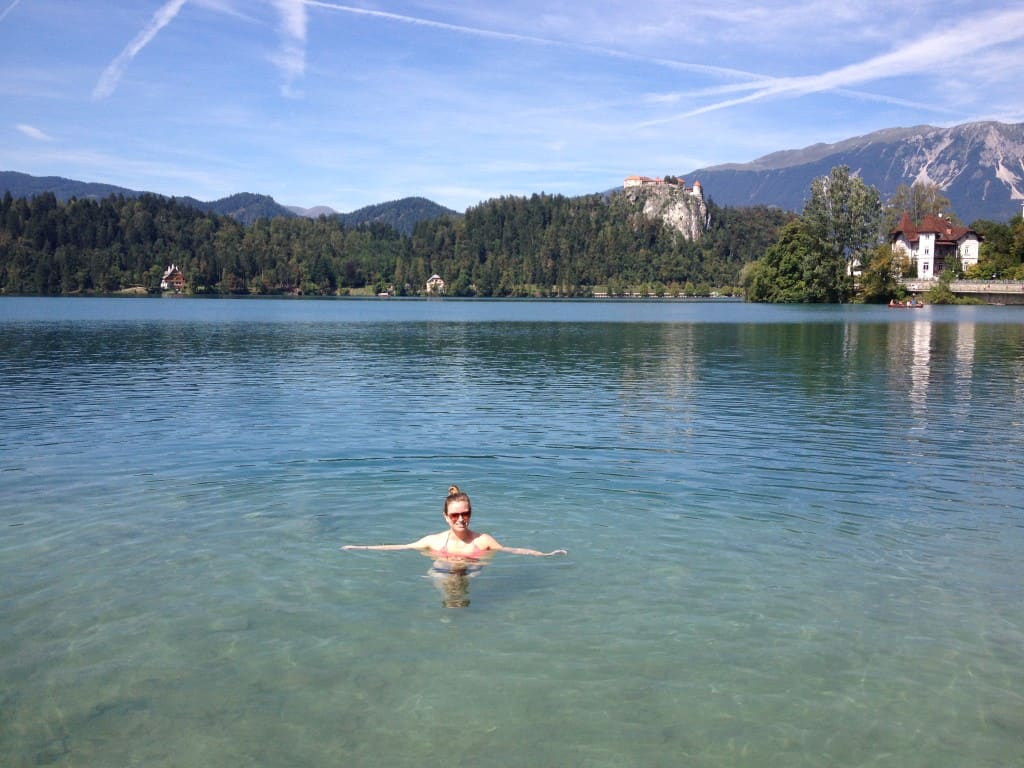 We took advantage of our full day in Bled to visit the castle and the island. You're allowed to swim over if you feel up to it, or you can get there by renting a paddle board or a rowboat.
But the option most people go for is the small boats called Pletna, which are unique to Bled and part of a 400 year-old tradition. They're passed down from one generation to the next and only a true Pletnarstvo can commandeer them. Serious business.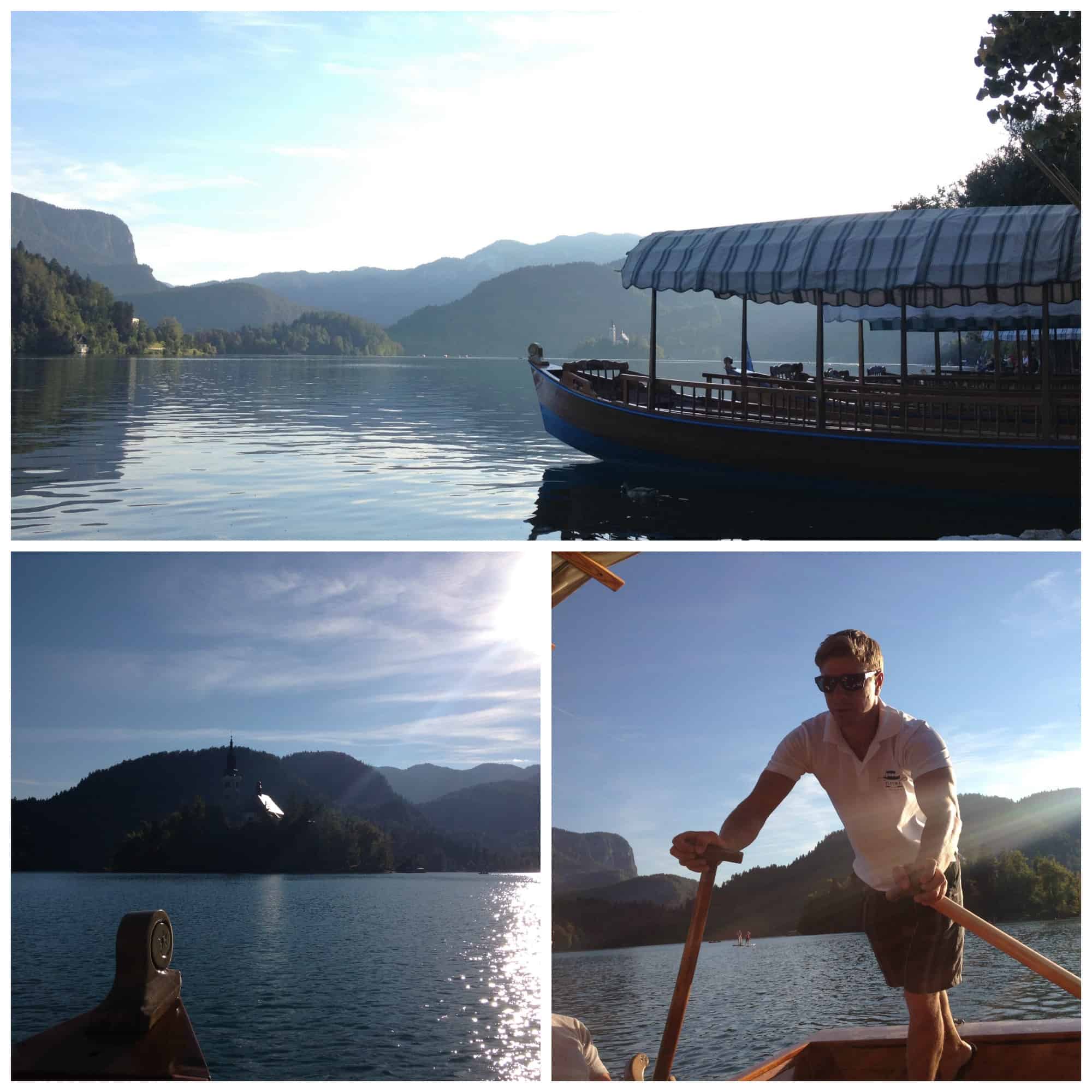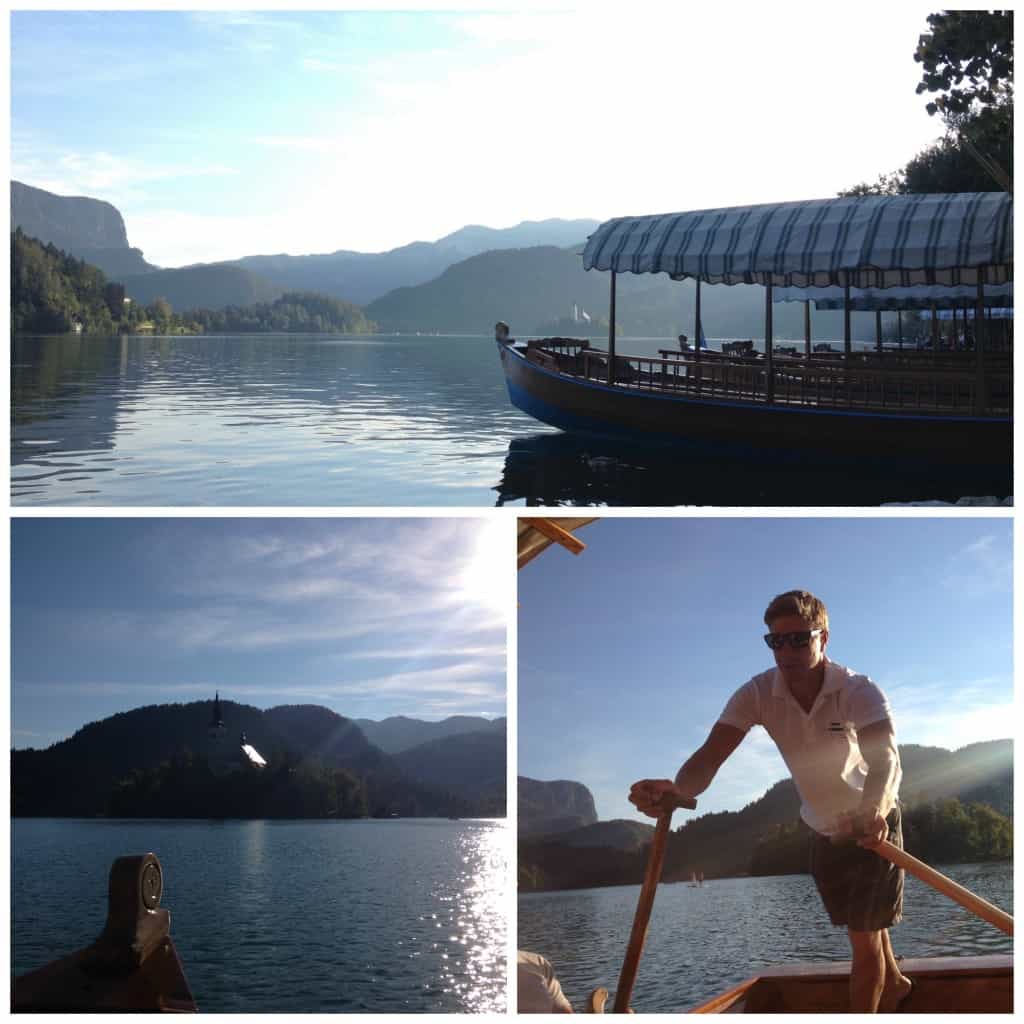 Laziness seemed in order so we went with the Pletna, and I must say I was quite disappointed. On top of paying €12 per person, it costs €6 more to set foot into the church and ring the bell to make a wish. I can think of a couple more interesting ways to invest an hour of my time and €36. My sole consolation was that our captain, I mean our Pletnarstvo, was really cute. But I digress…
All this being said, it can be a cheaper and more romantic activity to rent your own rowboat if your man is willing to do most of the heavy rowing :)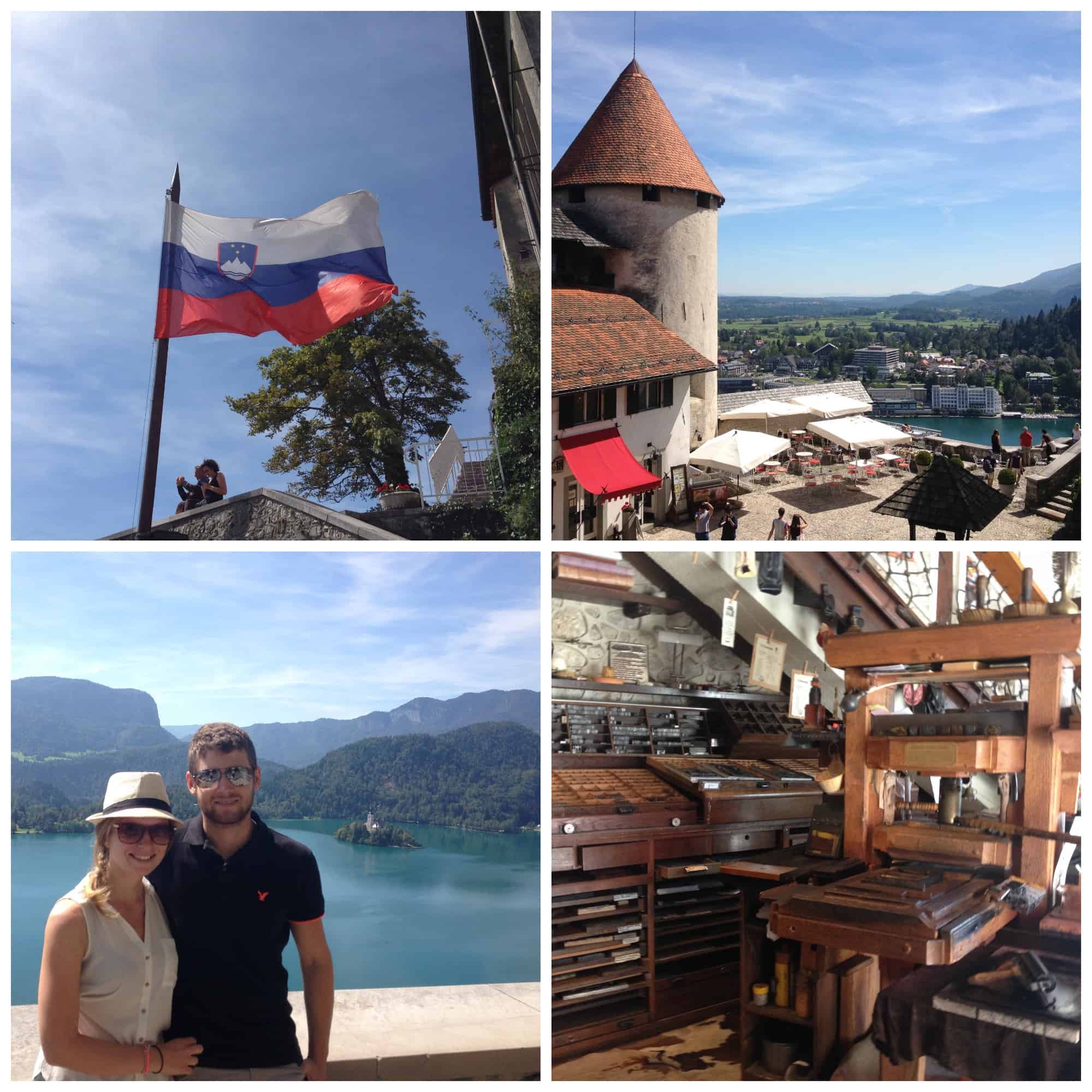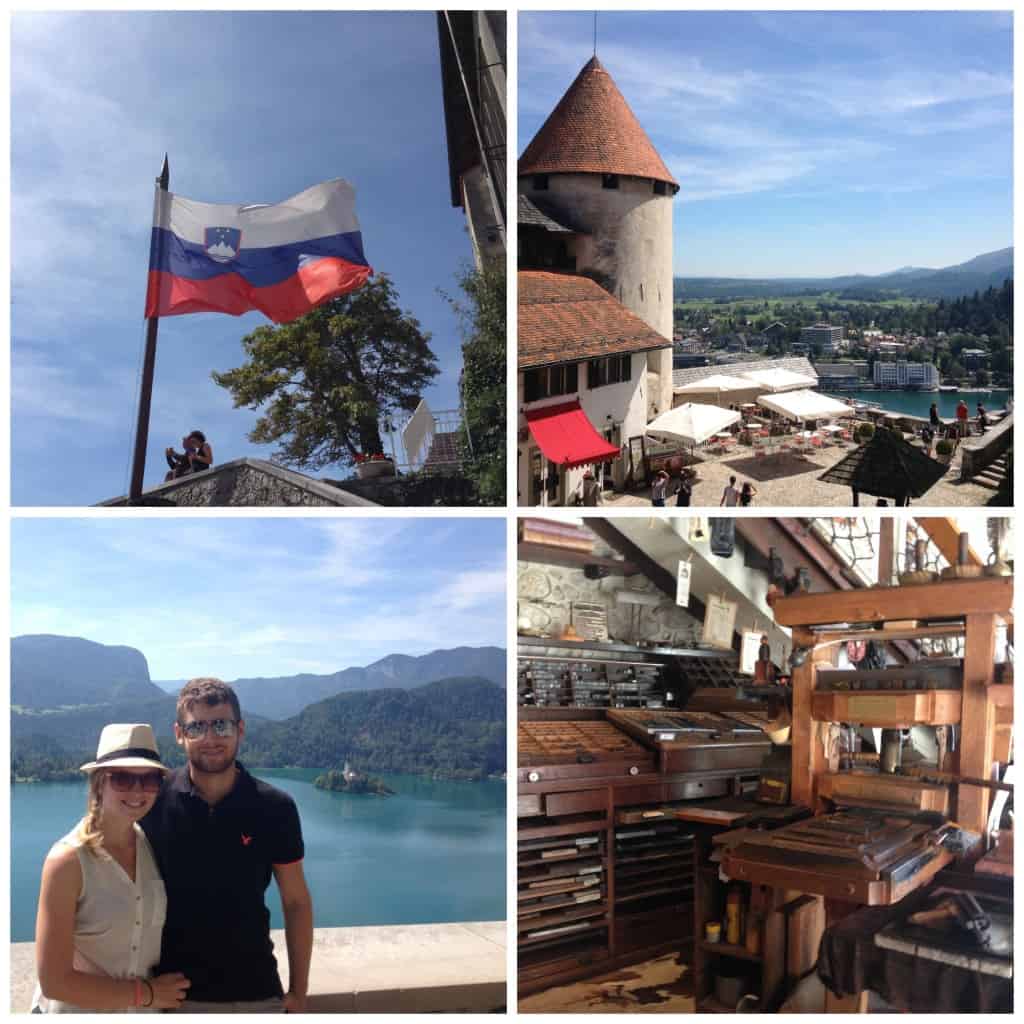 As for the castle, it's pretty and includes a museum relating the history of the region, and last but not least, a beautiful terrace. But if you're budget-conscious, I recommend opting for Ljubljana's castle, which I found to be the more interesting of the two.
Finally, we couldn't leave without trying the local specialty, the kremna rezina. You can find it pretty much anywhere in town but we were keen on tasting the original recipe where the dessert was born over 60 years ago at the Park Restaurant & Café.
We satisfied our sweet tooth while admiring the view on the lake and the castle looking down on it. The perfect setting to unwind after a long day of outdoor fun and finally taste the cream cake. Think of it as a deluxe edition of a mille-feuilles. At any rate, it's scrumptious.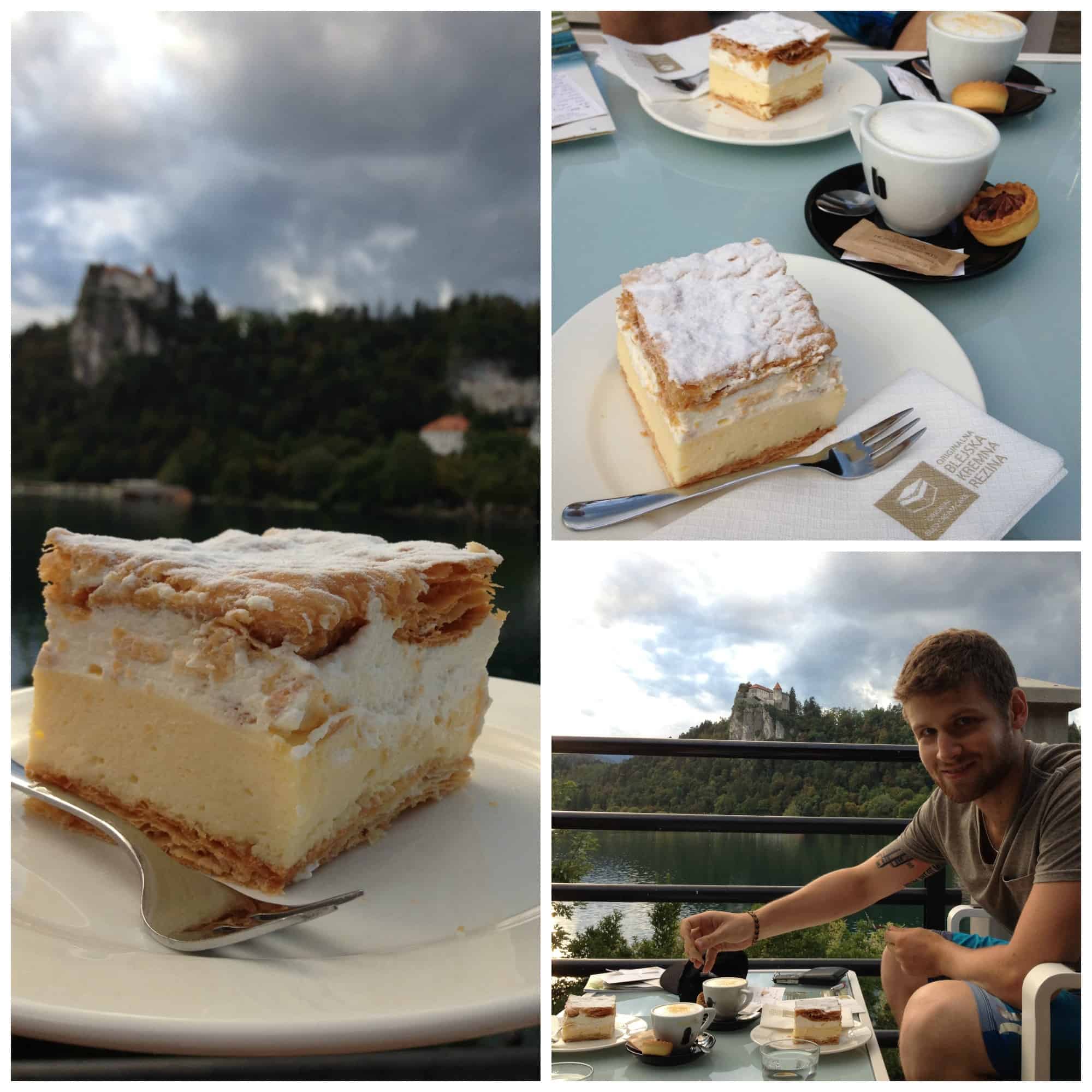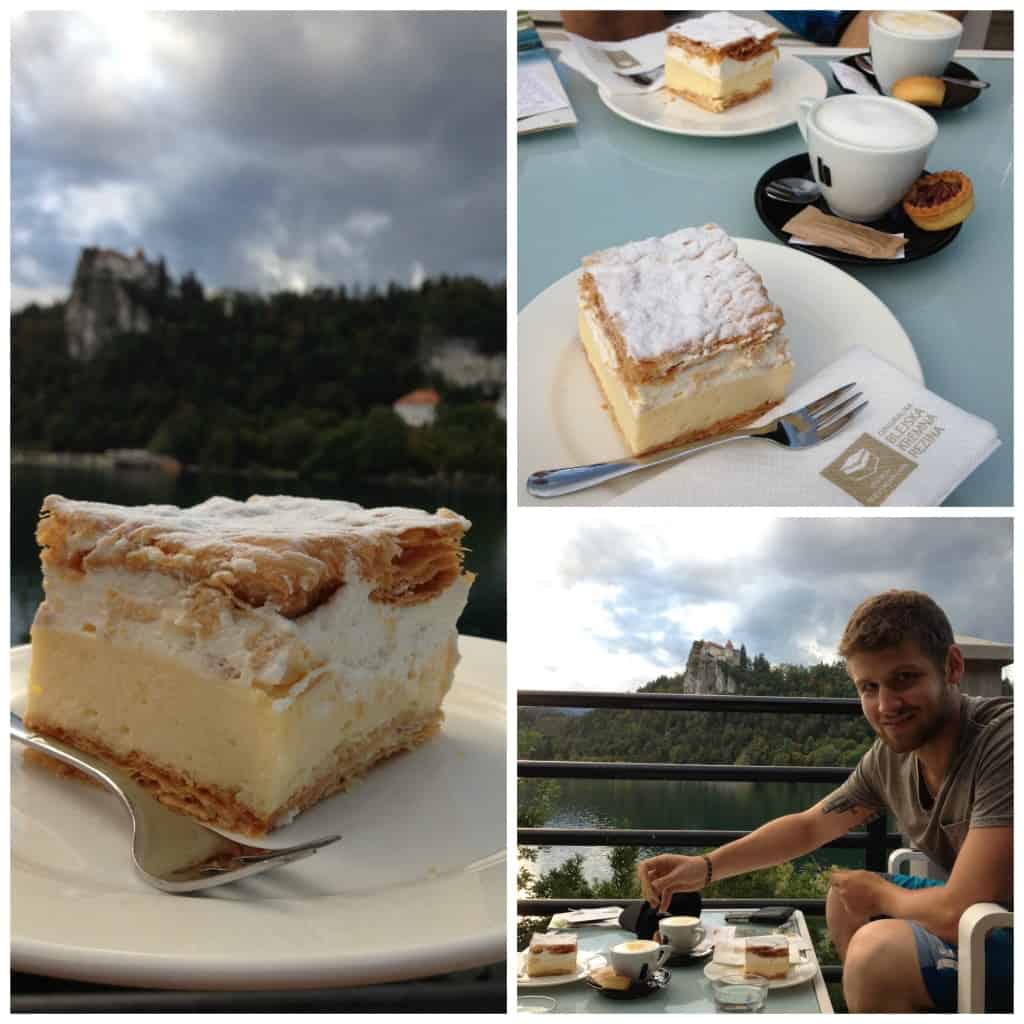 Lake Bohinj
A twenty-minute drive from Bled, Lake Bohinj is just outside the Triglav National Park. It's quieter and attracts mainly nature enthusiasts who like nautical sports such as kayaking.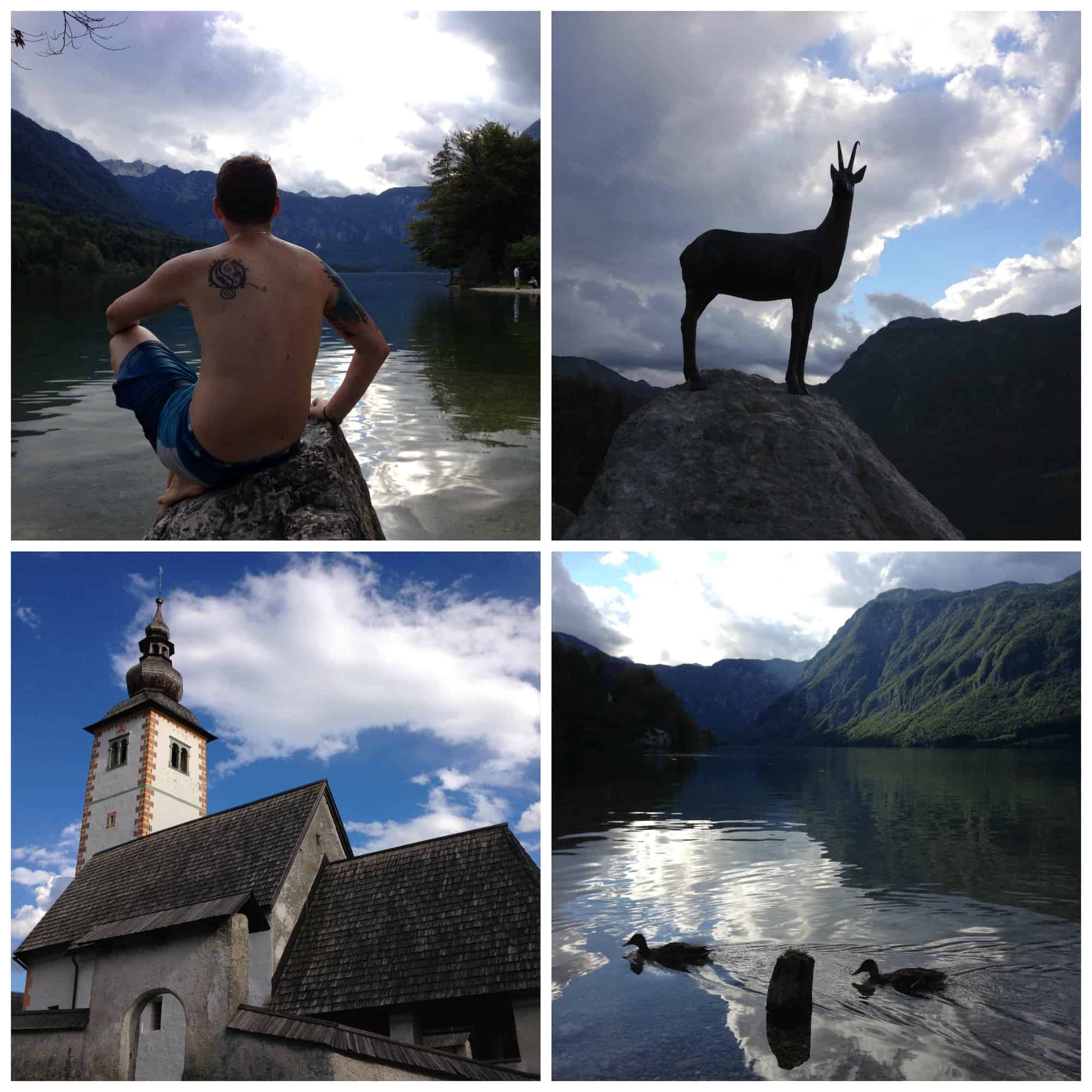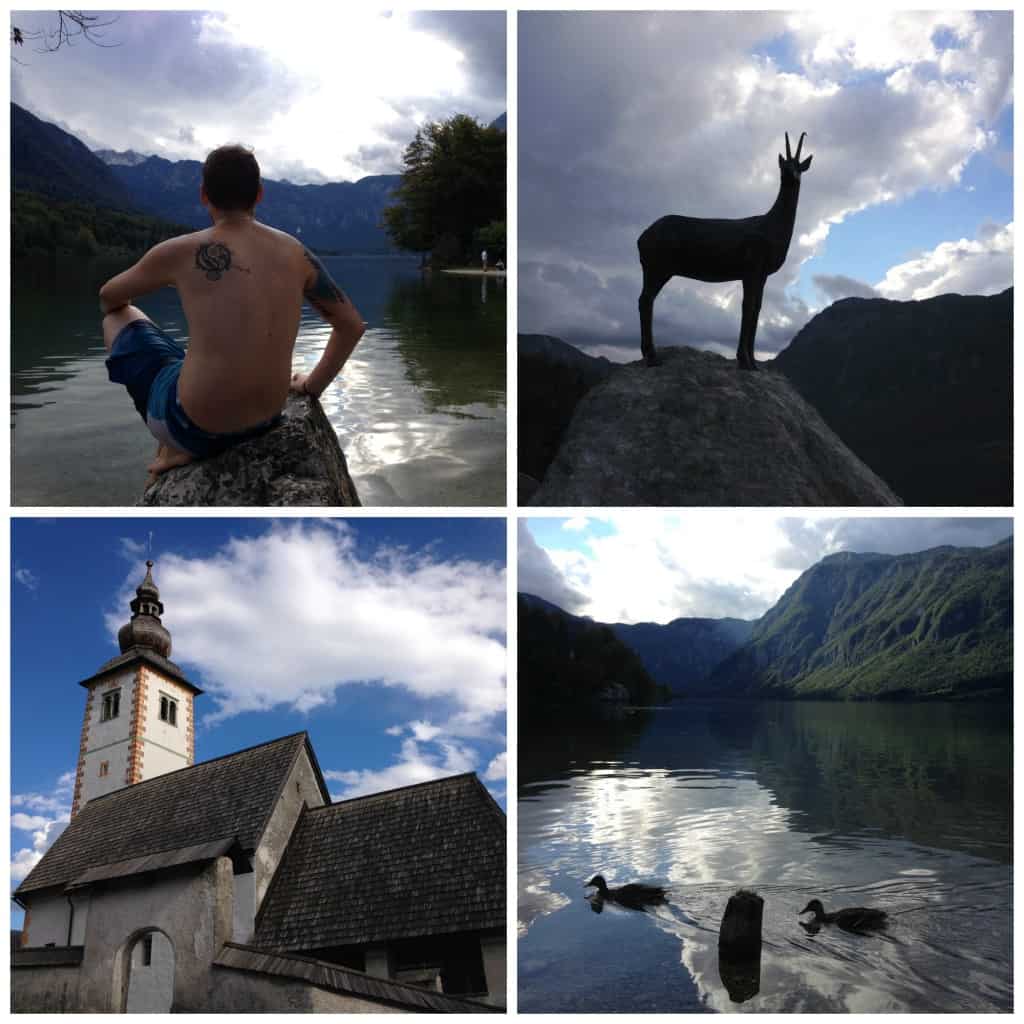 If time is on your side, its pure waters are worth your while. I must admit though, I was happy to have forgotten my swimsuit given how cold the water was! I barely dipped my feet in but Martin did man up for a few laps.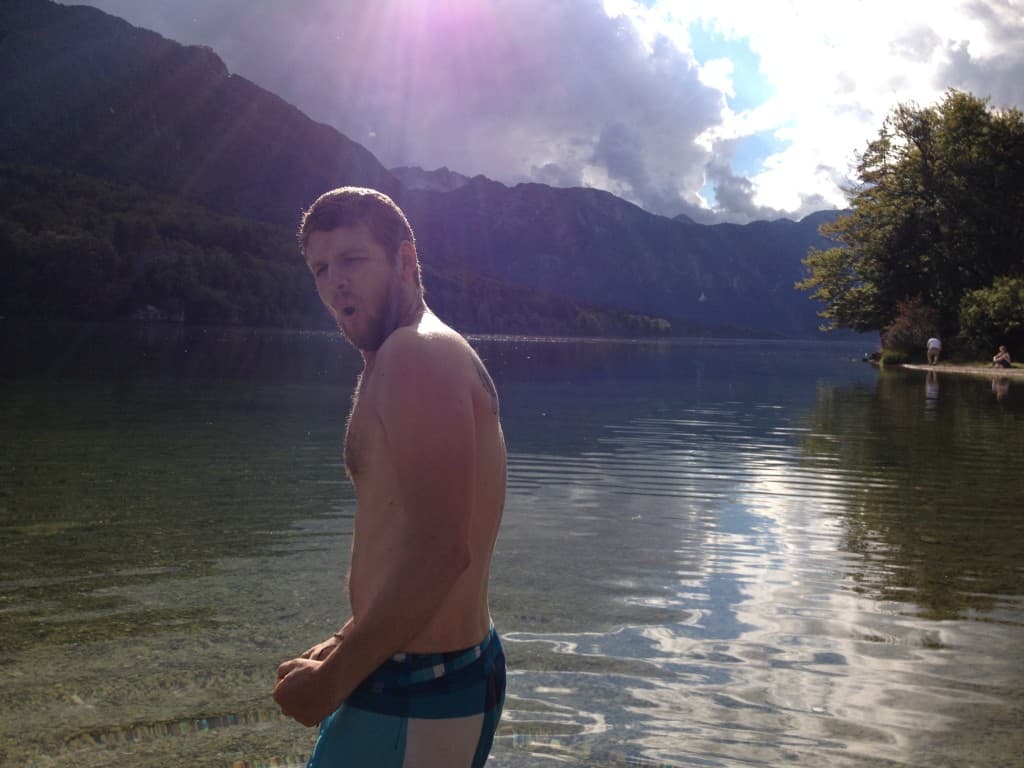 Vintgar Gorge
It's a must-see for nature lovers (reccurring theme in case you didn't notice). It reminded me of the walks I used to take with my dad when I was a little girl in the parc de la rivière Batiscan.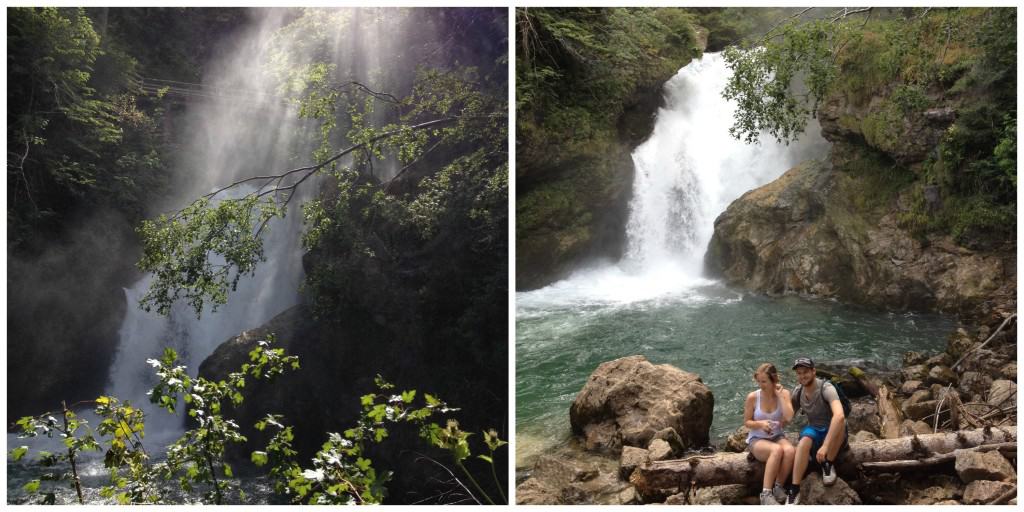 We were treated to two hours of sheer amazement walking along the river. I think the pictures say it all.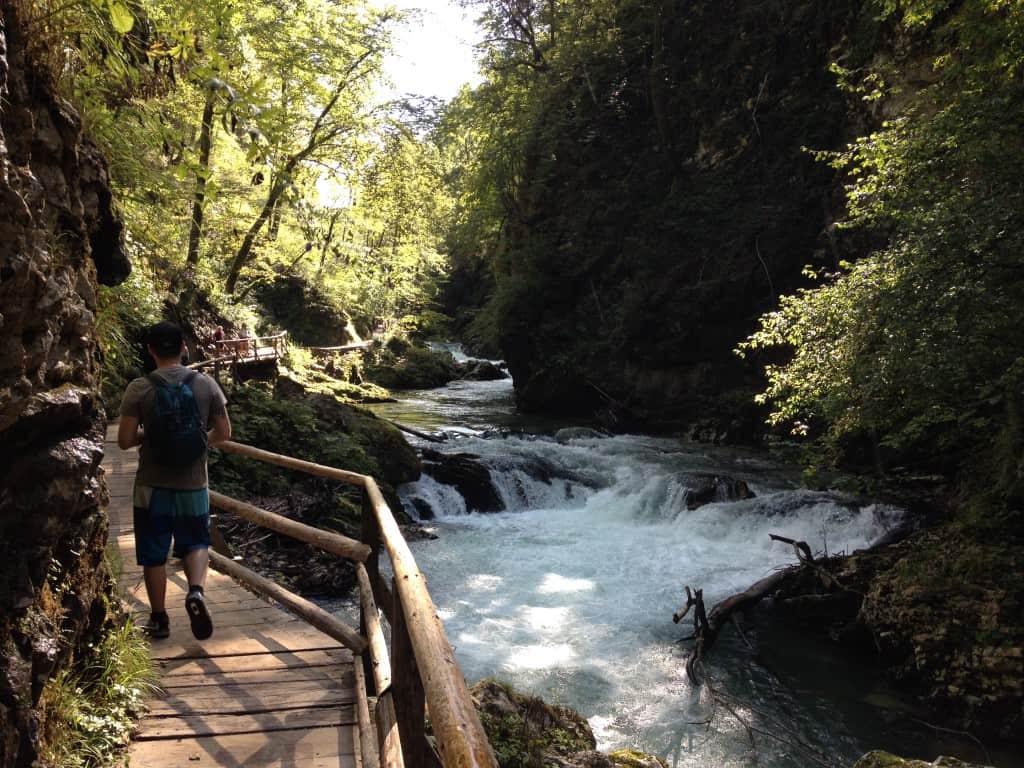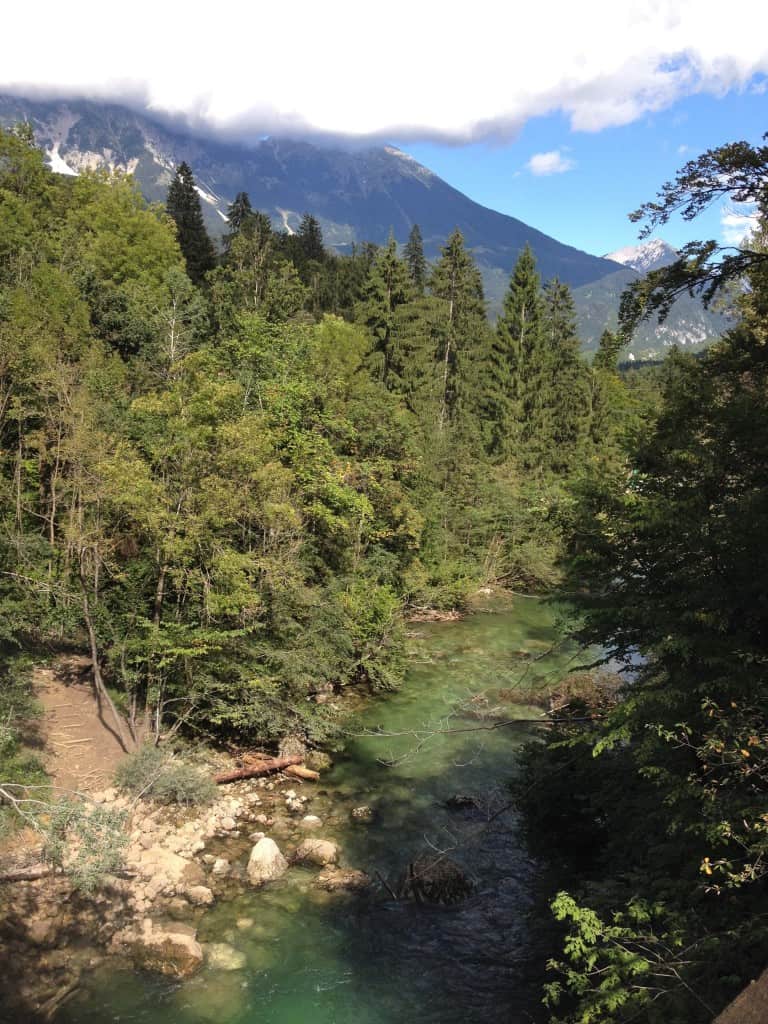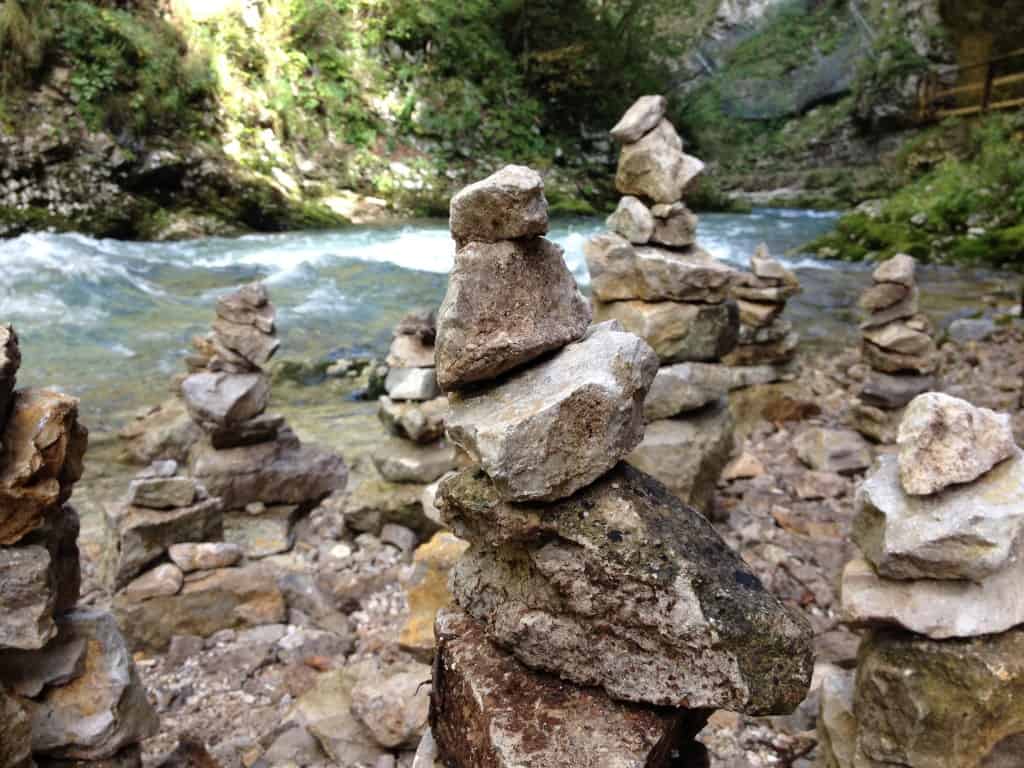 Velika Planina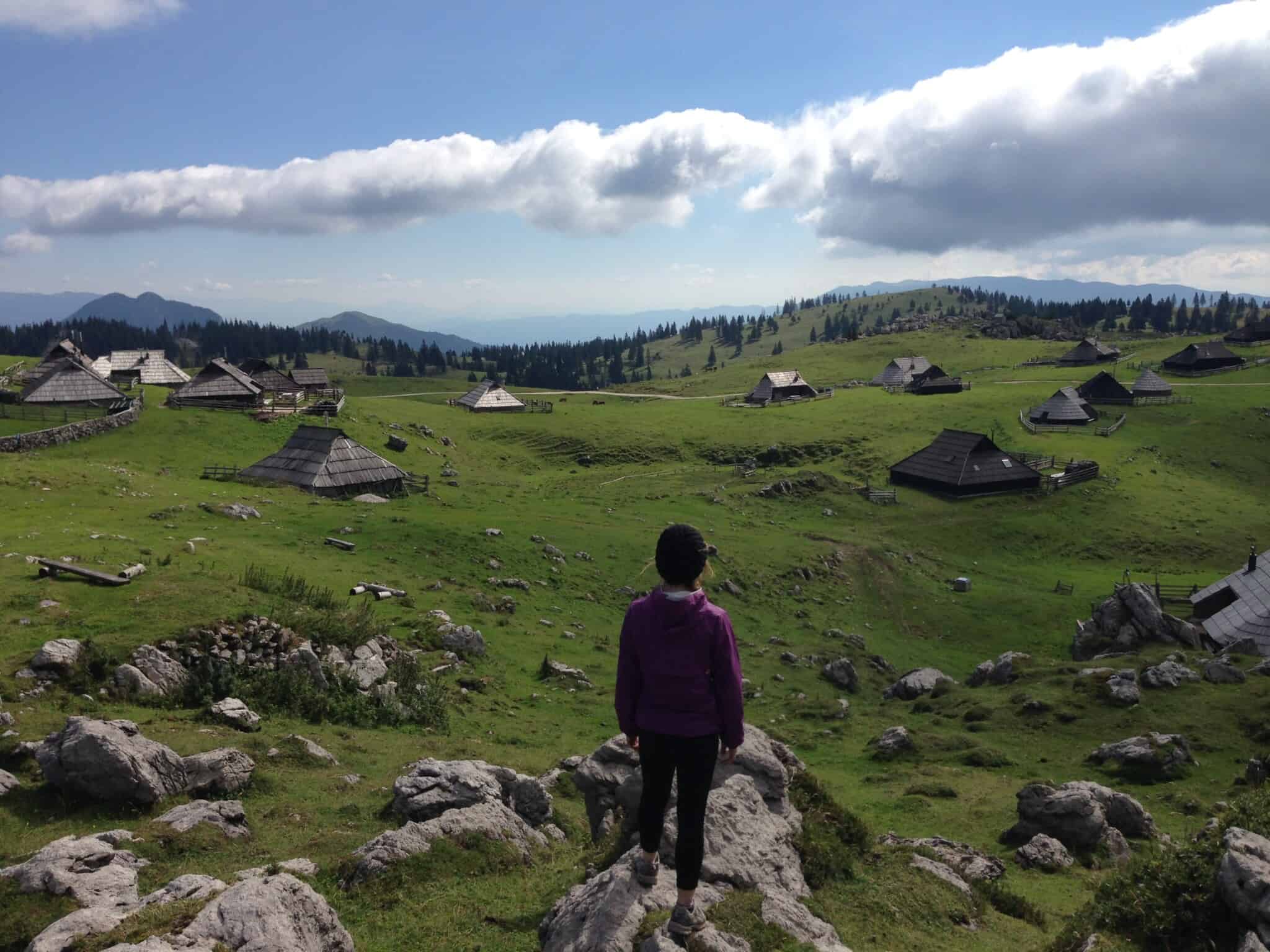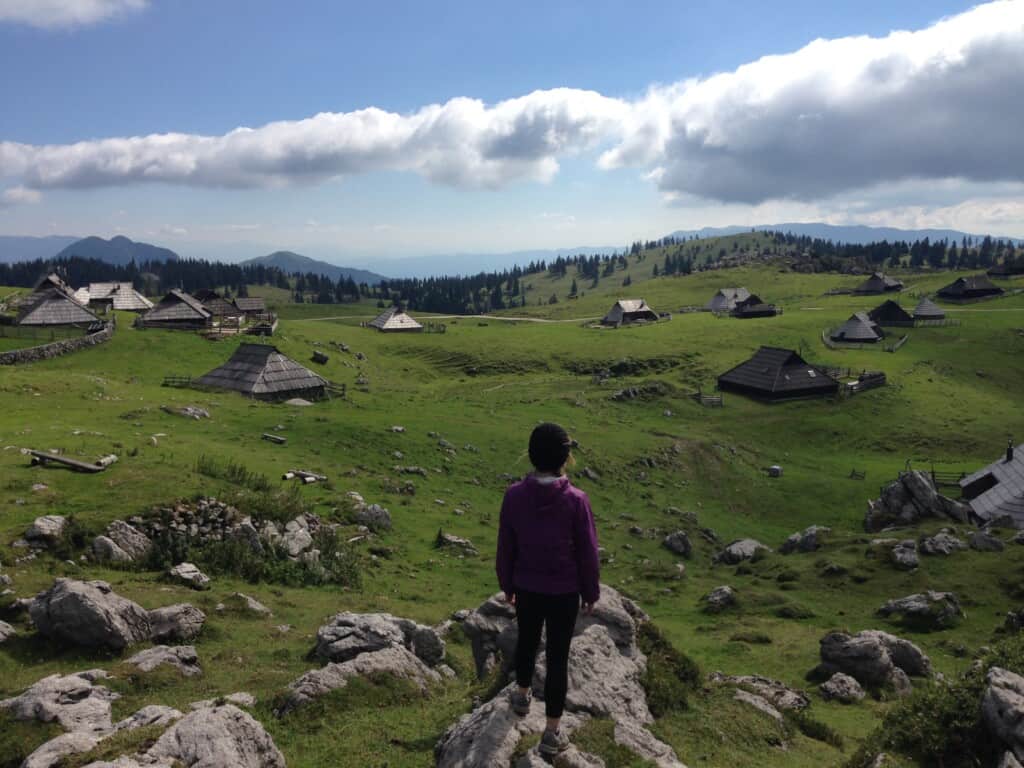 We strapped on our walking shoes and put on some warm clothes in preparation of an escapade to the Alps at 1,600 meters of altitude. It was truly a unique experience in this small village with its rustic houses and the echoing of the dairy cows and their bells.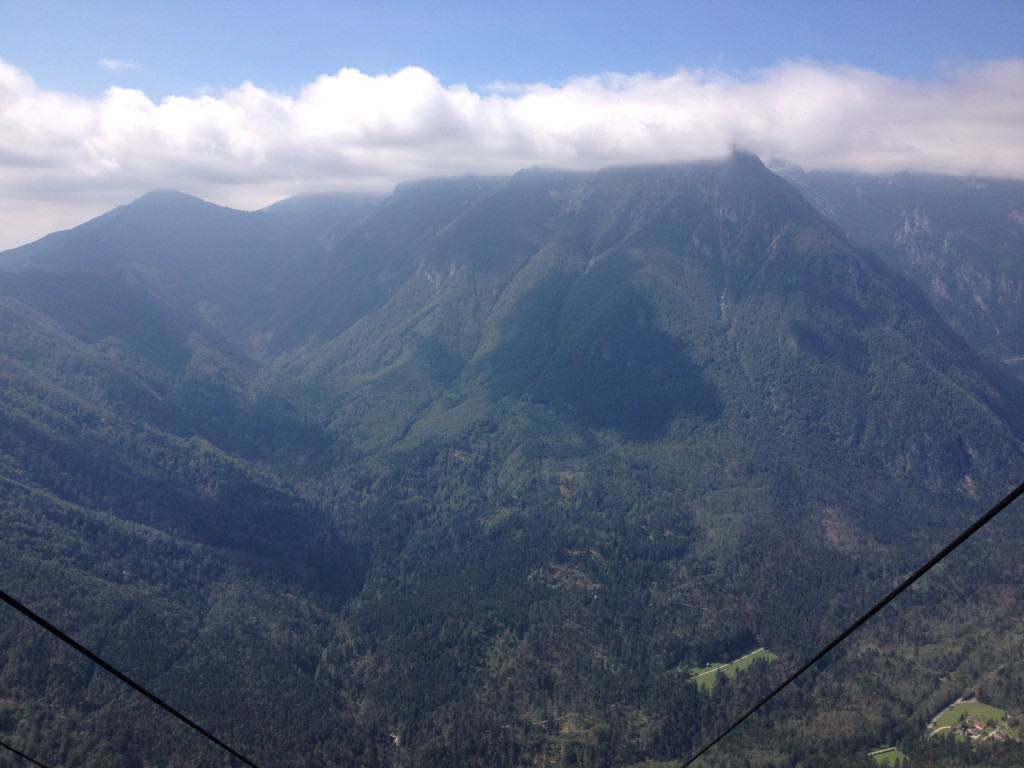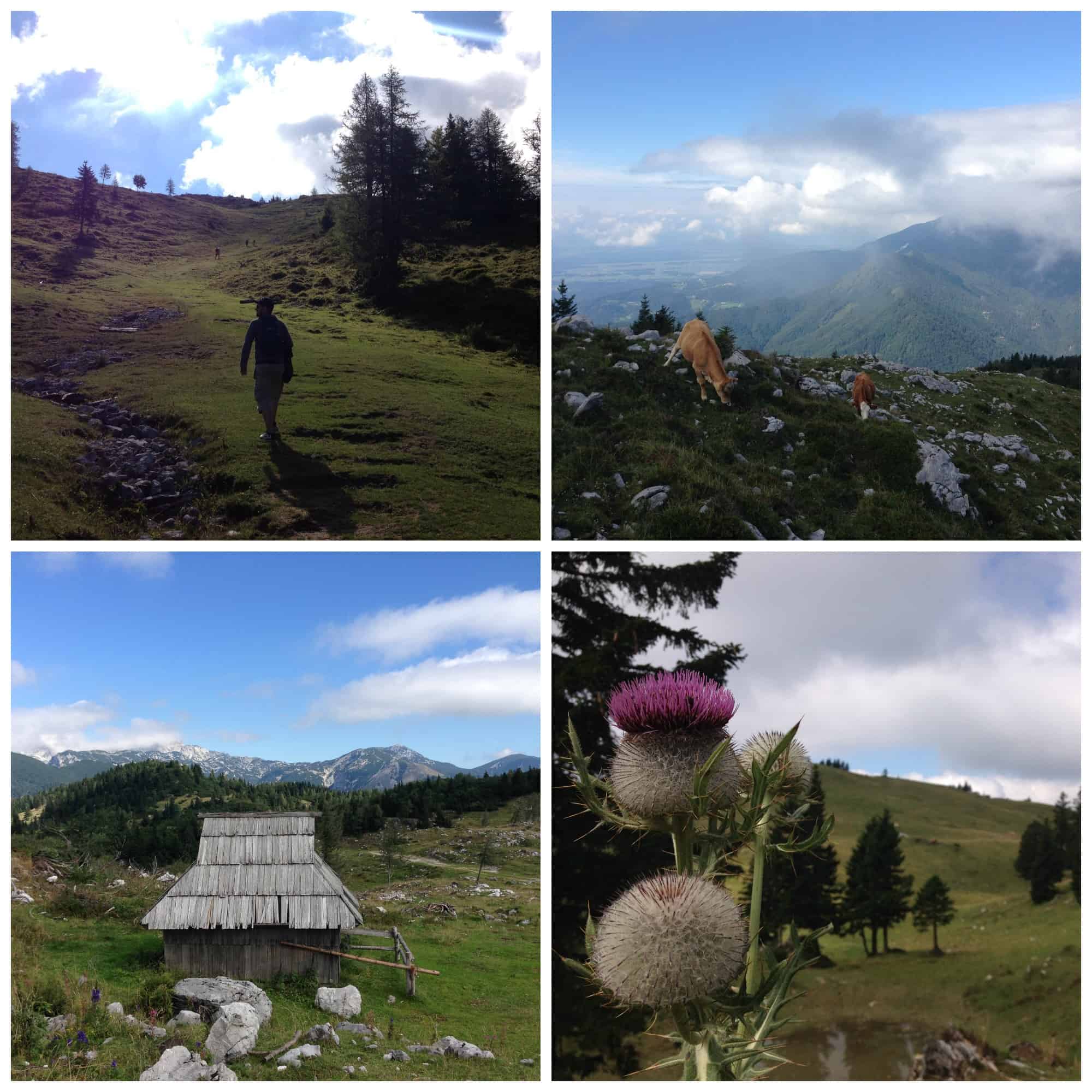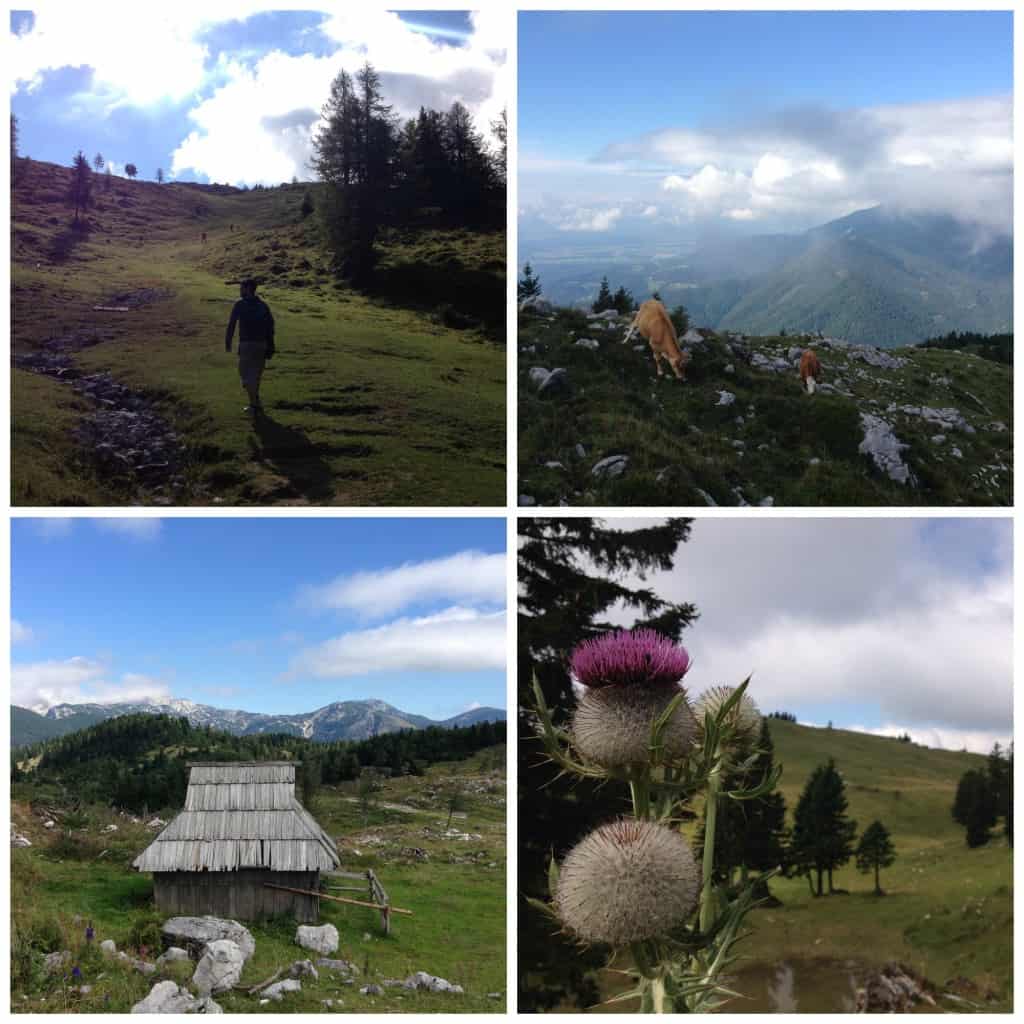 We made our way to Kamniska Bistrica where we hopped on a cable car. It costs 11 euros there and back, but you can also save some money by taking route 924 until the parking lot and walking from there.
It's a one-hour uphill battle after the cable car, but you're rewarded with a scenery reminiscent of The Sound of Music.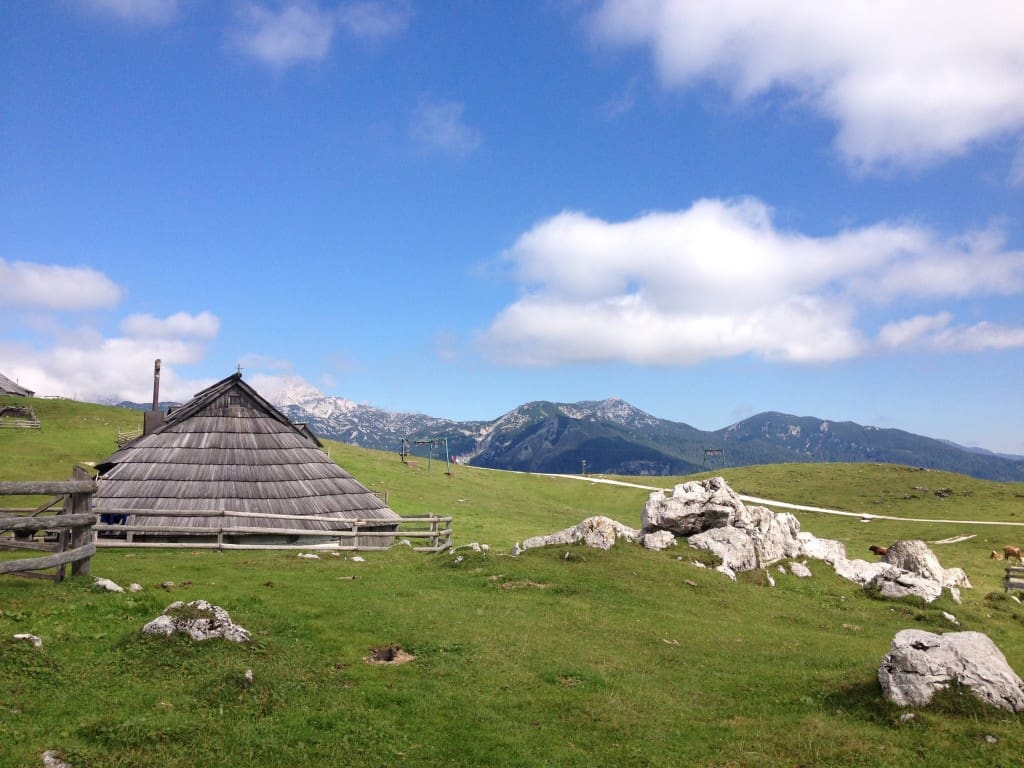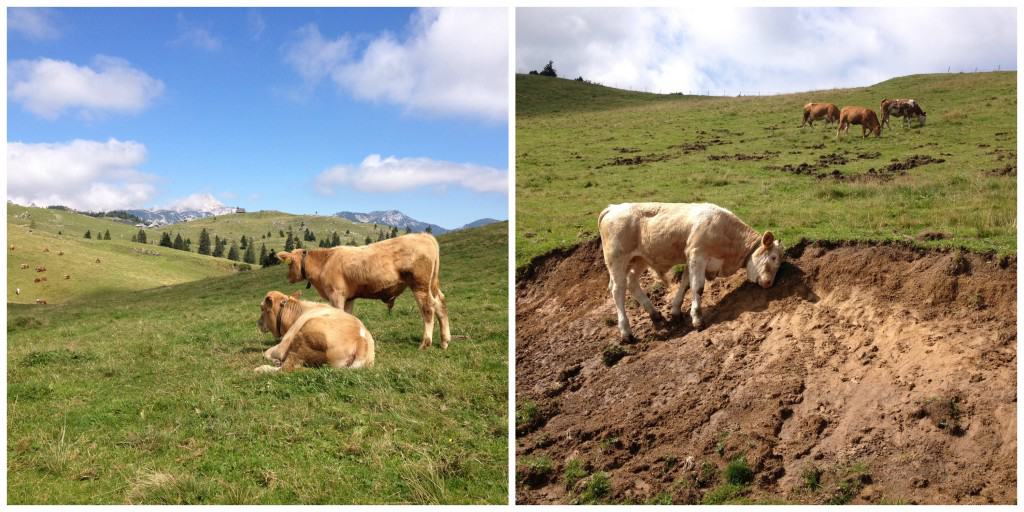 After roaming around for a while and carefully avoiding any accidental step on scattered cow poop, we had lunch at the teeny tiny local restaurant in the village. The cheese and sausage platter didn't last very long, and with a cold Slovenian beer to boot, we were pretty much in heaven :)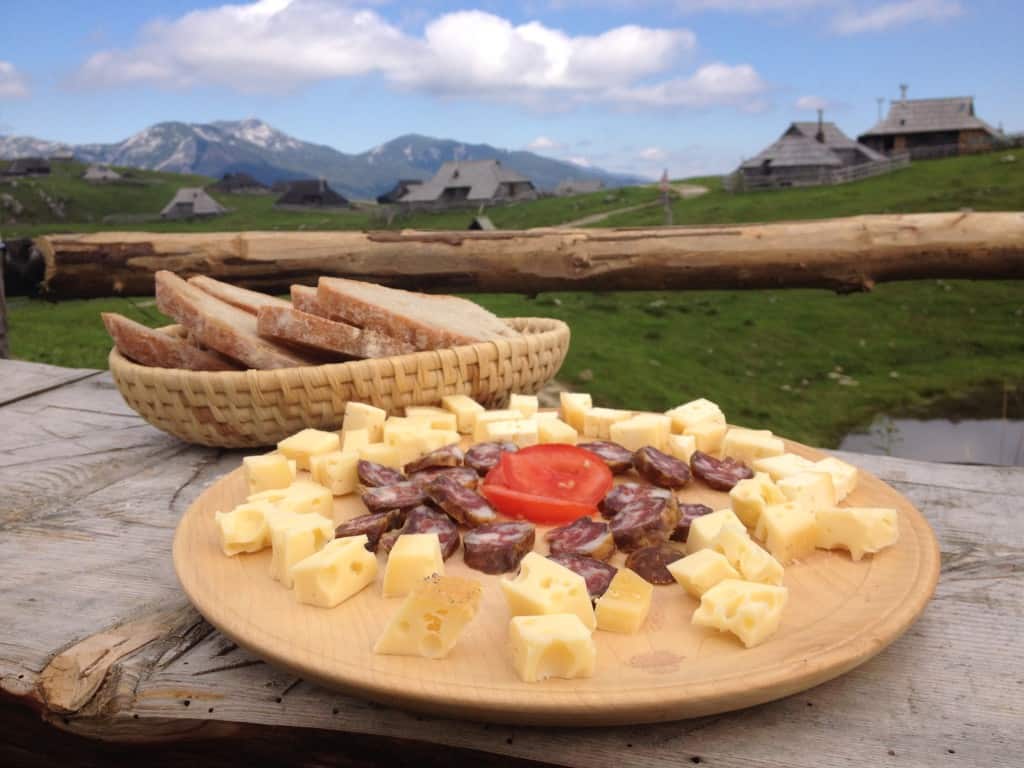 If you've ever dreamed of breathing in the fresh air of the Alps, this is the magical opportunity you've been waiting for.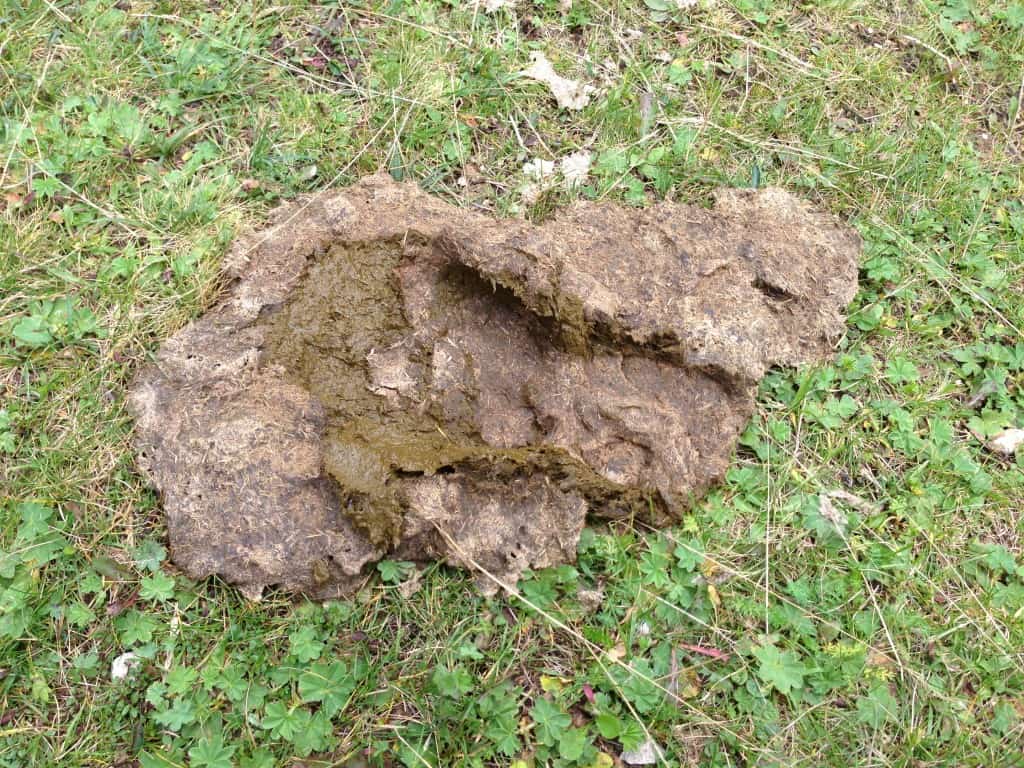 Logarska Dolina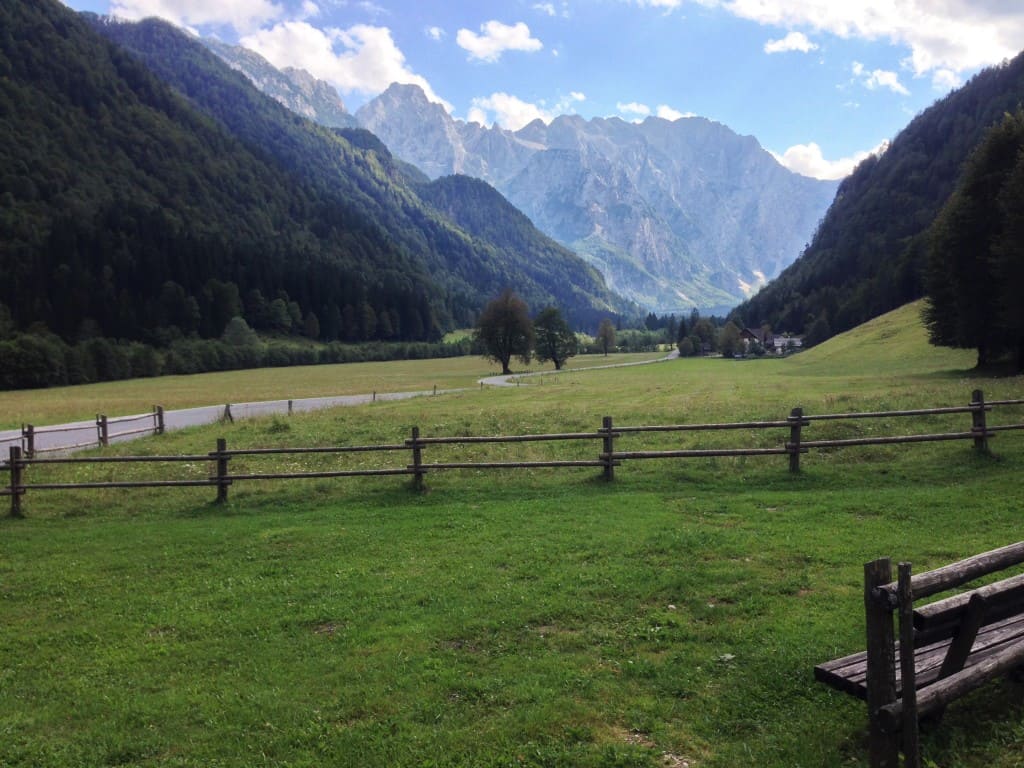 On that afternoon, we headed to the final destination of our Slovenian journey, the astonishing Logarska Dolina Valley.
Call me naive, but I wasn't expecting such small and curvy roads zigzaging all the way up into the Alps, and doing so again all the way down out of them. It's a far cry away from the large lanes I'm used to in Canada, but on the other hand it was pretty thrilling to drive along the mountain side.
I had added Logarska Dolina on our list after stumbling upon a picture on Google Images. There was no way I was gonna miss out on such a stunning green valley nested between two monumental rocky summits over 2000 meters high.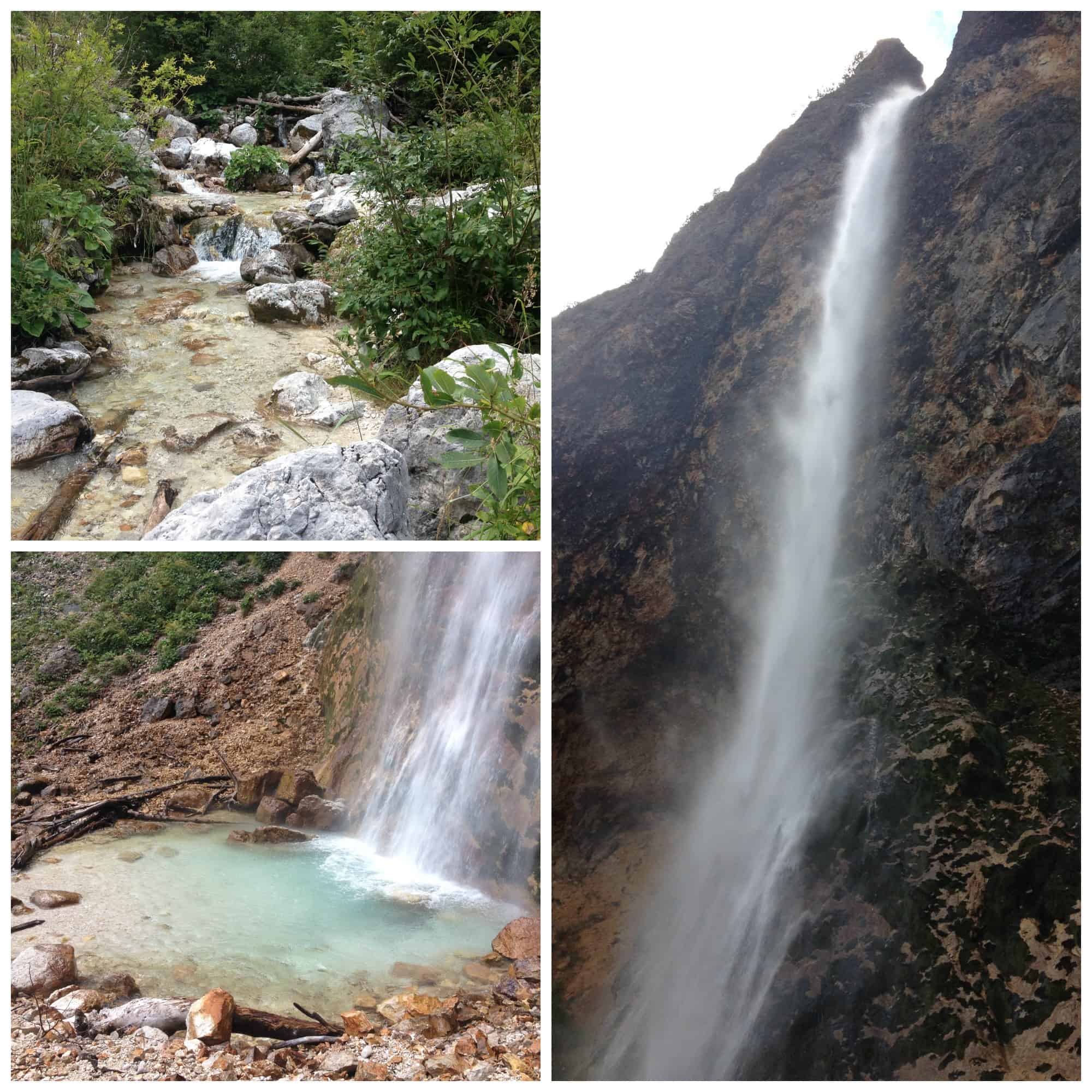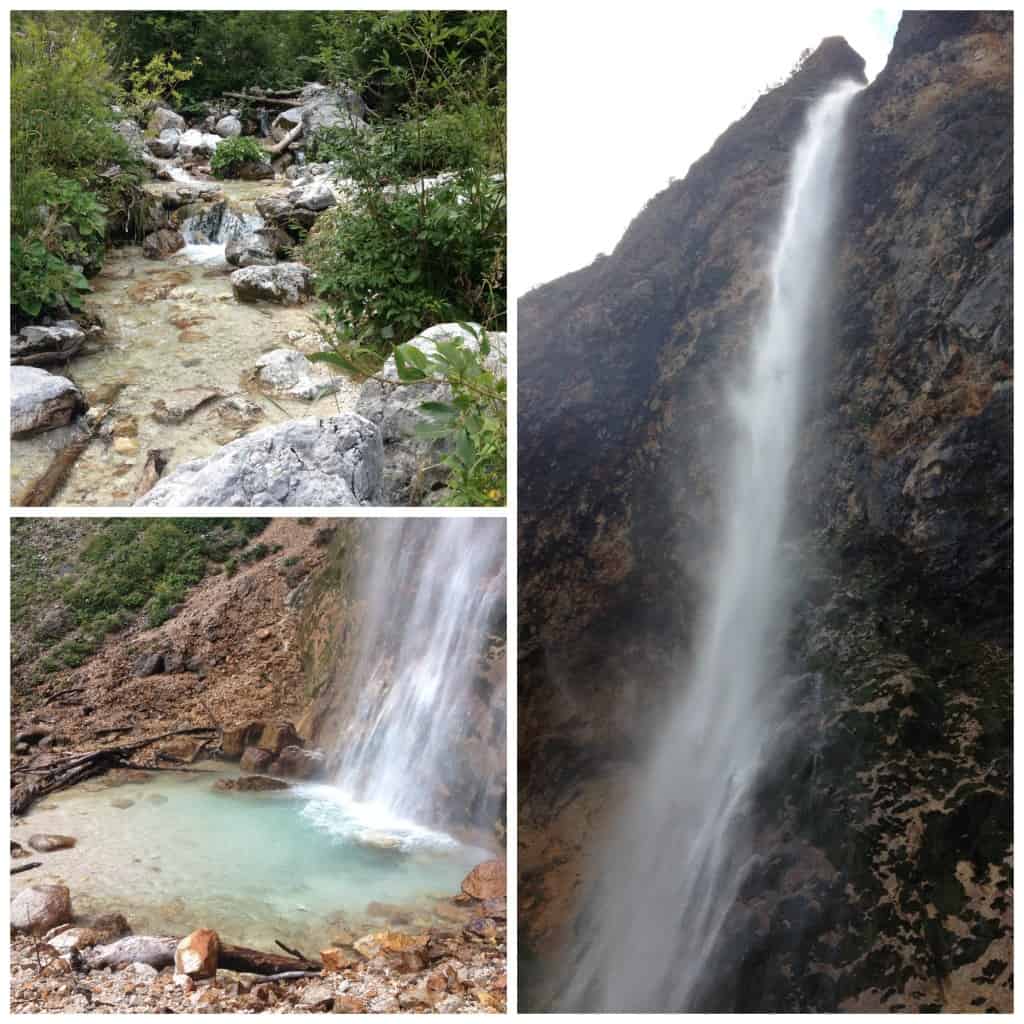 It's unfortunate that we only had a couple of hours to spare. With what energy we had left, we climbed up to the Rinka Waterfall, the second highest in the country, overlooked by an impressive suspended restaurant.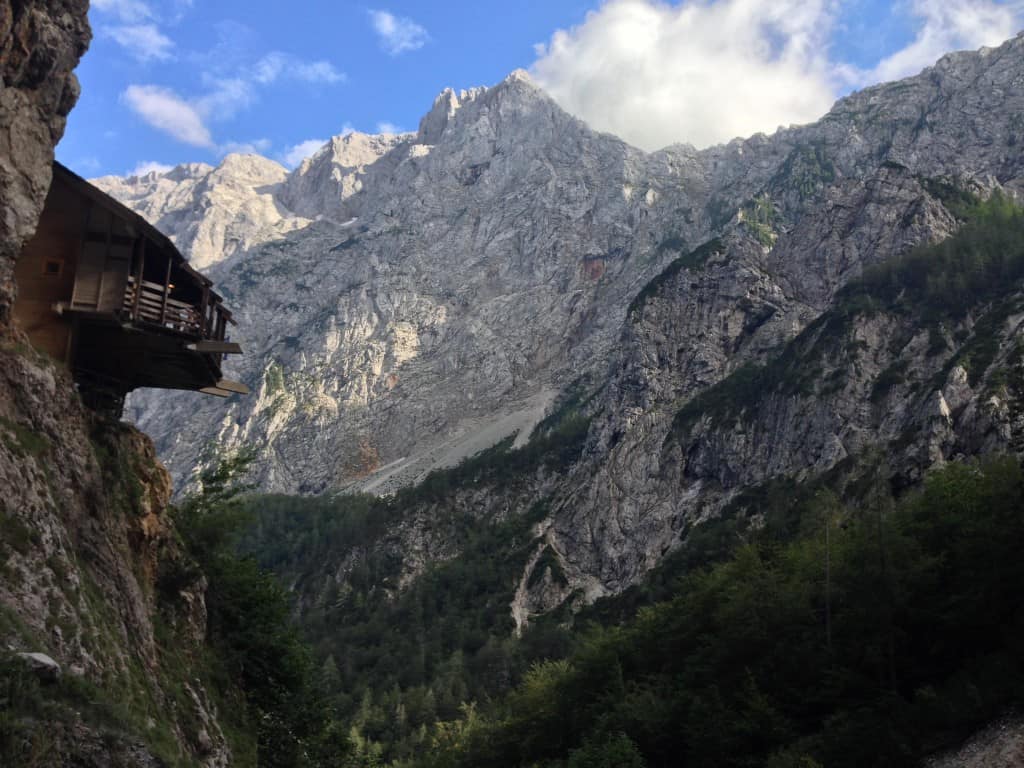 So what's the verdict? Are you itching to pack your bags yet?
Practical info
Languages spoken: Slovenian, but you'll survive with English or even German.
Currency: Euro
To find vegan & veg-friendly restaurants in the area: How to find vegetarian restaurants abroad with Happy Cow
In my opinion, Slovenia is a paradise for anyone interested in nature and landscapes of the spectacular kind. Think of it as the sister of Switzerland, budget-friendly but just as pretty. Plus, Slovenians are super nice people and all the tourism-related infrastructures are well developped.
So, when are we leaving? :)