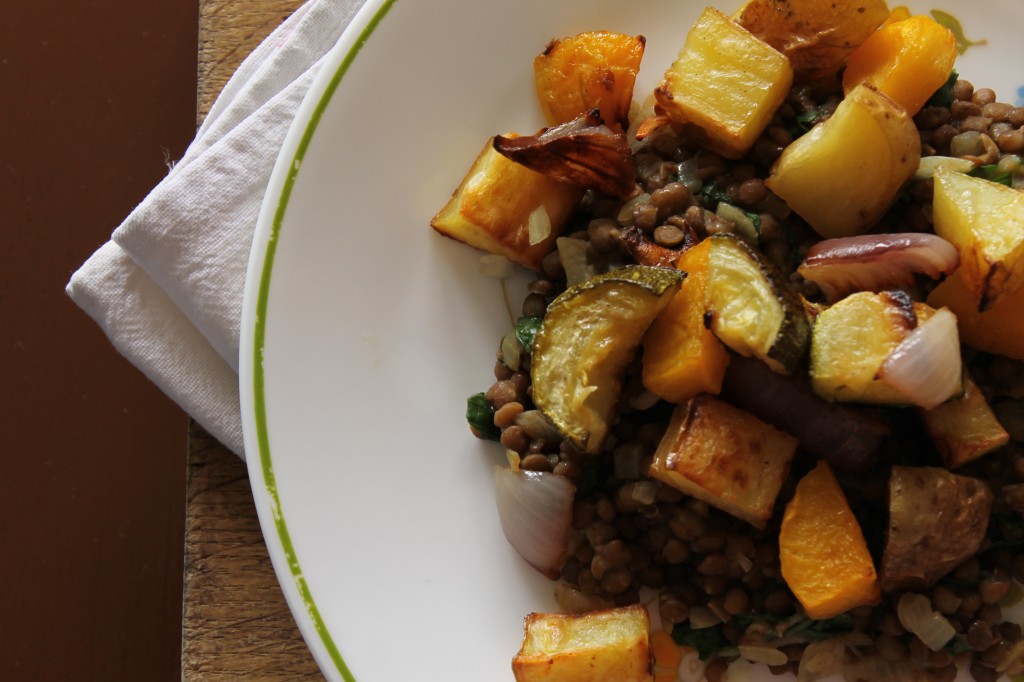 We started travelling through Europe a few weeks ago and we've been eating a lot of pasta. Pasta with sautéed veggies, pesto pasta, bruschetta pasta… you name it.
Of course, we're renting apartments with kitchens, but they're generally not very well equipped and force me to temper my culinary zeal.
Well, I was getting sick of eating noodles. I also got sick period. I came on with the flu and was craving soup. The Fall season having just started, I got my hands on some good looking butternut squash and zucchini at the market, along with some potatoes and onions. The ideal ingredients for a life-saving cold-fighting Fall vegetable and rice soup.
As usual, I purchased more than I needed. I'm a big fan of roasted veggies so I didn't think twice about it. Though I was planning to mix them with rice, I suddenly had an epiphany: lentils with caramelized onions and spinach!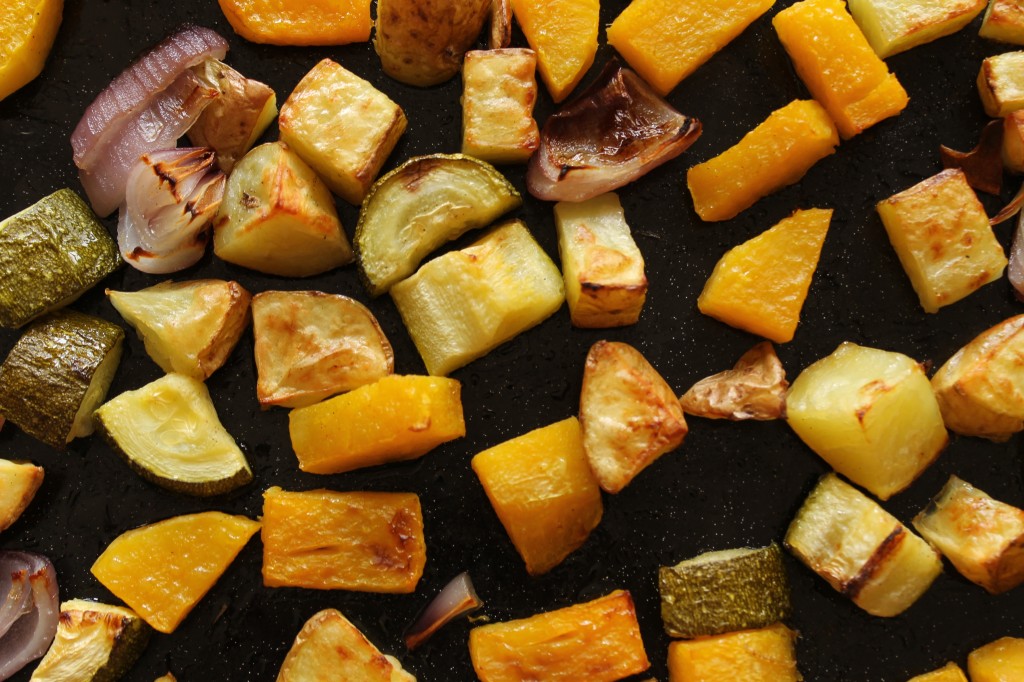 It tasted just as good as I had imagined.
It's enough for two big appetites. Simply double the recipe if you've got more mouths to feed. The beauty of it is that you can just pop your favorite veggies in the oven, make the lentil mix and I promise you'll end up with a scrumptious dinner.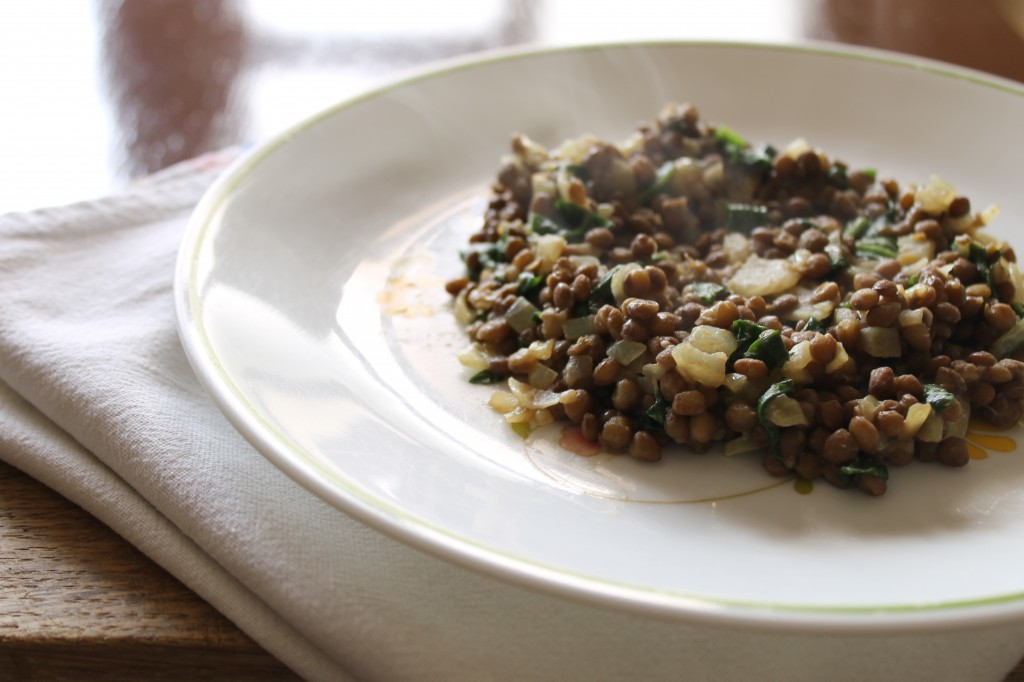 And a healthy one at that. Lentils have a well-earned reputation of balancing blood sugar levels and being high in fibers, proteins, vitamins and minerals. With regular consumption, you can reduce risk of heart disease and colorectal cancer.
I'll stop there with my nutritional mumbo jumbo and let you start cooking. Get to it!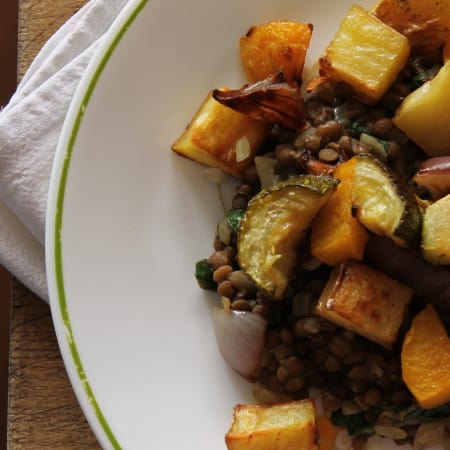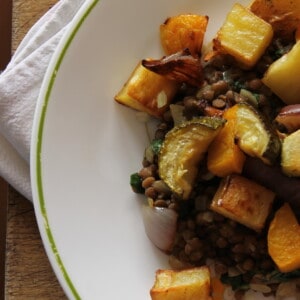 Roasted fall vegetables on caramelized onion and spinach lentils
A healthy, filling meal for the Fall season.
Ingredients
1

tablespoon

olive oil

1

garlic clove

1

piece

of ginger

about 1 inch

1

small red onion

cut in quarters

1

cup

butternut squash

peeled (about ¼ squash)

1

medium potato

1

zucchini

1

tablespoon

olive oil

1

small onion

minced

1

tablespoon

raw sugar

1

can lentils

rinsed and strained

2

handfuls fresh spinach

roughly chopped
Instructions
Preheat oven to 400°F.

Cut the vegetables in 1-inch pieces. In a bowl, mix them with the olive oil. With a garlic-press, press garlic and ginger directly over the bowl to get all the juices. Add salt and pepper to taste and mix well.

Lay vegetables on a greased cookie sheet and roast until they are tender. It should take around 20 minutes.

When the veggies are cooked, turn off the oven and prepare lentils.

In a pan on medium-high heat, soften the onions in olive oil. Add sugar and, if necessary, some more oil. Let caramelize for a few minutes. Stir often.

Add lentils and sauté for 2 minutes. Throw in the spinach and cook for 2 more minutes.

Lay the lentils on two plates and cover with roasted vegetables.

Devour.