I present you the perfect bacon! Ready in only 15 minutes, coconut bacon is the most realistic thanks to its crunch and its smoky maple flavour.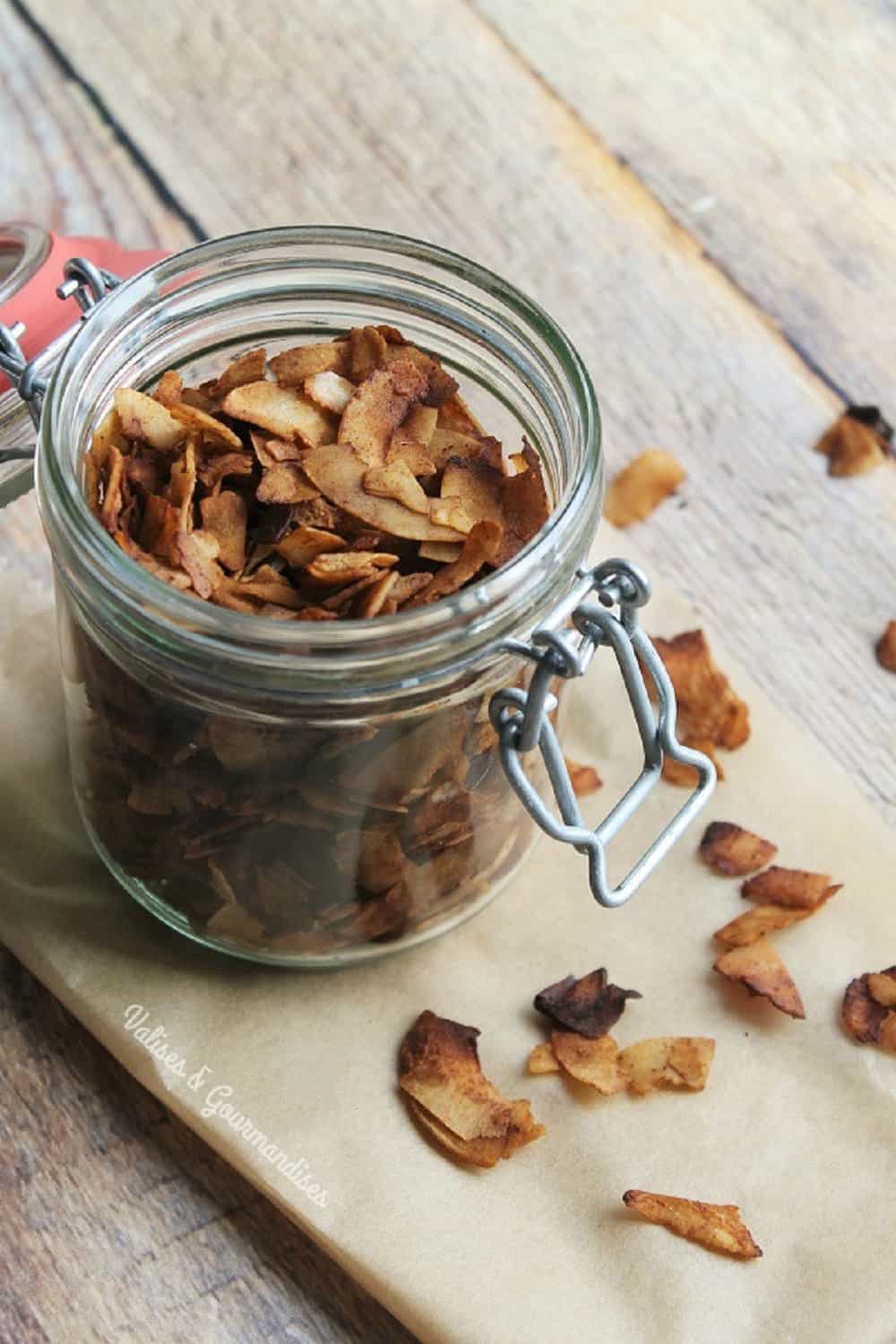 If you knew how much bacon I've eaten in my life… it's ridiculous. I'm a bit ashamed when I think about it. In a BLT, with eggs and breakfast potatoes, with pancakes… Bacon made an appearance on the menu pretty much every weekend. Smoky maple bacon to be precise.
But today, even though I haven't eating "real" bacon for years, I really can't say I miss it. Not with the array of compassionate options out there.

I often make tempeh and tofu bacon to top my polenta bowls or to garnish my sandwiches. I even tried rice paper bacon, which was really good but not as spectacular as the blogosphere said it to be. My fave though if without a doubt coconut bacon.
Don't believe me? Ask Martin.
Writing this recipe made me so hungry that I had to make my way into the kitchen to get the jar. I had downed half of it when Martin came and took it away from me.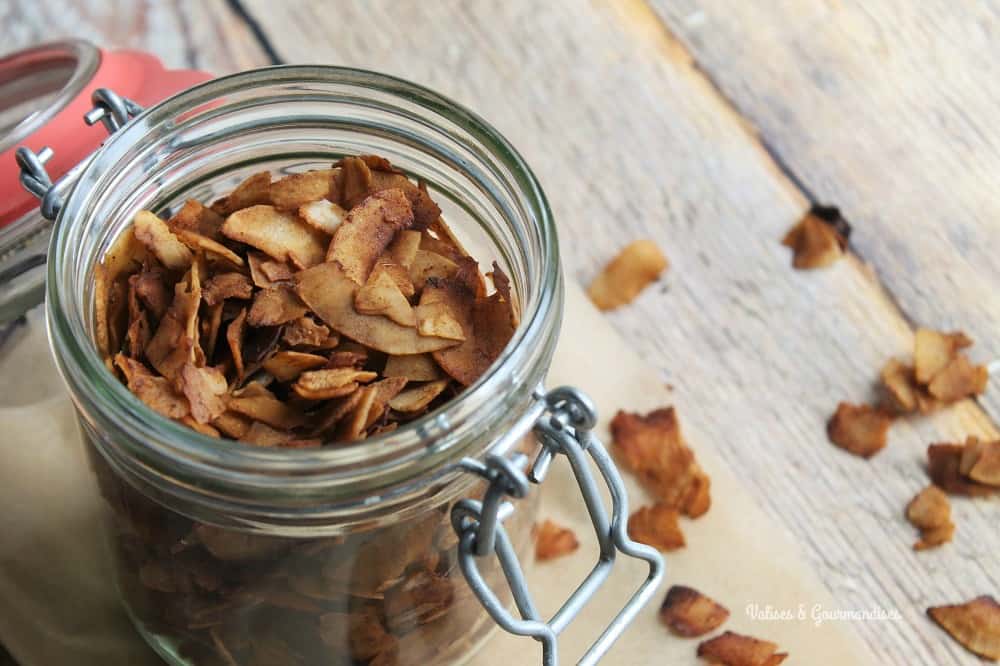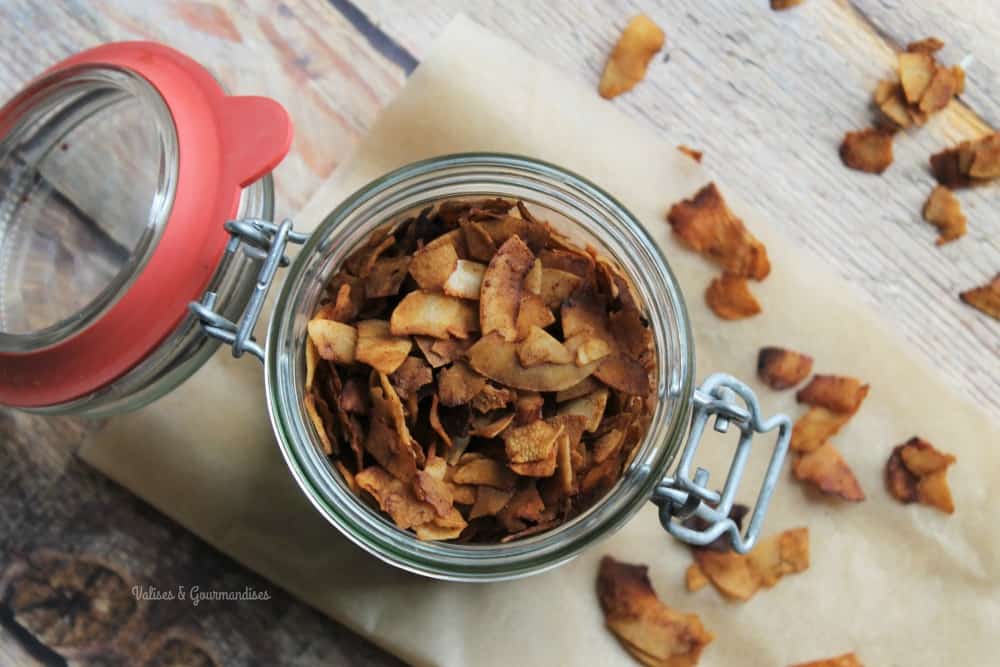 Thanks to the natural fat and crunch of coconut flakes, the result is impressive. In my opinion, it's the one that's the most similar to the real thing. It doesn't make sense to keep eating the flesh of an innocent little piggy now does it?
To make it, you'll need liquid smoke, which you can now find in many stores. If you have a hard time finding it, you can also order it online.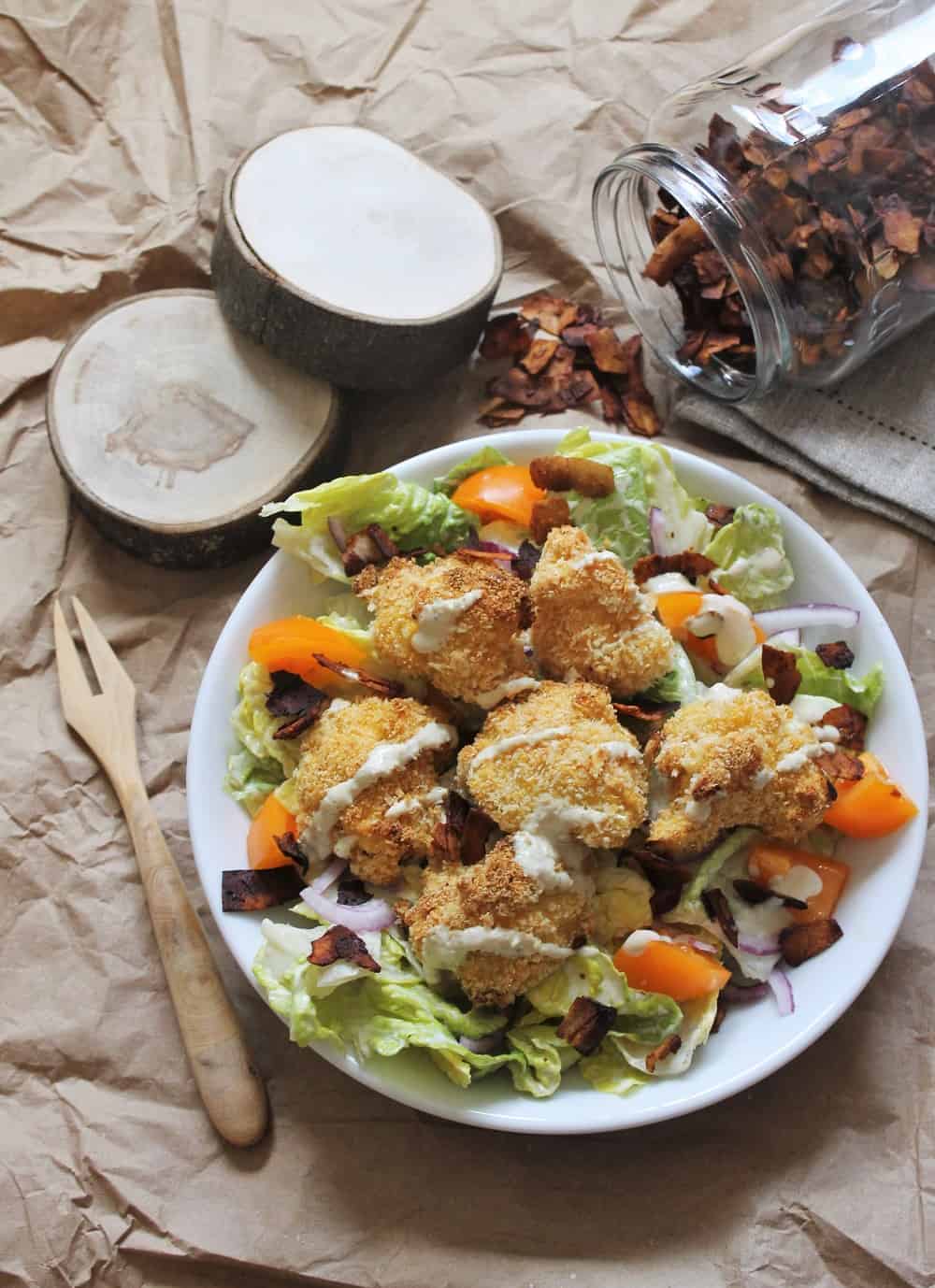 Cashew parmesan and this coconut bacon are essential ingredients of my Caesar salad with crispy cauliflower. Try it this weekend, you won't regret it!
What's your favourite bacon? If you try this recipe, make sure to snap a picture and share it on Instagram or Facebook using the hashtag #valisesetgourmandises. I wanna see your creations! And don't forget to leave a comment below :)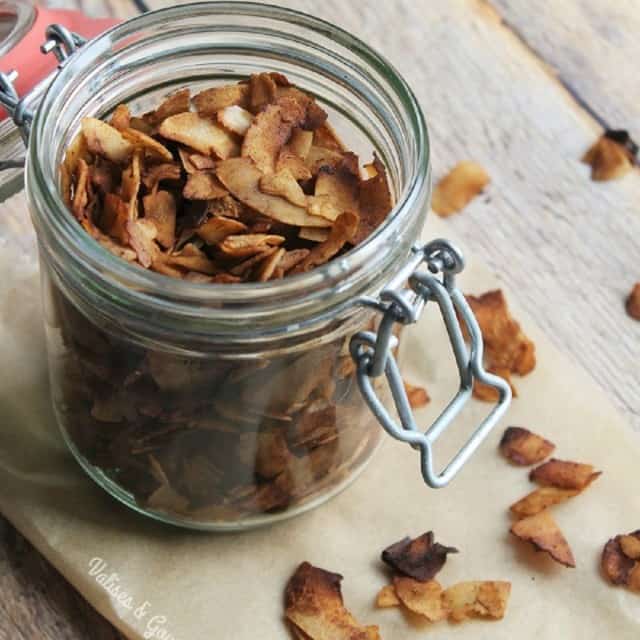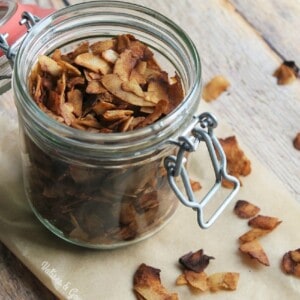 Smoky Maple Coconut Bacon
I present you the perfect bacon! Ready in only 15 minutes, coconut bacon is the most realistic with its crunch and its smoky maple flavour.
Ingredients
1½

tablespoon

shoyu soy sauce½ tablespoon maple syrup

use more for a sweeter bacon½ to 1 teaspoon liquid smoke1 teaspoon vegan Worcesteshire (optional, but so yummy)¼ teaspoon cumin (optional)¼ teaspoon smoked paprika (optional)2 cups coconut flakes
Instructions
Preheat the oven to 300F(150C).

Mix all the sauce ingredients in a bowl. Add the coconut flakes and coat well.

On an oiled baking sheet, arrange the flakes in a single layer. Bake for about 10 to 15 minutes. Keep an eye on them to make sure they don't burn.The bacon is ready when the flakes are dry and crunchy.
Notes
I actually never measure my ingredients. I just put everything into a bowl and taste it before adding the coconut flakes. The result is always perfect!
**This article may contain affiliate links, which means that I will receive a small commission if you purchase a product through them. The price remains the same for you, but this way you are helping me maintaining the blog and providing you more interesting content! :)