This vegan sweet potato and cauliflower curry is ready in only 30 minutes, for an easy and nutritious meal. It's also delicious thanks to spicy red curry paste and creamy coconut milk.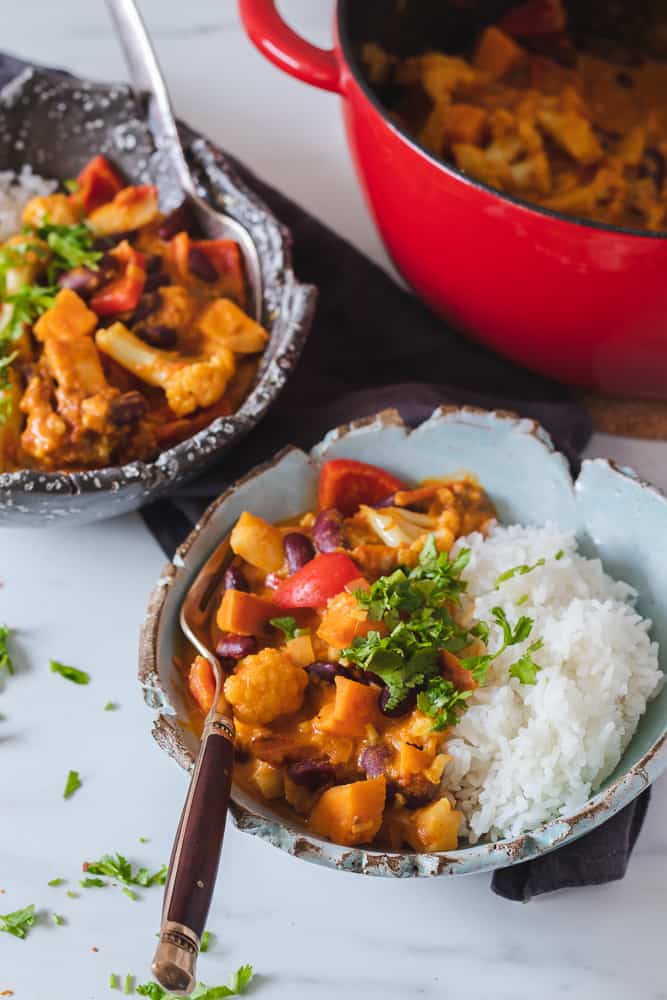 In Québec, we have an expression for when you take whatever's left in your fridge and make a meal with it. It's called a "touski" (derived from "tout ce qui reste" which means "whatever's left") and is typically quite boring. Well this touski is nothing like any I've ever made. A little imagination can take you very far, without having to work hard at all.
What I love about this sweet potato curry, aside from its tastiness, is that you can make it in about half an hour and that everything is cooked into a single pot. Minimal dishes is always a big plus. Come to think of it though, that's not really a concern for me, as I almost never wash the dishes, but I have to keep in mind that not everyone has a boyfriendhusband as devoted as mine :D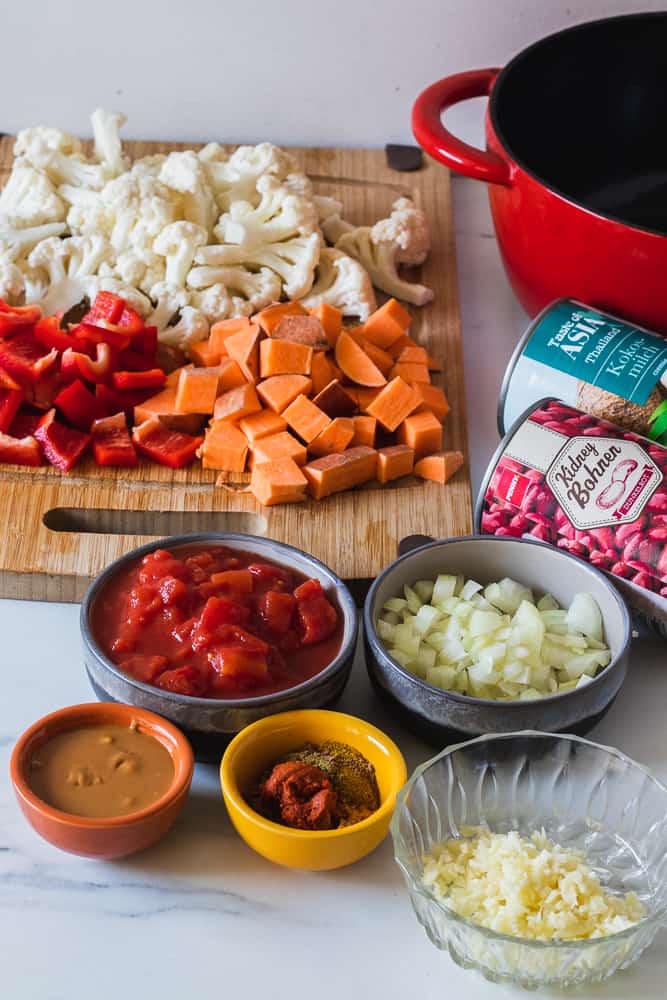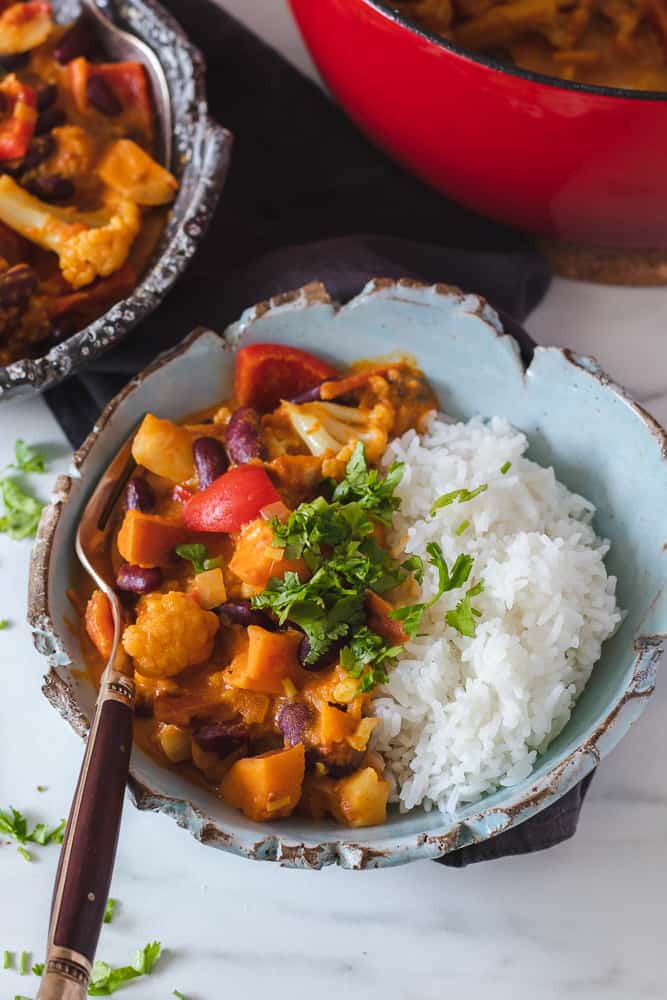 I gathered many of my favorite foods in this fool-proof recipe: sweet potato, cauliflower, red curry paste, coconut milk, cilantro… As always, use what you like and what you have on hand (white potatoes, pumpkin, zucchini, mushrooms…)
Which curry paste should I use?

Red curry paste often contains fish or other ingredients from the sea. It's therefore wise to read the label. I sometimes buy a "prepared" jar when I can find one at the supermarket. By prepared, I mean that it already contains lots of spices, ginger, etc.
Otherwise, I keep on hand a big container of red curry paste that's basically pure, which I bought at the Asian store a couple of years ago. I store it in the fridge and it seems to be immortal! Probably because it's insanely spicy.
If you use one of that kind, add a bit less so you don't burn set your tastebuds on fire. It's also not as salty, so you'll have to adjust the saltiness to your liking.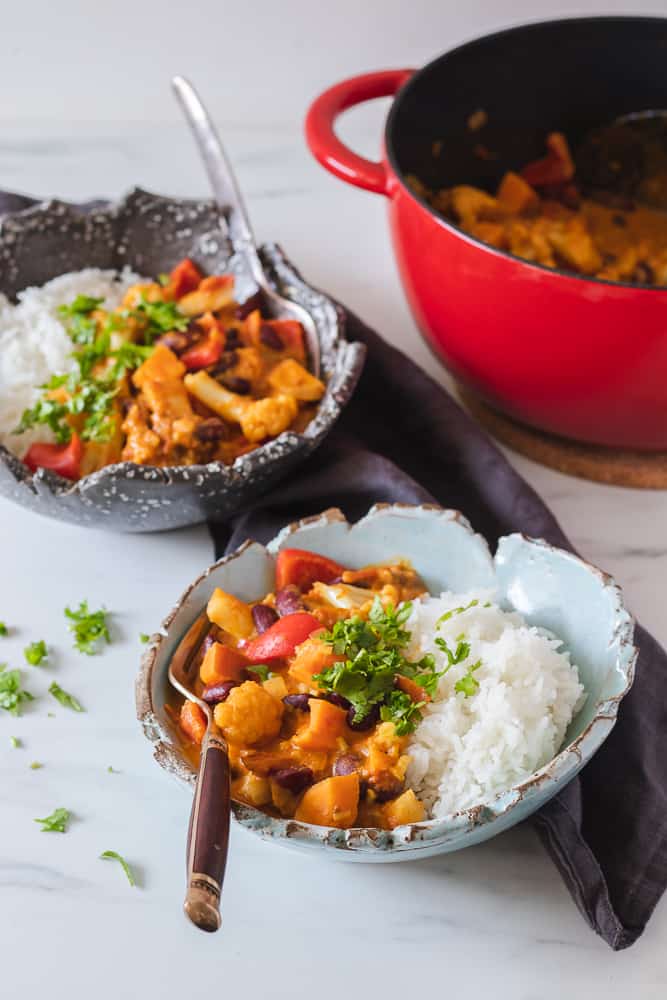 Side ideas
On it's own, this curry does the job as a filling meal, but you can serve it on some jasmine rice to feed more people. It's a good idea to serve it with naan or pita bread, useful to wipe off the sauce at the end. It's a lot more classy than my technique of licking the plate until it sparkles.
It's actually one of the recipes we make the most whenever we have people over. Or the one we send friends when they ask for easy recipes (and forget that I have an entire blog dedicated to just that haha).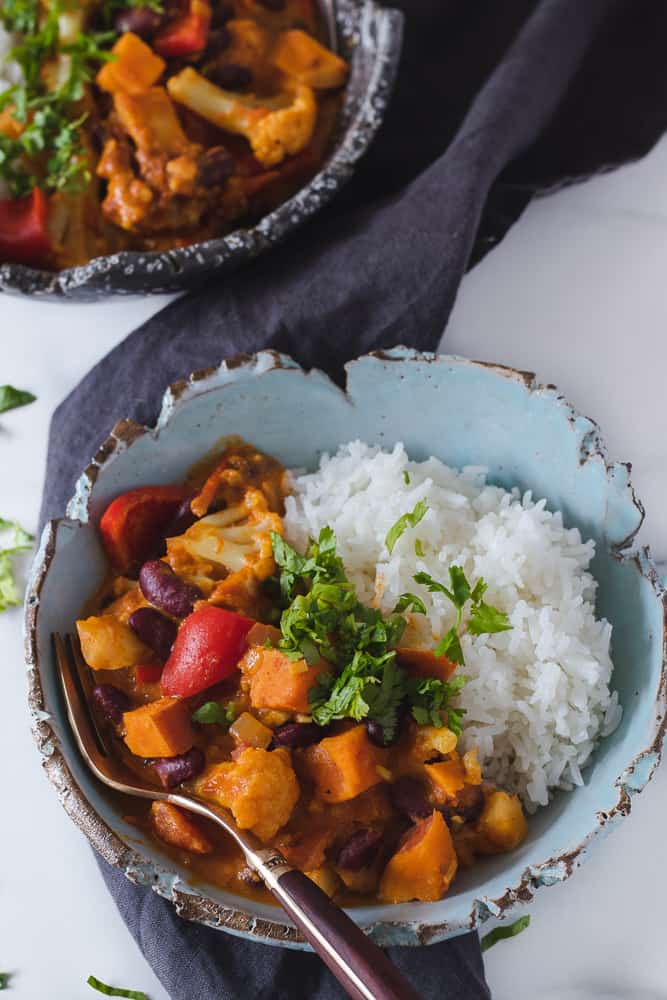 Similar Recipes
You'll also be happy to find out that it reheats quite well by the way, which makes it an ideal lunch! Premium lunch if you ask me. It even gets more flavourful after a day or two in the fridge.
If you try this recipe, make sure to snap a picture and share it on Instagram or Facebook using the hashtag #valisesetgourmandises. I wanna see your creations! And don't forget to leave a comment below :)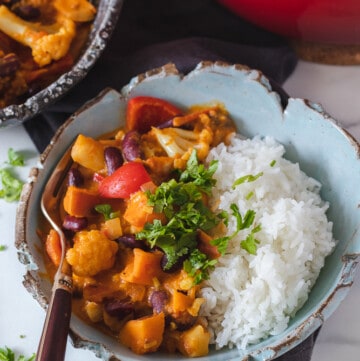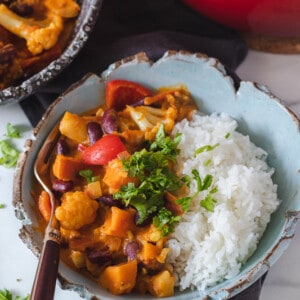 Spicy Sweet Potato Curry
This vegan sweet potato and cauliflower curry is ready in only 30 minutes, for an easy and nutritious meal. It's also delicious thanks to spicy red curry paste and creamy coconut milk.
Ingredients
1

tablespoon

oil

1

small

yellow onion

diced

3

cloves

garlic

crushed

2

teaspoons

red curry paste*

1

teaspoon

turmeric

1

teaspoon

curry powder

½

teaspoon

cumin

½

teaspoon

coriander powder

1

small

sweet potato

diced

1

small

cauliflower

cut in fleurets

1

red bell pepper

cut in large pieces

1

cup

diced tomatoes

canned with the juice

1

can

full-fat coconut milk

400ml

1

can

kidney beans

rinsed and drained

2

tablespoons

natural peanut butter

or more to taste

1

bunch

fresh cilantro

roughly chopped
Instructions
Melt coconut oil in a large pot on medium heat. Add onion and cook until translucent. Add garlic and cook for a minute.

Add spices, mix well and cook for a minute or two.Add sweet potato and cauliflower and stir to coat them with the spice mix. Add tomatoes and coconut milk. Bring to a boil, reduce heat, cover and let simmer for 15 minutes, stirring once in a while.

Add bell pepper and beans. Let simmer for another 10-15 minutes, until the vegetables are tender. Add peanut butter, mix well and serve with fresh cilantro.
Notes
Most store-bought curry pastes are not vegan. Be sure to read the labels.
If using a very spicy Asian-store version, start with 1 teaspoon, taste and add the second one if not too spicy.
If you want something lighter, use half a can of full-fat coconut milk (200 ml) and 200 ml of vegetable broth. Don't use low-fat coconut milk, since it's simply the full-fat kind diluted in water. 
Nutrition
Calories:
349
kcal
Carbohydrates:
22
g
Protein:
7
g
Fat:
29
g
Saturated Fat:
19
g
Sodium:
62
mg
Potassium:
803
mg
Fiber:
5
g
Sugar:
7
g
Vitamin A:
6141
IU
Vitamin C:
80
mg
Calcium:
75
mg
Iron:
5
mg