The crunchy veggies and fresh herbs combine with the spicy red curry, coconut milk and PB sauce to create the perfect spring roll.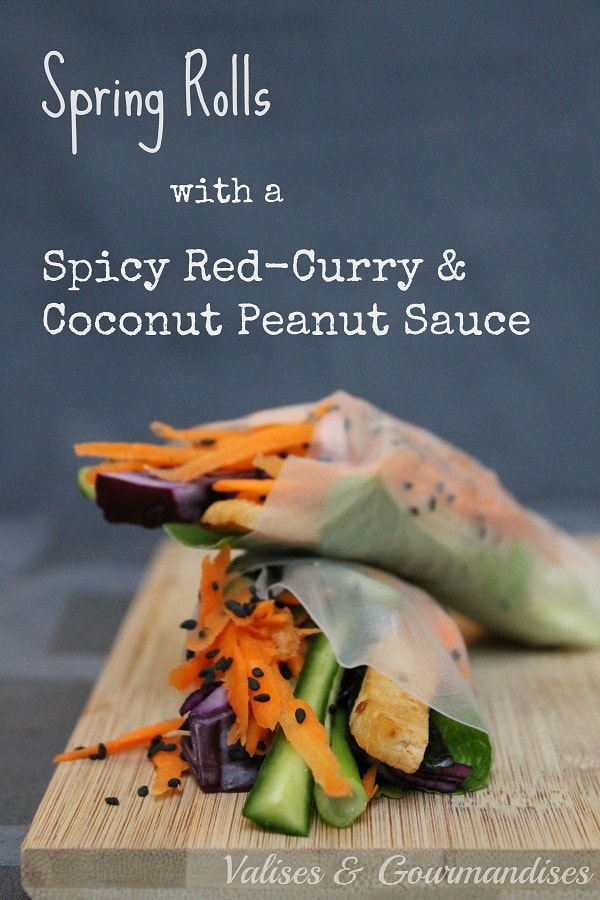 Hallelujah! Spring has finally come around. It was about time. As early as 6 am, the birds are chirping near our window and the sunshine is tickling our faces. No more sleeping in! We're not looking forward to having curtains at all… [Bad poker face].
Sarcasm aside, I love spring, and especially the fact that it arrived so quickly here in Germany. When we returned from Estonia in early April, magnolia trees were showing off their gorgeous flowers and the streets were full of daffodils, tulips and plenty of others. An explosion of colours and scents that was more than welcome after a gloomy winter.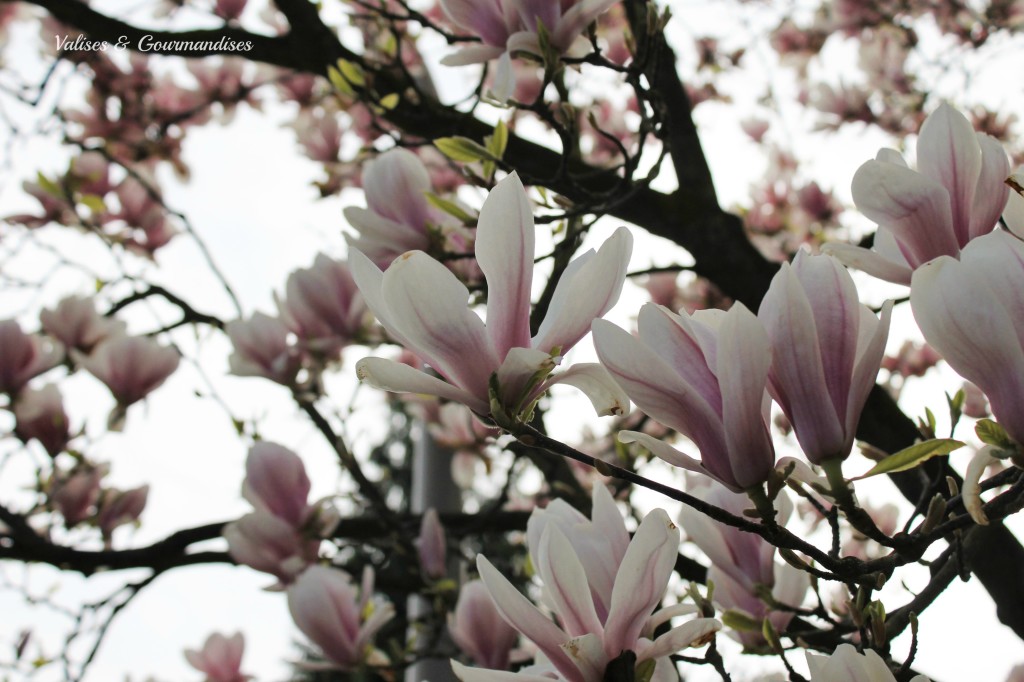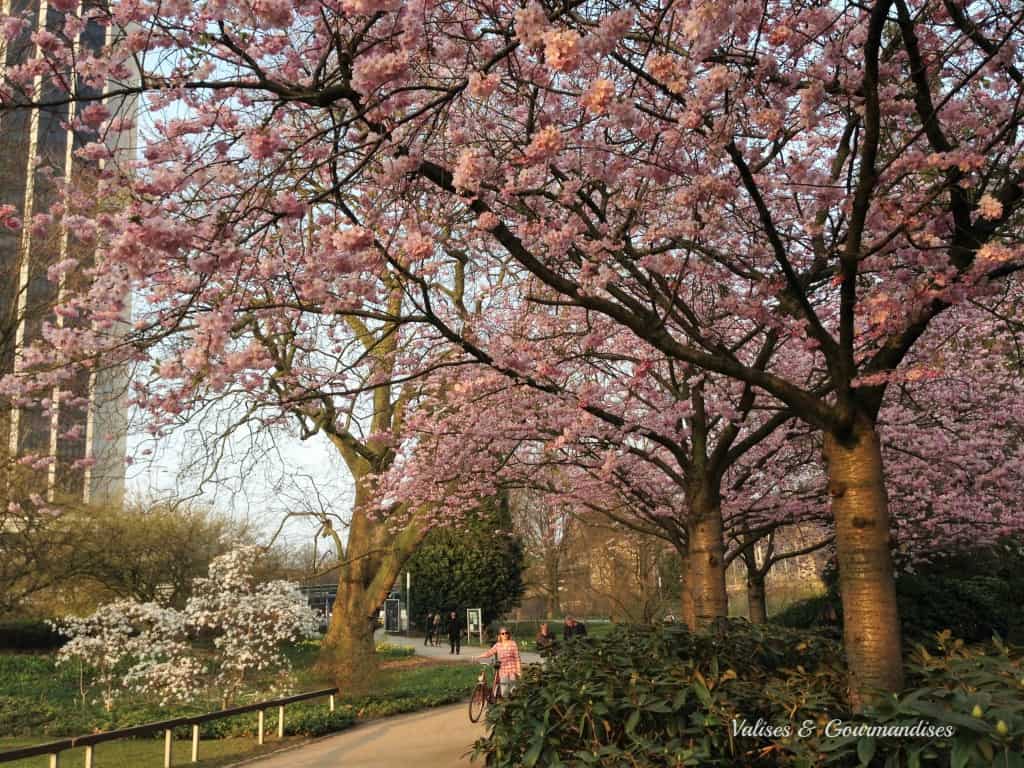 Martin even convinced/coerced me to start running. Me, the girl who always avoided sports like the plague. What I wouldn't do for this boy… Move to another continent, start jogging… What's next? Nudism?
Ok, back to the recipe. I'm assuming that's why you're here, right? I've had it up my sleeve for quite a while but I was waiting for the right time to share it. So here it is!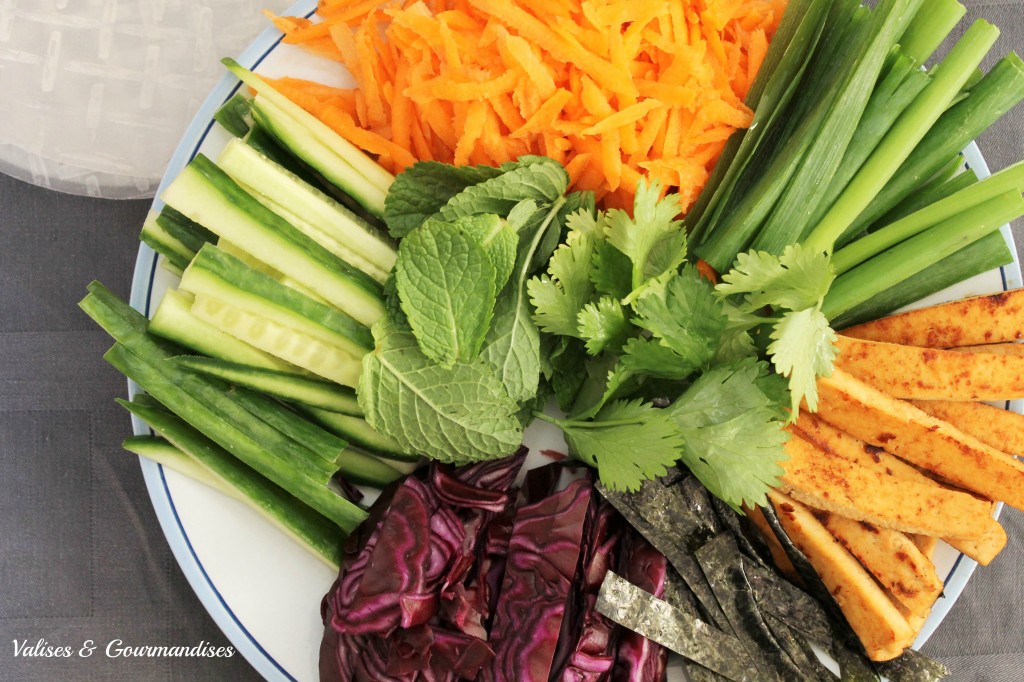 Despite my obvious lack of talent rolling them, spring rolls are of one my favourite foods. I find them ideal for friendly suppers; the ingredients can simply be laid out on the table for everyone to garnish as they please. In a way, they're a little bit like oriental-style fajitas.
The variations are endless but today I'm sharing one that I particularly like. With a sauce so good I'd bathe in it. For hygiene concerns though, I stick to dipping my rolls in it and flooding my sautés with it. Seems like a reasonable compromise.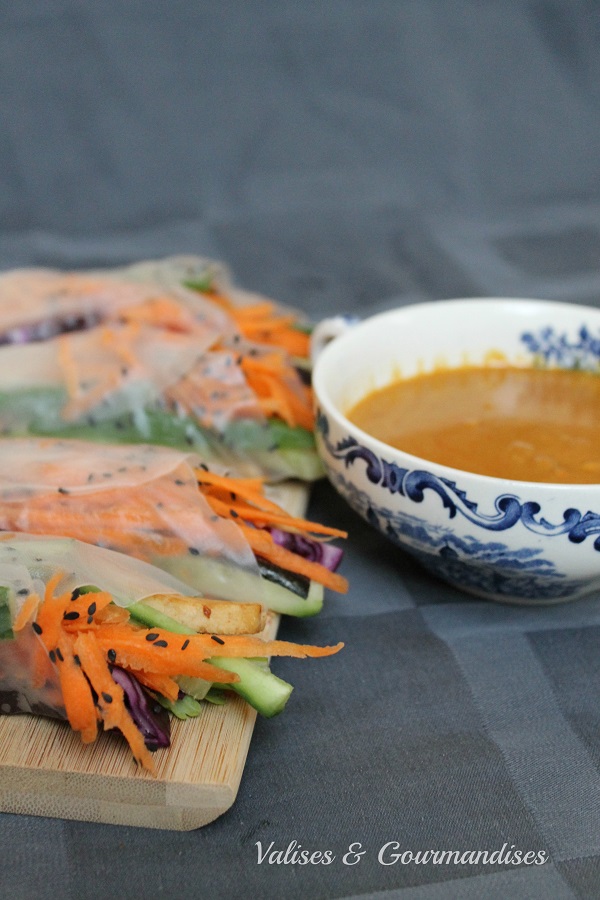 Roll away!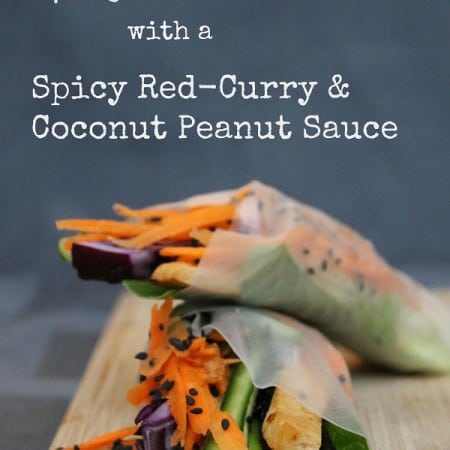 Crunchy Spring Rolls
The crunchy veggies and fresh herbs combine with the spicy red curry, coconut milk and PB sauce to create the perfect spring roll. The following quantities yield 6 rolls, which represents a meal for one or an appetizer for two. They can be easily adjusted to feed more people.
Ingredients
Tofu Marinade
1

tablespoon

brown sugar

1

tablespoon

shoyu sauce

1

tablespoon

rice vinegar

½

teaspoon

Sri Racha

hot pepper sauce

1

garlic clove

crushed
Spring rolls
100

g

organic firm tofu

1

big carrot

grated

½

cucumber

cut in strips

1

cup

red cabbage

minced

2

spring onions

cut in strips

½

nori sheet

sushi algae, cut in strips

2

tablespoons

sesame seeds

I used black ones

12

fresh mint leaves

A handful of fresh cilantro

6

rice sheets
Spicy red-curry, coconut & peanut sauce
1/2

cup

full-fat coconut milk

2

teaspoons

red curry paste

vegan

2

tablespoons

peanut butter

natural

1

tablespoons

agave or maple syrup
Instructions
Tofu marinade
In a resealable container, mix the ingredients of the marinade together. Cut the tofu in 12 strips and place in the container, coating it well. Cover and let marinate in the fridge.
Spring rolls
Cut the veggies and place on a plate with the herbs and the nori strips.

In a pan, roast the sesame seeds without oil for a few minutes, stirring often. Be careful not to burn them. Set aside.

Use the warm pan to roast the tofu for 2 minutes on each side.

In a shallow bowl that's big enough to soak the rice sheets, heat some water. I use the pan in which I cooked the tofu, washed.

Place all the ingredients in front of you: veggies, tofu, warm water bowl and rice sheets. Soften one rice sheet at a time by delicately placing it in water for ten seconds. Lay it on a plate and garnish with one sixth of the ingredients; place them in the center with enough space on each side. Fold the sheet over the ends and roll tightly. I'm not that good at rolling, so I usually leave one end open (like on the picture).

Once everything has been rolled, prepare the sauce and serve it hot.
Spicy sauce
Add all sauce ingredients to a small saucespan and heat 5 minutes until just bubbling.
Notes
You can also lay everything on the table and let people create their own roll. If choosing to do so, prepare the sauce while the tofu is cooking.
I like to add mango, avocado or edamame to my rolls for even more freshness.