This vegan scrambled tofu is made with 2 secret ingredients for a vitamin and protein-packed meal!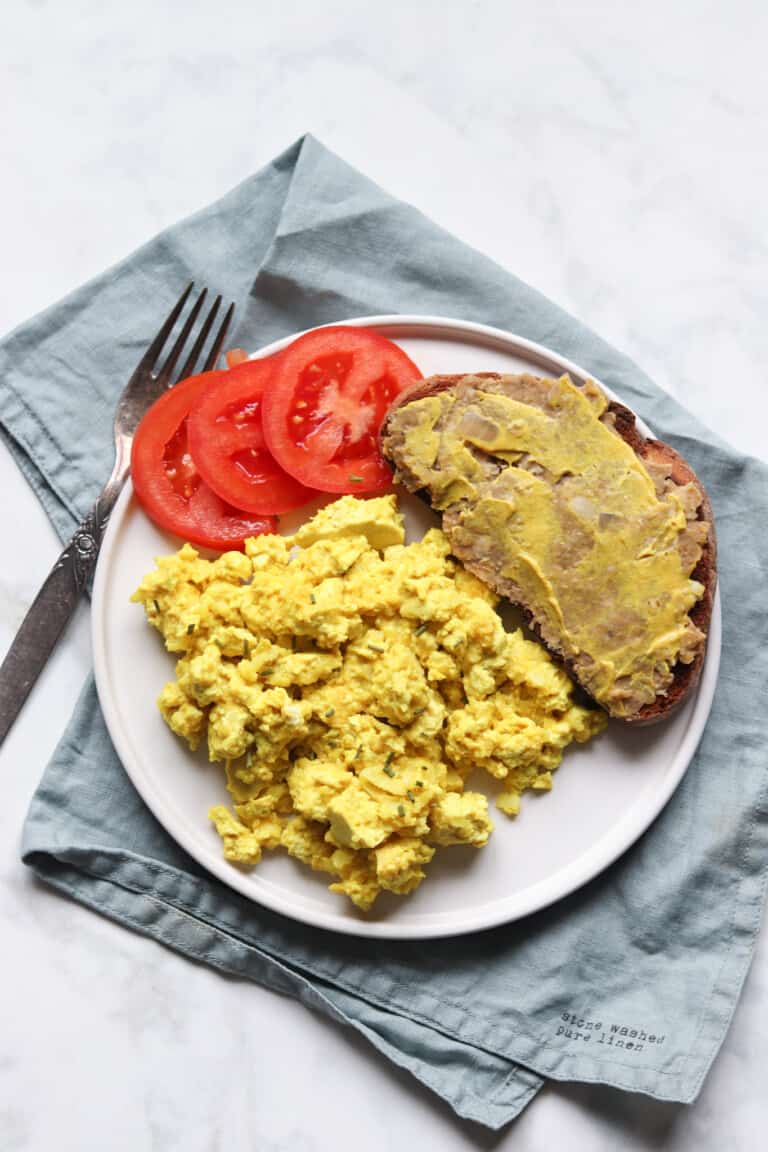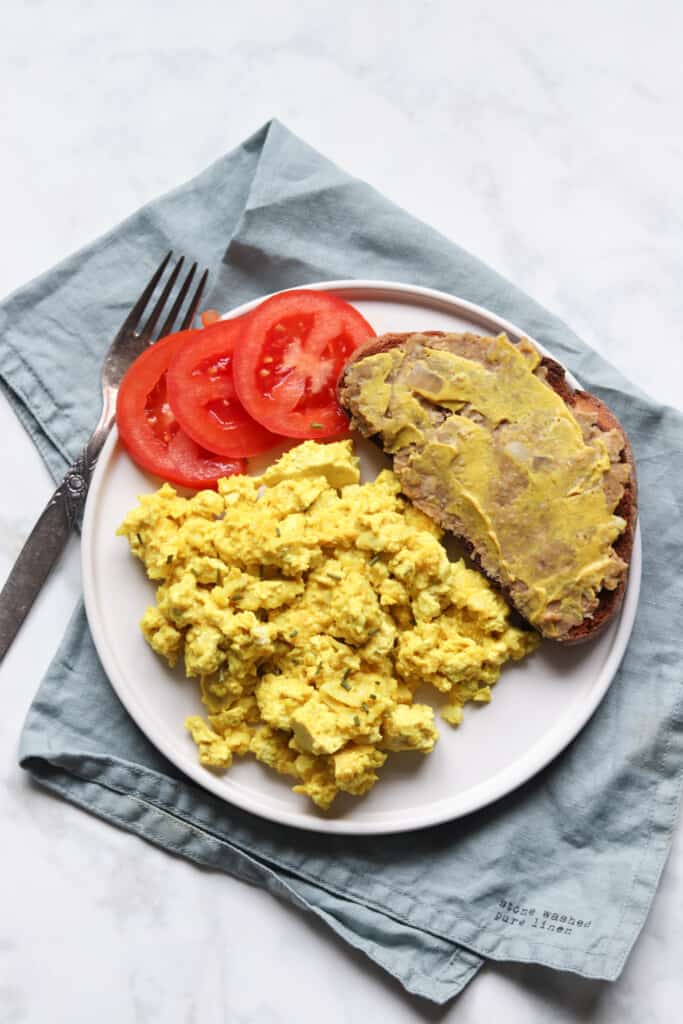 Did I really call my vegan scramble the best? I sure did! I've been making scrambled tofu for many years and I've perfected my technique to create a recipe that's as healthy as it is delicious. You don't need to worry about dry tofu scramble here!
I love this recipe so much that I made a video to show you how easy it is. You can find below over on my YouTube channel, which is very slowly but surely growing. I plan on uploading one video a week if things go well. Please let me know what kind of content you'd like to see, because I'm creating everything for you!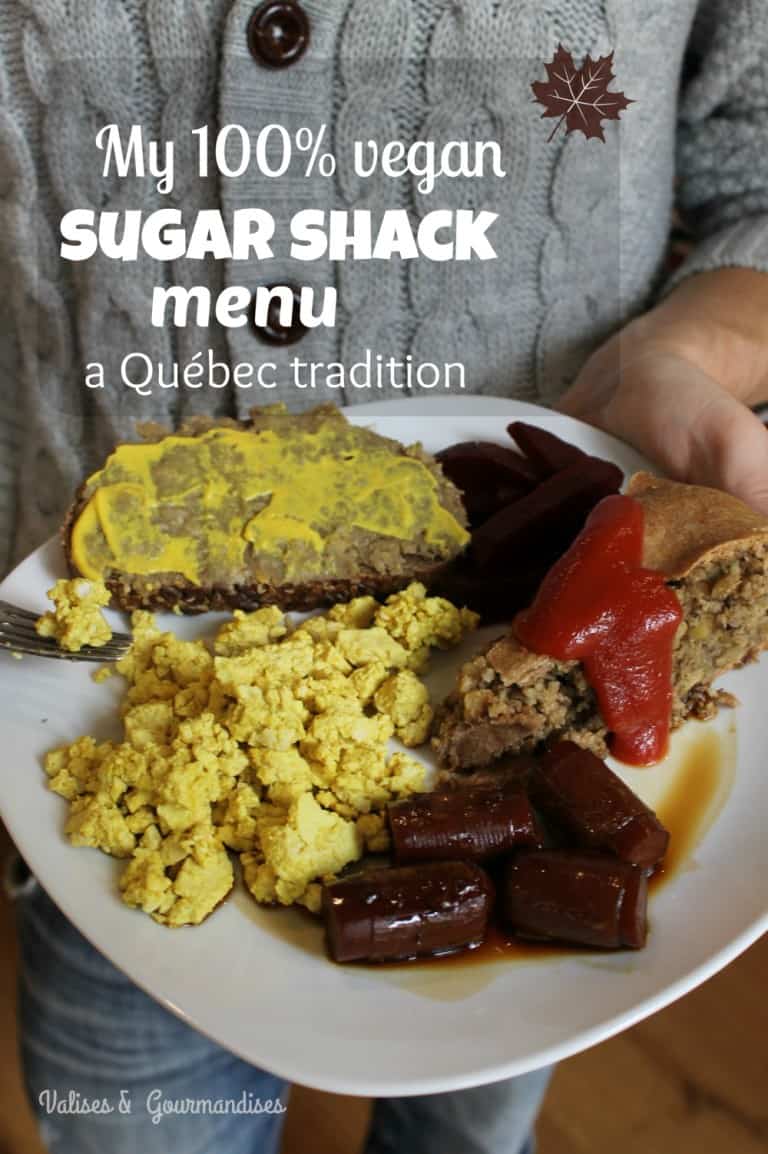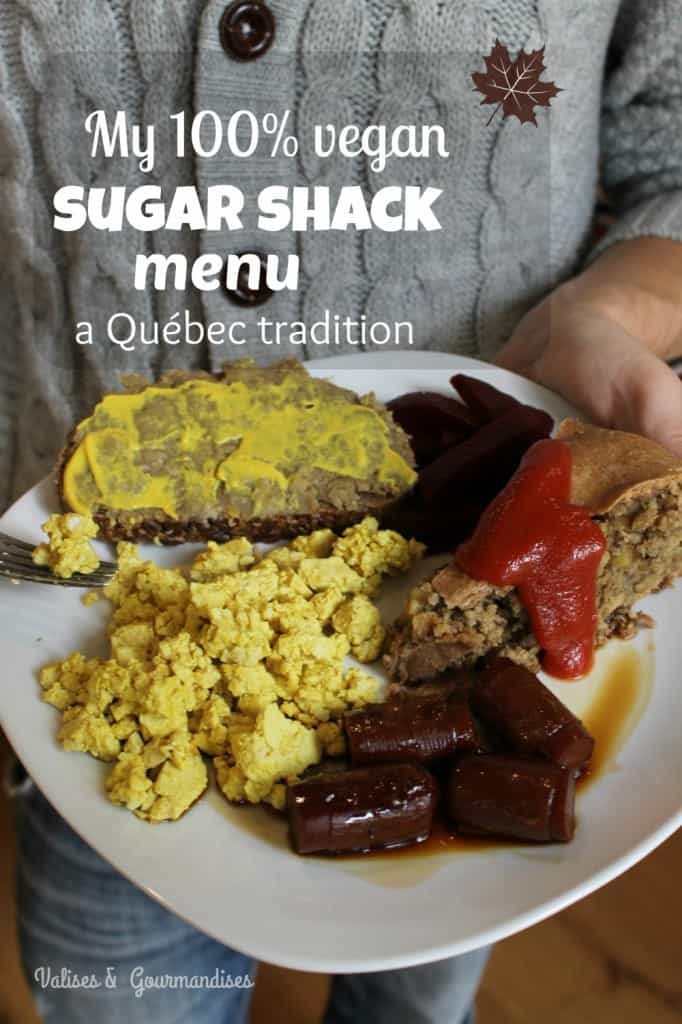 You might remember the tofu scramble from my Vegan Sugar Shack post, which you should definitely check out if you haven't already to know a bit more about this Quebec tradition and get some veganized typical recipes. The recipe for my vegan cretons, the "meaty" spread you see on that toast, can also be found in that post and on my YouTube channel.
Scrambled tofu is one of those dishes that I like to eat as much in the morning as in the evening. It goes great with avocado toasts or fried rice with kimchi, or in a yummy sandwich with lots of vegenaise! You can absolutely make it in advance and keep it in the fridge for a few days, though I wouldn't keep it longer than 3 days because of the secret ingredient.
I actually use not one but two secret ingredients, which you can totally omit if you prefer but you will sacrifice some taste and texture. I always cringe when I see people simply frying crumbled tofu with turmeric and calling it tofu scramble. And I'm giving measurements for reference but it's best to just follow your instincts and make it to your taste.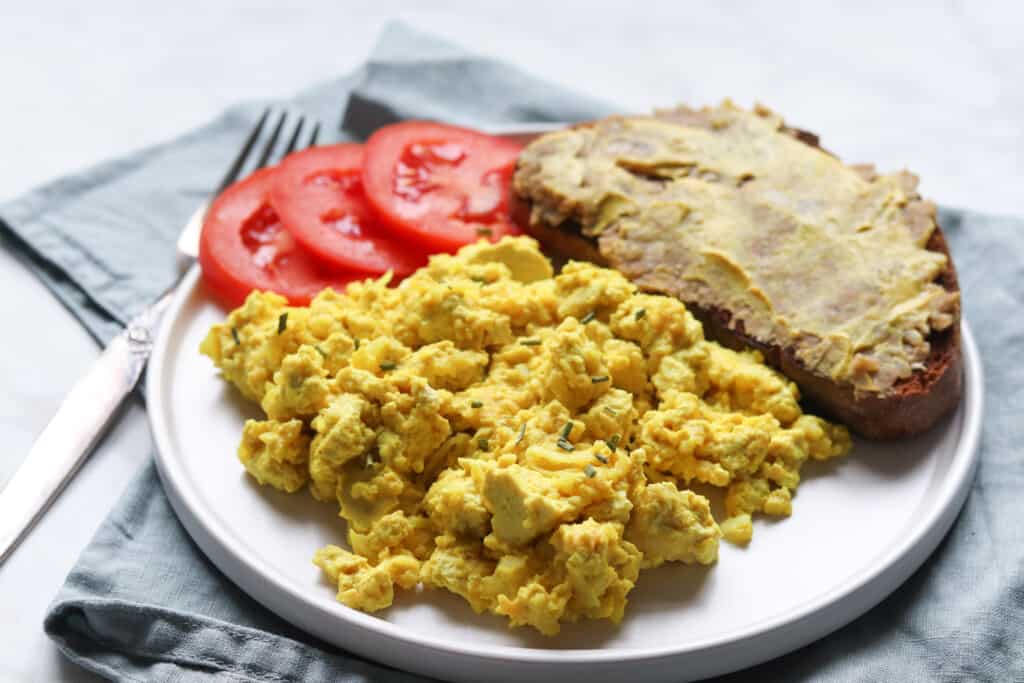 I like mine a bit runny, not too much, and I've found that grated cauliflower and chickpea flour take this dish to a whole new level. You can even buy grated frozen cauliflower nowadays so there's no excuse! But of course if you have a few more minutes on your hands, just grate it yourself before steaming in the pan.

Once the cauliflower is steamed, add the tofu and spices and cook for 2-3 minutes. Then add a few tablespoons of organic chickpea flour which you can buy in bulk and some milk until you're happy with the consistency.
It's crucial that you fully cook the flour, about 5 minutes, otherwise you'll be left with a weird metallic taste, which totally disappears once cooked I promise. Like in these scrumptious chickpea flour chocolate chip cookies!
You can of course add all kinds of veggies or even vegan cheese and sausage for a delicious treat! The possibilities are endless and are just waiting for you :)
Latest posts
So voilà. Are you ready to try this new and improved vegan tofu scramble?
If you do, make sure to snap a picture and share it on Instagram or Facebook using the hashtag #valisesetgourmandises. I wanna see your creations! And don't forget to leave a comment below :)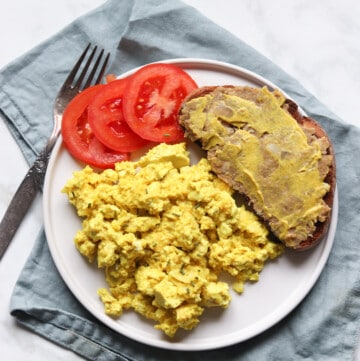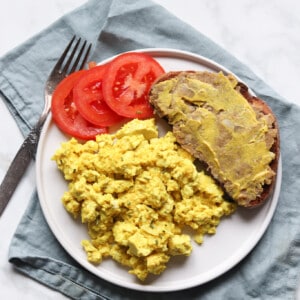 The best vegan tofu scramble
Vegan tofu scramble made with 2 secret ingredients for a vitamin and protein-packed meal!
Ingredients
400

g

tofu

crumbled

1/3

cauliflower head

grated

1/4 to 1/3

cup

water

1/2

tsp

turmeric powder

1/2

tsp

onion powder

1/2

tsp

garlic powder

1/4

tsp

kala namak salt*

salt & pepper to taste
For runnier "eggs"
2

tbsp

chickpea flour

1/4

cup

plant milk
Instructions
Heat up a pan on medium-high and add the grated cauliflower and some water. Bring to a boil and cook 5 minutes.

Add the tofu and spices and mix well until the whole thing turns yellow. Add the chickpea flour, plant milk (I like to use soy or oat) and cook well, at least 5 minutes.

Taste and add salt & pepper if necessary.
Notes
Y

ou can find kala namak in most stores nowadays. It has a sulfurous smell and yields the eggy aroma. 
Nutrition
Calories:
213
kcal
Carbohydrates:
11
g
Protein:
21
g
Fat:
10
g
Saturated Fat:
1
g
Sodium:
27
mg
Potassium:
100
mg
Fiber:
3
g
Sugar:
2
g
Vitamin A:
63
IU
Calcium:
288
mg
Iron:
3
mg