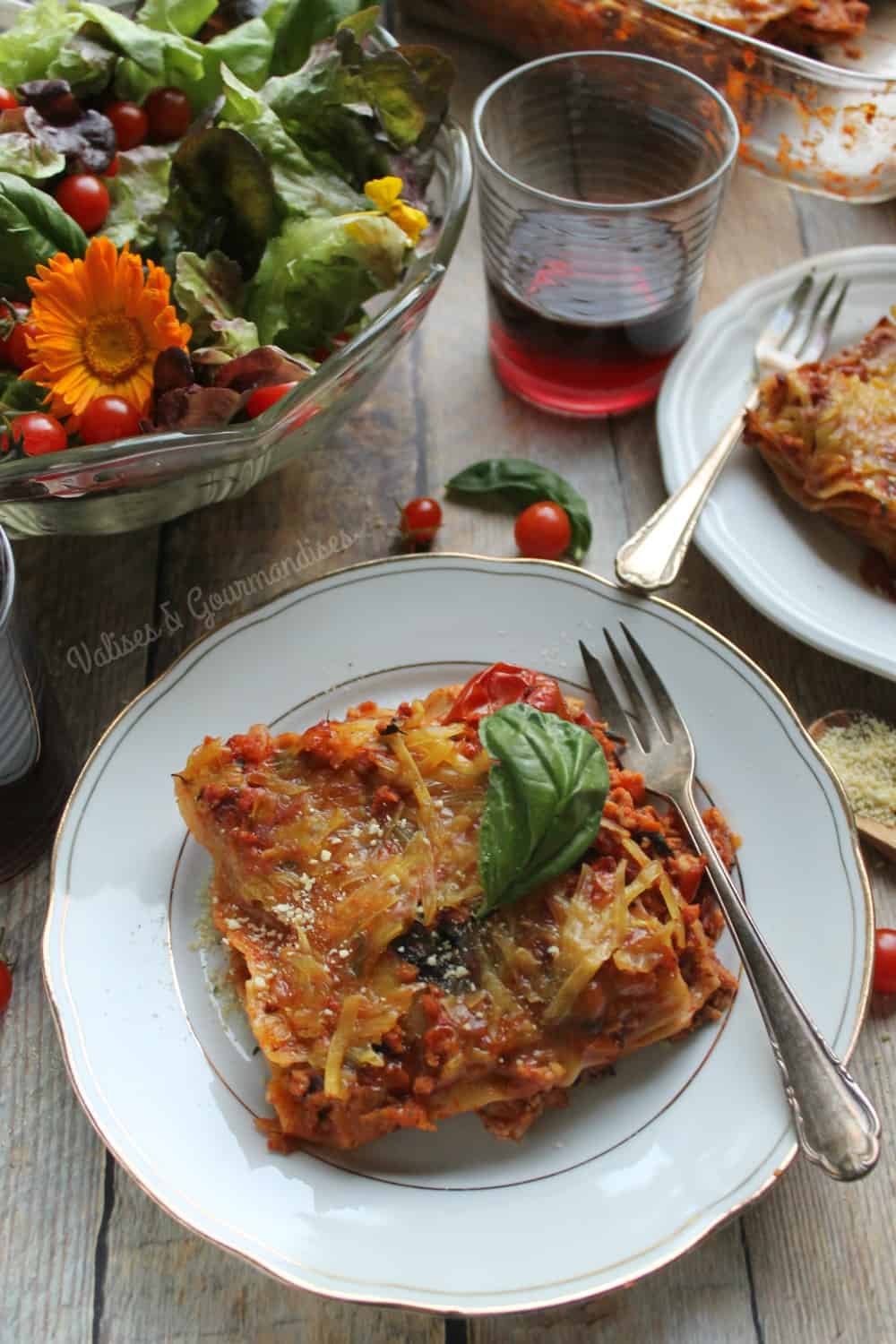 If you're a fan of bolognaise but are looking for a healthier, compassionate and sustainable way to replace meat, listen closely. You can have your lasagna and eat it too!
How you ask? With textured soy protein, aka TSP or TVP. Never heard of it? It's been around for a long time, but the rise of vegetarianism and healthy-eating has brought it under the spotlight.
It is after all one of the most convincing meat alternatives out there. It is made with defatted soy flour and can be found in different convenient shapes to veganize your favourite recipes: ground, nuggets, medallions, etc.
It comes in a dry tasteless form and needs to be rehydrated and flavoured. The most efficient way to do so is to cover the dry flakes or chunks with boiling broth. I personally like to add boiling water from the kettle and one cube of organic vegan no-chicken bouillon. After 5 to 10 minutes, it's ready to be drained and added to your masterpiece.
It contains approximately 50% protein, making it a good choice for those who still think that vegetarians and vegans don't get enough amino acids. We do though, thank you! To learn more about plant-based protein, head over to this helpful article.
That being said, since you know I'm all about wholefoods, I don't recommend you start eating TSP as your main source of protein. It is however a fun option to use from time to time. :)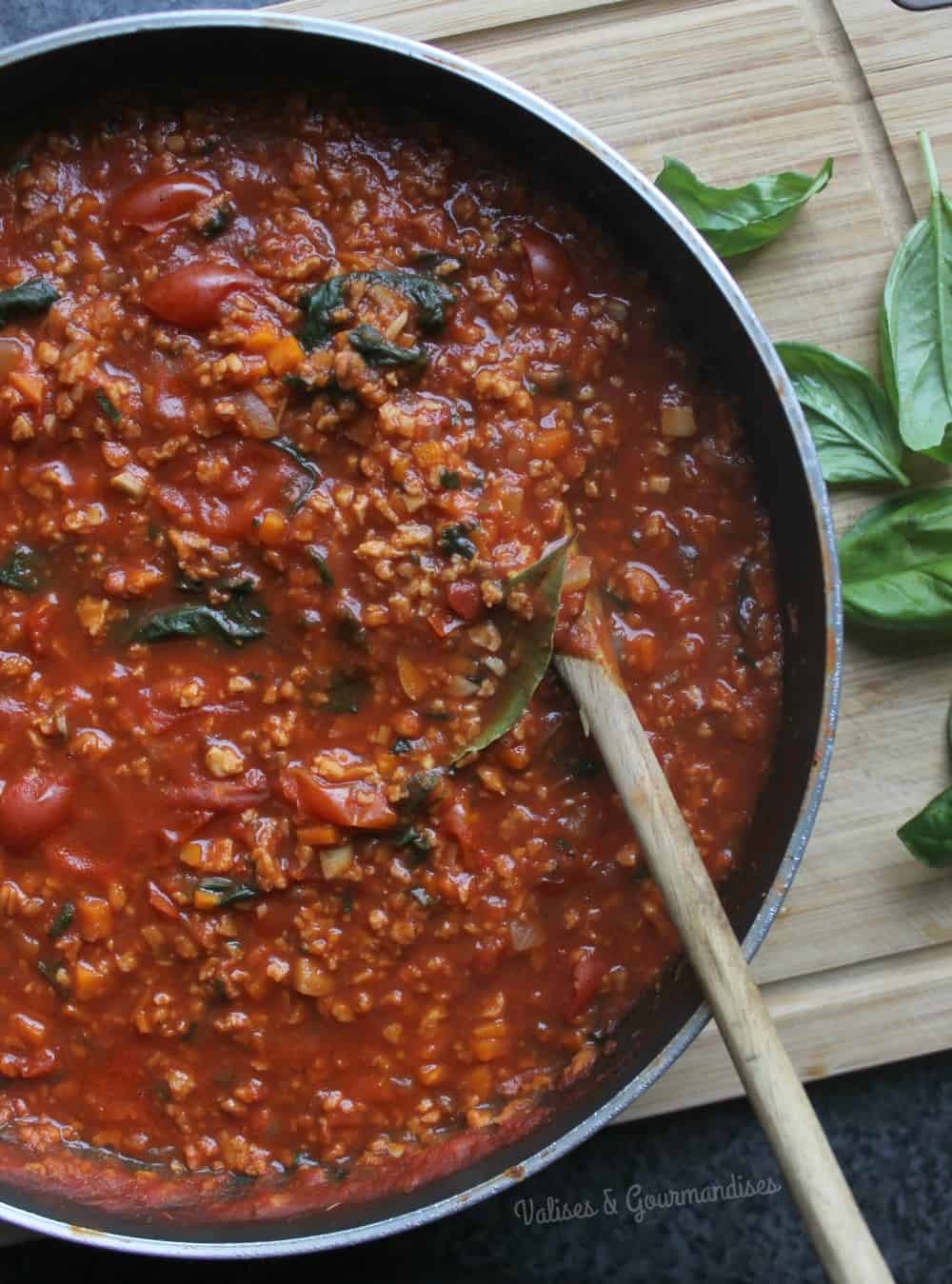 Oh, and TSP is also super cheap! I paid €3 for 1lbs (0.5kg) of dry soy protein, which rehydrated equals to approximately 3lbs (1.5kg). In other words, it's also a budget-friendly option.
Cheese aside (plant-based versions are delicious, but they're not quite "the real deal"), you could fool anyone with this recipe. It's hearty, flavoursome and is the closest version I could come up with to meaty lasagna. Hell, it's even got the Italian seal of approval from our Airbnb guest, who's from Parma, Italy! She knows good lasagna.
Usually, Martin and I make lasagna with lots, I mean LOTS, of vegetables, homemade tomato sauce, tofu ricotta and cashew parmesan. And boy do we eat it with passion. But if I'm being honest, I would have never even wanted to try this kind of hippie lasagna 4 years ago.
No, lasagna had to be bolognaise, white pasta and cheese. Heaps of cheese. Even though I had the hardest time digesting it… When I was younger, my mom knew better than to try and sneak some veggies in there. I feel bad thinking of how picky I was back then!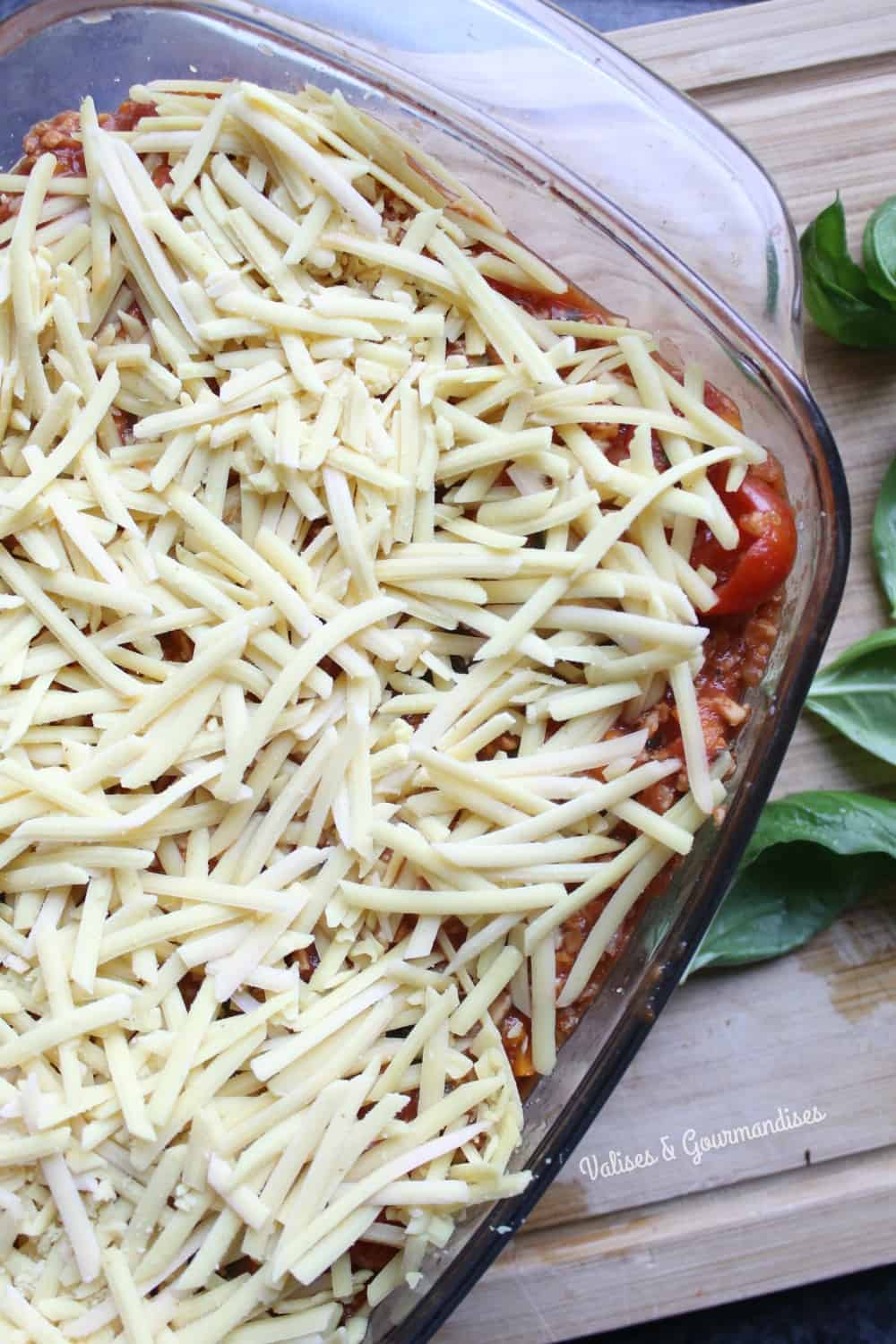 So this is why I chose to share this beginner's lasagna recipe first. For people who still haven't had the time to learn how to love whole foods or even for those of you who simply miss "normal" lasagna. I also think that TSP is kinda cool and I'm super excited to show you how to cook with it!
Time-saving tricks
This easy peasy lasagna doesn't take that long to make, but you do need a good hour from start to finish (I'm a very slow veggie chopper…). If you want to eat it on a weeknight, I recommend making your bolognaise on the weekend – you can even double/triple it and freeze some for later – and, when you get home from work, layer everything into your pan and bake for 20 to 30 minutes.
A few healthy tricks
It's easy to make lasagna overly fatty by frying the onions and veggies in a few tablespoons of oil. But we like to keep our refined fat intake to a minimum, and the store-bought cheese already contains quite a bit. So what I do is I add about a teaspoon of oil right before adding the onions and keep a glass of water by the stove and add a few splashes anytime it looks like it's going to stick.
Same goes for the salt. If you rehydrate your TSP in vegetable bouillon and add a generous amount of soy sauce, combined to the salt in the parmesan and the grated cheese, you can end up with an impressive amount of sodium. Which is why I only add one tablespoon of organic nama shoyu, a better quality soy sauce, and no salt at all. I find that it brings out the sauce's flavours without being overly salty.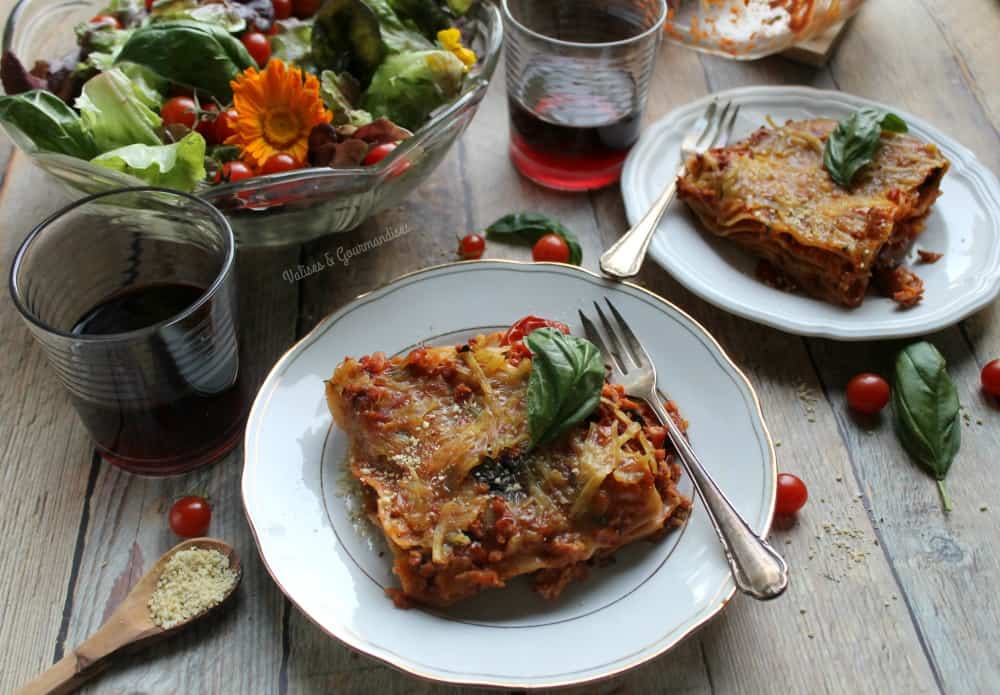 If you try this recipe, make sure to snap a picture and share it on Instagram or Facebook tagging me & using the hashtag #valisesetgourmandises. I wanna see your creations! And don't forget to leave a comment below :)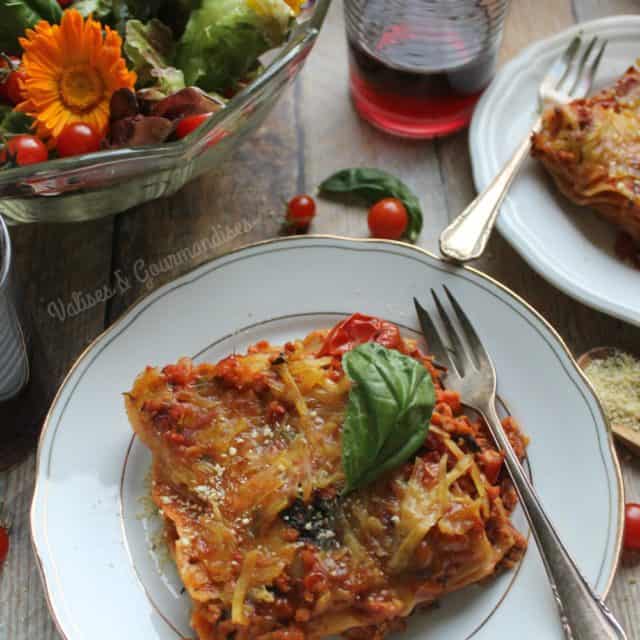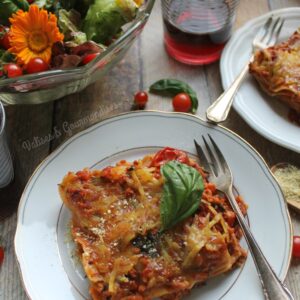 Vegan bolognaise lasagna with TSP
This easy vegan bolognaise lasagna is made with textured soy protein, for a version that is very close to the traditional meaty recipe!
Ingredients
Uncooked whole grain lasagna sheets

I used 9
Vegan Cheese
150

g

vegan grated cheese
Vegan Bolognaise
1

cup

approx. 65g organic dry textured soy protein

Enough water or bouillon to cover

1

medium yellow onion

minced

4

garlic cloves

minced

2

large button mushrooms

finely diced

1

carrot

finely diced

1

handful frozen or fresh spinach

minced

1

can

400g diced tomatoes (I used canned cherry tomatoes, which are sweeter)

500

g

515ml tomato passata (plain tomato sauce)

1

tablespoon

tomato paste

1

teaspoon

dried oregano

1

teaspoon

dried basil

1

tablespoon

nama shoyu

healthier soy sauce

1

handful fresh basil leaves

minced
Instructions
Vegan Bolognaise
Place the textured soy protein in a large bowl and cover with water or, ideally, vegetable bouillon. Set aside. Meanwhile, finely dice the onion, garlic, mushrooms and carrot.

In a large pan on medium-high heat, sauté the onion in 1 teaspoon oil or water for 3 minutes. Add the garlic and cook for another 3 minutes. Add the mushrooms and carrots and cook until the mushrooms have released their water, about 5 minutes.

Drain your soy protein well and add to the pan. Cook for a minute. Add the tomato sauce, diced tomatoes, spinach, dried oregano and basil, and soy sauce and let simmer for 10 minutes. Finally, add the fresh basil.
Assembling the lasagna
In a 8×10 pan, add a quarter of the sauce. Add one layer of lasagna sheets without overlapping (I was able to fit 3). Add a quarter of the sauce and cover with a few tablespoons of cashew parmesan. Add another layer of lasagna sheets, another quarter of the sauce, more cashew parmesan. Finally add one last layer of pasta, the last quarter of the sauce and your grated cheese.

Bake for at least 20 minutes in the oven preheated at 350F(180C). Remove from the oven and let cool 5 minutes before cutting.
Notes
You can easily double or triple the sauce and freeze some for later.
**This article may contain non-sponsored ads in the form of affiliate links, which means that I will receive a small commission if you purchase a product through them. The price remains the same for you, but this way you are helping me maintaining the blog and providing you more interesting content! :)