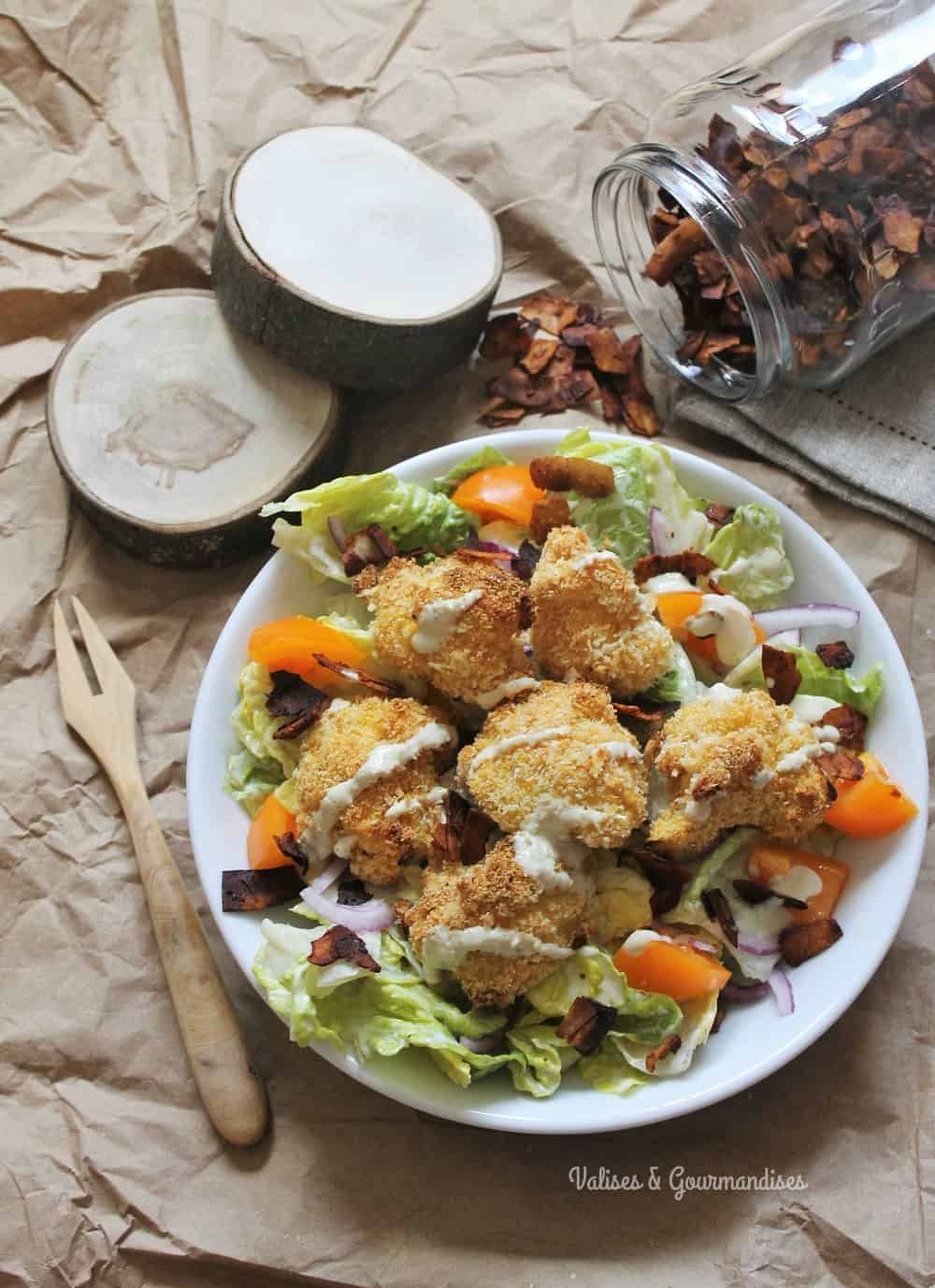 Martin's been pushing me for months to share my crunchy tempura cauliflower recipe with you. It's just too good to keep for ourselves. But I wanted to publish my epic coconut bacon recipe first. Careful it's addictive!
Actually this week I had planned to share traditional German recipes, plant-based version of course, but… let's just say that luck wasn't on my side and that I'll have to practice a bit before I can deliver something worthy of you guys.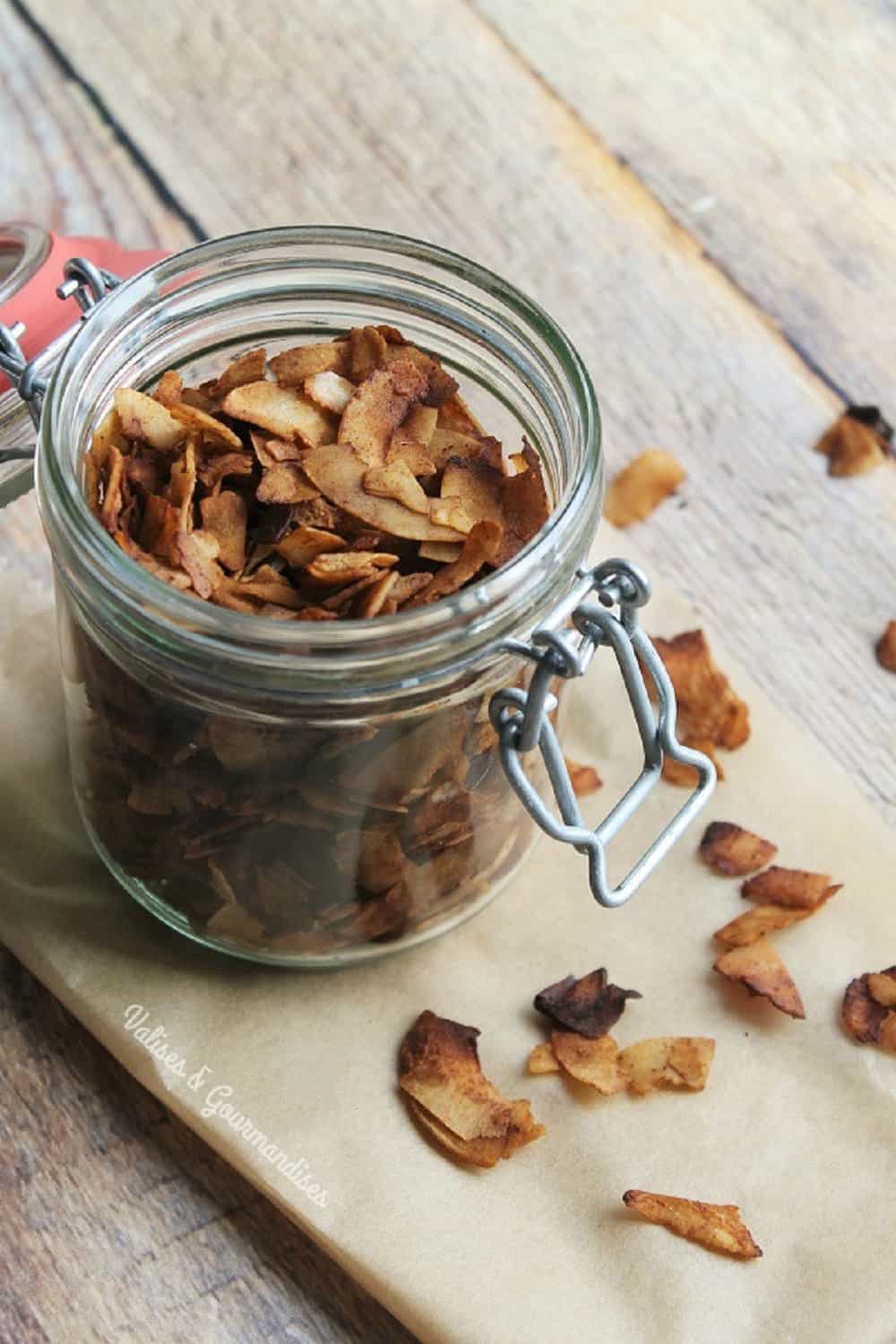 So until then, I present you the ultimate vegan chicken Caesar salad. No faux meat, but crunchy tempura cauliflower. Based on the comments I got from my guinea pigs, there's no way you'll be disappointed.
The recipe is pretty simple. Remember my spicy tempura sweet potato fries? Well the principle is the same, but we replace all-purpose by chickpea flour, aka garbanzo flour. This adds proteins and nutrients for a more filling salad. And don't forget the panko, it essential to give the cauli its crunch!
Serve them as you would regular chicken nuggets. I suggest with bbq sauce and beer-infused fries. That would be perfect for the guys during the next Montreal-Boston game! They're suitable for kids too, trust me they'll keep coming back for more .
As for the sauce, no greasy mayo and anchovie paste in sight. Actually, my arteries clog just hearing about traditional Caesar salad, which has pretty much the same nutritional value as a BigMac…
The sauce I'm suggesting is made with firm tofu instead and is inspired by Hot for Food, a great YouTube channel by two Ontarians. However, if you do not own a high power blender, you can use a store-bought version, like Earth Island's. Or if you prefer, plain hummus yields surpring results mixed with Dijon mustard, fresh garlic, lemon juice, fresh pepper and a little bit of water.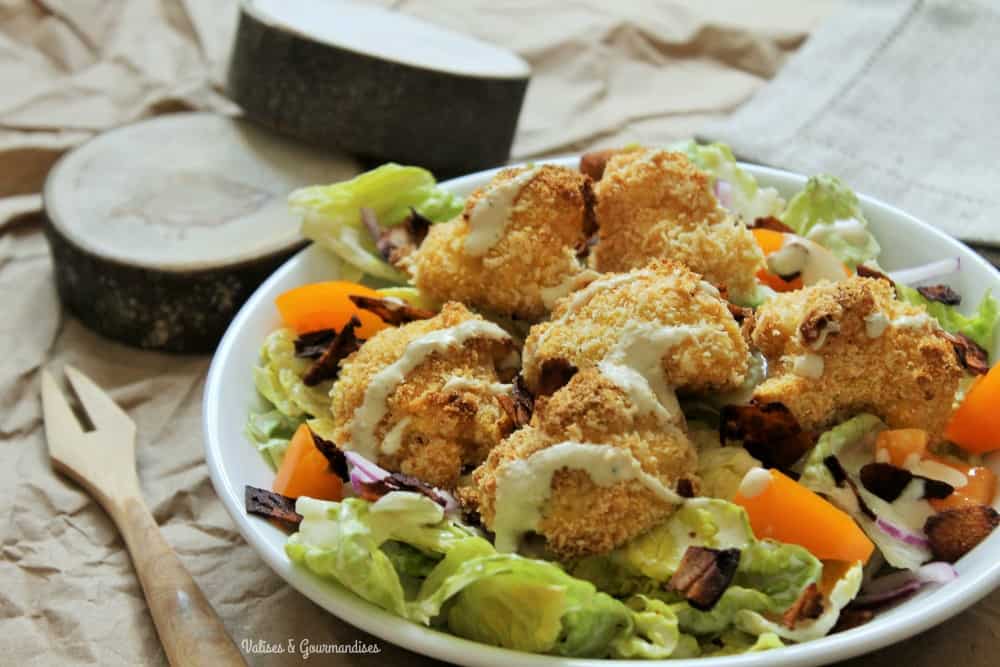 If you try this recipe, make sure to snap a picture and share it on Instagram or Facebook using the hashtag #valisesetgourmandises. I wanna see your creations! And don't forget to leave a comment below :)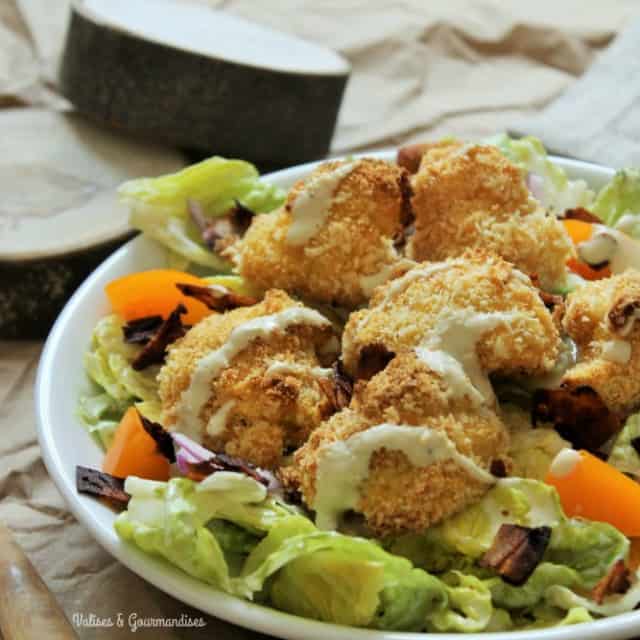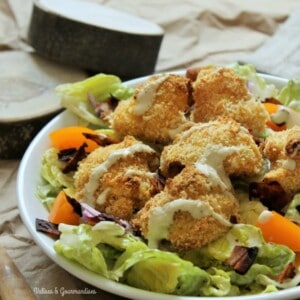 Vegan Caesar salad with crunchy tempura cauliflower
Introducing the ultimate vegan Caesar salad: starring big chunks of crunchy cauliflower, coconut bacon, cashew parmesan and a tofu-based vinaigrette. Delicious and easy on the arteries!
Ingredients
¼

red onion

thinly sliced

1

head of Romaine lettuce

Salt & freshly ground pepper
Tempura Cauliflower
½

head of cauliflower

in florets

1/3

cup

chickpea flour

½

teaspoon

smoked paprika

1

teaspoon

garlic powder

1

teaspoon

sea salt

1

tablespoon

nutrtional yeast

1/3

cup

organic soy milk

or any unsweetened plant-based milk

Panko

Japanease breadcrumbs
Vegan Caesar Dressing
1

head of local organic garlic

Olive oil

3/4

cup

organic firm tofu

3/4

cup

water

1

tablespoon

olive oil

optional

1

Medjool date

pit removed

Juice of half a lemon

3

tablespoons

nutritional yeast

1

tablespoon

apple cider vinegar

½-1

teaspoon

Dijon mustard

1

teaspoon

sea salt
Instructions
First of all, cut the top of the garlic head, pour a little bit of olive oil and put in the oven at 400F(200C) on a baking sheet.

Mix together the dry ingredients for the cauliflower, except the panko. Add the milk and mix well. Add more liquide if needed to achieve a crepe batter consistency.

On a working surface, place from left to right: the cauliflower, the batter, the panko and an oiled baking sheet. Dip the florets one by one in the batter before coating them with panko. Lay on the baking sheet. The amount of batter depends on the size of your cauli, but it's easily adjusted.

Once all the pieces breaded, bake in the oven for about 30 minutes, until they're golden and easy to pierce with a fork.

Once ready, remove the garlic from the oven and press the content of each clove into the bowl

of your blender

. Add all the ingredients and process until you achieve a smooth vinaigrette. Taste and adjust.

Add the lettuce to a salad bowl and cover with sauce (you'll have too much sauce, keep in the fridge for later use). Divide into two bowls, add the cauliflower nuggets, the bacon, the onion. Add some sauce if needed and garnish with cashew parmesan.
**This article may contain affiliate links, which means that I will receive a small commission if you purchase a product through them. The price remains the same for you, but this way you are helping me maintaining the blog and providing you more interesting content! :)