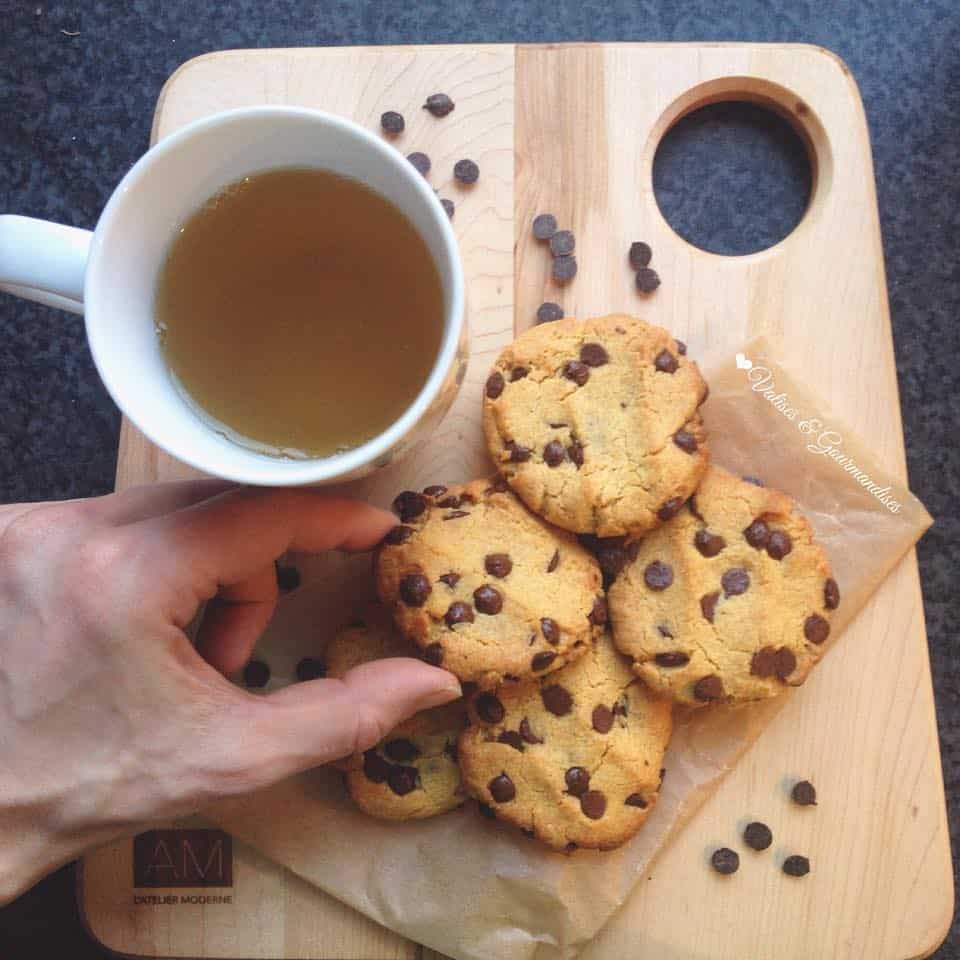 Me: "Hi, my name is Aryane and I am addicted to sugar."
All: "Hi Aryane."
A few times a month, I get sugar cravings so bad that I made the resolution to avoid any sugary snack during weekdays and to eat more fruits and drink more water instead. I was so proud when I managed to get through the first week without a scratch.
And then this happened. These chewy yet crunchy chocolate chip cookies. In all honesty, I whipped up 5 batches of these babies during the following 10 days. For Martin and I alone. Not proud.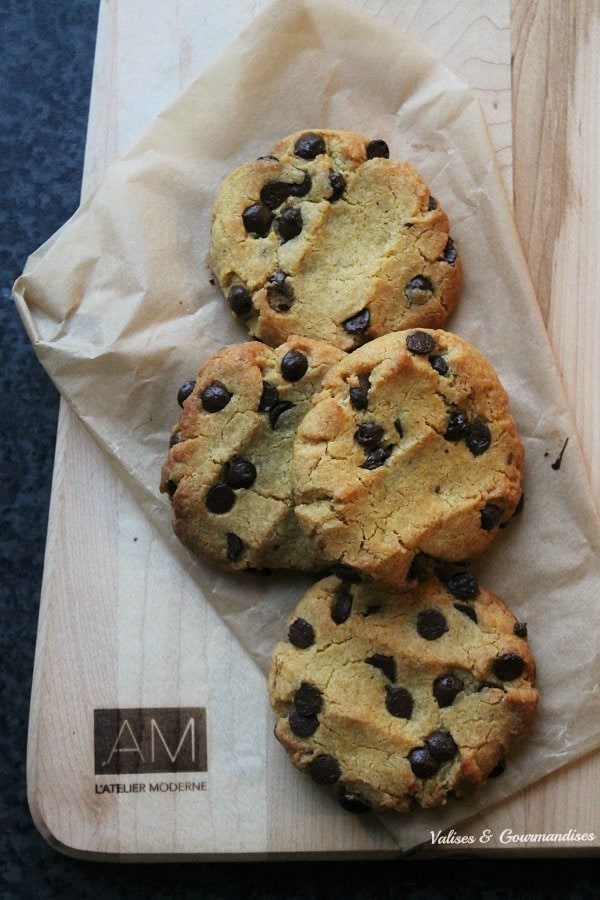 Buuuuut they're actually very low in fat and sugar compared to other cookies. They also contain all the goodness of chickpeas, lots of fibers and proteins, but in a cookie form, which is pretty awesome. I'm not saying that you should have them all the time, but they're a much better option than their traditional white flour, refined sugar and high butter counterparts.
As for the taste, I found it quite interesting, absolutely delicious, vaguely reminiscent of sweets cooked with eggs and very similar to my once beloved Pillsbury cookies. The only downside is that the raw cookie dough tastes awful…
If you remember my healthy white bean cookies, I do actually have experience baking with beans, but it was my first time using chickpea flour and I just loved the outcome! I'm looking forward to trying my hand at a vegan quiche using this same nutritious flour!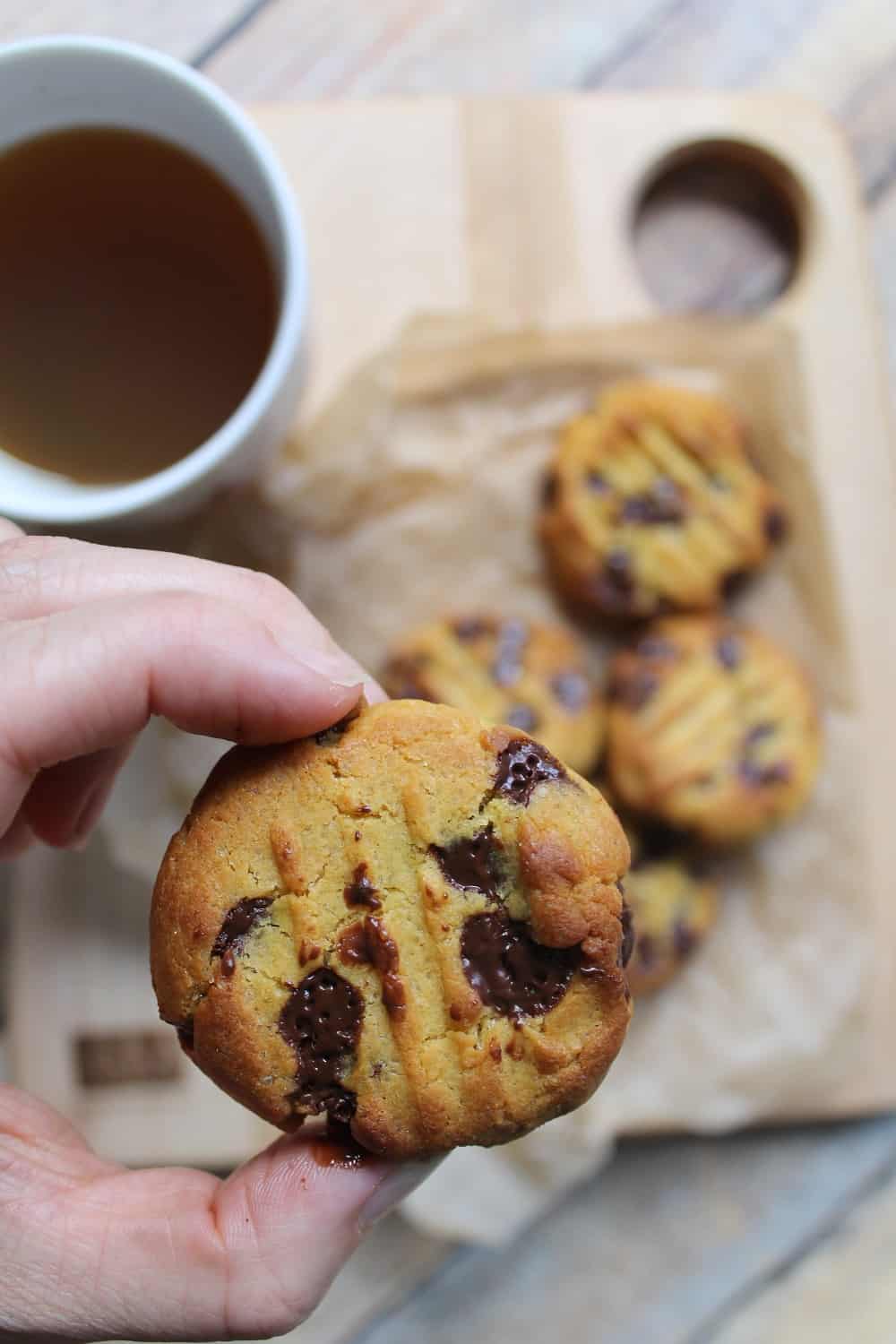 I think these scrumptious cookies deserve a spot on the dessert table I'm planning for the wedding, which is now in less than 4 months! #exciting!!!! Edit: You can read all about my vegan wedding here!
If you try this recipe, make sure to snap a picture and share it on Instagram or Facebook using the hashtag #valisesetgourmandises. I wanna see your creations! And don't forget to leave a comment below :)
*To purchase a beautiful cutting board made in Québec by a young and dynamic company, head over to L'Atelier moderne! (this is not an affiliate link :)
Pin it for later: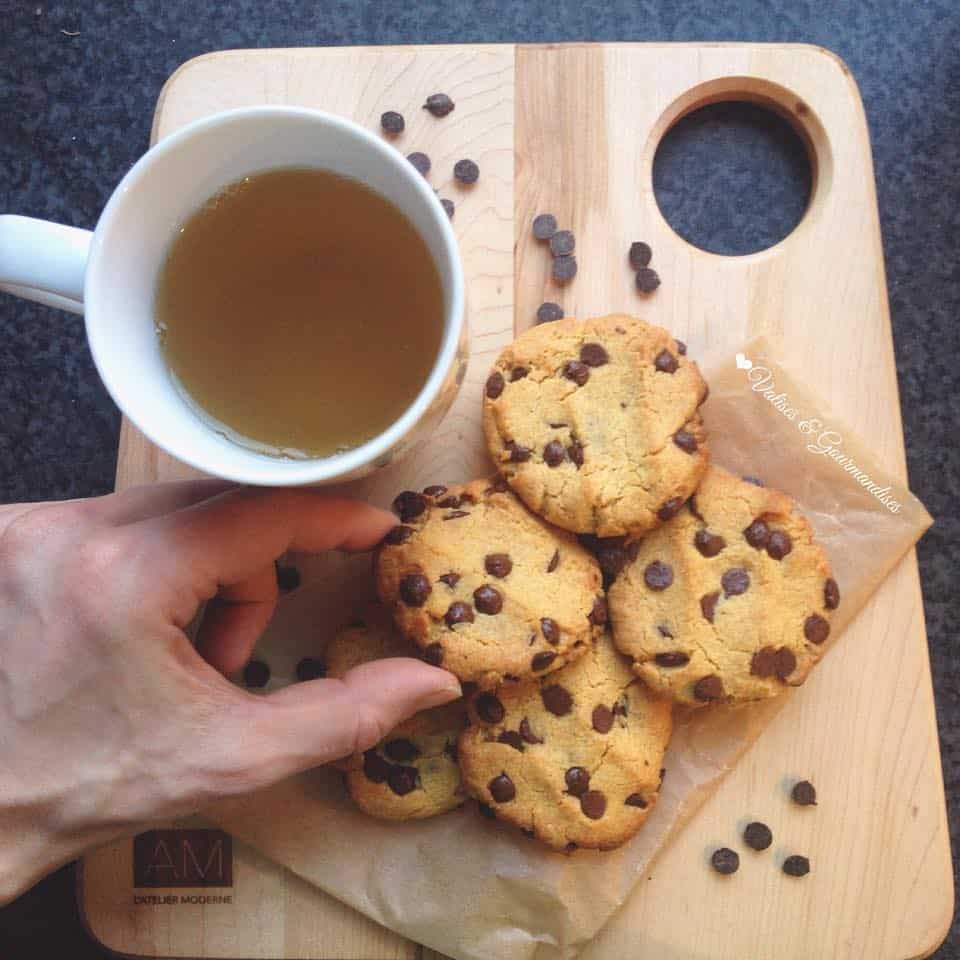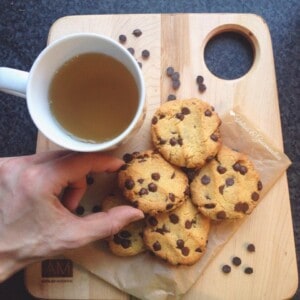 Vegan chickpea flour chocolate chip cookies
Reinvent chocolate chip cookies with this plant-based, grain-free and gluten-free version. Not one once of taste sacrified!
Ingredients
¾

cups

+ 1 tablespoon

about 75 g cold chickpea flour (put in the freezer for 15 minutes before using) *see notes

1/8

teaspoon

a pinch sea salt

½

teaspoon

3.5 g baking soda

2

tablespoons

about 30 g raw cane sugar (or coconut sugar)

3

tablespoons

45 ml organic canola oil (or oil of your choice)

3

tablespoons

45 ml Canadian maple syrup (or agave syrup)

1

teaspoon

5ml pure vanilla extract

¼

cup

45 g dairy-free chocolate chips
Instructions
Line a baking sheet with a silicone mat. Preheat the oven to 350F (180C).

In a mixing bowl, combine all the dry ingredients together (flour, salt, baking soda and sugar). Add all the wet ingredients (oil, maple syrup and vanilla) and mix well with a spoon until you reach a thick dough consistency. Add a bit of water if too dry. Add in the chocolate chips and mix just enough to distribute evenly.

Using a tablespoon, make 7 to 8 balls of dough and place them on the prepared baking sheet. Gently press down on each cookie with your fingers.

Cook for 8 to 10 minutes. Careful not to overcook them if you want them to be chewy.

Once they are done, take the cookies out of the oven, flatten each one a little using a fork. Wait until cool enough to handle and devour with a glass of plant-based milk!

Grain-free, gluten-free, nut-free, dairy-free, vegan, vegetarian, one-bowl cookies, chocolate chip cookies
Notes
This recipe only yields 6 to 8 cookies, which is ideal for a small snack for 2.
However, after comments from people who've made them, I strongly recommend you double the recipe! :)
Chickpea flour is also called besan, gram or garbanzo flour and is a lot cheaper in Asian and Indian markets. You can also make it yourself by grinding dry chickpeas into the container or your high power blender.
Slightly adapted from Oatmeal with a Fork
Similar recipes