Even vegans can have delicious crepes for breakfast. They can even enjoy vegan crepes filled with peach & lucuma nice cream and caramelized peaches!
It's peach season people!
Can you remember the best peach you've ever eaten? I can. It was 2 years ago in Italy, in Sienna more precisely. The city, though beautiful, didn't have a lasting effect on me compared to other Tuscan towns, but that peach did. If I concentrate hard enough, I can still somehow taste it. I've had sweet and juicy peaches since then, obviously, but none that could really rival ZE one.
The only down side with peaches is that they tend to all go bad simultaneously. Whenever I won't manage to eat them before it's too late, I freeze them for future use. Paired with fresh watermelon and frozen strawberries, they make the most delicious slushie!
Une photo publiée par Aryane (@valises_et_gourmandises) le 14 Juil. 2016 à 10h17 PDT
But today, it's all about peaches for brunch. Sweet peaches caramelized in maple syrup and coconut oil and creamy lucuma & peach nice cream to be more precise. Did I say ice cream for breakfast? Yes I did. That's the beauty with this entirely fruit-based version. No dairy, no fat, no weird ingredients. Just pure happiness.
If you do think that lucuma is weird though, don't worry it's just a tropical fruit from the Peruvian Andes, in powder form. You can omit it and still get a delicious nice cream, but I've just made it a habit of adding it to pretty much every batch I make because it brings out the different flavours for the best frozen treats ever.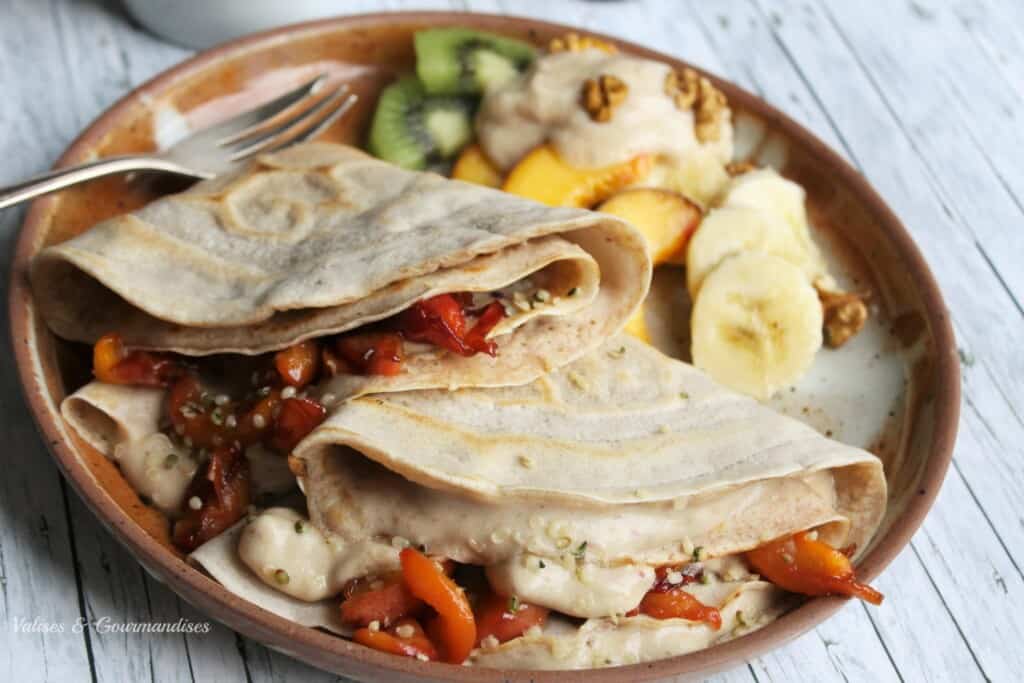 To make sure that everything comes together nicely, I would suggest making the nice cream first and keeping it in the freezer until the last minute. Next I would make the crepe batter and set it aside while caramelizing the peaches. Lastly, I would keep the peaches warm in the oven, preheated at 100F (50C) and then turned off, while making the crepes. To keep the crepes warm, you can simply stack them in the oven until ready to eat. They'll soften a little and be easier to fold.
Enjoy!
Similar recipes
If you try this recipe, make sure to snap a picture and share it on Instagram or Facebook using the hashtag #valisesetgourmandises. I wanna see your creations! :)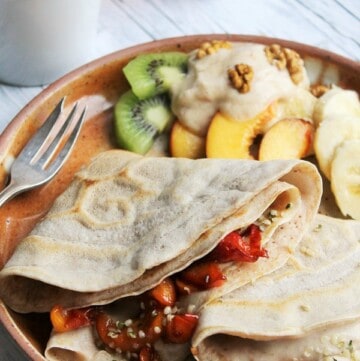 Vegan crepes filled with caramelized peaches and peach & lucuma nice cream
Even vegans can have delicious crepes for breakfast. They can even enjoy vegan crepes filled with peach & lucuma nice cream and caramelized peaches!
Ingredients
Vegan crepes
1

cup

250 ml unbleached all-purpose flour (see notes)

1

cup

250 ml whole wheat or whole spelt flour

1 ½

teaspoon

8 ml raw sugar (omit for savoury crepes)

2

teaspoons

10 ml baking powder

½

teaspoon

2 ml salt

2

cups

500 ml water

3

tablespoons

45 ml organic canola oil

1

teaspoon

5 ml pure vanilla extract
Peach & Lucuma Nice Cream
3

frozen organic bananas

sliced before freezing

1-2

frozen organic peaches

sliced before freezing

1

teaspoon

pure vanilla extract

1

heaping teaspoon organic lucuma powder
Instructions
Crepes

In a mixing bowl, combine the dry ingredients. Add water, oil and vanilla extract and whisk well to combine. The batter should be runny, not too thin nor thick. Set aside while making the caramelized peaches. 

In a pan on high heat, lightly oiled, pour ½ cup of the batter in the center and spread evenly to make a thin medium-sized crepe. When the top is no longer liquid, after about 2 minutes, flip carefully using a thin spatula. Don't make them too thin or they'll collapse when you flip them. 

Cook for another 2 minutes, or until the bottom is nicely browned. Keep in the oven until they're all cooked and ready to be eaten.

 Caramelized peaches

Heat a non-stick pan on high heat. Add coconut oil. Once the oil is melted and hot, add the maple syrup and the peach slices. Cook for 5 to 10 minutes, stirring often until the peaches are browned and caramelized.

Remove from the stove and place in the warm oven.

 

Peach & lucuma nice cream

Place all the ingredients in your blender (a

high-power blender

will yield the creamiest nice cream in about 2 minutes without any added liquid, but any good blender or food processor will work) and blend on low for about 30 seconds. 

Increase the speed to medium and blend until smooth and creamy, helping the mixture move along with the blender wand. Set aside in the freezer while you make the crepes. 
Notes
I've made these crepes using 100% all-purpose flour, 50% all-purpose 50% whole wheat or spelt flour and also using 100% whole wheat flour, which of course offer the most nutrition. You can experiment and choose what you prefer! 
**This article may contain affiliate links, which means that I will receive a small commission if you purchase a product through them. The price remains the same for you, but this way you are helping me maintaining the blog and providing you more interesting content! :)