This vegan tahini fudge is refined-sugar free and features some of my favourite ingredients: tahini, dates, maple syrup… You'll be hooked right from the first bite!
We have this amazing thing in Québec called "sucre à la crème" (or sugar fudge) which is basically a soft fudge made with cream, sugar and butter. Grandmas typically make it around the holidays, to the pleasure of the whole family.
I have made a vegan version of it, and it was super yummy, but let's face it, it's really unhealthy (putting the word vegan in front of something doesn't automatically make it healthy) and I'm just not that into it anymore. Well luckily I had an epiphany one day and just decided to throw soft dates & tahini in the food processor along with some maple syrup and coconut oil. And boy did the resulting vegan tahini fudge hit the spot!!
The coconut oil gives it a really nice texture, firm but not hard. And I'm totally obsessed with the tahini & date combo! I even made an oil and sugar-free cake featuring those two ingredients for my Lebanese colleague's birthday. Should I share the recipe?
As for the fudge, it was actually inspired by my chocolate pralines stuffed with date caramel. By adding loooots of runny tahini and some coconut oil, I just totally took it to the next level. That being said you can also dip these little beauties in some melted chocolate and sprinkle them with some fleur de sel for some serious food porn! Adding chocolate is almost always a great idea, isn't it?
I wouldn't go as far as calling it healthy, after all there is oil and maple syrup in it. But you get fiber thanks to the dates and diverse vitamins and nutrients from the dates and tahini. So it is definitely a healthier way of satisfying those sweet cravings.
Talking about tahini, you could make it yourself without roasting the sesame seeds to much: Tahini DIY. But in this case, I recommend getting a nice jar from the Asian or Middle-Eastern store or using organic white tahini. You want a sesame paste that isn't too thick or too bitter, which wouldn't yield a very nice dessert.
Related recipes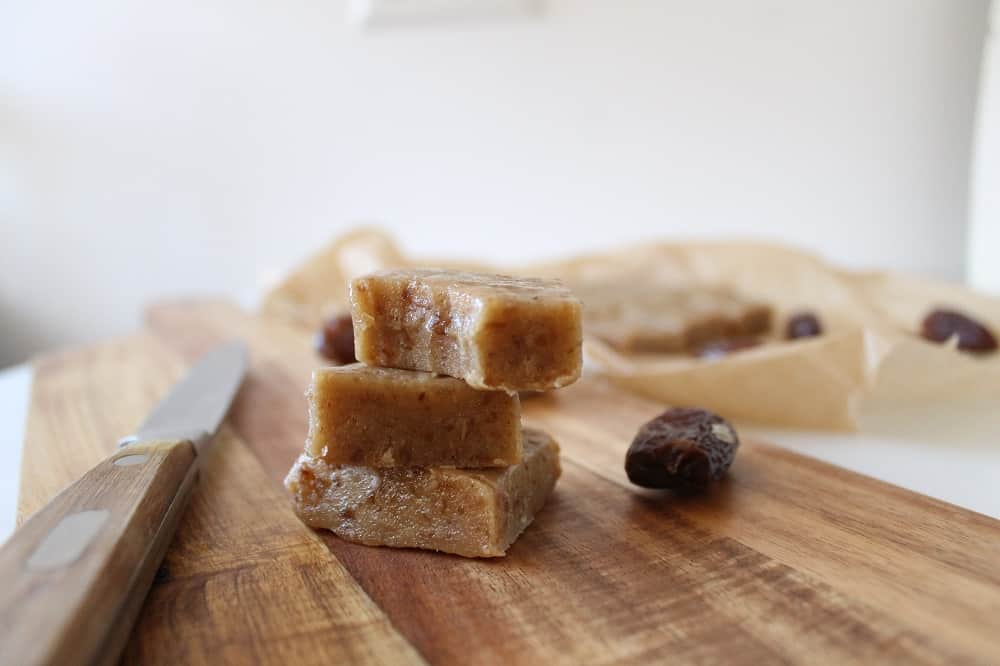 If you try this recipe, make sure to snap a picture and share it on Instagram or Facebook tagging me & using the hashtag #valisesetgourmandises. I wanna see your creations! And don't forget to leave a comment below :)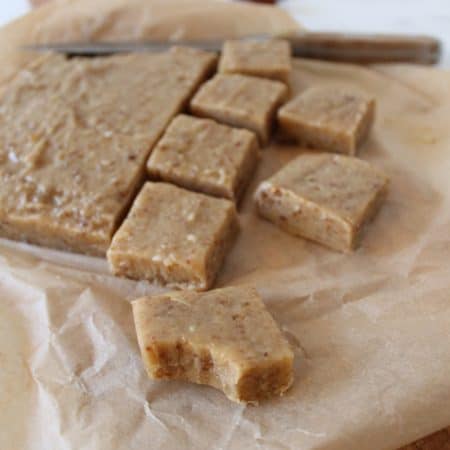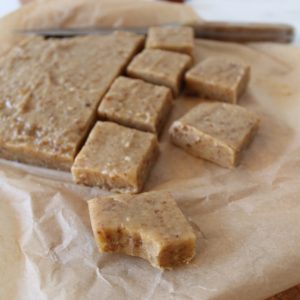 Vegan date & tahini fudge
Dates and tahini go so well together! They also make the best vegan fudge out there!
Ingredients
3/4

cup

white tahini

200

g

dates

about 1 packed cup

1/4

cup

maple syrup

up to 1/4 cup water

use soaking water

1/4 to 1/3

cup

coconut oil

melted

pinch

of salt
Instructions
If needed, soften the dates by soaking them in hot water for 20 minutes. Strain well (you can keep the water to add to smoothies or porridge).

In a food processor, turn dates into a paste. Add tahini and maple syrup and process until nice and creamy. Add some water to help things along if necessary. Add the coconut oil (1/3 cup for a harder fudge).

Pour onto parchment paper and refrigerate until hardened, a few hours. Cut into squares and store into an air-tight container in the fridge (fudge will soften at room temperature).
**This article may contain affiliate links, which means that I will receive a small commission if you purchase a product through them. The price remains the same for you, but this way you are helping me maintaining the blog and providing you more interesting content! :)