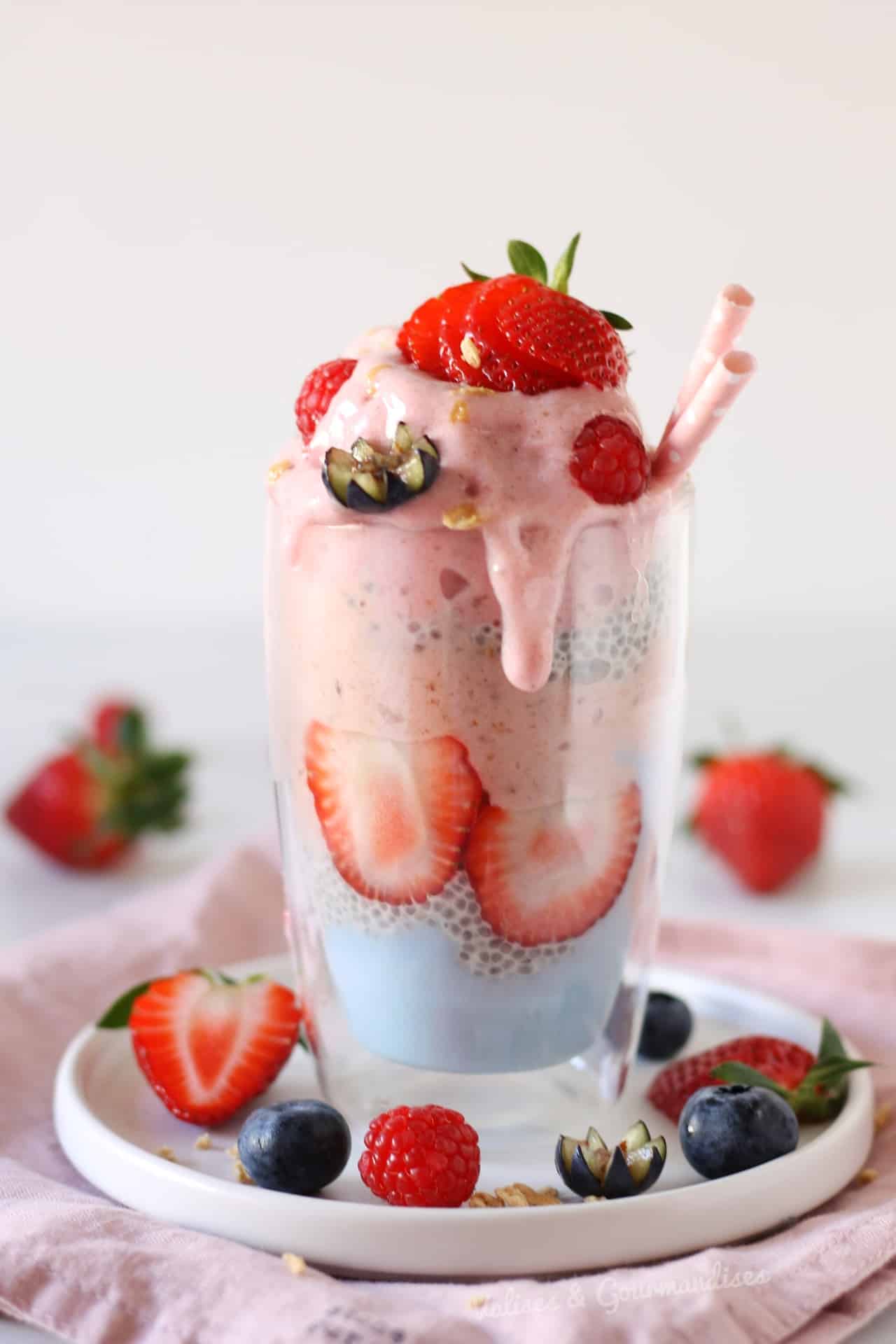 Have you seen all the beautiful rainbow/unicorn/fairy food that's been around Instagram for the past year? At first I wasn't sure to be honest, especially about the blue food, but it didn't take long for me to be convinced.
You can make so many cool things with food colouring! And the best part is that the ones I use are 100% natural. No harmful chemicals are used to achieve those colours. Only nature's "superfoods".
Now, you know I'm transparent with you and I don't believe that you need those fancy foods to be a healthy vegan. Not everyone has the budget or even the interest, and that's totally fine! But they're definitely super fun to use and will take any boring (but delicious) beige nice cream to the next level. 
And the good news is that you can win them! Yass! I've teamed up with Rawnice, a Swedish company, to offer a lucky winner one bag of pink pitaya powder and one of the blue spirulina. I'm running the giveaway here on the blog and over on my Facebook page and Instagram.
All you have to do is tell me in the comments why you would like to win!  Details for FB and IG participation can be found directly on those platforms. Each one gives you an additional chance to win :)
I also have a discount code for you, so you can get 15% off your next purchase. Just enter valgou15 at checkout and voilà, your food will never be boring again! *Ads in the form of pr samples & affiliate links; I will earn a small commission with each purchase, which helps me keep the blog alive and thriving :)
But now back to this jar. I've been experimenting with the powders and this was one of my first creations. I went with very soft pastel colours and I must admit that I'm very happy with the results :)
From bottom to top, there's plant yogurt (I used the new almond yogurt from Alnatura, if you're in Germany) with some blue spirulina, which is a tasteless algae, a few scoops of my basic chia seed pudding and then lots of nice cream coloured with pink pitaya powder (or dragon fruit if you prefer).
Despite looking all fancy, it only takes about 10 minutes from start to finish. I even made this one before leaving for work (and then transferred the whole thing in a Mason jar once I was done taking photos haha). And the best part is that you're not only colouring your food but you're also adding nutrients, such as antioxidants, fiber, vitamin Bs and C (but not B12 though, you still need to supplement for that one!), magnesium, zinc and calcium.
What do you think? Will you be joining the fairy band wagon? If you try this recipe, make sure to snap a picture and share it on Instagram or Facebook tagging me & using the hashtag #valisesetgourmandises. I wanna see your creations! And don't forget to leave a comment below :)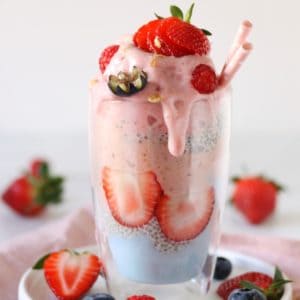 Vegan fairy breakfast jar
Add a touch of magic to your morning with this easy peasy fairy breakfast jar! It features blue spirulina yogurt, chia pudding and pink pitaya nice cream.
Instructions
The night before or at least an hour in advance, make the chia pudding. You can use any plant milk you like.

When ready, make the basic nice cream recipe* with an added teaspoon (or more, to achieve the desired colour) of pink pitaya powder. You can also add pink berries for colour.

In a small bowl, whisk the blue spirulina into a few tablespoons of plant yogurt. The colour is very vibrant, so add a little bit and only add more if you want a more intense colour.

To achieve the look from my jar: Add your blue yogurt first, then some of the chia pudding. Stick the strawberry slices by carefully pushing them to the sides of the jar. Gently add some of the nice cream and push it with the spoon to avoid visible air pockets.

Add another layer or chia pudding and top with leftover nice cream and berries.

Store any leftovers in the fridge.
Notes
*This makes quite a big jar. If you have a smaller appetite, use only two frozen bananas.
**You will have leftover chia pudding. You can keep it around 3 to 4 days in the fridge.
***I didn't give quantities for the yogurt because everyone has a different appetite. Use as much or as little as you want or even leave out if you prefer. You could also add the spirulina to the chia pudding instead :)
This post is not sponsored, but I did receive the powders for free :) As always, all opinions are my own.