Ok, we really need to talk. The blog has been running strong for two years and there's no brownie recipe in sight? I think it's time I got my priorities straight.
Even though we've been eating very well for the last two years, I haven't lost my almost unhealthy love for chocolate. It can't reach Martin's ears, but sometimes I secretly buy a chocolate bar behind his back and snack on it while he's at work. But that stays between us.
Though I must say, he's far from perfect. He simply has a little bit more self-control and is able to keep it to one single piece of 85% fair-trade organic chocolate… and he judges me if I insist on getting a second one -_-
As you can see, our relationship bickering almost exclusively has to do with my exaggerated absolutely healthy and balanced consumption of chocolate. And bananas. Those too.
So, back to the brownies. We can't really say that they're traditional. They contain no flour, no sugar, no eggs… Which doesn't mean they're not delicious, promise!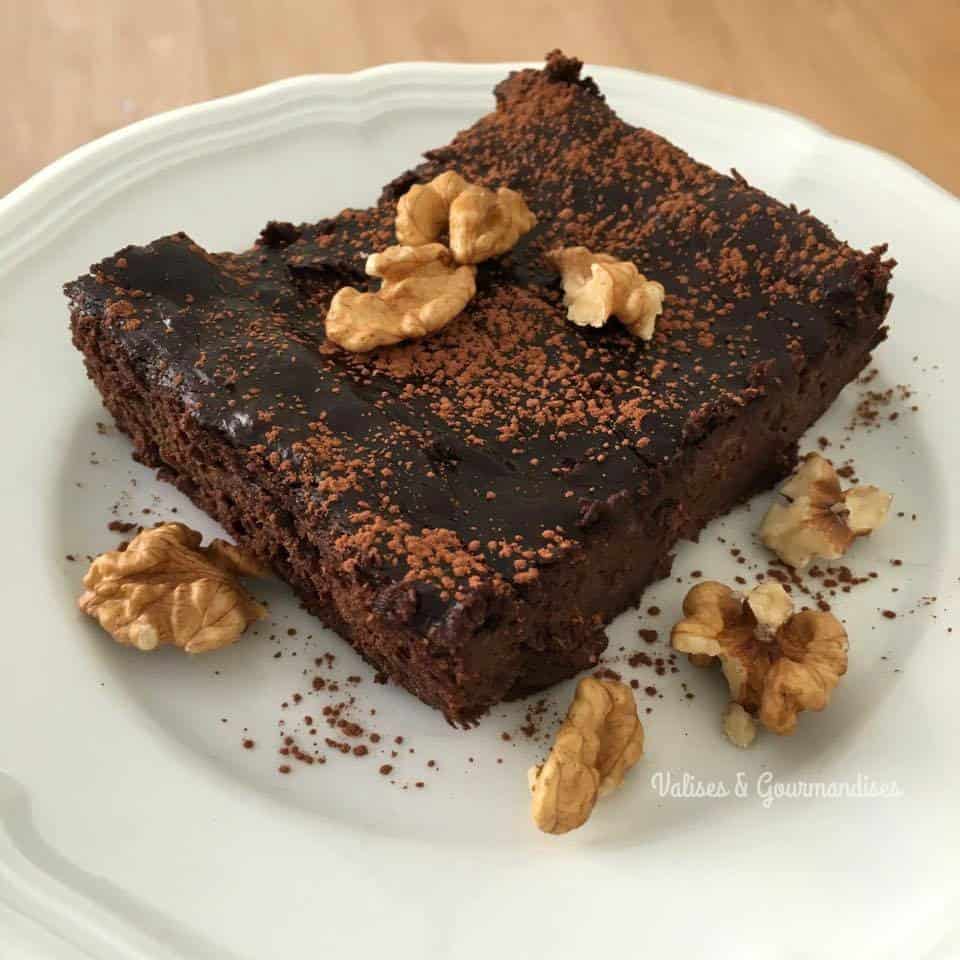 They're perfect if you're one of the unlucky people who have to deal with nut allergies. If not, you could also substitute the sunflower butter with peanut or almond butter.
And since they don't contain any flour, they're more fudgy and moist than their original countepart, which I liked a lot. In short, they're perfect for our late night cravings!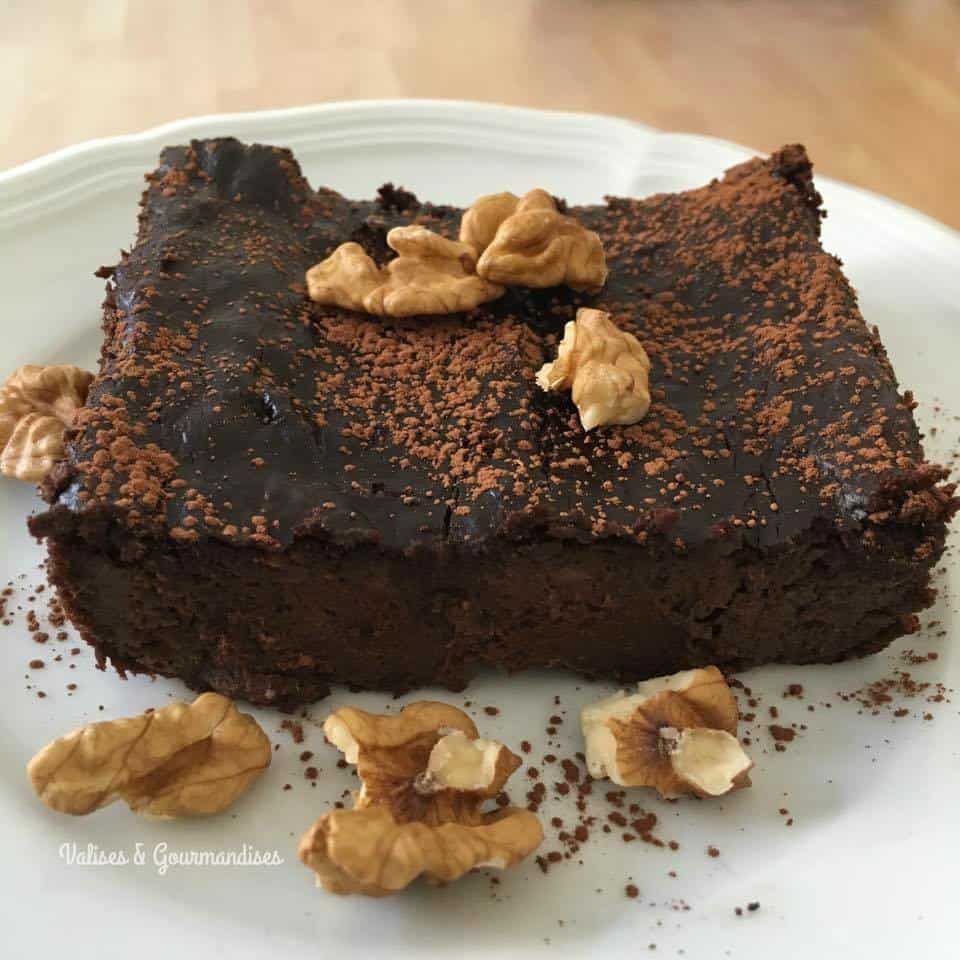 If you try this recipe, be sure to snap a picture and share it on Instagram or Facebook using the hashtag #valisesetgourmandises. I wanna see your creations! :)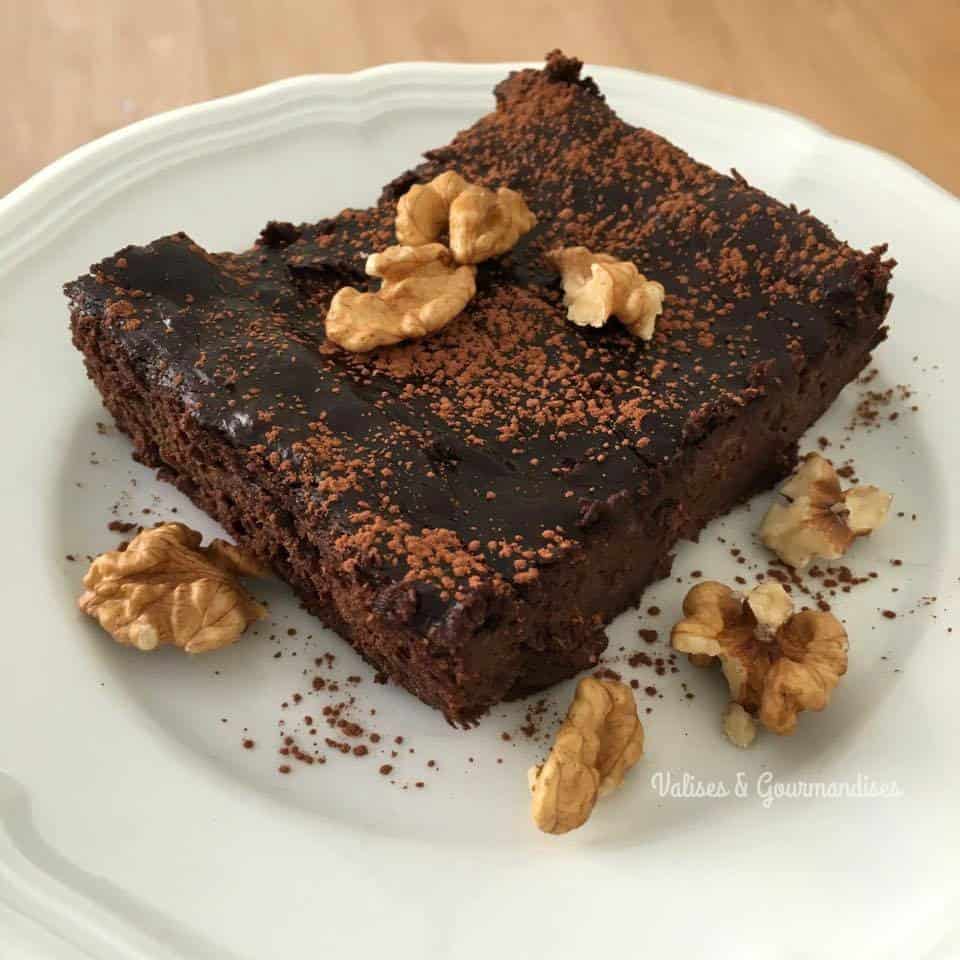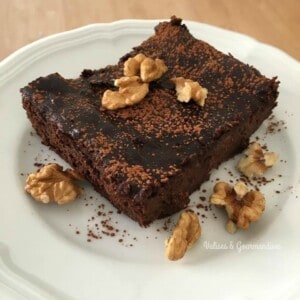 Vegan grain-free brownies
These vegan brownies only contain 3 ingredients! They are grain-free, as well as sugar and nut-free. Which doesn't mean they're not delicious!
Ingredients
3

spotted ripe bananas

about a cup

½

cup

sunflower butter

or any nut butter you like

¼

cup

cacao powder
Instructions
Preheat the oven to 350F (180C). Oil a loaf pan.

In a large bowl, smash the bananas with a fork until they're smooth and almost liquid. Add the cacao and the sunflower butter (if the butter is too thick, melt it first in the micro-wave or using a double-boiler). Combine well.

Pour the mixture into the pan and bake for about 20 minutes. Remove from the oven and let cool completely before serving.
Slightly adapted from The Big Man's World
Similar recipes