Who would have thought that green soup was such a crowd pleaser? I for one had no idea. Until I started publishing pictures of it on Facebook and Instagram. The response was so great that I felt compelled to share my recipe on the blog. I'm also happy to report that it's a breeze to make.
All you have to do is chop up some vegetables, throw everything into a big pot with veggie stock and voilà, 20 minutes later you've got soup! And a super duper healthy one at that.
It's become our go-to post workout lunch. I know, it's hard to believe but we've been hitting the gym four times a week since the year start and we love to eat (read devour), something warm and comforting, but also light and quick to make, when we come home. Patience isn't one of our virtues, especially not when our stomachs are growling. 

We all know that we should eat more greens and this soup is a good way to do that. It contains not only broccoli, one of my all-time favourites, but also leek, sweet peas, spinach and, for creaminess and added protein, silken tofu. Zucchini would also be a great addition.
The green veggies in this soup contain virtually no fat and offer an impressive amount of protein, fiber, beta carotene (which transforms into vitamin A once in your body), vitamins C, E, B, magnesium, potassium, manganese and other minerals such as calcium and iron which are a concern for many people when it comes to vegetarian diets. Did you know that vitamin C enhances the absorption of iron from plant foods?
As for onions and garlic, I feel that we often use them out of habit, to simply flavour our food. But they offer many great health benefits that shouldn't be overlooked. More than a simple culinary plant, onions contain fibre, vitamin A, B6, C and E as well as minerals such as sodium, potassium and iron. It's also a great source of folic acid. Onions and garlic are said to help fight infections and stabilize blood sugar, protect against cancer, repel vampires…
For a better absorption of all these wonderful nutrients, it's best to cut the vegetables at least 40 minutes in advance. 10 minutes for the onion and garlic. What we do it we chop up everything before we leave for the gym and, when we get home an hour and a half later, all we have to do is cook the soup and purée it in the blender before enjoying it with a yummy piece of bread. If you don't have 40 minutes though, adding a pinch of mustard powder will increase the absorption without altering the taste.

By now you may be wondering why I added tofu to my soup though. I know it can sound strange at first, but trust me, it works. It's one of our favourite ways to add creaminess to our soups and smoothies while upping the nutrient and protein content. It goes without saying that it's much much better for you than cream, of course, and you can barely taste it. Try it and let me know what you think!
And finally, nutritional yeast. I've become very fond of this yellow health food and I add it everywhere. Those two tablespoons will add 4 grams of fibre, 8 grams of protein and a ton of B vitamins, including B12 to the dish. The brand I consume these days, Yellow Superfoods, even has vitamin D in it!  I'm addicted to the stuff but you can obviously omit if it's not your thing.
All that being said, I want to point out that all my talk about protein doesn't mean that I think that vegetarians and vegans need to worry about it or consume tons of it. Au contraire. I simply want to show you that proteins are virtually everywhere and put to rest the myth that people need a big juicy steak to be healthy. Cuz come on, we all know that's ridiculous by now!
If you try this recipe, make sure to snap a picture and share it on Instagram or Facebook using the hashtag #valisesetgourmandises. I wanna see your creations! And don't forget to leave a comment below :)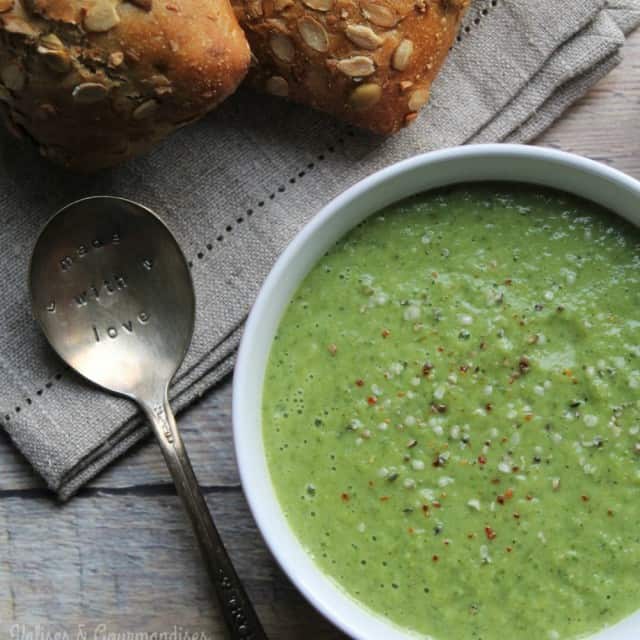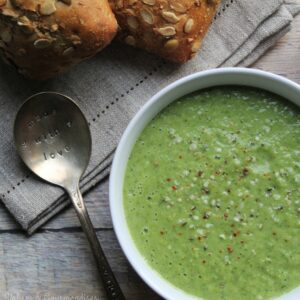 Vegan green monster soup
This healthy green soup is a delicious way to add more greens to your diet and is a great source of nutrients and minerals such as calcium, iron and B vitamins.
Ingredients
1

onion

roughly chopped

3

garlic cloves

crushed with the blade of a knife*see notes

1

small leek

sliced

1

broccoli

cut in florets

1

cup

frozen peas

½

cup

frozen spinach

½

teaspoon

dried thyme

½

teaspoon

dried sage

½

teaspoon

dried parsley

Vegetable stock

enough to cover the veggies, about 2 cups

1

cup

appr. 100g organic silken tofu

2

tablespoons

nutritional yeast
Instructions
In a large pot on medium-high heat, soften the onion, garlic and leek in a bit of water for a few minutes.

Add the rest of the vegetables, the stock and the spices. You need just enough liquid to cover the veggies. Bring to a boil, lower heat, cover and let simmer for 15 minutes or until the broccoli is cooked through.

Transfer to

a blender

, add tofu & nutritional yeast and pulse until well combined. We like ours not too smooth, so we only blend it until it's nice and thick.
Notes
Because they're gonna cook through and get puréed in the blender, you don't need to finely chop the onion and garlic.
Related recipes
**This article may contain affiliate links, which means that I will receive a small commission if you purchase a product through them. The price remains the same for you, but this way you are helping me maintaining the blog and providing you more interesting content! :)