Happy New Year (better late than never, right?)!!
I was hoping to share this delicious recipe for a vegan Bailey's cake in time for your New Year's parties but I ended up taking a much needed break from social media. I hope you also spent some quality time with your loved ones and are well rested.
Did you play in the snow? Martin misses it so much! We were expecting a white Christmas in Vienna, but instead we were greeted by warmish temperatures. We still spent five amazing days in the Austrian capital though, drinking mulled wine and eating burnt nuts in the different Christmas markets.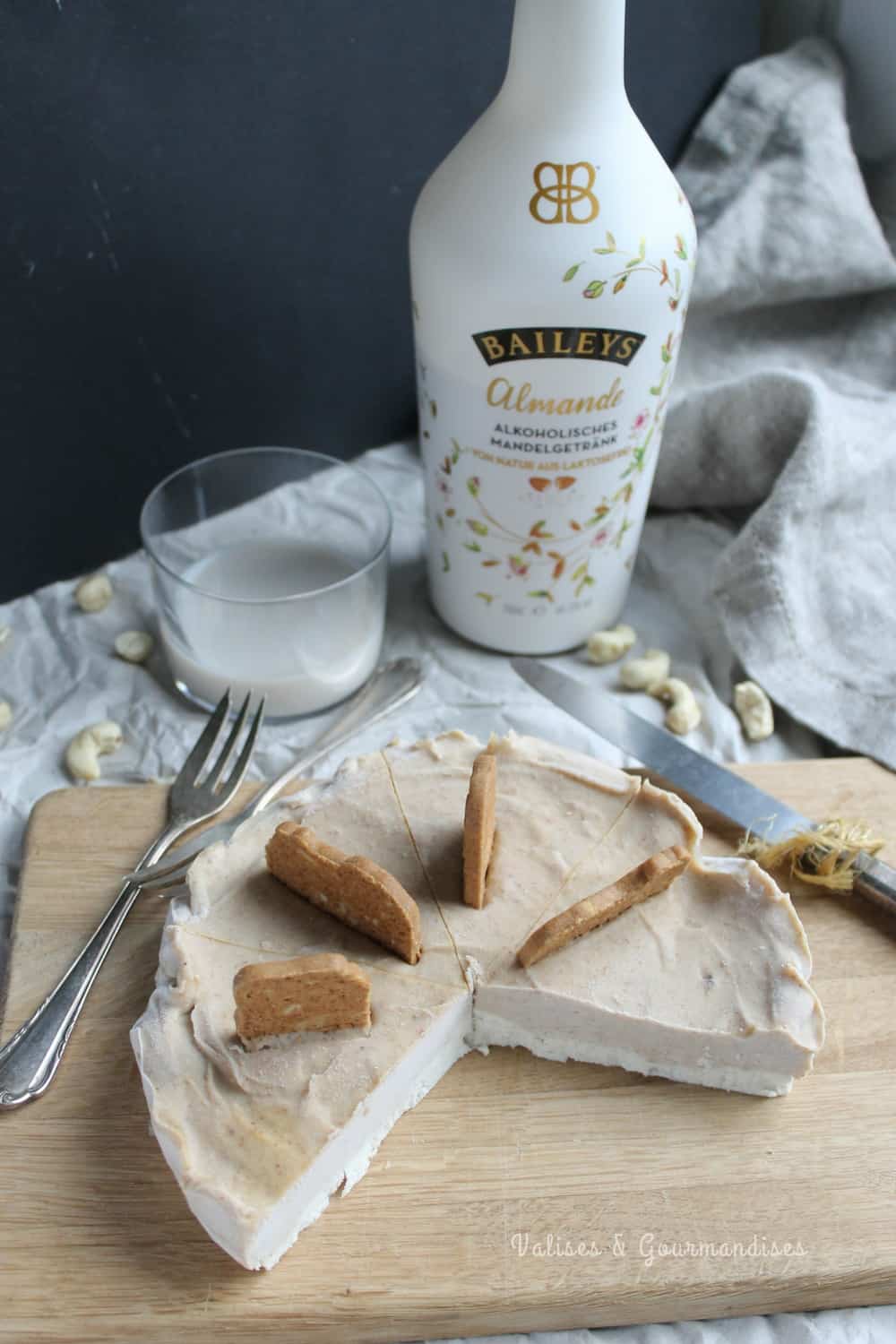 You've probably already heard about the vegan Bailey's. People have been going crazy over it ever since the news came out. I found a bottle of the precious liquid while shopping at Veganz, in Berlin, and I couldn't help but sneak it into my cart. We aren't big drinkers though.. so I had to come up with a recipe. Hence the "raw" caramel Bailey's cake. Not too shabby, right? *This is technically an ad even though it's not sponsored in any way!*
I blended up a few things I had on hand and in only a few minutes (plus a few hours in the freezer), I had a scrumptious dessert!
And since I'm absolutely obsessed with speculoos, I skipped the crust and simply added a few biscuits on top. But of course, if you prefer a more traditional raw crust, you could process about a cup of nuts with a cup of soft dates and add some spices. You could even crumble cookies and mix them with vegan butter, buuuut it's a bit too unhealthy for my taste so I kept things simple.
I'm too late for New Year's but this Bailey's cake would make the perfect Valentine's Day dessert, don't you think?
If you try this recipe, make sure to snap a picture and share it on Instagram or Facebook tagging me & using the hashtag #valisesetgourmandises. I wanna see your creations! And don't forget to leave a comment below :)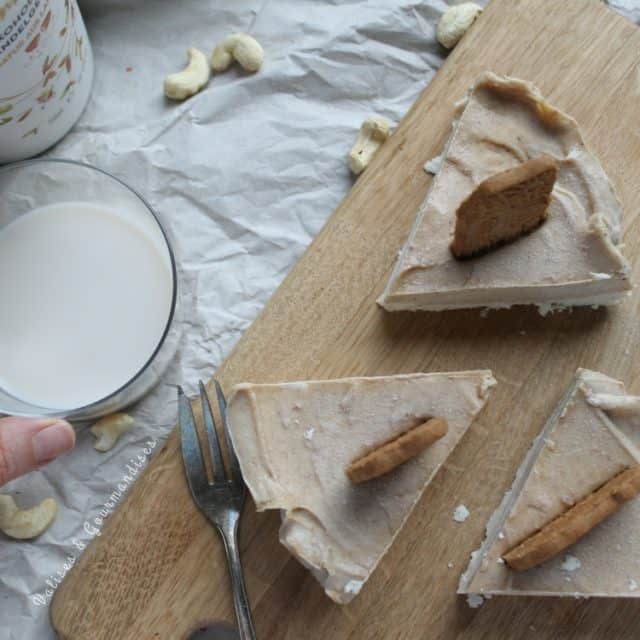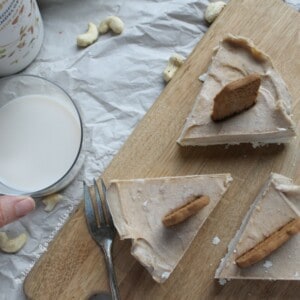 Vegan no-bake caramel Bailey's cake
This vegan Bailey's cake, with its caramel layer and speculoos garnish, will without a doubt be the star of your next party!
Ingredients
1,5

cup

organic cashew nuts

soaked 2 hours

½

cup

125 ml vegan Bailey's

2

tablespoons

30 ml pure maple syrup

1/3

cup

80 ml melted coconut oil

½

cup

compacted organic dates

1/4

cup

60 ml date soaking water

2

tablespoons

almond butter

ideally roasted

A little bit more Bailey's if the mix is too thick

Vegan speculoos biscuits
Instructions
Rinse the nuts and discard the soaking water. Add the nuts to your blender, ideally high-powered, along with the Bailey's, the maple syrup and the liquid coconut oil. Mix well until you reach a very creamy consistency. Pour about 2/3 into a springform.

Add the dates, 1/4 cup of their soaking water, the almond butter and a splash of Bailey's to the blender and process into a creamy caramel. Pour into the springform.

Top with speculoos to taste.

Put in the freezer for at least 2 hours. Take out a few minutes before serving to soften.
**This article may contain non-sponsored ads in the form of affiliate links, which means that I will receive a small commission if you purchase a product through them. The price remains the same for you, but this way you are helping me maintaining the blog and providing you more interesting content! :)