These vegan beaver tails are a real treat. They're made with pumpkin puree and spices for the perfect treat to keep you warm this fall season! Don't be intimidated, they're very simple to make.
I am beyond excited to share this recipe for vegan beaver tails with you!! Well, vegan pumpkin beaver tails with a cream cheese frosting to be exact. Because I'm feeling the autumn vibes and any reason is good to create more sweet pumpkin recipes, am I right!?
Before you panic, no actual beavers were harmed in the making of this reinvented Canadian classic, I promise :)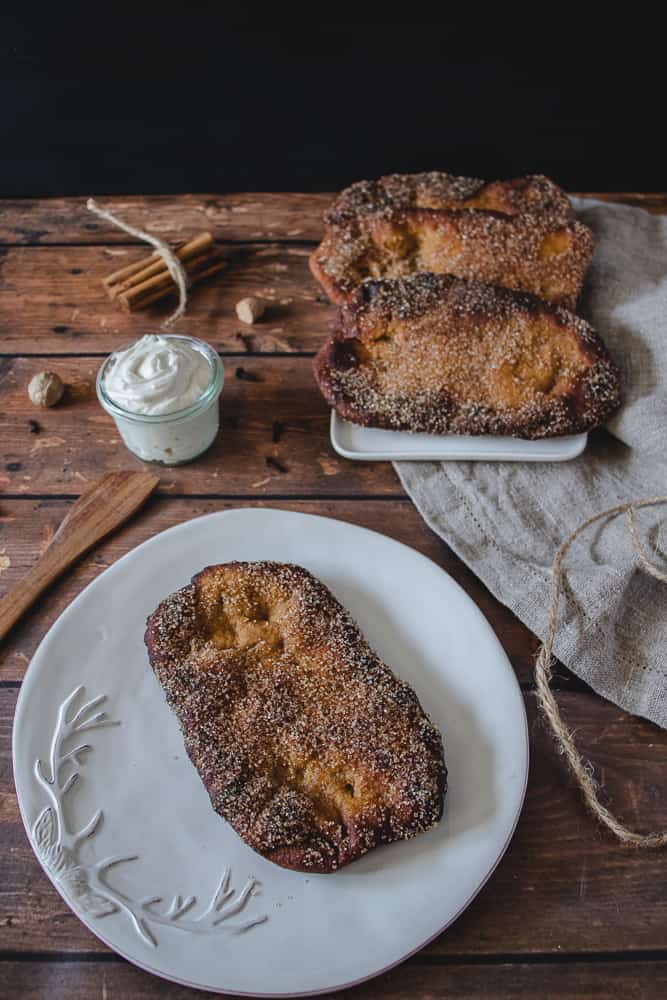 What Are Beaver Tails?
Maybe I should explain what these are first for those of you who are unfamiliar with them? Apparently, the fried dough recipe was passed down to the founder of BeaverTails by his German grandma. To reflect Canada's official animal, the whole wheat flour pastry was eventually flattened in a shape that resembles a beaver's tail.
They opened their first stand at the Rideau Canal in Ottawa around 30 years ago and can be found in most touristic locations across Canada (and purchased at a hefty price). Good news, their basic dough is vegan (and made with whole wheat)! Which means that you can enjoy their classic version, which is simply dipped in cinnamon sugar. But possibly in butter too, so just let them know that you want it fully vegan.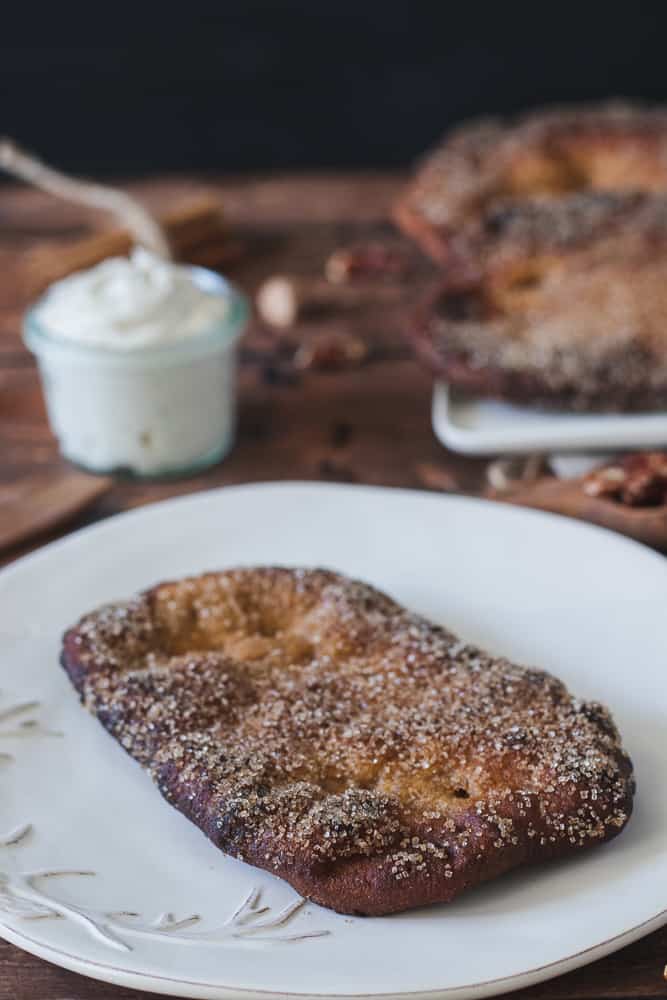 But, if like me you're too far away to go buy one, or don't feel like paying 8 bucks for one single beaver tail, you can now make them in the comfort of your home. They're best enjoyed fresh, so invite friends over and make a party out of it!
They are quite fun to make and, most of all, pretty easy too. I've included a video down below (and on my YouTube channel!) to show you better how they're made. I'm not a fan of frying stuff at home (I never know how to dispose of the oil afterwards), but for some fresh vegan beaver tails, I'm ready to go the extra mile.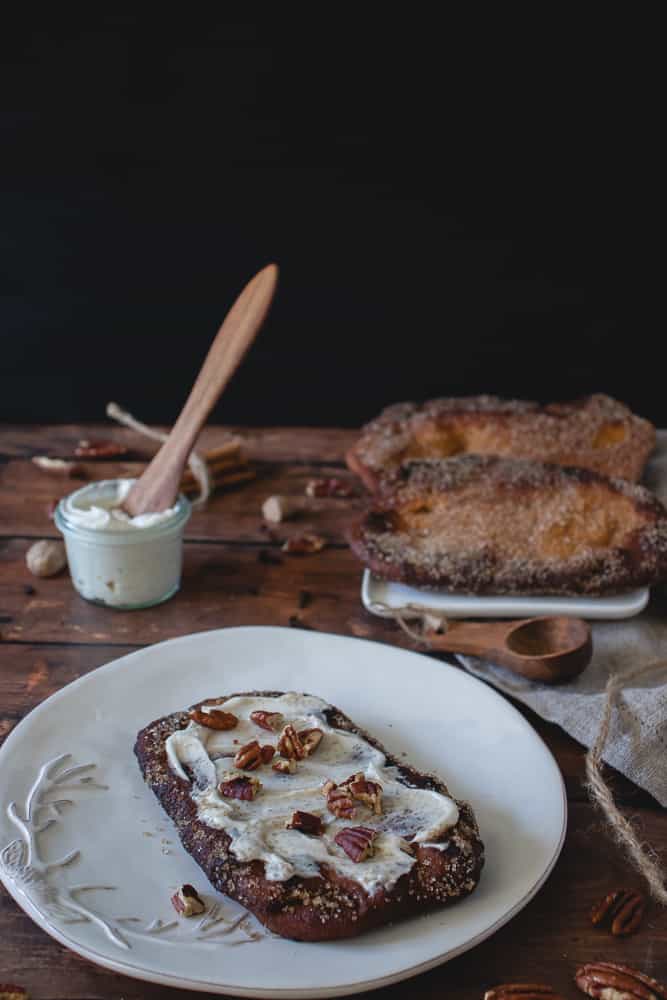 I cannot believe that I'm saying that, but don't try baking them in the oven. Unfortunately, they would just turn into a dry piece of bread and that's not what we're going for here! But it does mean that they would make yummy dinner rolls, generously brushed with vegan butter and baked in a cake tin. But this is a whole other story, I feel like I'm getting sidetracked.
If you try this recipe, make sure to snap a picture and share it on Instagram or Facebook using the hashtag #valisesetgourmandises. I wanna see your creations! And don't forget to leave a comment below :)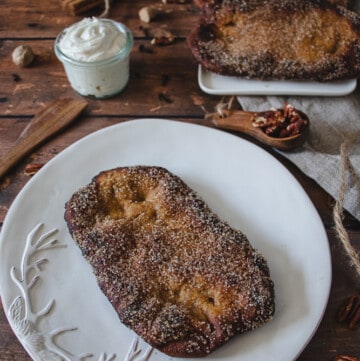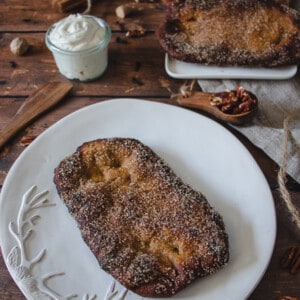 Vegan Pumpkin Beaver Tails with a Cream Cheese Frosting
These vegan beaver tails are a real treat. They're made with pumpkin puree and spices for the perfect treat to keep you warm this fall season!
Ingredients
Wet Ingredients
1/2

cup

warm water

2,5

teaspoons

dry active yeast

1/4

cup

raw sugar

60g

1/2

cup

pumpkin puree*

115g

1/2

cup

plant milk

warm

2

tablespoon

olive oil

light
Dry Ingredients
2.5 to 3

cups

whole wheat flour, sifted

320-375g

1

teaspoon

cinnamon

1/4

teaspoon

ginger

ground

1/8

teaspoon

cloves

ground

1/8

teaspoon

nutmeg

ground

1

pinch

salt

Enough oil for frying

either in a pan or a fryer
To Garnish
1

cup

raw sugar

240g

1

tablespoon

cinnamon
Cream Cheese Frosting
1/2

cup

vegan cream cheese, softened

120g

1/3

cup

icing sugar, sifted

35g

1/2

teaspoon

pure vanilla extract
Instructions
In a large mixing bowl, activate the yeast in water with a pinch of sugar for about 10 minutes. Once activated, add the wet ingredients and mix well. 

Add 2.5 cups whole wheat flour and the rest of the dry ingredients and mix to combine. If the dough is too sticky, add the other half cup until you get a smooth ball of dough. Set aside to rest 1 or 2 hours,  covered, in a warm spot until about doubled in size. I put mine in the turned off oven with the light on.
Cream Cheese Frosting
Meanwhile, mix your frosting ingredients until nice and creamy. Put in a fridge to set until ready to serve.

Once your dough has risen nicely, lightly flour it and knead it for one minute, adding a bit of flour if too sticky. Divide into two, then divide each half into four to obtain 8 smaller balls of dough. Flatten each one lightly with floured hands and lay on a floured cutting board. 

Meanwhile, heat up your oil to 350F (180C) or until it sizzles when you drop a small piece of dough.

When ready to fry, gently stretch the dough with your fingers until it ressembles a beaver's tail (you can see how in the video). Gently place in the oil and flip once nice and golden. Cook about 45 seconds to 1 minute on each side.

Shake off excess oil and place on a cooling rack. Let cool enough to handle and dip in cinnamon sugar.
Notes
Beaver tails are best freshly fried, but leftovers can be reheated in the toaster.
Keep any dough you don't plan to fry straight away in the fridge for up to two days or in the freezer.
You can easily make your own pumpkin puree or use canned