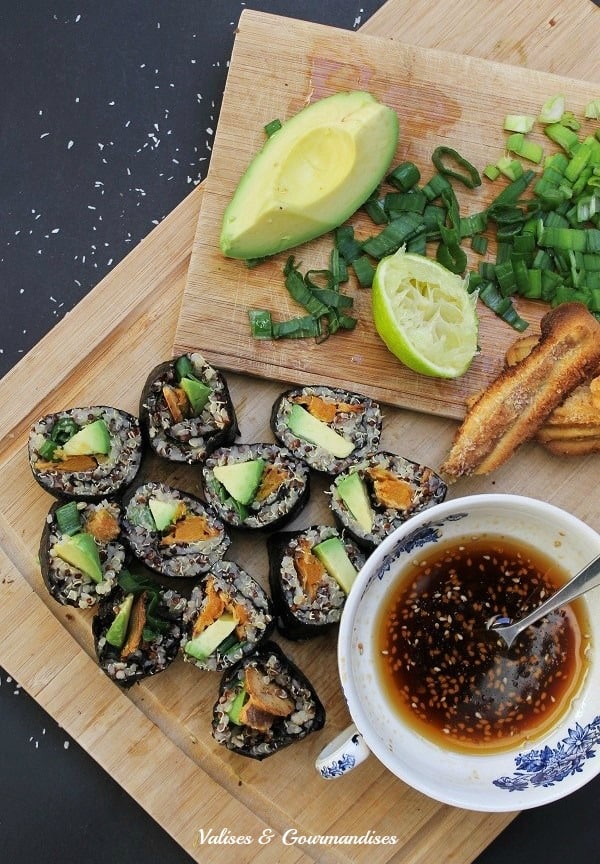 It's sushi time! It's also Valentine 's Day time, what a great coincidence! I know that, for a lot of people, Valentine's ironically just brings out loneliness and sadness. But I mean, can you really be sad with a platter of sushi sitting in front of you?
Sushi won't lie to you, it won't break your heart. It won't keep you warm at night neither, but then again, that's why Snuggies® were invented. So if you're alone this Sunday, please, make this a night for yourself, or invite your bestie and make it a "friends date" and treat yourselves with scrumptious sushi and wine. As much of it as needed.
And for those happy couples out there, let's be honest: who wants to dress up all fancy, freeze their butt off defrosting the car trying to make their way to an overpriced restaurant? Save yourself the hassle and the money and invest in some quality time with your significant other. As far as I'm concerned, whoever decided to put Valentine's Day during the coldest month of the year was clearly out of their mind! Snuggling at home with a bottle of wine sounds much better than taking on sub-zero temperatures degrees and giant snow banks!
And since the sushi we're talking about are raw-fish-free, they're suitable for absolutely everyone, from toddlers to pregnant women, and they won't contribute to the further degradation of our oceans. Yay!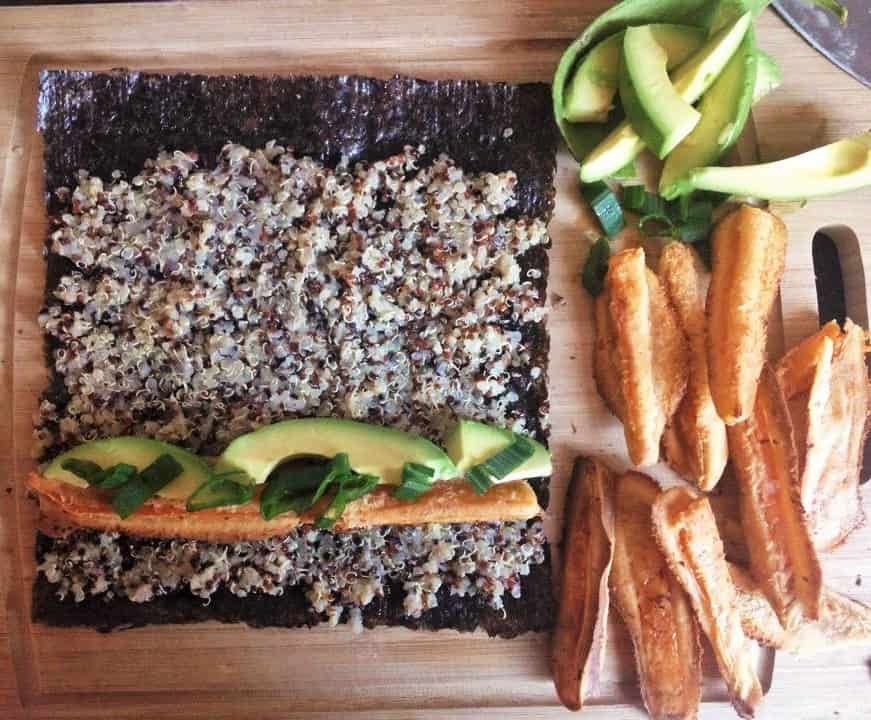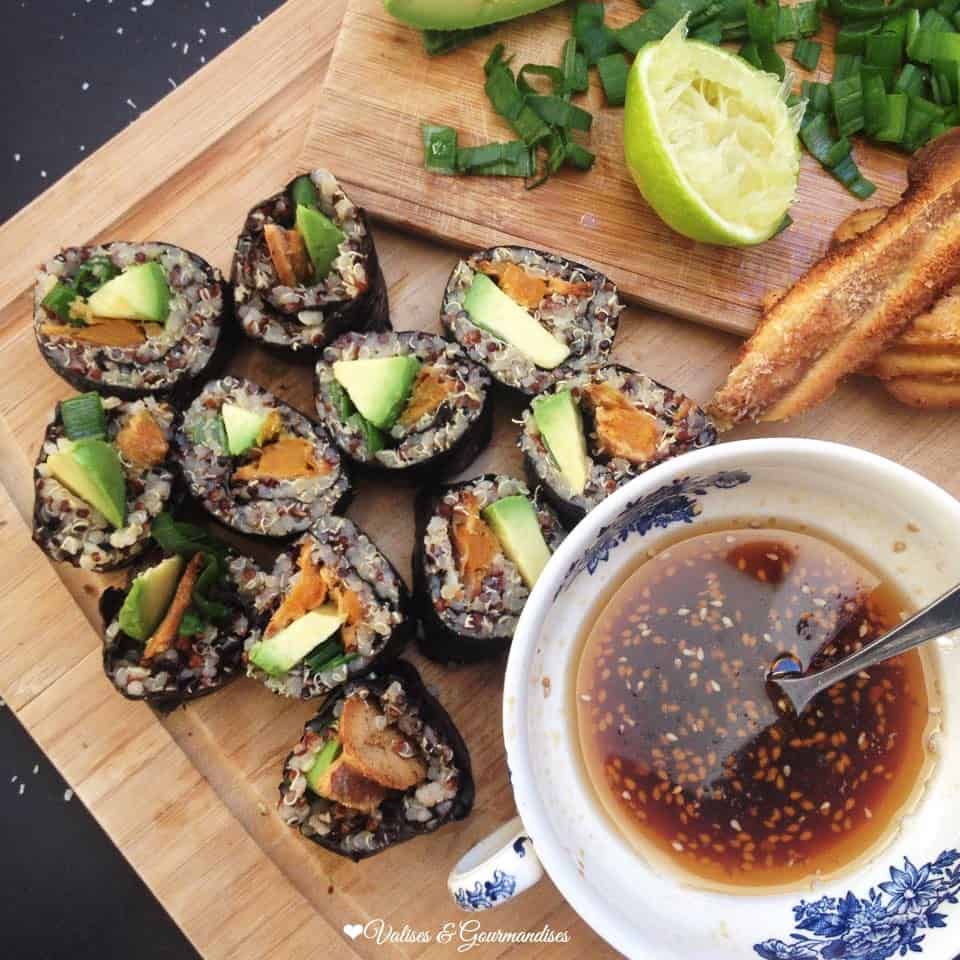 The recipe yields enough sushi for a complete meal, but if you have a big appetite and want to make your evening that much more special, add a serving of spring rolls. And once you've tasted the spicy coconut curry sauce, you just won't be able to live without it.
If you try this recipe, make sure to snap a picture and share it on Instagram or Facebook using the hashtag #valisesetgourmandises. I wanna see your creations! And don't forget to leave a comment below :)
Pin it for later: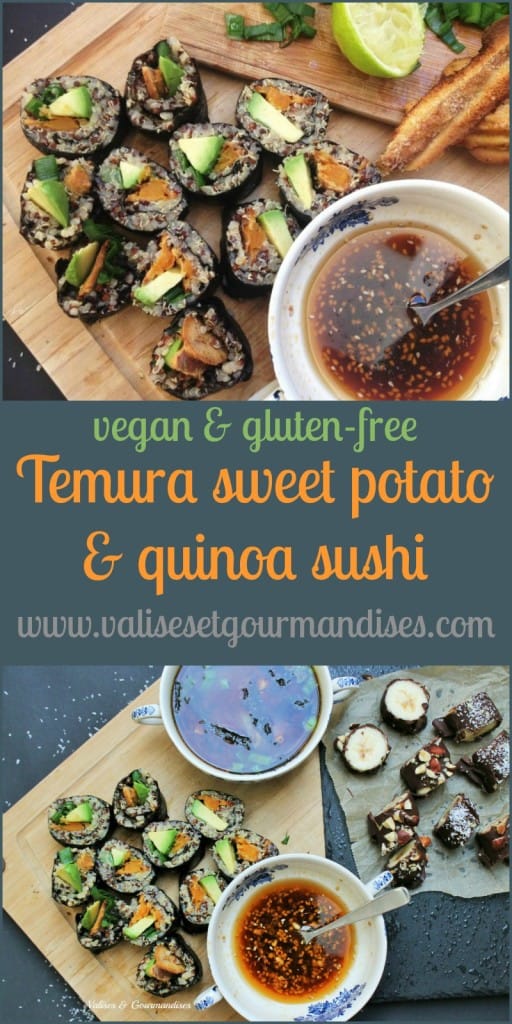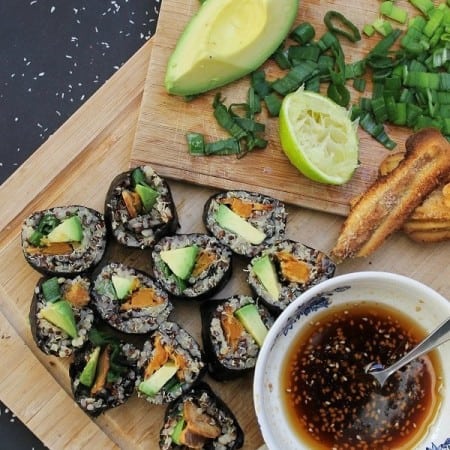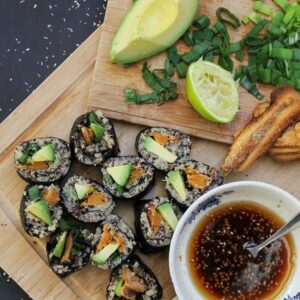 Vegan sushi: Sriracha coconut sweet potato & quinoa
Fish can sleep soundly thanks to these scrumptious vegan sushi!
Ingredients
1

cup

uncooked fair-trade quinoa

2

cups

vegetable broth

6

nori sheets

1

portion of Sriracha coconut sweet potato fries

1

ripe avocado

sliced

1

spring onion

minced

Small bowl of water to rinse your fingers

For the sauce

2

tablespoons

roasted sesame oil

2

tablespoons

shoyu soy sauce

2

tablespoons

agave syrup

1

tablespoon

rice vinegar

Juice of half a lemon/lime

1

teaspoon

sambal oelek

or hot pepper flakes or hot sauce

1

large garlic clove

crushed

1

teaspoon

roasted sesame seeds
Instructions
Cook the quinoa and the fries a few hours in advance and let cool completely.

Quinoa: Rinse the quinoa well. Place in a pot, add vegetable broth and bring to a boil. Lower the heat and cook covered for about 15 minutes or until all the liquid is absorbed. Turn off the heat, let sit for 5 minutes and fluff with a fork. Put the lid back on and let cool completely.

Make the sauce by whisking all the ingredients together. Set aside.

Gather all your ingredients. I suggest you keep a small bowl of water (to help the nori stick) and a clean cloth (to dry your hands) close by.

Place a nori sheet, rough side up, on a clean chopping board. Spread about 4 tablespoons of quinoa evenly, leaving about an inch at the extremity of the nori. Garnish with

fries

, avocado and green onion. Fold the sheet on the garnishes, press a little and roll applying constant pressure to get a tight roll. When you get to the end, wet your fingers and pat the end of the nori to help seal the roll. Set aside.

Repeat the same steps for all the rolls. To serve, cut each roll into two large pieces, and then cut each half into three sushi, using a sharp knife. So each roll will give you 6 pieces.
Notes
I like to only cut my rolls into two smaller rolls, spring roll size, and bring them as a lunch!
You'll have enough quinoa and fries to make at least 2-3 more rolls. Plan a second avocado and more nori sheets if you plan on making more sushi.
You can also use a sushi rolling mat, but I don't own one and I find it easier to work with my bare hands!