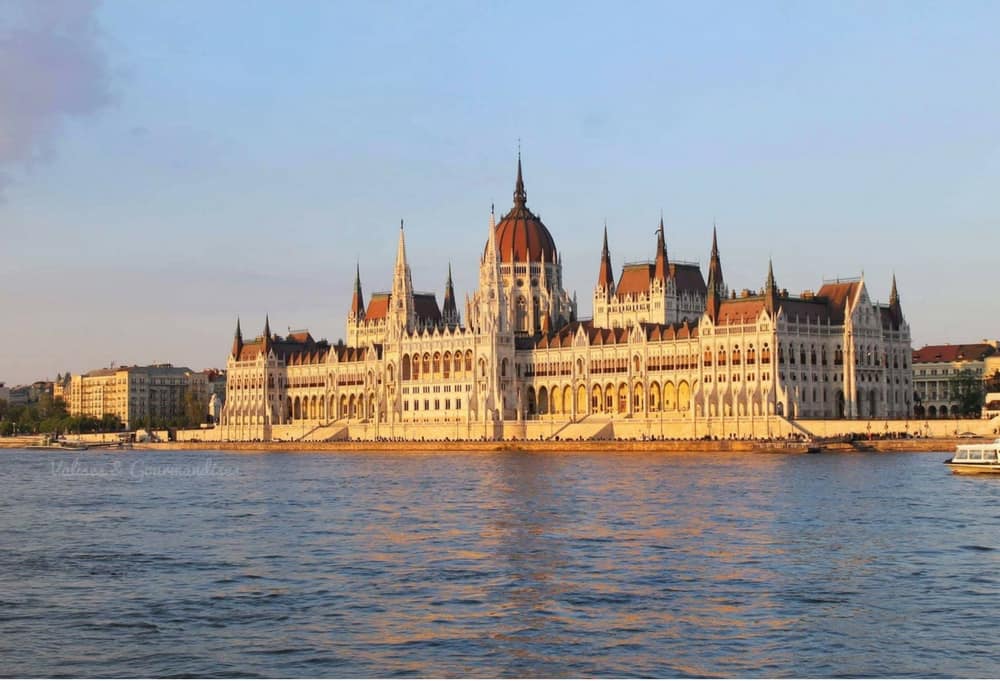 If i ask you about Hungarian food, what comes to mind first? Probably goulash. And beef stew. And some more meaty dishes. And you wouldn't be wrong.
Knowing Hungary's big meat heritage, Martin and I weren't expecting to eat out too much during our stay in the capital. We were still super excited to dip our feet into the former East though. However, much to our surprise, we were delighted to find ourselves in one of the most vegan-friendly capitals of Europe!
No kidding, despite spending four and a half days there, we didn't have enough meals to cover every restaurant in town. We did however fill our bellies with the most delicious food while discovering the city that Hungarians like to call "the heart of Europe".
Before I tell you more about it, you should know that Buda and Pest are actually two cities, where two geological formations meet at the Danube river.
We stayed in Pest, the young and hype area, in a super central
Airbnb
from which we could explore most of the city by foot. Pest is also completely flat, like 80% of the country, which made it easier on my lazy calves. The area boasts with ruin bars (where people are still allowed to smoke though, so no thanks) and restaurants. Most of the places we ate at were walking distance from our apartment.
The hilly Buda side is just as interesting though, with the Buda Castle, the Fishermen Bastion and the magnificent Matthias Church, to name only a few. You can also get a beautiful view on Pest and the Parliament from that side of the Danube, or Danu in Hungarian.
There is so much food to talk about that decided to divide the blog post into two parts. I'll try and upload the second one next week (I know I'm slow when it comes to travels on the blog, sorry!)
WHERE AND WHAT TO EAT
*The following recommendations are technically ads, though we paid for our food!*
Napfenyes Restaurant and Pastry Shop
This restaurant, which we called nepfenneenesfss (we just couldn't manage to remember the name) was by far my favourite. With an extensive menu, a wide selection of pastries and a more formal dining room than your usual vegan restaurant, they managed to lure us in for a second meal.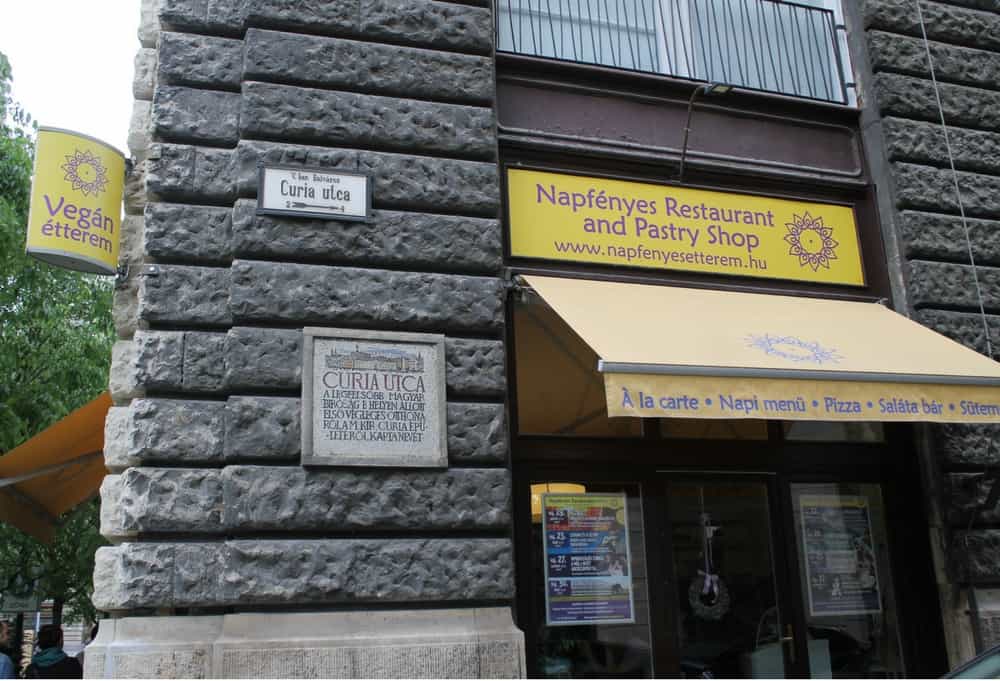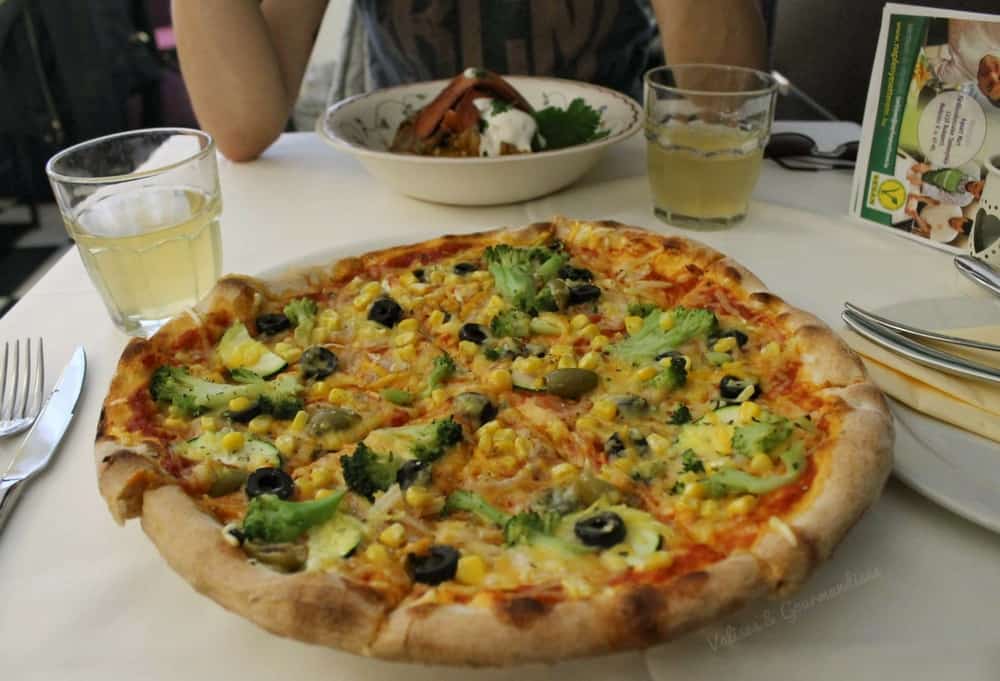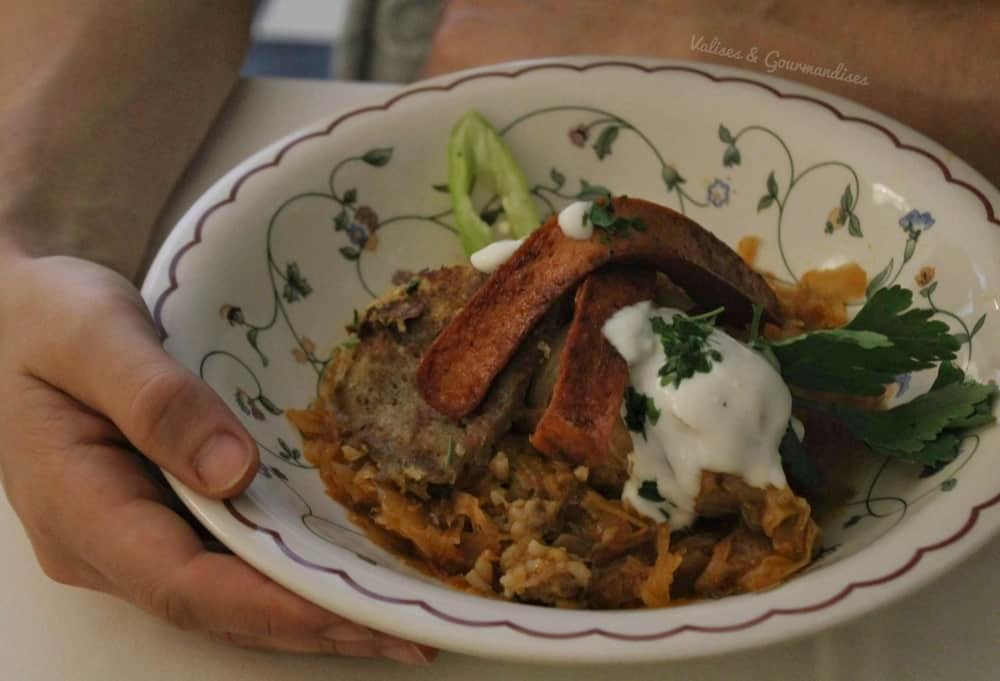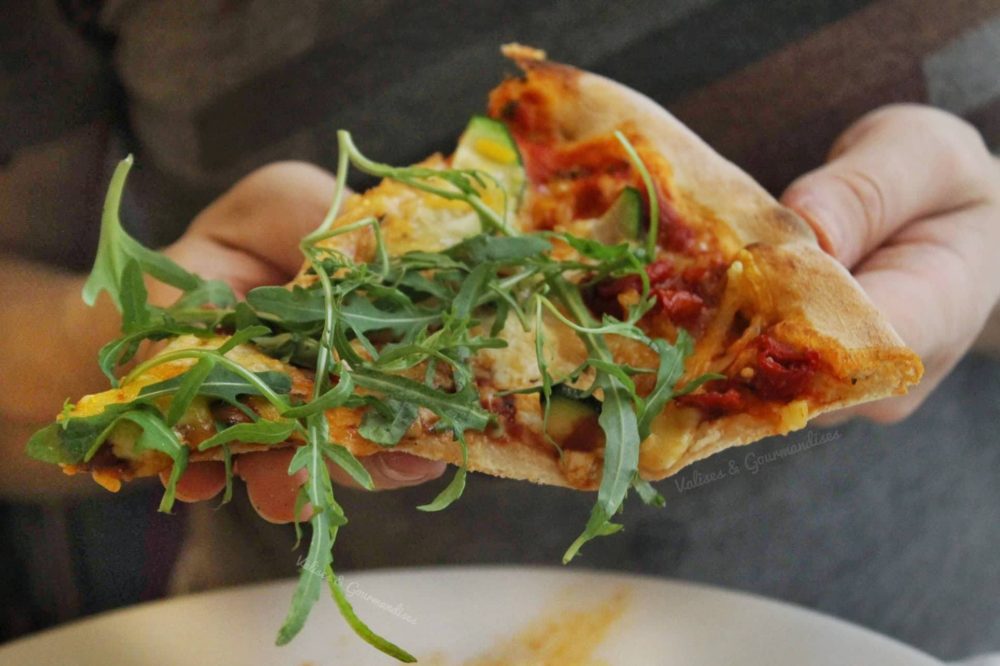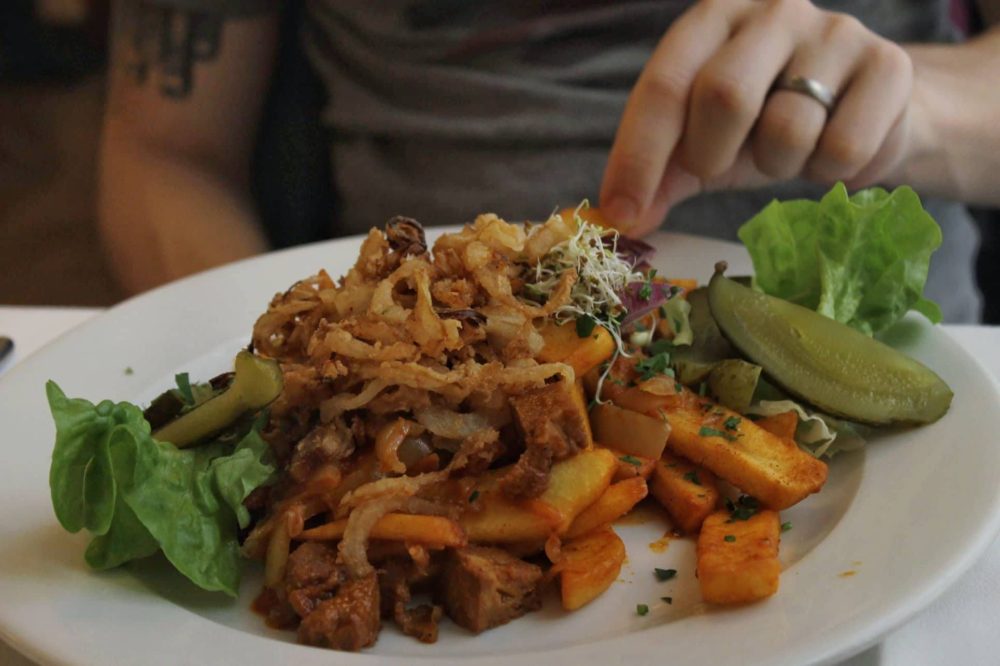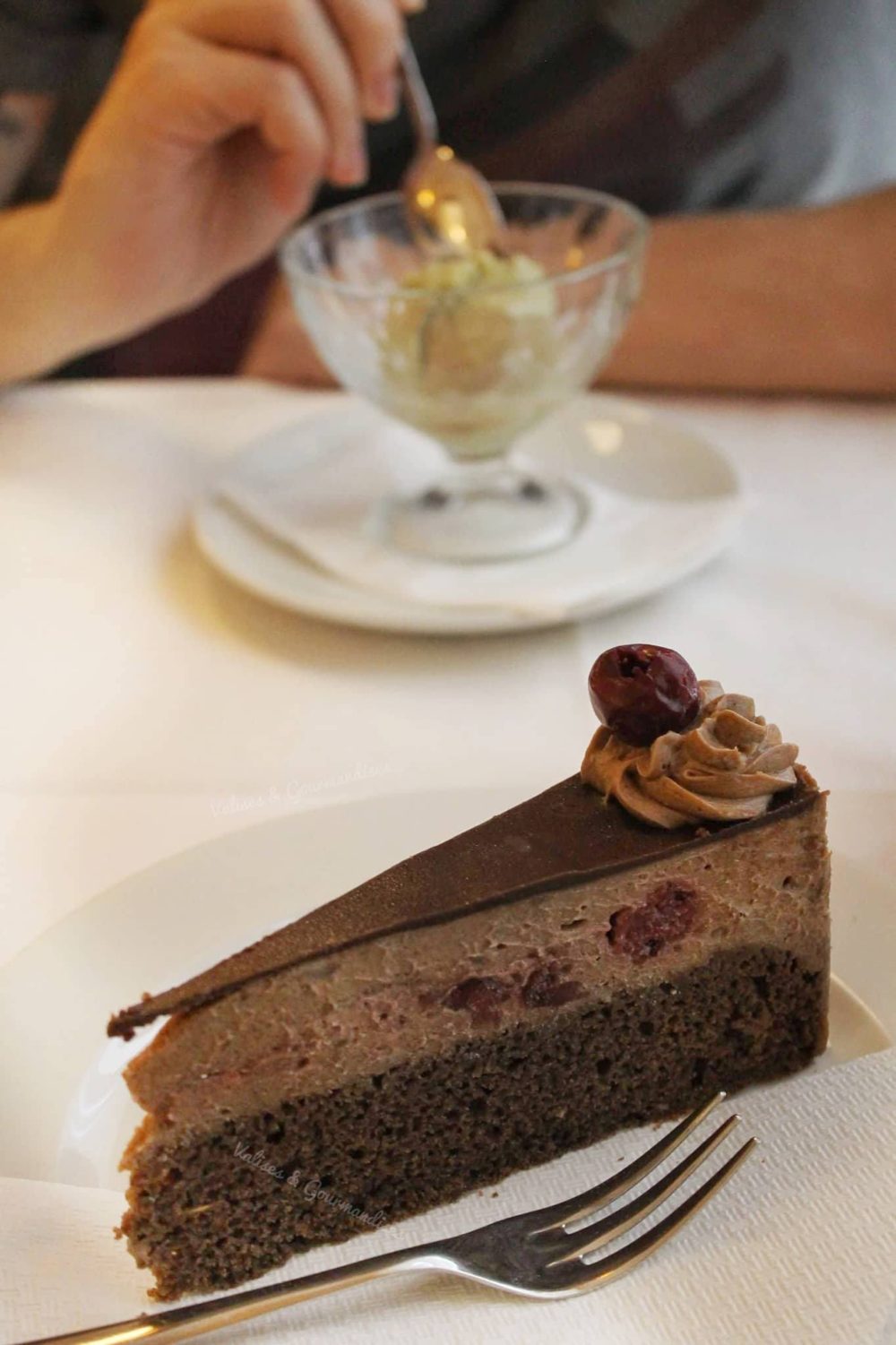 We shared a pizza both times and two different meals, a meaty sauerkraut dish and a poutine-like dish consisting of steak fries topped with ratatouille, tasty seitan, fried onions and pickles. I still have dreams about that.
Vegan Love – For the love of burgers
Bartók Béla út 9. Budapest, Hungary 1114
Even though we had the worst coffee in the history of the world there, we had some of the best burgers and hot dogs too, so it's all good.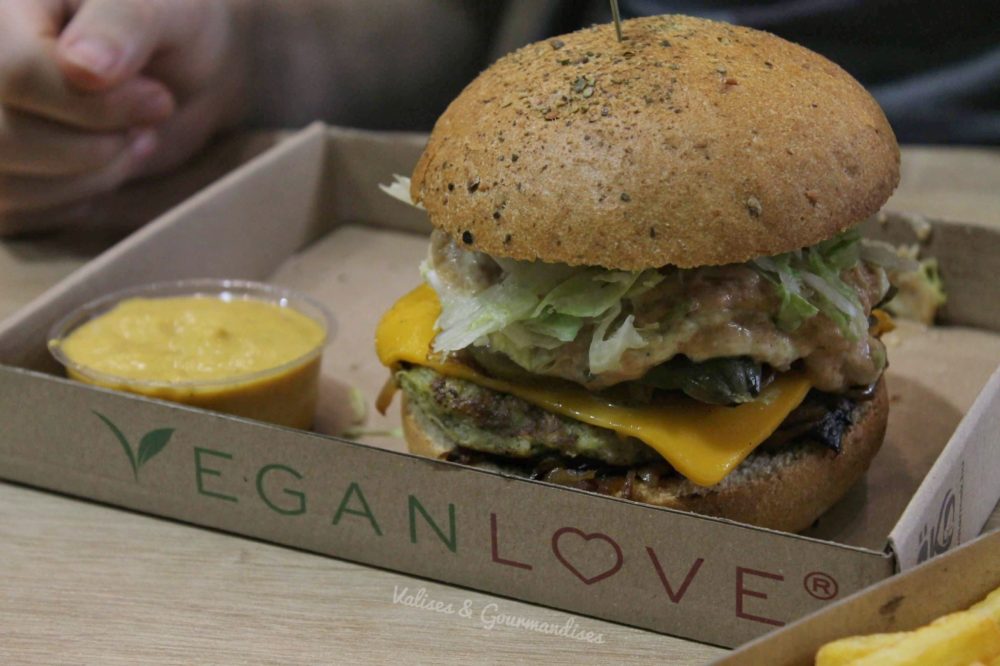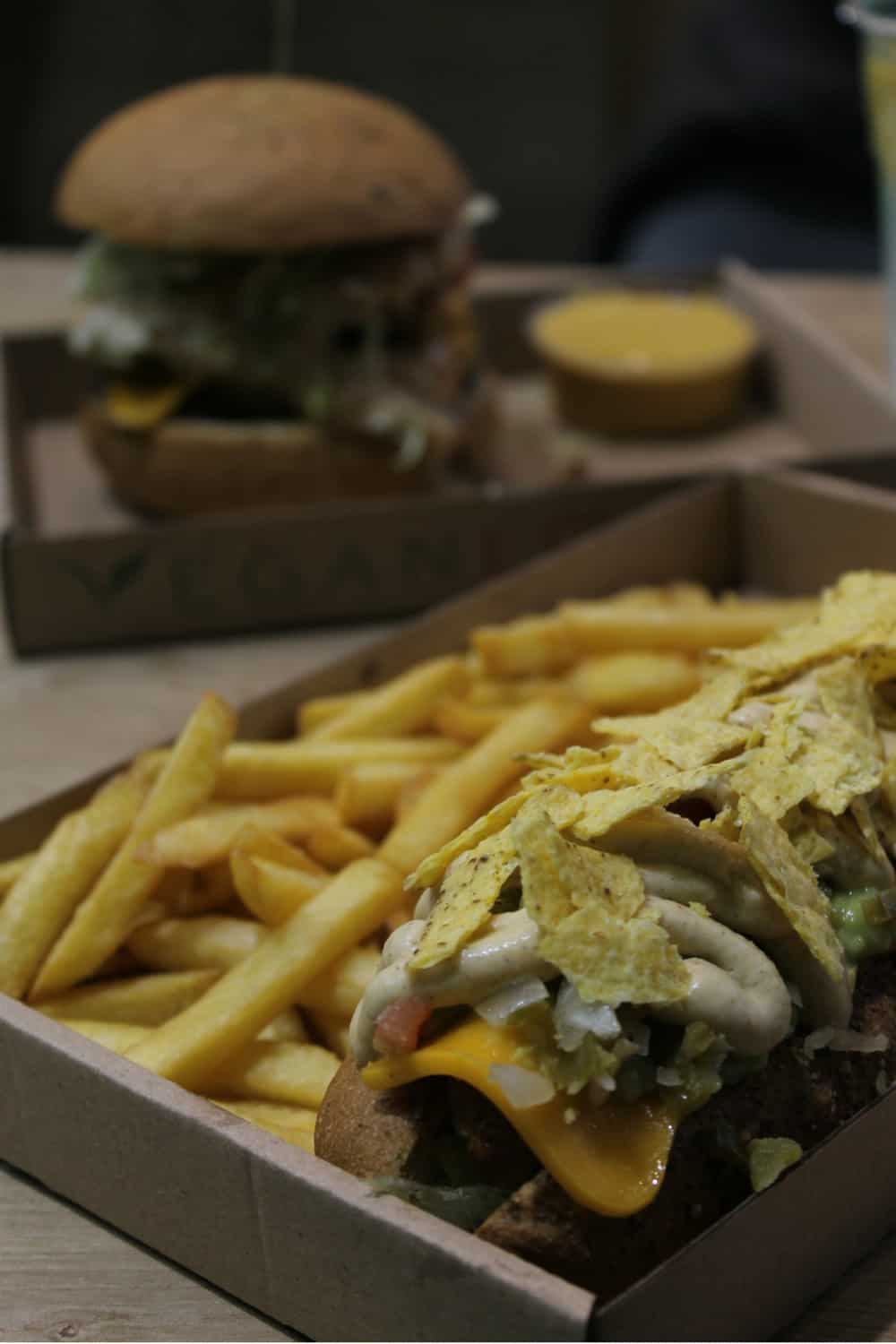 We shared the broccoli-millet burger, reminiscent of a big mac, with a ginormous Mexican hot-dog. It was seriously delicious! Highly recommended if you're in the Buda part of the city and manage to get a table. This tiny place fills up fast!
Las Vegans – For the love of burgers part 2
Kazinczy utca 18, Budapest, Hungary 1075
Located in an outdoor foodtruck court called Karavan, located 5 minutes by foot to our apartment, this was the perfect place to accommodate our group (we met up with one of our best friends who was in town for a conference). While others chose the traditional goulash, we again went for vegan burgers. We just love those.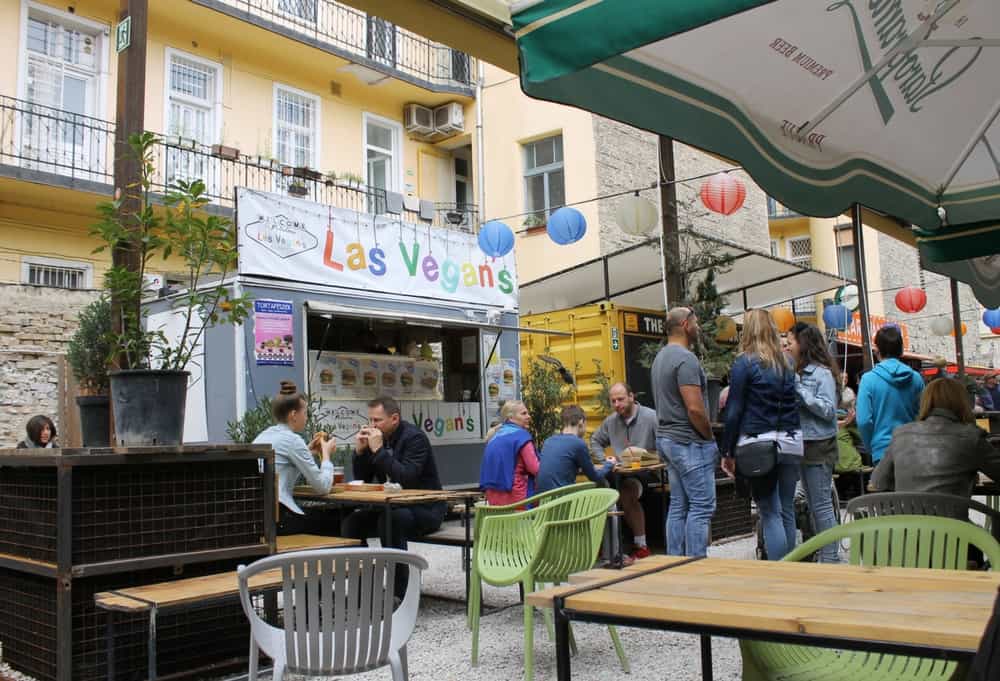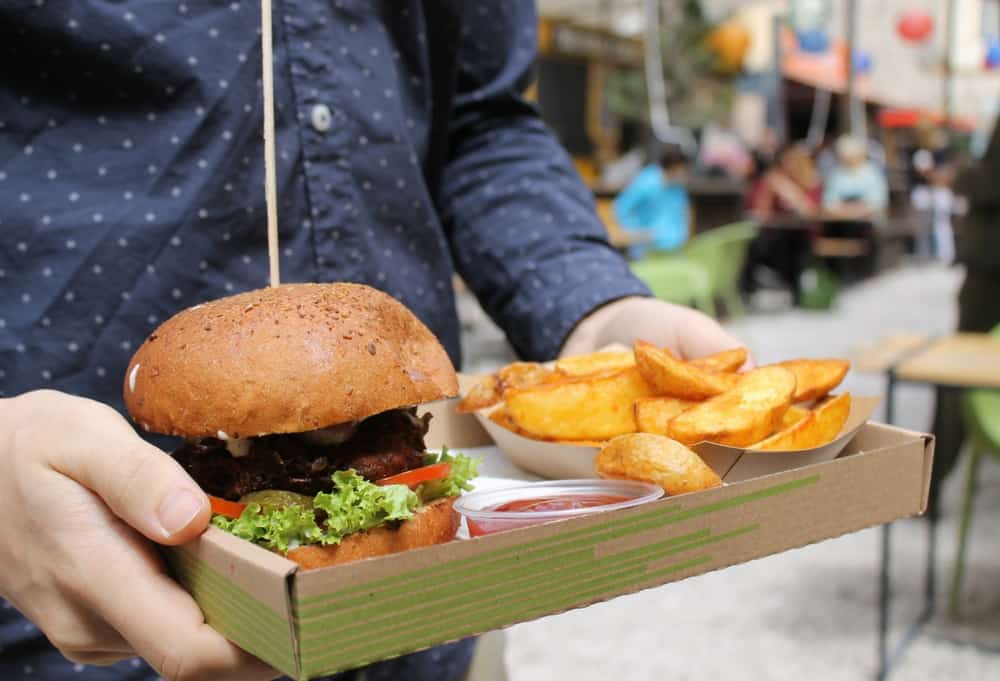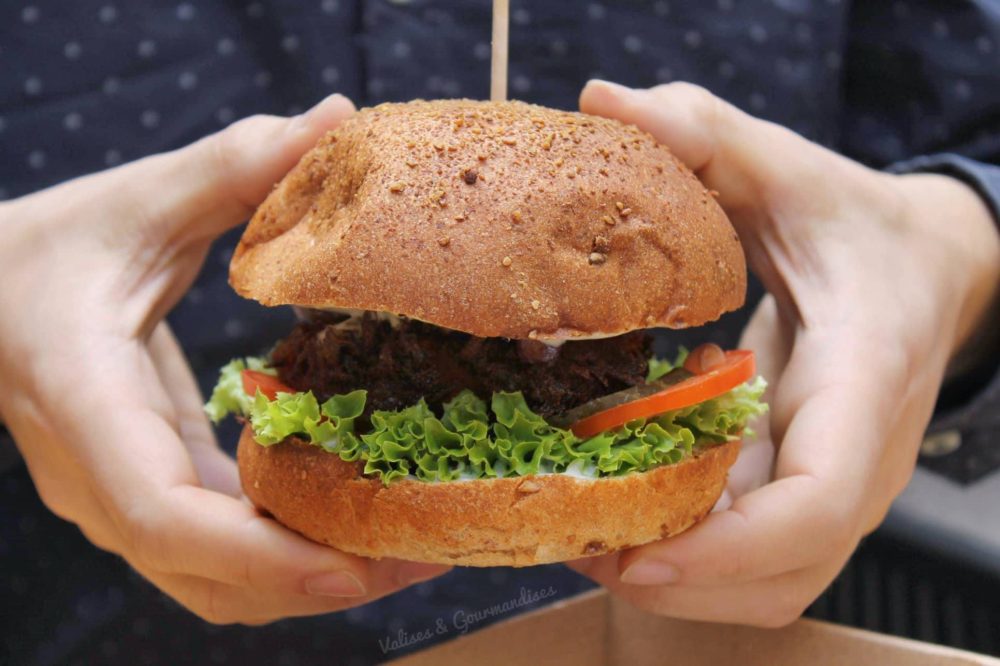 According to Martin, the burgers there were even better than at Vegan Love, but I liked them all equally.
Martin just went for whatever burger had pickles in it, his latest obsession, but I had a much more difficult time choosing between their 4 or 5 flavour combos.
He settled for the carrot burger and I ended up choosing the Indian chickpea one. Both great choices!
Kosmosz Vegan Etterem
Hunyadi tér 11. Budapest, Hungary 1067
This family-friendly restaurant sparked Martin's love for goulash. He asked me to make him some for weeks after our visit there. And you know what? He's the one who actually ended up making me some! It was so flavoursome, with seitan and lots of smoked paprika we brought back from our trip.
Since we only wanted a light lunch, I ordered the grilled veggie platter, which made me think of my lovely friend
Ela Vegan
, who often makes those, and Martin had the bean & smoked tofu goulash. Nerdy linguist fact, we learned that it's pronounced goo-yash. But don't worry, it tastes much better than it sounds.
The Great Bistro
Bank utca 6. Budapest, Hungary 1054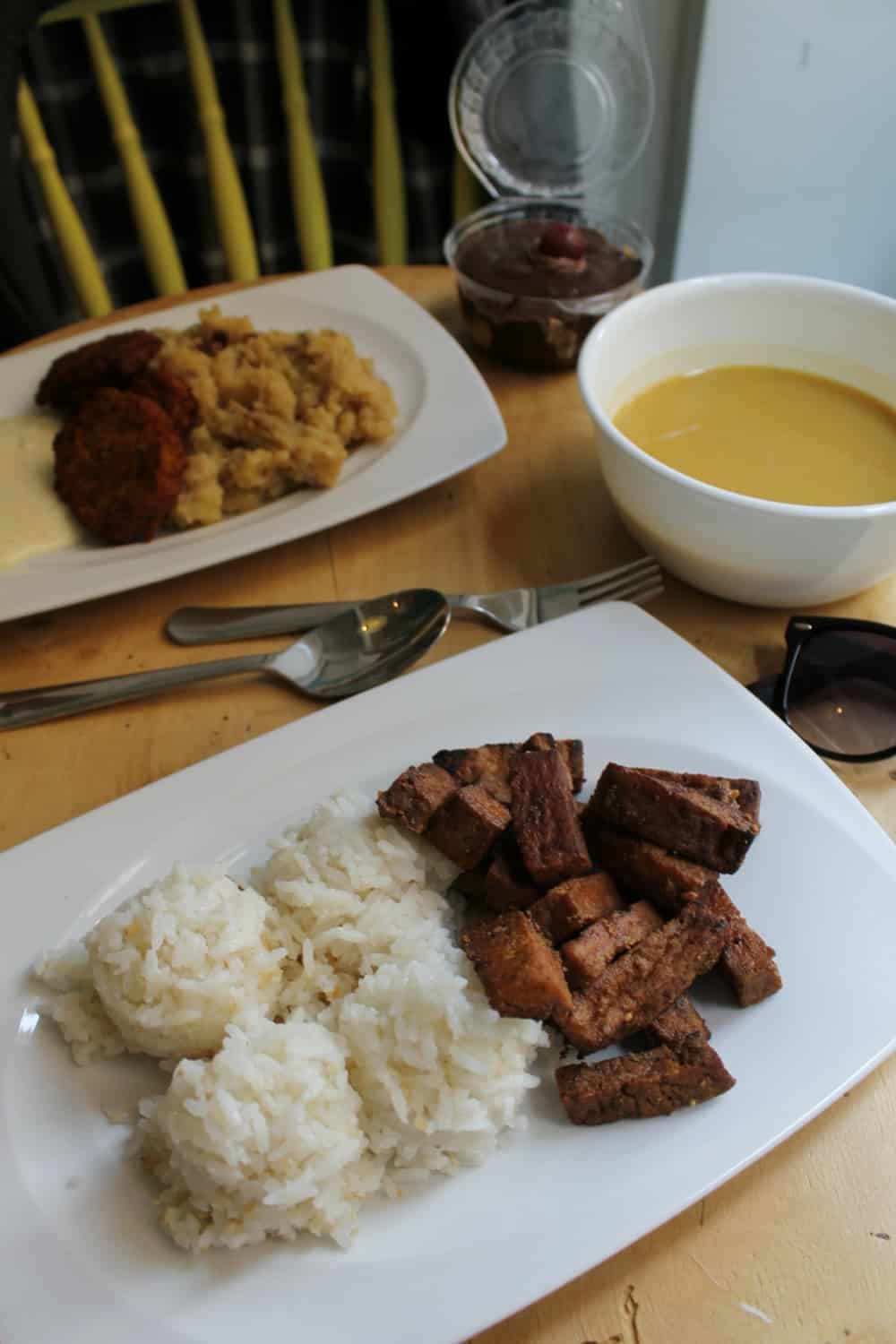 I discovered this somewhat famous restaurant thanks to my new
Instagram
friend Sam, who after seeing my Instagram stories wrote me up to tell me about this restaurant.
Pricier than the others at night time, their evening menu is super inspiring, the venue is cute and the staff friendly.
The lunch was delicious, though I would have liked to have veggies and not just peanut tofu and rice. Martin's veggie "nuggets" and their creamy sauce were also worth mentioning.
Szimply
Károly krt. 22. Budapest, Hungary 1052
For my last morning in Budapest, I went to have breakfast all by myself, Martin having flown back a few hours before me in order to get back to work while I stayed behind to catch an afternoon flight with Wizz Air for a ridiculous €10.
I didn't eat alone though. The café being tiny, I ended up eating my avo toast while chatting with a friendly Brit/Hungarian, who I hope didn't mind all the greens getting stuck between my teeth haha
I was disappointed to realize that the café isn't strictly vegetarian, but delighted to see that they cater to vegans as well with their all-day breakfast, the one meal that's lacking on the Budapest vegan scene. The menu changes monthly and this month's avo on toast was all vegan, topped with coconut caviar, marinated radishes (I think), pretty sprouts and a peanut pesto.
At 2,200 huf it was a bit pricier than other venues, but the portion was generous and the sourdough toast looked like art.
Magyar crash course
Hello: szia (see-ah)
Please: kérem
Thank you: köszönöm
Milk: tej
Cheese: sajt
Meat: hus
*Thanks to Visit Budapest for providing me with a 72hours Budapest Card. As usual, all opinions are my own.