Vegan travels in London – Street food and fish'n chips!
I've been alone for almost four days, something that hasn't happened in years! Martin's in Sweden for business and I'm stuck in rainy Hanover, which is the perfect opportunity to paint my nails and binge on cheesy Netflix movies. I watched two classics back-to-back tonight, Love Actually and Bridget Jones' Diary, which reminded me that I still haven't finished my post about London. Watching those movies and recognizing places like the Millenium Bridge was so cool and brought me back to our perfect stay in the city. We actually booked this trip after Martin bought tickets for his favourite band's 25th anniversary concert! It was a spur of the moment kind of thing. And we already know that we're going to Barcelona in July to see this same band! You don't see me complaining!
to
In this second long overdue edition of Vegan travels in…, the first one being all about being vegan in Berlin, I'll highlight how we managed not to break the bank during our four days in the English capital. I'm really focusing more on food than sights here, 'cause you can find the latter on pretty much any other blog. But if you do want to see more of the city, just check out my London album on the Facebook page.
So put on your walking shoes and follow me through a perfect foodie weekend in London.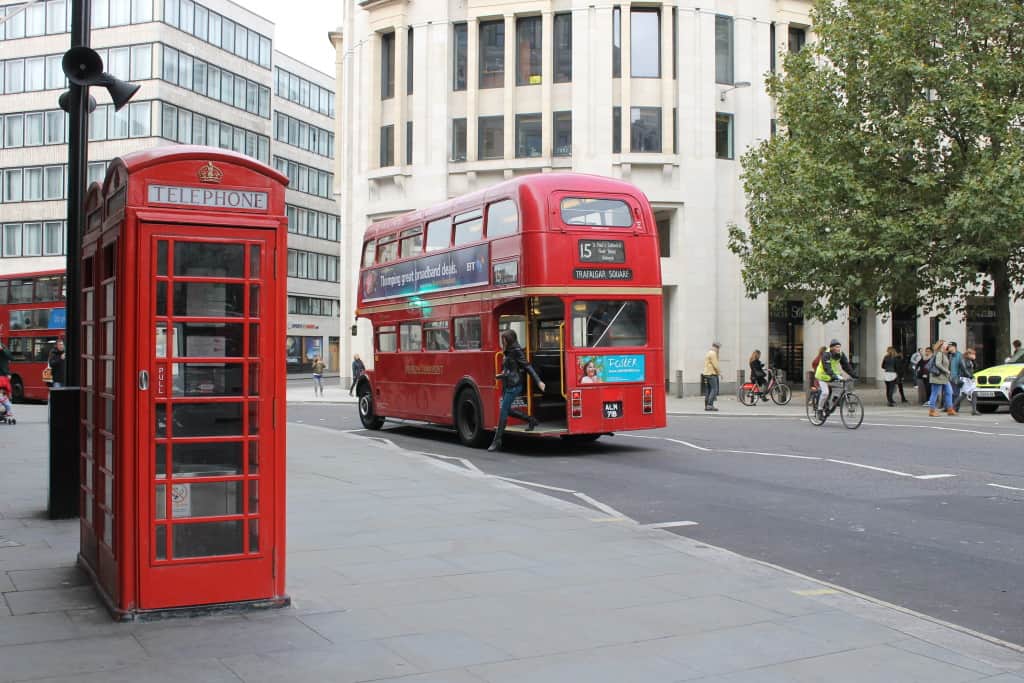 Friday – Oyster Card, awesome Airbnb host and Indian food
After a short flight from Hanover, we landed in Heathrow and purchased an Oyster card just before getting on the tube/subway. I highly recommend purchasing this card, as it'll make your travels cheaper, especially if you need to move around a lot. And the best part is that they'll reimburse you what you didn't use at the end of your trip! I also strongly suggest you shop around before changing your money! The prices we found varied greatly and considering how strong the pound is compared to pretty much any other currency, getting a good price makes a big difference on a budget.
We had planned to go drop our bags at our Airbnb in Stoke Newington and then head back downtown but our host was just so nice that we ended up spending the entire afternoon with him, drinking tea, walking around the neighbourhood and visiting a nice cemetery. After hearing about our Indian food obsession, he took us to Rasa, where we had scrumptious South Indian food. If you go there, just make sure to go to their vegetarian venue and not the regular one. Also, they tend to be pretty busy, so don't forget to book a table in advance.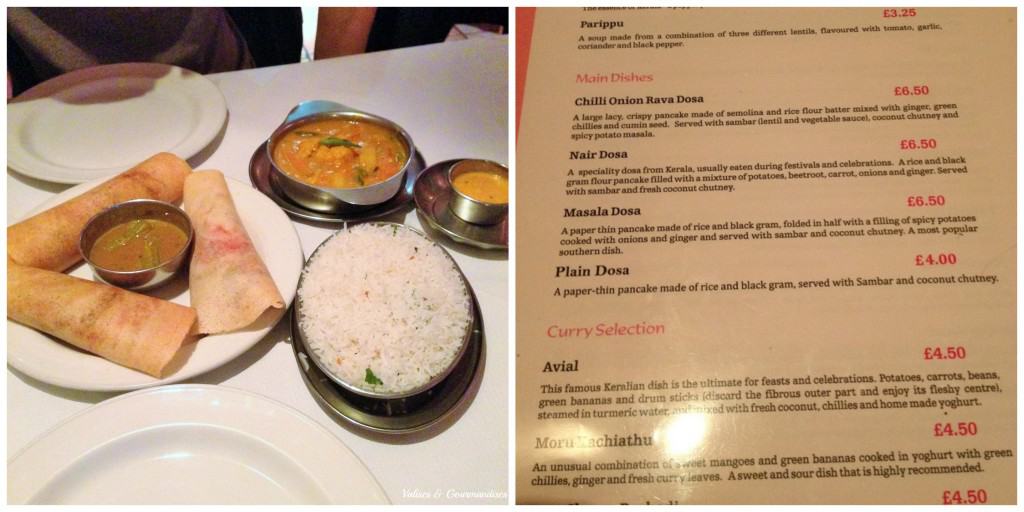 I ordered the Nair Dosa, a rice and chickpea crepe stuffed with a sweet and spicy mixture of potato, carrot, beetroot, onion and ginger. Martin took a curry that was way too spicy for me and a side of rice. In total, we spent about £15 for a scrumptious complete supper, not too bad.
Saturday – Borough Market & Tofush'n chips
We started our day at a tiny market in Stoke Newington where we had a yummy £3 Turkish crepe filled with chard and mushrooms (we simply asked the lady to hold the cheese). I was surprised to see the many options available for people on a plant based diet!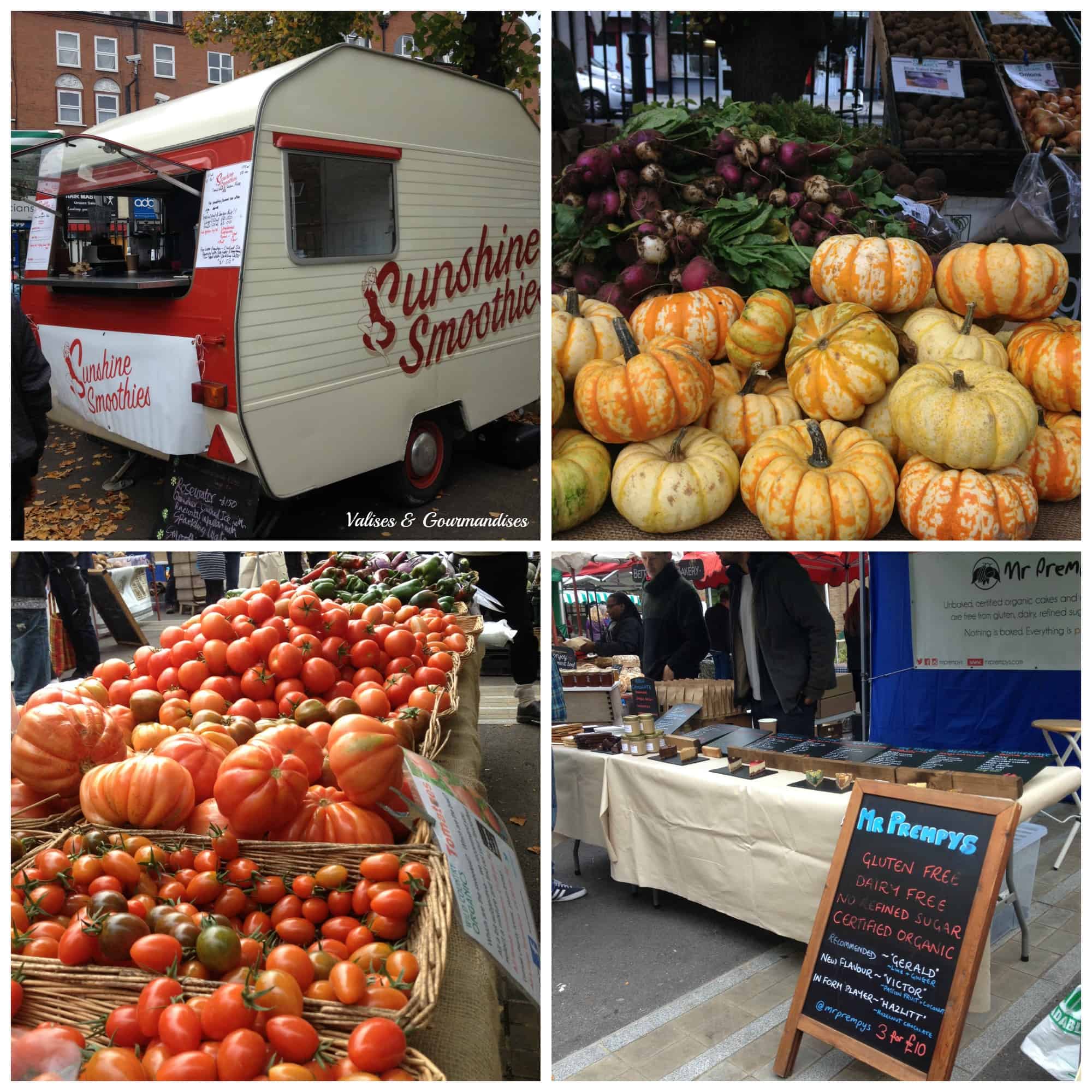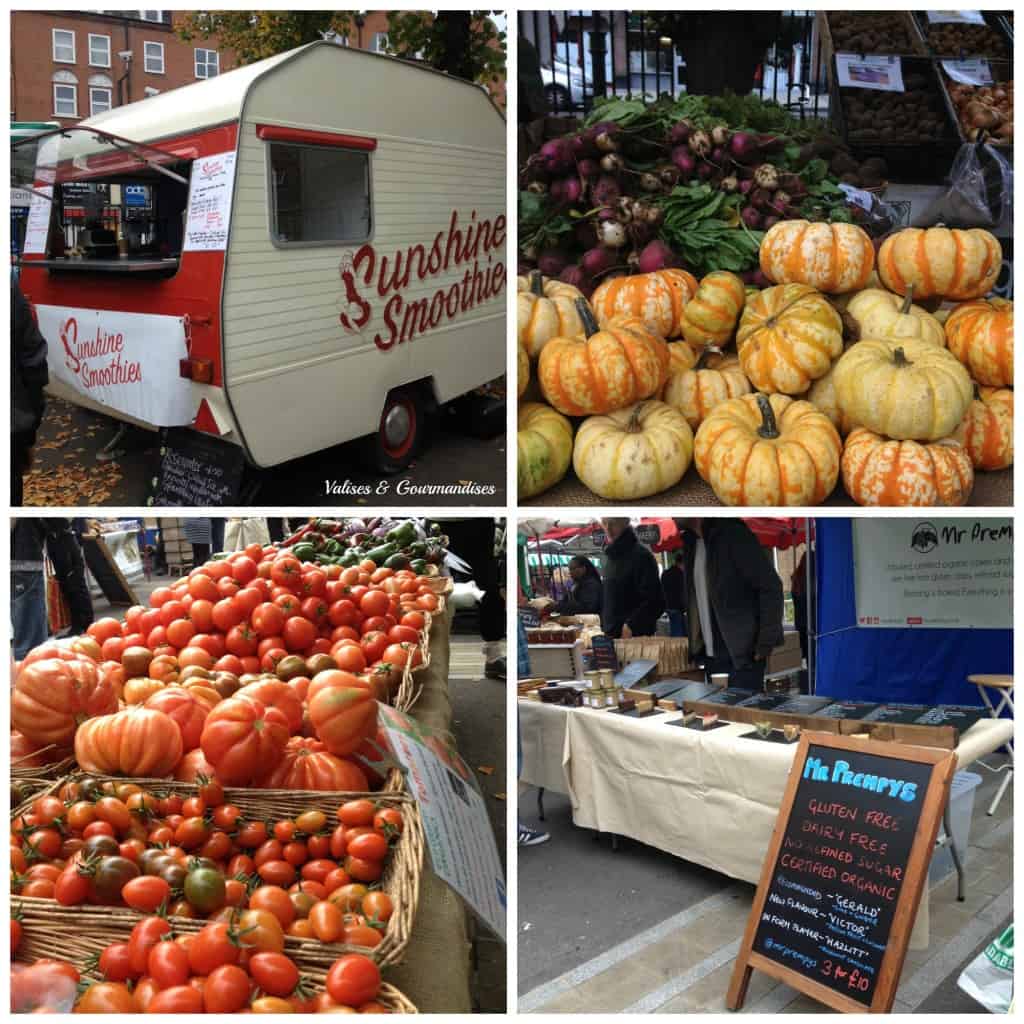 After our crepe we indulged in a salted dark chocolate covered red chili before heading to the Borough Market, a place I'd seen featured plenty of times by fellow foodies on Instagram. I was very excited to go and it didn't disappoint. It was overcrowded, like every single place in the city, but that didn't make it any less enjoyable.
We quickly spotted Horn OK Please, a vegetarian Indian food stand offering plates with filled crepes for £5, a new favourite we'd discovered the day before at Rasa. It was seriously tasty!!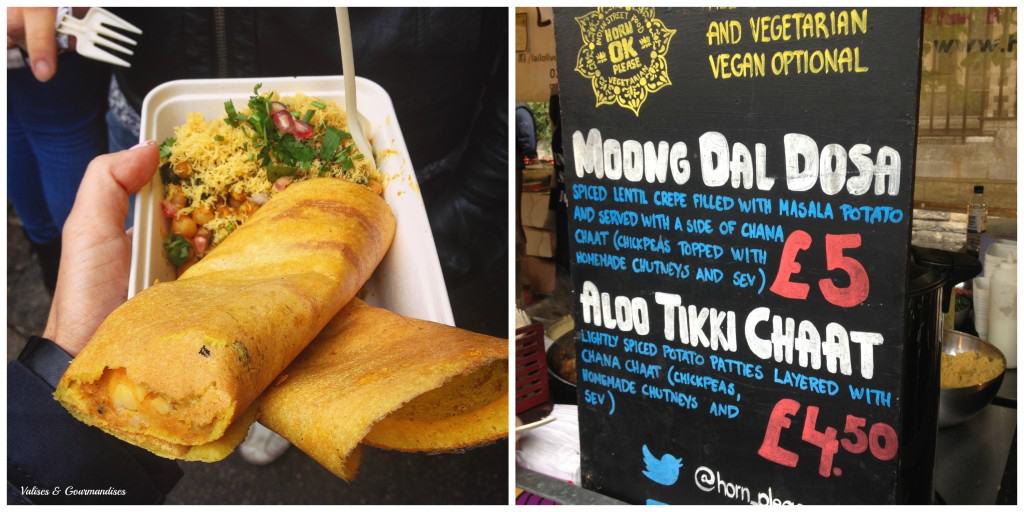 After walking around a bit, we took a stroll on the South Bank to take pictures of the Tower Bridge, pretty much the only sight-seeing we did, and then slowly made our way to Covent Garden, China Town, Picadilly and Soho.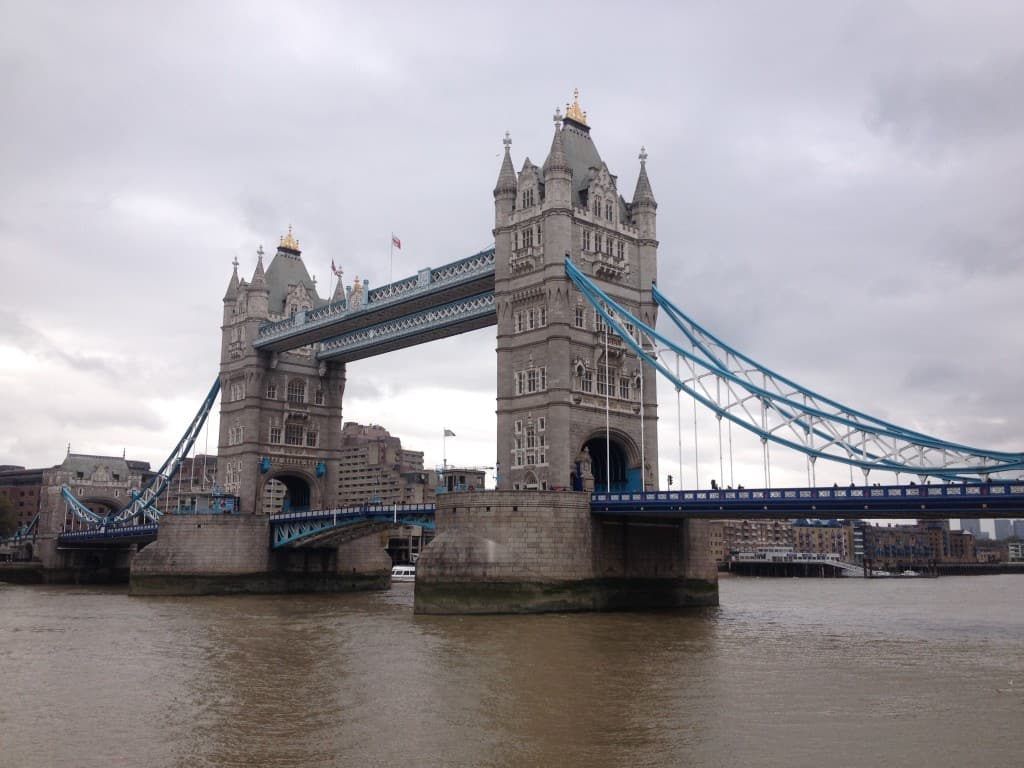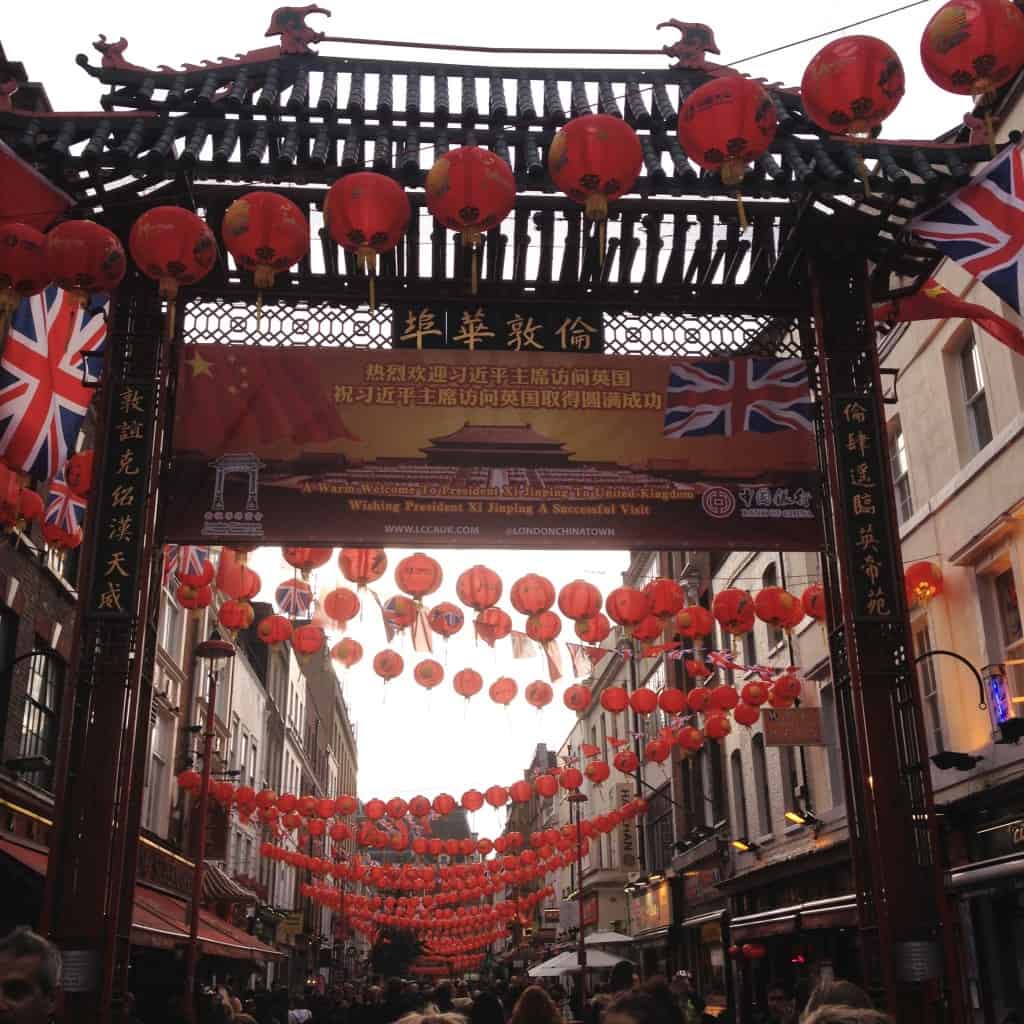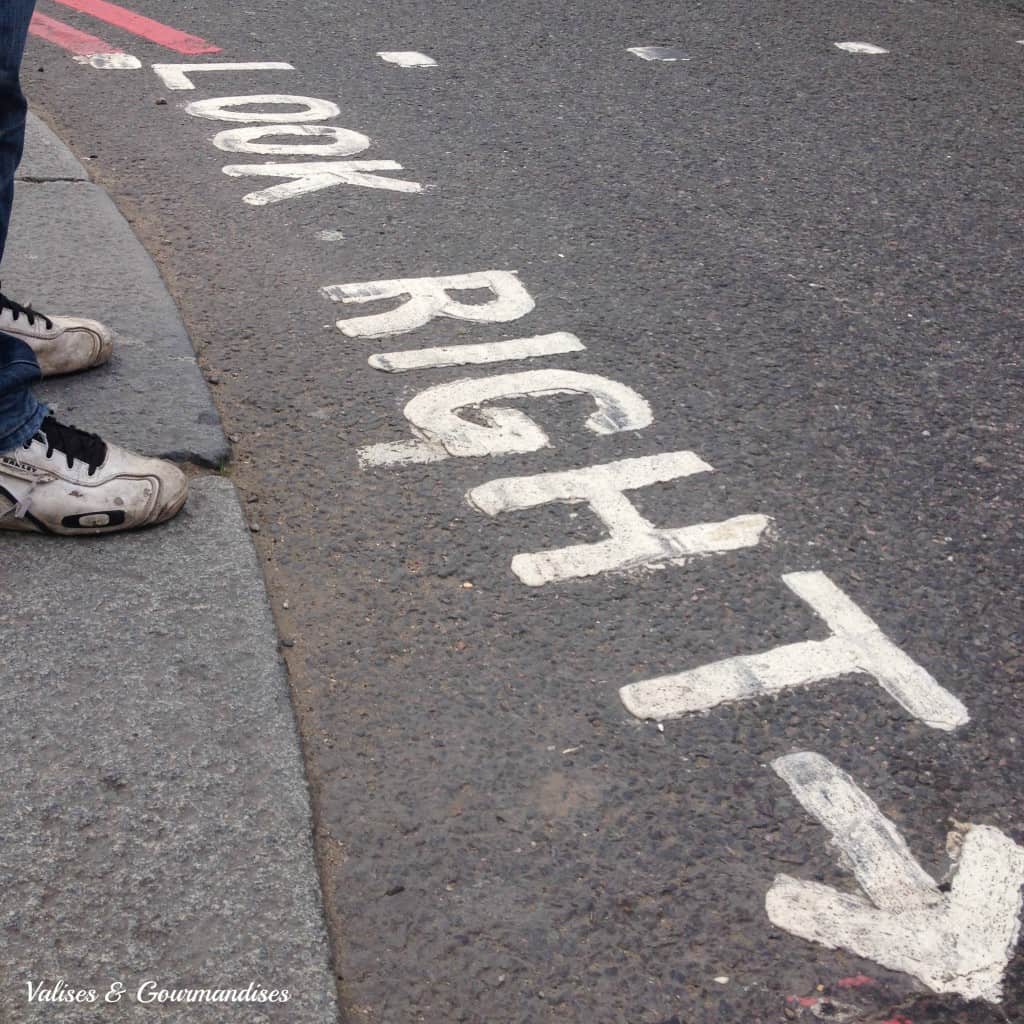 Let's be honest here, going to the UK and not eating fish'n chips can be difficult, especially if you're an ex fish lover like me. But considering the disastrous state our oceans are in at the moment, there's no way I'm eating fish. Do not despair! Norman's Coach and Horse in Soho has got you covered! We made a reservation for the Saturday night and were absolutely delighted with our food! There, we spent less than £30 for two complete meals and an English beer.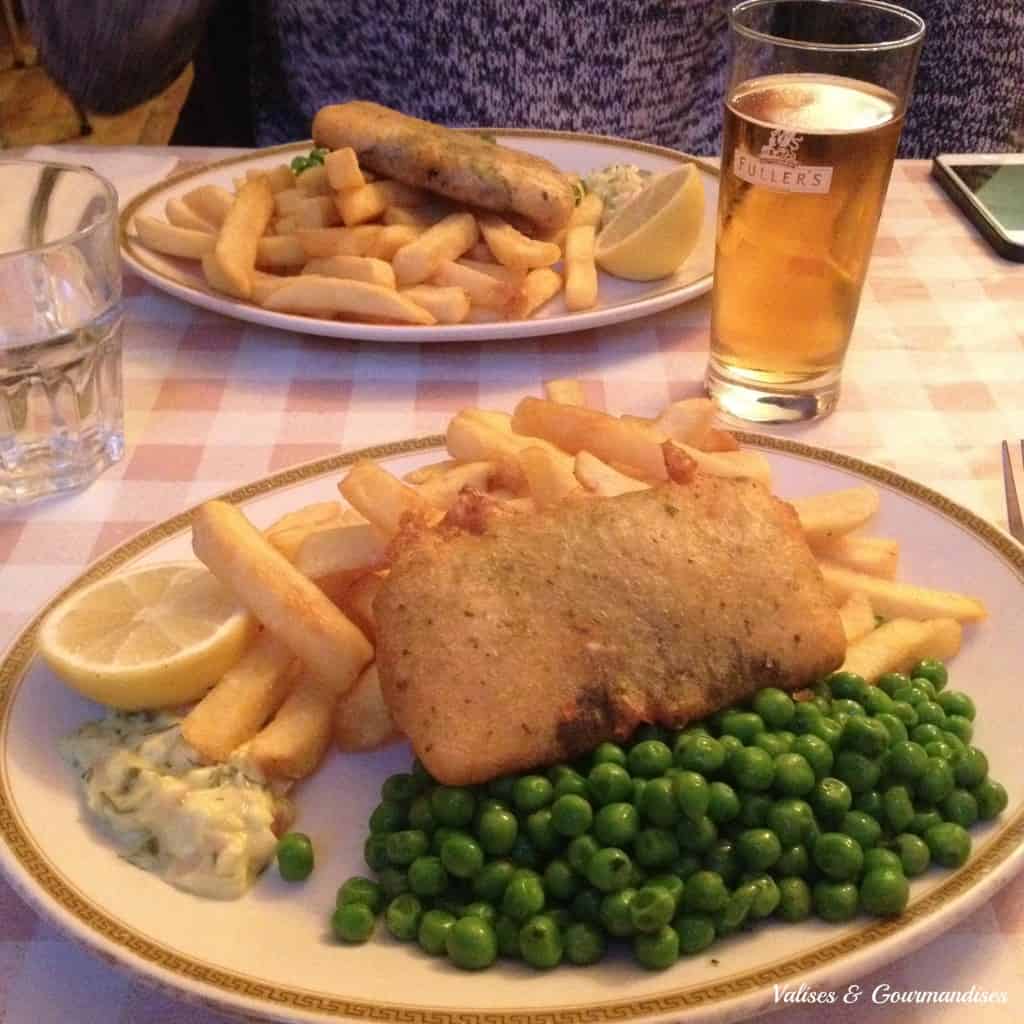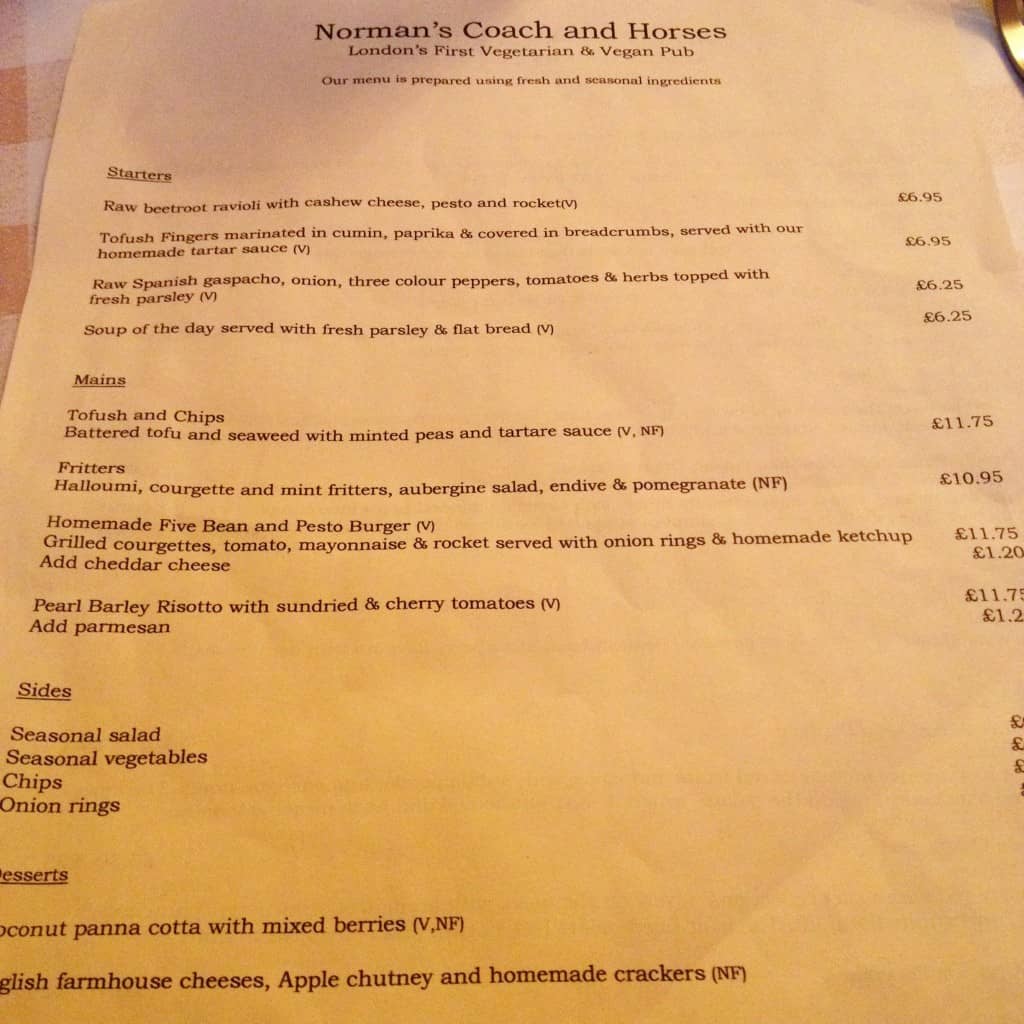 Craving it but no time to go to London, why not try making it yourself? I haven't tried it yet, but this one looks yummy enough!
Sunday – Brick Lane & Camden Market
That was a very, very, ok one more time, VERY, cool day! We got up, bought some fruit at a small market near where we were staying, hopped on a double-decker red bus and headed to Brick Lane Market. This place was simply A-MA-ZING! Food stands everywhere, cool little stores selling vintage clothes, dishes and records and the coolest chocolate store I've had the chance to see in my life. The music blasting from the open doors and windows lured us in and we found ourselves dancing along other visitors and the 3 employees, amidst the fresh chocolate smell.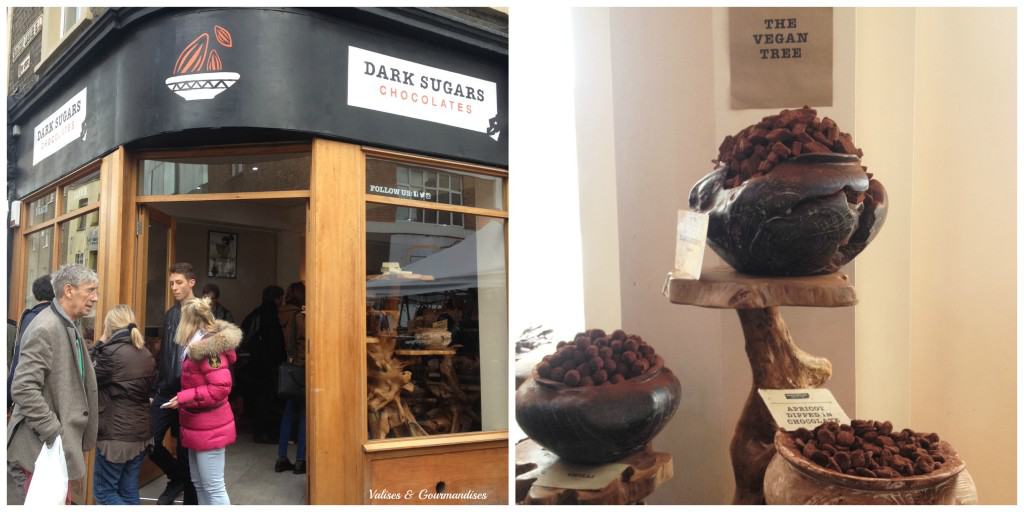 We walked around a bit to scout our options, but as soon as we found out there was Ethiopian food, we didn't have eyes for anything else. We shared a huge plate filled with vegan goodies. I didn't find the name of the stand, if they have one, but they were located in the inside part of the market.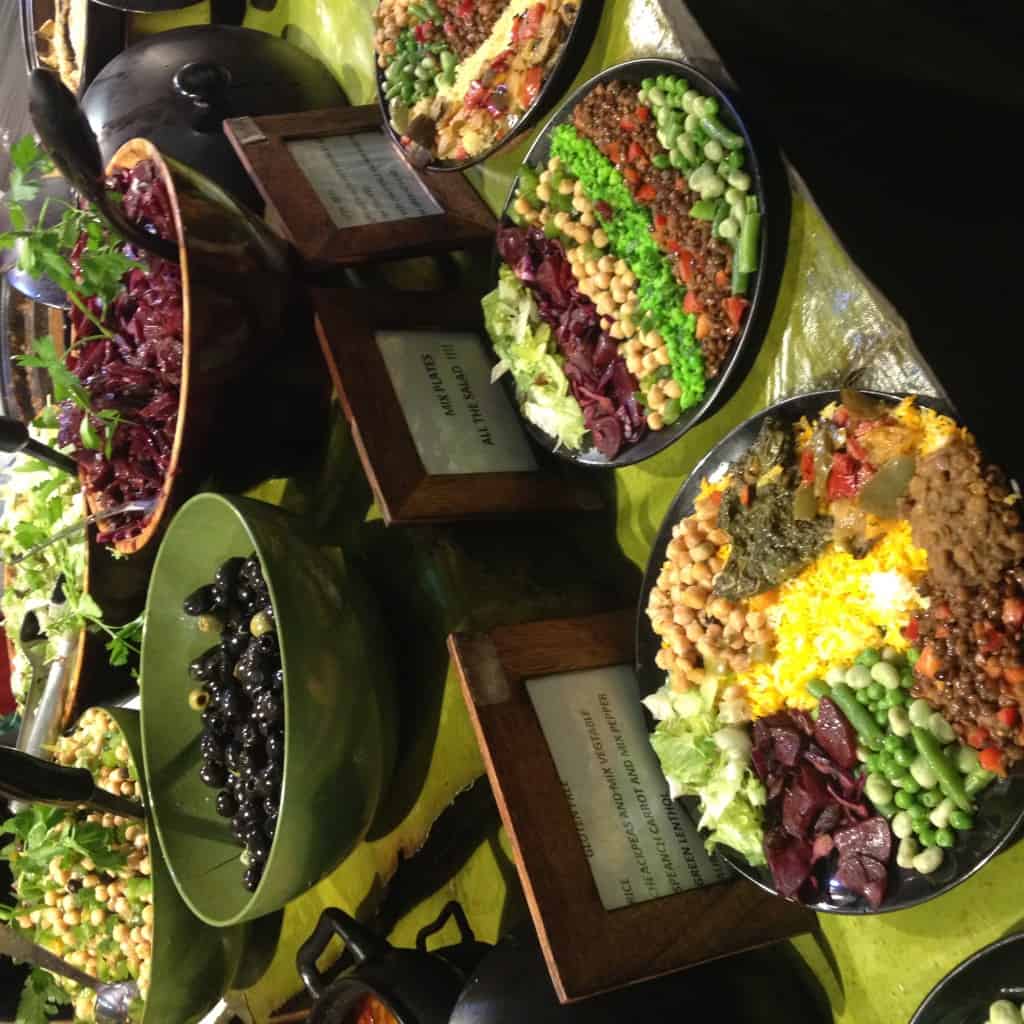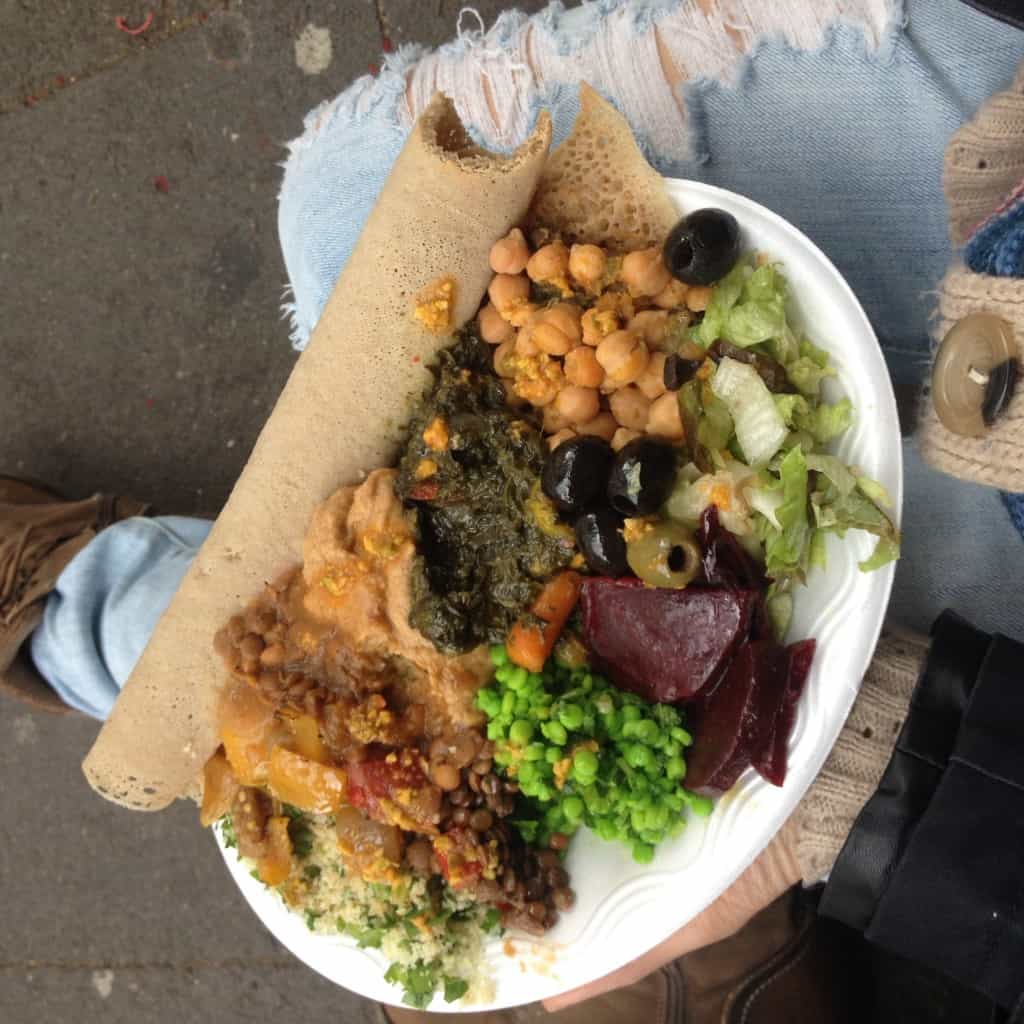 With our bellies full, we headed to Camden town, a two-hour walk that gave my poor feet huge blisters. We didn't actually know what to expect in this part of town, our visit being solely motivated by Cookies and Scream, a vegan bakery.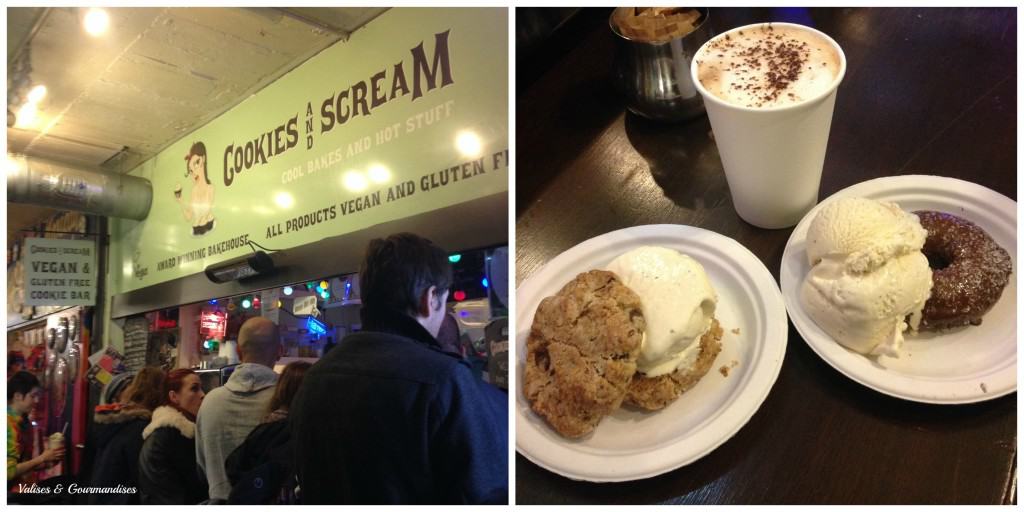 What we found was kind of a heavy metal inclined neighbourhood frequented by an eclectic bunch, from classy Brits to punks. I must admit that I've never seen anything quite like it in my travels! Our long walk was rewarded: Martin got an ice cream sandwich and I got a decadent doughnut covered in hot chocolate sauce, and we both took a soy milk cappuccino, for a grand total of £12.
Where to shop
I love grocery shopping, maybe I'm weird, maybe I'm not. But anyhow, Wholefoods was like a dream come true for a foodie like me. I'd heard so much about it over the years, but I'd never had the chance to actually visit one before going to London. They had everything: fresh fruit, young coconuts, vegan everything, health foods, pastries, you name it. I really wish we had one in Hanover!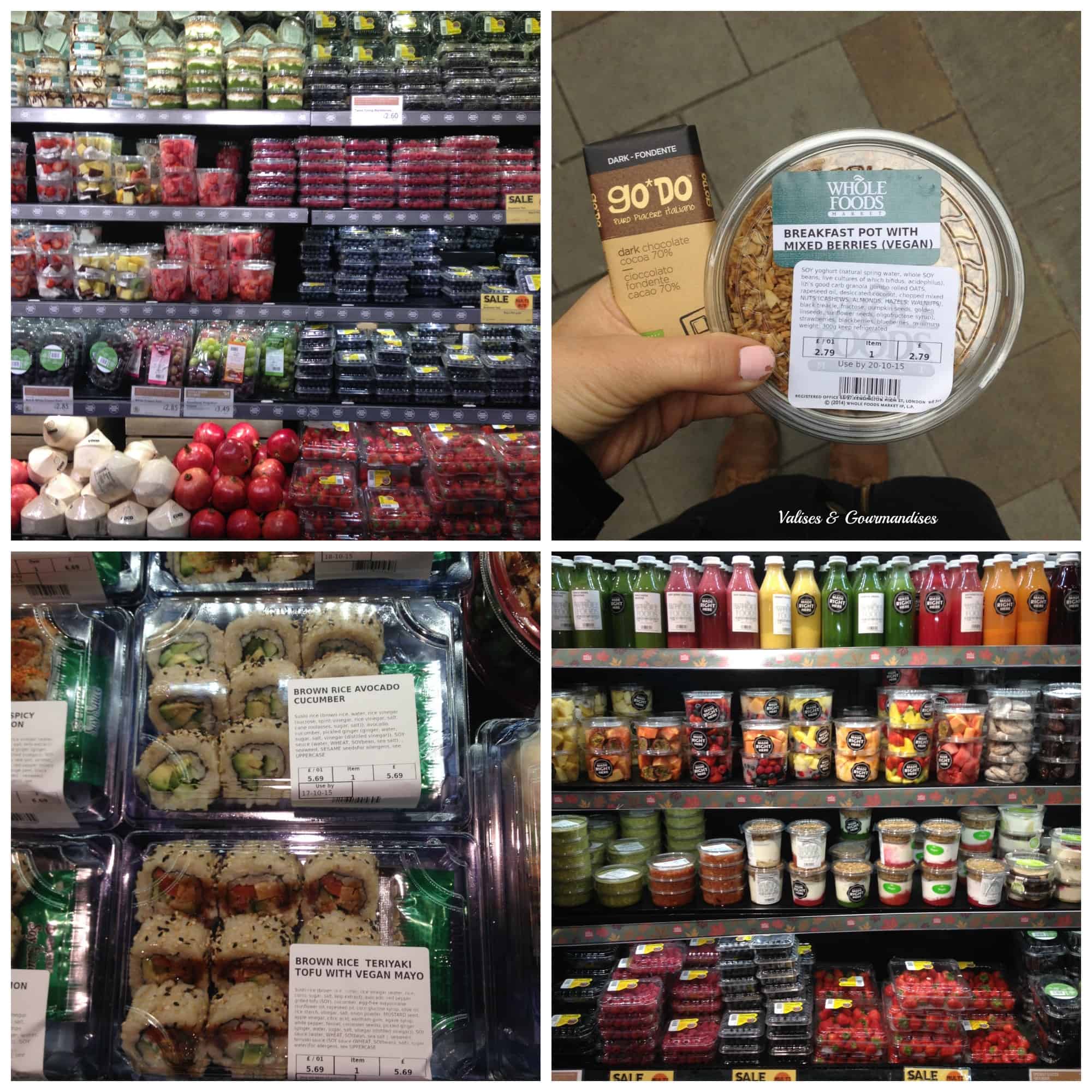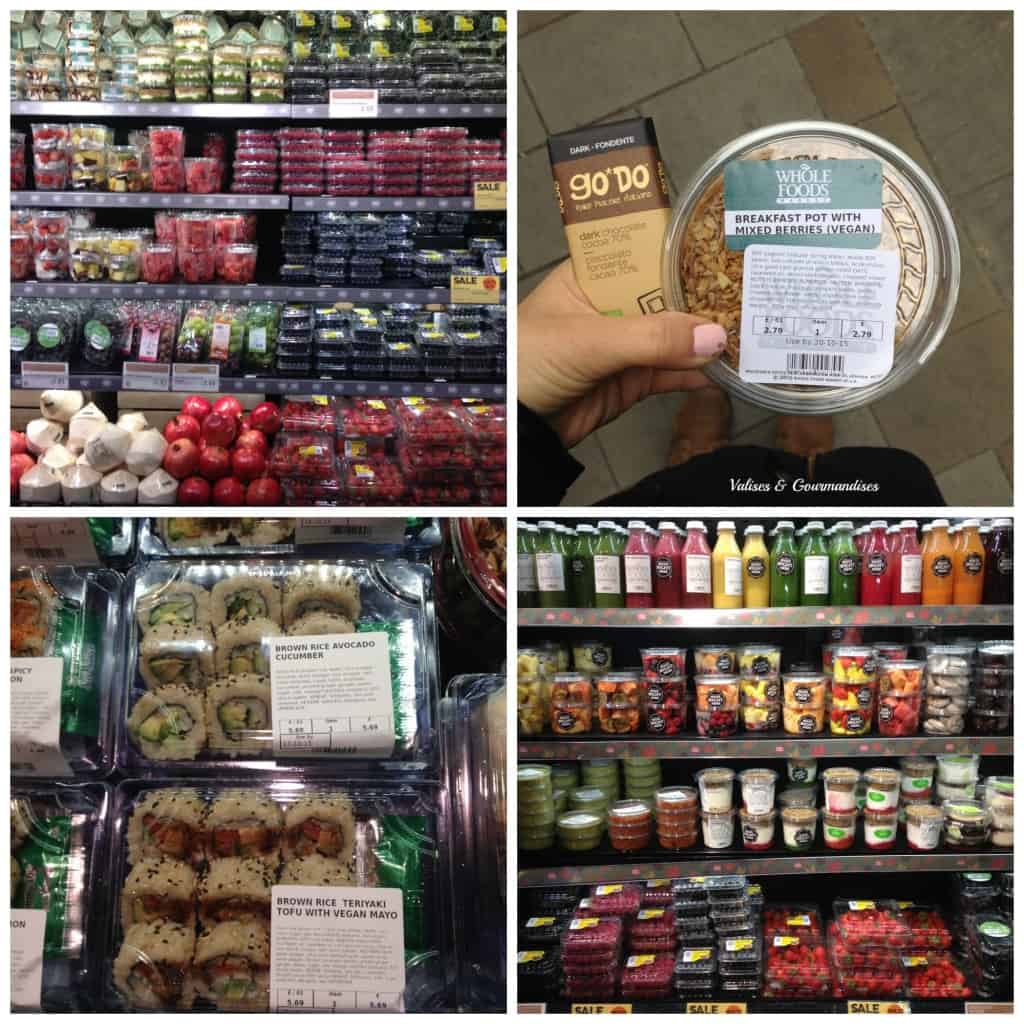 Besides Wholefoods, we mostly stopped at random markets we found along the way and we did some shopping in the sale bin at TESCO. We went there before heading on our bus to Galway, Ireland, and got some bread, hummus, fruit, carrots and a salad to sustain us at least until our next stop. Overall, we ended up paying a very fair price for our food.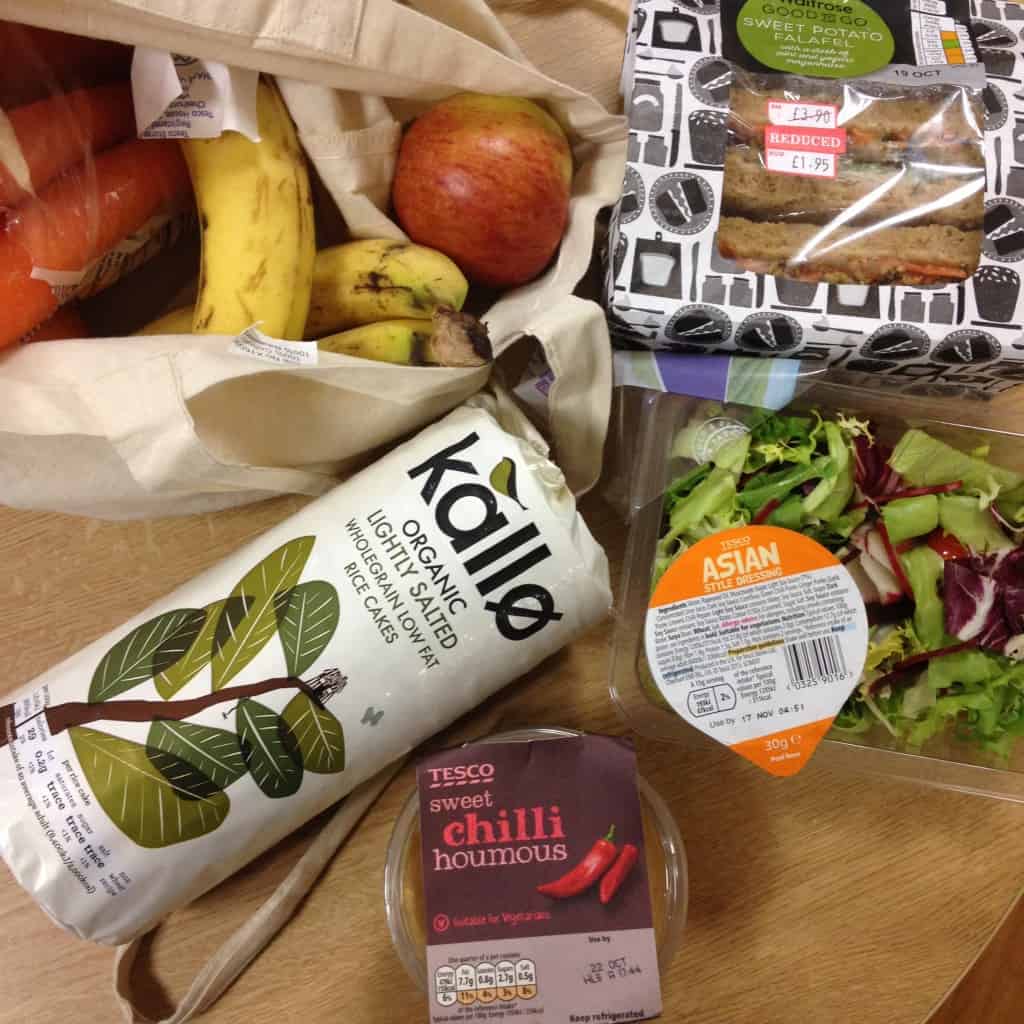 Posh Corn

This is gonna sound super random, and it kind of is, but I can't talk about London without telling you about Posh Corn! I never actually cared for sweet popcorn, nor sweet & salty anything, but these little popped wonders rocked my world. I tried them because I liked the package, good marketing right there, and became addicted and obsessed after only one handful. The sweet and salty flavour is vegan and only has four ingredients: corn kernels, sunflower oil, salt and sugar! The best part is, lucky me, I found them this week in Hanover!!!
Monday – Big Ben, Buckingham Palace and bye bye London :(
Finally, before hopping on our bus to Galway on Monday, we walked around a bit, took photos of the famous Big Ben and passed by Buckingham Palace, which was in our opinion suuuuper boring, but people around us seemed very excited about it, so maybe it's just because we don't care much for royalty and such.
And thus our adventure in London came to an end. I've already said it, but I absolutely adored the city. I loved how many individual neighbourhoods have a life of their own but still unite to create this unique metropolis. I'm already eagerly anticipating any excuse I can find to go back!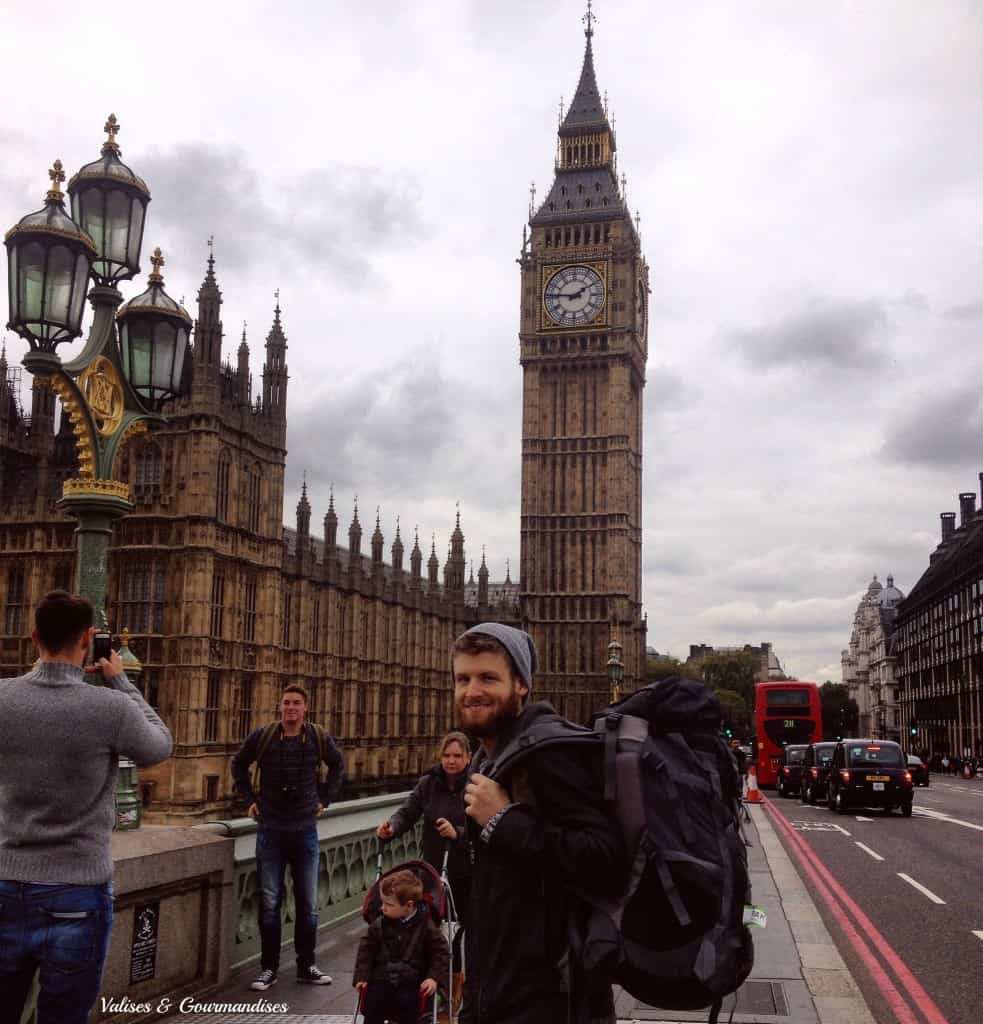 Practical info
Languages spoken: English
Currency: Sterling pound £
To find vegan & veg-friendly restaurants in the area: How to find vegetarian restaurants abroad with Happy Cow